Bonta expands Travel Ban on states discriminating against LGBTQ people
"We won't go back into the closet, and we will not stay silent. And California will never reward states that act in bad faith"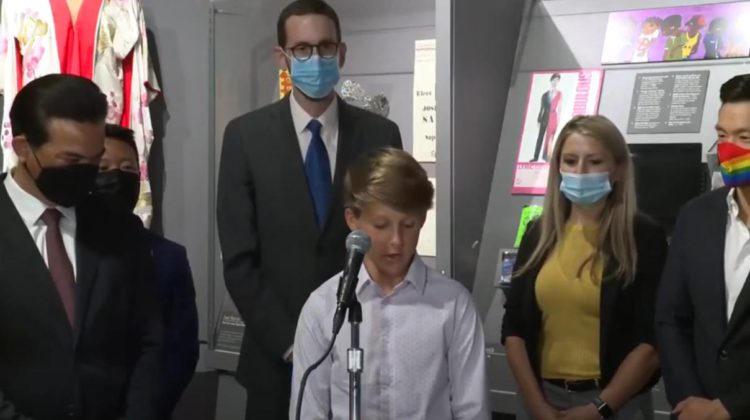 SAN FRANCISCO – California is expanding the list of states to which it bans government-financed travel as a result of new anti-LGBTQ+ legislation recently enacted in each state.
California Attorney General Rob Bonta announced in a press conference Monday that the states of Florida, Montana, West Virginia, Arkansas and North Dakota, were newly added to California's sanctions list. There are now 17 states on the list.
The states who were added to the list are a part of a recent, dangerous wave of discriminatory new bills signed into law in states across the country that directly work to ban transgender youth from playing sports, block access to life-saving care, or otherwise limit the rights of members of the LGBTQ+ community.
During the press conference, thirteen-year-old Ryland Whittington of San Diego joined Bonta, Senator Scott Wiener (D-San Francisco), Assemblymember Evan Low (D-Silicon Valley) and Equality California Executive Director-designate Tony Hoang, delivering a message for lawmakers who are disorienting against trans youth across the nation;
"My name is Ryland Whittington, I am 13 years old and I live in San Diego. I get good grades in accelerated classes, I am vice president of my middle school, I play ice hockey and I am missing my water polo practice to be here today. I am a typical teenager. I like to hang out with friends, give my little sister a hard time, surf at the beach, skateboard and make funny videos.
"Being trans is a very small part of who I am. It doesn't stop me from being a strong teammate or being a good friend. Thankfully, I have never been told I can't play on a sports team and I have never been denied medical care for who I am. I know that I am lucky to live in California. I am lucky to have leaders — like Assemblymember Low, Attorney General Bonta, and Senator Wiener — who are willing to stand up for me. I am lucky to have my friends & family who support me.
"To all of the leaders who are attacking trans kids like me around the country: We just want the same rights as everyone else. Please give all kids the opportunity to be happy, healthy, and live their lives with freedom and peace. Thank you."
Many states pushing these new discriminatory laws are already on California's travel restrictions list. The new restrictions on state-funded travel to the states announced today are prescribed by law in California pursuant to Assembly Bill 1887 (AB 1887), which was enacted in 2016.
"Assembly Bill 1887 is about aligning our dollars with our values," said Bonta. "When states discriminate against LGBTQ+ Americans, California law requires our office to take action. These new additions to the state-funded travel restrictions list are about exactly that. It's been 52 years to the day since the Stonewall Riots began, but that same fight remains all too alive and well in this country. Rather than focusing on solving real issues, some politicians think it's in their best interest to demonize trans youth and block life-saving care. Make no mistake: We're in the midst of an unprecedented wave of bigotry and discrimination in this country — and the State of California is not going to support it."
In creating AB 1887, the California Legislature determined that California must take action to avoid supporting or financing discrimination against lesbian, gay, bisexual, and transgender Americans. To that end, the law restricts a state agency, department, board, or commission from authorizing state-funded travel to a state that, after June 26, 2015, has enacted a law authorizing, or repealing existing protections against, discrimination on the basis of sexual orientation, gender identity, or gender expression.
Each applicable California agency is responsible for consulting the AB 1887 list created by the California Department of Justice to comply with the travel and funding restrictions imposed by the law. With the additions announced today, there will be a total of 17 states on California's state-funded travel restrictions list.
"AB 1887 helps protect California taxpayers' hard-earned money from subsidizing discrimination against LGBTQ+ people elsewhere in the United States," said Equality California Executive Director-designate Tony Hoang. "It protects LGBTQ+ students and state employees from being sent to states where they themselves might be subject to discrimination. And it sends a message to state legislatures across the country who attack kids like my friend Ryland, that California — the world's fifth-largest economy and the nation's most populous state — has Ryland's back, and the back of every trans kid across the country."
Addressing Assembly Bill 1887 (2016) which was sponsored by Equality California, and shepherded through the legislative process by Assemblymember Low, who serves as Chair of the California Legislative LGBTQ Caucus as well as former Chair, said Senator Wiener, Low pointed out; "The current culture war is not a game. This is a fight in which our opponents are motivated by fear and hate, even though the LGBTQ+ community has always been about love and inclusion."
"So as these states choose to regress to the toxic legacies of the past, I'm here to say that California will always move forward, and we will continue to support LGBTQ+ people everywhere. We won't go back into the closet, and we will not stay silent. And California will never reward states that act in bad faith."
Senator Wiener added; "We need to do everything in our power to support trans kids, whose very existence is being attacked by right wing politicians looking to score cheap political points. It's disgusting. I'm proud that Attorney General Bonta is taking a stand and aligning California's values and its wallet."
If Temecula school board won't do its job, state will says Newsom
"State will deliver the books — and we'll send the district the bill and fine them for violating state law"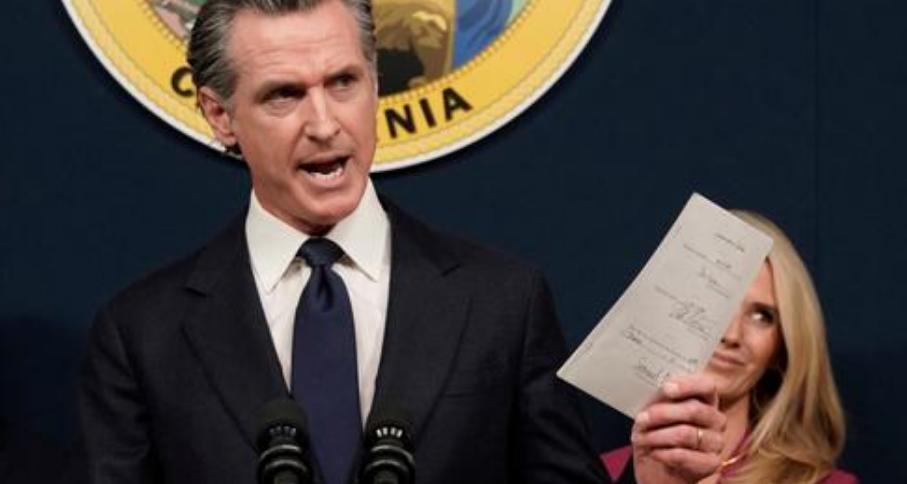 SACRAMENTO – Governor Gavin Newsom, joined by Superintendent of Public Instruction Tony Thurmond, Senate President pro Tempore Toni G. Atkins, Assembly Speaker Robert Rivas, and Assemblymember Dr. Corey Jackson today announced the State of California will begin the process of securing textbooks for students in the Temecula Valley Unified School District and enact legislation to fine school districts for failure to provide adequate instructional materials.
Elementary students in Temecula are slated to begin the school year on August 14, 2023, without enough textbooks for every student because of the school board's decision to reject a widely used social studies curriculum. 
"Cancel culture has gone too far in Temecula: radicalized zealots on the school board rejected a textbook used by hundreds of thousands of students and now children will begin the school year without the tools they need to learn," said Newsom. "If the school board won't do its job by its next board meeting to ensure kids start the school year with basic materials, the state will deliver the book into the hands of children and their parents — and we'll send the district the bill and fine them for violating state law." 
"I am glad to join in this action with Governor Newsom today and thank him for his leadership in calling for Temecula's school board to reverse course to prevent further harm to students," said State Superintendent Thurmond. "Inclusive education promotes the academic achievement and social development of our students.  School Districts should not ban books in California, especially as it harms students of color and LGBTQ+ youth.  AB1078 lays out the structure for today's action and I am proud to have sponsored this bill to protect our students from the harmful effects of book banning, exclusion of inclusive textbooks and discrimination." 
"Censoring learning materials based on bigotry and ignorance prevents our students from getting a good education," said Senate President pro Tempore Toni G. Atkins (D-San Diego). "Culture war extremism doesn't belong in the debate of how to teach our children and school districts should always put students first. That's why I'm pleased the Governor is stepping in to make sure the children in Temecula have textbooks to start the year, and I look forward to working with the Governor and the assembly on a clear legislative solution. We have a duty to help eliminate ignorance in all its forms."
"The antics of the Temecula Valley Unified School District are intolerable and damaging to its students' opportunities to grow, prosper, and succeed," said Assembly Speaker Robert Rivas. "Book bans betray the most basic of California's core values. I hope the members of the school board are able to reflect on their decisions and come to make better decisions for our children's futures."
"Book banning is not acceptable and will not stand in California," said Assemblymember Dr. Corey Jackson. "It is my honor to have the Governor's support of Assembly Bill 1078. This sends a clear message that such actions will not be tolerated. We stand united in our commitment to protect our students' access to diverse educational materials and ensure an inclusive educational environment. We will not go backward. We will meet this historical moment."
Temecula Valley Unified School District's current curriculum is outdated and in violation of state law. Students in the district are forced to use a textbook published in 2006. In the process of acquiring updated textbooks for students in grades one through five on May 16, 2023, school board President Joseph Komrosky asserted false claims about the instructional materials. The board voted by a 3-2 majority to reject the adoption of the new social studies curriculum that was recommended by teachers representing every elementary school in the district and overwhelmingly supported by parents and community members. The textbook, one of four standard programs approved by the state, is routinely and widely used across hundreds of school districts in California.
Following the school board's decision, Governor Newsom and state leaders wrote a letter to school districts statewide highlighting the legal obligations of districts and joined California Attorney General Rob Bonta in demanding information and answers from the board. The administration also began working with the Legislature and Superintendent Thurmond to advance AB 1078 (Jackson) to strengthen state law to ensure students in California have access to adequate instructional materials. Among other provisions, AB 1078 would:
Require a two-thirds supermajority vote for a school board to remove instructional materials or curriculum;
Establish a process for the California State Department of Education to purchase adequate standards-aligned instructional materials for a district, if the district has failed to provide them for students; and
Institute a funding penalty for school districts that do not sufficiently provide standards-aligned instructional materials.
California provides instruction and support services to roughly 5.9 million students in grades transitional kindergarten through twelve in more than 1,000 districts and over 10,000 schools throughout the state. Under Governor Newsom's leadership, education funding is at a record high in California, totaling $129.2 billion in the 2023-24 budget.
Governor Newsom released a video to Temecula parents that can be viewed here. 
Temecula's school board rejected a textbook used by thousands of students & now kids will begin the school year without the tools they need.

If the school board won't do its job, we'll get the book to kids & parents – then bill the district & fine them for violating state law. pic.twitter.com/gpN1TT7AVp

— Office of the Governor of California (@CAgovernor) July 13, 2023
Related: