The Memorial at Harvey Milk Plaza; preliminary design revealed
"The balance between Harvey's history and the movement's history feels correct- Harvey would have liked it"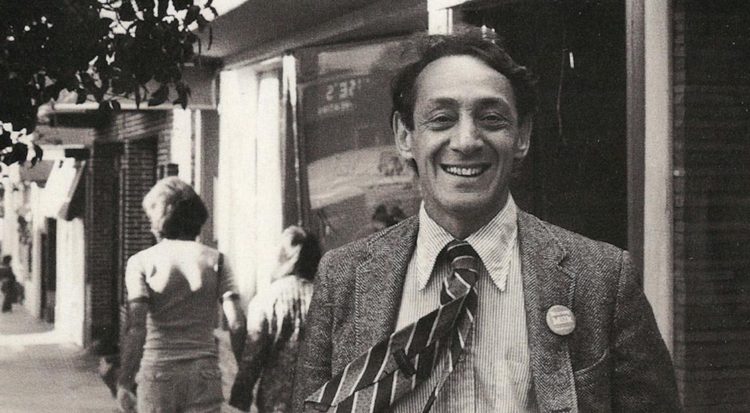 SAN FRANCISCO – The Friends of Harvey Milk Plaza (FHMP) revealed a new vision for the Memorial at Harvey Milk Plaza Thursday, which is located at the iconic intersection of Castro and Market Streets commemorating the visionary civil and human rights leader.
"The balance between Harvey's history and the movement's history feels correct to me. Harvey would have liked it," shared photographer Dan Nicoletta, who was close friends with Harvey and worked at his Castro Camera store on Castro Street.
In alignment with San Francisco's Pride Month celebrations, the design is being shared with the public for feedback via two virtual town hall meetings on June 23 and 24 and via a broader continued online engagement effort available here, [Link].
"We believe the redesign captures the public's desire to better honor Harvey Milk and creates one of the United States' first 'next generation' memorials: one that will continue to represent the values of the local community through growth and change. The Memorial at Harvey Milk Plaza will interweave the past and the present so that it serves as a call to action for generations that follow," explained FHMP Interim Executive Director Brian Springfield.
Included in the design are features dedicated to visibility and representation of the wide spectrum of people encompassed by the LGBTQ+ community. Public art and interactive elements celebrate LGBTQ+ culture and history while also promoting a call to action in support of social justice movements, making the Memorial at Harvey Milk Plaza a place where hope and action live on forever.
The design is anticipated to be finalized this year, and the project's initial phase of transit station improvements is expected to break ground in 2022. Springfield emphasized that the new design being shared is still preliminary, and that FHMP and SWA continue to seek input from the community – at the two upcoming design presentations and through ongoing input gathered through an interactive online community engagement portal available.
Four core elements will characterize the renewed plaza: The Pedestal, the Beacon, the Grove, and the Gallery. More details about each design element, along with high resolution images, can be found here.
Public feedback collected since 2017 has been incorporated into the new design, reflecting the community's desire for an unconventional and inclusive design process and assurance that Milk's qualities and legacy remain front-and-center. Discussions among FHMP, local landscape architecture firm SWA, local Castro-based organizations, and the general public will continue as the designs are refined.
"Harvey Milk Plaza can be a space that both honors the history of the LGBTQ+ rights movement and lifts up the voices and struggles of today's queer community, all while functioning as an inviting gateway to the Castro and Muni," said District 8 Supervisor Rafael Mandelman, who represents the Castro neighborhood and is currently the Board of Supervisors' sole LGBTQ+ member. "The concepts being shared today are an exciting step forward in achieving that vision."
Initial funding for the project has been provided through private and public sources, including a $1 million grant from the State of California, earmarked specifically to "support construction of LGBTQ space in Harvey Milk Plaza."
The project team's next steps include continued design refinements in response to ongoing community input, coordination with various city agencies, and progress through the approvals process, with a goal of being prepared to begin construction in Summer/Fall 2022.
The new design is inspired by Harvey's words, intersectional activism, and community input, with a keen eye for current and future transit needs. California State Senator Scott Wiener said, "Harvey Milk Plaza is at the heart of the Castro community — a place to gather, to go about our lives, and to remember Harvey's many contributions. Our community deserves a plaza worthy of Harvey's memory — one that educates and allows us to organize and enjoy our amazing neighborhood. The Harvey Milk Plaza redesign is a long overdue effort to make this great plaza all it can be."
To see the new design and provide your input, please visit the website.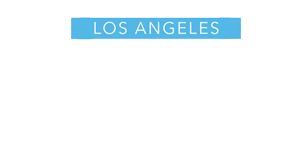 Evangelical Lutheran Church installs first Trans prelate
The bishop will lead one of the church's 65 synods, overseeing nearly 200 congregations in Northern California and northern Nevada.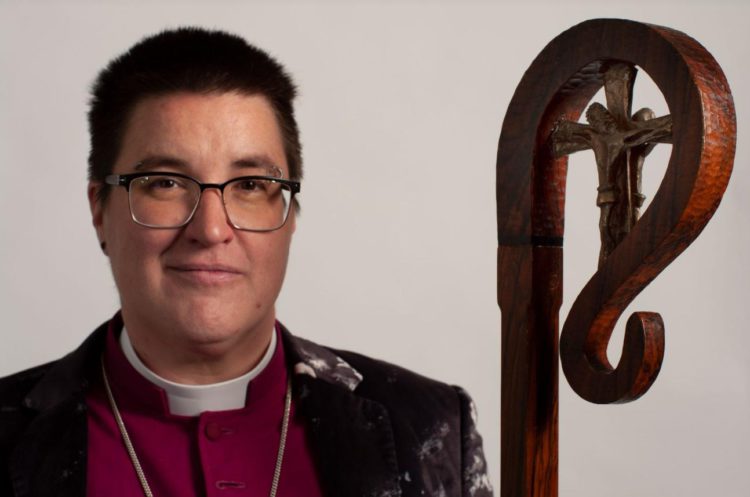 SAN FRANCISCO – The Rev. Dr. Megan Rohrer was installed as the first openly transgender bishop of the Evangelical Lutheran Church in America on Saturday, in services held at the Grace Cathedral in San Francisco. The presiding bishop of the ELCA, Elizabeth Eaton, led the installation ceremony.
"My call is to be up to the same messy, loving things I was up to before," Rohrer told those gathered in the cathedral. "But mostly, if you'll let me, and I think you will, my hope is to love you and beyond that, to love what you love."
The bishop will lead one of the church's 65 synods, overseeing nearly 200 congregations in Northern California and northern Nevada.
Rohrer, who uses the pronouns they/them, was elected to serve as bishop after the retirement of their predecessor. The Sioux Falls, South Dakota native had moved to the Golden State to pursue master and doctoral degrees at the Pacific School of Religion in Berkeley. In 2010, they became one of seven openly out LGBTQ pastors accepted by the Evangelical Lutheran church after it allowed ordination of pastors in same-sex relationships.
The bishop and their spouse are raising two children and prior to installation, Rohrer was pastor of the Grace Lutheran Church and served as a chaplain coordinator for the city of San Francisco's police department. Rohrer has assisted in ministering to the city's homeless and LGTBQ community for a number of years.
"I step into this role because a diverse community of Lutherans in Northern California and Nevada prayerfully and thoughtfully voted to do a historic thing," Rohrer said in a statement. "My installation will celebrate all that is possible when we trust God to shepherd us forward."
The synod Rohrer leads is part of the largest Christian denominations in the United States with about 3.3 million members.
San Francisco becomes 1st city in nation to require proof of vaccination
The new health order no longer allows a negative COVID test to be considered an exemption to being fully vaccinated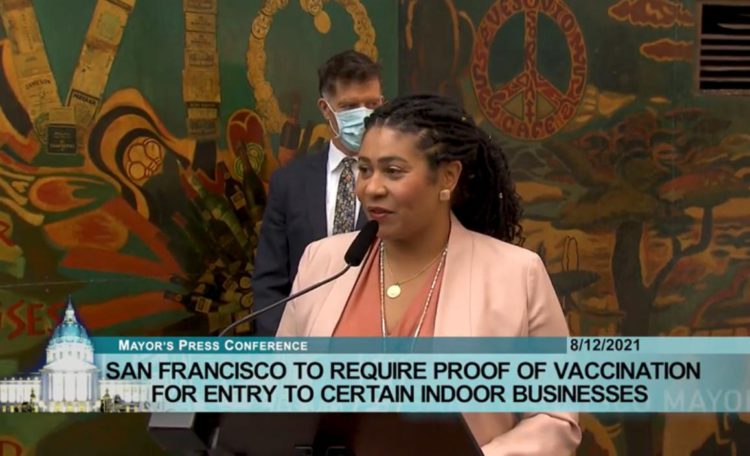 SAN FRANCISCO – The City by the Bay became the first major U.S. municipality to require proof of vaccination for the coronavirus to enter indoor bars, restaurants, clubs, theaters, and entertainment venues, as well as indoor gyms and other fitness establishments.
The order does not however include individuals ordering or picking up food or drinks to go.
Businesses will be required to check a person's ID and vaccination card match before allowing anyone indoors. Customers will have the option of showing their actual vaccination card or a photo of it.
In a press conference announcement, San Francisco Mayor London Breed said, "We are not out of the woods as it relates to COVID, we are still going through it. Of course, we're sick and tired of it, but it's not sick and tired of us."
The new health order no longer allows a negative COVID test to be considered an exemption to being fully vaccinated.
The mayor went on to note that "We don't want people to think, a family of four with two kids seven years old that you can't go to a restaurant – you can," said Breed. "We know that your children cannot be vaccinated, but the parents will need to be."
The Health order additionally creates a new proof of vaccination requirement for large events at indoor venues, requiring attendees who are age 12 or older at events with 1,000 people or more to provide proof of vaccination.
The health order will extend vaccination requirements to certain health care providers — including workers at adult day centers, residential care facilities, dental offices, home health aides, and pharmacists, who are not included in the state health order on vaccinations.
San Francisco's mask mandate remains in place. The Director of Health for the City and County of San Francisco Dr. Grant Colfax put the mask mandate in place to deal with the rapid spread of the delta variant.
Last week, New York City became the first city to require proof of *at least one dose* of the COVID-19 vaccine for indoor activities.

San Francisco's mandate will go a step further, with a full dosage requirement. https://t.co/uLAPJyLiCG

— San Francisco Chronicle (@sfchronicle) August 12, 2021
The Los Angeles City Council voted 13-0 Wednesday to direct Los Angeles City Attorney Mike Feuer and his office to draft a new ordinance that would require patrons wishing to enter indoor spaces in the city provide proof of a COVID-19 vaccination.
Lesbian educator Sally Gearhart dies- a pioneering LGBTQ activist
Ms. Gearhart was featured in the Oscar-winning documentary "The Times of Harvey Milk" (1984), having been a friend and colleague of Milk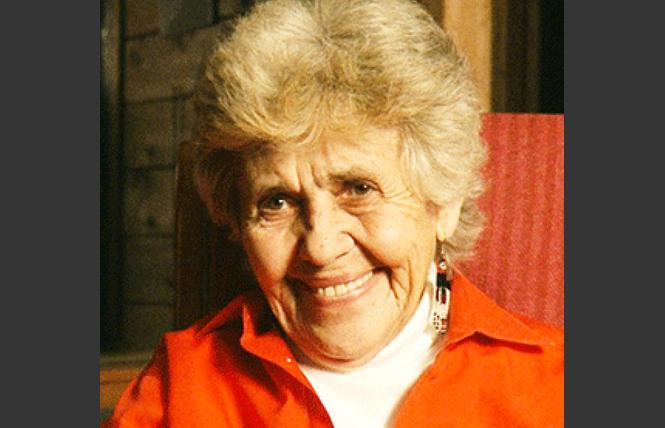 By Cynthia Laird | SAN FRANCISCO – Sally Miller Gearhart, the first out lesbian to receive a tenure-track position at San Francisco State University and a beloved LGBTQ rights advocate, died July 14, according to Jean Crosby, who sent out an email to friends. She was 90.
Ms. Gearhart had been in poor health for several years. She had lived for many years in Willits, California but had moved recently to a care home in Ukiah.
The GLBT Historical Society posted on Facebook about Ms. Gearhart's passing, of which they were informed by her good friend, Ruth Mahaney.
"Losing Sally is like a huge tree falling. She was very tall, and she was so important in the world," stated Mahaney. "She had been saying she wanted out of here, to be 'up in the sky.' She was ready to go."
In 1973, Ms. Gearhart received the tenure-track position at SF State. She established one of the first women's and gender studies programs in the country while at the university, and was a leading LGBTQ activist throughout the 1970s and 1980s.
The San Francisco LGBT Pride Celebration Committee recognized Gearhart for her work in 2016 when she received the Heritage of Pride, Pride Freedom Award. She was unable to attend the parade.
Ms. Gearhart was featured in the Oscar-winning documentary "The Times of Harvey Milk" (1984), having been a friend and colleague of Milk, the late gay San Francisco supervisor. Ms. Gearhart worked with Milk on the 1978 defeat of Proposition 6, a California ballot initiative that sought to exclude gay men and lesbians from teaching in public schools. Ms. Gearhart was also an acclaimed author of feminist science fiction.
During the Prop 6 campaign, Ms. Gearhart and Milk debated then-state Senator John Briggs, the author of the anti-gay initiative. It is a clip of that debate that is featured in the documentary.
"Harvey Milk and I did wonderful things together. We looked like mom and pop," Ms. Gearhart recalled of their work on the ballot measure campaign in Deborah Craig and Veronica Deliz's 2018 short documentary "A Great Ride."
The film showcased the lives of a number of senior lesbians living throughout Northern California. The filmmakers followed Ms. Gearhart as she drove her beat up jeep with her dog, Bodhi, by her side through the Women's Land all-female community she helped establish in Willits.
With the camera rolling, the relatively reclusive Ms. Gearhart at that point in her life discussed her fears about aging. In her later years Ms. Gearhart had declined media interviews, while her friends raised funds to cover the cost to care for her.
"I am scared to lose my ability to drive and my independence," she told the filmmakers.
Ms. Gearhart was also featured in "Last Call at Maud's," a 1993 film about the former San Francisco lesbian bar. Carrie Preston portrayed her in the 2017 TV miniseries "When We Rise," which was partially inspired by gay activist Cleve Jones' memoir of the same title.
Craig has been working on a full-length documentary solely about Ms. Gearhart, which she had told the Bay Area Reporter she hoped to release this year. She found her to be "charismatic" and "a quirky hero."
"She has this whole arc to her story that is really kind of … hopefully we can make a great American story of transformation. She was this small town Southern girl and becomes a character and leader and icon," Craig had told the B.A.R.. "A lot of people, women especially, felt she hasn't gotten her due. She was written out of the 'Milk' film. I try not to pass judgment, but that is what happened."
Terry Beswick, a gay man who's executive director of the GLBT Historical Society, talked about the significance of Ms. Gearhart's life in a Facebook post.
"Sally's contributions to LGBTQ history and culture were immeasurable," Beswick stated. "She was a courageous fighter for equality at a time when it made an indelible difference then and now. So many people do not know her story, and I'm so glad that there is a documentary in the works to honor this unsung hero."
In the mid-1970s, Ms. Gearhart was co-chair of the Council on Religion and the Homosexual. This organization offered a variety of speaking events and literature to educate followers on the Judeo-Christian tradition. It also educated legislators about LGBTQ people and the issues that they faced.
Ms. Gearhart was born in Pearisburg, Virginia, on April 15, 1931 to Sarah Miller Gearhart and Kyle Montague Gearhart. According to her Wikipedia entry, Ms. Gearhart attended an all-women's institution, Sweet Briar College, near Lynchburg, Virginia. She graduated with a bachelor of arts in drama and English in 1952.
At Bowling Green State University, she obtained a master's degree in theater and public address in 1953. She continued on at University of Illinois at Urbana-Champaign, getting her Ph.D. in theater in 1956, with the intent of pursuing a life of academia.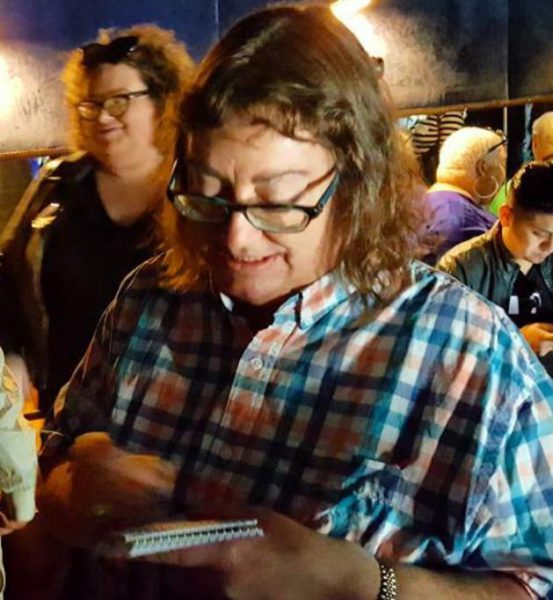 Cynthia Laird is the Editor-In-Chief and News Editor of the Bay Area Reporter. Laird is a long time journalist in the SF Bay Area having studied Government-Journalism at California State University, Sacramento. She and her wife live in Oakland.
The preceding article was previously published by The Bay Area Reporter and is republished by permission.