AIDS @40: AIDS before and after Rock Hudson
"AIDS is not just a Hollywood disease. And it is not just a gay disease. This is the health crisis of this century."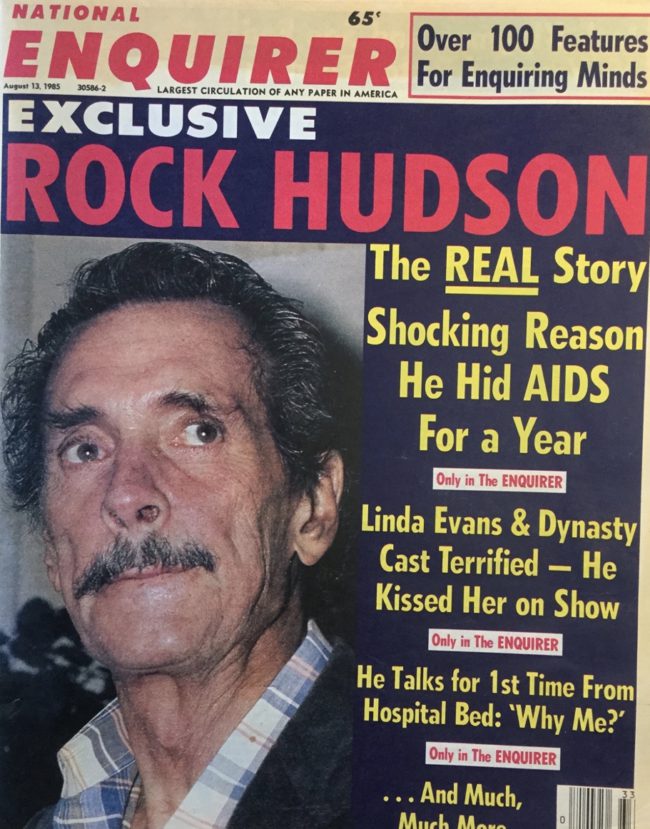 By Karen Ocamb | LOS ANGELES – "The poor homosexuals — they have declared war upon nature, and now nature is exacting an awful retribution," former Nixon adviser and conservative journalist Pat Buchanan wrote May 24, 1983 in a New York Post column "AIDS Disease: It's Nature Striking Back."
The year before, in 1982, Buchanan — a proud son of the Confederacy and a CNN "Crossfire" commentator — staunchly defended John Demjanjuk, a retired Cleveland autoworker extradited to Israel as "Ivan the Terrible," the SS Nazi responsible for killing hundreds of thousands of Jews at Treblinka during the Holocaust.
Nonetheless, Buchanan later became an advisor in Ronald Reagan's White House, which was already filled with Christian evangelicals for whom AIDS was a weapon of mass destruction in their persistent war on "sodomites."  
A few federal representatives such as Sen. Edward Kennedy and California's Rep. Henry Waxman — with help from gay deputy Tim Westmoreland — tried to intercede in stemming the growing AIDS crisis. In California, Assemblymember Art Agnos was a strong ally and in 1983, Senate President Pro Tempore David A. Roberti, working closely with his 27-year-old gay aide Stan Hadden, passed a bill establishing the California AIDS Advisory Committee. In 1985, the same year LIFE AIDS Lobby was launched, Hadden crafted legislation to encourage a coordinated approach to local AIDS programs and services.
But in those early years of AIDS, scientists were groping for answers. In March 1983, 19 months after the Centers for Disease Control (CDC) published the first report on the strange new disease, the CDC, the Food and Drug Administration (FDA) and the National Institutes of Health (NIH) issued interagency recommendations to prevent the transmission of AIDS through sexual contact, blood transfusions and needle sharing.
Finally in May, Drs. Francois Barre-Sinoussi and Luc Montagnier from the French Pasteur Institute in Paris isolated the retrovirus that causes AIDS, calling it LAV (Lymphadenopathy-associated virus). Soon thereafter, in 1984, Dr. Robert Gallo at the NIH's National Cancer Institute, also isolated a virus, which he called HTVL-III. An international debate was sparked over credit for the discovery of the cause of AIDS.
The issue was exacerbated at an April 1984 news conference held by Health and Human Services Secretary Margaret M. Heckler and Dr. Edward N. Brandt Jr., the assistant secretary of HHS who previously announced that AIDS was "the No. 1 priority." They declared that Gallo had identified the human immunodeficiency virus, or HIV, as the cause of AIDS. They also forecast that an HIV vaccine would be created in three years and commercially available within five years. The news conference failed to acknowledge the contributions of Montagnier, who many AIDS doctors favored. 
Dr. Michael Gottlieb, author of the first CDCD report on June 5, 1981, for instance, talked about Montagnier during his briefings to fellow AIDS Project Los Angeles board members, who included CDC report co-author Dr. Joel Weisman, lesbian feminist Ivy Bottini and Dr. Neil Schram. The APLA Board of Directors was officially convened on January 14, 1983 by co-chairs Weisman and attorney and MECLA co-chair Diane Abbitt.
Gottlieb told the APLA board that he was impressed by the French paper. But Bottini was concerned. She told Gottlieb, "Michael, unless you know, with absolute certainty, that AIDS is caused by a virus, you can't say anything about it publicly because we are going to be further stigmatized. People are going to be afraid of us."
"And she was right," Gottlieb told the Los Angeles Blade.
In 1984, with hatred and AIDS deaths mounting, gays were giving up on gay liberation. But some fought on. L.A. Cares put up AIDS prevention billboards featuring "Poltergeist" actress Zelda Rubinstein telling her gay son to remember his rubbers. As explained in  "Guerilla Medicine," LA medical nurse Jim Corti and Sausalito business consultant Marty Delaney drove to Tijuana, Mexico, to buy ribavirin, an over-the-counter cold remedy sold outside the US but not approved by the FDA for AIDS treatment for West Coast buyers clubs. "They haven't even bothered to test [ it ] here…and the pharmacies here can't sell it. Why, because it might be dangerous? Hell, dying is dangerous," Corti said.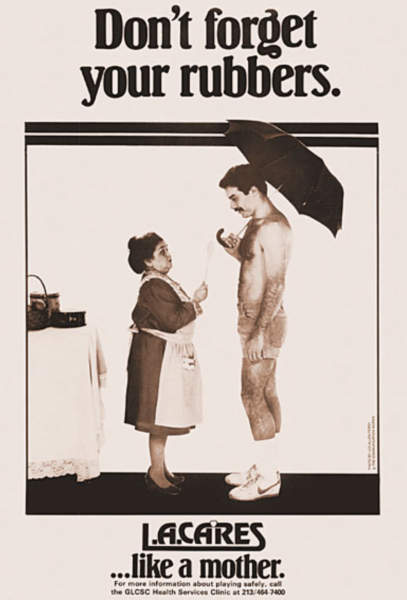 Delaney stopped drug running to found Project Inform to get the word out about possible new treatments and put pressure on drug companies and Federal bureaucrats, including Dr. Anthony Fauci, who became director of the U.S. National Institute of Allergy and Infectious Diseases at NIH in 1984.
For some gays, the fight for freedom expanded. Ron Stone, a 37-year-old gay former staffer for Sen. Alan Cranston, was so annoyed by development in his neighborhood, he teamed up with affordable housing guru Larry Gross, director of the Coalition for Economic Survival, to incorporate West Hollywood as its own self-governing city.
On Nov. 29, 1984, an unusual coalition of renters, seniors and gays passed an initiative to incorporate the 1.9 square-mile West Hollywood and elected a gay-majority city council, including gay 27-year-old John Heilman who had recently passed his bar exam. "Gay Camelot," Frontiers publisher Bob Craig called the new City of West Hollywood. 
But the First Wave of AIDS started crashing hard on cities like West Hollywood. First-in-the-nation ordinances prohibiting discrimination based on AIDS were passed in L.A., West Hollywood, San Francisco, and Hayward. Heilman drafted the WeHo AIDS non-discrimination ordinance, which was challenged the following year when a nail salon refused service to gay customer Paul Jasperson. Attorney Gloria Allred stuck with and eventually won the case after Jasperson's death from AIDS.
The LA non-discrimination ordinance, drafted by closeted City Councilmember Joel Wachs , passed 14-0. But after Mayor Tom Bradley signed the new law in August, all hell broke loose. "It was overwhelmingly awful," Wachs told the LA Times. "A lot of it described (AIDS) as a curse rather than a virus. I was stunned by the incredible numbers of really hateful things that came in."
"It's going to get worse. It really is going to get worse," said longtime gay ally Assembly Speaker Willie Brown (D-San Francisco). Indeed, the Associated Press reported on an LA poll showing that 51 percent of 2,308 people supported quarantining of AIDS patients in 1985.
Entertainers had tried to help raise money and awareness in those early days, including Debbie Reynolds, Chika Rivera, Joan Rivers and Rita Moreno. But it wasn't until Rock Hudson that the world woke up.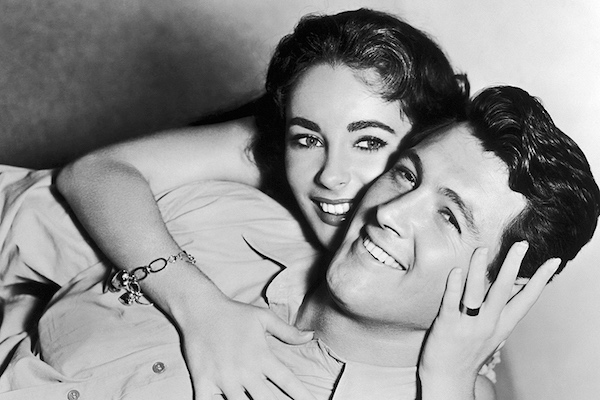 Hudson was diagnosed on June 5, 1984 with a KS lesion on his neck, three weeks after attending a White House state dinner. He turned to Gottlieb for help. Hudson noted that some Americas were flying to Paris, where the more compassionate French were treating them with a compound that worked against most retroviruses. Gottlieb offered to help Hudson meet Dr. Dominique Dormont and get an experimental treatment, HPA-23. Hudson was going to the Cannes Film Festival so he agreed.
"We had no idea if this drug worked. And if it worked, how often did we give it? It was truly a shot in the dark," Gottlieb told the LA Blade.
It was on Hudson's second or third trip to Paris on July 21 when he collapsed in the lobby of the Ritz Hotel and was taken to the American Hospital in Paris." Longtime publicist Dale Olson reported that the movie star had inoperable liver cancer. Three days later, Olson sent a desperate telegram to the White House begging for help to get him transferred to Percy Military Hospital that refused to accept him because he wasn't French. Dormont "reports only one hospital in the world can offer necessary treatment to save life of Rock Hudson or at least alleviate his illness," Olson wrote. Nancy Reagan said no. But she wanted the press to know that Reagan had called Hudson and "wished him well" and the couple was "keeping him in their thoughts and prayers." 
The next day, July 25, Hudson's French publicist Yanou Collart announced that Hudson had AIDS. On July 26, "AIDS was on the front page of virtually every Sunday morning paper in the United States," Randy Shilts later wrote in And the Band Played On. "There was AIDS before Rock Hudson and AIDS after." 
Hudson was flown home on an Air France jetliner and driven to UCLA Medical Center. The chair of Gottlieb's department told him to hold a news conference. He had permission from Hudson to confirm the star had AIDS. But Gottlieb was not flanked by rows of doctors as is customary. Instead, he stood alone, with a public relations person. "Of course, I read a statement. But I felt inhibited about responding to questions," trying to avoid questions like "is Rock Hudson gay?"
"There was precious little support from the institution," Gottlieb told the LA Blade, still annoyed by the missed opportunity. "It was an embarrassment. The press is out there, hundreds of people, flashbulbs popping as they did in those days. And all they got was a brief statement confirming that Rock Hudson had AIDS. There was no further guidance or support. So, it was an embarrassment as far as I'm concerned."
Gottlieb snuck Elizabeth Taylor to see Hudson through a back freight door. "Elizabeth was dressed to the nines," Gottlieb recalled to PEOPLE magazine. "She was a little anxious about not having security." But it was Gottlieb who jumped hearing a loud bang in the elevator. "Elizabeth laughed and said 'It's just my jewels.' She had hit the wall of the elevator with a large diamond, the Krupp diamond," Gottlieb said. "She asked me if it was okay to hug and kiss him. She was worried about his immune system. Not hers." Afterwards, he said, "Rock was very glad to have seen her."
On July 28, APLA held the world's first AIDS Walk. More than 4,500 walkers showed up, raising $673,000. Mayor Bradley served as chair for the six-plus miles walkathon, which started from the "sky set" of Paramount Studios in Hollywood.
Meanwhile, other machinations were afoot. LA Times society columnist MaryLouise Oates called her friend philanthropist Wallis Annenberg about co-chairing the APLA 1985 Commitment to Life gala on September 19. Annenberg agreed and the two decided to ask former First Lady Betty Ford serve as the other cochair. Ford agreed and said she would attend the event to receive the first Commitment to Life Award. Elizabeth Taylor agreed to co-host the event with Burt Reynolds, Sammy Davis Jr., Shirley MacLaine and Burt Lancaster – and helped organize the event at the Bonaventure Hotel with her publicist Chen Sam and Gary Pudney, ABC Entertainment vice president.
The crowd included Cher, Linda Evans, Diahann Carroll, Carol Burnett, Cyndi Lauper, Rod Stewart, Sybil Brand, Tom Bradley, Gregory and Veronique Peck, Whoopi Goldberg, Angie Dickinson with George Hamilton, Stevie Wonder, society florist David Jones with Doris Fields, Barbara Marshall, Gina Lollobrigida, and scores more among the 2,500-plus guests, Oates reported.
Hudson, who left UCLA Medical Center for his Beverly Hills home on August 24, sent a message of love and thanks read by his friend, Burt Lancaster.
"Tonight is the start of my personal war on this disease, AIDS," said Taylor. "We celebrate life by increasing the number of survivors and not by counting the number of victims . . . commit to doing and learning more about the disease, and the cure can be found. L'Chayim, " to life.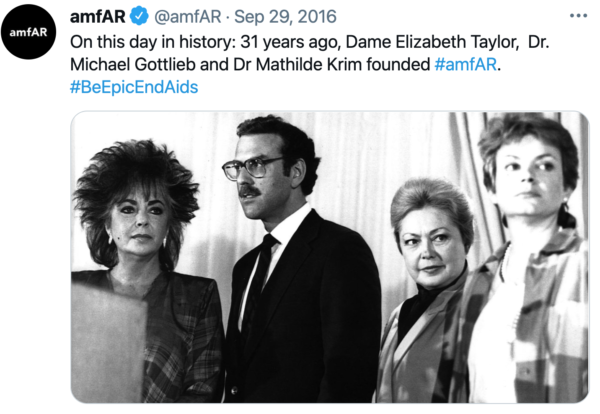 Burt Reynolds said: "I used to think 'macho' was a marvelous thing to be–strong, swaggering, courageous, bold. I played all of that; our friends with AIDS are now having to live it. . . . The real macho men are not on the screen. They are fighting for their lives–and ours–at home and in hospitals."
But he was hissed when reading a statement from Reagan about how "The U.S. Public Health Service has made remarkable progress" in efforts to conquer the disease, adding "there is still much to be done." Reagan had finally used the word "AIDS" at a news conference three weeks earlier. He told the APLA audience: "we recognize the need for concerted action by organizations like yours, devoted to education, support services and research." The American AIDS death toll stood at 16,000.
AIDS is "not just a Hollywood disease. And it is not just a gay disease. This is the health crisis of this century," said APLA Chair Peter Scott. "Every knowledgeable scientist will affirm that AIDS is not an easy disease to catch, and yet we continue to witness unfounded and unconscionable mistreatment of persons with AIDS and those at risk."
Ford accepted her award, saying she had battled "two diseases, that for a long time nobody wanted to talk about: cancer and alcoholism. With public awareness, attitudes toward these have been changed. Attitudes can be changed about AIDS too. They are changing. In my life, being part of this is important. . . . Thank you for allowing me the opportunity to help with the understanding of another disease."
A week before Hudson died at age 59 on Oct. 2, 1985, Gottlieb rode up in an elevator with Hudson's business manager Wallace Sheft who was still angry at the airline for charging $250,000 to fly Hudson home. He told Gottlieb that Hudson wanted to give him $250,000 "to do with what you want." It was based on an advance from a book by Sarah Davidson. Sheft was thinking in terms of the Rock Hudson Memorial Fund for AIDS Research. But since Gottlieb was getting no support from UCLA and was getting major flack, "I thought this is a time to try and form a national research foundation. We got a bunch of people together at a law office in Century City. We formed a board — Joel Weisman was part of it and a number of other people. And we called it the National AIDS Research Foundation."
Enter Gottlieb's friend gay Republican friend and AIDS activist Bruce Decker and Terry Beirn, a former news producer who worked with cancer researcher Dr. Mathilde Krim
in her small AIDS Medical Foundation. AMF, which also included Dr. Joseph Sonnabend and AIDS activist and singer Michael Callen, was in the red, having given out more money than they had.
"Bruce Decker hears about what we're doing — and we have $250,000. He and Terry are Fire Island friends" and they see the need to go national by merging, Gottlieb said. "Of course, Elizabeth Taylor and Bill Meisenheimer are involved. Meisenheimer already had Commitment to Life, which raised $1.3 million. And the East Coast people saw how much money was raised, that the West Coast had Rock Hudson and the political dynamics were shifting to of all places, Los Angeles. Meetings were arranged to coordinate a merger of the two to make one national AIDS foundation called the American Foundation for AIDS Research — amfAR."
However, Gottlieb noted, "we on the West Coast were very much on the fence about this. Ultimately, David Geffen persuaded me that it was the right thing to do." Geffen was close with Mathilde Krim and her powerful husband, Arthur Krim, president and board chair of United Artists. Geffen "raised his voice and said something to the effect of, 'do you know who she is?'" Yes, Gottlieb knew did but wasn't impressed. Eventually, Gottlieb left amfAR for private practice and is now back at APLA.
Two other major events happened in 1985: the CDC hosted the First International Conference on AIDS in Atlanta with 2,000 registrants. And America met 14-year-old Ryan White, an Indiana hemophiliac infected through a blood transfusion and barred from school because he had AIDS. 
Interestingly, Pat Buchanan, the conservative great right hope, was Reagan's communications director from February 6, 1985  to March 1, 1987. Two months after he left, on May 31, 1987, Reagan gave his first major address on AIDS. The number of deaths had topped 25,000.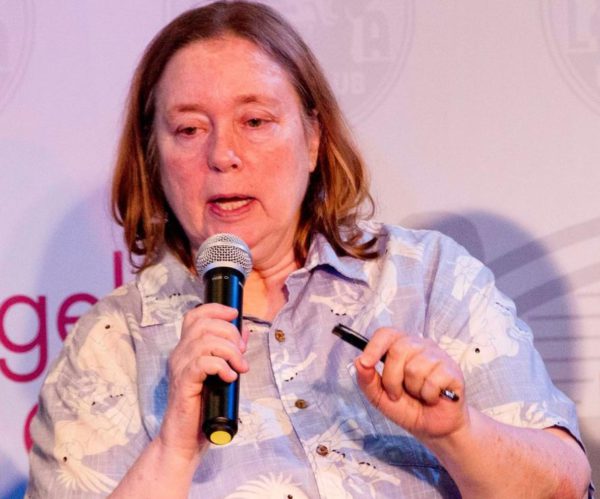 Karen Ocamb is the Director of Media Relations for Public Justice, a national nonprofit legal organization that advocates and litigates in the public interest. The former News Editor of the Los Angeles Blade, Ocamb is a longtime chronicler of the lives of the LGBTQ community in Southern California. 
Federal blood donation study recruiting gay, bi men
The study is aimed at assessing the individual risk of a gay or bisexual man transmitting HIV if they donate blood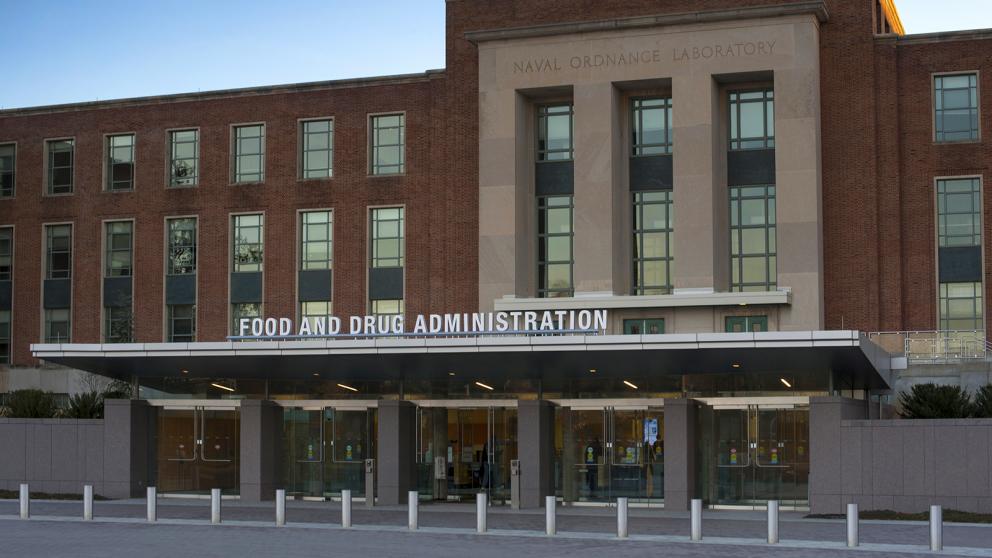 SILVER SPRING, Md. – Washington D.C.'s Whitman-Walker Institute and the Los Angeles LGBT Center are among LGBTQ supportive organizations in eight U.S. cities working with the nation's three largest blood donation centers on a study to find a way to significantly ease blood donation eligibility for men who have sex with men or MSM.
The study, which is funded by the U.S. Food and Drug Administration, calls for recruiting a total of 2,000 gay and bisexual men in eight U.S. cities selected for the study to test the reliability of a detailed donor history questionnaire aimed at assessing the individual risk of a gay or bisexual man transmitting HIV if they donate blood.
A statement released by the study organizers says the questionnaire, which could be given to a gay or bisexual person showing up at a blood donation site, could be a replacement for the FDA's current policy of banning men who have had sex with another man within the previous three months from donating blood.
In the early years of the AIDS epidemic in the 1980s, the FDA put in place a permanent ban on blood donations by men who have sex with men. In 2015, with advanced HIV testing and screening techniques readily available, the FDA lifted its permanent ban on MSM blood donations and replaced it with a 12-month restriction for sexual activity between MSM.
The FDA further reduced the time of sexual abstinence for MSM to three months in 2020.
LGBTQ rights organizations and others advocating for a change in the current FDA restriction point out that at a time when the nation is facing a severe shortage of blood donations due to the COVID pandemic, the three-month donation deferral requirement for MSM is preventing a large number of blood donations from men whose risk of HIV infection is low to nonexistent.
Under the FDA-funded and initiated study, the American Red Cross, Vitalant, and OneBlood — the nation's three largest blood donation centers — have been conducting the questionnaire testing since the study was launched in March 2021.
"To gather the necessary data, the blood centers will partner with LGBTQ+ Centers in Washington, D.C., San Francisco, Orlando, New Orleans/Baton Rouge, Miami, Memphis, Los Angeles, and Atlanta," the study organizers say in a statement on a website launched to help recruit volunteers for the study.
"The study will enroll a total of 2,000 gay and bisexual men (250 – 300 from each area) who meet the study eligibility criteria," the statement says.
Among the criteria for being eligible, the statement says, is the person must be between 18 and 39 years old, have expressed an interest in donating blood, must have had sex with at least one other man in the three months before joining the study, and must agree to an HIV test. A negative test result is also required for acceptance into the study.
The study is officially named ADVANCE, which stands for Assessing Donor Variability And New Concepts in Eligibility.
"The ADVANCE study is a first step in providing data that will help the FDA determine if a donor history questionnaire based on individual risk would be as effective as time-based deferral, in reducing the risk of HIV in the blood supply," the study organizers statement says.
"If the scientific evidence supports the use of the different questions, it could mean men who have sex with men who present to donate would be assessed based upon their own individual risk for HIV infection and not according to when their last sexual contact with another man occurred," the statement continues. "The ADVANCE study is groundbreaking because it's the first time a study is being conducted that could result in individual risk assessment for men who have sex with men to donate blood," the statement says.
The Whitman-Walker Institute, which is among the community-based organizations involved in helping organize and conduct the study, is an arm of Whitman-Walker Health, the LGBTQ supportive D.C. health center.
Christopher Cannon, director of Research Operations for Whitman-Walker Institute, said that since the D.C.-based part of the study was launched early last year prior to the official announcement of the study on March 20, D.C. has surpassed the original city goal of recruiting 250 participants for the study.
"We are currently at 276 as of last Friday's report," Cannon told the Blade in a Jan. 13 interview. "And the current goal is now 300," he said. "So, we're hoping to push this over that goal line in the coming days and weeks.
Cannon said that like the community organizations involved in the study in other cities, Whitman-Walker Institute's role has been focused on recruiting gay and bisexual men to participate in the study and to send them to the American Red Cross headquarters building at 430 17th St., N.W. near the White House. That site, which serves as a blood donation center, is also serving as the site where study participants are screened, interviewed, and presented with a detailed questionnaire.
"We promote the study within ," Cannon said. "We promote it to our networks. We did social media promotions across the city.'
Although Whitman-Walker doesn't have the final draft of the questionnaire being presented to study participants, Cannon said he has seen "bits and pieces" of it.
"They ask very direct questions about the person's sex life, sexual partners, sex acts, numbers of partners," Cannon said. "There are questions about condom use, PrEP use, drug use. How recently have you had sex? Lots of related questions," he said.
"It's really about trying to figure out effectively which are the best questions," according to Cannon. "The hope is by analyzing the questions and identifying maybe the best 10 to 12 questions that can be universally used…to get the best answers that identify the individuals that may have the highest risk," he said. Doing that, he points, out can help determine which men who have sex with men should be eligible to safely donate blood.
A statement released by Whitman-Walker last March calls the study a "monumental research effort" that has the potential to lift the stigma imposed on gay and bisexual men whose ability to donate blood is currently based on their sexual orientation.
"The ADVANCE study is designed to understand if, by asking carefully crafted and research-informed research questions, blood collectors can screen potential blood donors for their individual HIV risk factors rather than applying a ban against sexually active gay and bisexual men," the statement says.
"The goal is to move away from overly broad questions that exclude potential donors and spread stigmatizing messages about MSM and their HIV risks," it says.
Cannon said that as of last week, study organizers had recruited a total of 879 study participants nationwide out of the goal of 2,000 participants needed to complete the study. He said issues related to the COVID pandemic created delays in the recruitment efforts, but study organizers were hopeful the study could be completed by this summer.
Information about participating in the study or learning more about it can be obtained at advancestudy.org.
Peacock will premiere HIV documentary on World AIDS Day
Drew, who was diagnosed with HIV in the late 1980's when he was only 23 years old, was not paid for his participation in the trial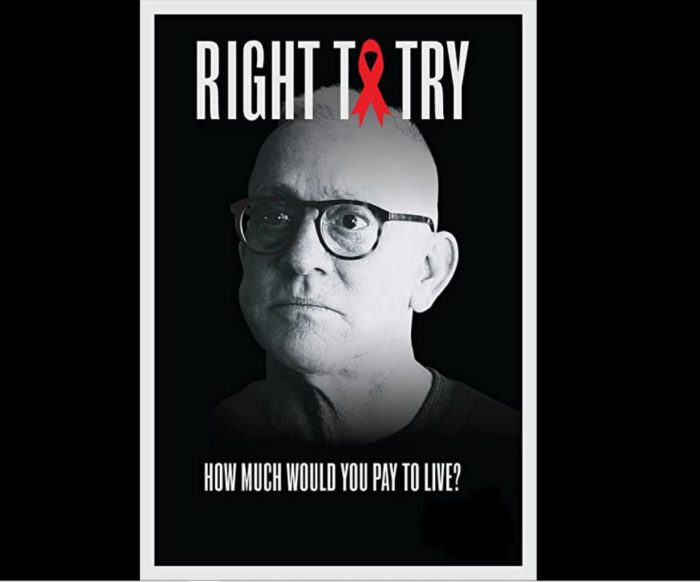 NEW YORK — NBCUniversal's streaming service Peacock will premiere the documentary short "Right to Try," which explores one man's search to cure his HIV, Wednesday on World AIDS Day.
The film, produced by Oscar-winning actress Octavia Spencer and directed by "The Late Late Show With James Corden" producer Zeberiah Newman, follows HIV survivor and activist Jeffrey Drew's participation in an experimental vaccine trial.
"We are thrilled our film 'Right to Try' will be seen on Peacock. Though Jeffrey Drew's heroic journey is singular, his story is universal," Spencer said in a statement, according to Variety. "This is an important film and with Peacock we have a wonderful partner to bring it to our audience."
Val Boreland, EVP of content acquisitions at NBCUniversal Television and Streaming, added: "It is an honor to share Drew's story with Peacock users and raise awareness around the important issue of HIV research. We know the impact of this documentary will be far-reaching."
The documentary shows the side effects that Drew experienced during the early days of the trial. The coronavirus pandemic interrupted the study, as the doctor spearheading the experimental vaccine started working on the COVID-19 vaccine.
Drew, who was diagnosed with HIV in the late 1980's when he was only 23 years old, was not paid for his participation in the trial that a major pharmaceutical company did not fund.
"There are people who are still getting infected and sick and dying," he told Variety in a June interview. "I would love to see a generation that doesn't have to think or worry about this anymore."
"Right to Try" won the Audience Award for Documentary Short last summer at Outfest, an LGBTQ+ film festival in Los Angeles.
Los Angeles observes World AIDS Day with star-studded concert
Gay Men's Chorus of Los Angeles and Juan Pablo di Pace will also be performing at the ceremony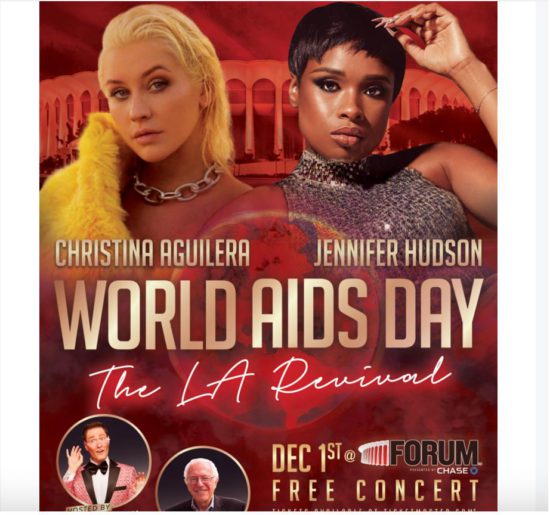 LOS ANGELES — As World AIDS Day is recognized around the globe, Los Angeles will mark the day with a free concert with a star-studded line-up at The Forum hosted by the AIDS Healthcare Foundation (AFA) and a ceremony at The Wall Las Memorias (TWLA) AIDS Monument in Lincoln Park Wednesday.
In a press release, the AFA said Grammy award winners Jennifer Hudson and Christina Aguilera are set to perform in front of a sold-out crowd. Emmy-nominated comedian Randy Rainbow will host the event, which will take place from 8:00 p.m. to 10:00 p.m.
In addition to the entertainment, the AFA will honor Vermont's U.S. Sen. Bernie Sanders with a Lifetime Achievement Award and a special video presentation. The award will be accepted by his wife Jane Sanders.
"This year marks two significant milestones in the decades-long fight against HIV and AIDS: first, for the first recognition by the CDC of the virus that led to what is now known as AIDS (40 years ago, in June 1981), and second, the launch of AHF (35 years ago)," the release reads.
TWLA's ceremony will reveal an expanded footprint of the surrounding landscape of the country's only publicly funded AIDS monument. The monument, created in 2004, will also add over 1,000 names of loved ones lost to AIDS to the 360-plus names already etched into it and unveil new artwork.
TWLM Founder Richard Zaldivar, Los Angeles City Councilman Gil Cedillo and County Board of Supervisors Chair Hilda Solis are all expected to attend the event, which will start at 6:15 p.m. at 3600 N. Mission Road. According to NBC 4 Los Angeles, organizers also hope Los Angeles Mayor Eric Garcetti will be in attendance.
Gay Men's Chorus of Los Angeles and Juan Pablo di Pace will also be performing at the ceremony.
World AIDS Day is observed every December 1 to raise awareness about AIDS and honor the people who have died of the disease. This year's theme is "End inequities. End AIDS and End Pandemics."