AIDS @40: AIDS before and after Rock Hudson
"AIDS is not just a Hollywood disease. And it is not just a gay disease. This is the health crisis of this century."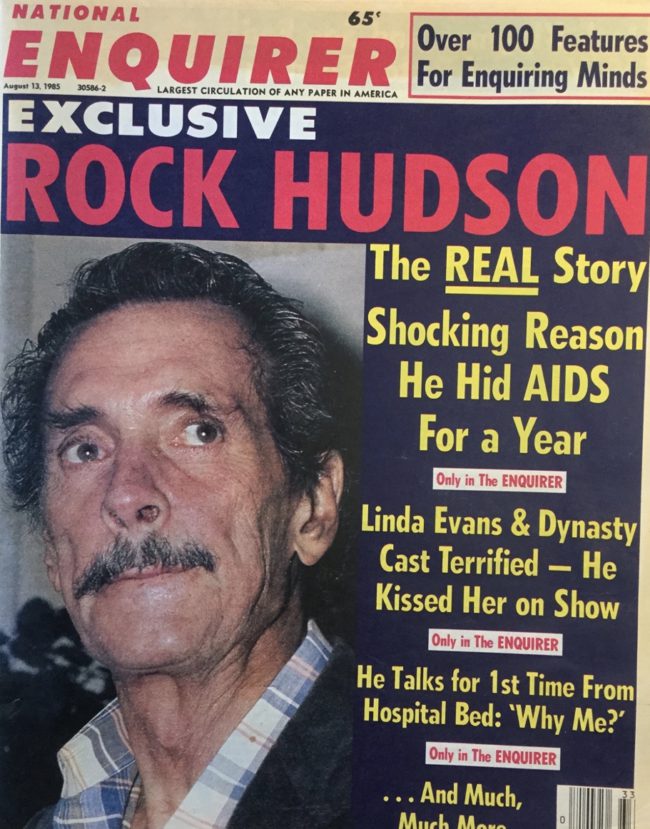 By Karen Ocamb | LOS ANGELES – "The poor homosexuals — they have declared war upon nature, and now nature is exacting an awful retribution," former Nixon adviser and conservative journalist Pat Buchanan wrote May 24, 1983 in a New York Post column "AIDS Disease: It's Nature Striking Back."
The year before, in 1982, Buchanan — a proud son of the Confederacy and a CNN "Crossfire" commentator — staunchly defended John Demjanjuk, a retired Cleveland autoworker extradited to Israel as "Ivan the Terrible," the SS Nazi responsible for killing hundreds of thousands of Jews at Treblinka during the Holocaust.
Nonetheless, Buchanan later became an advisor in Ronald Reagan's White House, which was already filled with Christian evangelicals for whom AIDS was a weapon of mass destruction in their persistent war on "sodomites."  
A few federal representatives such as Sen. Edward Kennedy and California's Rep. Henry Waxman — with help from gay deputy Tim Westmoreland — tried to intercede in stemming the growing AIDS crisis. In California, Assemblymember Art Agnos was a strong ally and in 1983, Senate President Pro Tempore David A. Roberti, working closely with his 27-year-old gay aide Stan Hadden, passed a bill establishing the California AIDS Advisory Committee. In 1985, the same year LIFE AIDS Lobby was launched, Hadden crafted legislation to encourage a coordinated approach to local AIDS programs and services.
But in those early years of AIDS, scientists were groping for answers. In March 1983, 19 months after the Centers for Disease Control (CDC) published the first report on the strange new disease, the CDC, the Food and Drug Administration (FDA) and the National Institutes of Health (NIH) issued interagency recommendations to prevent the transmission of AIDS through sexual contact, blood transfusions and needle sharing.
Finally in May, Drs. Francois Barre-Sinoussi and Luc Montagnier from the French Pasteur Institute in Paris isolated the retrovirus that causes AIDS, calling it LAV (Lymphadenopathy-associated virus). Soon thereafter, in 1984, Dr. Robert Gallo at the NIH's National Cancer Institute, also isolated a virus, which he called HTVL-III. An international debate was sparked over credit for the discovery of the cause of AIDS.
The issue was exacerbated at an April 1984 news conference held by Health and Human Services Secretary Margaret M. Heckler and Dr. Edward N. Brandt Jr., the assistant secretary of HHS who previously announced that AIDS was "the No. 1 priority." They declared that Gallo had identified the human immunodeficiency virus, or HIV, as the cause of AIDS. They also forecast that an HIV vaccine would be created in three years and commercially available within five years. The news conference failed to acknowledge the contributions of Montagnier, who many AIDS doctors favored. 
Dr. Michael Gottlieb, author of the first CDCD report on June 5, 1981, for instance, talked about Montagnier during his briefings to fellow AIDS Project Los Angeles board members, who included CDC report co-author Dr. Joel Weisman, lesbian feminist Ivy Bottini and Dr. Neil Schram. The APLA Board of Directors was officially convened on January 14, 1983 by co-chairs Weisman and attorney and MECLA co-chair Diane Abbitt.
Gottlieb told the APLA board that he was impressed by the French paper. But Bottini was concerned. She told Gottlieb, "Michael, unless you know, with absolute certainty, that AIDS is caused by a virus, you can't say anything about it publicly because we are going to be further stigmatized. People are going to be afraid of us."
"And she was right," Gottlieb told the Los Angeles Blade.
In 1984, with hatred and AIDS deaths mounting, gays were giving up on gay liberation. But some fought on. L.A. Cares put up AIDS prevention billboards featuring "Poltergeist" actress Zelda Rubinstein telling her gay son to remember his rubbers. As explained in  "Guerilla Medicine," LA medical nurse Jim Corti and Sausalito business consultant Marty Delaney drove to Tijuana, Mexico, to buy ribavirin, an over-the-counter cold remedy sold outside the US but not approved by the FDA for AIDS treatment for West Coast buyers clubs. "They haven't even bothered to test [ it ] here…and the pharmacies here can't sell it. Why, because it might be dangerous? Hell, dying is dangerous," Corti said.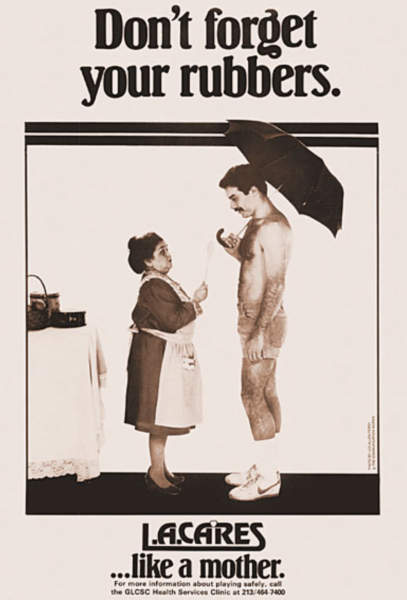 Delaney stopped drug running to found Project Inform to get the word out about possible new treatments and put pressure on drug companies and Federal bureaucrats, including Dr. Anthony Fauci, who became director of the U.S. National Institute of Allergy and Infectious Diseases at NIH in 1984.
For some gays, the fight for freedom expanded. Ron Stone, a 37-year-old gay former staffer for Sen. Alan Cranston, was so annoyed by development in his neighborhood, he teamed up with affordable housing guru Larry Gross, director of the Coalition for Economic Survival, to incorporate West Hollywood as its own self-governing city.
On Nov. 29, 1984, an unusual coalition of renters, seniors and gays passed an initiative to incorporate the 1.9 square-mile West Hollywood and elected a gay-majority city council, including gay 27-year-old John Heilman who had recently passed his bar exam. "Gay Camelot," Frontiers publisher Bob Craig called the new City of West Hollywood. 
But the First Wave of AIDS started crashing hard on cities like West Hollywood. First-in-the-nation ordinances prohibiting discrimination based on AIDS were passed in L.A., West Hollywood, San Francisco, and Hayward. Heilman drafted the WeHo AIDS non-discrimination ordinance, which was challenged the following year when a nail salon refused service to gay customer Paul Jasperson. Attorney Gloria Allred stuck with and eventually won the case after Jasperson's death from AIDS.
The LA non-discrimination ordinance, drafted by closeted City Councilmember Joel Wachs , passed 14-0. But after Mayor Tom Bradley signed the new law in August, all hell broke loose. "It was overwhelmingly awful," Wachs told the LA Times. "A lot of it described (AIDS) as a curse rather than a virus. I was stunned by the incredible numbers of really hateful things that came in."
"It's going to get worse. It really is going to get worse," said longtime gay ally Assembly Speaker Willie Brown (D-San Francisco). Indeed, the Associated Press reported on an LA poll showing that 51 percent of 2,308 people supported quarantining of AIDS patients in 1985.
Entertainers had tried to help raise money and awareness in those early days, including Debbie Reynolds, Chika Rivera, Joan Rivers and Rita Moreno. But it wasn't until Rock Hudson that the world woke up.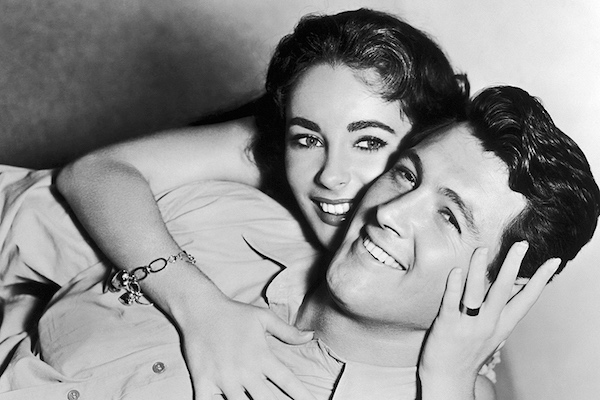 Hudson was diagnosed on June 5, 1984 with a KS lesion on his neck, three weeks after attending a White House state dinner. He turned to Gottlieb for help. Hudson noted that some Americas were flying to Paris, where the more compassionate French were treating them with a compound that worked against most retroviruses. Gottlieb offered to help Hudson meet Dr. Dominique Dormont and get an experimental treatment, HPA-23. Hudson was going to the Cannes Film Festival so he agreed.
"We had no idea if this drug worked. And if it worked, how often did we give it? It was truly a shot in the dark," Gottlieb told the LA Blade.
It was on Hudson's second or third trip to Paris on July 21 when he collapsed in the lobby of the Ritz Hotel and was taken to the American Hospital in Paris." Longtime publicist Dale Olson reported that the movie star had inoperable liver cancer. Three days later, Olson sent a desperate telegram to the White House begging for help to get him transferred to Percy Military Hospital that refused to accept him because he wasn't French. Dormont "reports only one hospital in the world can offer necessary treatment to save life of Rock Hudson or at least alleviate his illness," Olson wrote. Nancy Reagan said no. But she wanted the press to know that Reagan had called Hudson and "wished him well" and the couple was "keeping him in their thoughts and prayers." 
The next day, July 25, Hudson's French publicist Yanou Collart announced that Hudson had AIDS. On July 26, "AIDS was on the front page of virtually every Sunday morning paper in the United States," Randy Shilts later wrote in And the Band Played On. "There was AIDS before Rock Hudson and AIDS after." 
Hudson was flown home on an Air France jetliner and driven to UCLA Medical Center. The chair of Gottlieb's department told him to hold a news conference. He had permission from Hudson to confirm the star had AIDS. But Gottlieb was not flanked by rows of doctors as is customary. Instead, he stood alone, with a public relations person. "Of course, I read a statement. But I felt inhibited about responding to questions," trying to avoid questions like "is Rock Hudson gay?"
"There was precious little support from the institution," Gottlieb told the LA Blade, still annoyed by the missed opportunity. "It was an embarrassment. The press is out there, hundreds of people, flashbulbs popping as they did in those days. And all they got was a brief statement confirming that Rock Hudson had AIDS. There was no further guidance or support. So, it was an embarrassment as far as I'm concerned."
Gottlieb snuck Elizabeth Taylor to see Hudson through a back freight door. "Elizabeth was dressed to the nines," Gottlieb recalled to PEOPLE magazine. "She was a little anxious about not having security." But it was Gottlieb who jumped hearing a loud bang in the elevator. "Elizabeth laughed and said 'It's just my jewels.' She had hit the wall of the elevator with a large diamond, the Krupp diamond," Gottlieb said. "She asked me if it was okay to hug and kiss him. She was worried about his immune system. Not hers." Afterwards, he said, "Rock was very glad to have seen her."
On July 28, APLA held the world's first AIDS Walk. More than 4,500 walkers showed up, raising $673,000. Mayor Bradley served as chair for the six-plus miles walkathon, which started from the "sky set" of Paramount Studios in Hollywood.
Meanwhile, other machinations were afoot. LA Times society columnist MaryLouise Oates called her friend philanthropist Wallis Annenberg about co-chairing the APLA 1985 Commitment to Life gala on September 19. Annenberg agreed and the two decided to ask former First Lady Betty Ford serve as the other cochair. Ford agreed and said she would attend the event to receive the first Commitment to Life Award. Elizabeth Taylor agreed to co-host the event with Burt Reynolds, Sammy Davis Jr., Shirley MacLaine and Burt Lancaster – and helped organize the event at the Bonaventure Hotel with her publicist Chen Sam and Gary Pudney, ABC Entertainment vice president.
The crowd included Cher, Linda Evans, Diahann Carroll, Carol Burnett, Cyndi Lauper, Rod Stewart, Sybil Brand, Tom Bradley, Gregory and Veronique Peck, Whoopi Goldberg, Angie Dickinson with George Hamilton, Stevie Wonder, society florist David Jones with Doris Fields, Barbara Marshall, Gina Lollobrigida, and scores more among the 2,500-plus guests, Oates reported.
Hudson, who left UCLA Medical Center for his Beverly Hills home on August 24, sent a message of love and thanks read by his friend, Burt Lancaster.
"Tonight is the start of my personal war on this disease, AIDS," said Taylor. "We celebrate life by increasing the number of survivors and not by counting the number of victims . . . commit to doing and learning more about the disease, and the cure can be found. L'Chayim, " to life.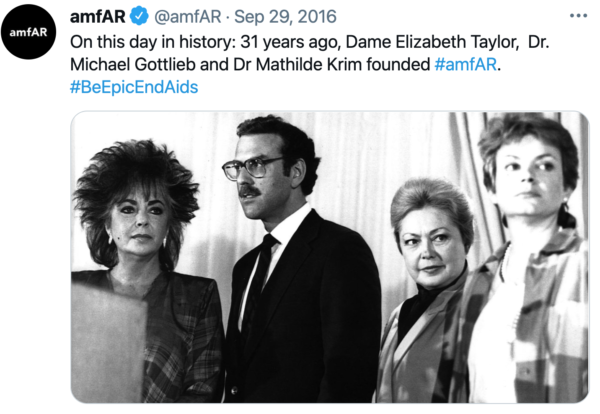 Burt Reynolds said: "I used to think 'macho' was a marvelous thing to be–strong, swaggering, courageous, bold. I played all of that; our friends with AIDS are now having to live it. . . . The real macho men are not on the screen. They are fighting for their lives–and ours–at home and in hospitals."
But he was hissed when reading a statement from Reagan about how "The U.S. Public Health Service has made remarkable progress" in efforts to conquer the disease, adding "there is still much to be done." Reagan had finally used the word "AIDS" at a news conference three weeks earlier. He told the APLA audience: "we recognize the need for concerted action by organizations like yours, devoted to education, support services and research." The American AIDS death toll stood at 16,000.
AIDS is "not just a Hollywood disease. And it is not just a gay disease. This is the health crisis of this century," said APLA Chair Peter Scott. "Every knowledgeable scientist will affirm that AIDS is not an easy disease to catch, and yet we continue to witness unfounded and unconscionable mistreatment of persons with AIDS and those at risk."
Ford accepted her award, saying she had battled "two diseases, that for a long time nobody wanted to talk about: cancer and alcoholism. With public awareness, attitudes toward these have been changed. Attitudes can be changed about AIDS too. They are changing. In my life, being part of this is important. . . . Thank you for allowing me the opportunity to help with the understanding of another disease."
A week before Hudson died at age 59 on Oct. 2, 1985, Gottlieb rode up in an elevator with Hudson's business manager Wallace Sheft who was still angry at the airline for charging $250,000 to fly Hudson home. He told Gottlieb that Hudson wanted to give him $250,000 "to do with what you want." It was based on an advance from a book by Sarah Davidson. Sheft was thinking in terms of the Rock Hudson Memorial Fund for AIDS Research. But since Gottlieb was getting no support from UCLA and was getting major flack, "I thought this is a time to try and form a national research foundation. We got a bunch of people together at a law office in Century City. We formed a board — Joel Weisman was part of it and a number of other people. And we called it the National AIDS Research Foundation."
Enter Gottlieb's friend gay Republican friend and AIDS activist Bruce Decker and Terry Beirn, a former news producer who worked with cancer researcher Dr. Mathilde Krim
in her small AIDS Medical Foundation. AMF, which also included Dr. Joseph Sonnabend and AIDS activist and singer Michael Callen, was in the red, having given out more money than they had.
"Bruce Decker hears about what we're doing — and we have $250,000. He and Terry are Fire Island friends" and they see the need to go national by merging, Gottlieb said. "Of course, Elizabeth Taylor and Bill Meisenheimer are involved. Meisenheimer already had Commitment to Life, which raised $1.3 million. And the East Coast people saw how much money was raised, that the West Coast had Rock Hudson and the political dynamics were shifting to of all places, Los Angeles. Meetings were arranged to coordinate a merger of the two to make one national AIDS foundation called the American Foundation for AIDS Research — amfAR."
However, Gottlieb noted, "we on the West Coast were very much on the fence about this. Ultimately, David Geffen persuaded me that it was the right thing to do." Geffen was close with Mathilde Krim and her powerful husband, Arthur Krim, president and board chair of United Artists. Geffen "raised his voice and said something to the effect of, 'do you know who she is?'" Yes, Gottlieb knew did but wasn't impressed. Eventually, Gottlieb left amfAR for private practice and is now back at APLA.
Two other major events happened in 1985: the CDC hosted the First International Conference on AIDS in Atlanta with 2,000 registrants. And America met 14-year-old Ryan White, an Indiana hemophiliac infected through a blood transfusion and barred from school because he had AIDS. 
Interestingly, Pat Buchanan, the conservative great right hope, was Reagan's communications director from February 6, 1985  to March 1, 1987. Two months after he left, on May 31, 1987, Reagan gave his first major address on AIDS. The number of deaths had topped 25,000.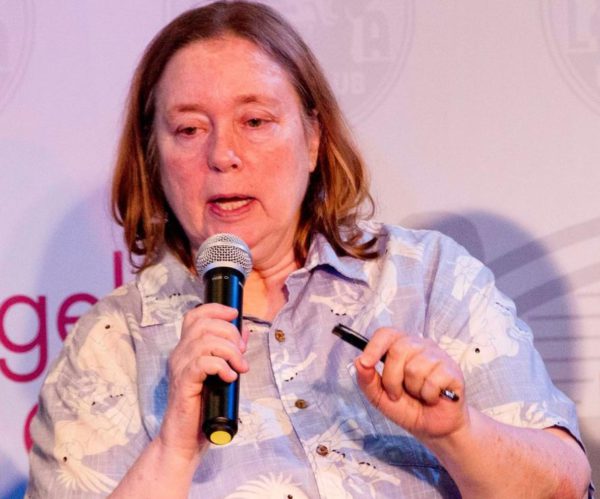 Karen Ocamb is the Director of Media Relations for Public Justice, a national nonprofit legal organization that advocates and litigates in the public interest. The former News Editor of the Los Angeles Blade, Ocamb is a longtime chronicler of the lives of the LGBTQ community in Southern California. 
HIV speeds up body's aging within three years after initial infection
Living with HIV infection is associated with early onset of aging-related chronic conditions, sometimes described as accelerated aging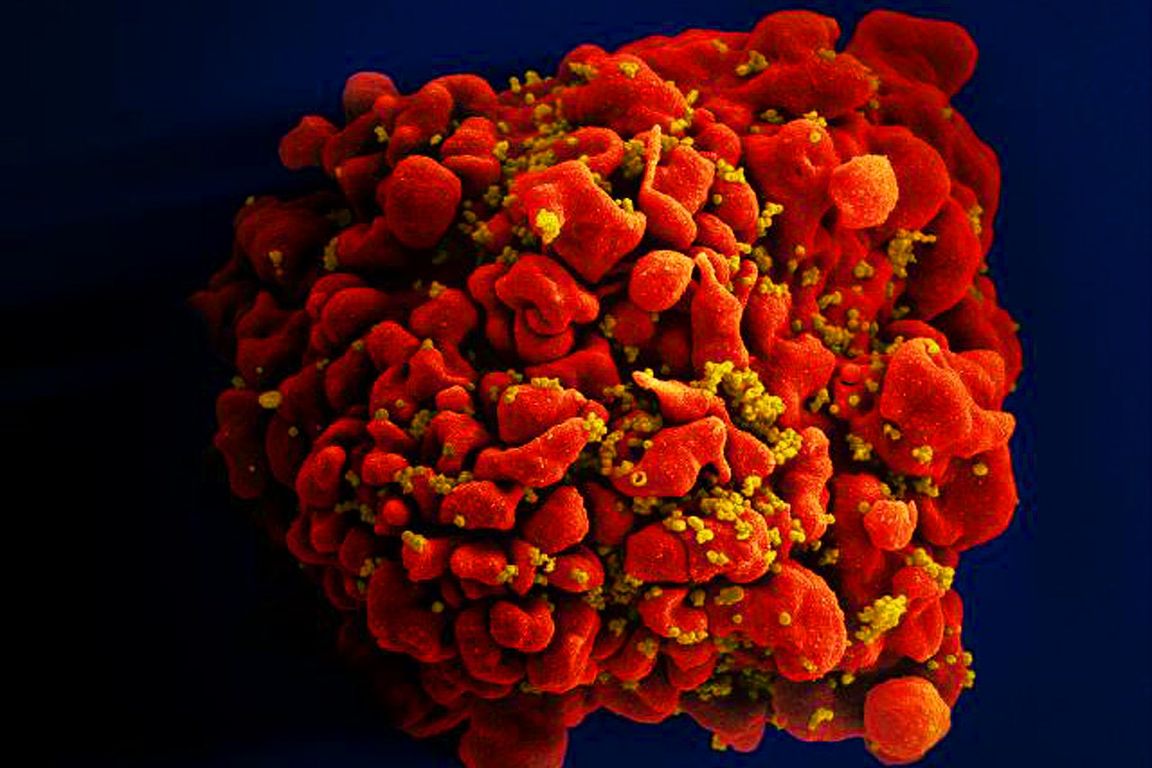 LOS ANGELES – A study published by researchers from the division of hematology and oncology at the David Geffen School of Medicine at UCLA at the end of June revealed that HIV has an "early and substantial" impact on aging in infected people, accelerating biological changes in the body associated with normal aging within just two to three years of infection.
"Our work demonstrates that even in the early months and years of living with HIV, the virus has already set into motion an accelerated aging process at the DNA level," said lead author Elizabeth Crabb Breen, a professor emerita at UCLA's Cousins Center for Psychoneuroimmunology and of psychiatry and biobehavioral sciences at the David Geffen School of Medicine at UCLA. "This emphasizes the critical importance of early HIV diagnosis and an awareness of aging-related problems, as well as the value of preventing HIV infection in the first place."
According to the results of the study published in the Cell Press open source journal iScience, the findings suggest that new HIV infection may rapidly cut nearly five years off an individual's life span relative to an uninfected person.
The study's authors noted that despite a significant increase in life expectancy because of treatment regimes now available to patients, there is mounting evidence that living long-term with Human Immunodeficiency Virus (HIV) and antiretroviral therapy, even when clinically well-controlled, is associated with an earlier than expected onset of chronic conditions such as heart and kidney disease, frailty, and neurocognitive difficulties.
The research team analyzed stored blood samples from 102 men collected six months or less before they became infected with HIV and again two to three years after infection. They compared these with matching samples from 102 non-infected men of the same age taken over the same time period.
The UCLA team said that this study is the first to match infected and non-infected people in this way. All the men were participants in the Multicenter AIDS Cohort Study, an ongoing nationwide study initiated in 1984.
"Our access to rare, well-characterized samples allowed us to design this study in a way that leaves little doubt about the role of HIV in eliciting biological signatures of early aging," said senior author Beth Jamieson, a professor in the division of hematology and oncology at the Geffen School. "Our long-term goal is to determine whether we can use any of these signatures to predict whether an individual is at increased risk for specific aging-related disease outcomes, thus exposing new targets for intervention therapeutics."
The researchers noted some limitations to the study. It included only men, so results may not be applicable to women. In addition, the number of non-white participants was small, and the sample size was insufficient to take into consideration later effects of highly active antiretroviral treatment or to predict clinical outcomes.
There is still no consensus on what constitutes normal aging or how to define it, the researchers wrote.
The full study is available here: (Link)
U.S. announces more funding for HIV/AIDS fight in Latin America
Jill Biden made announcement on Saturday in Panama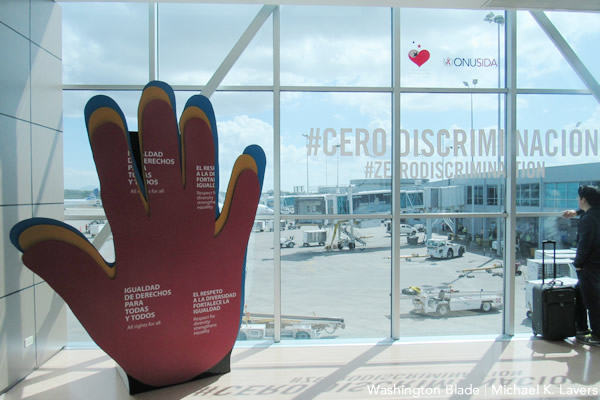 PANAMA CITY — First lady Jill Biden on Saturday announced the U.S. will provide an additional $80.9 million to the fight against HIV/AIDS in Latin America.
Biden during a visit to Casa Hogar el Buen Samaritano, a shelter for people with HIV/AIDS in Panama City, said the State Department will earmark an additional $80.9 million for President's Emergency Plan for AIDS Relief-funded work in Latin America. A Panamanian activist with whom the Washington Blade spoke said LGBTQ+ people were among those who met with the first lady during her visit.
Pope Francis visited the shelter in 2019.
"I'm glad we have the opportunity to talk about how the United States and Panama can work together to combat HIV," said the first lady.
Michael LaRosa, the first lady's spokesperson, noted Panama will receive $12.2 million of the $80.9 million in PEPFAR funding.
"This funding, pending Congressional notification, will support expanded HIV/AIDS services and treatment," said LaRosa.
UNAIDS statistics indicate an estimated 31,000 Panamanians were living with HIV/AIDS in 2020. The first lady's office notes the country in 2020 had the highest number of "newly notificated cases of HIV/AIDS" in Central America.
The first lady visited Panama as part of a trip that included stops in Ecuador and Costa Rica.
The Summit of the Americas will take place next month in Los Angeles. The U.S. Agency for International Development and PEPFAR in April announced they delivered more than 18 million doses of antiretroviral drugs for Ukrainians with HIV/AIDS.
New highly-infectious variant of HIV discovered by Dutch scientists
This new variant of HIV-1 damaged the immune system twice as fast, "placing individuals at risk of developing AIDS much more rapidly"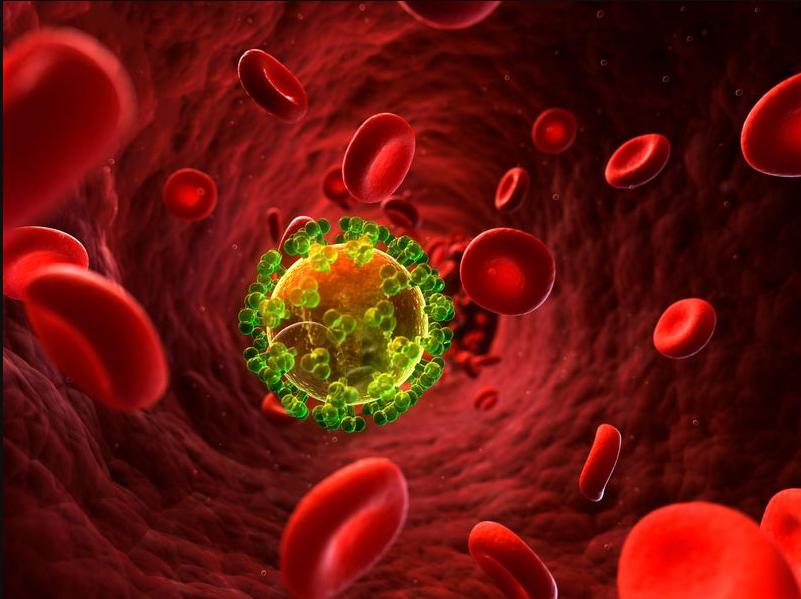 CAMBRIDGE, UK – A study published this week by Science (journal) detailed an alarming discovery by researchers, clinicians and epidemiologists in the Netherlands of a new, highly-infectious mutated variant strain of the human immunodeficiency virus, (HIV), circulating in the country.
The BEEHIVE project – which stands for "bridging the epidemiology and evolution of HIV in Europe and Uganda," detailed the findings which showed that a distinct subtype-B viral variant of HIV-1 damaged the immune system twice as fast, "placing individuals at risk of developing AIDS much more rapidly", and those with this variant were at a higher risk of transmitting the virus to others.
The variant, known as the "VB variant", causes CD4 cell decline to occur twice as fast in infected individuals compared with other viral variants. This is a clinical hallmark, or "signature" of the extent of damage caused by the HIV virus. In addition, those infected with the VB variant also demonstrated an increased risk of transmitting the virus to others, the data suggests.
Individuals infected with the new "VB variant" (for virulent subtype B) showed significant differences before antiretroviral treatment compared with individuals infected with other HIV variants:
Individuals with the VB variant had a viral load (the level of the virus in the blood) between 3.5 and 5.5 times higher.
In addition, the rate of CD4 cell decline (the hallmark of immune system damage by HIV) occurred twice as fast in individuals with the VB variant, placing them at risk of developing AIDS much more rapidly.
Individuals with the VB variant also showed an increased risk of transmitting the virus to others.
The project's researchers, clinicians and epidemiologists did determine however, that those infected with the VB variant had "similar immune system recovery and survival to individuals with other HIV variants."
However, the researchers stress that because the VB variant causes a more rapid decline in immune system strength, this makes it critical that individuals are diagnosed early and start treatment as soon as possible.
BEEHIVE project's lead author Dr Chris Wymant, from the University of Oxford's Big Data Institute and Nuffield Department of Medicine, said: "Before this study, the genetics of the HIV virus were known to be relevant for virulence, implying that the evolution of a new variant could change its impact on health. Discovery of the VB variant demonstrated this, providing a rare example of the risk posed by viral virulence evolution."
"Our findings emphasize the importance of World Health Organization guidance that individuals at risk of acquiring HIV have access to regular testing to allow early diagnosis, followed by immediate treatment. This limits the amount of time HIV can damage an individual's immune system and jeopardise their health. It also ensures that HIV is suppressed as quickly as possible, which prevents transmission to other individuals," Senior author Professor Christophe Fraser from the University of Oxford's Big Data Institute and Nuffield Department of Medicine, added.

In its Global HIV & AIDS statistics — Fact sheet, the UNAIDS Secretariat detailed the statistical data: 
GLOBAL HIV STATISTICS
28.2 million people were accessing antiretroviral therapy as of 30 June 2021.
37.7 million [30.2 million–45.1 million] people globally were living with HIV in 2020.
1.5 million [1.0 million–2.0 million] people became newly infected with HIV in 2020.
680 000 [480 000–1.0 million] people died from AIDS-related illnesses in 2020.
79.3 million [55.9 million–110 million] people have become infected with HIV since the start of the epidemic.
36.3 million [27.2 million–47.8 million] people have died from AIDS-related illnesses since the start of the epidemic.
People living with HIV
In 2020, there were 37.7 million [30.2 million–45.1 million] people living with HIV.

36.0 million [28.9 million–43.2 million] adults.
1.7 million [1.2 million–2.2 million] children (0–14 years).
53% of all people living with HIV were women and girls.

84% [67– >98%] of all people living with HIV knew their HIV status in 2020.
About 6.1 million [4.9 million–7.3 million] people did not know that they were living with HIV in 2020.
People living with HIV accessing antiretroviral therapy
As of 30 June 2021, 28.2 million people were accessing antiretroviral therapy, up from 7.8 million [6.9 million–7.9 million] in 2010.
In 2020, 73% [56–88%] of all people living with HIV were accessing treatment.

74% [57–90%] of adults aged 15 years and older living with HIV had access to treatment, as did 54% [37–69%] of children aged 0–14 years.
79% [61–95%] of female adults aged 15 years and older had access to treatment; however, just 68% [52–83%] of male adults aged 15 years and older had access.

85% [63– >98%] of pregnant women living with HIV had access to antiretroviral medicines to prevent transmission of HIV to their child in 2020.
New HIV infections
New HIV infections have been reduced by 52% since the peak in 1997.

In 2020, around 1.5 million [1.0 million–2.0 million] people were newly infected with HIV, compared to 3.0 million [2.1 million–4.2 million] people in 1997.
Women and girls accounted for 50% of all new infections in 2020.

Since 2010, new HIV infections have declined by 31%, from 2.1 million [1.5 million–2.9 million] to 1.5 million [1.0 million–2.0 million] in 2020.

Since 2010, new HIV infections among children have declined by 53%, from 320 000 [210 000–510 000] in 2010 to 150 000 [100 000–240 000] in 2020.
AIDS-related deaths
AIDS-related deaths have been reduced by 64% since the peak in 2004 and by 47% since 2010.

In 2020, around 680 000 [480 000–1 million] people died from AIDS-related illnesses worldwide, compared to 1.9 million [1.3 million–2.7 million] people in 2004 and 1.3 million [910 000–1.9 million] people in 2010.

AIDS-related mortality has declined by 53% among women and girls and by 41% among men and boys since 2010.