Alarming rise in COVID19 Delta variant among unvaccinated in LA & U.S.
The urgency to get more people vaccinated is rising. Nearly 100% of new cases are occurring among those not fully vaccinated.
LOS ANGELES – As Angelenos settle into a less restrictive mode as some coronavirus safety protocols have eased and with more residents engaged in summer activities after the July 4 holiday weekend, the Los Angeles County Department of Public Health is reporting an alarming uptick in reported cases of the coronavirus Delta variant.
Over the past two days, the County recorded more than 2,000 new coronavirus cases. It was the first time since early March that Public Health has reported two consecutive days when more than 1,000 new coronavirus cases were reported.
Transmission of COVID-19 in L.A. County is increasing among younger unvaccinated L.A. County residents, Public Health noted in a media release adding, of the 1,094 new cases of COVID-19 reported today, 83% are among people under the age of 50 years old with the highest number of new cases among residents between the ages of 18 and 49 years old with 70% of new cases.
"As cases increase, the urgency to get more people vaccinated is rising. Nearly 100% of new cases are occurring among those not fully vaccinated. All of our COVID-19 vaccines are very effective at protecting you from severe disease from COVID-19 and variants of concern like the Delta variant," said Barbara Ferrer, Director of Public Health. "We remain focused on equitably bringing vaccines and high-quality health information to all of our L.A. County communities with a particular focus on those communities that have been hard hit by the pandemic."
The statistics in Los Angeles bears out the fact that although about 67 percent of Americans 18 and older have gotten at least one dose of a vaccine and almost 60 percent are fully vaccinated, vaccination rates vary sharply by region and various ideological groups.
Speaking to CNN earlier this week, Dr. Rochelle Walensky, director of the U.S. Centers for Disease Control and Prevention, recently expressed concern over the rise of the delta coronavirus variant as case numbers climb quicker than she expected. "Although we expected the delta variant to become the dominant strain in the United States, this rapid rise is troubling," she said. The CDC head then stressed, "Widespread vaccination is what will truly turn the corner on this pandemic. Please know, if you are not vaccinated, you remain susceptible."
Appearing on CNN's State of the Union Sunday, Dr. Anthony Fauci told host Jake Tapper that he was dismayed by the politicization of getting Americans vaccinated. "Why are we having red states and places in the South that are very highly ideological in one way not wanting to get vaccinations?" Fauci said, adding; "Vaccinations have nothing to do with politics… The virus doesn't know whether you're a Democrat, a Republican or an independent."
Tapper also asked Fauci to react to the CPAC Texas crowd cheering that the government has been unable to reach its vaccine goals so far. Fauci said; "It's horrifying… I just don't get that. I mean, and I don't think that anybody who is thinking clearly can get that."
The anti-vaccination mood in the United States caught the eye of a prominent member of the Spanish Judiciary Council and a former member of the Catalan Parliament. who tweeted:
Death cult in the U.S. pic.twitter.com/naJXUPiEW2

— Alfons López Tena (@alfonslopeztena) July 11, 2021
The Hill reported that U.S. Rep. Adam Kinzinger (R-Ill.) also appeared on CNN and said that he wants House GOP Leader Kevin McCarthy (R-Calif.) and other leaders within the party to call out "garbage politicians" who are playing into fears of Americans who are hesitant or reluctant to get the COVID-19 vaccine.
"Congresswoman Marjorie Taylor Greene compared those going door to door to Nazi brownshirts," CNN anchor Jake Tapper said.
"Congresswoman Lauren Boebert called them 'needle Nazis'. Senator Ted Cruz said it sounds to him like Soviet Russia. What's your response to all that?" he asked.
"Jake, it's insanity. It's absolute insanity," Kinzinger said. "This is outrage politics that is being played by my party, and it's going to get Americans killed. My party has been hijacked. It is on its way to the ground," Kinzinger said.
GOP Rep. Adam Kinzinger: "The vaccine is safe. Covid is real. Get vaccinated… I call on every leader in the Republican party to stand up, say 'get vaccinated,' and to call out these garbage politicians… playing on your vaccine fears for their own selfish gain." #CNNSOTU pic.twitter.com/LM6TDfGPqa

— State of the Union (@CNNSotu) July 11, 2021
Wiener introduces legislation to protect LGBTQ+ foster youth
SB 407 ensures LGBTQ foster youth are raised in supportive environments by creating standard documentation for their needs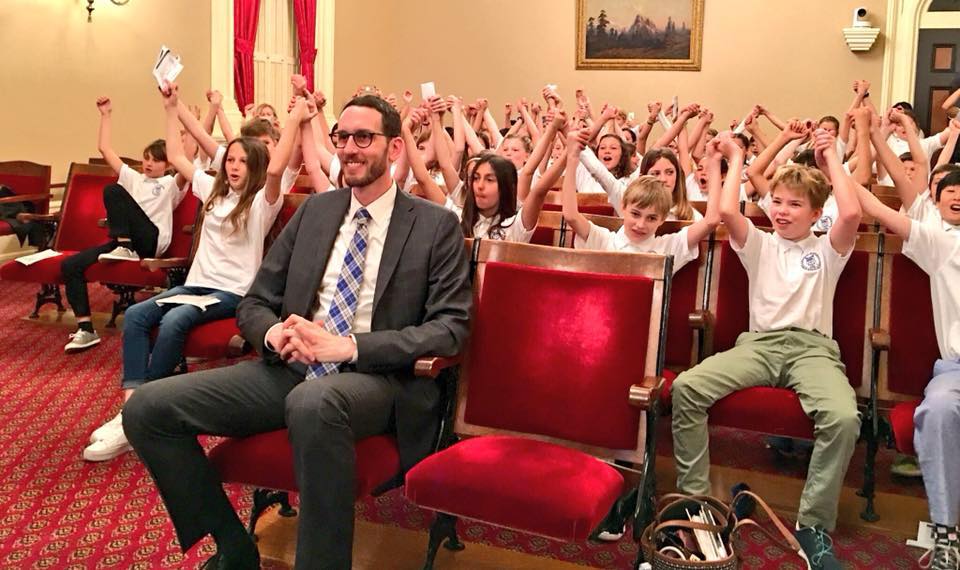 SACRAMENTO – Senator Scott Wiener (D-San Francisco) introduced SB 407, legislation to improve foster care conditions for LGBTQ youth. Nearly one third of foster youth identify as LGBTQ.
SB 407 ensures LGBTQ foster youth are raised in supportive environments by creating standard documentation for their needs, adding more follow-up from the Department of Social Services, and requiring LGBTQ youth's needs be specifically considered in at-home assessments – including clarifying that conduct that poses risk to the health and safety of LGBTQ youth is a valid reason to deny a family the right to host a foster youth. 
"Every child deserves to be one hundred percent supported at home," said Wiener. "SB 407 ensures that foster youth receive this essential support by specifically requiring LGBTQ acceptance be considered in the resource family approval (RFA) process, creating standard documentation for the assessment of LGBTQ youth needs, and ensuring more frequent follow-up. These youth are at high risk for homelessness, criminal justice involvement, and mental health issues, and we must do everything in our power to ensure they have a safe home in the state of California."
According to the California Child Welfare Indicators Project, there are 53,371 youth in foster care in California as of October 1, 2022. Youth who identify as LGBTQ+ are overrepresented in foster care, with at least three studies estimating about 30 percent of youth in foster care identify as LGBTQ.
The degree of support for their identity an LGBTQ child receives at home is a strong predictor of their mental health outcomes. According to the Trevor Project, teens who perceived parental support regarding gender identity were 93% less likely to attempt suicide than youth who did not perceive parents as supportive.
Data collected since the onset of the COVID-19 pandemic show LGBTQ youth are facing a crisis of mental health. Forty-two percent of LGBTQ+ youth—and 52 percent of trans youth—said they seriously considered suicide in 2021. This crisis may be related to the recent surge of anti-LGBTQ hatred in many states in recent years, which most LGBTQ youth are exposed to online. This year alone, more than 420 bills have been introduced in states across the country.
In 2019, California passed AB 175 (Gipson), which expanded the foster youth bill of rights to include rights to be referred to by the youth's preferred name and pronoun and maintain privacy of the child's sexual orientation and gender identity and expression. Under existing law, foster youth also have the right to have caregivers and child welfare personnel that have received instruction on cultural competency and best practices for providing care for LGBTQ+ youth in out-of-home care.
However, while the foster youth bill of rights is strong, it has not translated into the RFA process or into considerations made when approving caregivers. LGBTQ foster youth are still being placed in homes with families that discriminate against or are hostile toward them based on their sexual orientation and/or gender identity.
SB 407 will strengthen the resource family approval (RFA) process for LGBTQ foster youth by:
Requiring explicit consideration of LGBTQ youth in home and environmental assessments;
Creating standard documentation by the Department of Social Services for these assessments to include LGBTQ youth needs;
Reviewing county-approved resource families to evaluate if they are meeting the needs of LGBTQ youth and investigating related incidents as needed;
Ensuring that resource families have the necessary skills, knowledge, and abilities to support LGBTQ youth; and
Clarifying existing law that conduct that poses risk to the health and safety of LGBTQ youth is a valid reason for denial of a resource family.
SB 407 is sponsored by Equality California and the California Alliance of Child and Family Services.
"According to the Trevor Project, teens who have parental support regarding their gender identity were 93% less likely to attempt suicide than youth who did not perceive parents as supportive. Supportive and affirming homes for LGBTQ+ foster youth saves lives. The CA Alliance is excited to partner with Senator Wiener on SB 407 to ensure that all LGBTQ+ foster youth have affirming families and feel safe, supported, and cared for." –Christine Stoner-Mertz, CEO of the California Alliance of Child and Family Services
"LGBTQ+ foster youth experience violence and other stressors unique to the LGBTQ+ community, including homophobia or transphobia," said Tony Hoang, Executive Director of Equality California. "SB 407 protects LGBTQ+ foster youth from being placed in non-affirming homes by creating standard guidelines and criteria that carefully screens potential families. LGBTQ+ foster youth need a healthy environment that supports and embraces them as they explore their identity."