Anti-LGBTQ challenger to Alaska Senator Murkowski gets GOP thumbs up
Tshibaka supported group that pushed "conversion therapy" and she said homosexuality was caused by "sexual molestation during childhood."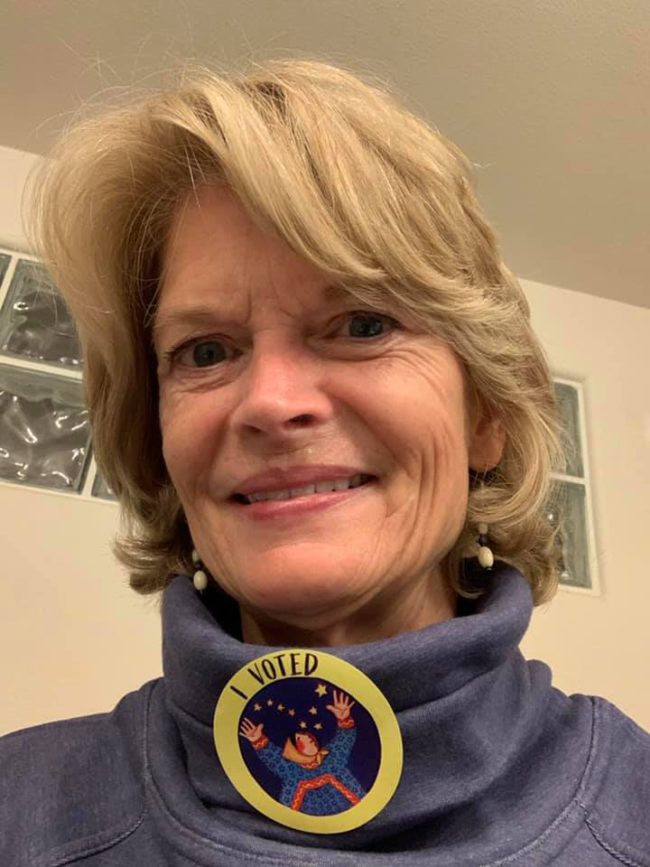 FAIRBANKS – The Alaska Republican Party on Saturday endorsed Kelly Tshibaka to replace incumbent U.S. Senator Lisa Murkowski. The Alaska Republican State Central Committee in a 58-17 vote essentially abandoned the party's support for the Senator in the upcoming 2022 campaign race, instead picking Tshibaka, who has been endorsed by former President Donald Trump.
"I am grateful and thrilled to have the strong support of the Alaska Republican Party, which voted overwhelmingly to endorse my candidacy for the U.S. Senate. We all share a unified goal: to promote the principles upon which our country and state were founded. I have pledged that I will be true to our shared, conservative Alaska ideals and be a senator upon whom they can depend to make every decision based on what is best for our great state," Tshibaka said in a statement.
"We now move forward with a united front, determined to defend Alaska from the continued onslaught of the radical Biden administration. We need a senator who will stand with Alaskans and not cozy up to the Washington, D.C. insiders, a senator who has earned the trust of the people and strives to keep it every day. It is time for conservative leaders, with courage and common sense, to rise together across the nation. I am honored to be endorsed as that candidate for Alaska," she added.
Murkowski, had earned the former president's enmity after her vote to convict Trump for his role inciting the January 6, 2021 insurrection at the U. S. Capitol. Murkowski was one of seven Senate Republicans who voted to convict the former president. The other GOP senators included Sens. Richard Burr (N.C.), Bill Cassidy (La.), Susan Collins (Maine), Mitt Romney (Utah), Ben Sasse (Neb.) and Pat Toomey (Pa.)
"The facts make clear that the violence and desecration of the Capitol that we saw on January 6 was not a spontaneous uprising. President Trump had set the stage months before the 2020 election by stating repeatedly that the election was rigged, casting doubt into the minds of the American people about the fairness of the election," Murkowski said in a statement released at the time of the Senate trial vote.
"After the election, when he lost by 7 million votes, he repeatedly claimed that the election was stolen and subjected to widespread fraud. At the same time, election challenges were filed in dozens of courts. Sixty-one different courts – including many judges nominated by President Trump himself – ruled against him," she continued.
Trump had vowed that he would actively seek to rally the party base to remove lawmakers he saw as disloyal in both chambers of Congress as he has continued to falsely claim that the election results showed that he was the winner.
Speaking to Alaska Landmine Radio in an interview that aired Friday, Murkowski told host Jeff Landfield, "You know, he's threatened to. He's threatened to do a lot to those who have stood up to him, and sometimes there's some carry-through, and sometimes maybe it's just idle words or idle threats, but I can't let that influence what I do and how I do it and who I do it for," the Senator said.
"At the end of the day, I'm not doing this job because I want or need the title. I do it because Alaskans have given me their support and have asked me to do the best job that I can and the best of my ability and to stand up with an independent voice," she added.
Trump had endorsed Tshibaka last month calling her "MAGA all the way," and has publicly said he will come to Alaska to campaign for her.
The Human Rights Campaign, in its Congressional Scorecard has given Alaska's senior Senator consistent favorable ratings for her support of same-sex marriage as well as other LGBTQ issues. During the first part of the 2021 legislative session, Murkowski was the sole Republican senator to vote against an amendment to the American Rescue Plan that would have stripped federal education funds from states, school districts and universities that allow transgender female athletes to participate in women's athletics at schools.
She also supported the nomination of Dr. Rachel Levine, a trans woman and physician, to be the Assistant Secretary for Health for the U.S. Department of Health and Human Services and was then one of two Republican Senators who voted to confirm Dr. Levine in a full Senate vote.
The Senator has not indicated if she will stand for reelection but now her party has endorsed a primary opponent who has a long anti-LGBTQ record.
CNN's KFile's journalist Andrew Tshibaka reported this past April that Tshibaka once wrote in support of an "ex-gay" Christian organization that promoted discredited "conversion therapy" and said that homosexuality was caused by "sexual molestation during childhood." She also wrote that gay people can "work through the process of coming out of homosexuality" through Christianity and urged gay people to "not be controlled by the 'once-gay-always-gay' rhetoric used to advance political agendas" in a 2001 Harvard Law School student newspaper article.
Lisa Murkowski primary challenger wrote in support of 'ex-gay' organization and posts on evils of 'addictive' witchcraft and 'Twilight' moviehttps://t.co/aYEbHma0w3

— andrew kaczynski (@KFILE) April 27, 2021
Anti-LGBTQ Rep. Devin Nunes announces he is leaving Congress
Nunes stated that he will be joining the newly formed former president Donald Trump's Trump Media & Technology group
WASHINGTON – Republican Rep. Devin Nunes, who represents California's 22nd Congressional District announced Monday that he would be retiring from the U.S. House at the end of the year. Nunes additionally stated that he will be joining the newly formed former president Donald Trump's Trump Media & Technology group.
The company announced in a separate statement that Nunes would serve as chief executive officer, beginning in January 2022. "Devin understands that we must stop the liberal media and Big Tech from destroying the freedoms that make America great," Trump said in a statement.
The company is preparing to launch a social media platform which it claims will rival Twitter, which had blocked the former president as a result of some of his tweets during and after the insurrection and attempted take over of the U.S. Capitol last January.
"The time has come to reopen the Internet and allow for the free flow of ideas and expression without censorship. The United States of America made the dream of the Internet a reality and it will be an American company that restores the dream," Nunes said.
The California Citizens Redistricting Commission, which is tasked with redrawing district boundaries has released draft maps, in the once every ten years realignment of congressional districts, that could have caused Nunes severe headache in a reelection bid had he decided to run again.
One of the former president's ardent loyalists, Nunes has repeatedly been at the center of controversy during his entire career on the Hill. In addition to his support of Trump, he has been openly antagonistic towards the LGBTQ community.
In 2010, Nunes voted against the repeal of "Don't Ask, Don't Tell," the law that prohibited gays from serving openly in the U.S. military. He also consistently received a "0" rating on LGBT issues from the Human Rights Campaign's Congressional Scorecard, which has a rating scale of 0 to 100.
He opposed legal recognition of same-sex marriage, and he also refused to back any LGBTQ+ legislation.
Over the years he has also been involved in a series of high-profile lawsuits, including a 2019 $435 million defamation lawsuit in which he claimed CNN libeled him by reporting he was digging up dirt on Joe Biden and Ukraine.
U.S. District Court Judge Laura Taylor Swain in Manhattan dismissed the suit against CNN on a technical ground: She found California law applied to the case and Nunes had failed to request a retraction as required under the laws of the Golden State. Nunes' lawyer had argued that the laws of Virginia or Washington, D.C., should apply, but the judge said it made the most sense to apply the laws of Nunes' home state to the dispute, Politico reported.
In 2019, Nunes also sued Twitter over two parody accounts that he claimed harassed him, @DevinNunesMom and @DevinCow. That lawsuit brought on merciless ribbing from late night show hosts and other comedians. The Late Show host Stephen Colbert mocked the Republican congressman explaining how Nunes' lawyers arrived at the $250 million amount for the lawsuit: "You take the value of Devin Nunes' reputation and you add $250 million dollars."
This week the Washington Post reported that the publicly traded company that plans to merge with former president Trump's social media company is under investigation by two federal regulators, which have asked for stock trading information and communications.
Digital World Acquisition Corp. disclosed in a Securities and Exchange Commission filing that it had received "certain preliminary, fact-finding inquiries" from the Financial Industry Regulatory Authority in late October and early November regarding stock trading tied to the merger agreement announced Oct. 20 the Post reported.
*******************
Devin Nunes leaving Congress to head Trump's media company
Does a potential overturn of Roe v. Wade imperil LGBTQ+ rights?
Alarms were set off in legal circles as some argued that Obergefell v. Hodges – the same-sex marriage decision, would be in danger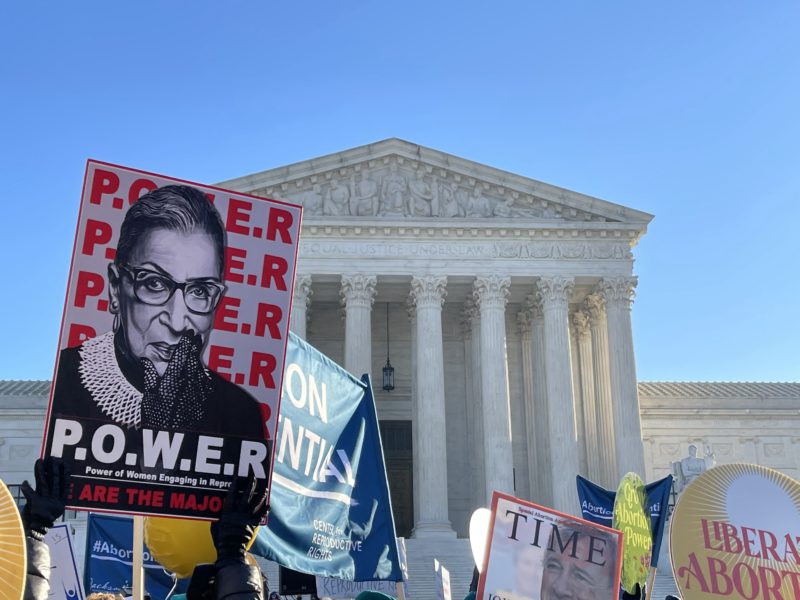 WASHINGTON – The oral arguments before the justices of the United States Supreme Court had barely ended in the case brought by the state of Mississippi defending its law banning abortion after 15 weeks, Dobbs v. Jackson Women's Health Organization, when alarms were set off in legal circles as some argued that Obergefell v. Hodges – the same-sex marriage decision, would be in danger should the high court rule to overturn Roe v. Wade.
Florida State University law professor Mary Ziegler, appearing on NPR's 'Heard on All Things Considered,' told host Mary Louise Kelly that there was a basis for concern on whether the court would actually overrule its precedents in other cases based on the questions and statements raised during the hearing by the conservative members of the court.
Asked by Kelly if she saw a legal door opening Ziegler affirmed that she did. Kelly then asked her; "Them taking up cases to do with that. What about same-sex marriage?"
Ziegler answered, "Yeah, same-sex marriage is definitely a candidate. Justices Alito and Thomas have in passing mentioned in dicta that they think it might be worth revisiting Obergefell v. Hodges – the same-sex marriage decision.
"And I think it's fair to say that in the sort of panoply of culture war issues, that rights for same-sex couples and sexual orientation are still among the most contested, even though certainly same-sex marriage is more subtle than it was and than abortion was.
I think that certainly the sort of balance between LGBTIQ rights and religious liberty writ large is a very much alive issue, and I think some states may try to test the boundaries with Obergefell, particularly knowing that they have a few justices potentially willing to go there with them."
As almost if to underscore the point raised by Professor Ziegler, during the hearing Wednesday, Associate U.S. Supreme Court Justice Sonia M. Sotomayor pointed out that the high court has taken and "discerned" certain rights in cases from the Constitution.
Along with abortion, the court has "recognized them in terms of the religion parents will teach their children. We've recognized it in their ability to educate at home if they choose," Sotomayor said. "We have recognized that sense of privacy in people's choices about whether to use contraception or not. We've recognized it in their right to choose who they're going to marry."
In following up the cases cited by Justice Sotomayor, Associate U.S. Supreme Court Justice Amy Coney Barrett asked Mississippi Solicitor General Scott Stewart, who was defending the state's abortion law, whether a decision in his favor would affect the legal precedents in those cases cited by Justice Sotomayor.
In his answer to Justice Barrett, the state's Solicitor General said cases involving contraception, same-sex marriage and sodomy wouldn't be called into question because they involve "clear rules that have engendered strong reliance interests and that have not produced negative consequences or all the many other negative stare decisis considerations we pointed out."
However, Lambda Legal Chief Strategy Officer and Legal Director, Sharon McGowan had a different take and interpreted remarks by Associate U.S. Supreme Court Justice Brett Kavanaugh to mean that the decisions in Lawrence v. Texas, which decriminalized private sexual intimacy between same-sex couples, and Obergefell v. Hodges, which struck down remaining bans on the freedom of same-sex couples to marry, would actually justify overturning Roe v. Wade.
In a publicly released media statement McGowan noted:
"During today's argument, Justice Kavanaugh suggested that two key Supreme Court decisions protecting LGBTQ civil rights—Lawrence v. Texas and Obergefell v. Hodges—support overruling Roe v. Wade and Planned Parenthood v. Casey.
'To that we say, NOT IN OUR NAME. LGBTQ people need abortions. Just as important, those landmark LGBTQ decisions EXPANDED individual liberty, not the opposite. They reflected the growing societal understanding of our common humanity and equality under law.
"Just as the Supreme Court in Brown v. Board of Education rejected the lie of 'separate but equal,' the Supreme Court's decisions in Lawrence and Obergefell appropriately overruled precedent where it was clear that, as was true with regard to race, our ancestors failed properly to acknowledge that gender and sexual orientation must not be barriers to our ability to live, love, and thrive free of governmental oppression.
"Abortion rights are essential not only because abortion is basic healthcare, but because without access to abortion, people who need that healthcare cannot determine the course of their own lives and participate equally in society. They cannot decide how to structure their families, protect their own health, determine their educational and financial futures, and secure the futures of existing children.
"These landmark LGBTQ cases, which Lambda Legal litigated and won, and on which we rely today to protect our community's civil rights, were built directly on the foundation of Casey and Roe. Our interests in equal dignity, autonomy, and liberty are shared, intertwined, and fundamental."
On Sunday, the Blade spoke with Shannon Minter, the Legal Director for the National Center for Lesbian Rights, a national LGBTQ+ legal organization which represented three same-sex couples from Tennessee, whose case was heard by the U.S. Supreme Court along with Obergefell and two other cases.
Minter is urging caution in how people interpret Wednesday's arguments and remarks made by the justices.
"We should be cautious about taking the bait from anti-LGBTQ groups who falsely argue that if the Supreme Court reverses or undermines Roe v. Wade, they are likely to reverse or undermine Obergefell or Lawrence. In fact, that is highly unlikely, as the argument in Dobbs itself showed," he said.
"The only reason Justice Kavanaugh mentioned Obergefell and Lawrence, along with Brown v. Board of Education, was to cite them as examples of cases in which the Supreme Court clearly did the right thing. All of those decisions rely at least as strongly on equal protection as on fundamental rights, and even this extremely conservative supreme court has not questioned the foundational role of equal protection in our nation's constitutional law," Minter stressed.
During an interview with Bloomberg magazine, David Cortman, of the Scottsdale, Arizona based anti-LGBTQ+ legal group Alliance Defending Freedom, which has been listed by the Southern Poverty Law Center as an extremist hate group because of its anti-LGBTQ+ stance and public utterances, said "two things in particular distinguish abortion from those other privacy rights: the right to life and the states' interest in protecting a child."
Cortman, whose group urged the justices to allow states to ban same-sex marriages, said those other rights may be just as wrong as the right to an abortion. "But the fundamental interest in life that's at issue in abortion means those other rights are probably not in any real danger of being overturned."
But Cortman is of the opinion that there is little impetus among the Court's conservatives to take up challenges to those cases.
However, the fact that the six to three make-up of the high court with a conservative majority which can imperil the rights of women in regards to their ability to render decisions over their healthcare and well-being has progressives' clamoring for the public to pay closer attention and be more proactively engaged.
Kierra Johnson, Executive Director of the National LGBTQ Task Force, in an emailed media public statement to the Blade underscored those concerns:
"Reports and analysis coming out of Wednesday's Supreme Court hearing on Dobbs v. Jackson Women's Health Organization are extremely disturbing and represent a threat to our individual constitutional rights to privacy and autonomy. There is no 'middle ground' on what the Constitution guarantees and what was decided decades ago with the Roe v Wade decision.
This is about liberty, equality, and the rule of law, not the political or partisan views of those sitting on the bench. The unprecedented decision to remove a constitutional right recognized by the Supreme Court 50 years ago would set back civil rights by decades. They cannot take this country back to a time when lives were destroyed or lost because women lived in a state without access to reproductive healthcare or bodily autonomy.
Abortion access is essential, and a fundamental right under the U.S. Constitution. Bans on abortion are deeply racist and profoundly sexist – the harshest impacts fall on Black and Brown women and pregnant people and on our families and communities.
If you think this decision will not affect you, think again: a wrong decision by the Supreme Court means you, too, will lose your bodily autonomy, your ability to own your own personal and community power. This is not just about abortion; it is about controlling bodies based on someone else determining your worthiness. This is a racial justice issue. This is a women's issue. It is an LGBTQ issue. It is a civil rights issue. These are our fundamental rights that are at stake."
Victory Fund honors Maine House speaker in D.C.
Ryan Fecteau is gay Catholic University alum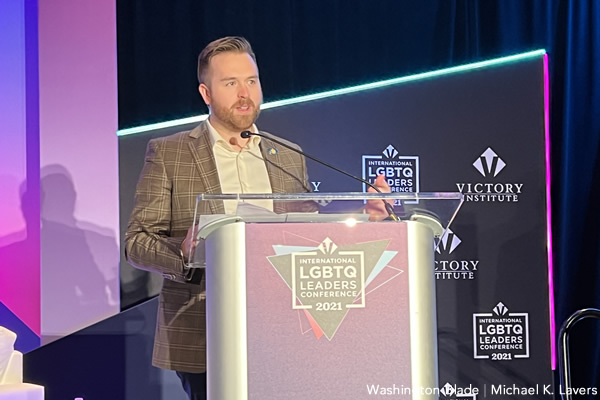 WASHINGTON — The Victory Fund on Saturday honored Maine House Speaker Ryan Fecteau on the last day of its International LGBTQ Leaders Conference in D.C.
Fecteau — an openly gay Catholic University of America alum — won a seat in the Maine House of Representatives in 2014. He became the chamber's speaker in 2020.
"Hate and intolerance will not derail us," said Fecteau after Florida state Rep. Carlos Guillermo Smith presented him with the Tammy Baldwin Breakthrough Award, which is named after U.S. Sen. Tammy Baldwin (D-Wis.). "Our community will not be intimidated."
The Victory Fund on Friday honored Guatemalan Congressman Aldo Dávila, a gay man who is living with HIV.