Anti-LGBTQ challenger to Alaska Senator Murkowski gets GOP thumbs up
Tshibaka supported group that pushed "conversion therapy" and she said homosexuality was caused by "sexual molestation during childhood."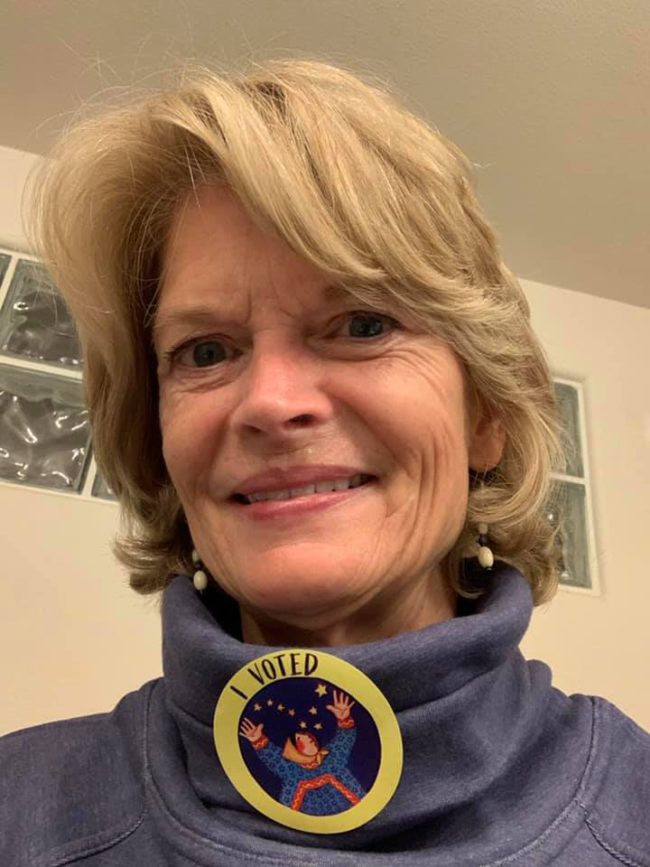 FAIRBANKS – The Alaska Republican Party on Saturday endorsed Kelly Tshibaka to replace incumbent U.S. Senator Lisa Murkowski. The Alaska Republican State Central Committee in a 58-17 vote essentially abandoned the party's support for the Senator in the upcoming 2022 campaign race, instead picking Tshibaka, who has been endorsed by former President Donald Trump.
"I am grateful and thrilled to have the strong support of the Alaska Republican Party, which voted overwhelmingly to endorse my candidacy for the U.S. Senate. We all share a unified goal: to promote the principles upon which our country and state were founded. I have pledged that I will be true to our shared, conservative Alaska ideals and be a senator upon whom they can depend to make every decision based on what is best for our great state," Tshibaka said in a statement.
"We now move forward with a united front, determined to defend Alaska from the continued onslaught of the radical Biden administration. We need a senator who will stand with Alaskans and not cozy up to the Washington, D.C. insiders, a senator who has earned the trust of the people and strives to keep it every day. It is time for conservative leaders, with courage and common sense, to rise together across the nation. I am honored to be endorsed as that candidate for Alaska," she added.
Murkowski, had earned the former president's enmity after her vote to convict Trump for his role inciting the January 6, 2021 insurrection at the U. S. Capitol. Murkowski was one of seven Senate Republicans who voted to convict the former president. The other GOP senators included Sens. Richard Burr (N.C.), Bill Cassidy (La.), Susan Collins (Maine), Mitt Romney (Utah), Ben Sasse (Neb.) and Pat Toomey (Pa.)
"The facts make clear that the violence and desecration of the Capitol that we saw on January 6 was not a spontaneous uprising. President Trump had set the stage months before the 2020 election by stating repeatedly that the election was rigged, casting doubt into the minds of the American people about the fairness of the election," Murkowski said in a statement released at the time of the Senate trial vote.
"After the election, when he lost by 7 million votes, he repeatedly claimed that the election was stolen and subjected to widespread fraud. At the same time, election challenges were filed in dozens of courts. Sixty-one different courts – including many judges nominated by President Trump himself – ruled against him," she continued.
Trump had vowed that he would actively seek to rally the party base to remove lawmakers he saw as disloyal in both chambers of Congress as he has continued to falsely claim that the election results showed that he was the winner.
Speaking to Alaska Landmine Radio in an interview that aired Friday, Murkowski told host Jeff Landfield, "You know, he's threatened to. He's threatened to do a lot to those who have stood up to him, and sometimes there's some carry-through, and sometimes maybe it's just idle words or idle threats, but I can't let that influence what I do and how I do it and who I do it for," the Senator said.
"At the end of the day, I'm not doing this job because I want or need the title. I do it because Alaskans have given me their support and have asked me to do the best job that I can and the best of my ability and to stand up with an independent voice," she added.
Trump had endorsed Tshibaka last month calling her "MAGA all the way," and has publicly said he will come to Alaska to campaign for her.
The Human Rights Campaign, in its Congressional Scorecard has given Alaska's senior Senator consistent favorable ratings for her support of same-sex marriage as well as other LGBTQ issues. During the first part of the 2021 legislative session, Murkowski was the sole Republican senator to vote against an amendment to the American Rescue Plan that would have stripped federal education funds from states, school districts and universities that allow transgender female athletes to participate in women's athletics at schools.
She also supported the nomination of Dr. Rachel Levine, a trans woman and physician, to be the Assistant Secretary for Health for the U.S. Department of Health and Human Services and was then one of two Republican Senators who voted to confirm Dr. Levine in a full Senate vote.
The Senator has not indicated if she will stand for reelection but now her party has endorsed a primary opponent who has a long anti-LGBTQ record.
CNN's KFile's journalist Andrew Tshibaka reported this past April that Tshibaka once wrote in support of an "ex-gay" Christian organization that promoted discredited "conversion therapy" and said that homosexuality was caused by "sexual molestation during childhood." She also wrote that gay people can "work through the process of coming out of homosexuality" through Christianity and urged gay people to "not be controlled by the 'once-gay-always-gay' rhetoric used to advance political agendas" in a 2001 Harvard Law School student newspaper article.
Lisa Murkowski primary challenger wrote in support of 'ex-gay' organization and posts on evils of 'addictive' witchcraft and 'Twilight' moviehttps://t.co/aYEbHma0w3

— andrew kaczynski (@KFILE) April 27, 2021
Meet the LGBTQ staff working on Biden's re-election campaign
Tolliver, Flores on importance of diversity in government
(Editor's note: This is the second in a three-part series profiling senior LGBTQ staff working on President Biden's re-election campaign. Part one was published last week and Part three will be published next week.)
WILMINGTON, Del. — From the team's headquarters here, the Washington Blade spoke with the Biden-Harris reelection campaign's director of operations, Teresa Tolliver, and Rubi Flores, special assistant to Campaign Manager Julie Chávez Rodríguez.
Tolliver came to the campaign from the Democratic National Committee, having previously worked in the White House Presidential Personnel Office and then at the U.S. Air Force under Undersecretary Gina Ortiz Jones, who was nominated by President Joe Biden to become the first lesbian and first woman of color to serve in the role.
It was at PPO "where I learned more about Gina and then was like, 'I want to work for that person,'" Tolliver said, adding that while she was always interested in national security, the chance to serve in the Pentagon with the Air Force's new lesbian undersecretary was too good to pass up.
Among other responsibilities at PPO, Tolliver said her work included "helping to place high ranking LGBTQ folks in the administration as well as in special assistant roles; everything up and down within the admin," which has made history with the number and seniority of LGBTQ appointees serving across the federal government.
"Whether we're looking at people of color, or whether we're looking at, you know, LGBTQ folks, this is an administration that is now going to be a campaign that we want to look like America," Tolliver said. The approach influences not just hiring practices but also choices over who will be interviewed for which roles and how they will be supported to be as effective as possible.
"We used to joke in PPO that it was a very queer team," she said, with "a lot of LGBTQ folks," so it was "very special for me to work during that time because I actually came out to my family when I was working."
In 2021 on National Coming Out Day, observed each year on Oct. 11, Vice President Kamala Harris arranged a photo with LGBTQ folks serving in the administration (as she has done in subsequent years). "I ended up being dead-center next to her," Tolliver said, "and I was like, 'I should probably tell my parents.'"
Tolliver came out as a lesbian to her family, friends, and colleagues just as she began dating her now-fiancée. She said she considers herself lucky, "being able to work in an environment where I just felt open and comfortable and able to be myself so much that I then decided that it was time to come out."
She and her fiancée were engaged in January, during which time Tolliver was at the DNC, and the couple decided to get married in August of 2024. While it is guaranteed to be a busy time, Tolliver said they wanted to be wed with Biden in office and in New York City, where "we will have a validated marriage" even if same-sex marriage rights are repealed or undermined. "There's always the possibility that we do not win an election," Tolliver noted.
The fight is personal. "We all have these very deeply personal reasons to be here and working here," she said, "whether you're here because you're fighting for LGBTQ rights, or because, you know, abortion is something that you care deeply about, or immigration, or whatever the case may be."
Tolliver contrasted her experiences working for Team Biden — "I feel like half of our wedding is people who I worked with on 2020," as "campaigns give you these lifelong friendships" — with the casual homophobia she encountered at a bridal shop where she worked while in college.
"I remember not being out and my boss saying, 'Oh, never hire a lesbian,' or, 'I could never hire a gay person because [they're] gonna see women changing and everything in their bridal gowns,' and I just remember kind of sinking back into the closet after that," Tolliver said.
Flores, likewise, has encountered prejudice in previous workplaces and found a supportive home on the Biden campaign, as well as a mentor in Chávez Rodríguez who, like Jones, had broken barriers as the "first Latina campaign manager for a major presidential campaign."
At the same time, "I don't talk about my trans identity," Flores said, "because it's just too hard," and instead "the way that I cope, in my life, is to just be exceptional in every other way I can."
"Being Brown and an immigrant and being a trans woman present so many challenges in my life," said Flores, who moved to conservative South Texas from Mexico City at age 10. "I've struggled a lot, being who I am, and especially when you're a kid, you know, it's just impossible."
In the current political environment, where conservatives have fear mongered about the trans community and passed laws restricting their rights, Flores said the challenges are deeper than, for example, ensuring that youth can maintain access to medically necessary gender affirming healthcare — "it's having the space to even imagine oneself as that."
"When a child has no opportunity to imagine themselves as who they really are," Flores said, "that just breaks my heart and and it's unacceptable."
Like many trans women, Flores said she has encountered employment discrimination in the past. "One of the things that, you know, growing up and making the decision, if you can call it that, to transition, is the reality that trans women can't get jobs," she said, adding, "it's something that's just absolutely real."
Flores was on the policy research team at FWD.us, an immigration advocacy organization, when she was approached by the Biden campaign. "I knew it would be a tremendously difficult job," but the primary draw was that "I had the opportunity to contribute to those things getting better and most importantly, in the context that we are in, to not make them worse."
"The kinds of laws and policies that are being implemented by Republican administrations at the state level and that could potentially come into place at the national level if our opponents win absolutely terrify me," Flores said. "They could upend my life."
She continued, "If I was living in some of the states where some of these policies passed, I would have trouble securing care for myself."
The work, therefore, is "being part of an administration and trying to reelect a president that is fighting to protect those rights – it's not only an honor, but it's a responsibility." In terms of her decision to join the campaign, Flores said, "It's not even tangential or something that comes to mind, it's central to why I chose to work here."
In separate interviews, Flores's colleagues agreed with her that the hours are "incredibly long," but "there's a great culture that we have here and just the fact that we're all in it together is huge."
Several also echoed Flores's statement that "there's power in the fact that other people can see LGBTQ folks in our presidential campaign" to reelect a candidate who is working to protect and defend the community's rights.
However, while these spaces have often been restricted for LGBTQ people in general, trans folks have often been wholly excluded from them.
"I'm just generally apprehensive to sound like, 'oh, everything's gonna get better,' when there's just so much work left to be done, specifically in trans issues and trans representation," Flores said.
"I just could have very easily not be here. Not have the job. Not be alive. That's just a possibility for many of us," she said.
Flores also noted the unprecedented level of hostility directed at the trans community recently. "As hard as it was for me to be who I am and look how I look, there wasn't this — I mean, there's always been transphobia, but there wasn't this sort of pervasive thing that automatically categorize[s] a trans identity as everything that's horrible with the world," she said.