Cuban police violently arrest Blade media partner's editor
Maykel González Vivero taken into custody during Havana protests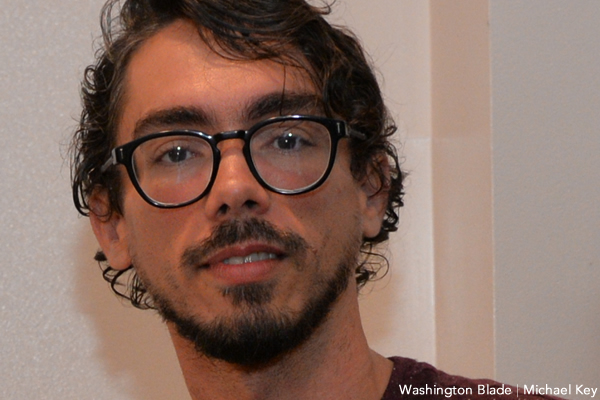 HAVANA — Cuban police on Sunday violently arrested the editor of the Los Angeles Blade's media partner on the island.
Tremenda Nota Director Maykel González Vivero's arrest in Havana coincided with protests against mounting food shortages, the government's response to the pandemic and a worsening economic crisis that were taking place across the country. Media reports indicate police targeted other journalists who were covering the protests.
"It was violent, everything was over," said González in a text message he was able to secretly send to a colleague from the police station where he was being held. "I was not resisting when they took me down and they consciously threw my glasses to fuck with me."
A tweet that appeared on González's Twitter page shortly after midnight on Monday confirmed he had been arrested.
"I was detained at the violent end of today's protest in Havana," reads the tweet.
Fui detenido tras el final violento de la manifestación de hoy en La Habana. Estoy en la unidad de policía de Zapata y C #Cuba #Protestas

— Maykel González Vivero 🎯 (@MGVivero) July 12, 2021
A thread that appeared on González's Twitter account provided additional details of his arrest.
"I had already left the 'battlefield' when a police officer wearing civilian clothes shouted to me that I had been throwing rocks," reads the thread. "I had never thrown a rock."
"Uniformed officials handcuffed me," it says. "They turned me over to some riot police after awhile."
González said the riot police "bent him over and grabbed him hard by his hair."
"They did it to punish me. There was no other reason. I never resisted," he said in the thread.
"My glasses fell off and they constantly kicked them," added González. "I am now writing by sticking close to the screen."
Así me detuvieron:

Ya salía del "campo de batalla" cuando un policía de civil me acusó a gritos de haber tirado piedras.

Yo jamás he tirado una piedra.

Me esposaron unos oficiales de uniforme común. Al rato me pusieron en manos de unos antimotines.

Sigue 👇🏻

— Maykel González Vivero 🎯 (@MGVivero) July 12, 2021
A source in Cuba told the Blade on Monday that González remains in police custody.
Cuban government has previously targeted González
Tremenda Nota throughout Sunday posted videos of the protests in Havana to its social media pages, even though the government at times cut access to the internet. One video that Tremenda Nota posted to its Twitter page shows what it describes as "special troops" in Havana's 10 de Octubre neighborhood moving towards Old Havana.
Hace solo unos minutos se avistaron tropas especiales por la Calzada del 10 de Octubre en dirección a La Habana Vieja pic.twitter.com/8b4EElXOGo

— TremendaNota_Cuba (@TremendanotaC) July 12, 2021
Tremenda Nota also reported artists and intellectuals who gathered in front of the headquarters of Cuban Institute for Radio and Television, the government agency that governs state-run media, in Havana's Vedado neighborhood "were repressed" for "demanding a space and to tell the truth about the country."
Artistas e intelectuales fueron reprimidos frente al Instituto Cubano de Radio y Televisión para exigir un espacio y contar la verdad del país.

— TremendaNota_Cuba (@TremendanotaC) July 12, 2021
Cuban police have previously detained González, most recently in November 2020. The Interior Ministry in late 2019 banned him from leaving Cuba.
The U.S. on Sept. 18, 2019, granted asylum to Yariel Valdés González, a Blade contributor who worked for Tremenda Nota and other independent Cuban media outlets, because of the persecution he suffered in his homeland.
The Cuban government on May 8, 2019, detained this reporter for several hours at Havana's José Martí International Airport after he tried to enter Cuba to continue his coverage of the island's LGBTQ rights movement. The Cuban government eventually expelled him from the country and he flew back to Miami.
Putin slams LGBTQ+ people in Ukrainian annexation speech
The Russian President implied directly that the U.S. and its NATO allies assisting Ukraine were trying to erase Russian culture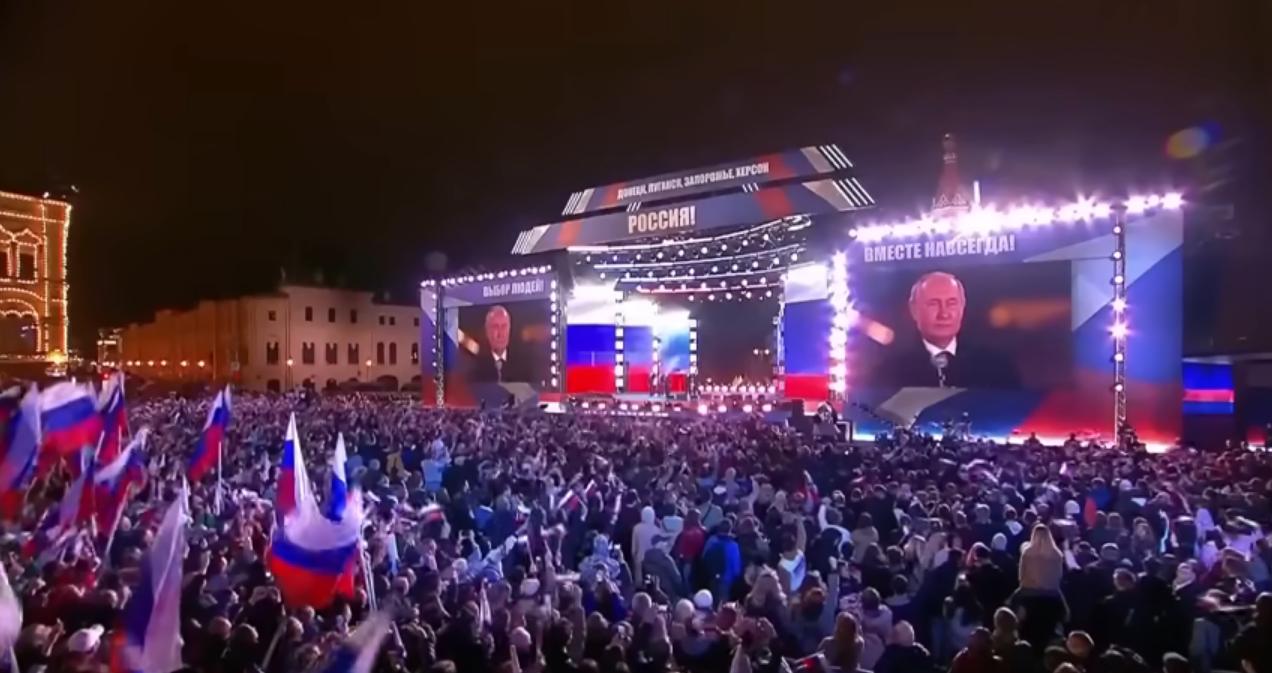 MOSCOW – In a rally ceremony resembling a political convention Friday, Russian President Vladimir Putin celebrated his signing a degree that Russia had annexed four regions of Eastern Ukraine that were overrun by Russian military forces and Russian-backed separatists.
"The people made their choice," said Putin in the formal signing ceremony at the Kremlin's St. George hall. "And that choice won't be betrayed" by Russia, he said.
This past week, in an election President Joe Biden labeled fraudulent and a sham, Ukrainians in the occupied territories of of Donetsk, Luhansk, Kherson and Zaporizhzhia voted to join Russia in elections supervised by heavily armed Russian troops.
Speaking from the White House Friday, Biden said the United States and its allies will not recognize Russia's annexation of the Ukrainian regions and reaffirmed that NATO nations will defend all territory in the alliance.
Addressing the Russian leader, the president said "Mr. Putin, don't misunderstand what I'm saying. Every inch."
America and its allies are not going to – I'm going to emphasize, are not going to be intimidated, are not going to be intimidated by Putin and his reckless words and threats. He's not going to scare us and he doesn't- or intimidate us.
Putin's actions are a sign he's struggling. The sham referenda he carried out and this routine he put on, don't worry, it's not there if you're looking, OK. The sham routine that we put on this morning that's showing the unity and people holding hands together. Well, the United States is never going to recognize this and quite frankly, the world is not going to recognize it either. He can't seize his neighbor's territory and get away with it. It's as simple as that.
And they're going to stay the course. We're going to continue to provide military equipment so that Ukraine can defend itself and its territory and its freedom, […] And we're fully prepared to defend, I want to say this again, America is fully prepared with our NATO allies to defend every single inch of NATO's territory, every single inch. So Mr. Putin, don't misunderstand what I'm saying. Every inch."
Putin in his long and rambling speech at the ceremony, held on the massive stage in Moscow's Red Square opposite the Kremlin's walls, took aim at the West with particular emphasis on Western values and culture(s).
"Western countries have been repeating for centuries that they bring freedom and democracy to other peoples. Everything is exactly the opposite: instead of democracy – suppression and exploitation; instead of freedom – enslavement and violence.," Putin said.
Later during the speech Putin decried the LGBTQ+ community and Western nations that allow equity and equality/human rights:
"In fact, they spit on the natural right of billions of people, most of humanity, to freedom and justice, to determine their own future on their own. Now they have completely moved to a radical denial of moral norms, religion, and family.
Let's answer some very simple questions for ourselves. I now want to return to what I said, I want to address all the citizens of the country – not only to those colleagues who are in the hall – to all the citizens of Russia: do we want to have, here, in our country, in Russia, parent number one, number two, number three instead of mom and dad – have they gone made out there? Do we really want perversions that lead to degradation and extinction to be imposed on children in our schools from the primary grades? To be drummed into them that there are various supposed genders besides women and men, and to be offered a sex change operation? Do we want all this for our country and our children? For us, all this is unacceptable, we have a different future, our own future?"
The Russian President then implied directly that the U.S. and its NATO allies assisting Ukraine were trying to erase Russian culture and then justified the illegal annexations of the four regions in Eastern Ukraine:
"Today we are fighting so that it would never occur to anyone that Russia, our people, our language, our culture can be taken and erased from history. Today, we need the consolidation of the entire society, and such cohesion can only be based on sovereignty, freedom, creation, and justice. Our values ​​are humanity, mercy and compassion.
And I want to end my speech with the words of a true patriot Ivan Alexandrovich Ilyin: "If I consider Russia my Motherland, then this means that I love in Russian, contemplate and think, sing and speak Russian; that I believe in the spiritual strength of the Russian people. His spirit is my spirit; his fate is my fate; his suffering is my grief; its flowering is my joy."
Behind these words is a great spiritual choice, which for more than a thousand years of Russian statehood was followed by many generations of our ancestors. Today we are making this choice, the citizens of the Donetsk and Lugansk People's Republics, the residents of Zaporozhye and Kherson regions have made this choice. They made the choice to be with their people, to be with the Motherland, to live its destiny, to win together with it."
The Russian president has long held homophobic and transphobic opinions and has signed multiple pieces of legislation that has sharply curtailed LGBTQ+ rights and expression in the Russian Federation during his 18 years as president including Russia's infamous Don't Say Gay law signed in 2013 that has been strengthened and augmented by succeeding measures.
Transportation Secretary Buttigieg honored by Québec LGBTQ org
The annual award is bestowed on "an individual or group who has made exceptional contributions to the advancement of LGBTQ rights"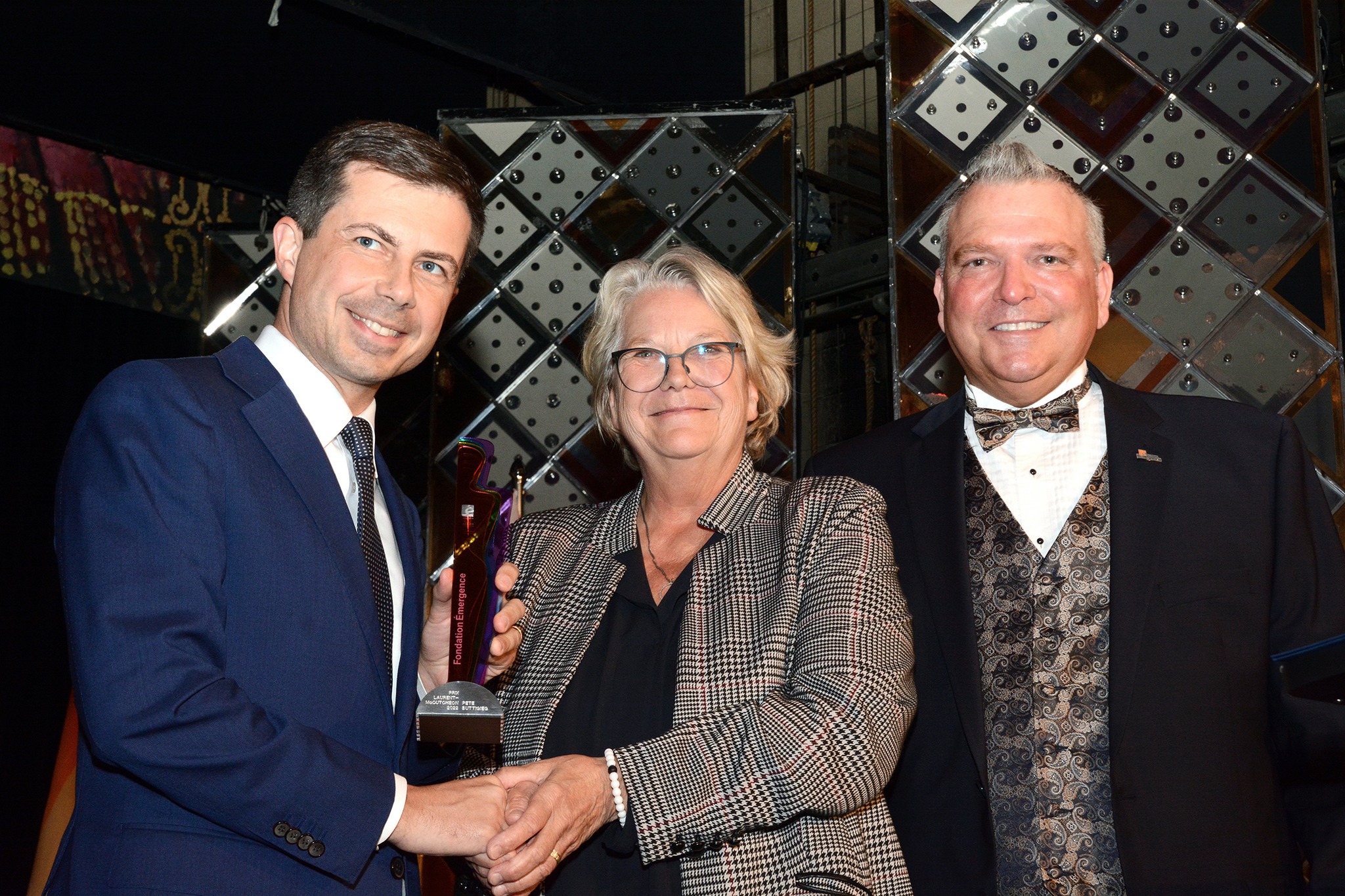 MONTREAL, Québec – In a special ceremony Wednesday evening, Fondation Émergence, one of Québec's largest LGBTQ organizations, presented U.S. Secretary of Transportation Pete Buttigieg with the prestigious Laurent McCutcheon Award.
Buttigieg was in Montréal representing the United States at the International Civil Aviation Organization, (ICAO) General Assembly.
The Laurent McCutcheon Award is named for Laurent-McCutcheon, the founding president of Fondation Émergence and the creator of the National Day Against Homophobia, which became the International Day Against Homophobia and Transphobia.
The annual award is bestowed on "an individual or group who has made exceptional contributions to the advancement of LGBTQ rights." In presenting Secretary Buttigieg, the citation [translated from French] noted his journey as the first openly gay man to be confirmed by the Senate to serve the office of the President of the United States as a cabinet minister.
Fondation Émergence also said that [Buttigieg] is a real role model for the LGBTQ+ communities. The Laurent McCutcheon Award was presented to Secretary Buttigieg by Chantal Rouleau, Québec's outgoing* Minister for Transport and Minister Responsible for the Region of Montréal.
"I am truly humbled and honored to accept this award, especially as I have learned more about Laurent McCutcheon's remarkable life and profound legacy," Buttigieg said. "Like all of us here I am the beneficiary of a tradition of activism that spans the globe and generations before I was born. And the results of those struggles, in our lifetime, are borderline incredible – including the very fact that I can stand before you today."
Kenya seeks to ban LGBTQ+ movies on Netflix
Prohibition expected to take effect by end of year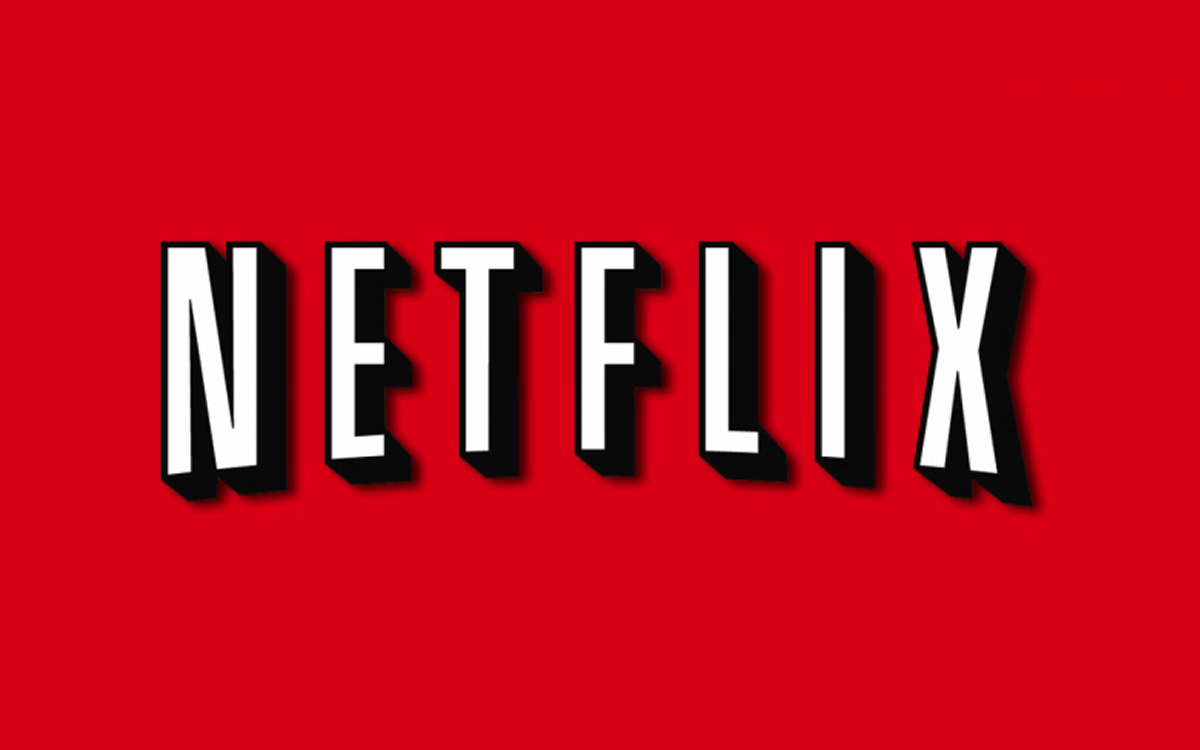 NAIROBI, Kenya — The streaming of LGBTQ+ movies on Netflix in Kenya is set to be restricted as the country tightens the noose on same-sex sexual activity.
The Kenya Film Classification Board, which is charged with the classification and regulations of films for public consumption, is in final talks with Netflix to restrict same-sex content that violates the country's laws.
Acting Kenya Film Classification Board CEO Christopher Wambua confirmed that official discussions with Netflix Africa began in October 2021, while noting that access to LGBTQ+ movies will be restricted before the end of this year.
"Already we have developed a draft agreement that defines how to conduct their (Netflix) operations in the country after another discussion in April this year," Wambua said.
The Kenya Film Classification Board is supposed to share the agreement with Netflix Africa this week for further scrutiny of its provisions before implementing it. The company's content manager for the continent is a Kenyan based in Nairobi.
The board has classified LGBTQ+ content under the "restricted category," meaning it is not allowed for broadcast, exhibition and distribution to the public.
The agreement allows Netflix to self-classify movies streamed in Kenya by limiting offensive content that glorifies, normalizes, promotes and propagates homosexuality.
Consensual same-sex sexual relations are criminalized under Section 165 of Kenya's Penal Code while the Films and Stage Plays Act gives the board the power to regulate the exhibition, distribution, possession, or broadcasting of content to the public. Its content classification exempts live programming and news.
"Netflix will have to develop an intelligence safety-worth classification pool that is consistent with the film classification guidelines for Kenya so that the system's output is aligned with our local laws and regulatory provisions concerning content classification," stated Wambua.
The move to permit Netflix and other streaming services to self-classy movies for Kenya will only allow the board to monitor compliance.
"Netflix has indicated a commitment to operate in the country within the purview of the existing laws," he said. "By the end of October this year we should have finalized the agreement so that by November we pilot the new framework."
Kenya is the second African country to demand Netfilx ban the streaming of LGBTQ+ movies.
Egypt's media regulator this month warned Netflix, Disney+, and other streaming services against broadcasting content that breaches its "societal values" and threatened to take action if not curbed.
The first Netflix film, "Perfect Strangers," released earlier this year targeting the Arabic audience sparked criticism in Egypt and the Middle East for having scenes that depict homosexuality. One Egyptian lawmaker even called for Netflix to be banned in the country.
Egypt is among the countries in the Arab World that do not condone homosexuality.
Egyptian authorities usually prosecute gay men on charges of "immorality" or "debauchery." Police regularly raid private parties, restaurants and bars to arrest them.
Egypt's warning on Sept. 7 came a day after Saudi Arabia, Kuwait, the United Arab Emirates, Qatar, Bahrain and Oman demanded Netflix to drop "offensive content" from its local streaming platforms as it "contradicts Islamic and societal values and principles."
Egypt and Kenya have the highest number of Netflix subscriptions in Africa.
Kenya in September 2021 banned a gay documentary, "I Am Samuel," produced by a local filmmaker.
The Kenya Film Classification Board said was "blasphemous" because it promoted "values that are in dissonance with our constitution, culture, values and norms." The same film, however, has been screened at more than 25 film festivals globally and streamed on iTunes, Vimeo and other international platforms.
Filmmakers and groups opposed to the government's LGBTQ+ films restriction criticized the decision as an abuse of the freedom of expression the Kenyan Constitution guarantees. Courts have dismissed challenges to it.
Apart from the Kenya Film Classification Board reaching a deal with Netflix to restrict LGBTQ+ content, Wambua disclosed that a new law has already been approved by the outgoing Cabinet to help the board effectively classify and regulate content in this digital era.
"The new digital platforms allowing streaming of movies make it difficult hence need to do some readjustments in the law to give companies powers to self-classify their videos-on-demand films that apply on auto-visual content. The existing law was for the analogue era," he noted.
The proposed law, dubbed the Kenya Film Bill 2021, has yet to be introduced in the Kenyan Parliament, which reconvened on Wednesday after August's general election.
The bill would recognize Kenya Film Classification Board key mandates of regulating the creation, broadcasting, distribution, possession and exhibition of films through the issuance of licenses to filmmakers, distributors and exhibitors. The bill would also recognize the Kenya Film Classification Board's role in classifying films under various categories such as films that are either restricted or prohibited.
The Kenya Film Classification Board is engaging with other regulatory government agencies to have minimal adjustments on self-classifications through miscellaneous amendments to restrict LGBTQ content to avoid any delay in enacting the proposed law.
"If this is done even before we overhaul the existing law, we would have the requisite provisions that are necessary to allow us to accommodate the business model of videos-on-demand (VODs) which are on digital demand," Wambua said.
The Washington Blade has reached out to Netflix for comment.