Biden says Facebook is killing people, Facebook angrily responds
The president's remarks come as the White House is ratcheting up its campaign to counter false claims shared on platforms like Facebook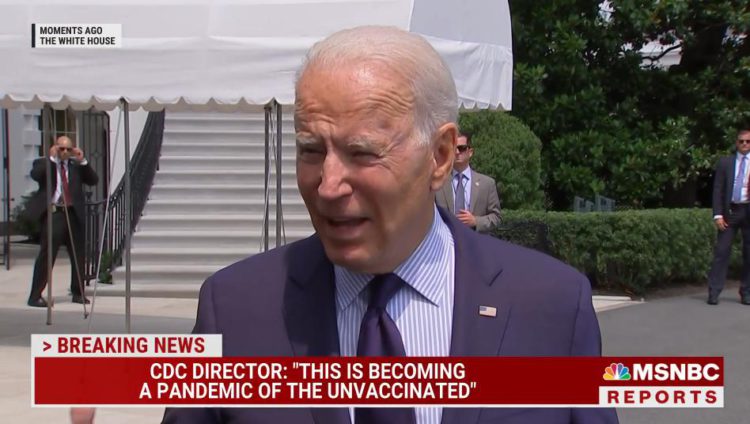 WASHINGTON – As President Joe Biden was departing the White House Friday afternoon headed to Marine One on the South Lawn he stopped to answer a question from NBC News Chief White House Correspondent Peter Alexander, who asked "What's your message to platforms like Facebook [regarding COVID misinformation]?" The president responded saying "They're killing people."
"The only pandemic we have is among the unvaccinated, and that's — they're killing people," he added.
The president's remarks come as the White House is ratcheting up its campaign to counter what it sees as false claims shared on platforms like Facebook which the administration says are contributing to a decline in U.S. vaccination rates.
NBC's @PeterAlexander: "What's your message to platforms like Facebook [regarding COVID misinformation]?"

President Biden: "They're killing people." pic.twitter.com/TIaoeESMdk

— The Recount (@therecount) July 16, 2021
Facebook in a media statement, released not long after the president's remarks to Alexander were broadcast, angrily took issue with Biden's characterization;
"We will not be distracted by accusations which aren't supported by the facts," a company spokesman said. "The fact is that more than 2 billion people have viewed authoritative information about COVID-19 and vaccines on Facebook, which is more than any other place on the internet. More than 3.3 million Americans have also used our vaccine finder tool to find out where and how to get a vaccine. The facts show that Facebook is helping save lives. Period."
During the daily briefing Thursday, White House Press Secretary Jen Psaki had noted that Facebook was not doing enough to stop the spread of false information on the coronavirus pandemic and importantly about the effectiveness of vaccines.
In the same Thursday briefing, U.S. Surgeon General, Vice Admiral Vivek Hallegere Murthy warned that health misinformation is "a serious threat to public health," as Biden administration officials grow increasingly concerned about misleading claims about coronavirus vaccines.
Indirectly taking aim at social media giant Facebook, Murthy told the reporters in the briefing room, "Now, health misinformation didn't start with COVID-19. What's different now though is the speed and scale at which health misinformation is spreading. Modern technology companies have enabled misinformation to poison our information environment with little accountability to their users. They've allowed people who intentionally spread misinformation — what we call "disinformation" — to have extraordinary reach," he said.

"They've designed product features, such as "Like" buttons, that reward us for sharing emotionally-charged content, not accurate content. And their algorithms tend to give us more of what we click on, pulling us deeper and deeper into a well of misinformation," he added.
U.S. Health officials at all levels are alarmed by the rapid spread of the Delta variant which is now the predominate strain of the coronavirus in 40 states. Dr. Rochelle P. Walensky, the head of the Centers for Disease Control and Prevention warned on Friday that the rise in cases was becoming a pandemic of the unvaccinated.
During Friday's briefing, Psaki fielded a series of questions on misinformation and Facebook and other social platforms the administration is singling out.
"So we are ma- — regularly making sure social media platforms are aware of the latest narratives dangerous to public health that we and many other Americans seeing — are seeing across all of social and traditional media. And we work to engage with them to better understand the enforcement of social media platform policies," she said.
"And as we know, it is also — there are also areas where a lot of people get news and information. Sometimes those are accurate news items reported by some of your outlets or accurate information shared by a neighbor. Sometimes there is information that is not. It is hard to discriminate, as we know. This is not a new issue, but it is an issue that is impacting people's lives," she noted.

"So a couple of the steps that we have — you know, that could be constructive for the public health of the country are providing for — for Facebook or other platforms to measure and publicly share the impact of misinformation on their platform and the audience it's reaching, also with the public, with all of you to create robust enforcement strategies that bridge their properties and provide transparency about rules. You shouldn't be banned from one platform and not others if you — for providing misinformation out there," the press secretary pointed out.

"Taking faster action against harmful posts. As you all know, information travels quite quickly. If it's up there for days and days and days when people see it, you know, there's — it's hard to put that back in a box. And, of course, promoting quality information algorithms. I don't know how they work, but they all do know how they work," she said adding;

"So those are some of the steps that we think could be constructive for public health, for public information, for public — and, you know, the right of the public to know."
North Carolina Lt. Gov. Robinson rants at lawmaker over LGBTQ mention
The Senator was referencing Robinson's anti-LGBTQ+, homophobic and transphobic public statements over the past several months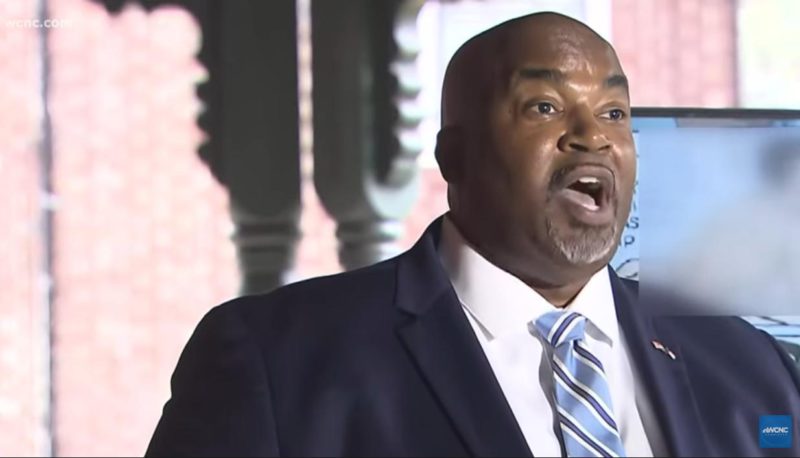 RALEIGH – In a heated tirade in the hallways of the North Carolina capitol building captured on a mobile phone Monday, Republican Lt. Gov. Mark Robinson, the state's highest elected Black official launched into an attack on Democratic State Senator Julie Mayfield.
The tirade was witnessed by a dozen people including lawmakers, staff, and visitors. State Sen. Natasha Marcus (D-Davidson), who witnessed the confrontation and caught part of the tirade on her mobile told the Charlotte News-Observer; ""It was a rant. He berated her, and he yelled as loudly as he could."
The lieutenant governor, who presides over the state Senate, approached Senator Mayfield in the hallway outside the Senate chamber after lawmakers adjourned and "wagged" his finger in her face, Marcus said.
Mayfield had addressed the Senate earlier Monday, after a vote where she highlighted the increasing deadly violence against Black people and ongoing discrimination against LGBTQ people.
In her remarks to her colleagues she said; "It is convenient fiction that we can say something in a particular forum and not expect to be held accountable for those words in another," Mayfield said. "We are elected officials. And if we can't respect our constituents rather than viciously attack some of them, then maybe we're in the wrong job."
The Senator was referencing Robinson's anti-LGBTQ+, homophobic and transphobic public statements over the past several months.
Speaking to parishioners at the Berean Baptist Church in Winston-Salem on Sunday, November 14, Robinson attacked the LGBTQ+ community, captured on the church's YouTube livestream.
Robinson said in his sermon that he questioned the "purpose" of being gay; said heterosexual couples are "superior" to gay couples; and that he didn't want to explain to his grandchildren why two men are kissing if they see that on television the Charlotte Observer reported.
The state's Republican Lt. Governor then went on to compare being gay to "what the cows leave behind" as well as maggots and flies, who he said all serve a purpose in God's creation. "If homosexuality is of God, what purpose does it serve? What does it make? What does it create? It creates nothing," Robinson said.
In a speaking engagement in June at Asbury Baptist Church in Seagrove, Robinson called LGBTQ people "filth." "There's no reason anybody anywhere in America should be telling any child about transgenderism, homosexuality, any of that filth," Robinson says. "Yes, I called it filth. And if you don't like it that I called it filth, come see me and I'll explain it to you."
In a statement released in October by Deputy White House Press Secretary Andrew Bates, the Biden Administration condemned the remarks made last June by Robinson. "These words are repugnant and offensive," said Bates, who is a native of North Carolina. "The role of a leader is to bring people together and stand up for the dignity and rights of everyone; not to spread hate and undermine their own office."
"Sen. Mayfield's remarks speak what's in the hearts of most North Carolinians, and the fact that it set the lieutenant governor off that much is shocking to me," Sen. Marcus told the News-Observer. "He said 'You know where I am and where to find me,'" Marcus said, paraphrasing. "'If you have something to say to me you should come and say it to my face.'"
My colleague @MayfieldforNC made statements in support of #LGBTQ Equality during session tonight. The Lt Gov was so mad that he berated Sen Mayfield outside the chamber. I caught the tail end of his rant on video. pic.twitter.com/8EuCPYkhwz

— Senator Natasha Marcus (@NatashaMarcusNC) November 29, 2021
For the record, Sen Mayfield's floor remarks were full of compassion for all people. She believes, as I do, that elected reps should not speak in hateful terms about our constituents. The struggle for civil rights is ongoing. Here is what she said that enraged the bully Lt Gov: pic.twitter.com/IGeXWBcTbS

— Senator Natasha Marcus (@NatashaMarcusNC) November 30, 2021
Liliana Bakhtiari wins runoff for Atlanta City Council
First LGBTQ Muslim elected in the state of Georgia and will be only Non-Binary Councilmember in a major U.S. city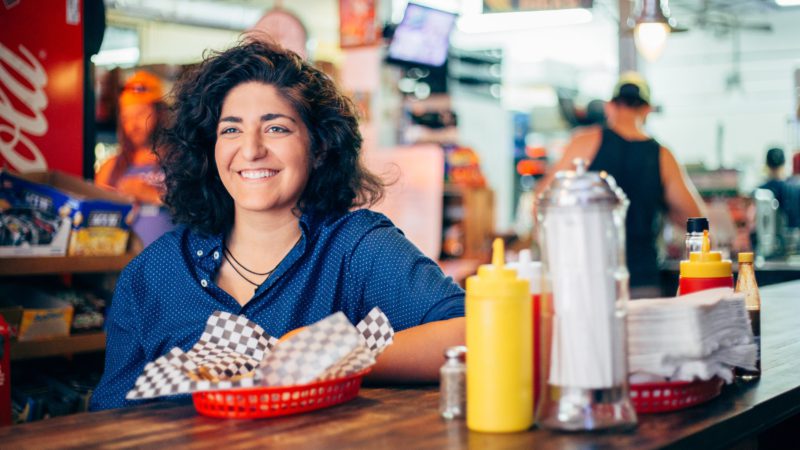 ATLANTA – Liliana Bakhtiari won her runoff election on Tuesday to represent District 5 on the Atlanta City Council, becoming the first out LGBTQ Muslim elected in the state of Georgia and one of less than five currently serving in the entire country.
Bakhtiari will also be the only non-binary person currently serving on the city council of a major U.S. city. During the general election on November 2, Bakhtiari competed in a field of five candidates and received 49.5 percent of the vote, just short of the 50 percent needed to win outright and avoid a runoff. The LGBTQ Victory Fund endorsed Bakhtiari in the race for the seat.
Bakhtiari first ran for the District 5 council seat in 2017 – losing to the incumbent by just 2.6 percent of the vote.
Bakhtiari's election comes as anti-Muslim and anti-LGBTQ political rhetoric rises in recent weeks, including state legislative attacks on trans candidates and anti-Muslim remarks targeting Minnesota Democratic U.S. Representative Ilhan Omar.
"Liliana's victory is a milestone moment for Georgia, but also for non-binary people and LGBTQ Muslims across the country who want to make positive change through public service," Mayor Annise Parker, President & CEO of LGBTQ Victory Fund said in a statement.
"When in office, Liliana will humanize our issues and be a voice for the underserved communities that are too often ignored by elected leaders. Atlanta is already a beacon of hope for LGBTQ people throughout the South, but with more representation that reflects the entire LGBTQ community, it can become a model for the entire nation," Parker added,
Also in a runoff for an At-Large Post 3 Atlanta City Council seat is LGBTQ candidate Keisha Sean Waites, a LGBTQ Victory Fund endorsed candidate and former member of the Georgia House of Representatives, whose race has not yet been called as of Tuesday.
On November 2, another LGBTQ Victory Fund endorsed candidate, former Atlanta City Councilmember Alex Wan, who successfully represented District 6 from 2010-2018, was victorious in his bid to again represent the District. Wan garnered 79 percent of the vote (7,120 votes) and won election to the District 6 seat.
There are currently just 11 non-binary elected officials serving in the entire country. View all LGBTQ elected officials currently serving at outforamerica.org.
A young Trans life erased because of hate
"We will always be grateful for the chance to have her as she was and not who we had thought her to be. Now we call her daughter and sister"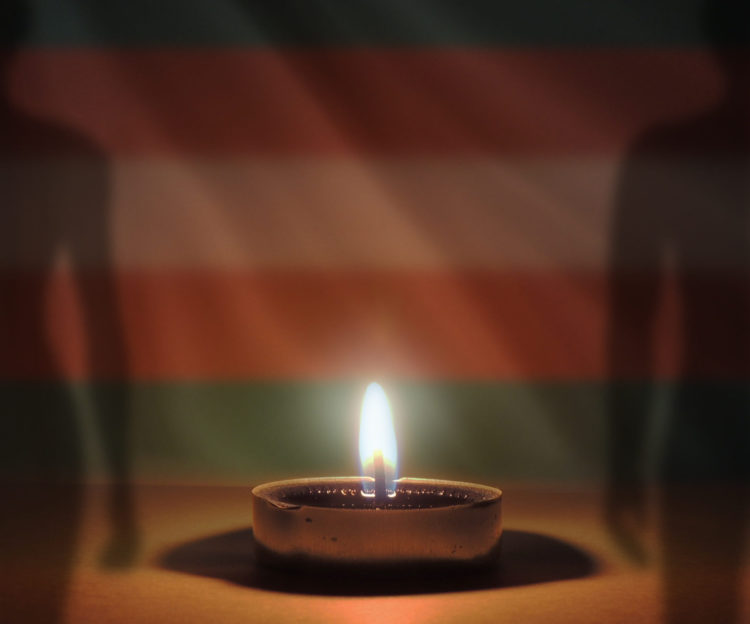 BEACH, Nd. – Life for one family in this small community at the edge of North Dakota adjacent to the border with Montana, near the Theodore Roosevelt National Park, has been forever altered after their 19 year-old Trans daughter committed suicide.
In an obituary published by the funeral home, her family expressed their grief and their rage;
"Haley ended her life on November 12, 2021, her pain being too great. She had grown weary of the knowledge of her reality, knowing this country and this world would never stop trying to force her to submit to its ignorance, and her family rages for her. We would've burned the whole world down if we'd thought it would keep her safe, and our fury and outrage is eclipsed only by our grief. We struggle against the currents that try to carry us away from love, for those currents only take us further from her. And she is far enough, already."
This past year has seen record violence against Trans Americans and legislative efforts to marginalize the Trans community as state lawmakers introduced a record number of anti-transgender bills in state legislatures, seeking to restrict transgender people's access to health care, bathrooms, and sports and recreation.
It has been a year where 47 Trans people, particularly of colour, lost their lives violently and where because of the anti-Trans legislative efforts numerous Trans youth have considered suicide according to the Trevor Project, as their call-in center has been overwhelmed with a sharp uptick in calls for assistance and counseling.
"We are at a tragic and deeply upsetting moment: With the death of Marquiisha Lawrence, 2021 has become the deadliest year ever for transgender and gender non-conforming people. Each of these 45 names represents a whole person and a rich life torn from us by senseless violence, driven by bigotry and transphobia and stoked by people who hate and fear transgender people and the richness of their experience," Joni Madison, interim president of the Human Rights Campaign, said.
"Dehumanizing rhetoric has real-life consequences for the transgender community, particularly transgender women of color but especially Black transgender women. As we have seen an unprecedented number of bills introduced in state legislatures attacking transgender youth and trans adults, the moment we are in is clear. They have attacked transgender people's right to health care, right to exist in public, and right to live openly, with the ultimate goal of dehumanizing and erasing their lives and experiences," she added.
Back in that small North Dakota community, a family grieves.
Obituary for Haley Gabriella Feldmann
Haley Gabriella Feldmann was born on November 18, 2002. She was called boy and so we gave her a boy name—now a dead name. We gave her boy clothes, boy toys, boy things. We didn't know she was our daughter and so we called her son and brother.
Haley spent the first several years of her life content, within and without. She knew nothing of judgment or ridicule. She knew nothing but the love of her family, which she gave back in abundance.
During her adolescent years she retreated into herself and we lost her. She became silent . . . distant. She built formidable walls that became impossible to breach, and she stubbornly refused to grant us passage. She had begun to grow afraid of the world as she began to understand herself and who she was, and the reality of her situation became apparent.
The more she learned of how the world would judge her for not being who it thought she should be, the more she withdrew. She was an atheist, unable to believe in any religion or deity that taught condemnation of her for not submitting to its beliefs of who she should be.
She was a child of God, made perfectly in his image, her body only a vessel for the beautiful soul He created and with which He graced us. She laughed and she loved, and though her humor was dark, her nature was light. Her kindness, her empathy, her hope for others, and her desire to help anyone in need was a blinding light she shone on everyone but herself.
Haley gave us the gift of her truth, trusted us to see beyond her body to her soul, to believe her, and to love her.
We will always be grateful for the chance to have her as she was and not who we had thought her to be. Now we call her daughter and sister and we closed ranks around her to protect her and to keep her safe from the willful ignorance that surrounds her.
Our daughter Haley spent most days wreaking havoc on the universe, her time spent being "Imperial Empress of the Galaxies, Conqueror of Solar Systems, Creator of Planets and Nations, Destroyer of Stars", and loving and adoring Lucy, her best friend and the Best Dog Ever, who loved and adored her in equal measure.
She created her own language with a full alphabet and rules, spending years revising and perfecting it, and, in typical Haley fashion, did not leave a key. She created her own maps, detailed in geography, and her own countries, rich in their histories. She dropped out of school and then graduated before her peers, which made her immensely proud. She taught herself history, geography, politics, and never hesitated to school anyone on the finer points of each. And she was usually correct.
Haley lived most comfortably in a Discord community of just under six hundred people from all over the world, each of whom loved and adored her. We are just beginning to learn of her profound impact within the community and we are grateful they had her and she was loved by them. Her soul was radiant there, unhindered by its physical representation here which had become a prison, freeing her to breathe and be.
Haley ended her life on November 12, 2021, her pain being too great. She had grown weary of the knowledge of her reality, knowing this country and this world would never stop trying to force her to submit to its ignorance, and her family rages for her. We would've burned the whole world down if we'd thought it would keep her safe, and our fury and outrage is eclipsed only by our grief. We struggle against the currents that try to carry us away from love, for those currents only take us further from her. And she is far enough, already.
Haley is survived by her devastated parents; her siblings; her grandparents; several aunts, uncles, and cousins; and Lucy, all of whom are inconsolable in the loss of her brilliance, consumed with a grief that has buried us in moments of silence, rage, and sorrow—a void that will never be filled, and a loss that will never be eased. The world is less without her and we will never be the same.
There will be no formal services for Haley. She considered money spent on the dead to be frivolous and of better use elsewhere. Any donations to her family should be sent to The Jim Collins Foundation in hope that a life might be saved.
In lieu of thoughts and prayers, her family asks that you be kind to the living and generous with what you have, be it your love, hope, or wealth. Do better unto others as you would have done to you, and reach back to those in need, lift them up, raise them higher, and love love love thy neighbor.