Pakistan opens government school for transgender students
"We have provided them everything that is required" for their schooling to help trans youth get better job opportunities later on in life.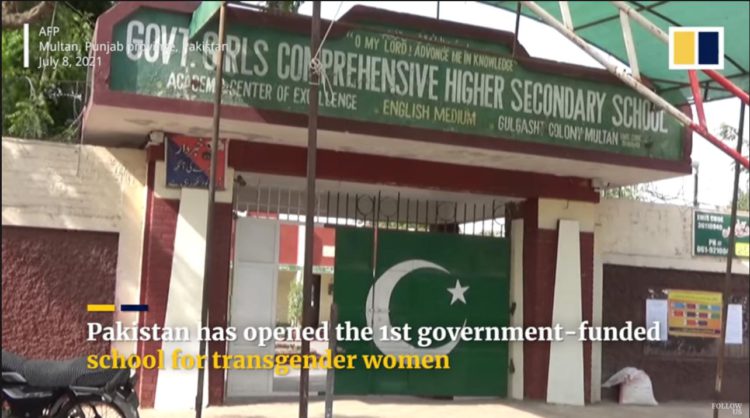 MULTAN, Punjab, Pakistan – In an action that sets unique precedent in this largely conservative Muslim majority country, the Government of Pakistan earlier this month established and opened its first public school for transgender people in Pakistan's most populous province.
A tweet sent out on July 9, on the official Pakistani Government Twitter account read; "First public school for transgender people has been opened in Multan. This will not just educate the transgender people but will increase livelihood and business opportunities for them as well."
The school, established by the educational department in Punjab province, where Multan is located, opened its doors on the first day of school with 18 students enrolled the Associated Press reported.
"We have provided them everything that is required" for their schooling, tweeted Murad Rass, Punjab's education minister. He added that he hopes that the school will help transgender youth get better job opportunities later on in life.
ANNOUNCEMENT:
First Day of School for Transgenders by School Education Department Punjab. We have provided them everything that is required for Schooling. Dr Aithesham Secretary School South Punjab and his team have done a great job. TransEducation is the program. pic.twitter.com/pTZkfKEOYX

— Murad Raas (@DrMuradPTI) July 8, 2021
Ayesha Mughal, a trans advocate in Punjab, told the Associated Press that the trans community is "grateful" to the government for opening the school and "for providing free education to our community."
Mughal tweeted about the historic occasion. "Today I am so happy, proud and emotional at the same time."
Today I am so happy, proud and emotional at the same time. First day of school for the Transgender Persons in Multan. All the very best for the effective implementation of this great initiative by Education Dept South Punjab 👏 @hecpkofficial @FBISEOfficial @EduMinistryPK pic.twitter.com/XF7iEkw5Pz

— Aisha Mughal (@_aishamughal) July 7, 2021
Life in Pakistan for Trans people is often fraught with the danger of being physically assaulted, denied basic healthcare and exclusion from society. Often forced to live on streets reduced to begging for food or everyday necessities, the opportunity presented for good education is a lifeline to many Trans Pakistanis.
In 2018, the country's Parliament passed the Transgender Persons (Protection of Rights) Act which established broad protections for trans people in the country which was followed in 2019 by the Pakistan Supreme Court which ruled transgender people would be designated as a third gender.
This allowed trans people medical treatment which had been previously denied because doctors could not decide whether to treat them as male or a female and house them in a gender ward appropriately.
Pakistan however still offers no legal protections for Trans, Lesbian, Gay, Queer, or Bi-sexual people and Pakistani law prescribes criminal penalties for same-gender sexual activities. A British Colonial-era law written in the 1860's is still enforced albeit inconsistently as an act of sodomy carries a possible prison sentence.
LGBTQ Equality rights in the country are also impacted by societal viewpoints of the majority conservative Muslim population. In larger cities in the country same-sex relationships are more accessible but with most LGBTQ people, especially gay men adhering to an absolute mindset of absolute discretion.
The framework of the country's laws does not offer protection from discrimination or harassment on the basis of sexual orientation. Nor are same-sex marriages or civil unions are permitted under current Pakistani law.
Budapest Pride takes place amid Hungary LGBTQ rights crackdown
City's mayor among parade participants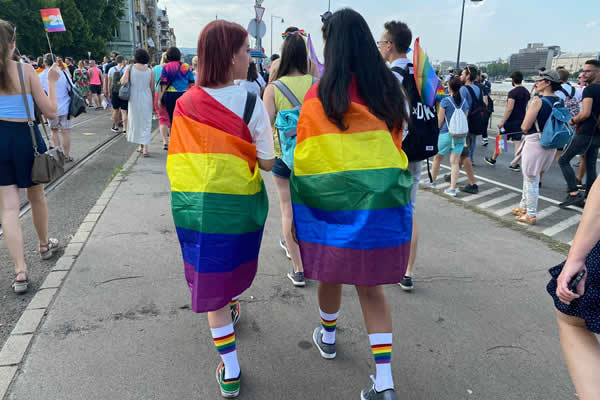 BUDAPEST, Hungary — Thousands of people attended a Pride parade in the Hungarian capital of Budapest on Saturday that took place against the backdrop of the government's ongoing efforts to curtail LGBTQ rights.
Budapest Mayor Gergely Karacsony, who is challenging Prime Minister Viktor Orbán in next year's presidential election, is among those who participated in the Budapest Pride parade. Event organizers said upwards of 30,000 people took part.
"There were a lot of supporters and allies, lots of young people and some older people," one Budapest Pride participant told the Los Angeles Blade.
The participant said someone shouted an anti-gay slur at them and their friends as they walked home while holding a rainbow flag. They said the parade was nevertheless peaceful.
"The mood was more like a protest, solidarity and marching for equal rights than a party," they told the Blade. "I didn't see drag queens and it felt a bit muted, but I'm happy we had such a peaceful and fun Pride."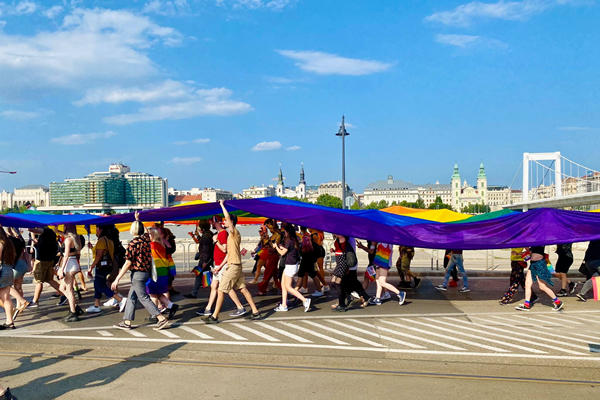 Budapest Pride took place less than a week after Prime Minister Viktor Orbán announced he wants to hold a referendum on a new law that bans the promotion of homosexuality and sex-reassignment surgery to minors in the country.
The law took effect on July 8. The European Commission a week later announced it would take legal action against Hungary.
Hungarian lawmakers late last year amended the country's constitution to define family as "based on marriage and the parent-child relation" with "the mother is a woman, the father a man" and effectively banned same-sex couples from adopting children. The Hungarian Parliament in April 2020 approved a bill that bans transgender and intersex people from legally changing their gender.
Puerto Rico activists condemn police raid on LGBTQ-friendly bar
More than 20 officers descended on Loverbar near the University of Puerto Rico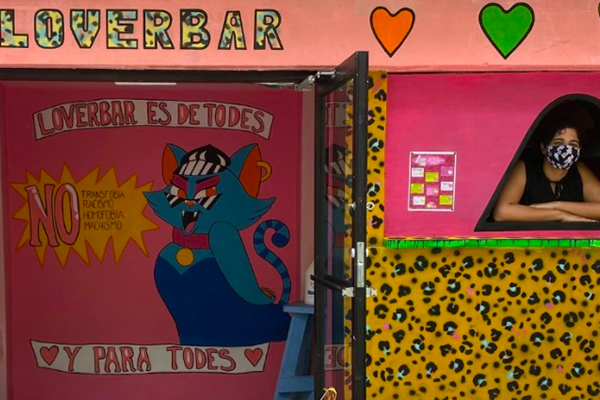 SAN JUAN, Puerto Rico — Activists in Puerto Rico have condemned a police raid on an LGBTQ-friendly bar that took place on Thursday night.
Local media reports indicate more than 20 officers with the San Juan Municipal Police Department entered Loverbar, which is near the campus of the University of Puerto Rico, at around 11 p.m.
A video posted to social media shows that some of the officers who entered the bar were armed with what appear to be shot guns.
Media reports cite local authorities who said Loverbar did not have the necessary permits to operate as a bar, and the officers arrived there to fine them. San Juan Mayor Miguel Romero in a statement said officers fined Loverbar and seven other businesses in the city on Thursday for either not having the necessary permits or excessive noise.
"The Municipal Police of San Juan led by Miguel Romero intervened last night with a queer bar," tweeted Pedro Julio Serrano, founder of Puerto Rico Para [email protected], a Puerto Rican LGBTQ advocacy group. "This reminds us of a time when LGBTQI+ people were prosecuted, criminalized and villified."
"We won't tolerate homophobia and transphobia in San Juan," added Serrano.

Comité Amplio Para la Búsqueda de Equidad (CABE), another Puerto Rican LGBTQ advocacy group, has called for an "exhaustive and independent investigation into the excessive use of force and intimidation by the Municipal Police of San Juan last night" at Loverbar.
Argentina becomes first Latin America country to issue non-binary IDs
Country remains at forefront of trans, gender non-conforming rights
BUENOS AIRES, Argentina — Argentina on Wednesday became the first country in Latin America to issue ID cards that are specifically for non-binary people.
President Alberto Fernández issued a decree that allows non-binary Argentines to choose an "X" gender marker on their National Identity Document or DNI.
"The recognition of the gender identity of people who identify themselves outside gender binary norms is a big advance for the entire society, because it puts to an end the mandatory imposition of 'male' or 'female' categories," reads Fernández's decree. "The decree implements the rights recognized under the Gender Identity Law, interpreting its scope beyond binaryism."
The Gender Rights Law that took effect in 2012, among other things, allows Argentines to legally change their gender without medical intervention. Fernández last September signed a decree that requires at least 1 percent of all jobs in the country's public sector to go to transgender people.
Marcela Romero, a Buenos Aires-based trans activist who is also a member of REDLACTRANS (The Latin America and Caribbean Network of Transgender People) Executive Board, in a statement said the decree "once again positions Argentina" as a world leader in extending rights to gender non-conforming people.
#Argentina @marcela__romero coord regional de RedLacTrans y presidenta @ATTTA_Nacional estuvo en acto presidencial donde se entregaron DNI No Binaries. "La Ley de Identidad de Género es el marco legal para los DNI no binaries ¡Leyes de Identidad de Genero para toda la región YA!" pic.twitter.com/OY1n1Qcr50

— RedLacTrans (@REDLACTRANS) July 21, 2021
Mariano Ruiz, another Argentine LGBTQ rights activist, echoed Romero.
"The recognition of the identity of non-binary people by the State leaves no doubt about the interpretation of the Gender Identity Law," Ruiz told the Los Angeles Blade on Wednesday.
Ruiz also noted the public sector employment law is named after two trans activists — Diana Sacayán, who was killed in 2016, and Lohana Berlina, who died in 2012.
"Once again and after the recent approval of the Diana Sacayán-Lohana Berlina Labor Quota Law, the Argentine government has shown its firm commitment to sexual and gender diversity and sets the course for where the Latin America region should go," said Ruiz. "We hope that this is only the beginning and we will soon have a new law against discriminatory acts, a comprehensive law for trans people and a new law for HIV and viral hepatitis."