Mexico City shelter offers second chance for transgender residents
Casa Refugio Paola Buenrostro named after murdered trans sex worker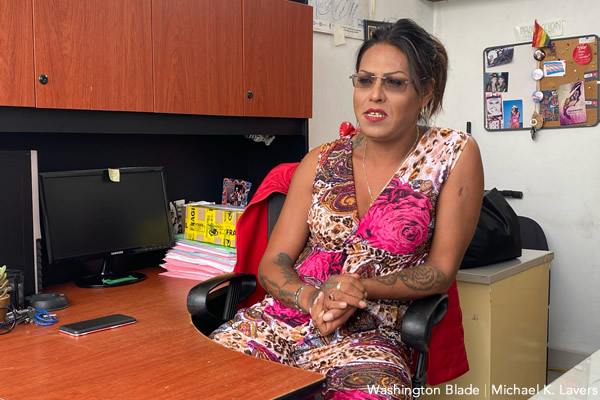 MEXICO CITY — Alcohol and drugs were the only things that allowed Michel Ríos, 33, to cope with her fears and traumas when she engaged in sex work or tried to face her life as a person with a disability.
Ríos is a transgender woman from Mexico's Veracruz state who lost one of her legs when she was seven and earned her family's contempt from the moment she assumed a non-heteronormative sexual orientation and gender identity. Ríos was forced to leave home at 15 and began to earn a living on the streets, alone.
She began to seek help after several years.
Ríos found Casa Refugio Paola Buenrostro, a shelter in Mexico City that Casa de las Muñecas Tiresias, a local advocacy group, runs. She first arrived with the intention of becoming sober through an Alcoholics Anonymous program, but she ended up staying to rebuild her life.
Shelter named in honor of murdered trans sex worker
Kenia Cuevas, a renowned LGBTQ rights activist, founded Casa de las Muñecas after she witnessed the murder of her best friend, Paola Buenrostro, in December 2016 while they were both engaged in sex work. That tragic event was the final straw that motivated her to fight for her community.
Casa Refugio Paola Buenrostro opened its doors in January 2020.
"The mission of our organization is that those people who we welcome know their rights, that they can have a decent life, that they can understand life processes and we can rescue them from situations of vulnerability, of abandonment, when they believe that everything has been lost," said Cuevas during an exclusive interview with the Los Angeles Blade via Zoom.
International News Editor Michael K. Lavers visited the shelter on Saturday and met with Cuevas.
"In short, what we do is create living conditions in accordance with human rights," said Cuevas. "We have managed to give visibility to all the problems that trans people face on a day-to-day basis and of which society was not aware."
Casa de las Muñecas has offices in Mexico City and in Mexico, Nayarit, Morelos and Guerrero states. It has a team of professionals who carry out a variety of services for trans people that includes support for legally changing their identity, legal advice and education workshops.
"We are also entering prisons to provide legal literacy to transgender people, workshops on culture, sports, addictions," said Cuevas. "When they are released we then rescue them and take them to the home to continue their social reintegration."
Casa de las Muñecas' Mexico City shelter is named in honor of Buenrostro. Casa de las Muñecas also plans to open two additional shelters — one in the Mexican capital and another in Mexico state.
Casa de las Muñecas served 1,800 people in its first year of operation, which was 2018. The organization, according to Cuevas, had worked with upwards of 10,000 people last year.
Ríos arrived in July 2020 amid the pandemic. She said the shelter and its residents are now her family, because she has not seen her biological relatives since 2007.
"It is my home, a refuge from discrimination, violence, prostitution, drugs and alcohol," Ríos told the Blade. "Staying here gives people the opportunity to grow, to achieve their dreams. It tells you that you can still dream. I am 41-years-old and I am dreaming. I am learning to dream here. The house has opened my horizons, it has given me the opportunity to be a different person."
Ríos' goal at the shelter is to learn the skills that will allow her to reintegrate into society. Ríos said she also hopes to help other people who may be in the same situation in which she was before she arrived.
"My goal is to finish my 'prepa' (high school diploma) and make a career for myself," said Ríos, who hopes to become a designer.
This educational preparation is part of an intervention strategy that Casa de las Muñecas created in July 2020 to eliminate education disparities among the trans community.
"We do workshops aimed at economic autonomy, connecting them to the labor force," said Cuevas. "It also allows for psychological support, access to health care, treatment for HIV or hormones, as well as the right to identity, either in their documents or the change of identity."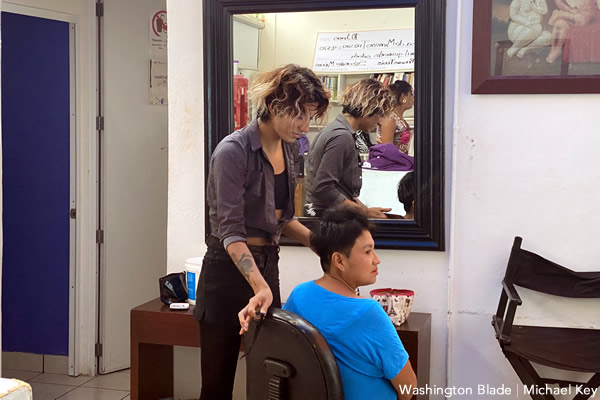 Victoria Alejandra Arias, 33, a trans woman who is also from Veracruz state, learned while at the shelter that she is living with HIV. She was diagnosed at the shelter and now receives treatment.
Arias abused alcohol and drugs and was a sex worker.
She said her now ex-partner physically and emotionally abused her. He threatened and blackmailed Arias before they finally ended up in jail.
Arias recalled she was in a desperate physical and mental state when a friend brought her to the shelter on Jan. 7. She has found purpose in her life after less than five months.
"We have several workshops here, we go out to do exercises," Arias told the Blade. "My life has changed in every way. I have improved in the physical sense because I got too thin. I used crack, a very addictive drug, and it really destroys people. My appearance is improving little by little. I know that I am on my way."
"Women already have a profession because of all this support," added Cuevas. "It will be easier for them to integrate themselves into society because they can come out (of here) a little more educated, empowered and know their rights and responsibilities."
More than 20 people were living in the shelter when Cuevas spoke with the Blade, with 50 names on a waiting list. Canela and Leslie, two rescue dogs, also live at the shelter.
The Mexico City government pays the shelter's rent and utilities, but donations that mostly come through social networks and people who provide furniture and other items support it. Cuevas donates around 70 percent of her salary.
"Our day at the house starts at 6 in the morning," said Arias. "We make the bed, we bathe, we put on makeup and we go to our workshops, because part of this place's goal is to re-educate ourselves."
Ríos told the Blade the shelter offers English, theater, cosmetology, mathematics, Spanish, science and acting workshops.
"I've already imitated Paquita la del Barrio because I look a lot like her physically," she said. "My favorite workshop is the theater — especially comedy — one because it goes great with my personality. The experience of acting is very beautiful. I have a lot of fun."
Ríos said she and other workshop participants are preparing to premiere a play in December. She told the Blade they also perform at street festivals and in prisons.
Cuevas said she wants to open a headquarters for Casa de las Muñecas and a shelter in each of Mexico's 32 states. Cuevas added she would like to expand her work throughout the rest of Latin America.
She said her greatest achievement is the gratitude and happy faces of those who have passed through the shelter.
"Thanks to this place I have regained my dignity," said Ríos. "I want to live and, despite my disability and all the physical problems, I don't let myself be defeated and I keep going."
Arias, meanwhile, hopes to become a stylist "because I want to have a job."
"I would like to finish my studies," she said. "I see all those goals closer and stronger now and all that is for my life here. My greatest success is being clean and having goals in my life."
WorldPride 2025 in Taiwan cancelled
"Taiwan deeply regrets that InterPride, due to political considerations, has unilaterally rejected the mutually agreed upon consensus"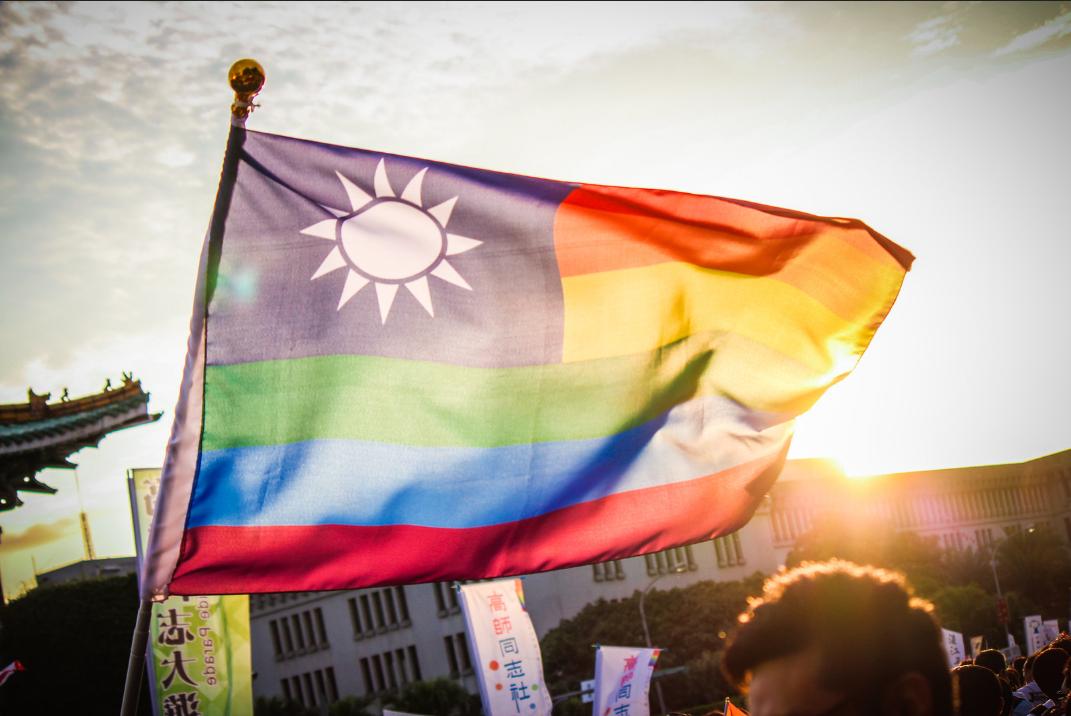 TAIPEI, Taiwan – Taiwanese organizers of the WorldPride 2025 Taiwan will not hold the event after InterPride, a global LGBTQ rights group, refused to let the Taiwanese organizers use the island nation's name in the event title.
WorldPride Taiwan 2025 was initially slated to be hosted by the southern city of Kaohsiung after the Taiwan Preparation Committee, consisting of representatives from Kaohsiung Pride and Taiwan Pride, had their bid accepted by InterPride, a global LGBTQ rights group.
A-Ku (阿古), co-chairman of the local WorldPride Taiwan 2025 organizing committee told media outlets that InterPride had recently "suddenly" asked them to change the name of the event to "Kaohsiung," removing the word "Taiwan."
"After careful evaluation, it is believed that if the event continues, it may harm the interests of Taiwan and the Taiwan gay community. Therefore, it is decided to terminate the project before signing the contract," said the co-chair in a statement.
Taiwan's Ministry of Foreign Affairs (MOFA) helped organize a tripartite meeting with InterPride and Kaohsiung Pride on Nov. 16, 2021 during which the three parties agreed upon the name Taiwan, A-Ku told Focus Taiwan/CNA News English.
Despite this, InterPride subsequently announced in a letter dated July 26 that, based on a vote by the directors and supervisors, the event must be named either "WorldPride Kaohsiung" or "Kaohsiung WorldPride," A-Ku said.
He also noted that InterPride's assertion that it had suggested using the name "WorldPride Kaohsiung, Taiwan" was "completely inconsistent with the facts."
A-Ku added that the name "WorldPride Taiwan 2025" had been used throughout the entire bidding process from the beginning of 2021, including on application forms, plans, and other relevant documents.
Taiwan's Foreign Ministry released a statement noting that the event would have been the first WorldPride event to be held in East Asia.
"Taiwan deeply regrets that InterPride, due to political considerations, has unilaterally rejected the mutually agreed upon consensus and broken a relationship of cooperation and trust, leading to this outcome," the statement said adding;
"Not only does the decision disrespect Taiwan's rights and diligent efforts, it also harms Asia's vast LGBTIQ+ community and runs counter to the progressive principles espoused by InterPride."
Taiwan had legalized same-sex marriage in 2019, "On May 17th, 2019 in Taiwan, Love Won," tweeted President Tsai Ing-wen at the time. "We took a big step towards true equality, and made Taiwan a better country."
The island nation's recognition of same-sex marriage is a first for Asia, and Taiwan is proud of its reputation as a central bastion of LGBTQ rights and liberalism in Asia.
WorldPride 2025 Taiwan's full statement:
Statement on Project Termination of Hosting WorldPride Taiwan 2025》
The WorldPride 2025 Taiwan Preparation Committee would like to express our sincere gratitude for all the generous support we have received since winning the bid to host WorldPride 2025 in Taiwan. After months of preparation and collaboration with various government departments and corporate enterprises, it is a great pity to announce that the project of WorldPride Taiwan 2025 has been terminated.
When discussing and negotiating the event contract's terms and conditions, the WorldPride 2025 Taiwan Preparation Committee (consisting of Taiwan Pride and Kaohsiung Pride) was unable to reach a consensus with InterPride, the event licensor. There were major discrepancies between our stances on the event's naming, understandings of Taiwan's culture, and expectations of what a WorldPride event should look like.
In the back-and-forth discussions, InterPride repetitively raised their concerns and doubts about whether Taiwan has the capacity, economic and otherwise, to host an international event like WorldPride. This is despite our team consisting of highly competent Pride organizers who have successfully organized some of the largest Pride events in Asia. Although we have presented past data and relevant statistics to prove our track record, we were still unable to convince InterPride. However hard we have tried to cooperate, our efforts did not result in an equal and trusting working partnership with the event licensor.
The final straw that led the negotiation to a deadlock was the abrupt notice from InterPride, requiring the name of the event to change from "WorldPride Taiwan 2025" to "WorldPride Kaohsiung 2025". This is despite the fact that the name "WorldPride Taiwan 2025" was used throughout the entire bidding process: From the bid application and the bid proposal evaluation to the voting process and the winner announcement back in 2021.
We had made it clear to InterPride that there are some significant reasons why we insist on using the name "WorldPride Taiwan 2025". First, the name "Taiwan Pride" is of symbolic significance to the Taiwanese LGBTIQ+ community as it has been used for Taiwan's first and still ongoing Pride parade since the first edition in 2003. It was not named after the city but the nation as a whole. Second, WorldPride Taiwan 2025 was planned to connect several Pride events and activities across Taiwan, with many cities, in addition to Kaohsiung, participating.
After the winner announcement, upon reading InterPride's congratulatory letter which mistakenly named Taiwan as a region instead of a country, Taiwan's Ministry of Foreign Affairs (MOFA) helped organize a tripartite meeting with InterPride and KH Pride on November 16 2021. In the meeting, the three parties (MOFA, InterPride, KH Pride) agreed on using "WorldPride Taiwan 2025" as the name for all the sequential events and activities. However, during the recent contract negotiation, InterPride suddenly made it a requirement that WorldPride 2025 can only be named after the host city rather than the country ("WorldPride Kaohsiung 2025" instead of "WorldPride Taiwan 2025"). This unexpected requirement essentially reneges on the previously made agreement.
In the face of many uncertainties such as InterPride's inconsistent attitude toward the event naming and doubts about our team and the Taiwan market, we have to make the painful decision to terminate the project of hosting WorldPride 2025 in order to strive for the best interest of the LGBTIQ+ community in Taiwan. The WorldPride 2025 Preparation Committee will also resign to take responsibility for failing to host the event.
We would like to express our most profound appreciation to everyone who has supported us. We are especially grateful for the continuous assistance and resources provided by Taiwan's Presidential Office and Ministry of Foreign Affairs.
We promise that the termination of hosting WorldPride Taiwan 2025 will not undermine our motivation to serve the LGBTIQ+ community. We will continue to promote Taiwan's LGBTIQ+ culture worldwide.
The WorldPride 2025 Taiwan Preparation Committee
2022/08/12
U.S. Consulate warns Americans avoid travel to Tijuana as violence erupts
The U.S. Consulate General Tijuana: Officials are aware of reports of multiple vehicle fires, roadblocks, & heavy police activity in Tijuana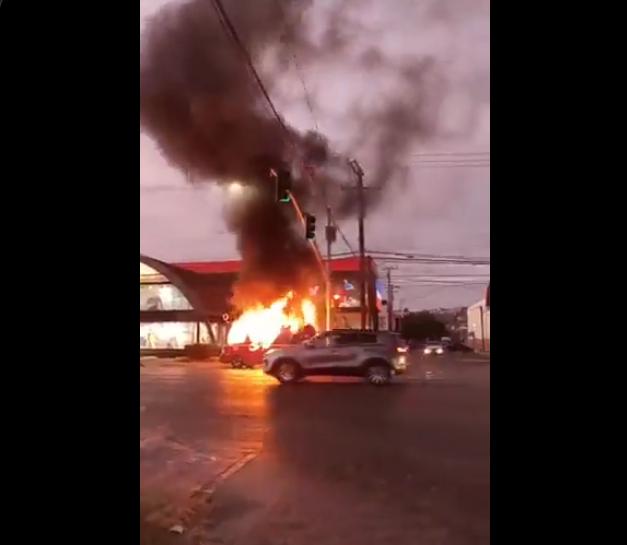 TIJUANA, Baja California, Mexico – The U.S. Consulate General Tijuana issued an alert to American citizens after threats and two days of violence by a regional drug cartel in this popular tourist destination south of San Diego. Officials also warned its personnel to shelter in place.
In a message the U.S. Consulate General Tijuana wrote that officials are aware of reports of multiple vehicle fires, roadblocks, and heavy police activity in Tijuana, Mexicali, Rosarito, Ensenada, and Tecate. U.S. government employees have been instructed to shelter in place until further notice.
1/2 The U.S. Consulate General Tijuana is aware of reports of multiple vehicle fires, roadblocks, and heavy police activity in Tijuana, Mexicali, Rosarito, Ensenada, and Tecate. U.S. government employees have been instructed to shelter in place until further notice. pic.twitter.com/oghBX1P7qX

— U.S. Consulate Tijuana (@ConsuladoUSATJ) August 13, 2022
2/2 Actions to Take:
-Avoid the area
-Seek secure shelter, if in the area
-Monitor local media for updates
-Be aware of your surroundings
-Notify friends and family of your safety https://t.co/hywpDZFiV9 pic.twitter.com/MYW02k7Dpd

— U.S. Consulate Tijuana (@ConsuladoUSATJ) August 13, 2022
Baja California Governor Marina del Pilar Avila Olmeda tweeted: "We will apply all the strength of our government so that there is peace and we find those responsible for these attacks."
Bajacalifornianas y bajacalifornianos:

Estamos trabajando desde el primer momento para salvaguardar la paz en nuestro Estado.

Aplicaremos toda la fuerza de nuestro Gobierno para que haya paz y demos con los responsables de estos atentados.

Les seguiremos informando. pic.twitter.com/npy0r9X0Yo

— Marina del Pilar (@MarinadelPilar) August 13, 2022
Media outlets in San Diego and Baja California are reporting that the violence started Thursday in a Ciudad Juarez prison after the Sinaloa Cartel, once led by the infamous Joaquin "El Chapo" Guzman, and a local group, Los Mexicles, began feuding. The riot left two dead and 16 injured before breaking out into the streets. At that time a shelter in place order was issued.
That violence has now spread to other parts of the country including Tecate, Tijuana, Playas de Rosarito, Mexicali, and Ensenada in Baja California.
On Friday, cartel soldiers set multiple vehicles on fire, set up multiple road blockades and engaged in shootouts with Mexican security forces. Residents of Tecate, Tijuana, Playas de Rosarito, Mexicali, and Ensenada are sharing videos of burnt vehicles in the street on various social media platforms.
Violence Breaks Out In Popular Mexican Tourist Destination:
Pakistan's LGBTQ & intersex communities forge ahead
"Practicing construction of systems of protection for LGBTQ+ allied people requires a culturally sensitive & community-informed approach"
KARACHI – Pakistan is a country that is notorious for its human rights violations, and the LGBTQ and intersex community is one of the most vulnerable groups in the country. Despite the challenges, the community is fighting for their rights and slowly making progress.
Since homosexuality is illegal in Pakistan, the LGBTQ and intersex community is often forced into hiding. This makes it difficult to estimate the size of the community, but it is thought that there are tens of thousands of LGBTQ and intersex people living in Pakistan. Many of them live in wealthy areas of Karachi, the country's largest city, without fear, as do community members in similar parts of Pakistan.
The community, however, continues to face many challenges in Pakistan. They experience discrimination and violence both from individuals and the government.
In 2018, for example, the Pakistani government passed a law under Section 377 of the country's colonial-era penal code that made same-sex marriage punishable by up to 10 years in prison. Homosexuality remains criminalized in Pakistan.
In addition to the criminalization of LGBTQ and intersex Pakistanis, the community also continues to face discrimination and violence that family members often perpetuate.
Many LGBTQ and intersex people face verbal, emotional and even physical abuse from their families due to societal and religious pressures. This can lead to them dropping out of school or foregoing higher education altogether.
Discrimination in the workplace and education system forces many LGBTQ and intersex Pakistanis to remain in the closet, and those who are out often cannot find work or continue their education. Access to health care — including testing and treatment for sexually transmitted diseases and infection — is an ongoing challenge.
A law that permits transgender people to legally change the gender on their national ID cards and other official documents, allows them to vote and bans discrimination based on gender identity in employment, health care, education and on public transportation took effect last year. Pakistan's Supreme Court in 2009 ruled in favor of recognizing trans people as a third gender on identity cards. Discrimination against trans Pakistanis remains pervasive in spite of these advances.
Pakistan's LGBTQ and intersex rights organizations fight for change
Some of the country's LGBTQ and intersex advocacy groups organizations are based in Lahore, but most of them are in Karachi.
Pakistan's first gay rights organization was founded in Lahore in 1994. There are now more than 20 groups that are working to spread awareness and understanding about the LGBTQ and intersex community.
O, also known as O Collective, was founded in Lahore in March 2009 by activists dedicated to the protection of the rights of sexual minorities, specifically LGBTQ and intersex people. They are committed to the education and support of queer communities, sexual minorities, and their families and friends. O provides a safe space for the community to meet and discuss issues such as sexual health and legal rights.
The Naz Health Alliance is a public health NGO that works with the government and other stakeholders to provide technical assistance to public health programs, conduct research, provide capacity building, advocate for policy changes and social inclusion, and create awareness regarding the sexual health and human rights of MSM (men who have sex with men) and transgender communities.
The group also works towards building a healthy and inclusive society by addressing social exclusion faced by the MSM and transgender community. Qasim Iqbal founded the Naz Health Alliance in 2011.
Uzma Yaqood founded the Forum for Dignity Initiatives in 2013.
FDI is a research and advocacy organization that aims to improve the lives of sexual and gender minorities in Pakistan through education, health and other social services that are sensitive to their respective identities. The organization works to ensure women, young people and trans individuals are able to live their lives without fear.
Jannat Ali — who describes herself as an "artivist" — is the executive director of Track T, a trans rights organization that is based in Lahore.
Her organization in 2018 organized Pakistan's first-ever trans Pride parade that nearly 500 people attended. The country's first-ever Pride parade — which violence marred — took place in Karachi the year before.
Ali in March 2021 launched a program with episodes on Instagram and YouTube. She is the first openly trans person to host her own show in Pakistan.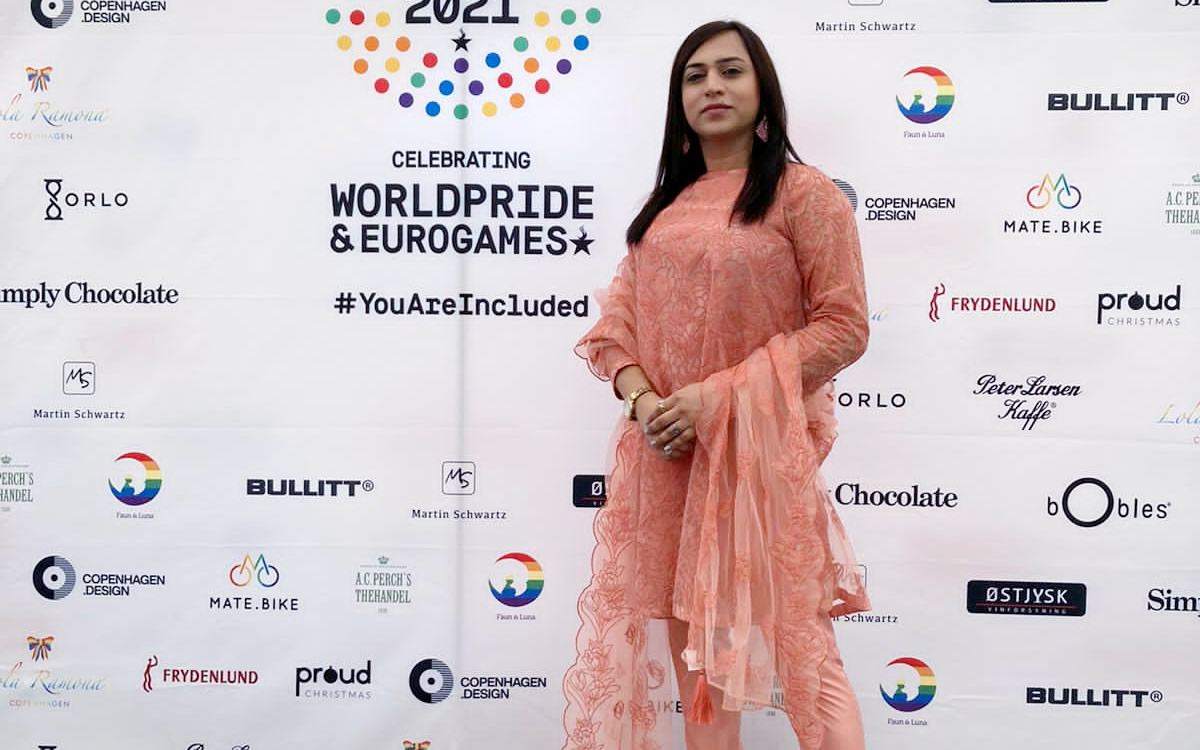 Hussain Zaidi is a recent Swarthmore College graduate who has worked tirelessly to ensure trans people can access public health care in Pakistan. Zaidi spoke with the Washington Blade about how Pakistani's view LGBTQ and intersex communities and what can be done to ensure their safety.
"LGBTQ+ communities are typically seen as communities adopting a Western framework for sexuality that is incongruent with the cultural norms within Pakistan," said Zaidi. "There is an indigenous culture in Pakistan where queerness and trans bodies can thrive, but our conception of this cultural praxis and way removed from global narratives of LGBTQ+ freedom and self-autonomy."
Zaidi added "labels for the LGBTQ+ community are considered illegitimate and propaganda arguing that Pakistani individuals on the queer/trans spectrum are coopting identities oriented towards Western frameworks and lenses."
"Even within communities that would be considered LGBTQ+, we see people rejecting the LGBTQ+ framework and instead arguing for the acceptance of local, indigenous praxis of transness and queerness," added Zaidi. "So overall the social landscape of LGBTQ+ rights is complex and intersectional, with the perception of the label differing based on what class, status, educational level and background the Pakistani acting as the perceiver comes from."
Zaidi said safety for LGBTQ and intersex Pakistanis "starts first by doing the work to understand how communities in Pakistan want to represent themselves in broader Pakistani culture."
"Practicing the construction of systems of protection for LGBTQ+ allied people requires a culturally sensitive and community-informed approach," said Zaidi. "Often foreign organizations providing aid and support expect programming to revolve around terminologies and ideas that are globally accessible and originated from/digestible by the West. Due to this, the important work of understanding how to support existing communities in establishing and advocating for their identities and rights goes ignored or under-prioritized."
"By understanding what existing communities want, a community-informed strategy to safely advocate for LGBTQ+ aligned people can be implemented that also doesn't put the community itself at risk in any way," added Zaidi. "There are not many organizations doing work of this nature, due to the level of public censorship and policing that is arranged by dissenting opponents to the LGBTQ+ framework. By guaranteeing basic systems of protection and safety, we can expect the number of people and organizations committed to supporting variant sexual and gender identities to increase."
U.S., German embassies support LGBTQ, intersex activists
The U.S. Embassy in Pakistan works to raise awareness and understanding of LGBTQ and intersex issues and people in the country.
It organizes community and educational events to build connections and support among LGBTQ and intersex Pakistanis and works to fight discrimination and oppression based on sexual orientation or gender identity. The embassy, which is located in Islamabad, the Pakistani capital, in 2011 hosted an LGBTQ and intersex event.
"Mission Pakistan works to strengthen and support the LGBTQI+ community," tweeted the embassy on May 17, which is the International Day Against Homophobia, Biphobia and Transphobia. "We strive every day to ensure the human rights of the LGBTQI+ community are respected and protected from oppression. We continue to press for full equality."
Mission Pakistan works to strengthen and support the LGBTQI+ community. We strive every day to ensure the human rights of the LGBTQI+ community are respected and protected from oppression. We continue to press for full equality. pic.twitter.com/MvbIt0J4xI

— U.S. Embassy Islamabad (@usembislamabad) May 17, 2022
The German Embassy in Karachi in 2021 also hosted an event for queer Pakistanis.