LGBTQ Cubans participate in July 11 protests
Community members took to the streets to demand their rights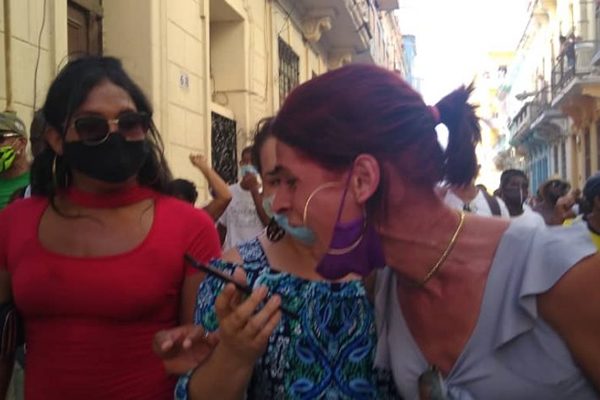 Editor's note: Tremenda Nota is the Los Angeles Blade's media partner in Cuba. The Blade published a Spanish version of this story on July 16.
HAVANA — Thousands of people took to the streets in Cuba on July 11 to demand, among other things, the government improve people's quality of life and guarantee citizens' rights.
The protests took place in cities throughout the country, but violence that had not been seen before broke out in some Havana neighborhoods. Protesters for the first time in Cuba with such magnitude overturned police cars, looted stores and threw stones at police officers.
Parts of the LGBTQ community joined the marches. They had particular reasons for protesting that were in addition to the protesters' general demands.
"I came because I am tired of the repression that the police inflict upon trans people," a transgender woman who was marching among thousands of people through Centro Havana told Tremenda Nota. "They don't allow us to go out on the streets, they ask us for our ID cards, they take us in for prostitution."
Adriana Díaz Martínez walked with other trans women. They chanted, along with the rest of the protesters, "freedom," "Díaz-Canel must go" and "homeland and life." This last slogan, one of the most popular in the protests, is the title of a song from artists Yotuel Romero, Descember Bueno, Maykel Osorbo, El Funky and Gente de Zona. It has in recent months become an anthem for those who oppose the government.
Analía Escalona, one of Adriana's friends, cited the shortage of basic products as one of the reasons to protest.
"The first thing that has to be in a pharmacy is condoms in order to take care of yourself and not contract any sexually-transmitted infection, and there aren't any," said Analía.
Analía also mentioned police harassment of trans people as another reason to march.
"They bring us to police stations for no reason, they put us in 'danger,' families are working, bringing sacks to a prison without any need at the end," she added.
When speaking of "danger," she referred to the "dangerous state" provision of Cuban law that allows authorities to impose punishments against anyone who has not yet committed a crime.
"We are mistreated by the same police. It is bullying and abuse. Enough already," stressed Chanel, another trans woman who participated in the march.
"I have a degree. I have a masters degree in cosmetology. There is no need to detain us, to put us in 'danger' without reason," said Analía. "We are all not prostituting ourselves, damn it! Homeland and life!"
"I come in solidarity with everyone else who is here, because of hunger, necessity," said Adriana. "There are no medications, there is no food. There is no water. There is nothing. Houses in Havana are collapsing and they are building hotels!"
The economic crisis in Cuba, which the COVID-19 pandemic and U.S. sanctions worsened, became extreme in 2020. Official sources say the economy has contracted by 11 percent.
The economic collapse is even worse for trans people. It remains difficult for these women to finish their studies or get a formal job in Cuba.
"We need workplaces for trans people, where we can go dressed as a woman," said Adriana.
The Labor Code currently bans discrimination based on sexual orientation, but it does not afford the same protection to those who are fired because of their gender identity.
Tremenda Nota journalist Maykel González Vivero was detained during last Sunday's protests and was transported to "El Vivac," a provisional jail outside of Havana.
The reporter was held with two trans women. Both of them live in Arroyo Naranjo, a municipality in the outskirts of Havana, and participated in the protests in La Güinera, one of the city's poorest neighborhoods. Official media described the protests that happened there were among the most violent.
González Vivero told Tremenda Nota that the police from the start treated the trans women as men by addressing them by their legal name.
Both of them told the journalist that courts had previously sanctioned them and Cuban prison regulations ignore their gender identity. They cited, for example, the masculine hair cut they forced them to get.
Zambia president reiterates opposition to LGBTQ+, intersex rights
Hakainde Hichilema made comments in response to anti-LGBTQ+ protest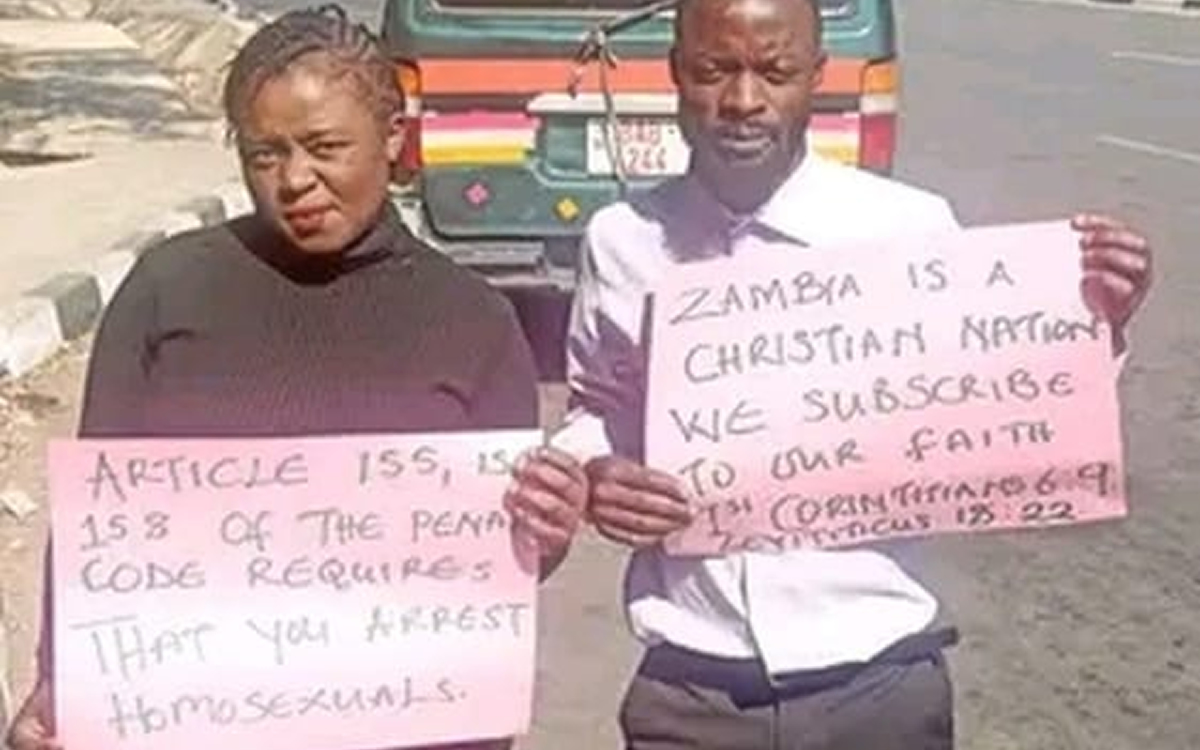 LUSAKA, Zambia — Zambian President Hakainde Hichilema on Monday reiterated his government does not support LGBTQ+ and intersex rights.
In a video posted to his Facebook page on Monday, Hichilema said Zambia is a country deeply rooted in Christianity and therefore does not support same sex relations. The president's remarks came after Dr. Brian Sampa on Sept. 15 held an anti-LGBTQ+ rights protest.
The police stopped Sampa's protest, which was to have taken place at the State House in Lusaka, the country's capital. Officers said he did not have the necessary permits and told him and the handful of other protesters to instead approach the country's Gender Ministry.
"Zambia is a Christian nation it's clear! We all agree, but sometimes we want to extract sections of our communities and say these are not Christians. Religion in diversity. Churches in diversity but one body of Christ and I want to say it is not right," said Hichilema in his video. "I have been following what is happening in the country and to say that the new dawn government is promoting lesbian rights or gay rights that is not right. We have said it before in opposition and now in government that we do not support gay, lesbian rights as a government."
"The records are there," he added. "The media houses carry those records from years back but now in the last recent days people are propagating in churches preaching about lesbian rights that is divisive you know, the new dawn government this and that it's not right let's focus on unity, let's focus on materiality, things that matter for this country, our children keeping them in school matters more than the peripheral petty side of a divisive behavior."
Sampa, meanwhile, has said he will be leading another anti-LGBTQ+ protest under the banner #BanNdevupaNdevu (#BanBeardonBeard) on Sept. 28. He said he plans to deliver a letter to the State House pertaining to what he labelled "the rise in unnatural acts like homosexuality."
"Our fight is non-political. It's for Zambians regardless of your color, creed, religion or political affiliation," said Sampa on Facebook. "The president needs to be making it clear to those ambassadors from some countries our stance about homosexuality. Here we chase ambassadors who support homosexuals because it's criminal under our constitution. The government has got power to end all this, but we are lacking political will against homosexuality. Use the law to the latter."
"Parents make time to talk to your children and visit them in boarding schools," he added. "Male boarding schools are no longer safe. The homosexuals are sodomizing children as they initiate them into this bad vice."
Sampa also posted to Facebook a picture of a bed with what appears to be human feces on sheets. Sampa said it was a result of too much anal sex and cautioned that heterosexuals should be concerned if their partner wants to engage in it.
"Before you join them no matter the amount they will offer you, remember this picture. This is a picture of a bed used by a person with fecal incontinence due to anal sex what you are seeing are feces leaking from the anus because the sphincter muscle is destroyed due to anal sex," he said. "This is an example of a male-to-male relationship. Don't be deceived; the anus is not a sexual organ. Would a normal person be happy to dip their penis in feces? Nobody enjoys the smell of feces unless there is some psychological problem."
"For ladies, how to know that you are dating a homosexual," added Sampa. "If the guy keeps demanding for anal sex make sure you report him to the police."
Zambia criminalizes same-sex sexual activity between men and between women. Sentences include a maximum penalty of 14 years in jail.
A court in 2019 convicted two gay men of engaging in same-sex sexual activity and sentenced them to 15 years in prison. They received a presidential pardon in 2020 amid international pressure, but reports of discrimination and violence against LGBTQ+ and intersex Zambians remain commonplace.
Daniel Itai is the Washington Blade's Africa Correspondent.
Biden notes LGBTQ+, intersex rights in UN General Assembly speech
President stressed 'fundamental freedoms' at risk around the world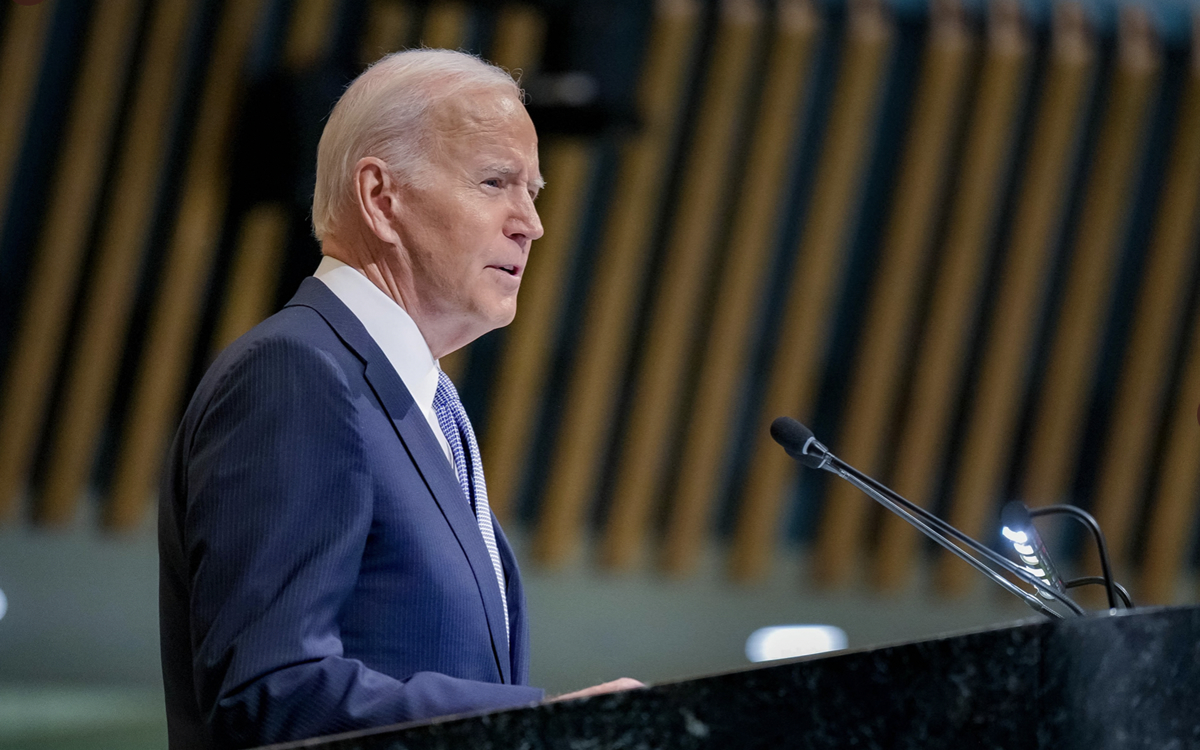 UNITED NATIONS — President Joe Biden on Wednesday reiterated his administration's commitment to LGBTQ+ and intersex rights abroad.
"The future will be won by those countries that unleash the full potential of their populations, where women and girls can exercise equal rights, including basic reproductive rights and contribute fully to building stronger economies and more resilient societies, where religious and ethnic minorities can live their lives without harassment and contribute to the fabric of their communities, where the LGBTQ+ community, individuals live and love freely without being targeted with violence, where citizens can question and criticize their leaders without fear of reprisal," said Biden in his speech at the U.N. General Assembly.
Biden specifically referenced the Universal Declaration of Human Rights the U.N. General Assembly ratified in 1948. Biden also noted "fundamental freedoms are at risk in every part of our world" with specific references to the Taliban's repression of women and girls in Afghanistan, the persecution of pro-democracy activists in Myanmar and human rights abuses against Uyghurs and other predominantly Muslim ethnic groups in China's Xinjiang province that now former U.N. High Commissioner for Human Rights Michelle Bachelet documented in a report her office released just before her tenure ended on Sept. 1.
Biden also sharply criticized Russia over its war against Ukraine.
"The United States will always promote human rights," he said.
Biden in February 2021 signed a memo that committed the U.S. to promoting LGBTQ+ and intersex rights abroad as part of his administration's overall foreign policy.
Secretary of State Antony Blinken on Monday spoke at a meeting of the LGBTI Core Group, a group of U.N. countries that have pledged to support LGBTQ+ and intersex rights. Jessica Stern, the special U.S. envoy for the promotion of LGBTQ+ and intersex rights abroad, was among those who were in attendance.
Billed as the "Great Family Walk," homophobic Turk groups protest
Speakers told the crowds that they were taking action to combat the "LGBT lobby," which they alleged "has become a global problem"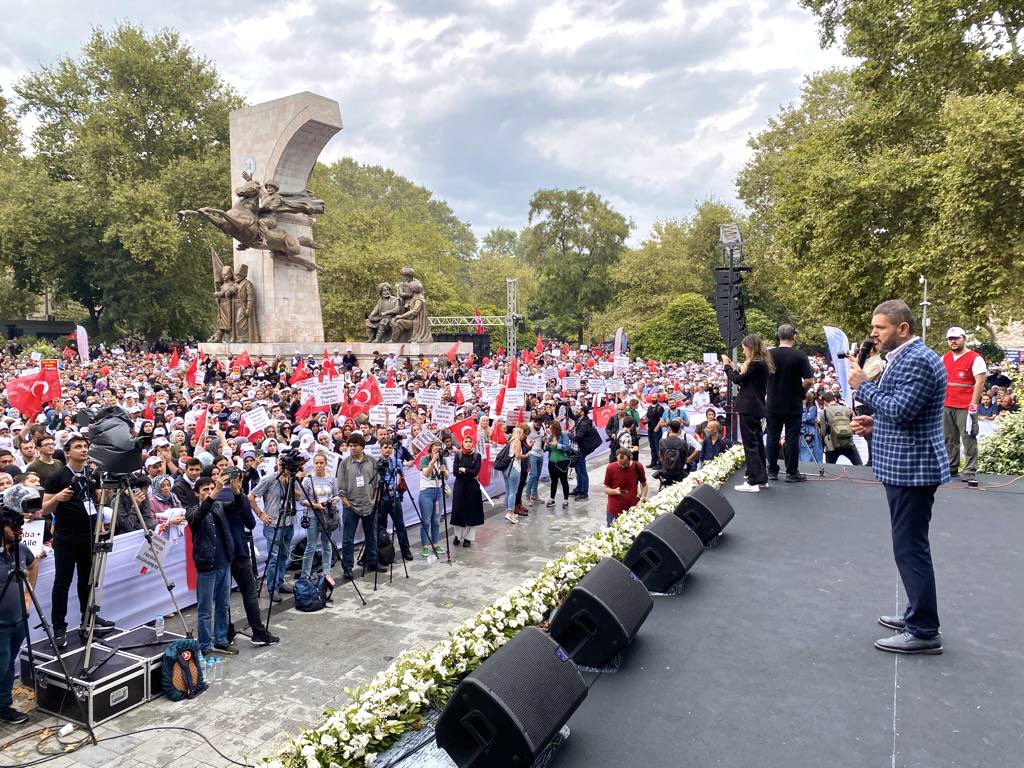 ISTANBUL – Despite heavy downpours mixed with light rain showers, ten thousand plus anti-LGBTQ+ protestors gathered in this ancient city and principal seaport of Turkey this past Sunday, Sept 18, protesting what organizers said was to protect their children from the "LGBTQ terrorist propaganda agenda."
Billed as the 'Great Family Walk' lead organizer Kürşat Mican, speaking to the crowds gathered, demanded that the Turkish government ban all LGBTQ+ activities and shut down all LGBTQ+ organizations. The organizers were also demanding that Turkey's parliament ban what they called LGBTQ "evil" which they claimed pervades Netflix, social media, arts and sports in the country.
Gathering at Saraçhane Park, protestors carried signs with the slogan "Protect your family and generation, the speakers in addition to Mican told the crowd that they were taking action to combat the "LGBT lobby," which they alleged "has become a global problem."
In a tweet Monday, Mican wrote (Translated from Turkish): "The fact that tens of thousands of people from all walks of life came together to put a stop to #LGBTdayatması [#LGBTimposition] and draw attention to the danger is an indication of how much our 'Necip Nation' values [Reference to Necip Fazil Kisakürek, Turkish poet, novelist, playwright, and Islamist ideologue ] his family and generation. No lobby can bring this strong will to its knees, biiznillah! [Will of Allah]
Aile olmazsa, millet olmaz!#LGBTdayatması 'na dur demek için her görüşten onbinlerce insanın bir araya gelerek tehlikeye dikkat çekmesi 'Necip Milletimizin' ailesine ve nesline ne kadar değer verdiğinin göstergesidir. Bu güçlü iradeye hiçbir lobi diz çöktüremez biiznillah!🇹🇷 pic.twitter.com/PbTqUCaRmL

— Kürşat MİCAN (@kursatmican) September 19, 2022
Sunday's protests against LGBTQ rights was organized by Mican, Ersin Çelik and non-governmental organizations. The march, in which 150 non-governmental organizations participated, had a great impact organizers claimed.
Ersin Çelik, a writer for a conservative, Islamist Turkish daily newspaper, Yeni Şafak [New Dawn] has been fighting against LGBTQ rights and making efforts to what he has said on his social media accounts is to "protect young people and children from this trap," called for the march on his social media account.
Mican and other organizers had also circulated a video prior to Sunday's rally that showed clips from previously LGBTQ+ Pride parades, which was then also broadcast as a public service announcement by Turkish State Media, prompting an angered response from the country's LGBTQ+ advocacy groups and activists.
Others who supported the rally included a popular female Turkish writer known by her pseudonym of Tahteşşuûr who tweeted: "LGBT looking for children to recruit! God damn you. #LGBTdayatması [#LGBTimposition]"
LGBT devşirecek çocuk arıyor! Allah belanızı versin. #LGBTdayatması pic.twitter.com/7VNITozdAY

— Tahteşşuûr (@ledelhace) September 18, 2022
This year,  hundreds of LGBTQ+ people, allies, and supporters took to the streets of Istanbul this past June in defiance of the Turkish government's ongoing 2014 ban of LGBTQ+ Pride parades and Pride Month festivities. Protestors violently clashed repeatedly with police and security forces in various neighborhoods located around the Bol Ahenk Sokak (Pedestrian Plaza) and other sections of the central downtown areas.
Government security forces arrested over 373 people and the largest Turkish LGBTQ+ activist group Ankara-based Kaos GL documented the arrests and clashes which occurred prior to the 5 p.m. planned parade kick-off in a series of Twitter posts.
Turkish Media Independent Media/News Outlet Ahval has reported that Turkey's LGBTQ+ groups accuse the government of Turkish President Recep Tayyip Erdoğan of waging a "hate campaign" against them, encouraging violence against a vulnerable community.
Turkey has ranked second worst country in the European Union for LGBT people, scoring only above Azerbaijan, according the 2022 "Rainbow Europe" ranking compiled by Brussels-based NGO advocating for LGBTQ+ rights, ILGA-Europe.