USAID denies report that suggests it funds conversion therapy
OpenDemocracy report focuses on Kenya, Tanzania and Uganda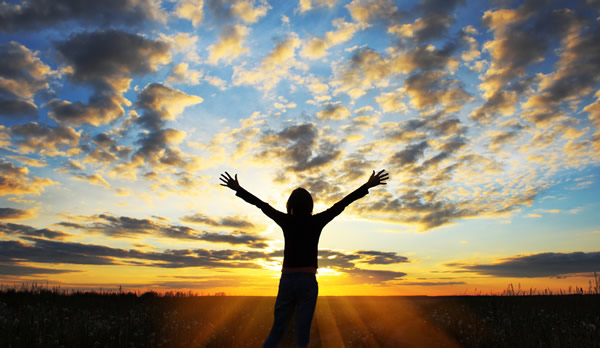 A six-month investigation conducted by openDemocracy has revealed multiple aid-funded health facilities in three African countries have been administering conversion therapy to patients.
"Health facilities in Kenya, Tanzania and Uganda have provided, or provided referrals for, controversial anti-gay 'conversion therapy' to 'quit' same-sex attraction," said openDemocracy in a statement.
Additionally, the statement mentions that undercover reporters who spoke to some staff at these facilities were offered help to quit same-sex attraction and were told that "being gay is 'evil;' and homosexuality is 'for whites', caused by peer pressure and a mental health problem." They were advised to "give a gay teenager a sleeping pill to prevent him from masturbating."
In an article that highlights their findings, openDemocracy reports that a receptionist at Mulago National Referral Hospital, Uganda's largest public hospital and HIV clinic for marginalized and most-at-risk populations, said that an undercover reporter's 17-year-old gay brother could "quit" his same-sex attraction.
"Whoever wants to quit homosexuality, we connect them," said the receptionist to outside counselors, who have included Pastor Solomon Male, a well-known gay rights opponent in the area.
The receptionist also referred the undercover reporter to a former patient who she claimed was no longer gay and gave the reporter the patient's phone number.
Mulago, like a number of health facilities in Africa, receives foreign aid and funding from organizations like the U.S. Agency for International Development, the Global Fund, PEPFAR and the U.K.-based NGO MSI Reproductive Choices.
OpenDemocracy reports the Uganda Catholic Medical Bureau network received more than $1 million from USAID between 2019 and April 2021. It remains uncertain whether the specific hospitals identified in investigations received any of this money.
The donors in response to the investigation's findings have committed to launching a separate investigation into the health facilities and taking action against so-called conversion therapy practices they are administrating.
"We strongly condemn this harmful, unethical practice, which goes against everything we stand for as an organization," an MSI Reproductive Choices spokesperson told openDemocracy. "We are grateful for all safeguarding concerns raised and thank openDemocracy for their investigation."
MSI Reproductive Choices also receives millions in aid from the British government and other international donors to specifically provide health services to marginalized communities, including gay men and transgender people.
Survivors of anti-LGBT treatments' in Kenya, Tanzania and Uganda have come forward to describe their experiences with conversion therapy.
"I was not allowed to make or receive any phone calls. They also gave me a lot of drugs that made me drowsy and exhausted all the time," said Samuel (not his real name) to openDemocracy of his experience with conversion therapy. "I felt abandoned and was afraid I was going to die."
Samuel's parents sent him to a conversion therapy institute for a year and a half. OpenDemocracy said he was given electric shocks and shown pictures of "ruptured anuses and wounded penises" by people who told him that if he didn't stop being gay, he would "meet the same fate."
A transgender woman in Tanzania recounted that her mother took her to a hospital in Dar es Salaam, the country's commercial capital, where a doctor attempted to convince her that being trans is improbable.
OpenDemocracy also cites two men in Kenya who said they received hormones to appear more 'masculine' and to limit a trans person's ability to present in their preferred gender.
As investigations into the allegations ensue, aid donors have begun to take action regarding health facilities that prescribe conversion therapy.
Kaajal Ramjathan-Keogh, the Africa director at the International Commission of Jurists, a human rights organization, told openDemocracy that aid donors should ensure their money does not fund any conversion therapy activities — and to withdraw money if it does..
"Redirect funding," said Yvee Oduor of the Gay and Lesbian Coalition of Kenya. "We already have clinics and health centres run by LGBTQI+ people all over the country. Why not fund these community initiatives?"
A USAID spokesperson in a statement to the Washington Blade said the agency "does not fund or promote anti-LGBTQ+ conversion therapy."
"The United States government, through staff at the U.S. Embassy in Uganda, has engaged leadership of the Uganda Catholic Medical Bureau and the Infectious Disease Institute (IDI) Uganda concerning the allegations cited," said the spokesperson. "IDI subgrants to the Most At Risk Populations Initiative (MARPI) clinic in Kampala, with U.S. funding."
The USAID spokesperson told the Blade that officials from the U.S. Embassy in Uganda "emphasized the need to ensure support for key populations, including the LGBTQ+ community." The spokesperson added "the implementing partners agreed to take steps to ensure" that "appropriate gender and sexual diversity training is provided to all implementing partner staff and health care workers and ensure refresher trainings" are carried out, that "hiring practices include principles of nondiscrimination in personnel contracts" and "a patient's bill of rights is posted in facilities, and service delivery issues raised through PEPFAR's Community-led Monitoring program are addressed."
Budapest Pride takes place amid Hungary LGBTQ rights crackdown
City's mayor among parade participants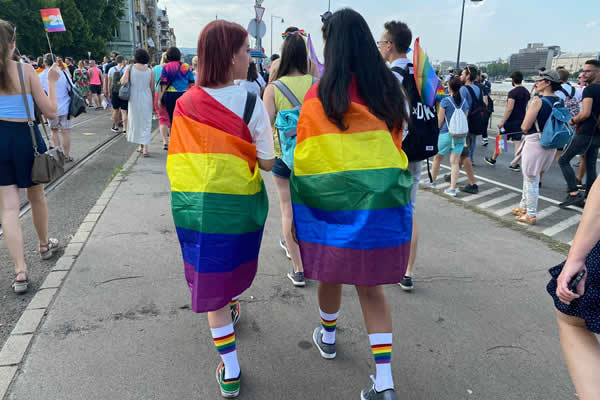 BUDAPEST, Hungary — Thousands of people attended a Pride parade in the Hungarian capital of Budapest on Saturday that took place against the backdrop of the government's ongoing efforts to curtail LGBTQ rights.
Budapest Mayor Gergely Karacsony, who is challenging Prime Minister Viktor Orbán in next year's presidential election, is among those who participated in the Budapest Pride parade. Event organizers said upwards of 30,000 people took part.
"There were a lot of supporters and allies, lots of young people and some older people," one Budapest Pride participant told the Los Angeles Blade.
The participant said someone shouted an anti-gay slur at them and their friends as they walked home while holding a rainbow flag. They said the parade was nevertheless peaceful.
"The mood was more like a protest, solidarity and marching for equal rights than a party," they told the Blade. "I didn't see drag queens and it felt a bit muted, but I'm happy we had such a peaceful and fun Pride."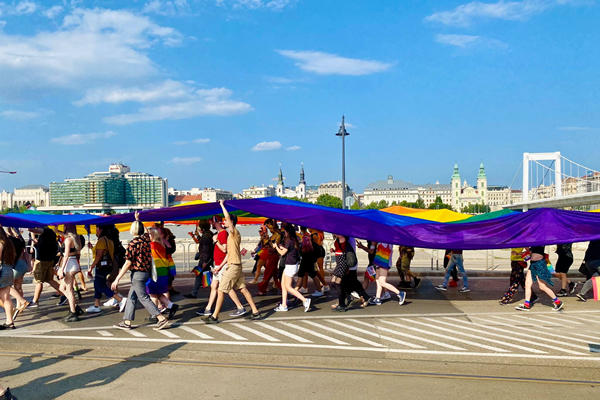 Budapest Pride took place less than a week after Prime Minister Viktor Orbán announced he wants to hold a referendum on a new law that bans the promotion of homosexuality and sex-reassignment surgery to minors in the country.
The law took effect on July 8. The European Commission a week later announced it would take legal action against Hungary.
Hungarian lawmakers late last year amended the country's constitution to define family as "based on marriage and the parent-child relation" with "the mother is a woman, the father a man" and effectively banned same-sex couples from adopting children. The Hungarian Parliament in April 2020 approved a bill that bans transgender and intersex people from legally changing their gender.
Puerto Rico activists condemn police raid on LGBTQ-friendly bar
More than 20 officers descended on Loverbar near the University of Puerto Rico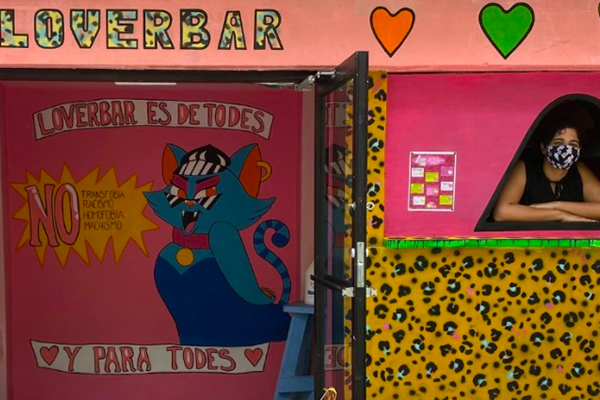 SAN JUAN, Puerto Rico — Activists in Puerto Rico have condemned a police raid on an LGBTQ-friendly bar that took place on Thursday night.
Local media reports indicate more than 20 officers with the San Juan Municipal Police Department entered Loverbar, which is near the campus of the University of Puerto Rico, at around 11 p.m.
A video posted to social media shows that some of the officers who entered the bar were armed with what appear to be shot guns.
Media reports cite local authorities who said Loverbar did not have the necessary permits to operate as a bar, and the officers arrived there to fine them. San Juan Mayor Miguel Romero in a statement said officers fined Loverbar and seven other businesses in the city on Thursday for either not having the necessary permits or excessive noise.
"The Municipal Police of San Juan led by Miguel Romero intervened last night with a queer bar," tweeted Pedro Julio Serrano, founder of Puerto Rico Para [email protected], a Puerto Rican LGBTQ advocacy group. "This reminds us of a time when LGBTQI+ people were prosecuted, criminalized and villified."
"We won't tolerate homophobia and transphobia in San Juan," added Serrano.

Comité Amplio Para la Búsqueda de Equidad (CABE), another Puerto Rican LGBTQ advocacy group, has called for an "exhaustive and independent investigation into the excessive use of force and intimidation by the Municipal Police of San Juan last night" at Loverbar.
Argentina becomes first Latin America country to issue non-binary IDs
Country remains at forefront of trans, gender non-conforming rights
BUENOS AIRES, Argentina — Argentina on Wednesday became the first country in Latin America to issue ID cards that are specifically for non-binary people.
President Alberto Fernández issued a decree that allows non-binary Argentines to choose an "X" gender marker on their National Identity Document or DNI.
"The recognition of the gender identity of people who identify themselves outside gender binary norms is a big advance for the entire society, because it puts to an end the mandatory imposition of 'male' or 'female' categories," reads Fernández's decree. "The decree implements the rights recognized under the Gender Identity Law, interpreting its scope beyond binaryism."
The Gender Rights Law that took effect in 2012, among other things, allows Argentines to legally change their gender without medical intervention. Fernández last September signed a decree that requires at least 1 percent of all jobs in the country's public sector to go to transgender people.
Marcela Romero, a Buenos Aires-based trans activist who is also a member of REDLACTRANS (The Latin America and Caribbean Network of Transgender People) Executive Board, in a statement said the decree "once again positions Argentina" as a world leader in extending rights to gender non-conforming people.
#Argentina @marcela__romero coord regional de RedLacTrans y presidenta @ATTTA_Nacional estuvo en acto presidencial donde se entregaron DNI No Binaries. "La Ley de Identidad de Género es el marco legal para los DNI no binaries ¡Leyes de Identidad de Genero para toda la región YA!" pic.twitter.com/OY1n1Qcr50

— RedLacTrans (@REDLACTRANS) July 21, 2021
Mariano Ruiz, another Argentine LGBTQ rights activist, echoed Romero.
"The recognition of the identity of non-binary people by the State leaves no doubt about the interpretation of the Gender Identity Law," Ruiz told the Los Angeles Blade on Wednesday.
Ruiz also noted the public sector employment law is named after two trans activists — Diana Sacayán, who was killed in 2016, and Lohana Berlina, who died in 2012.
"Once again and after the recent approval of the Diana Sacayán-Lohana Berlina Labor Quota Law, the Argentine government has shown its firm commitment to sexual and gender diversity and sets the course for where the Latin America region should go," said Ruiz. "We hope that this is only the beginning and we will soon have a new law against discriminatory acts, a comprehensive law for trans people and a new law for HIV and viral hepatitis."