How Stonewall Democratic Club retaliated against critics of its president
Stonewall Democratic Club is a powerful force in local politics, especially in the LGBTQIA+ enclave of West Hollywood.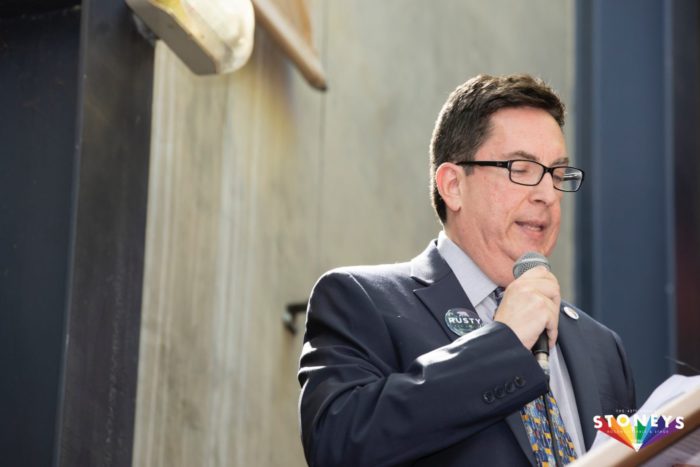 By Kate Gallagher | LOS ANGELES – "I know the ugly side of politics quite well. Any endeavor that involves human beings, there's going to be mischief somewhere," said Lauren Buisson. "The system feeds on cronyism and self-dealing, and that's what I saw at Stonewall."
Buisson was a member of Stonewall Democratic Club's Steering Committee until she was dismissed from her position in October 2018. Her capital offense was calling out the racist, transphobic, and otherwise inappropriate Facebook posts made by the organization's president, Lester Aponte — whose current campaign for a third term as Stonewall president has the support of dozens of elected officials and Democratic Party leaders.
Stonewall Democratic Club is a powerful force in local politics, especially in the LGBTQIA+ enclave of West Hollywood. The organization's leadership includes high-ranking members of the local, state, and national Democratic Party. Each election cycle, candidates for everything from the Santa Monica School Board to the U.S. Senate vie for Stonewall's endorsement, a symbolic stamp of approval from the LGBTQIA+ community.
But beneath the veneer of progressivism, several current and former Stonewall members describe a toxic environment of harassment, bigotry, and abuses of power, where dissent is silenced and misconduct is swept under the rug.
"It's just a really twisted culture about personal gain, personal access, and nothing about advancing LGBT standards of living," said Craig Scott, a lifelong LGBTQIA+ activist who served on Stonewall's Steering Committee from 2017 to 2018. "
Sean Kolodji was an enthusiastic young activist when he joined Stonewall in 2009. He soon got involved in the membership team, where he was responsible for recruiting and credentialing new members. By 2015, he'd been appointed to the Steering Committee as Membership Chair. "I felt like we're really fighting for something," he said. "We're fighting for LGBT rights, fighting for the trans community, fighting for diversity, and I was passionate."
But cracks in the facade quickly started to show. In April 2017, Kolodji won a Stoney Award — the organization's annual award ceremony/fundraiser — for Member of the Year. Eric Bauman, longtime Stonewall president and then-LACDP Chair, was also there to accept the Public Official of the Year Award.
Bauman, who later resigned as CDP Chair amid sexual misconduct allegations, was "very handsy with everyone," Kolodji recalled. At one point during the dinner, Bauman began massaging Kolodji's 20-year-old guest while still seated at the table.
According to several former members, Bauman's inappropriate behavior was an open secret at Stonewall. None of the club's leadership ever intervened.
"The pain that we experienced in dealing with the way Eric Bauman interacted — what example did he set for us about how we get power?" Kolodji said. "I feel like there was a structural problem, where we didn't set the ground rules and say, look, within a professional space we can't do this."
That summer, Kolodji was elected to Stonewall's Executive Team as Communications Vice President. Just days later, Gemmel Moore was found dead in the home of prominent Democratic donor and Stonewall Steering Committee member Ed Buck.
Kolodji, Scott, and Alex Paris, who served as Social Media Chair, pushed the club to publicly disavow Buck's behavior, and to donate $500 (the cost of Buck's lifetime Stonewall membership) to Moore's funeral expenses. They received pushback from several other Steering Committee members, including Aponte, Garry Shay (who serves as the parliamentarian for both Stonewall and the LACDP), and John Erickson, now a member of West Hollywood City Council.
"There were a lot of people in the party that just wanted to be quiet," Kolodji said. He recalled that, when Black activists posted on Stonewall's Facebook page asking where the organization stood on Buck's behavior, Aponte asked that the posts be deleted.

Even once the Steering Committee voted to put out a statement regarding Moore's death, Aponte fought to soften the statement's language and frame it around the dangers of drug addiction, rather than Buck's suspicious role in Moore's overdose.
"They didn't want to kick [Buck] out because he gave so much money to the club," said Scott. "Lester was always like, we can't jump to conclusions, we need more information."
Although Buck soon resigned from the Steering Committee, Moore's death, and the tepid reactions from the rest of the club's leadership, was a tipping point for Kolodji. "Those experiences together radicalized me a little bit," he said. "This organization has something rotten at its core, and I can't just go along with it."
Lauren Buisson joined Stonewall in the summer of 2017, just after the Ed Buck scandal broke. "I actually went to some other [organizations'] events, and of all the ones I went to, the only person who chatted me up as a potential recruit was Sean."
Kolodji and Buisson met at the annual Stonewall BBQ, hosted at the family home of State Assemblymember Reggie Jones-Sawyer. Buisson soon signed on to join Kolodji and Alex Paris on Stonewall's communications team, where she managed the club's social media and led writing and production on the Stonewall Spotlight podcast.
"Alex, Sean, and I worked really, really well together. We had the same social justice driven agenda," Buisson recalled. "[But] I noticed the problems in the organization almost from the jump. And it especially became clear when the first crisis in the assembly happened."
In late October 2017, Assemblymember Raul Bocanegra was accused of sexual misconduct. Just a week later, similar allegations surfaced against state Senator Tony Mendoza. After the news broke, Buisson, Paris, and Kolodji led an effort to convince the Steering Committee to draft a statement condemning the two officials' behavior.
However, Eric Bauman, who at that point was no longer a member of Stonewall's Steering Committee, stepped in and cautioned them not to move forward with the statement. Buisson found his involvement alarming.
"You had this guy who was himself a serial sexual harasser stepping into club business when he was no longer supposed to be involved," she said. "Parts of the California Democratic Party like to assert that they have no control or association with the clubs. They absolutely do."
The statement, drafted by Buisson, was eventually approved by a majority of the Steering Committee, over the objections of Aponte, Garry Shay, and Political Vice President Jane Wishon. As soon as the votes were in, Kolodji sent out the statement.
Immediately afterwards, Aponte confronted Kolodji for "going behind his back" by releasing the statement without his prior approval. Kolodji was baffled, since Aponte had put him in charge of counting the votes for the motion. "It showed that Lester and Garry and the power in the organization were uncomfortable with this kind of rebellion of the grassroots," he said.
In the coming months, Buisson, Kolodji, Paris, and Scott frequently came into conflict with the rest of the Steering Committee. They were the only four Steering Committee members to vote against accepting a donation from Wells Fargo Bank, which had recently been rocked by a storm of scandals. Aponte ultimately decided to decline the donation after Kolodji leaked the news to LA Health Commissioner and former Stonewall Steering member Susie Shannon, who vagueposted about it on Facebook.
It gradually became clear to Paris that Stonewall's leadership was "completely ignoring the important mission that this organization was started for… They're more concerned with consolidating power, more concerned with glad-handing politicos and influence sharing than they are with actually helping LGBT people."
The political disagreements sometimes turned personal. While discussing endorsements for the 2018 election, Scott, a longtime San Francisco resident, criticized Sen. Dianne Feinstein's history of moderate positions and suggested that the octogenarian was getting too old to do her job effectively. In response, Erickson criticized Scott's comments as "ageist" and sent an email to the Executive Team suggesting that Scott should be removed.
"We looked at it, and we were like, okay, this isn't… this is silly, right?" Kolodji recalled.
A more serious point of contention was the lack of diversity in Stonewall's leadership. Of the eight elected officers, there's currently only one who isn't a cisgender man — Jane Wishon, who is a straight white woman. While officer positions are open to anyone, including straight allies, the lack of representation for LGBTQIA+ women within the club's leadership is reflective of a larger problem, not just at Stonewall but in politics and LGBTQIA+ spaces in general.
In 2010, Aponte was on the board of a pro-marriage-equality organization called "Love, Honor, Cherish," which crafted a failed ballot measure to overturn Proposition 8. The organization, which was entirely composed of cisgender gay men, failed to include any mention of gender identity in the measure.
In response to a Facebook post about the lack of trans-specific language, Aponte said that none of the over 100 activists who were involved in the discussions ever raised any concerns. He seemingly recognized the problem with the group's lack of diversity without claiming any responsibility for fixing that problem, simply saying, "Obviously we needed some of you in the room. The door has always been open."
To Hannah Howard, this sounded like a cop-out. Howard, who is trans, attended one Stonewall meeting in 2005, but decided not to engage further after being repeatedly misgendered during the meeting. She was surprised when, just a few years ago, a Stonewall member made a Facebook post about the reasons why trans people have trouble engaging with the movement — and Aponte responded with incredulity.
When Howard commented sharing her experience at the 2005 Stonewall meeting, Aponte "was shocked, disbelieving that such a thing could happen, but talking about [how] they were such great allies now," she said.
However, according to current Steering Committee member Mackenzie Hussman, not much has actually changed. She recalled that, during a Pride event in 2018, a newer member of the Steering Committee, who is a trans woman, was working at Stonewall's booth. An older man on the Steering Committee didn't recognize her, and accused her of stealing from the booth. The incident was addressed awkwardly at the next Steering Committee meeting.
"Lester gave some sort of wash-overstatement like, 'Oh we try to be inclusive of everyone.' And then he proceeded to ask this trans woman how she would like to be treated," Hussman recalled. "It just felt so insensitive. We're an LGBT club, we should already know how to welcome trans members into our community. And she was publicly singled out in front of 30 people. It was embarrassing."
In another example of Stonewall's lukewarm commitment to inclusion, two Black LGBTQIA+ candidates, Steve Dunwoody and Ashley Marie Preston, intended to run in the 2018 special election for Assembly District 54. However, Wishon, as Vice President of Politics, made the decision that Stonewall shouldn't endorse or support either candidate, because it would be "too divisive for us to choose between a Black gay man and a Black trans person," according to Kolodji. In the end, neither candidate even made it onto the ballot.
In April 2018, Buisson posted an article to the Steering Committee's private Facebook group about the need for more Black women in Democratic Party leadership. All hell broke loose.
Shay replied that Buisson's post was "not productive," and instructed Operations Vice President Steve Bott to remove the post. When Buisson noticed it was gone, she posted the article again. It was removed again, and Buisson was blocked from further posting in the group.
"I'm 6'1″ and 245 pounds. I don't let men tell me when I can talk and when I can't," said Buisson. "You could throw a brick and not hit a person of color at these general meetings. This was a problem we needed to address internally. And they refused."
Buisson brought her concerns to Kolodji, who raised the issue with the rest of the Executive Team, including Aponte, Shay, Wishon, and Bott. All four replied that any criticism of the Democratic Party is unwelcome on the Steering Facebook page.
Kolodji repeatedly pointed out the irony of silencing a Black woman for calling out the Party's silencing of Black women. Aponte, who is Puerto Rican, is the only person who responded to this point — he replied mystifyingly, "The real irony is that the only ethnic minority in this thread is me."
At the time, Stonewall had no official grievance process — if Buisson wanted to press the issue further, it would be judged by the Steering Committee, which was overwhelmingly white and male.
Interestingly, Wishon had said that "no one is trying to censor Lauren on her own page," and Aponte agreed that Buisson and Scott (whom no one else had mentioned) had "the entire wide world web" to post whatever they wanted. They quickly changed their stance on this.
Just a few weeks later, Scott shared a link to a video on his personal Facebook page with the comment, "Fag hags need to be checked so often." The video depicted a brawl between a group of intoxicated white women and a group of queer men of color in an alley in West Hollywood.
However, the Executive Team interpreted Scott's comment differently. Within hours, the officers had been looped into an email with the subject line "URGENT: Regarding post encouraging violence against women."
Scott insisted that his comment was meant to condemn the violence. "There's this ongoing debate within the LGBT, especially gay men, culture about the appropriateness of straight women and bridal showers going to gay spaces," he told Knock LA. "So I just said you got to check your fag hags because you don't want them beating up on queer people. I basically saw it as a gay bashing."
Shay recommended that the board should immediately ask for Scott's resignation. Wishon agreed. Attaching a screenshot of an unrelated Facebook comment by Buisson, she added, "And Lauren…"
By the next day, seven of the eight officers had signed a letter calling for Scott's resignation. Kolodji was the only one who dissented. While he agreed that Scott's post was "in very poor taste," he told the rest of the Executive Team that he didn't feel it was a resignation-worthy offense.
Neither did Scott, who deleted the post but refused to resign. At that point, the Executive Team (except Kolodji) motioned for the formation of an investigation committee to address the issue.
The committee presented its findings at Stonewall's June 25 general membership meeting. The room was packed. "They called all the members who don't normally show up, describing [Scott] as this misogynist who's endorsing violence against women," Buisson said.
LACDP Chair Mark Gonzalez was brought in to preside over the session. DNC member Laurence Zakson served as Parliamentarian. Scott himself chose not to attend the meeting, but Buisson led the defense on his behalf.
"It was a circus," Kolodji said. One LACDP leader described the proceedings as "absurd." At one point, West Hollywood City Councilmember John Heilman called impatiently from the back of the room, "Let's vote already!"
In the end, the members voted, 48 to 14, to remove Scott from the Steering committee. That was the end of his involvement with Stonewall.
Regardless of whether or not Scott's post should have been considered grounds for dismissal, the affair revealed a glaring double standard for whose inappropriate behavior is, or isn't, punished. Just a year earlier, Stonewall had vigorously supported Eric Bauman's campaign for CDP Chair, despite his well-known sexual misconduct.
"They all jumped on [Scott] because they wanted to get rid of a critical voice," Buisson concluded.
Throughout the controversy, Kolodji had warned the rest of the Executive Team that "people in glass houses shouldn't throw stones, so to speak. Be careful pursuing this with Craig, because this is an abuse of power, and you're setting a precedent that is going to come back."
Kolodji had been Facebook friends with Aponte for years, and he was aware of several posts Aponte had made that were just as offensive, if not worse than the comment that led to Scott's removal. He mentioned this to Buisson, who began combing through Aponte's most problematic posts.
In October 2011, Aponte posted a link to an article about Hermain Cain with the comment, "I hear the camp is iin [sic] the Spik Valley and overlooks Gook Mountain. Ain't Texas grand?"
In November 2014, he posted an article about Mia Love, a Black Mormon Republican recently elected to Congress, commenting: "Until 1972, official Mormon Church doctrine was that Black people were evil and could not be saved. Perhaps this is their way of proving it?"
In 2015, he deliberately misidentified Ann Coulter as trans: "I am saying Ann Coulter is transgender. Go ahead and sue me." The comments on the post became filled with vitriolic anti-trans and misogynistic remarks. Aponte did nothing to stop the hateful discussion.
In 2016, Aponte liked an anti-BLM post that said, "I think these people are assholes. There I said it. I've grown to despise BLM because of their tactics and narrative."
In 2017, he joked that immigrant activists should be deported.
In 2018, Aponte described the Inclusive Pride Flag as "stupid."
Buisson compiled 18 pages of screenshots of these and other inappropriate remarks. It was already clear to her that taking her concerns to the Steering Committee would be futile.
"It was not just about this one bigoted individual," Buisson said. "It was infecting. You could see it in who was in the club, who was in leadership positions, who spoke from whom, who was excluded, the whole system was infected. And in my view at the time, that fish was rotting from the head."
So, rather than rely on the club's leadership to discipline themselves, Buisson sent the offending posts to several elected officials, asking them to withdraw their support for Stonewall until Aponte resigned.
Not a single official responded.
One of the recipients was Assemblymember Reggie Jones-Sawyer, host of the annual Stonewall BBQ — which was coming up in just a few weeks.
"My feeling was, as somebody with a reputation for advocating for the Black community, this man might be a little bit pissed off about these racist things," Buisson said. "It would be no problem for him to say, this event is canceled until you resign. You're out of Stonewall or doesn't go forward."
Jones-Sawyer's office did reach out to Stonewall's leadership — but not to demand Aponte's resignation. Instead, they passed along Buisson's letter, fingering her as a whistleblower.
A few weeks after her letter-writing campaign began, Buisson suddenly found herself locked out of Stonewall's digital assets and social media accounts. Paris, who chaired the social media team, called Aponte in confusion. Aponte informed him that Buisson was no longer allowed to serve on the communications team.
"I said, what are you talking about, you're just [removing] her?" Paris recalled. "And [Aponte] is like, 'yeah, I can do that, I'm president.' I was like… pretty sure you can't."
When Aponte realized that he could not, in fact, unilaterally remove Buisson from her Steering Committee position, he told Paris and Kolodji to ask for her resignation. They refused.
On September 26, Aponte sent an email to the full Steering Committee revealing that Buisson had sent letters to several elected officials accusing him of making "racist and bigoted statements." Without revealing any details about the "statements" in question, Aponte called Buisson's accusations "false and defamatory… harmful, not just to my personal reputation, but the reputation and public standing of our organization." He asked that the Steering Committee vote on whether to expel Buisson from her position.
In stark contrast to Scott's widely-publicized hearing, Buisson's removal was handled quietly at a Steering Committee meeting on October 4. So quietly, apparently, that Wishon told Knock LA she didn't remember the meeting had even happened — although the minutes confirm she was in attendance.
"There were wild allegations and actual shouting matches at this meeting," Paris recalled. "That was an absurdly fireworks meeting over an issue that was not taken seriously."
Buisson chose not to attend the meeting, but Paris and Kolodji argued on her behalf that the real problem at hand was Aponte's behavior, not Buisson's. Even if the committee didn't feel that Aponte's Facebook posts were grounds for resignation, his attempt to retaliate against Buisson was itself an abuse of power that warranted investigation.
However, other Steering Committee members said that Buisson should have brought the issue directly to them — which Kolodji found ludicrous, given their handling of Buisson's previous complaints. "We tried to deal with this stuff internally," he said. "But it seemed like their side was kind of like, 'we're gonna use our power — and we have more power — to essentially drive you out."
The Steering Committee ultimately voted, 17 to 3, to remove Buisson from her position. Paris resigned the same day in protest. Kolodji soon disengaged from Stonewall as well.
"The organization just seemed destined to be an unredeemable mess," Kolodji said. "Is there no shame, to just ruthlessly try to target someone that we need as a leader in queer spaces? And instead, what do we get?"
As a parting shot, Kolodji and Paris motioned for a separate investigation into Aponte's Facebook posts. The motion was approved, and an Ad Hoc Incident Review Committee was formed to review the posts. The five-member committee included Aponte's longtime ally, Garry Shay.
Knock LA obtained a copy of the investigation's report, which was finalized in June 2019 and sent only to the eight members of the Executive Team. In Aponte's statement to the committee, he defends each of his insensitive posts, which he maintains are not "racist [or] bigoted." He claims Buisson only called out his comments because of a "personal vendetta."
The committee's assessment notes that Aponte's posts are in "poor taste" and that each of the committee members would "know better than to make these kind of comments." However, they largely accept Aponte's justifications, some of which strain credulity (in one example, he insists that his sarcastic use of racial slurs "was in no way meant to condone the use of racial slurs in place names, but rather the opposite." He doesn't elaborate further.)
Ultimately, the committee decides that the posts are not grounds for Aponte's removal. The report concludes: "What appears most important now is to move forward from this point."
It's unclear whether the investigation's findings were ever revealed to the full Steering Committee or the membership at large. Wishon claims the investigation's report was presented at a general membership meeting; however, Knock LA reviewed the minutes for every meeting from 2018 to June 2021, and there is no mention of the incident review committee's existence.
According to a current Steering Committee member, at some point Aponte made a brief apology and deleted the Facebook posts, but that's where the consequences ended. In May 2019, Aponte was nominated, unopposed, for a second term as president. Three of the five members of the official nominating committee were also involved in the incident review committee, whose investigation into Aponte was still ongoing.
Ultimately, Aponte was reelected, and his now-deleted racist Facebook posts were seemingly never mentioned again. During this same time, however, Stonewall was implicated in a wave of controversies that weren't so easily swept under the rug.
In November 2018, Eric Bauman resigned as CDP Chair after an onslaught of sexual harassment allegations. In January 2019, a second body was found in Ed Buck's apartment. Later that year, a third victim narrowly escaped from Buck's home alive, and Buck was finally arrested. He was eventually indicted on nine counts by a federal grand jury, and his trial is currently underway.
Meanwhile, in November 2020, John Erickson, a major player in several of Stonewall's internal scandals, was elected to West Hollywood City Council, thanks in part to the resources that came along with his endorsement by Stonewall. Notably, four of the eight eligible candidates were inexplicably barred from participating in Stonewall's endorsement process, and although two council seats were open, Stonewall's membership voted to endorse only Erickson — Sepi Shyne, an LGBTQIA+ woman of color, failed to reach the 60% vote threshold for endorsement.
On May 24, Aponte announced his candidacy for a third term as Stonewall president. Interestingly, the same day as his announcement, he changed his Facebook cover photo to the Inclusive Pride flag that he previously decried as "stupid." His slate, which is running on a platform of diversity and inclusion, includes five men and one straight woman (Wishon).
This time, however, Aponte isn't the only candidate in the running — although he was chosen by the official nominating committee, another Stonewall member submitted a nomination for Alex Mohajer, who currently serves as Chair of Public and Media Relations.
According to Mackenzie Hussman, this year's election has been tense from the very beginning, when the nominating committee itself was being chosen. "I felt rushed," she said. "They were trying to put select people through who would nominate whoever [the current officers] wanted to."
When other Steering Committee members spoke up and suggested different names for the nomination committee, there was procedural confusion. "They were just shocked that people would not go with what they were saying," Hussman said. "It's just been very key prominent people running this club without check or challenge, and now there's people challenging them. You can tell they feel threatened."
Hussman notes that Aponte has personally blocked several Steering Committee members on Facebook, ostensibly for opposing his campaign for reelection. In a blast of deja vu, Hussman, who is Chair of Social Media, and another communications team member were both inexplicably locked out of Stonewall's social media accounts on July 12 with no explanation, although their access was restored when the issue was brought to Operations VP Bott's attention.
According to Hussman, the only people who could have revoked the access are Bott, Aponte, and Wishon. When Knock LA asked Wishon about the incident, she explained vaguely, "The Operations team examined all our permissions on the website and socials. Two members were moved to different permissions on [Facebook], but as soon as Operations was made aware that the previous level was required in order to stream they were moved back to their original levels."
Despite the internal dissent, Aponte still enjoys widespread support from the Democratic establishment. His reelection campaign has been endorsed by John Erickson; West Hollywood Mayor Lindsey Horvath; State Assemblymembers Reggie Jones-Sawyer, Laura Friedman, Jesse Gabriel, and Isaac Bryan; State Senators Ben Allen, Anthony Portantino, and Sydney Kamlager; LA City Councilmembers Paul Koretz and Mike Bonin; LA County Supervisor Holly Mitchell; LACDP Chair Mark Gonzalez; CDP Executive Director Yvette Martinez; and at least six DNC members.
As this roster of supporters suggests, the implications of Stonewall's internal drama extend far and wide through state and local politics.
To Buisson, the problems at Stonewall are emblematic of a larger problem with how the Democratic Party treats marginalized communities, particularly the Black women on whose votes and volunteer labor they rely. She notes that the refusal to prioritize the needs of diverse communities could be an existential threat to the Party's survival.
"Juneteenth does not make up for George Floyd. And Kamala Harris does not make up for all the slights that women of color suffer," she said. "[Last year], the entire region went ultra progressive. We had a record turnout. And yet they're still trying to preach to us, you know, what the well-heeled people want. You think that they would realize where this is headed… The younger voters are willing to suffer through a Republican administration to teach the Democrats a lesson."
But perhaps one of the most worrying consequences of Stonewall's toxic culture is the impact on the LGBTQIA+ community. "I don't want these creeps mentoring our queer youth. I don't want them jaded and cynical after their first election," Buisson said. "We can't have vulnerable people having weak leaders or corrupt leaders. That does harm to our children and makes them even more isolated."
"I think at the end of the day, this is about restoring the important place that organizations like Stonewall play in the progressive movement," Paris added. "We can sit by and let the party apparatus do what it's going to do to protect its insular interests, or we can stand up and fight back for the interests of the people that the party proclaims that it is in service of."
Buisson believes the first step is to expel Aponte, not just from Stonewall, but from the CDP, where he currently serves as co-chair of the LGBT Caucus. Beyond that, she suggests that the LACDP should temporarily revoke Stonewall's charter — essentially disaffiliating the organization from the Democratic Party — until the internal issues are addressed.
This seems unlikely to happen, given that the LACDP's executive director and parliamentarian are both members of Stonewall's Executive Team, and LACDP Chair Mark Gonzalez has endorsed Aponte's reelection campaign. But Buisson is hopeful that public pressure from elected officials could be enough to turn the tide and hold Aponte accountable.
"It's one call from one of them… to the chair of the state party, to expel him, and to sanction Stonewall," Buisson said. "It's one call [from] one elected. That's all it takes. And I'm laying down that gauntlet. Which one of you is it going to be?"
Knock LA contacted Aponte, who responded with a completely blank email. Garry Shay declined to comment. John Erickson didn't respond to requests for comment.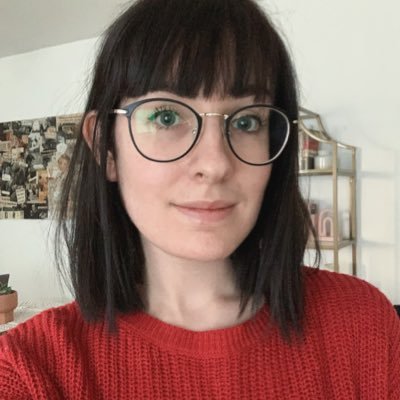 Kate Gallagher is a freelance journalist and writer based in Los Angeles. She is also a Senior Content Writer for Parcast Studios on Spotify.
Gallagher is a graduate of the University of Iowa with a Bachelor of Arts degree in English Language and Literature.
The preceding article was published at KnockLA, a Los Angeles based non-profit community journalism project and is republished by permission.
On 49th anniversary of Roe v. Wade- is it the last? Biden & others weigh in
The whole country is waiting for the Supreme Court to decide on one of the most serious challenges to abortion rights since the Roe v. Wade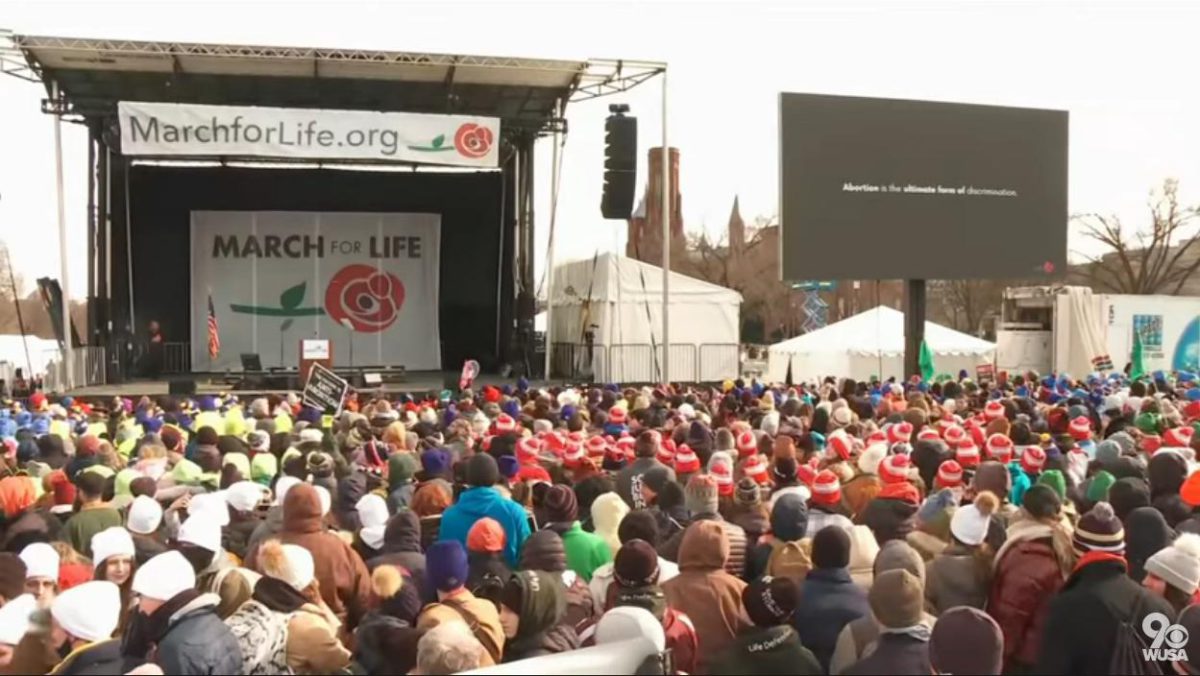 WASHINGTON – As thousands gathered on the National Mall in D.C. Friday for the annual anti-abortion 'March for Life March and Rally 2022,' there were signs among the speakers and the participants gathered of a renewed sense of optimism that with a pending Supreme Court case, this year maybe the last annual gathering as the court looks poised to overturn Roe v. Wade.
"We are hoping and praying that this year, 2022, will bring a historic change for life," Jeanne Mancini, president of the March for Life Education and Defense Fund, said at the event, The Associated Press reported.
A large portion of the crowd during the March for Life rally on Friday was made up of young people, with some holding signs saying they were the "pro-life generation."
The whole country is waiting for the Supreme Court to decide on one of the most serious challenges to abortion protections that the institution heard since the Roe v. Wade decision 49 years ago, which gave women the constitutional right to abortion.
The justices of the U.S. Supreme Court heard oral arguments this past December, in Dobbs v. Jackson Women's Health Organization, a case involving a Mississippi law that bans nearly all abortions after 15 weeks of pregnancy.
Mississippi's Gestational Age Act, passed in 2018 but has been blocked by two lower federal courts, allows abortion after 15 weeks "only in medical emergencies or for severe fetal abnormality" and has no exception for rape or incest. If doctors perform abortions outside the parameters of the law, they will have their medical licenses suspended or revoked and may be subject to additional penalties and fines.
The lack of access is felt most heavily by marginalized people, says Kari White, a sociologist at the University of Texas at Austin and researcher with the Mississippi Reproductive Health Access Project. She was the lead author of a study published last month in the journal Contraception that found that Mississippians were more likely to wait longer for an abortion if they were low-income or Black, NPR reported.
In an analysis published by SCOTUS blog, Amy Howe noted;
If the justices overturn Roe and Casey, the Guttmacher Institute estimates that 26 states (including Mississippi) will implement complete bans on abortion. Although the stakes in the case are thus obviously high, Mississippi takes pains to assure the justices that overruling Roe and Casey would not have ripple effects beyond abortion rights. It distinguishes abortion from other constitutionalized privacy interests, such as interracial marriage and same-sex marriage, saying that those interests – unlike abortion – do not involve the "purposeful termination of a potential life."
In a statement to the Los Angeles Blade after the oral arguments in Dobbs v. Jackson Women's Health Organization last December had concluded, Shannon Minter, the Legal Director for the National Center for Lesbian Rights (NCLR) warned;
"[Today's] arguments should be a wakeup call for LGBTQ people. We must face the reality of a Supreme Court packed by one of the most reactionary presidents of our time, and we must get serious about passing a federal law that protects basic rights and liberties for our community. If you care about LGBTQ equality, it is essential as never before to do everything within your power to elect fair-minded local, state, and federal officials and to engage in real dialogue with those who do not yet fully understand or support LGBTQ people. We do not have the luxury of disengagement or passivity. If you are not actively involved in supporting a federal civil rights law for LGBTQ people, you are part of the problem."
Minter further cautioned;
"While restrictions on abortion primarily harm women, they also compound the challenges that trans men and nonbinary people already face in accessing gynecological and reproductive health care. Being a trans man or a nonbinary individual who needs an abortion is often a nightmare even in jurisdictions that support reproductive freedom. In places like Texas, which are making abortions inaccessible to anyone, it is terrifying,"
"My heart goes out to the trans and nonbinary people who are living in fear, praying they never need this care, and that if they do, they can find a way out of the state. And for those who know they can't afford to travel or pay for out-of-state care, there is no hope," he added.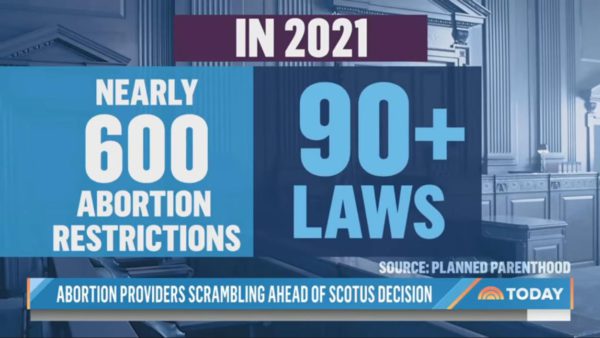 President Joe Biden and Vice President Kamala Harris released a joint statement Saturday commemorating the 49th anniversary of the landmark Supreme Court decision Roe v. Wade;
The constitutional right established in Roe v. Wade nearly 50 years ago today is under assault as never before. It is a right we believe should be codified into law, and we pledge to defend it with every tool we possess. We are deeply committed to protecting access to health care, including reproductive health care—and to ensuring that this country is not pushed backwards on women's equality.
In recent years, we have seen efforts to restrict access to reproductive health care increase at an alarming rate. In Texas, Mississippi, and many other states around the country, access to reproductive health care is under attack. These state restrictions constrain the freedom of all women. And they are particularly devastating for those who have fewer options and fewer resources, such as those in underserved communities, including communities of color and many in rural areas.
The Biden-Harris Administration strongly supports efforts to codify Roe, and we will continue to work with Congress on the Women's Health Protection Act. All people deserve access to reproductive health care regardless of their gender, income, race, zip code, health insurance status, immigration status, disability, or sexual orientation. And the continued defense of this constitutional right is essential to our health, safety, and progress as a nation.
We must ensure that our daughters and granddaughters have the same fundamental rights that their mothers and grandmothers fought for and won on this day, 49 years ago—including leaders like the late Sarah Weddington, whose successful arguments before the Supreme Court led to the landmark Roe v. Wade decision in 1973.
At this pivotal moment, we recommit to strengthening access to critical reproductive health care, defending the constitutional right established by Roe, and protecting the freedom of all people to build their own future.
A recent poll conducted by CNN found that a large majority of Americans — almost 70 percent — said that they oppose overturning Roe v. Wade. Thirty percent of respondents said that they supported the move.
Biden delivered results for LGBTQ+ & HIV communities in 1st year, but…
Significant work remains to be done, particularly in areas affecting some of the most vulnerable members of the LGBTQ+ community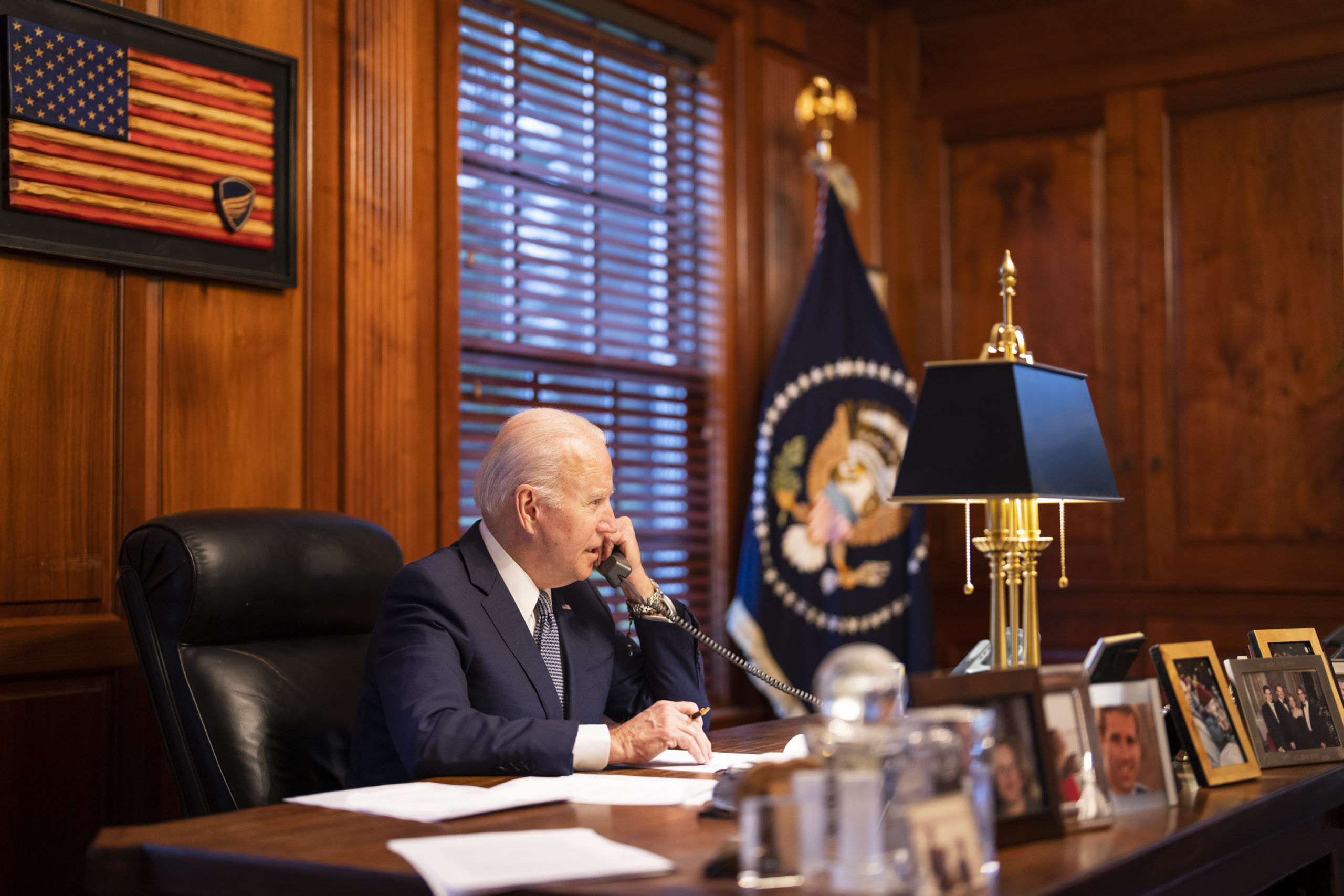 WASHINGTON – Lambda Legal released a new comprehensive report today that assesses the Biden-Harris administration's first year with respect to its impact on the LGBTQ+ community and everyone living with HIV.
While the report identifies significant achievements, such as quickly rescinding the transgender military ban and correctly interpreting federal nondiscrimination laws as protecting LGBTQ+ people, much more work is needed, as many promises remain unfulfilled one year into the Biden presidency.
"When President Biden took office, he faced a tall task to reverse four years of damage done by the Trump administration, which actively took aim at the LGBTQ+ community, as it did with respect to Black, brown, immigrant, and other communities, whenever it could," said Sharon McGowan, chief strategy officer and legal director of Lambda Legal. "Our analysis shows that while the Biden administration has made progress putting our country back on the right track, we are nowhere close to where we need to be. They should use this report, and the unfulfilled priorities we have identified in it, as a guidepost for the direction our country should be headed over the coming months."
"President Joe Biden and Vice President Kamala Harris promised to use their office to ensure everyone has an equal opportunity to succeed," said Kristine Kippins, deputy legal director for policy at Lambda Legal. "While many important steps have been taken, our assessment after year one is that this administration's homework must be rated as "incomplete." Particularly with LGBTQ+ people, especially Black transgender women and transgender youth, facing increased harassment, violence, and discrimination across our country, we hope the Biden-Harris administration will act with the urgency that the situation demands, and take bold action to tackle the immense challenges we face to build a more perfect union."
The one-year report released by Lambda Legal today follows up on 10 key asks the organization made to the administration as it prepared to take office. It finds that:
The Biden administration took decisive action on a number of issues of tremendous importance to the LGBTQ+ community, including clarification of the scope of sex discrimination protections in federal law and the renunciation of the ban on open service by transgender people currently in the military, and those wishing to serve. The significance of these actions cannot be overstated.

And yet, significant work remains to be done, particularly in areas affecting some of the most vulnerable members of the LGBTQ+ community. For example, the Biden administration must take more decisive action to ensure that all programs funded by federal dollars are operated in a nondiscriminatory manner even when services are provided by third parties, including religiously affiliated entities. And the federal government must end discrimination in its own programs and policies, ranging from barriers to transition-related health care in federally-run health care programs to its outdated and discriminatory blood donation policy, which limits the ability of many gay, bisexual, and transgender people to donate.

With respect to restoring the integrity of our federal judiciary, the Biden administration still has a long way to go in addressing the gross underrepresentation of LGBTQ+ people on the federal bench. The administration must nominate more openly LGBTQ+ people, and particularly LGBT people of color, for judicial vacancies, focusing on the five circuits—D.C., First, Fourth, Eighth, and Tenth—that do not have a single openly LGBTQ+ judge on the bench of either the circuit court or the district courts in its jurisdiction. The administration must also nominate the country's first transgender or nonbinary judge and the first openly bisexual judge in order to ensure the judiciary reflects the society it serves.
A copy of the full report released by Lambda Legal today can be downloaded by clicking here.
Manchin & Sinema join GOP defeating passage of voting rights legislation
The 52-48 vote defeating changing Senate rules was followed by sustained applause from the Republican side of the Senate chamber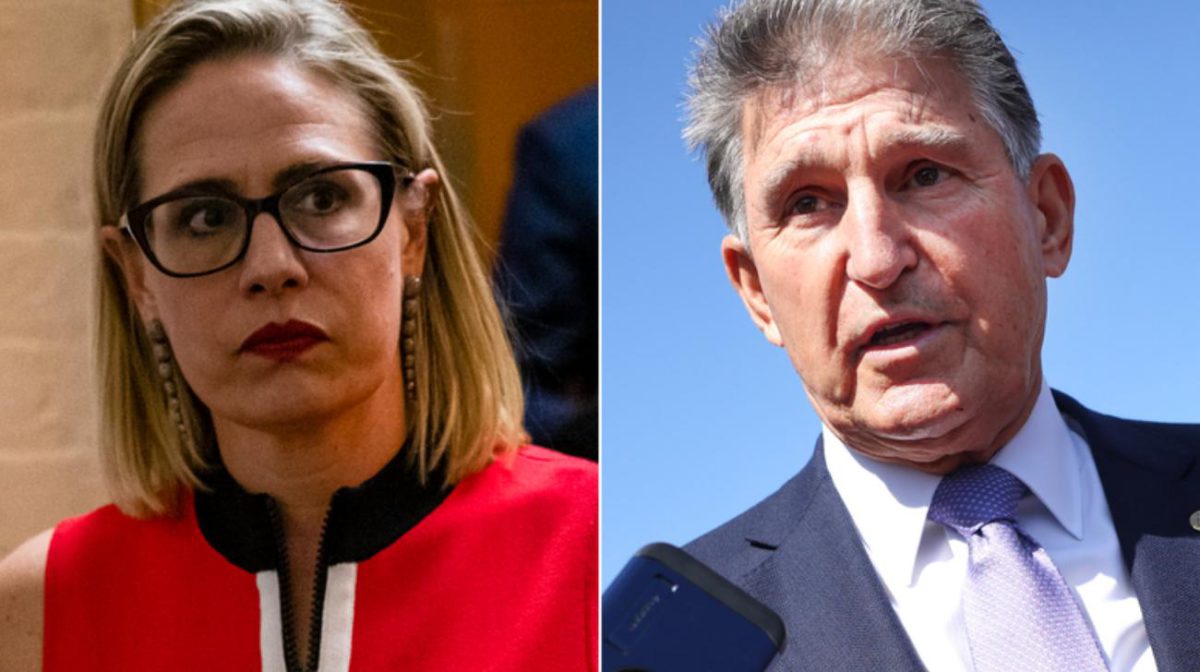 WASHINGTON – On the eve of the anniversary of his first year in office, President Joe Biden suffered a major set-back Wednesday as Senate Republicans joined by conservative West Virginia Democrat Joe Manchin along with fellow Arizona Democrat Kyrsten Sinema, blocked efforts by their party to change filibuster rules in order to pass critical voting rights legislation.
The 52-48 vote defeating changing Senate rules was followed by sustained applause from the Republican side of the Senate chamber. The vote was preceded by an effort to break a GOP filibuster on voting legislation that combines key provisions of two bills: the Freedom to Vote Act and the John Lewis Voting Rights Advancement Act.
That effort failed by a vote of 49-51. New York Democratic Senate Majority Leader Chuck Schumer changed his vote to "no" before the vote was gaveled so that he can offer a motion to reconsider the vote.
In a show of support for voting rights and changing Senate rules, House members in the Congressional Black Caucus marched to the Senate, warning that no matter what happens, they won't stop fighting to pass it, CNN reported.
"We want the Senate to act today in a favorable way, but if they don't, we ain't giving up. I am too young to give up," Rep. Jim Clyburn, (D-SC) the No. 3 Democrat in the House, told CNN.
In separate statements released after the vote by the White House, President Biden and Vice-President Kamala Harris weighed in.
"At the core of our democracy is a basic principle: the right to vote, and to have that vote counted. That principle was assaulted one year ago, when a violent mob attempted a coup seeking to overturn the will of the people. And today, in state after state, Republican state legislatures are engaged in an unprecedented effort to suppress the sacred right to vote and subvert the American bedrock of free and fair elections," Biden said.

"In the face of those threats, I am profoundly disappointed that the United States Senate has failed to stand up for our democracy. I am disappointed — but I am not deterred," he added.

"My Administration will never stop fighting to ensure that the heart and soul of our democracy — the right to vote — is protected at all costs. We will continue to work with allies to advance necessary legislation to protect the right to vote. And to push for Senate procedural changes that will protect the fundamental right to vote." the president stressed.

"As dangerous new Republican laws plainly designed to suppress and subvert voting rights proliferate in states across the country, we will explore every measure and use every tool at our disposal to stand up for democracy. The Vice President will continue to lead this effort, as she has for the past year," the statement concluded.
In her statement, Vice President Kamala Harris speaking about the Senate Vote said;
"Every member of the United States Senate—Democrats, Republicans, and Independents—takes an oath to preserve and protect our Constitution. It is their duty to safeguard our democracy and secure the freedom to vote. Yet today, Senators voted to preserve an arcane Senate procedure rather than secure that fundamental freedom. The American people will not forget this moment. Neither will history.
"Across our nation, anti-voter laws could make it more difficult for as many as 55 million Americans to vote, and will be felt by every American.
"Our Administration will continue to fight to pass federal legislation to secure the right to vote. We will not stop fighting against the anti-voter legislation that Republican legislatures continue to push at the state level—and to champion and support state and local elected officials who work to enact pro-voter legislation. We will work to ensure Americans everywhere can register to vote, cast their vote, and have their vote counted in a free and fair election.
Generations of Americans have fought to strengthen and expand the freedom to vote. While victory was never assured and almost always preceded by setback, ultimately, We the People have prevailed. We will again."
Robert Weissman, President of Public Citizen released a statement saying;
"This is a sad and tragic day for America. As a result of lock-step opposition to basic measures to safeguard our democracy and the refusal of Sens. Sinema and Manchin to agree to rules reform to win passage of legislation that they support, America now faces a frightening future.
"Republicans across the country are engaged in a concerted effort to make it harder for people of color to vote. Extreme partisan and racial gerrymandering is stripping voters of meaningful influence. And proto-fascist forces motivated by Trump's Big Lie are actively organizing to subvert elections in 2022 and 2024 – aiming to override actual results with predetermined outcomes.
"Though the Senate's failure to pass Freedom to Vote: John R. Lewis Act makes the challenge of protecting our democracy exponentially greater, we cannot – and will not — accept this as our fate."
Mayor Annise Parker, President & CEO of LGBTQ Victory Fund, released the following statement on voting rights:
"The right of candidates to compete in fair and democratic election processes is fundamental to our mission to increase the number of LGBTQ elected officials and ensure they reflect the diversity of those they serve. Voter suppression efforts deny voters the equal opportunity to elect their representatives and are a direct challenge to Victory Fund's efforts to advance equality through representation. These laws disproportionately impact LGBTQ people of color and voters in urban areas where LGBTQ people are concentrated. The increasingly strict voter ID laws create unnecessary and sometimes insurmountable obstacles for transgender and nonbinary people attempting to access the ballot box.
"Our Victory Fund Campaign Board – made up of more than 150 political leaders and advocates from across the country – votes to determine who Victory Fund endorses. Senator Kyrsten Sinema is not currently endorsed and if she runs for reelection, her record and actions on the advancement of legislation impacting the equality of LGBTQ people will be a primary consideration for whether she receives our endorsement. That board vote would take place in 2024."
 Kierra Johnson, Executive Director of the National LGBTQ Task Force Action Fund said in a statement:
"The failure to enact the Freedom to Vote, John R. Lewis Act is a profound blow to our Democracy. The inability to ensure voting rights for Black and Brown people and other vulnerable groups like LGBTQ people lays at the feet of those who voted "nay." These are the votes of political extremists, whose fear of losing power has become a justification for carving out LGBTQ+ folks, People of Color, women, poor people and other already marginalized groups from the political process.
Senators who voted for the right of all to participate in our Democratic process have our appreciation. To the rest – shame on you. Nineteen states have passed 34 laws that undermine voting rights, rights that are the threshold of our democratic values and civic responsibility – the very heartbeat of our Democracy. We pledge to do all in our power to Queer the Vote in the 2022 midterm elections and beyond, and we will continue to advocate to restore voting rights to all our nation's people."