U. S. Senate confirms LGBTQ nominees to high-profile defense roles
Skelly is second out transgender appointee to obtain confirmation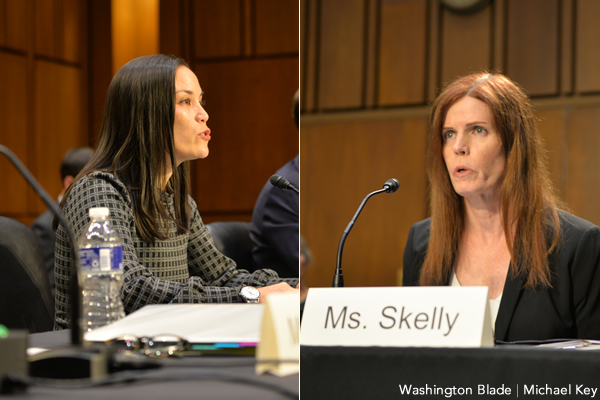 WASHINGTON – The U.S. Senate confirmed on Tuesday two Biden nominees — one lesbian, another transgender — for high-profile positions at the Defense Department by unanimous consent.
Gina Ortiz Jones, a lesbian former Air Force pilot and Texas congressional candidate, was confirmed as under secretary of the Air Force, and Shawn Skelly, a transgender 20-year U.S. Navy veteran and a defense appointee in the Obama administration, was confirmed as assistant secretary of defense for readiness.
For the second time in U.S. history, the Senate has confirmed an openly transgender person as a presidential appointee — and did so without controversy by unanimous consent.
Just months ago, Rachel Levine was confirmed as assistant secretary of health on a party-line basis after enduring rude, invasive questioning from Sen. Rand Paul (R-Ky.) during her confirmation hearing on transgender health care.
Jones has also made an achievement through Senate approval: She's the first out lesbian to win confirmation to serve in a high-level defense position.
The Senate confirmation of the nominees by unanimous consent is consistent with their confirmation hearing, which both Jones and Skelly breezed through without hostility.
Annise Parker, president of the LGBTQ Victory Institute, pointed out in a statement the two newly confirmed presidential appointees both served in the U.S. military under bans against LGBTQ people in the armed forces.
"Gina and Shawn served their country when living openly could result in discharge and a lost career, so their ascension to key leadership positions is a powerful moment for those servicemembers who served or continue to serve in silence," Parker said. "Their confirmation will transform perceptions of LGBTQ people within the ranks of the U.S. military, but also among the leaders of militaries we work with around the world."
Another out LGBTQ person nominated by Biden for a high-profile defense role is Brenda Sue Fulton, whom Biden nominated to become assistant secretary of defense for manpower and reserve affairs. Her nomination, however, has not even had a hearing in the Senate Armed Services Committee. It's unclear why her nomination hasn't moved forward.
Rep. Jennifer Wexton, ardent LGBTQ ally, will not seek re-election
In fact, on the day she took office, the congresswoman became only the second member to fly a transgender Pride flag outside her office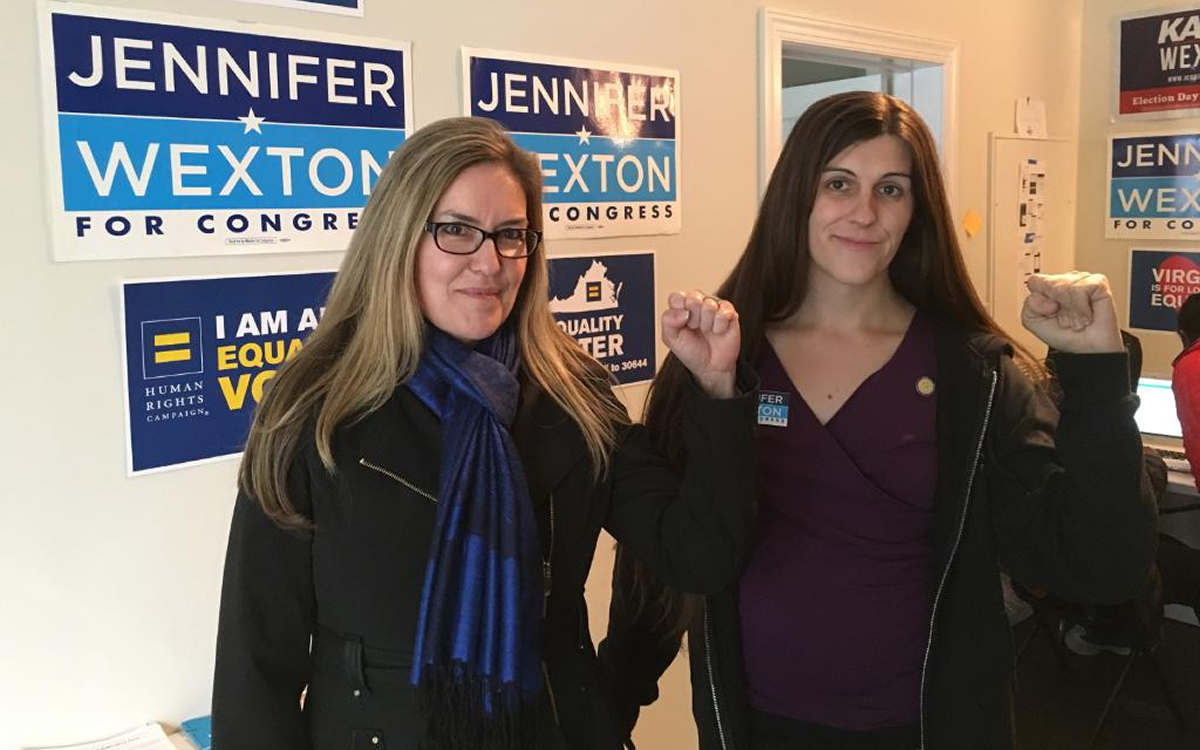 LEESBURG, Va. – U.S. Rep. Jennifer Wexton (D-Va.) announced on Monday she will not seek reelection after receiving a diagnosis of progressive supranuclear palsy, a neurological disorder that the congresswoman described in a statement as "Parkinson's on steroids."
"I'm heartbroken to have to give up something I have loved after so many years of serving my community," she said. "But taking into consideration the prognosis for my health over the coming years, I have made the decision not to seek reelection once my term is complete and instead spend my valued time with Andrew, our boys, and my friends and loved ones."
A member of the Congressional Equality Caucus and co-chair of its Transgender Equality Task Force, Wexton has been a staunch ally of the LGBTQ community since her first election to Congress in 2018 and during previous five-year tenure in the Virginia State Senate.
"On my lowest days, she's quite literally been a shoulder to cry on, and on my best days, she was the second person I told about my engagement last year," Virginia Del. Danica Roem (D-13) told the Washington Blade on Monday.
The congresswoman is "a role model, mentor and genuine public servant whose friendship and advocacy means the world to me," said Roem, who is the first openly trans representative to serve in any state legislature and will be the first in Virginia's State Senate if she is elected to the newly drawn 30th district seat next year.
"I spent so many years closeted in part because of the fear and loathing perpetuated by elected officials toward LGBTQ people in Northern Virginia broadly and greater Prince William [County] specifically that made for a hostile, unwelcoming environment," she said.
"To go from that to having such outspoken, fearless representation from my member of Congress in Rep. Jennifer Wexton hasn't so much been a breath of fresh air as much as a completely new biosphere," Roem said.
She added, "I'm so grateful to her for everything she's done and the example of inclusivity she's set for her constituents."
Roem pointed the Blade to an article in the Washington Post entitled, "How Jennifer Wexton became the 'patron saint of the transgender community,'" which details the ways in which LGBTQ rights "with an emphasis on the transgender community" had become Wexton's "signature issue" just "six months into her first term."
In fact, on the day she took office, the congresswoman became only the second member to fly a transgender Pride flag outside her office.
Equality Virginia, the state's largest LGBTQ advocacy group, also noted Wexton's advocacy for the community in a post Monday on X: "Thank you @RepWexton for being a tireless advocate for LGBTQ+ people in the General Assembly and in Congress."
"You've made our commonwealth a better place," the group wrote, adding, "we're sending our love and strength to you, your family and your entire team."
"In 2018, this state senator I called my legislative role model and looked up to so much as a first-year delegate, came over for dinner crepes to share her wisdom, humor and guidance," Roem said on X. "Five years later, Rep. @JenniferWexton is still a mentor, friend and champion for NOVA."
The Washington Post reported Wexton's planned departure means her seat representing Virginia's 10th Congressional District could be vulnerable in next year's elections, as it was held by Republicans for 40 years prior to the congresswoman's defeat of GOP incumbent Barbara Comstock in 2018.