A fiend is convicted, kudos to activist who never stopped seeking justice
"The lives of Black gay men matter — no matter if they're homeless, survival sex workers or escorts — Our lives, our community matters."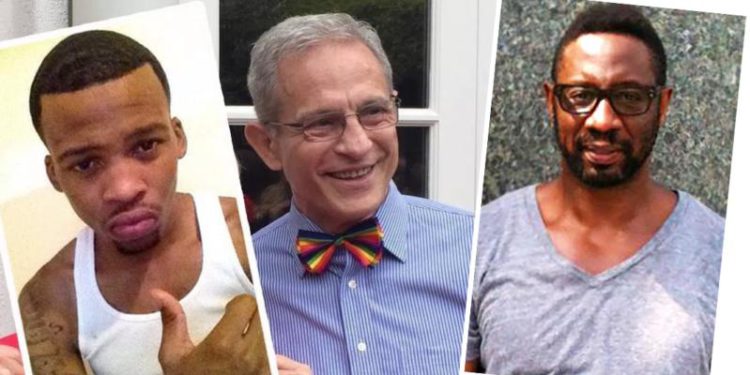 LOS ANGELES – A federal jury deliberated Tuesday and then in short order convicted a sexual fiend, a predator, a deviant murderer who literally got his thrills at the suffering of other human beings-suffering that he directly inflicted.
In what can be viewed as irony or better yet poetic karma, those twelve jurors comprised of seven women and five men found Ed Buck guilty on all nine federal counts on what is the fourth anniversary of the death of one of the dozen or more victims of his disgusting perverse hunt of Black men to fulfill his sick need for ever escalating sexual 'kicks.'
Instead of celebrating that the killer of 26-year-old Gemmel Moore and 55-year-old Timothy Dean has been found guilty, and will likely find himself spending the rest of his perverse life in prison, the community needs to reflect on the fact that without one Black woman's relentless determination to seek justice for the families of Gemmel and Timothy, Ed Buck may have gotten away with his crimes and more defenseless Black men would have suffered or even died at his hands.
She orchestrated and led a grass-roots effort to get the criminal justice system of Los Angeles to listen to Gemmel's mother LaTisha Nixon's plea for justice. She used Gemmel's own words, written in his journal to alert authorities to the depths of the debauchery occurring inside that second floor flat in West Hollywood. She pleaded with law enforcement including the District Attorney for the County of Los Angeles to take action.
Her activism and fueling the rage of the greater community finally received the attention of Federal law enforcement and action that culminated in Buck's arrest and the trial.
She stood by the families even as to the horror of many another Black man died nearly two years after Gemmel (2017) in January of 2019 and like that young life snuffed out too early, Timothy Dean was found deceased on the trash strewn floor of what arguably could be described as drug den.
"The lives of Black gay men matter — no matter if they're homeless, survival sex workers or escorts — this is a case that transcends race, class, wealth. Our lives matter, our community matters, and just because someone is unhoused, an addict, may be a survival sex worker, or an escort, or HIV positive does not mean their lives don't matter and we should look the other way when they show up dead in a white Democratic donor's home."
Those are the words of that powerful voice, political strategist and journalist Jasmyne Cannick.
The LGBTQ community of Los Angeles, especially those of colour owes Cannick a debt of honor and gratitude for her unceasing devotion to bring Buck to justice. Her writings, her interviews, her relentless pursuit of getting the law enforcement community to act, all resulted in today's convictions.
In her owns words Cannick writes, "It's been a long four years on this road for justice–justice that a guilty verdict would be but one small part off. Real justice is making sure that this never ever happens again. We can't do that with the enabling parties still acting like Ed Buck didn't happen"
She adds, "Ed Buck only got away with it for so long because he was white and because we still don't believe Black victims–even when they tell us what happened to them.
Gemmel Moore told us in his diary, "Ed Buck is the one to thank, he gave me my first injection of chrystal [sic] meth. It was very painful."
There is a bitter truth that needs greater exposure in Cannick's words. Buck indeed got away with his crimes and depravity for years because of the colour of his skin and his perceived 'status' as a so-called wealthy player in the local Democratic party apparatus.
Turns out Buck was not all that he was portrayed as in the media and wealthy certainly he was not. But he parlayed his influence, funneled through donations from others, and did ingratiate himself into the party in California over the years. There is plenty of photographic evidence to substantiate those claims to fame showing Buck rubbing elbows with politicians from all quarters.
Worse though was that rumours of Buck's fetishes were well known and yet even after the death of Gemmel Moore there seemed to be a collective shrugging of shoulders and zero calls for accountability. Cannick however, wasn't having it.
"Former district attorney Jackie Lacey was sitting on a mountain of evidence and still did nothing to prosecute Ed Buck for the deaths of Gemmel Moore and Timothy Dean," she said.
"As much as this case is about Ed Buck, it's also about our housing crisis, and what it makes people feel they have to do — play Russian roulette with their lives just to have a roof over their heads," Cannick stressed.
One is safe to point out that the 'former' in front of the title Los Angeles County district attorney Jackie Lacey is due in no small part to Cannick's grass-roots activism.
Cannick is not just a gadfly community activist, in fact far from it. She is a powerful voice for those who have had no voice and she reminds all of us that Ed Buck happened because the community allowed him to happen.
In her own words she points out, "Paul Koretz, a candidate for Controller in 2022, who is backed by the Black Democratic establishment and has taken thousands from Ed Buck, told a group that Buck's victims were all "disadvantaged Black hustlers."
So while this fight is as much about getting justice for Ed Buck's victims it's also about calling out all of the people and entities along the way who failed them and enabled Ed Buck. Not doing so ensures a repeat of this situation because Ed Buck isn't the only Ed Buck.
Entities like the L.A. County Sheriff's Department who many of Ed Buck's victims said didn't take their complaints about Ed Buck seriously."
Yet she also points out the fallacy of a system that is rigged against people of colour, especially sex workers and others who live on the fringes of society. She wrote;
"But even though Ed Buck's crimes have been made public throughout his trial, not much has changed. The silence in Los Angeles' is deafening. If I wasn't sitting in the courtroom myself, I probably wouldn't know the trial was happening.
There's been no mention of the trial or justice for Ed Buck's victims from the Los Angeles County Democratic Party, California Democratic Party, Stonewall Democratic Club, or any of the dozens of elected officials he gave his money to."
As a community, as a city and county, in fact as a country and as a people we need to take heed of Cannick's words and we need to act on her words to prevent another Ed Buck. That said, we need to thank Jasmyne Cannick for bringing justice for Gemmel, Timothy, and all of Buck's victims.
Brody Levesque is the Editor of the Los Angeles Blade.
Queer parenthood: A transparent dive into surrogacy and hope
While it's been around for a while, surrogacy is still riddled with mystery, inaccessibility, and unpredictability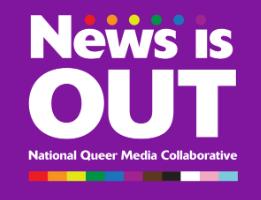 By Matthew Schueller | PORTLAND, Ore. – I feel extraordinarily lucky. As a kid, I never imagined my life could look like this. Growing up in the closet in the mid-Willamette Valley of Oregon, an area many consider to be the conservative Bible Belt of the Pacific Northwest, I didn't think it was possible for me to find love, let alone get married.
It's humbling to see now that I've proved myself wrong. It is truly contrary to what I thought my life would be like 10 years ago, so to be here now in the process of starting a family is absolutely ridiculous to me. It already feels like a miracle, so the fact that we can even attempt to bring life into this world as a gay couple blows my mind.
I've always wanted to have kids, but I didn't start seriously considering the possibility of surrogacy until I met Michael and our relationship became more serious. As I learned more about it and started looking into it more, I realized that it was the best path for us at the time. We started looking for an egg donor and surrogate mother at the beginning of 2021 when we officially made the decision to start the process.
That being said, we know it's still not that easy. While it's been around for a while, surrogacy is still riddled with mystery, inaccessibility, and unpredictability. What we quickly realized when we started to look at our options was that we didn't know the first thing about starting a family as a queer couple, and neither did most of our friends and family!
When we started researching online, we found a ton of different information (often conflicting) from a variety of sources. We didn't even know where to start, so we began calling up IVF clinics and surrogacy agencies.
We spent months researching the process and figuring out what exactly this might look like for us, how much it would cost, and how we should mentally prepare. I think that's what inspired us to start sharing. We saw a lot of couples online sharing their stories after the fact — after the babies had arrived and everything looked fantastic — but we didn't see many couples sharing their stories as it was happening. To us, the process of surrogacy looked like a mysterious black curtain where most of the details were not quite clear.
Our goal is to share the process of having kids as a gay couple as it's happening, the good and the difficult. We believe alternative paths to parenthood should be accessible to all queer couples, and we think that starts with shedding light on how these processes actually work. With knowledge, there's power. And since many of us in the LGBTQ+ community don't know the options available for family planning, we don't know where to start to enact change.
Many paths to parenthood are largely considered to only be attainable by the extremely privileged and wealthy — but we know that gender, sexuality, and income level should not determine whether or not someone can have a family, so why is that not considered true for queer couples?
There are a lot of big questions that have come up, so my husband, Michael, actually encouraged me to start a podcast with him to interview individuals who've experienced alternative paths to parenthood and experts who can provide insight and education. Thus, the birth of the "Who's Your Daddy?" podcast.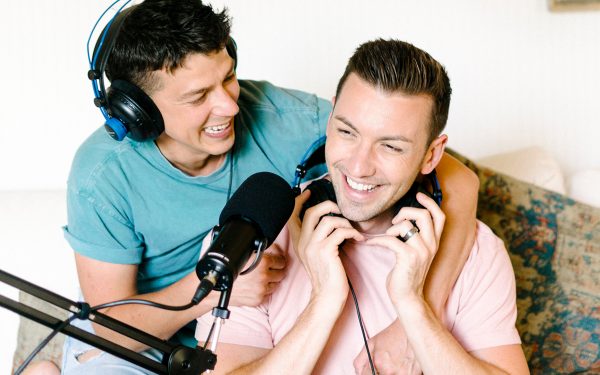 Over the last 19 months, we've found our egg donor, created embryos and actively sought our gestational carrier. While there have been many ups and downs, we are really excited for the next steps in hopefully finding our surrogate soon. The first difficult decision was trying to figure out where we would undergo the process. We interviewed quite a few surrogacy agencies and IVF clinics, and we connected well with a doctor in Texas. We just had a good feeling about it, so we went with our gut.
At the time, we didn't think much of where our egg donor or surrogate could be located: We thought it didn't really matter if they were far away from us. We were under the impression that pursuing surrogacy in Texas might be significantly cheaper than on the West Coast, and perhaps lead to a quicker matching time since there are just way more people in the Dallas area than in the entire state of Oregon.
Our minds changed. As the clinic progressed through egg donation and embryo creation, we started to feel the distance weighing on us. Not only did the importance of being physically close to where our surrogate would be located but also we began reflecting on how the state laws could impact us.
Just over the last year, Texas has taken sweeping action against access to abortion. So what does that mean for all those in the state considering being a surrogate? If pregnancy complications were to occur, how difficult would it be for a surrogate to access the needed medical care? It's unclear. It's understandable that the change in state law could cause concern for many considering becoming a gestational carrier and therefore limit the pool of people willing to carry in the state. 
Legal implications aside, we want to be there for the ultrasounds, doctor's appointments and of course the childbirth. Being far away from where our surrogate lives makes that difficult. Now, we recommend those considering surrogacy to look into your local laws, determine how those might impact you and then consider the closest reputable IVF clinics in your area before searching far away.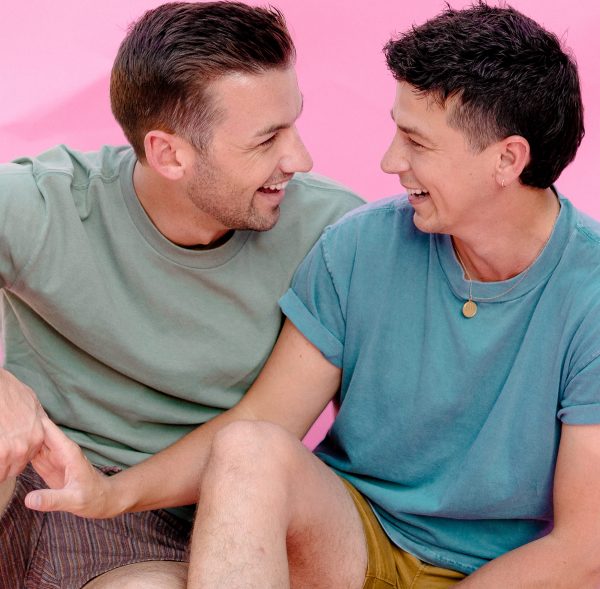 Our embryos were created last December. While 30 eggs were harvested, only five embryos made it to viability. I'm the genetic half of four of the embryos, while Michael is the genetic half to one.
It was a difficult experience. On one hand, we were incredibly happy that we were able to produce five viable embryos. On the other hand, we're extremely nervous.
Our goal starting out was to have twins, each of us the genetic father of one. With only having one embryo on Michael's side, that means there's just one chance at a transfer. If it were to fail, we're just not sure it's financially feasible to repeat the IVF process and try for more embryos.
So, we're hopeful. Optimism can be powerful here, so we look at this as having five embryos–five wonderful chances to have a baby. We might not end up with twins like we first sought to do, but if we've learned one thing from this entire journey, it's that we cannot control what we cannot control. Surrogacy and IVF are seriously unpredictable processes, and we're just hopeful to see what miracle biology will bring.
***************************************************************************************
The preceding commentary was previously published by News Out and is republished with permission.
Matthew Schueller is a content creator and registered nurse. He hosts the "Who's Your Daddy" podcast along with his husband, Dr. Michael Lindsay. You can follow @MichaelandMatt on Instagram, TikTok and YouTube.