President Biden announces new COVID rules for federal workers
Biden also urged private companies, manufacturers, and other corporations to get their employees vaccinated.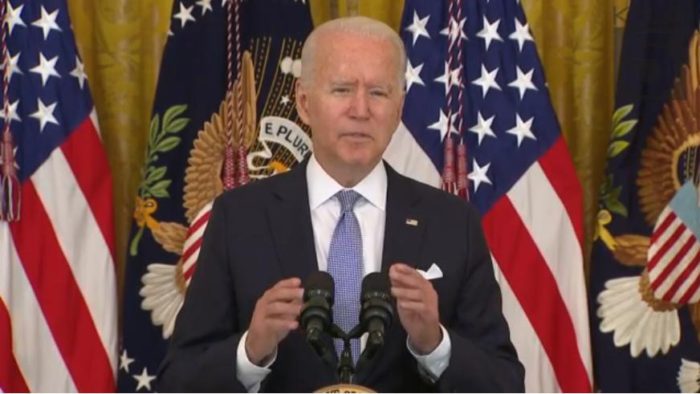 WASHINGTON – President Joe Biden announced in a press briefing in the East Room of the White House Thursday, he has ordered that millions of federal workers across the country will be required to verify they've been vaccinated against the coronavirus or else face mandatory masking, weekly testing, distancing and other new requirements.
The president also plead with "those Americans who are unvaccinated- please go get vaccinated."
Biden also urged private companies, manufacturers, and other corporations to get their employees vaccinated. Speaking about mask requirements that are going to be reinstated as well, the president cited the revised guidance issued by the The Centers for Disease Control and Prevention Tuesday.
The President said that he directed the Pentagon to look into adding the COVID-19 shot to its list of required vaccinations for members of the military. He then added that his administration will take steps to apply similar requirements to all federal contractors.
Biden citing the need to utilize funding from the American Rescue Plan, said that the various state and local governments should use those funds to incentivize vaccinations by offering $100 to individuals who get the shots. He also announced a federal program to fund reimbursements for small- and medium-sized businesses if they offer employees time off to get family members vaccinated.
Biden Delivers Remarks On Covid Vaccinations | NBC News WATCH:
Teachers told to deadname or misgender students in Pennsylvania
U.S. Office of Civil Rights recognizes a school's policy or practice of refusing to use a transgender student's pronouns violates Title IX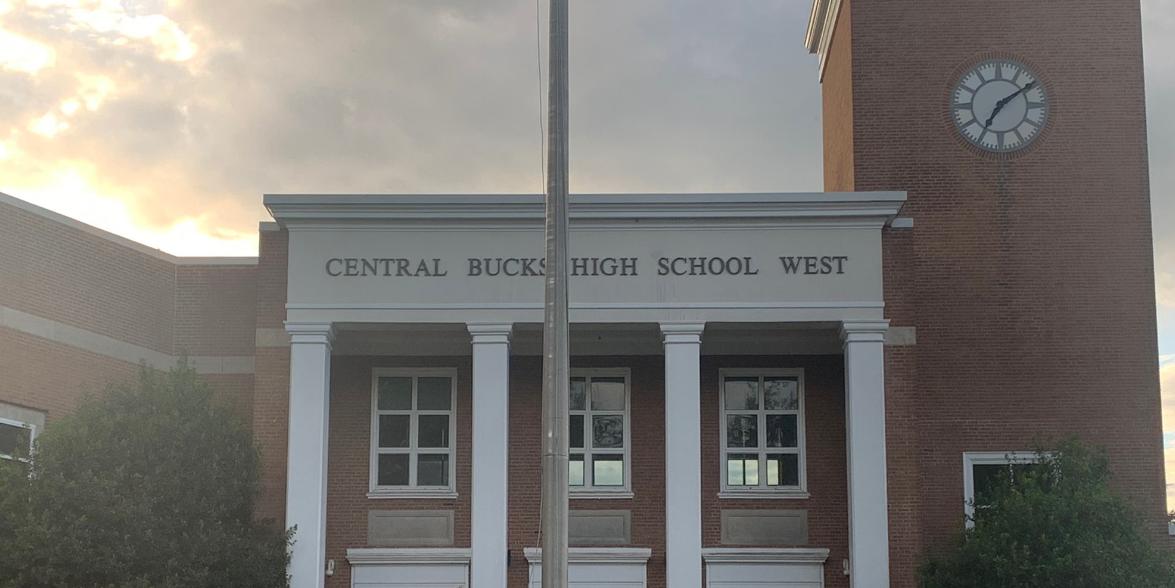 DOYLESTOWN, Pa.  Teachers at Central Bucks West High School in Bucks County say they were told by administrators to not use a student's preferred name or pronoun if it does not match with the information in the school's database. 
The new policy known as the "Gender Identification Procedure" introduced at a faculty meeting six days into the school year, prohibits staff and faculty from using a student's chosen gender identity by administrators who also told them they have to follow parents' or guardians' wishes if they differ from a student's.
Philadelphia's local PBS and NPR outlet WHYY News reported that the new policy has received pushback from teachers including Becky Cartee-Haring, who has taught English at Central Bucks West for 16 years.
"A lot of us are distraught," she told WHYY adding, "I physically felt sick in that meeting, listening to an administrator basically argue that we were going to protect ourselves by outing children … it's heart wrenching … It's just cruel."
"What the children wanted was completely irrelevant," said David Klein, who has been teaching social studies at Central Bucks West for 26 years.
Klein said he's not going to follow the new procedure.
"There's no way I'm hurting a kid. Hell no. I cannot be complicit in harming children," Klein said, raising his voice. "And I said this in the meeting … this is the most at-risk marginalized group of students, they need our support more than anyone else. No! Kid says, 'Call me Tony,' I'm calling them Tony!"
Being forced to misgender or deadname a student is unacceptable to some of the teachers including Klein at Central Bucks West.
Klein said even if he faces a parent who does not want their child to be called a name that the child prefers, he will continue to prioritize the student.
"My job is to educate your kids, to prepare them for the future, to make them feel safe, period. That's my calling. Pardon me," Klein told WHYY choking up. "I'm calling you Tony because you need to feel safe in my classroom. How else are you going to learn? And if they want to fire me, that's their business."
Two Legal groups say this new policy may run the risk of putting the school district 'legal hot water.' The ACLU of Pennsylvania's legal director Vic Walczak warned "That right does not exist, at least not in the way that these parents are trying to claim it does," referring to the impetus behind the new policy by some parents who had pushed for it.
WHYY also reported that Kristina Moon, senior staff attorney at the Education Law Center, pointed out that federal courts have recognized "a student's right to privacy in their sexual orientation and gender identity, including with respect to their family members."
"Persistently and purposely misgendering students … can also be considered harassment that violates both federal anti-discrimination laws and the 14th Amendment to the U.S. Constitution," Walczak added. "It potentially is going to get the school district into legal hot water."
Moon said the U.S. Office of Civil Rights has also recognized that a school's policy or practice of refusing to use a transgender student's pronouns violates Title IX and equal protection rights.
Students in West Virginia walk-out over classroom Pride flag ban
Speaker after speaker reinforced the fact that the Pride flag was symbolic of the LGBTQ+ community and not a pollical statement or gesture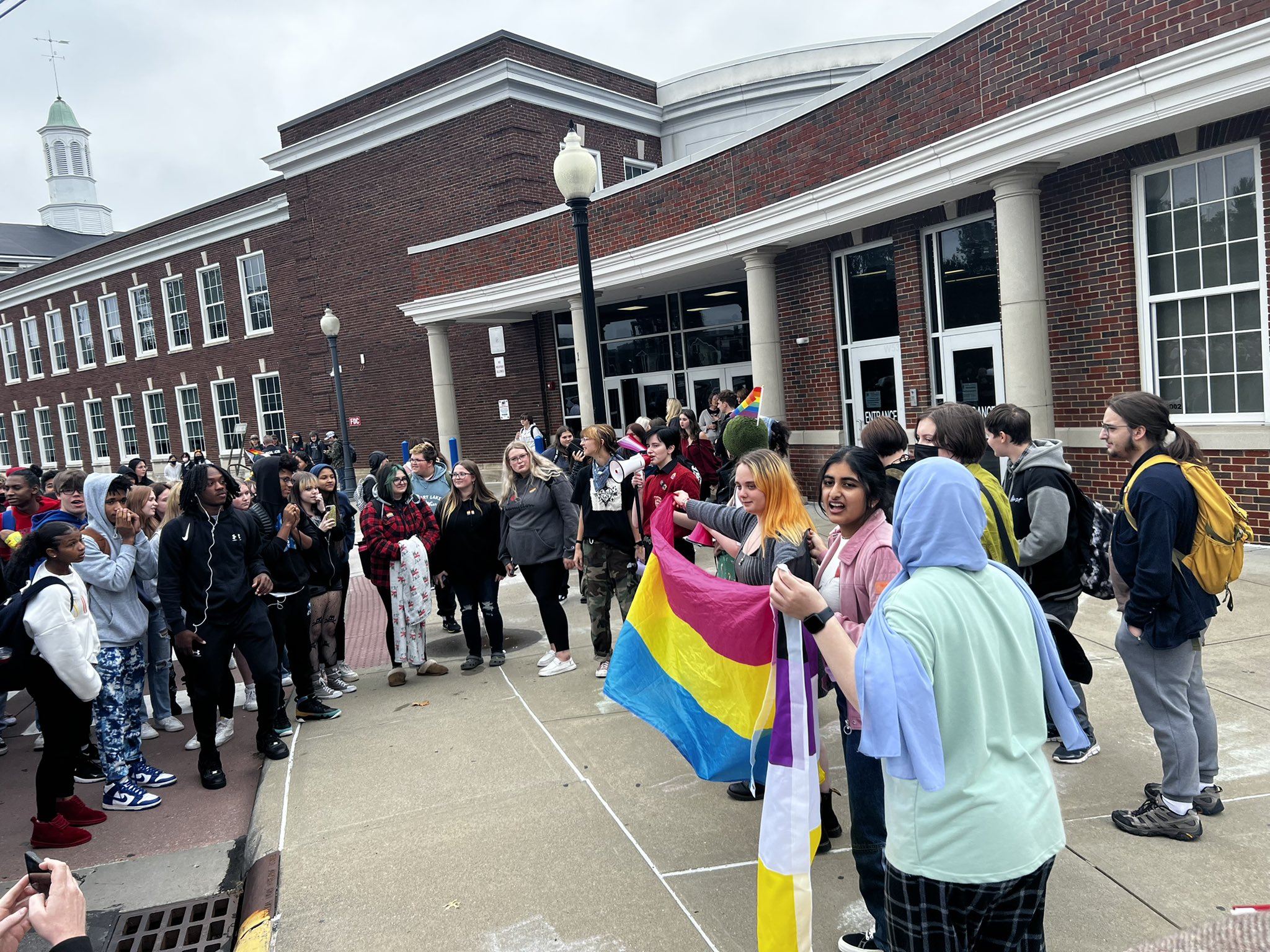 MORGANTOWN, WVa. – The Monongalia County Board of Education decision to uphold its August decision to ban all LGBTQ+ Pride flags from district classrooms on Tuesday prompted walkouts by students with some faculty members in protest Wednesday.
The board decision also drew sharp criticism from more than half of Morgantown's City Council members. Deputy Mayor Danielle Trumble told the Morgantown News that she's very disappointed with the decision to "make accepting children, making children feel welcome and accepted, as our city says we want to be, that should not be a political decision."
Especially, Trumble continued, when LGTBQ+ youth are at higher risk of depression and suicidal tendencies.
Mayor Jenny Selin weighed in saying that the Pride flags classrooms signal an area that is a safe space for those who identify with what the flag symbolizes.
"As such it can make a student at a highly volatile time in their life know where they might find an ear, or a friend or someone to talk to in that particular classroom," Selin said.
In that light, it doesn't seem to be political and Selin said she thinks it's important to be able to find those safe spaces.
Third Ward representative Ixya Vega addressed the widely shared idea by conservatives and the far-right that display of the LGBTQ+ Pride flag was political.
"Supporting a child is not a political movement," Vega said. "It is simply supporting a child, which is the job of the school systems. I'm so sorry to the students who have been made to feel less than and this does not align with our city's values."
West Virginia University has its main campus in Morgantown and the student-run campus newspaper, The Daily Athenaeum, reported that in yesterday's board meeting, Dozens of people, including parents, teachers and students, spoke out with a majority expressed concern with the ban on Pride flags.
Morgantown Pride president Ash Orr in an interview with The Daily Athenaeum noted; "We are just here to kind of amplify them right now, as well as speak on their behalf because some of them do not feel safe coming forward because they fear retaliation," Orr said.
"We are here to not only help them, but we also, as a board, want to make sure that future students, faculty and staff that go through these halls are able to feel safe and represented."
In the board meeting, Orr referenced an email sent by a member of Mass Resistance, a national anti-LGBTQ+ hate group, to them and members of the Board of Education. They added that the email was shared with students, teachers and parents in Monongalia County.
The email outlined religious beliefs and online references against the LGBTQ community in general, encouraging the BOE's decision to ban the flag, according to Orr.
Orr said the email is an example of the platform that is given to "hate speech" and "hate crimes" by making it acceptable to say that the pride flag, a symbol for the community, is political.
"It's the kids, the faculty and the staff who are inundated with this harassment and hatred every day in an environment where they're supposed to be feeling safe," they said. "That's what scares me."
Thank y'all for showing up and speaking out at tonight's BOE meeting on behalf Queer students, faculty, staff, and community members of Morgantown. To the students who have entrusted myself and other members of Pride, y'all are absolute rockstars and I am so proud of you! pic.twitter.com/gyHkMrjOup

— ash.in.wv (they/he)🏳️‍⚧️ (@ash_in_wv) September 28, 2022
Speaker after speaker reinforced the fact that the Pride flag was symbolic of the LGBTQ+ community and not a pollical statement or gesture. However at the end of the meeting according to The Daily Athenaeum, schools superintendent Eddie Campbell reinforced the decision, supporting himself with statements from legal advisors. He said removing the pride flags from classrooms falls in line with the BOE policy that states "non-school related activities, including political activities, do contribute to a positive learning climate and may be disruptive, divisive and distracting."
On Wednesday LGBTQ+ students, allies, and some faculty members walked out in protest:
Easily 250-300 students and faculty walking out in opposition of the Pride flag ban in Mon County, WV schools. These folks are absolutely incredible! pic.twitter.com/xq1QCoZWKk

— ash.in.wv (they/he)🏳️‍⚧️ (@ash_in_wv) September 28, 2022
HS Students in Virginia stage massive walk-outs over Trans policy
The student-led Virginia-based Pride Liberation Project organizing mass walkouts and rallies in more than 90 schools across the state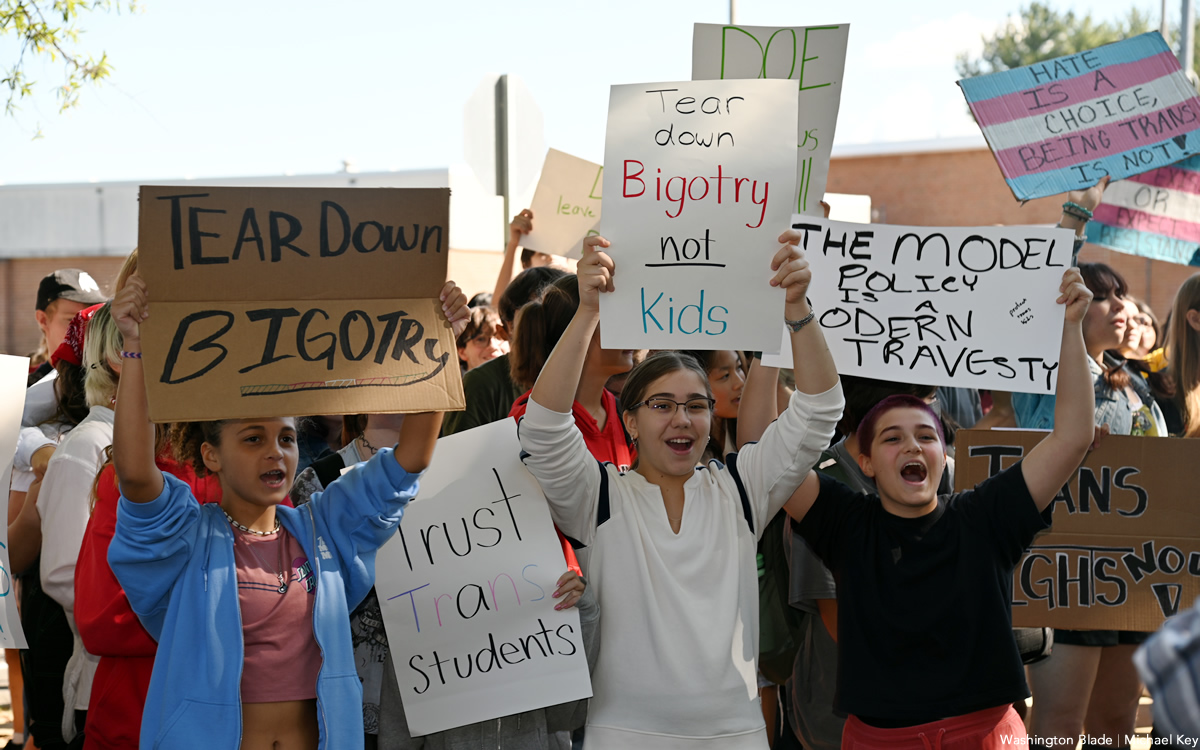 FAIRFAX COUNTY – Thousands of students in schools across Virginia participated in walkouts and rallies on Tuesday to oppose the revised "model policies" on transgender students released by the Virginia Department of Education.
VDOE policy revisions were released on Sept. 16 and differ substantially from the policies passed into law in 2020.
The original policies on the treatment of trans students were intended to protect LGBTQ students; but the revised "model policies" have been criticized by activists, educators and legislators for mandating students use school facilities for the sex they were assigned at birth and bars students from changing their names and pronouns without parental permission. Further, the policies direct teachers and staff not to conceal a student's gender identity from parents, even when a student asks to keep that information private.
The student-led Virginia-based Pride Liberation Project responded to these policy changes by organizing mass walkouts and rallies in more than 90 schools from Alexandria to Williamsburg.
"These proposed guidelines are essentially taking that cornerstone and using it to undermine our rights. If these guidelines are implemented, it will be the single biggest loss for queer rights in Virginia in years," Natasha Sanghvi, a student organizer with the Pride Liberation Project, said in a statement.
Openly gay Virginia state Sen. Adam Ebbin (D-Alexandria) in a statement said "these new model policies, which are in flagrant violation of Virginia law, will do serious harm to transgender students. They are not based in science or compassion and will lead to students being outed before they are ready, increased bullying and harassment of marginalized youth, and will require students to jump through legal hoops just to be referred to with their proper name."
Ebbin joined several hundred students at West Potomac High School in Alexandria in a rally opposing the model policies proposed by Republican Gov. Glenn Youngkin.
Incredible show of opposition to Gov Youngkin's cruel anti-trans student proposal at 80-90 student walkouts across the state! Especially proud of thousands of West Potomac HS students for their outspoken [email protected] @TheWPWire #AllStudentsMatter @EqualityVA pic.twitter.com/HAgZGd8Yr4

— Adam Ebbin (@AdamEbbin) September 27, 2022
"The new policy drafts are only going to do more harm to trans students who are already at risk for being outed, harassed and harmed," Jules Lombardi, a Fairfax County high school senior, told the Washington Blade. "These drafts will take schools, which are supposed to be safe environments for students, and make them spaces where students have to hide themselves for fear of their parents finding out about their identities."
"This isn't a matter of 'parental rights,' it's a matter of human rights and we deserve to be treated with the same respect as cis students," Lombardi added.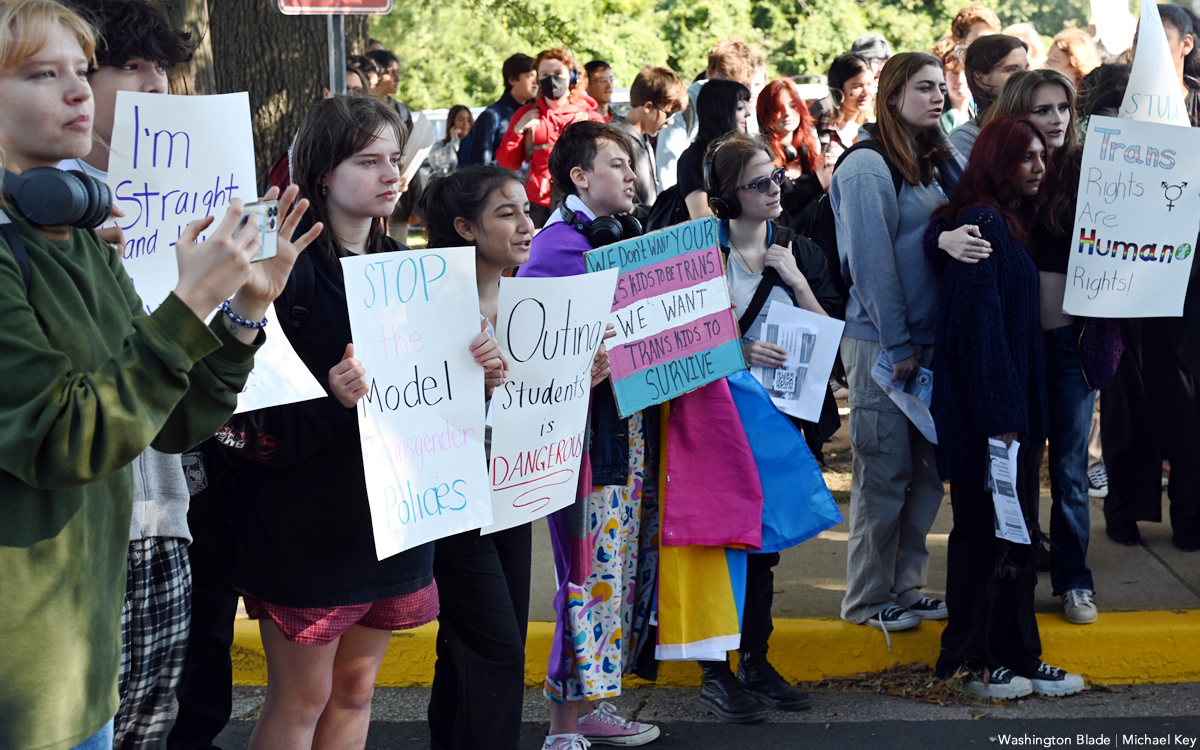 Andrea-Grace Mukuna, a senior at John R. Lewis High School in Springfield, told the Blade that "gender affirmation matters. Something so easily given to cisgender people is a right that our trans and gender non conforming youth deserve. I am walking out because schools will no longer be a safe place for queer students to be in if these policies get passed."
"Requirements for teachers to refer to students by their birth name and pronouns aligning with their sex, rather than trusting our students to know themselves and who they are best, reinforces the idea that we as students have no power, no control and no knowledge over anything in our lives. Gender queer youth exist, and no policy can change that," Mukuna said.
Mukuna continued, "making an attempt at denying them their ability to be who they are is a malicious attack on vulnerable students that could cause deathly harm."
"I walk out for my queer community — there is no erasing us," Mukuna said.
Students walk out at McLean High protesting Va. Gov. Youngkin's anti-LGBTQ student policies. @WashBlade pic.twitter.com/6SZtj4C82p

— Michael Patrick Key (@MichaelKeyWB) September 27, 2022
Several hundred students walked out of McLean High School. The walkout was lead by members of the school's GSA and organizers from the Pride Liberation Project including McLean High School senior Casey Calabia.
Calibia asked the crowd, "Do we want Gov. Youngkin to understand that this is not what Virginia looks like?"
The crowd roared, "yes!"
"Virginia stands for trans kids. Trans and queer people are a fact of humanity. We will be accepted one way or another and to see everybody here today is another step toward that change," said Calibia through a bull horn.
Calibia told the Blade in a pre-walkout statement said "to call these policies in favor of respecting trans students' rights and privacy is to call an apple an orange. The 2022 Transgender Model policies, even as a draft, have begun to actively hurt my community's mental health."
"Instead of focusing on academics and our future, we have to sit in class and wonder if we will be safe in school," Calibia concluded. "To not only take away the 2021 policies, a cornerstone in LGBTQIA+ rights for Virginia, but to mock them with these replacements, is a devastating blow to myself, trans students, queer students, and the whole of Virginia's public school student body. How can we be safe, if we can be taken out of school-provided counseling, maliciously misgendered, and denied opportunities given to other students simply because of our gender? Accepting queer students in class does not indoctrinate or brainwash kids. It tells queer students like me that it is okay and safe to be ourselves in school."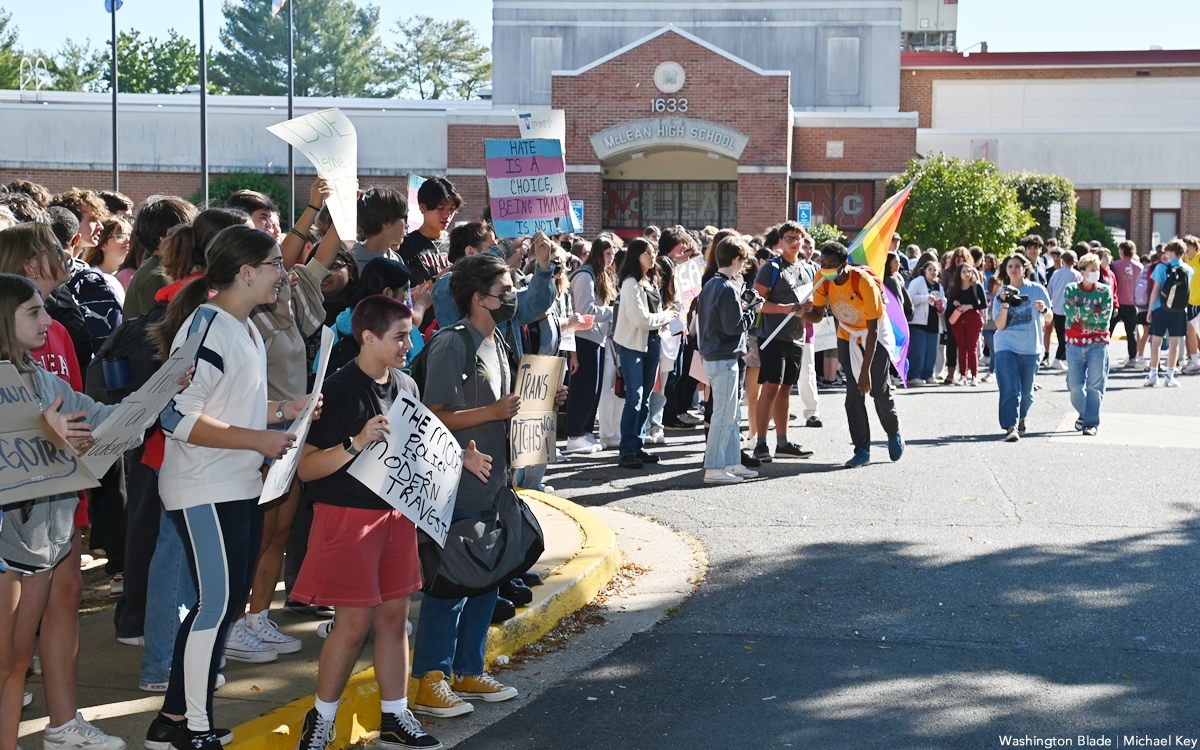 The student protests in Virginia have made national news.
"This is a president who supports the LGBTQI+ community and has been supporting that community for some time now as a vice president, as senator, and certainly as president now," said White House Press Secretary Karine Jean-Pierre in response to a question about the protests during her daily press briefing. "And he . . . always is proud to speak out against the mistreatment of that community … We believe and he believes transgender youth should be allowed to be able to go to school freely, to be able to express themselves freely, to be able to have the protections that they need to be who they are."
"When it comes to this community, he is a partner, and he is a strong ally, as well as the vice president," Jean-Pierre stated.
Walkouts and rallies were held at middle and high schools in Arlington, Bedford, Buchanan, Chesterfield, Culpeper, Fairfax, Fauquier, Frederick, Henrico, James City, Loudoun, Louisa, Montgomery, Powhatan, Prince George's, Prince William, Spotsylvania, Stafford, Warren and York Counties as well as in the cities of Chesapeake, Newport News, Portsmouth, Richmond, Williamsburg and Winchester.
Students are walking out of Henrico High School in protest of the Youngkin administration's new guidelines for the treatment of transgender students in schools. pic.twitter.com/1GCAMQLNhv

— Anna Bryson (@AnnaBryson18) September 27, 2022
"Every parent wants Virginia's laws to ensure children's safety, freedom, and to encourage a vibrant and engaging learning experience. But the Virginia Department of Education is rejecting those shared values by advancing policies that will target LGBTQ kids for harassment and mistreatment simply because of who they are," said Ebbin.
Tens of thousands of students walked out of Virginia's schools today to say Queer students belong in our school systems.

Our demand is simple: revoke the draft guidelines.

It's time we let everyone, including students, have a voice in our education – not just a vocal minority. pic.twitter.com/ZRNPmsdqvb

— Pride Liberation Project (@PrideLiberation) September 27, 2022