The CDC's eviction moratorium ending at midnight Saturday stoking fears
CDC's eviction ban expires at midnight tonight, millions of primarily lower income Americans are facing losing their homes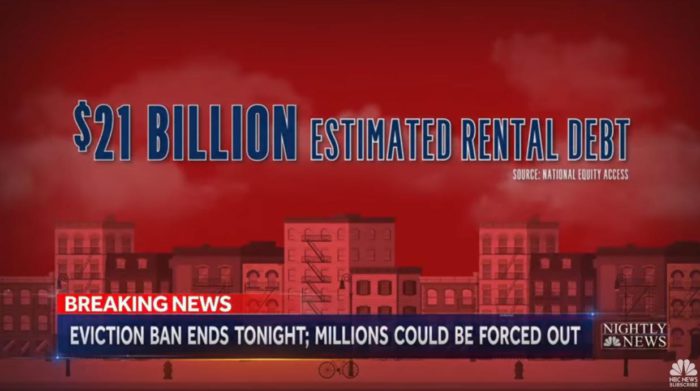 LOS ANGELES – As the U.S. Centers for Disease Control and Prevention, (CDC) eviction ban expires at midnight tonight, millions of primarily lower income Americans are facing losing their homes. Hopes of a federal extension approved by Congress failed this week and now lawmakers are on a six-week recess.
On Thursday, President Joe Biden announced that he would let the current CDC eviction moratorium expire instead of challenging the June U.S. Supreme Court ruling that extended the deadline to tonight. The high court ruled to extend moratoriums to the end of July but made it clear it would block any further extensions unless there was specific congressional authorization.
A White House official said that President Biden would have liked to extend the federal eviction moratorium because of the spread of the delta variant of the coronavirus which is highly contagious. However, the official conceded there were also concerns that challenging the high court may lead to a ruling that potentially could restrict the Biden administration's ability to take unilateral actions in future public health crises.
On Friday, Missouri Democratic Representative Cori Bush angrily denounced House colleagues for adjourning for the August recess without passing an extension of the CDC eviction moratorium.
"The House is at recess. People are on vacations. How are we on vacation when we have millions of people who could start to be evicted tonight?" Bush told CNN's Jessica Dean. "There are people already receiving and have received pay or vacate notices that will have them out on tomorrow. People are already in a position where they need help, our most vulnerable, our most marginalized, those who are in need," she said, adding, "How can we go vacation? No, we need to come back here."
The CDC's eviction ban was intended to prevent further spread of the coronavirus by people put out on the streets and into shelters. Congress had approved nearly $47 billion in federal housing aid to the states during the pandemic, but that funding has been slow to make it into the hands of renters and landlords owed payments. According to persons knowledgeable of the assistance system structure, one of the reasons for the delays are over complicated administrative requirements for renters seeking help.
The President had pleaded with local governments to "take all possible steps" to immediately disburse the funds. "There can be no excuse for any state or locality not accelerating funds to landlords and tenants that have been hurt during this pandemic," he said in a statement released late Friday.
While the Senate was in a rare Saturday work session on the president's infrastructure package during a floor speech Democratic Massachusetts Senator Elizabeth Warren stated, "We are only hours away from a fully preventable housing crisis. We have the tools, and we have the funding. What we need is the time."
The President's apparent action angered many lawmakers in his own party on Capitol Hill some who expressed anger furious that he expected Congress to provide a last-minute solution to protect renters that they were unable to deliver.
Representative Maxine Waters, (D-Calif.), Chair of the House Financial Services Committee, said Saturday on CNN: "We thought that the White House was in charge." Waters quickly produced a draft of a bill that would require the CDC to continue the ban through Dec. 31. At a hastily arranged hearing Friday morning to consider the bill she urged her colleagues to act, Stars and Stripes reported.
House Speaker Nancy Pelosi implored colleagues to pass Waters' bill extending the deadline, calling it a "moral imperative," to protect renters and also the landlords who are owed compensation. Landlords are opposed to extending the CDC's eviction moratorium and are also urging local and state governments to speed up disbursement of the funding designed to hep renters from losing their homes and landlords to meet their obligations.
When House Democrats failed to garner support for Waters' legislative efforts, they then tried to simply approve an extension by consent, without a formal vote, but House Republicans objected.
According to the Department of Housing and Urban Development, as of March of this year, 6.4 million American households were behind on their rent and as of July 5, the Census Bureau's Household Pulse Survey showed that in the next two months approximately 3.6 million Americans will face immediate eviction proceedings.
The Associated Press reported Saturday that some places are likely to see spikes in evictions starting Monday, while other jurisdictions will see an increase in court filings that will lead to evictions over several months.
The Biden administration is trying to keep renters in place through other means. It released more than $1.5 billion in rental assistance in June, which helped nearly 300,000 households.
The departments of Housing and Urban Development, Agriculture and Veterans Affairs extended their foreclosure-related eviction moratoriums through the end of September on households living in federally insured, single-family homes late Friday, after the president had asked them to do so.
In Los Angeles, the threat of a spate of evictions will greatly exacerbate the greater LA region's homelessness crisis. This past week in a 13-2 vote Wednesday, the Los Angeles City Council voted to stop people from camping in public spaces including the areas around parks, schools, homeless shelters, bridges and overpasses, and other similar structures.
A spokesperson for Los Angeles Mayor Eric Garcetti said that he will sign the ordinance. Once signed, the measure will go into effect 30 days later. Opponents of this ordinance are decrying it as another effort to criminalise the homeless population.
Homeless and civil rights activist Eddie Cruz told KTLA, "this ordinance is targeting a specific group of people in the unhoused community. We believe that this is an irresponsible attack from the City Council and an irresponsible way to deal with the homelessness crisis that is occurring in Los Angeles," Cruz said.
In a new poll released last week conducted by Inside California Politics and Emerson College of more than 1,000 registered voters, half rated Governor Gavin Newsom's response to the homelessness crisis in California as 'poor.'
Newsom's low marks comes after he signed the largest funding and reform package for housing and homelessness in California history as part of the $100 billion California Comeback Plan. The package includes $10.3 billion for affordable housing and $12 billion over two years towards tackling the homelessness crisis including $5.8 billion to add 42,000 new housing units through the states' Project Homekey .
Another $3 billion of this investment is dedicated to housing for people with the most acute behavioral and physical health needs.
However, say activists, there is no sense of urgency in assisting people navigate through what most people see as an overly complicated application process matched with tens of thousands who will be immediately impacted and without a time cushion to work through the assistance process once the moratorium is lifted.
Eviction Moratorium Ending
RELATED: House Democrats' appeal to extend eviction moratorium ends in vain
Indiana GSA sues school district that banned Pride flags over another ban
"The treatment aimed at PHGSA by administrators is unwarranted- these students must be treated in the same manner all others are treated"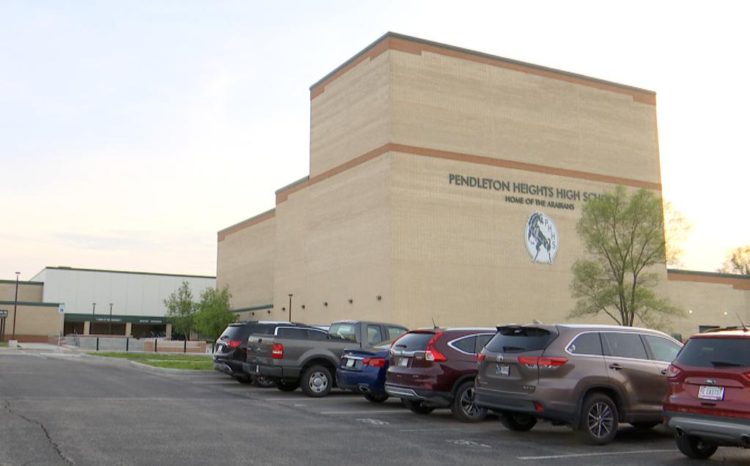 INDIANAPOLIS – A student led Gay-Straight Alliance at Pendleton Heights High School in Pendleton, Indiana filed suit against their school and the South Madison Community Schools District for banning public announcements and adverts in-school for their club.
Last Spring officials in the Schools District, in this suburban community 30 miles northeast of Indianapolis, ordered faculty members at Pendleton Heights High School to remove Rainbow Pride flags from classrooms. The Schools District labeled the flags "political paraphernalia" and instructed the Spanish, French and art teachers to get the flags out of their classrooms saying the flags violate their school district's "political paraphernalia" policy.
In the suit filed last Wednesday by the American Civil Liberties Union of Indiana on behalf of the Pendleton Heights High GSA, in U.S. District Court for the Southern District of Indiana, the ACLU noted that the principal at Pendleton Heights has stated that the PHGSA cannot publicize its existence on school bulletin boards or on the school's radio station, while other curricular and non-curricular clubs at the school are able to do so. 
"This group aims to create an environment that provides support to students, during a time that otherwise might be increasingly difficult for LGBTQ students," said Kit Malone, advocacy strategist at ACLU of Indiana. "The differential treatment aimed at Pendleton Heights Gay-Straight Alliance by administrators is unwarranted and these students must be treated in the same manner that all other student groups are treated."
Pendleton Heights Principal Connie Rickert has the authority to decide what student groups are allowed to meet at the school and which ones are deemed to be "official." Last Spring she deflected on the apparent anti-LGBTQ+ messaging the order to remove the flags sent telling one media outlet; ""Teachers are legally obligated to maintain viewpoint neutrality during their official duties to ensure all students can focus on learning and we can maintain educational activities and school operations," she said. "Our counselors are trained to respond to any student who desires support."
While she has allowed the GSA club to meet, her banning announcements and notifications for the GSA runs contrary to her statements last Spring that that her school prides itself on creating a welcoming environment for all.
"Students at Pendleton Heights High School may participate in non-curricular clubs recognized by the school," said Ken Falk, ACLU of Indiana legal director. "By creating additional hurdles for Pendleton Heights Gay-Straight Alliance such as censoring the group's promotions and prohibiting fundraising, the school is infringing on these students' rights."
The South Madison Community Schools District has declined comment.
Alarming numbers of Texas Trans kids in crisis over litany of anti-Trans bills
"Under the guise of protecting children- Texas legislators are directly harming thousands of transgender & nonbinary youth"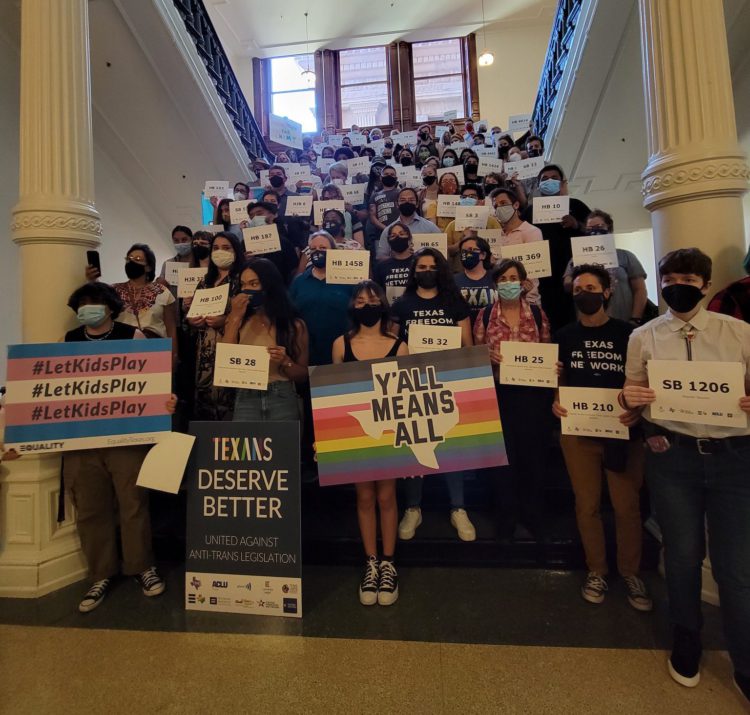 NEW YORK – The Trevor Project received nearly 4,000 crisis contacts from transgender and nonbinary youth in Texas in 2021, with many directly stating that they are feeling stressed and considering suicide due to anti-trans laws being debated in their state.
This new data comes during a year when Texas lawmakers have proposed nearly 70 anti-LGBTQ bills, including more than 40 bills that specifically target transgender and nonbinary youth — far more than any other state.
The Texas State Senate passed its anti-trans sports ban SB3 this week, and the companion bill HB10 is now moving forward in the Texas House.
Republican Texas Governor Abbott has prioritized SB 3 and called for a third consecutive special session of the legislature to consider this bill, which would ban transgender student-athletes from playing on sports teams consistent with their gender identity.
"The Trevor Project's crisis counselors have been hearing from transgender and nonbinary youth in Texas who are scared and worried about anti-trans laws being debated in their state — and some have even expressed suicidal thoughts. This is a crisis. We urge Texas lawmakers to consider the weight of their words and actions — and to reject HB10/SB3," said Amit Paley, CEO and Executive Director of The Trevor Project.
Between January 1 and August 30, 2021, The Trevor Project received more than 10,800 crisis contacts (calls, texts, and chats) from LGBTQ young people in Texas looking for support. More than 3,900 of those crisis contacts (36%) came from transgender or nonbinary youth.
Crisis contacts from LGBTQ young people in Texas seeking support have grown over 150% when compared to the same time period in 2020.
While this volume of crisis contacts can not be attributed to any one factor (or bill), a qualitative analysis of the crisis contacts found that:
Transgender and nonbinary youth in Texas have directly stated that they are feeling stressed, using self-harm, and considering suicide due to anti-LGBTQ laws being debated in their state.
Some transgender and nonbinary youth have expressed fear over losing access to sports that provide important acceptance in their lives.
"As a transgender young person in Texas, this new data from the Trevor Project is not surprising, but it's nonetheless harrowing and alarming to see this representation of the detrimental impact Texas Lege is having on our community — especially our kids. Lawmakers and proponents of bills like SB3 and HB10 should be alarmed by these statistics, too," Landon Richie a Trans youth activist and GenderCool Youth Leader from Houston told the Los Angeles Blade.
"Under the guise of protecting children and promoting fairness, Texas legislators are directly harming thousands of transgender and nonbinary youth, denying them the dignity, respect, and childhoods that they deserve. It's never an exaggeration to say that the passage — and merely debate — of these bills will cost lives," Richie added.
National mental health organizations like The Trevor Project and state LGBTQ equality groups including Equality Texas and Transgender Education Network of Texas (TENT) are raising concerns about the impact of such legislation on the mental health and wellbeing of transgender and nonbinary youth.
The Trevor Project's 2021 National Survey on LGBTQ Youth Mental Health found that more than half (52%) of transgender and nonbinary youth seriously considered suicide in the past year and 1 in 5 attempted suicide. Further, Trevor released a new research brief earlier this month on LGBTQ youth participation in sports, which found that a majority of LGBTQ young people (nearly 66%) do not actively participate in sports — with many citing fear of bullying and discrimination as a key factor for not participating.
If you or someone you know needs help or support, The Trevor Project's trained crisis counselors are available 24/7 at 1-866-488-7386, via chat at TheTrevorProject.org/Help, or by texting START to 678678.
2nd largest school district in Utah bans Pride & BLM flags as 'too political'
"We have to have a politically neutral classroom, and we're going to educate the students in the best possible way that we can"
FARMINGTON, Ut. – Administrators this week in the Davis School District, which is Utah's 2nd largest school district with 72,987 students, banned LGBTQ Pride and Black Lives Matter flags, saying they are 'politically charged.'
According to the Salt Lake City Tribune, Davis Schools spokesperson Chris Williams told the paper; "No flags fly in our schools except for the flag of the United States of America." Williams later walked that statement back adding a clarification that some of the Districts schools have flags from sports team or international countries which are considered "unrelated to politics."
"What we're doing is we're following state law," said Williams. "State law says that we have to have a classroom that's politically neutral."
Amanda Darrow, Director of Youth, Family, and Education at the Utah Pride Center in Salt Lake City, told multiple media outlets the school district is "politicizing the rainbow flag" which doesn't belong on a political list.
"That flag for us is so much more," said Darrow. "It is just telling us we're included in the schools, we are being seen in the schools, and we belong in these schools."
KUTV CBS2 News in Salt Lake City checked with the Utah State Board of Education. In an email, spokesman Mark Peterson said, "There is nothing in code that specifically defines a rainbow flag as a political statement so it would be up to district or charter school policies to make that determination."
The local Utah chapter of the American Civil Liberties Union also weighed in saying in a statement;
"Whether or not a school district has the legal ability to ban inclusive and supportive symbols from classrooms, it is bad policy for them to do so," the advocacy organization said in a statement. "Utah schools have an obligation to ensure that all students, regardless of their sexual orientation or gender identify, feel welcome inside a classroom. We urge school administrators and teachers to adopt policies that make all students feel safe and included."
Williams insisted the policy is not meant to exclude anyone and that all students are loved and welcomed – they just want to keep politics out of school he told the Tribune and KUTV.
"We have to have a politically neutral classroom, and we're going to educate the students in the best possible way that we can," said Williams.
A Utah based veteran freelance journalist, writer, editor, and food photographer weighed in on Twitter highlighting the negative impact of the Davis Schools decision on its LGBTQ youth.
Davis County school district has banned BLM & pride flags and other symbols saying they are politically charged.

This is why the number 1 killer of Utah kids is suicide, especially among LGBTQ youth. Nearly 52% say they have frequent suicidal ideation.https://t.co/twSZwWvWVl

— Kaz Weida (@kazweida) September 21, 2021
Davis County School District bans LGTBQ and BLM flags as 'too political'