The CDC's eviction moratorium ending at midnight Saturday stoking fears
CDC's eviction ban expires at midnight tonight, millions of primarily lower income Americans are facing losing their homes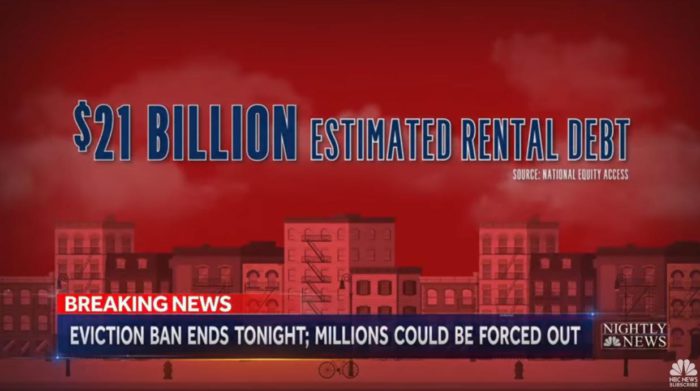 LOS ANGELES – As the U.S. Centers for Disease Control and Prevention, (CDC) eviction ban expires at midnight tonight, millions of primarily lower income Americans are facing losing their homes. Hopes of a federal extension approved by Congress failed this week and now lawmakers are on a six-week recess.
On Thursday, President Joe Biden announced that he would let the current CDC eviction moratorium expire instead of challenging the June U.S. Supreme Court ruling that extended the deadline to tonight. The high court ruled to extend moratoriums to the end of July but made it clear it would block any further extensions unless there was specific congressional authorization.
A White House official said that President Biden would have liked to extend the federal eviction moratorium because of the spread of the delta variant of the coronavirus which is highly contagious. However, the official conceded there were also concerns that challenging the high court may lead to a ruling that potentially could restrict the Biden administration's ability to take unilateral actions in future public health crises.
On Friday, Missouri Democratic Representative Cori Bush angrily denounced House colleagues for adjourning for the August recess without passing an extension of the CDC eviction moratorium.
"The House is at recess. People are on vacations. How are we on vacation when we have millions of people who could start to be evicted tonight?" Bush told CNN's Jessica Dean. "There are people already receiving and have received pay or vacate notices that will have them out on tomorrow. People are already in a position where they need help, our most vulnerable, our most marginalized, those who are in need," she said, adding, "How can we go vacation? No, we need to come back here."
The CDC's eviction ban was intended to prevent further spread of the coronavirus by people put out on the streets and into shelters. Congress had approved nearly $47 billion in federal housing aid to the states during the pandemic, but that funding has been slow to make it into the hands of renters and landlords owed payments. According to persons knowledgeable of the assistance system structure, one of the reasons for the delays are over complicated administrative requirements for renters seeking help.
The President had pleaded with local governments to "take all possible steps" to immediately disburse the funds. "There can be no excuse for any state or locality not accelerating funds to landlords and tenants that have been hurt during this pandemic," he said in a statement released late Friday.
While the Senate was in a rare Saturday work session on the president's infrastructure package during a floor speech Democratic Massachusetts Senator Elizabeth Warren stated, "We are only hours away from a fully preventable housing crisis. We have the tools, and we have the funding. What we need is the time."
The President's apparent action angered many lawmakers in his own party on Capitol Hill some who expressed anger furious that he expected Congress to provide a last-minute solution to protect renters that they were unable to deliver.
Representative Maxine Waters, (D-Calif.), Chair of the House Financial Services Committee, said Saturday on CNN: "We thought that the White House was in charge." Waters quickly produced a draft of a bill that would require the CDC to continue the ban through Dec. 31. At a hastily arranged hearing Friday morning to consider the bill she urged her colleagues to act, Stars and Stripes reported.
House Speaker Nancy Pelosi implored colleagues to pass Waters' bill extending the deadline, calling it a "moral imperative," to protect renters and also the landlords who are owed compensation. Landlords are opposed to extending the CDC's eviction moratorium and are also urging local and state governments to speed up disbursement of the funding designed to hep renters from losing their homes and landlords to meet their obligations.
When House Democrats failed to garner support for Waters' legislative efforts, they then tried to simply approve an extension by consent, without a formal vote, but House Republicans objected.
According to the Department of Housing and Urban Development, as of March of this year, 6.4 million American households were behind on their rent and as of July 5, the Census Bureau's Household Pulse Survey showed that in the next two months approximately 3.6 million Americans will face immediate eviction proceedings.
The Associated Press reported Saturday that some places are likely to see spikes in evictions starting Monday, while other jurisdictions will see an increase in court filings that will lead to evictions over several months.
The Biden administration is trying to keep renters in place through other means. It released more than $1.5 billion in rental assistance in June, which helped nearly 300,000 households.
The departments of Housing and Urban Development, Agriculture and Veterans Affairs extended their foreclosure-related eviction moratoriums through the end of September on households living in federally insured, single-family homes late Friday, after the president had asked them to do so.
In Los Angeles, the threat of a spate of evictions will greatly exacerbate the greater LA region's homelessness crisis. This past week in a 13-2 vote Wednesday, the Los Angeles City Council voted to stop people from camping in public spaces including the areas around parks, schools, homeless shelters, bridges and overpasses, and other similar structures.
A spokesperson for Los Angeles Mayor Eric Garcetti said that he will sign the ordinance. Once signed, the measure will go into effect 30 days later. Opponents of this ordinance are decrying it as another effort to criminalise the homeless population.
Homeless and civil rights activist Eddie Cruz told KTLA, "this ordinance is targeting a specific group of people in the unhoused community. We believe that this is an irresponsible attack from the City Council and an irresponsible way to deal with the homelessness crisis that is occurring in Los Angeles," Cruz said.
In a new poll released last week conducted by Inside California Politics and Emerson College of more than 1,000 registered voters, half rated Governor Gavin Newsom's response to the homelessness crisis in California as 'poor.'
Newsom's low marks comes after he signed the largest funding and reform package for housing and homelessness in California history as part of the $100 billion California Comeback Plan. The package includes $10.3 billion for affordable housing and $12 billion over two years towards tackling the homelessness crisis including $5.8 billion to add 42,000 new housing units through the states' Project Homekey .
Another $3 billion of this investment is dedicated to housing for people with the most acute behavioral and physical health needs.
However, say activists, there is no sense of urgency in assisting people navigate through what most people see as an overly complicated application process matched with tens of thousands who will be immediately impacted and without a time cushion to work through the assistance process once the moratorium is lifted.
Eviction Moratorium Ending
RELATED: House Democrats' appeal to extend eviction moratorium ends in vain
DeSantis targets Orlando non-profit over holiday drag show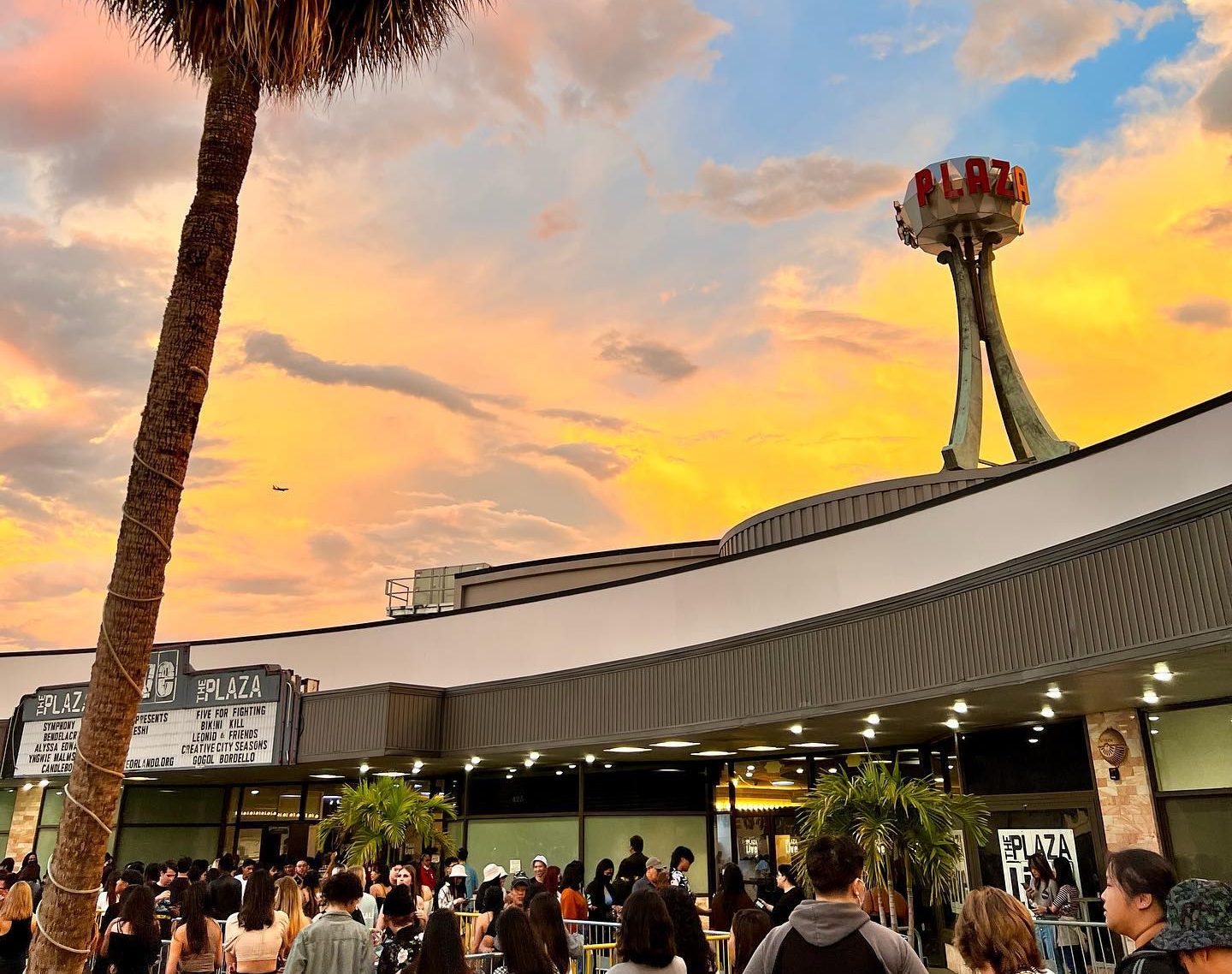 ORLANDO – Florida's Republican Governor Ron DeSantis escalated his war on the state's LGBTQ+ community ordering a state agency to launch a complaint against a Orlando non-profit over a drag holiday event it hosted in which children under age 18 were allowed to attend.
The state's Division of Alcoholic Beverages and Tobacco under the Department of Business and Professional Regulation filed the complaint on Friday against the Orlando Philharmonic Plaza Foundation alleging the foundation violated Florida law in allowing for a person to "commit lewd or lascivious exhibition" in the presence of an individual who is less than 16 years old. 
"A Drag Queen Christmas" was hosted by the foundation on Dec. 28 and during the performance sold alcoholic drinks at its Plaza Live venue. In the complaint, the agency states that the foundation used "Christmas-themed promotional materials" that did not give advance notice of the "sexually explicit nature" of the show's contents.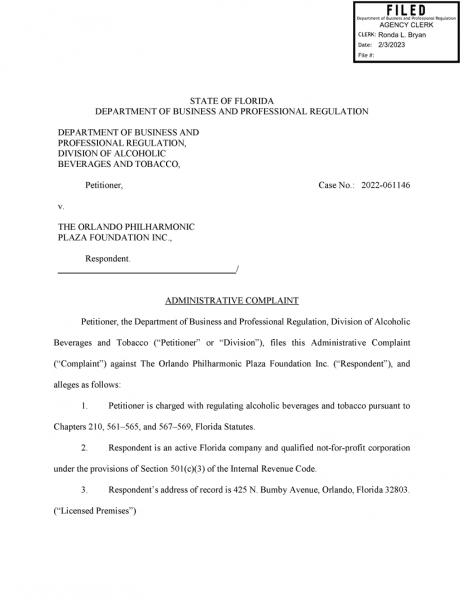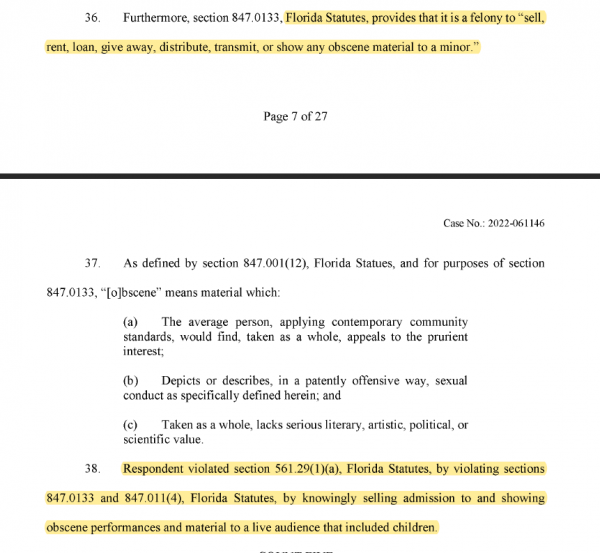 The complaint also states that the division sent the foundation a letter ahead of the show saying "sexually explicit drag show performances constitute public nuisances, lewd activity, and disorderly conduct when minors are in attendance" and the foundation's license could be subject to penalties if it did not ensure minors could not attend the event.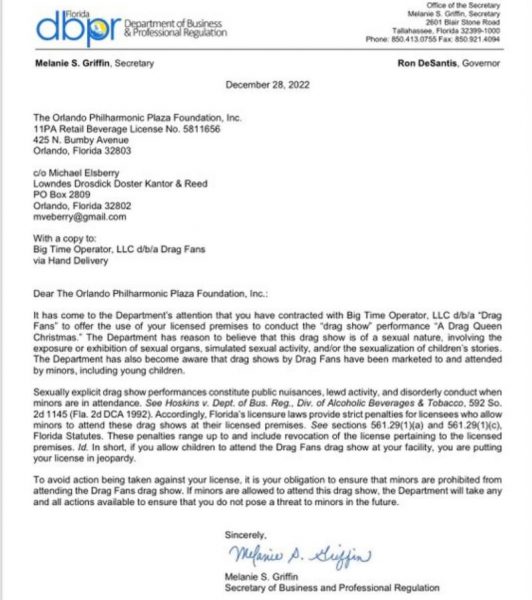 In its capacity as a regulator of alcohol, the division attempting to revoke the foundation's liquor license for six alleged counts of violating Florida statutes. 
When asked about the move by the DeSantis administration targeting the non-profit, Bryan D. Griffin, the spokesman for DeSantis said "Governor DeSantis stands to protect the innocence of children, and the governor always follows through when he says he will do something."
Orlando Weekly writer Matthew Moyer noted that The Plaza Live — besides serving as the performing home base of the Orlando Philharmonic — hosts a robust slate of touring bands, comedians, YouTubers and, yes, drag performers.
State Rep. Anna Eskamani released a statement to Orlando Weekly late Friday afternoon, condemning the state's actions in no uncertain terms. "Governor Ron DeSantis' culture wars are destroying people's jobs and livelihoods. The very notion of shutting down a small business over a drag show is insane and extreme," said Eskamani. "In the United States we do not allow the government to determine what we can read, see or hear or who we can gather with. Targeting drag performances limits everyone's freedom of speech and is all a part of the Governor's sick anti-LGBTQ+ agenda."
This is about dehumanizing LGBTQ people and targeting them for retribution by the state by portraying LGBTQ people as abberant and deviant. It's absolutely disgusting and should not be tolerated.

— Alejandra Caraballo (@Esqueer_) February 3, 2023
DeSantis previously filed a complaint against a popular restaurant and pub in the Miami's Wynwood neighborhood in July, alleging that it violated a public decency law in allowing children to attend a drag show.
The R house, is a unique casual fine dining establishment and lounge with an integrated gallery right in the heart of the vibrant Miami-Wynwood arts district named for Rocco Carulli, the executive chef as well as creator of the restaurant. The R House identifies itself on its Facebook page as "the proud home of South Florida's most popular weekend drag brunches! Make some time to check us out and experience R House."
The complaint was filed by the Department of Business and Professional Regulation on asking that the R House restaurant is a declared a public nuisance and has its liquor license revoked. 
According to the South Florida Sun Sentinel, the complaint was issued after a video of a recent performance at the bar's drag brunch went viral. A topless drag queen wearing lingerie stuffed with money can be seen in the video attempting to dance with a young girl, who the DPBR estimates is "between three and five years old." Twitter account "Libs of Tik Tok" originally found the footage on Tik Tok, posted by a user who wrote, "Children belong at drag shows!!!! Children deserve to see fun & expression & freedom."
The department cited multiple incidents of inappropriate drag performances with kids in the audience, including one in which a child "between the ages of ten and twelve" was "seen recoiling and turning away in her seat as a Brunch performer climbed on the back of the child's bench, squatted, and gyrated a couple of feet above the child's head."