The CDC's eviction moratorium ending at midnight Saturday stoking fears
CDC's eviction ban expires at midnight tonight, millions of primarily lower income Americans are facing losing their homes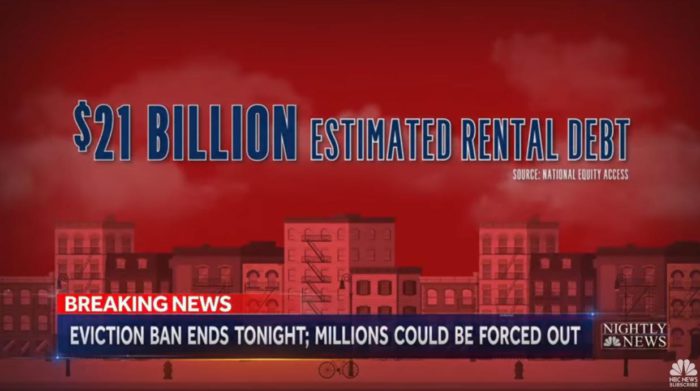 LOS ANGELES – As the U.S. Centers for Disease Control and Prevention, (CDC) eviction ban expires at midnight tonight, millions of primarily lower income Americans are facing losing their homes. Hopes of a federal extension approved by Congress failed this week and now lawmakers are on a six-week recess.
On Thursday, President Joe Biden announced that he would let the current CDC eviction moratorium expire instead of challenging the June U.S. Supreme Court ruling that extended the deadline to tonight. The high court ruled to extend moratoriums to the end of July but made it clear it would block any further extensions unless there was specific congressional authorization.
A White House official said that President Biden would have liked to extend the federal eviction moratorium because of the spread of the delta variant of the coronavirus which is highly contagious. However, the official conceded there were also concerns that challenging the high court may lead to a ruling that potentially could restrict the Biden administration's ability to take unilateral actions in future public health crises.
On Friday, Missouri Democratic Representative Cori Bush angrily denounced House colleagues for adjourning for the August recess without passing an extension of the CDC eviction moratorium.
"The House is at recess. People are on vacations. How are we on vacation when we have millions of people who could start to be evicted tonight?" Bush told CNN's Jessica Dean. "There are people already receiving and have received pay or vacate notices that will have them out on tomorrow. People are already in a position where they need help, our most vulnerable, our most marginalized, those who are in need," she said, adding, "How can we go vacation? No, we need to come back here."
The CDC's eviction ban was intended to prevent further spread of the coronavirus by people put out on the streets and into shelters. Congress had approved nearly $47 billion in federal housing aid to the states during the pandemic, but that funding has been slow to make it into the hands of renters and landlords owed payments. According to persons knowledgeable of the assistance system structure, one of the reasons for the delays are over complicated administrative requirements for renters seeking help.
The President had pleaded with local governments to "take all possible steps" to immediately disburse the funds. "There can be no excuse for any state or locality not accelerating funds to landlords and tenants that have been hurt during this pandemic," he said in a statement released late Friday.
While the Senate was in a rare Saturday work session on the president's infrastructure package during a floor speech Democratic Massachusetts Senator Elizabeth Warren stated, "We are only hours away from a fully preventable housing crisis. We have the tools, and we have the funding. What we need is the time."
The President's apparent action angered many lawmakers in his own party on Capitol Hill some who expressed anger furious that he expected Congress to provide a last-minute solution to protect renters that they were unable to deliver.
Representative Maxine Waters, (D-Calif.), Chair of the House Financial Services Committee, said Saturday on CNN: "We thought that the White House was in charge." Waters quickly produced a draft of a bill that would require the CDC to continue the ban through Dec. 31. At a hastily arranged hearing Friday morning to consider the bill she urged her colleagues to act, Stars and Stripes reported.
House Speaker Nancy Pelosi implored colleagues to pass Waters' bill extending the deadline, calling it a "moral imperative," to protect renters and also the landlords who are owed compensation. Landlords are opposed to extending the CDC's eviction moratorium and are also urging local and state governments to speed up disbursement of the funding designed to hep renters from losing their homes and landlords to meet their obligations.
When House Democrats failed to garner support for Waters' legislative efforts, they then tried to simply approve an extension by consent, without a formal vote, but House Republicans objected.
According to the Department of Housing and Urban Development, as of March of this year, 6.4 million American households were behind on their rent and as of July 5, the Census Bureau's Household Pulse Survey showed that in the next two months approximately 3.6 million Americans will face immediate eviction proceedings.
The Associated Press reported Saturday that some places are likely to see spikes in evictions starting Monday, while other jurisdictions will see an increase in court filings that will lead to evictions over several months.
The Biden administration is trying to keep renters in place through other means. It released more than $1.5 billion in rental assistance in June, which helped nearly 300,000 households.
The departments of Housing and Urban Development, Agriculture and Veterans Affairs extended their foreclosure-related eviction moratoriums through the end of September on households living in federally insured, single-family homes late Friday, after the president had asked them to do so.
In Los Angeles, the threat of a spate of evictions will greatly exacerbate the greater LA region's homelessness crisis. This past week in a 13-2 vote Wednesday, the Los Angeles City Council voted to stop people from camping in public spaces including the areas around parks, schools, homeless shelters, bridges and overpasses, and other similar structures.
A spokesperson for Los Angeles Mayor Eric Garcetti said that he will sign the ordinance. Once signed, the measure will go into effect 30 days later. Opponents of this ordinance are decrying it as another effort to criminalise the homeless population.
Homeless and civil rights activist Eddie Cruz told KTLA, "this ordinance is targeting a specific group of people in the unhoused community. We believe that this is an irresponsible attack from the City Council and an irresponsible way to deal with the homelessness crisis that is occurring in Los Angeles," Cruz said.
In a new poll released last week conducted by Inside California Politics and Emerson College of more than 1,000 registered voters, half rated Governor Gavin Newsom's response to the homelessness crisis in California as 'poor.'
Newsom's low marks comes after he signed the largest funding and reform package for housing and homelessness in California history as part of the $100 billion California Comeback Plan. The package includes $10.3 billion for affordable housing and $12 billion over two years towards tackling the homelessness crisis including $5.8 billion to add 42,000 new housing units through the states' Project Homekey .
Another $3 billion of this investment is dedicated to housing for people with the most acute behavioral and physical health needs.
However, say activists, there is no sense of urgency in assisting people navigate through what most people see as an overly complicated application process matched with tens of thousands who will be immediately impacted and without a time cushion to work through the assistance process once the moratorium is lifted.
Eviction Moratorium Ending
RELATED: House Democrats' appeal to extend eviction moratorium ends in vain
Virginia Governor silent on parents reporting teaching of LGBTQ+ topics
First executive order issued ended "use of" "critical race theory" which is not taught in VA public schools & other "divisive concepts"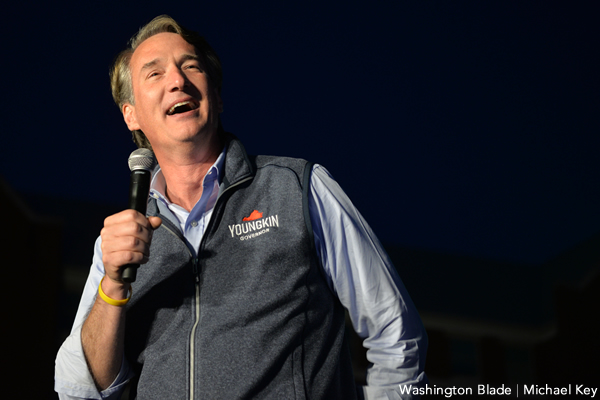 RICHMOND – A spokesperson for Virginia Gov. Glenn Youngkin has yet to clarify whether the governor is encouraging parents to report educators who are teaching LGBTQ+-specific topics.
The Washington Post reported Youngkin on Monday during an interview with John Fredericks on "Outside the Beltway with John Fredericks" referenced a tip line that parents can use to report the teaching of "divisive" subjects.
"We're asking for folks to send us reports and observations [to] help us be aware … of their child being denied their rights that parents have in Virginia, and we're going to make sure we catalogue it all," Youngkin told Fredericks, according to the Post.
Fredericks co-chaired former President Trump's 2016 campaign in Virginia.
Youngkin spokesperson Macaulay Porter on Tuesday did not respond to the Washington Blade's request for comment on the tip line.
The first executive order that Youngkin, who is a Republican, issued after he took office on Jan. 15 ended "the use of" so-called "critical race theory" (which is not taught in Virginia public schools) and other "divisive concepts" in the state's classrooms.
Youngkin during his campaign against Terry McAuliffe expressed support for Tanner Cross, a gym teacher at a Leesburg elementary school who was suspended from his job after he spoke out against Virginia Department of Education guidelines that are designed to protect transgender and non-binary students. Youngkin has also said he does not support allowing trans children to play on sports teams that are consistent with their gender identity.
Youngkin has named Elizabeth Schultz, an anti-LGBTQ+ former member of the Fairfax County School Board, to his administration.
Republicans control the House of Delegates by a 52-48 vote margin. Democrats have a 21-19 majority in the state Senate.
State Sen. Travis Hackworth (R-Tazewell County) has introduced Senate Bill 20, which would eliminate the requirement that school districts must implement the Department of Education's trans and non-binary student guidelines.
State Sen. Jennifer Kiggans (R-Virginia Beach) has put forth Senate Bill 766, which would ban Trans students from school sports teams that are consistent with their gender identity.
State Del. John Avoli (R-Stanton) has sponsored House Bill 1126, which would restrict the ability of transgender students and school board employees to use bathrooms and other facilities in public schools.
Democrats have vowed to block any anti- LGBTQ+ bill in the General Assembly.
Justice Breyer announces his retirement from high court sets up new battle
President Joe Biden told reporters that he would have "more to say later" about Justice Breyer's retirement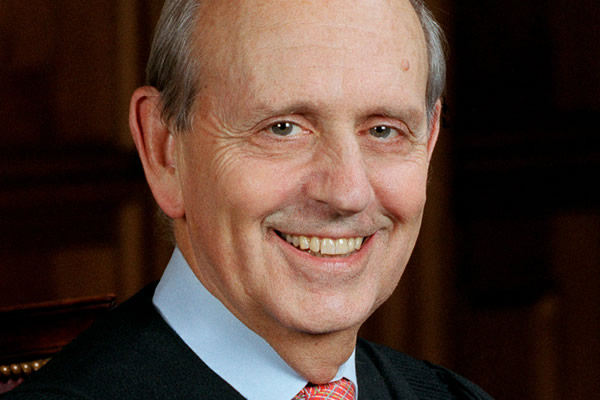 WASHINGTON – U.S. Supreme Court Associate Justice Stephen Breyer, who had joined landmark decisions from the Court in support of LGBTQ rights, announced on Wednesday he'd retire, opening up a new battle over the judiciary and the potential for President Biden to add his first nominee to the high court.
First reported by NBC News, the retirement of Breyer, appointed by former Bill Clinton and confirmed in 1994, fulfills a wish among progressives for him to step down for him to step down to ensure a replacement would be named with Biden in the White House and Democrats in control of the U.S. Senate.
President Joe Biden told reporters that he would have "more to say later" about Justice Breyer's retirement, but said that he was waiting for the justice's own statement.
"There has been no announcement from Justice Breyer — let him make whatever statement he wants to make, and I'm happy to talk about it later," the president remarked.
Pennsylvania borough revokes protections for its LGBTQ+ citizens
The Republican-majority Chambersburg Borough Council made good on its promise repealing the ordinance in the 7-3 vote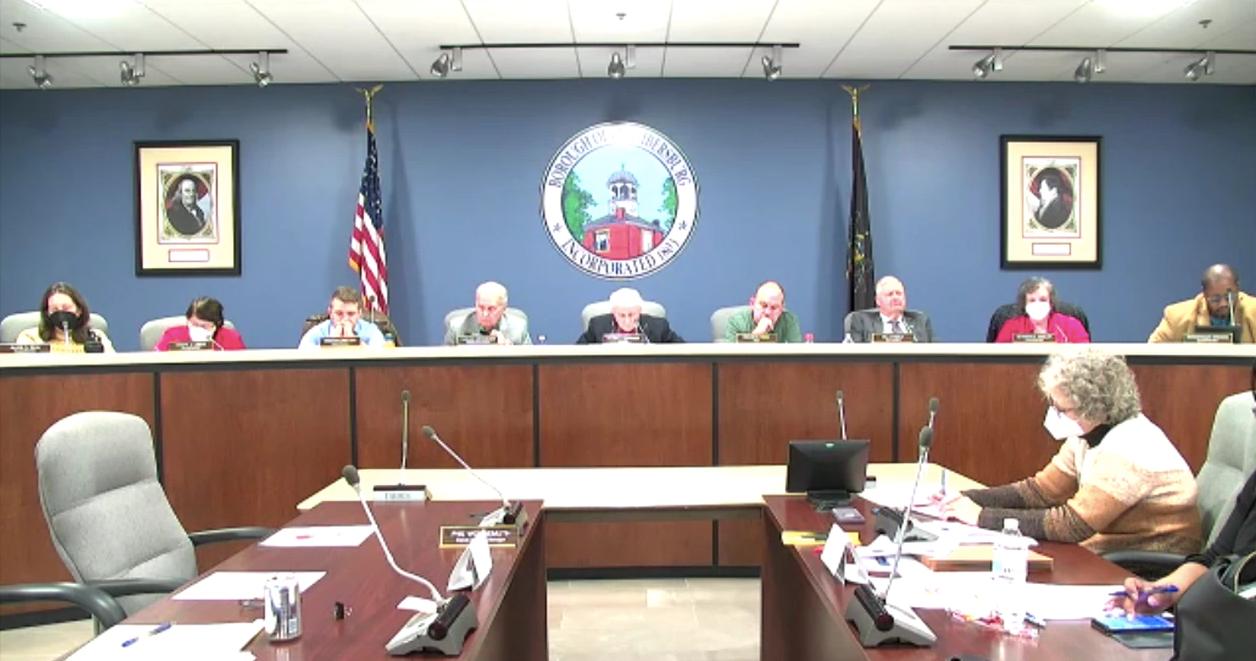 CHAMBERSBURG – The council of this central Pennsylvania borough (town) met on Monday, and voted to repeal an ordinance passed this last October that safeguards residents against discrimination based on their sexual orientation, ethnicity or gender identity.
The Republican-majority Chambersburg Borough Council made good on its promise repealing the ordinance in the 7-3 vote, citing a litany of reasons.
Opposition to the ordinance was led by newly installed borough council president Allen Coffman, a Republican.
Coffman told Penn Live prior to the vote this past week that the ordinance serves no purpose and is redundant. He points out that Pennsylvania's Human Relations Commission handles discrimination complaints from residents across the state.
"There are no penalties, no fines," he said. "There's nothing that the ordinance can make someone do. The most they can hope for is that the committee request the two parties to sit down with a counselor or mediator and talk about it. Quite frankly there is nothing that compels them to. There's no teeth in this."
"We are a very diverse community," said council vice president Bill Everly, a lifelong resident. "For that reason I don't understand why we need to have special protections for people. I think by creating special protections for people we open the door for other protections for other people. I think we need to come together and not divide us. I think this would divide us."
"I don't know of any reasons for repealing it other than a political move," said Alice Elia, a Democrat and the former Chambersburg borough council president. "This issue should not be politicized. It's an issue of justice and having equal protection for everybody in our community. It shouldn't be a political or a Democratic or Republican issue. This should be something we are all concerned about."
For more than three hours, council heard the impassioned pleas from scores of borough residents, overwhelmingly speaking out in support for the ordinance. Only a few borough residents spoke in favor of repeal, Penn Live reported.
Some visibly overcome with emotion, resident after resident implored council members to keep intact the ordinance citing a litany of personal challenges faced as members of the LGBTQ community, while others spoke about the stain on the reputation of the borough if repealed.
"It feels like we are going backwards," said Kierstin Stockum, a borough resident. "This is just protecting somebody. Why would we not want that as a community? A repeal says we not welcoming to anybody whether LGBTQ or not. It's saying we discriminate here. Why would we want to send that message?"
Dawn Abraham, a high school teacher and cosponsor of the gay-straight alliance, noted that the LGBTQ population at Chambersburg High School had grown exponentially in recent years.
"Kids are reporting being bullied, being pushed down the stairs, barked at and called multiple expletives," she said. "By pulling support for this you are showing our community that you don't support the school children in the community."
The Commonwealth of Pennsylvania is one of the 27 states in the nation that have no explicit statewide laws protecting people from discrimination on the basis of sexual orientation or gender identity in employment, housing and public accommodations.
Republican-led Chambersburg becomes first Pa. town to revoke LGBTQ inclusive law. https://t.co/Aky6mDRFnw

— Ivey DeJesus (@iveydejesus) January 25, 2022