Black gay dance icon gets luminous treatment in 'Ailey' doc
Nothing prepares you for the experience of Ailey," she says. "The emotional, spiritual, aural, and visual overwhelm the sense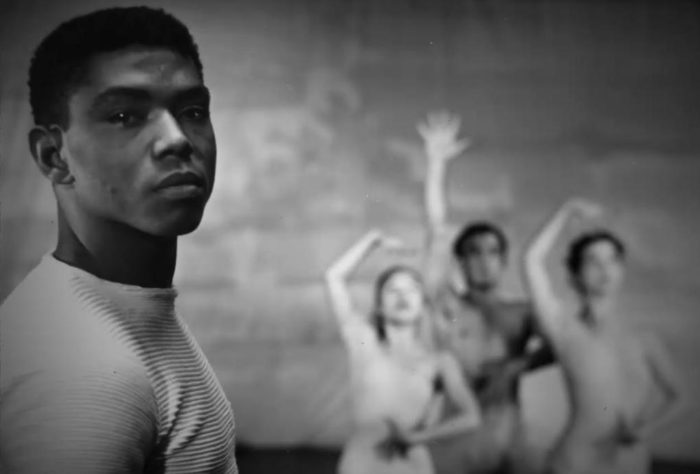 NEW YORK – When it comes to the history of dance in America, few names loom larger than that of Alvin Ailey.
A trailblazing pioneer of the art form who blended styles of modern dance, ballet, and jazz into breathtakingly theatrical presentations that explored and uplifted Black experience in American culture, his works earned him accolades and honors throughout a long career that gave him name recognition even among people with little or no interest in dance.
His choreographed masterpieces became touchstones within the medium, with many of them still among the most frequently remounted dance productions more than 30 years after his death, and the company he founded in 1969 – the Alvin Ailey American Dance Theater – remains one of the most lauded and prestigious dance organizations in the world today.
Yet despite his status as one of the most famous American choreographers of the twentieth century, there are many today, even among the aficionados of dance, who would be hard-pressed to tell you much about his life.
That's not entirely due to neglect or lack of interest, as a new documentary by filmmaker Jamila Wignot – simply titled "Ailey" – helps us to understand. Ailey was a genius who kept his private life as far out of the spotlight as possible.
As a Black gay man, he was keenly aware of his doubly marginalized status, and rather than inviting controversies that might overshadow the creations he worked tirelessly to bring into the world, he preferred to let the work itself become his public identity. He even took measures to obscure himself after death, ensuring that his passing from AIDS (in 1989, at the age of 58) would be reported as the result of a terminal blood disease.
In Wignot's dreamily eloquent film, she presents us with a portrait of a man who seemingly sublimated his entire being into the creation of his art, documenting Ailey's magnificent career with a wealth of archival footage and interviews.
Along the way, she also offers exploratory deep dives into the creation and legacy of some of his most iconic ballets, illuminating some of the themes that wove themselves into his body of work throughout his life. Finally, she follows the creative process as dancers at today's Ailey American Dance Theater work on a new production of "Lazarus," one of the late master's most renowned pieces.
In the process, she delivers the biographical facts of his life side by side with the artistic passions that drove him, and places it all in the context of the larger cultural history of late 20th Century America – as well as how Ailey's legacy continues to resonate within the changing social dynamics of our own time.
Yet throughout this feast of information, illuminating the facts and counterpointing the remembrances of those who worked at his side, Wignot also gives us Ailey's own commentary. Culled from recordings and interviews made during his lifetime, this posthumous self-narration of his own story lets us glean for ourselves what insight we may.
In retrospect and alongside the memories of his surviving companions, Ailey's own words tell us more about the man himself than he perhaps meant to do when he said them, inserting a layer of intimacy within the vast scope of the biography as it unfolds, and the film is all the richer for it.
It should come as no surprise that Wignot has painted such a reverent, yet deeply personal portrait of her subject. She's been inspired by Ailey's work – and his vision – since attending a performance of the Ailey Dance Theater during her sophomore year at Wellesley College more than two decades ago. Her admiration is evident from the way she gushes about Ailey in her director's statement about the film.

"Nothing prepares you for the experience of Ailey," she says. "The emotional, spiritual, aural, and visual overwhelm the senses… Ailey's dances—celebrations of African American beauty and history—did more than move bodies; they opened minds.
His dances were revolutionary social statements that staked a claim as powerful in his own time as in ours: Black life is central to the American story and deserves a central place in American art and on the world stage. A working-class, gay, Black man, he rose to prominence in a society that made every effort to exclude him. He transformed the world of dance and made space for those of us on the margins—space for black artists like Rennie Harris and me."
The Rennie Harris to whom Wignot refers is the founder of Rennie Harris Puremovement, a hip-hop dance theater company based in Philadelphia, who as guest choreographer of the AADT production of "Lazarus" is featured prominently in the film. He is just one of many professional dance veterans whose voices, featured throughout, seem united in singing the praises of Ailey's passion, creative power, and timeless aesthetic – and Wignot makes sure we don't have to merely take their word for it.
Like most dance documentaries – or good ones, anyway – the greatest gift of "Ailey" is the chance to see the dancers in motion. It's a film full to the brim with electrifying footage of some of Ailey's masterworks, giving us a rare opportunity to revel in the sheer visual poetry of his style. In pursuit of his ideal to capture "truth in movement," he built choreographed expressions of the Black American experience, executed with grace, strength, and unparalleled beauty.
His work celebrated that history while bearing witness to its injustice, with an emphasis on the dignity, humanity, and hope that makes it possible to look toward a transcendent future for all. It was, of course, social activism through art, though Ailey and his original dancers might not have exclusively intended it that way, and it is not an overstatement to say that it changed the world. Wignot cannily gives us the privilege of seeing just enough of it to stand as testament to its impact, and more than enough to make us want to grab the next opportunity to see the Ailey American Dance Theater perform in person.
In the meantime, you are encouraged to seek out "Ailey," which premiered in NYC on July 23 and expands to theatres nationwide on August 6, to whet your appetite. It's a documentary that succeeds far more than many others in telling a real-life story that feels authentic, and despite the carefully-guarded secrecy of its elusive subject, it presents as true and complete an impression of him as we are likely to get.
Outside of watching his work, that is.
'Cured' beautifully chronicles fight for dignity
New doc revisits APA designation of homosexuality as a sickness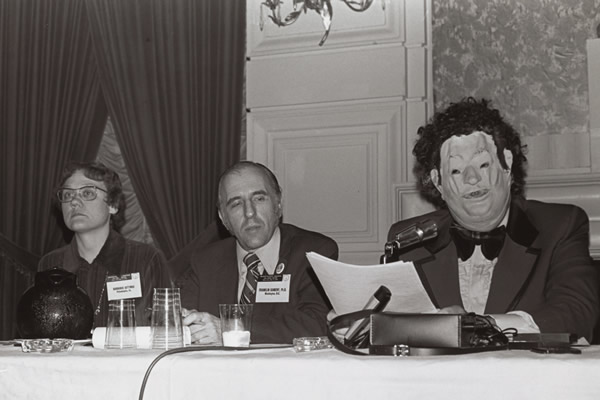 At the 1970 American Psychiatric Association convention, in front of 10,000 professional members, LGBTQ activists had a single rejoinder to decades of APA designation of homosexuality as a sickness in need of treatment: "There is no 'cure' for that which is not a disease." It marked the first direct clash with a psychiatric profession that had classified homosexuality as a mental disorder and advised everything from talk therapy to psychologically destructive shock therapy to "cure" homosexuality.
After Stonewall, gay activists concluded that the classification of homosexuality as a mental illness by the APA would hold back the advancement of the gay rights movement. To secure equality, activists knew they had to debunk the idea that they are sick.
The struggle to remove homosexuality from the APA's definition of mental illness is beautifully chronicled in the forthcoming documentary "Cured" — beautifully because the filmmakers contrast erroneous characterizations of homosexuality by mid-century psychiatrists with mid-century photographs that bore witness to gay people's actual nature.
Getting the APA to change required more than storming conferences. Gay activists, for instance, pinpointed sympathetic young psychiatrists who could act to reform the APA from within and helped them win seats on the Board of Trustees. Meanwhile, the culture was changing. In the 1970s, gay visibility was growing, which boosted the campaign to end the sickness label.
At its 1972 convention, the APA offered a platform to gay rights activists Frank Kameny and Barbara Gittings. The duo invited Dr. John Fryer to testify about what it was like to be a gay psychiatrist. Fearing damage to his reputation (he had previously lost a position for being gay), Fryer donned a mask and adopted the title H. Anonymous. Despite his cloaked persona, his testimony was, in the words of one attendee, a "game-changer."
Fryer spoke as a gay man with "real flesh and blood stand[ing] up before this organization and ask[ing] to be listened to" and evoked the great emotional toll of being forced to live in the closet — "this is the greatest loss: our honest humanity." The tide was turning but the intransigent faction needed a few more kicks. Representing a new generation of psychiatrists, Dr. Charles Silverstein would lay down the gauntlet: The APA could either continue to promote "undocumented theories that have unjustly harmed a great number of people" or accept the genuine science that being gay was no illness. At the next year's convention, in a final clash between opposing sides, Gay Activist Alliance member Ronald Gold pointed out the absurdity that a medical practice predicated on making sick people well was making "gay people sick." The APA ended its mental illness classification in 1974.
"Cured" represents a growing awareness of the history of "curing" homosexuality. Netflix recently premiered "Pray Away" about the so-called "ex-gays" who promoted conversion therapy, the destructive practice by fundamentalist Christian quacks. The film "Boy Erased" (2018) took a similar sledgehammer to conversion therapy.
Precisely because of the long-term ill-effects of stigmatizing gay consciousness, the LGBTQ community has in recent years targeted conversion therapy. Twenty states have banned conversion therapy for minors, and an additional five states have enacted partial bans.
Although thoroughly discredited by medical professionals, including the APA, conversion therapy continues to harm thousands of youths each year. While "Cured" is instructive for LGBTQ activists combatting conversion therapy nationwide, it has an even more important lesson.
"There isn't anything wrong with them, so there can't be anything wrong with me," is how one gay man remembers feeling upon entering a gay bar, witnessing convivial gay men and realizing it was time to ditch his homophobic shrink and embrace himself.
It struck a deep chord with me because I had a similar epiphany as a young man. Feeling my way around my sexuality as a grad student in New York, it all finally came together one night at a Greenwich bar as I sat across from two gay men and chatted about traveling and career ambitions. I am doing nothing wrong, I thought. It made no sense to be afraid of living my life as a gay man.
Our determination to live openly remains a potent inspiration for those still struggling with acceptance, and the strongest rebuke of those who would seek to erase us.
"Cured" premieres on PBS on Oct. 11.
A bisexual coming-of-age tale with heart
'Things We Couldn't Say' offers pleasant surprises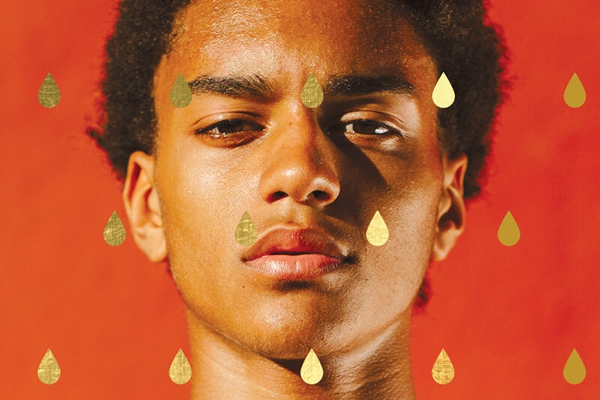 'Things We Couldn't Say'
By Jay Coles
c.2021, Scholastic $18.99/320 pages
You'd like an explanation, please.
Why something is done or not, why permission is denied, you'd like to hear a simple reason. You've been asking "Why?" since you were two years old but now the older you get, the more urgent is the need to know – although, in the new book "Things We Couldn't Say" by Jay Coles, there could be a dozen becauses.
Sometimes, mostly when he didn't need it to happen, Giovanni Zucker's birth mother took over his thoughts.
It wasn't as though she was the only thing he had to think about. Gio was an important part of the basketball team at Ben Davis High School; in fact, when he thought about college, he hoped for a basketball scholarship. He had classes to study for, two best friends he wanted to hang out with, a little brother who was his reason to get up in the morning, and a father who was always pushing for help at the church he ran. As for his romantic life, there wasn't much to report: Gio dated girls and he'd dated guys and he was kinda feeling like he liked guys more.
So no, he didn't want to think about his birth mother. The woman who walked out on the family when Gio was a little kid didn't deserve his consideration at all. There was just no time for the first woman who broke his heart.
It was nice to have distractions from his thoughts. Gio's best friends had his back. He knew pretty much everybody in his Indianapolis neighborhood. And the guy who moved across the street, a fellow b-baller named David, was becoming a good friend.
A very good friend. David was bisexual, too.
But just as their relationship was beginning, the unthinkable happened: Gio's birth mother reached out, emailed him, wanted to meet with him, and he was torn. She said she had "reasons" for abandoning him all those years ago, and her truth was not what he'd imagined.
There are a lot of pleasant surprises inside "Things We Couldn't Say."
From the start, author Jay Coles gives his main character a great support system, and that's a uniquely good thing. Gio enjoys the company of people who want the best for him, and it's refreshing that even the ones who are villains do heroic things.
Everyone in this book, in fact, has heart, and that softens the drama that Coles adds – which leads to another nice surprise: there's no overload of screeching drama here. Overwrought teen conflict is all but absent; even potential angsts that Gio might notice in his urban neighborhood are mentioned but not belabored. This helps keep readers focused on a fine, relatable, and very realistic coming-of-age story line.
This book is aimed at readers ages 12-and-up, but beware that there are a few gently explicit, but responsibly written, pages that might not be appropriate for kids in the lower target range. For older kids and adults, though, "Things We Couldn't Say" offers plenty of reasons to love it.
Father & Trans son musical duo make history on NBC's 'The Voice'
"I do have a special connection to the concept of a Blind Audition where the only thing that matters is the art and who the person is inside"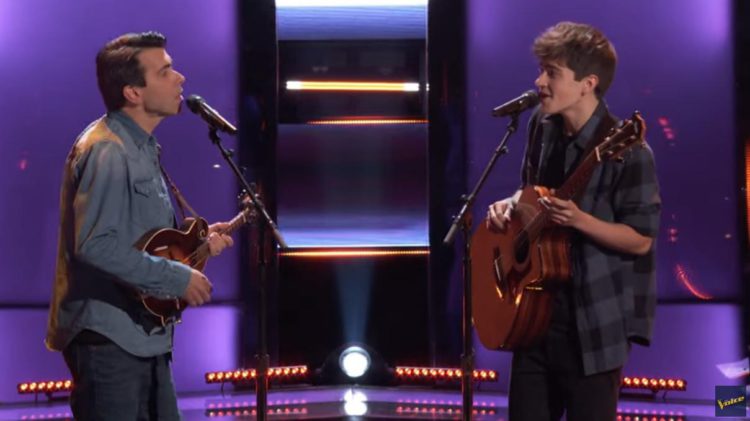 BURBANK – The unique folksy blend of the voices in a sweet rendition of the John Denver classic song "Leaving on a Jet Plane" this week on NBC's The Voice, caused celebrity judges Kelly Clarkson and Ariana Grande to mash their buttons and turn their chairs around and face the performance.
Unbeknownst to the entire panel of judges, which also includes John Legend and Blake Shelton, they were witnessing a bit of history for the reality musical talent search television show. On stage was 57-year-old music teacher Jim Allen and his son Sasha- the moment was groundbreaking as the 19-year-old teen singer is a Trans male.
In the pre-performance video profile, the younger Allen reflected "I do have a special connection to the concept of a Blind Audition, where the only thing that matters is the art and who the person is inside." Allen went on to detail more of his background; "I was born female, and I never felt comfortable, and it ate away at me the more I grew up."
The pair from Newtown, Connecticut have an obvious deep bond. Referring to his kid, the elder Allen said: ""It's a parent's job to listen to your child, even when it's hard to understand them," he then added. "And that brought forth extreme sadness at not having understood what he had been going through for years. […] While it is such a big and extraordinary thing to absorb, there are fundamental things that don't change about a person. And it's nice to be at that point where, you know, it's not a big deal."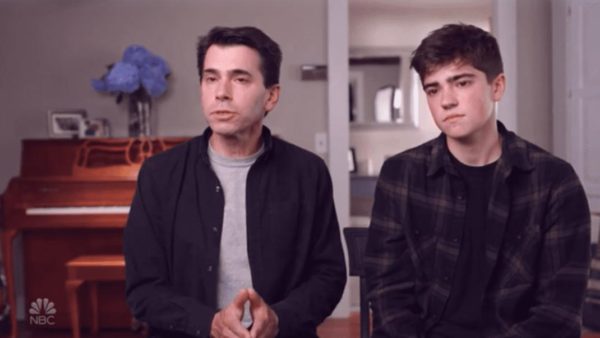 "I remember at night just laying in bed and thinking, 'If I could just wake up as a completely different person, I would do it. I would give up everything I have to be able to live in peace and live comfortably without being tormented internally.' I used to write in notebooks, 'I feel like a boy. I want this so bad.' And I'd shred it up into such tiny pieces, because I was so scared for anybody to know," the younger Allen shared.
"The only way to feel like me was to transition to male. I dealt with a lot of hateful comments, whether it was from my classmates or from teachers. I wouldn't have been able to get through high school without music and without art to express what I was going through," he said.
Duo Jim and Sasha Allen Sing John Denver's "Leaving on a Jet Plane" | The Voice Blind Auditions 2021: