Not a traditional election and even more critical- Newsom's recall, go vote!
Imagine a Trump type sitting in the Governor's Chair in Sacramento spewing forth a torrent of abuse aimed at anyone who displeased him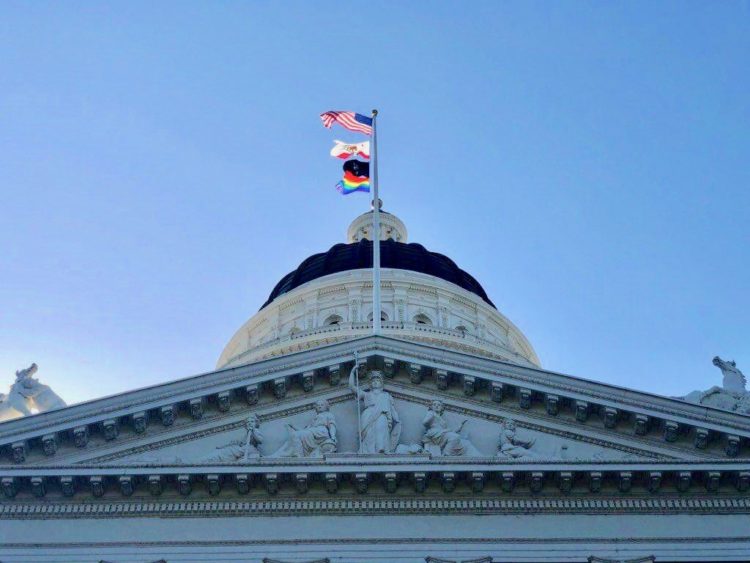 Imagine a Donald Trump type of politician sitting in the Governor's Chair in Sacramento spewing forth a torrent of abuse aimed at anyone who displeased him and also coupled with non-stop combat with the lawmakers in the Senate and the Assembly.
Worse how about a politician who embraced Trump's theory that the coronavirus was manufactured by the government of the People's Republic of China. But wait, he didn't stop there he attacked the Black Lives Matter movement, the Reverend Al Sharpton, and took a position denying that there is systemic racism in American society especially when pertaining to law enforcement.
Are you creeped out and concerned yet? The phrase, "Be afraid. Be very afraid," uttered by Geena Davis in David Cronenberg's 1986 film The Fly applies because that politician is a right-wing extremist and radio chat show hate monger named Larry Elder, and should Gavin Newsom lose the September 14 recall election, the current Inside California Politics/Emerson College poll shows Elder is positioned ahead of virtually every other candidate on the second part of the ballot to replace Newsom.
For LGBTQ+ Californians it gets worse as the SACBEE also found numerous anti-LGBTQ+ tweets in Elder's Twitter feed including; ""Any roles for men not gay/transsexual/transgender/transvestite/cross dressers/bi-sexual or unsure? #GoldenGlobes," he tweeted in 2016. Then in the same year, after the PULSE Nightclub massacre, Elder tweeted, "If the #Orlando terrorist was gay, does that disqualify the massacre from being a hate crime?"
Elder's rhetoric and vitriolic nonsense channels the late Rush Limbaugh and mirrors Fox host Sean Hannity. This week on his daily broadcast Elder launched attacks on progressives with topics such as "How Dems are using torture tactics to get Americans to comply to their anti-freedom Covid demands."
Do Californian's really need a governor who claims things like, "Dr. Fauci Calls Sturgis Motorcycle Rally a Super Spreader – But Says Nothing About Open Borders or Obama's Maskless Bday Party Bash," or this choice claim of "Georgia ballots rejected by machines were later altered by election workers."
Imagine, a governor who once tweeted at the CEO of Twitter, Jack Dorsey saying; ""Dear @jack, There's no evidence, let alone 'widespread' evidence, of police 'systemic racism.' Decades of research find cops MORE HESITANT to use deadly force against blacks than whites. Yet @Blklivesmatter routinely posts the 'systemic racism' lie. When will you ban BLM?"
In the case of ultimate irony? Larry Elder who calls himself 'the Sage of South-Central' is a Black man but continues to deny that systemic racism is a reality. In a letter to Congresswoman Maxine Waters, (D-CA) he wrote; "Black leaders refuse to acknowledge the good news: Racism no longer remains a potent threat in American life. Most blacks remain solidly middle class, with blacks forming businesses at a faster rate than whites. The black domestic product, were it a separate country, makes it one of the fifteen wealthiest nations in the world."
He ended the letter with; "In America, we see two black Americas. The majority black world reflects increased prosperity, growing homeownership, and steady asset accumulation. The other, the so-called black underclass, remains disturbing. Quite simply, we see too many children having children. It stands, far and away, as America's No. 1 problem. Whatever role racism played, the complete abolition of white racism would leave these problems unresolved."
According to Elder, the Congresswoman never responded.
The remaining field to replace Newsom includes 24 Republicans and nine Democrats, but as KABC 7's Josh Haskell pointed out Tuesday, there are no big name Democrats. The governor's campaign says voting no and skipping question two regarding a potential replacement for Newsom is the only way to block what they call a Republican power grab.
Which brings us to the subject of the ballots for the September 14 California recall election which are in the mail starting this week and some Los Angeles County residents have already received them.
The first question asks voters to choose "Yes" or "No" on whether Newsom should be recalled. If you think Newsom should remain in office, vote "No." If you think Gavin Newsom should be removed from office, vote "Yes."
Question Two asks which of 46 candidates should replace Newsom should more than 50 percent of voters say "Yes" to Question One. The Newsom campaign is urging voters to skip that second one.
But should you? "If 50% or more of the voters do vote yes on that first question, someone will be elected governor, so it's your choice on whether you want to weigh in on who that's going to be," said L.A. County Registrar Dean Logan to KABC's Haskell.
The brutal truth is that you need to vote. Don't leave this to chance. But, make sure that you realise that question two is winner take all, so the replacement candidate could receive as low as 20% of the vote and still be elected. Such as Larry Elder.
"Voters are going to be a little bit confused by those requests by the Newsom campaign to vote no on question one and leave question two blank. The reality I think is a lot of voters think voting is a civic duty and most people are probably going to fill out both questions on the ballot," said Mike Gatto, a retired Democratic California state assemblyman.
"For Democrats, staying home is in fact voting yes on the recall in a weird way because the Republican party is really excited. You have an electorate very excited to vote yes on question one," said Gatto.
This is an election that could hand the governor's chair to a Trump like person who has little interest in representing the values of most of the state's residents and who relishes divisiveness and apparent ignorance.
Your vote matters more than ever.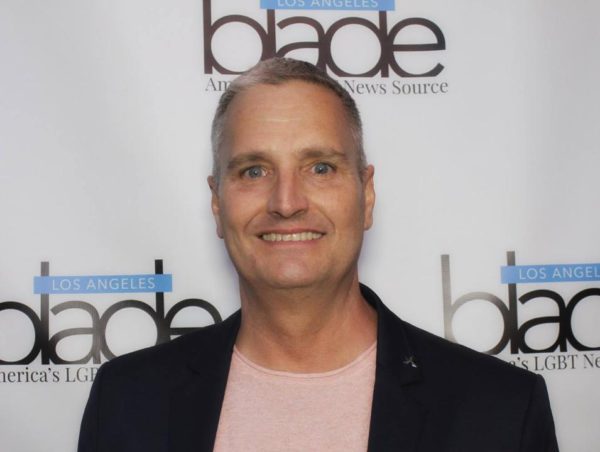 Troy Masters is the publisher of the Los Angeles Blade.
The long exhale to recognizing same-sex unions in Namibia
May 16 ruling a landmark moment for LGBTIQ+ rights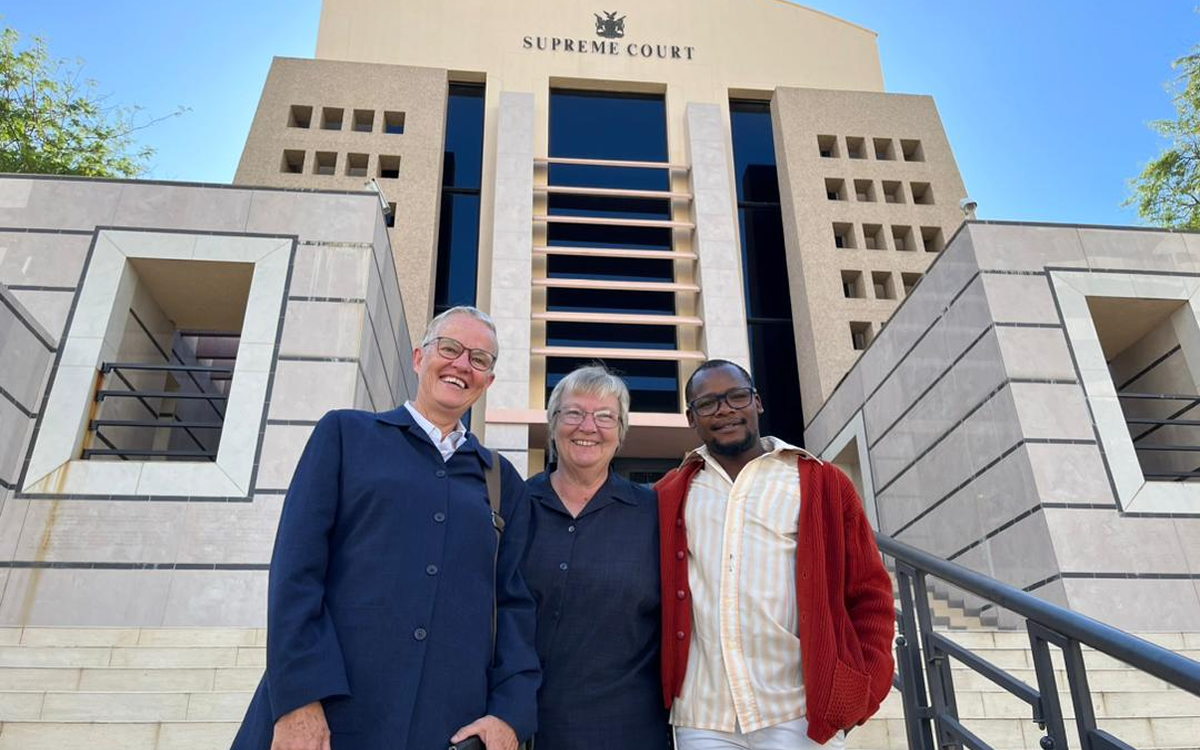 The Supreme Court of Namibia on May 16, 2023, issued a judgment recognizing same-sex unions of two non-nationals after they were denied immigration status by the Namibian government.
The story of Daniel Digashu, a South African national, and his family challenging the decision of the Namibian government denying him immigration status based on his same-sex marriage to his Namibian husband is just one of the many ways African governments continue to oppress and erase queer existence.
In 2015, Digashu married his partner Johann Potgieter in South Africa, where same-sex unions have been legal since Nov. 14, 2016; this, however, is not the case in Namibia. In 2017, after he and his family relocated to Namibia, Digashu applied for a work permit but got rejected by the Ministry of Home Affairs and Immigration based on his same-sex relationship status. The social inequality many LGBTIQ+ people face daily, and the lack of recognition and protection of LGBTIQ+ rights make them more vulnerable to stigma, discrimination and exclusion. Denying LGBTIQ+ people the right and the opportunity to marriage and family life has significant implications on their mental, emotional and overall well-being.
Heterosexual marriage is widely and legally recognized in Namibia and is often seen as the fundamental foundational family institution in society, including the church. The mainstream practice of marriage is deeply rooted in traditional, cultural and religious beliefs and practices. Marriage is not only a union between individuals but also a union between families and even different communities.
The denial to recognize Digashu and Potgieter's marriage had deprived them of a chance and a right to have a family, a community and a sense of belonging in society. The couple has been in and out of court since 2017, when they approached the High Court after several unsuccessful engagements with the ministry.
On March 20, 2021, the High Court heard the case and dismissed the matter on Jan. 20, 2022, citing that they cannot legally overrule a previous judgement by the Supreme Court, which found that same-sex relationships are not recognized under the Immigration Control Act of Namibia.
Constitutional violation of human rights
The refusal of the recognition of same-sex unions is an infringement on several fundamental human rights recognized and protected under regional and international human rights instruments — including the Constitution of Namibia. Denying the recognition and protection of LGBTIQ+ marriage and family violates their rights to dignity, liberty, privacy and protection under the law. Such human rights violation is also discriminatory and violates the constitutional right to non-discrimination, equality before the law and freedom of expression based on one's sexual orientation, gender identity and gender expression. Recognizing same-sex marriage ensures that LGBTIQ+ people have the same legal protections and rights.
If it pleases the court
In its 2022 judgment, the High Court of Namibia 2022 made favorable pronouncements noting the need to recognize same-sex relationships and that LGBTIQ+ people must be protected from discrimination. The court stated that: "Homosexual relationships are, without doubt, globally recognized, and increasingly more countries have changed their laws to recognize one's right not to be discriminated against based on one's sexual orientation. It is time to recognize that homosexuality is part and parcel of the fabric of our society and that persons — human beings — in homosexual relationships are worthy of being afforded the same rights as other citizens."
Both the High Court and the Supreme Court pronounced that the values, freedoms and democracy that Namibia was founded on have no place for discrimination and the violation of human rights. Everyone, including LGBTQI+ people, has the right to dignity, equality and protection under the law. This call for recognition by the courts is a significant victory for Namibia's LGBTIQ+ community and advocacy.
The Supreme Court went on to say that the "court has made it clear that this recognition of the equal worth of all human beings is at the very root of the Constitution and that this is 'further echoed and implemented in various articles of Chapter 3, and others of the Constitution.' The value attached to dignity is at the very heart of our constitutional framework and fundamental to it as a value of central significance. Although it is entrenched as a self-standing right in Art 8, it relates to the protection of other rights and in particular, the right to equality."
Colonial remnants and state-sponsored LGBTIQ+-phobia
To understand the continuous exclusion of LGBTIQ+ groups in progressive civic developments, it is essential to understand the impact and role that colonial laws have played in shaping the perception, attitudes and legal status of LGBTIQ+ people in society.
Colonial laws were discriminatory and repressive, resulting in the "othering" and, ultimately, the existence of vulnerable and marginalized groups. These laws were based on conservative religious and cultural values prevalent in Europe at the time and criminalized groups based on their gender, race, ethnicity and even sexual orientation and gender identity. Such laws continue to be in practice worldwide, including in Africa.
Like many other African nations, Namibia has an unfavorable history regarding recognizing and protecting LGBTIQ+ people. Identifying as lesbian, gay, bisexual or transgender is not illegal in Namibia. However, the country does criminalize consensual same sex-sexual activities between people of the same gender in terms of its Roman-Dutch common law.
These provisions are part of what was inherited from colonial laws during colonization and into the new constitution. Such laws continue to sideline LGBTIQ+ people, as they face daily stigma, discrimination and violence, including inaccessibility to healthcare, education, employment, and housing.
In December 2020, the African Court on Human and Peoples' Rights found that vagrancy laws or bylaws in nearly every country in Africa discriminate against marginalized and vulnerable populations, including women, children, people with disabilities, LGBTIQ+ people and others. Namibia is no exception in adopting such laws as the Roman-Dutch common laws criminalize consensual same-sex sexual relations. This imprint on the State still upholding oppressive colonial laws regarding LGBTIQ+ rights is part of why LGBTIQ+ people and families face daily exclusion. Consensual same-sex relations are still criminalized in Namibia. The repressive and colonial legislation still engraved in Namibia's laws provides many challenges for same-sex couples and LGBTIQ+ families, like Digashu and Potgieter, and many other same-sex couples seeking legal recognition status in Namibia.
Regardless of their sexual orientation, gender identity and gender expression, everyone should have social, economic and legal stability and equal opportunities. Still, discrimination against LGBTIQ+ people is a significant barrier to full social and legislative inclusion.
Same-sex relationships are currently criminalized in 32 African countries, with the death penalty in three African states if convicted and found guilty.
Namibia, formerly known as South West Africa, was a former colony of Germany and later came under the authority of South Africa. Namibia gained independence on March 21, 1990 and celebrated its 33rd independence anniversary on March 21 this year. The constitution of Namibia came into being when the country gained independence. Namibia's Vision 2030 concerns itself with the population concerning their social, economic and overall well-being and that all people enjoy high standards of living, good quality of life and economic and overall well-being and that all people enjoy high standards of living, good quality of life, and have access to quality social services. All of these aspirations translate into equity, equality and respect for human rights for all people, regardless of one's social standing. By 2030, Namibia aspires to be a just, moral, tolerant and safe nation with legislative, economic and social structures in place to eliminate marginalization and ensure peace and equity between of all people of different ages, interests and abilities.
The evolution of society
Society is evolving and becoming increasingly aware of its rights and existence. In advocating and asserting their rights, communities realize that such common laws are outdated and contribute to the discrimination faced by vulnerable groups. Colonization fostered environments in which such rules were applied in policy and practice to deter, conceal and repress freedoms of expression, identity and association of groups that did not fit the colonial setting. Such groups were made to feel inferior and less valuable to society, leading to segregation practices such as apartheid, tribalism, classism and discrimination and exclusion of sexual and gender minorities.
In a modern-day democratic, independent state like Namibia, colonial remnants are still widely evident in specific laws and policies, so people like Daniel and Johan, and others, must seek justice from the courts to validate their relationship and belonging. There needs to be a correlation between the legislation and the vision that the country is working towards.
The Bill of Rights is in place to protect and promote the fundamental human rights of Namibians and promote equality before the law and the need for fair, just and speedy court processes. The constitution promotes the rights to liberty, respect for human dignity, equality and freedom from discrimination regardless of a person's sex, race, or social or economic status association, and even the right to marriage and having a family between same-sex spouses. The blatant denial of the recognition of same-sex marriages by the State violates the right to dignity. It amounts to multiple layers of discrimination by the State, which contrasts with the constitution of Namibia.
Powering forward
Despite these challenges, there have been continuous efforts by LGBTIQ+ advocates and allies to push for greater recognition and acceptance of LGBTIQ+ individuals in Namibia. These efforts include taking an intersectional advocacy approach that is results-based. There is still a long way to go to achieve full equality and protection for LGBTIQ+ individuals in Namibia. In the long exhale process, Digashu has found public support and joined LGBTIQ+ human rights defenders to continue raising awareness and educating the public on human rights and the challenges faced by LGBTIQ+ people. The Digashu matter highlights the need for LGBTIQ+ inclusion and acknowledgement. In its judgment, the Supreme Court noted the need for social and legislative inclusion of LGBTIQ+ persons in Namibia.
Bradley Fortuin is the LGBTIQ+ Program Officer at the Southern Africa Litigation Center and is social justice activist with over 10 years of experience in program design and strategic management, focusing on developing, implementing and strengthening LGBTIQ+-led movements.