In 'Swan Song,' Todd Stephens gives a fabulous queer elder his due
Cult film icon Udo Kier delivers stellar performance in new film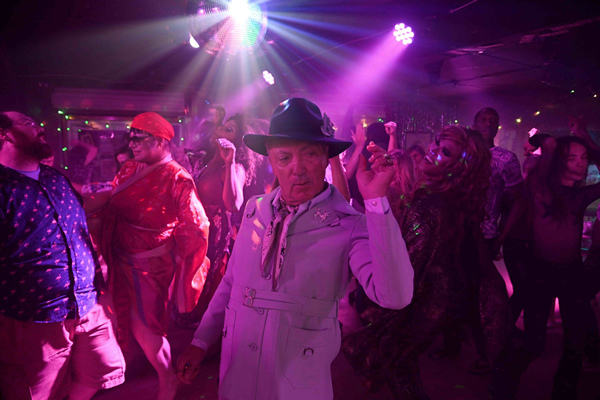 LOS ANGELES – Not many of us would have expected 2021 to be the year that Udo Kier made a comeback – but thanks to Todd Stephens, that's the world we live in. And we are all the better for it.
The German actor, now 76, became part of the art house cinema scene when he starred in "Andy Warhol's Frankenstein" (1973). A prolific career in campy horror movies made him a cult film icon, and his fame and stature rose through associations with directors like Rainer Werner Fassbinder, Gus Van Sant, and Lars Von Trier. He's even established himself in the mainstream with roles in movies like "Ace Ventura: Pet Detective" and "Armageddon." A career to be proud of to be sure – and even if he never really became a household name, Stephens' latest film "Swan Song" might just be the movie that changes that.
Now in limited theatrical release and launching on VOD platforms Aug. 13, it stars Kier as Mr. Pat, an elderly man who once owned the most fabulous hair salon in his small Midwestern town. Now in a nursing home with his glory days long behind him, his routine consists of sullenly defying his caretakers and sneaking smokes in the stairwell – until he receives word that one of his former clients has died with a stipulation in her will that only he can do her hair and makeup for her funeral. Boldly escaping from the rest home, he sets out on an odyssey across the town where he was once a legend, revisiting the geography of his life as he makes his way to keep one final appointment.
The film is an unexpected delight, and Kier gives a jaw-dropping performance. His Mr. Pat feels instantly iconic, a master class in the art of subtlety and shade, and his journey – in which he confronts a personal history of love and loss that will be all too familiar for many older queer viewers – feels like the kind of authentic representation an entire generation is hungry for.
Yet while Kier may be the shining star, his work is all in support of the film itself, which strikes just the right blend of irony, compassion, and laugh-out-loud humor to keep us watching with an irresistible smile on our face – even as it confronts the uncomfortable topics that give it weight.
Anyone familiar with Todd Stephens should not be surprised. He's the director behind 2006's "Another Gay Movie" and its sequel, which hilariously claimed queer space in the teen sex movie genre – but before that, he wrote (with director David Moreton) the screenplay for 1998's "Edge of Seventeen." Part of a fresh wave of queer cinema empowered by the indie film movement, it was a nostalgic coming-of-age tale that became a touchstone for audiences who, like Stephens, came of age in the '80s.
Now, with "Swan Song," he returns to the small-town world of "Seventeen" (which, like the current film, is set in Stephens' own hometown of Sandusky, Ohio) to create another touchstone for his generation – one inspired by an unsung hero from his childhood.
Stephens spoke with the Blade ahead of the film's premiere, and before talking about anything else, he wanted to talk about the REAL Mr. Pat.
TODD STEPHENS: The real Pat was this fabulous creature, and he was this guy that I would see walking around downtown. I was a little gay boy, I didn't know it then, but I would be fascinated when I would spot Pat, because he looked so proud and glamorous and fabulous. And then years later when I got up the nerve to go to our small-town gay bar, I walked in and there, glittering on the dance floor, was this man that I had seen all my life growing up, and I just felt like I was home. I always had a fascination with him because he was so different from everyone – not just gay, but queer, and that was how I felt. I never really knew him very well, but I always wanted to make a movie about him.
BLADE: How much is he mythologized for the film?
STEPHENS: A lot of things are straight from his life. I used a lot of the stories I heard from his family and all his friends – the ones who didn't die of AIDS and are still around, which isn't many. Things like the folding of the napkins – that was real. When Pat died there were boxes and suitcases full of neatly folded napkins. He smoked that exact cigarette, he wore a ring on every finger, he dressed in brightly colored pantsuits – so a lot of it is him. But the part where he breaks out of the nursing home and goes on this journey to style a dead woman's hair – I made that up.
BLADE: The film is different from a lot of contemporary queer stories because of the setting. You don't see many movies about small-town gay men, especially older ones.
STEPHENS: Part of what inspired the plot is that Sandusky is this rust-belt factory town in the Midwest, where all the Ford and GM plants are now gone and was kind of like this forgotten town. But it's having a rebirth now, and a lot of people that grew up there have come back home and rebuilt the town. So, seeing my hometown come back to life helped inspire my story about this man who is basically dead inside at the beginning of the movie, and then gets his groove back. And I wanted to make my hometown into a real character in the film, so as Pat comes back to life so does the town, and the color palette and all that.
BLADE: It's not just the town that's changed. The whole world is different since Mr. Pat was participating in it, and that's part of the story, too.
STEPHENS: For Pat's generation coming out back then – and this is true with myself to a certain extent –you were used to being different, to being "other," and that was part of your identity. Now it's become more mainstream to be gay, it's like you almost don't know how to wrap your head around it. So, seeing an apple pie moment like the one in the film of two guys teaching their child to play catch – something like that is so foreign to our upbringing that it's almost strange. It's beautiful, but it's bittersweet, because the elders like Pat will never have that. Yet they were the ones that blazed the trail for that – but also, who even knows that, or remembers?
BLADE: There's another moment where Mr. Pat finds out the local gay bar is closing and he asks, "But where will we dance?" That really resonates for a lot of us today.
STEPHENS: I tried to really pose that question, to invite a dialogue. Is it OK that queer spaces are vanishing? Do we need a place to dance? What does it mean to not have one? I'll leave that to future generations to figure out, to some extent.
But it is an interesting question. You know?
'Maestro' captures passionate essence of queer musical giant
Cooper's titanic performance honors the legendary composer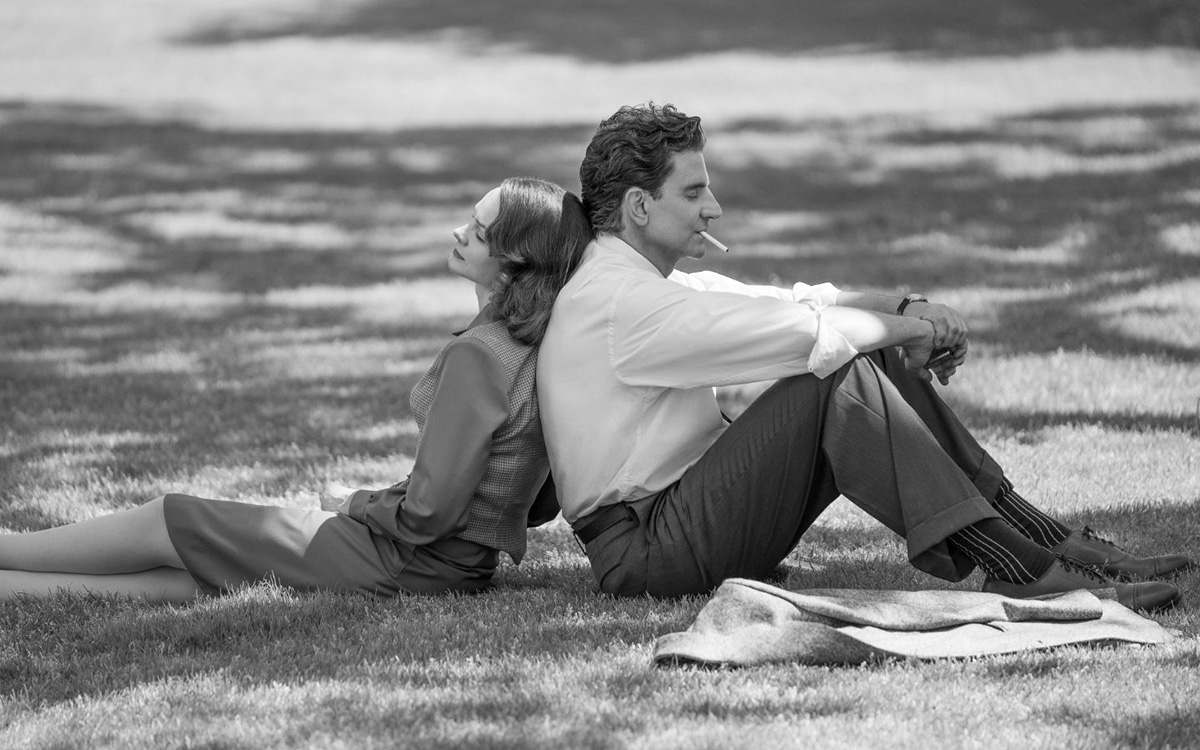 It's hard to think of a modern celebrity who holds an equivalent place in popular culture to the one held in his day by Leonard Bernstein – the subject of Bradley Cooper's ambitious biopic "Maestro," now in theaters ahead of a Dec. 20 drop on producing studio Netflix's streaming platform.
A "highbrow" musical prodigy who gained mainstream celebrity after a spectacular debut as a substitute conductor for the New York Philharmonic, he forged a path as an orchestral leader and composer of masterpieces across a range of genres, from symphonies to film scores to Broadway musicals. Youthful, erudite, passionate, and handsome, he brought classical musical education to the masses via popular television broadcasts, becoming identified with the sophisticated culture of intellectual humanism epitomized by the hopeful "Camelot" of the Kennedy era.
Of course, the Bernstein known to the public in those heady days was not the real Bernstein – or not all of him, anyway – and the story behind the scenes is part of what Cooper, who not only directed and stars in "Maestro," but co-wrote the screenplay with Oscar-winner Josh Singer ("Spotlight"), aims to illuminate. Picking up the narrative in the early days of its subject's fame, it conveys the essence of his professional career in broad strokes, but concerns itself mostly with his private life. More specifically, it focuses on his marriage to actress Felicia Montealegre (Carey Mulligan), whom we meet as she enters his life in the wake of his sudden success. There's a definite chemistry – but there's also Bernstein's involvement with musician David Oppenheim (Matt Bomer), with whom he shares both an apartment and a bed. 
Nevertheless, and with full knowledge of what they're getting into, the two eventually marry; through specific episodes in their life, it tracks the inevitable ups and downs – from the soul-mate joy of their special intimacy to the strain imposed on their bond by a parade of male companions brought into the household across the decades – to present a portrait of an unorthodox marriage between two unorthodox people whose bond ultimately transcends conventional notions of love, sexuality, and commitment.
That doesn't mean things don't get messy, however, and it must be admitted that the last third of the movie devolves a bit into domestic melodrama tinged with a touch of histrionics, and then threatens to go full tearjerker, to boot. But then, so does life, sometimes, and "Maestro" brings enough compassion, insight, and authenticity to the complex emotions at play that it is able to go deep, in the end, for the save.
Indeed, some of this melodramatic flair might be a function of Cooper's stylistic approach, which blends fact, fantasy, and flights of fancy – such as a surrealistic "dream ballet" sequence inspired by "On the Town" (Bernstein's first Broadway hit), as well as shifting from black-and-white to color and presenting much of the movie in an old-fashioned 1:33 aspect ratio – to form a sort of impressionistic view of Bernstein's life. The elegant flamboyance of the film's visual and narrative style flows naturally from the lavish mid-century aesthetic that informed the cinema that sprung from the cultural movement of which he was a part; and as for the man himself, his florid conducting style, to say nothing of the sweeping and dissonant passion of his compositions, were ample evidence that he would never be averse to tugging at a few heartstrings before building to a "wow" finale, so allowing a little indulgent sentimentality to assert itself along the way seems perfectly apropos.
At the same time, there is little about Cooper's performance in the title role that could be called sentimental, or indulgent for that matter, despite the obvious license to "chew the scenery" when playing a flamboyantly bigger-than-life figure like Bernstein. Executed with a clear attention to detail and a fully invested personal connection to the character, Cooper's portrayal expertly captures his intelligence and charm, as well as a remarkable level of chameleonic mimicry – enhanced by a dazzling physical transformation from makeup designer Kazu Hiro – that never once feels like "showboating," and wins us completely with an unvarnished candor in depicting his less noble qualities.
Perhaps most impressive (especially in a biopic), at neither end of the "moral" spectrum does it ever feel as the actor is bringing any judgment to the role, only observation. It's a titanic performance, even without the reenactments of Bernstein's conducting prowess, which honors the legendary composer simply by rendering him as a flawed, if exceptional, human being.
Yet as superb as his work might be, and despite "Maestro" being ostensibly about Bernstein himself, the movie's star turn comes from Mulligan, whose top-billed performance as Montealegre is employed as the story's emotional core. It's her journey, from bold best friend to supportive muse to estranged "ex" and back again, that give the film its meat. She takes it from start to finish without a misstep, and in the process almost makes Cooper's Bernstein a foil in his own movie. It's a testament to his own artistic integrity that he allows, even amplifies, every opportunity for her to do it.
For queer audiences, of course, it might be a disappointment that the movie chooses to center itself on Bernstein's heterosexual marriage instead of exploring any of his now-well-known same-sex affairs – little time or development is spent on any of those relationships, not even with Oppenheim. Still, it makes no effort to hide or downplay his sexual identity; indeed, it is at the center of the conflict which drives the entire film, and it reflects with compassionate honesty the reality of living as a queer person in a time and culture in which one's queerness must be kept hidden as a matter of simple survival. What emerges instead of a cold dissection of a fraudulent "marriage of convenience is an idea of love that exists beyond the constraints of sexuality or gender – and that lifts "Maestro" above such moralistic notions, allowing it to celebrate the commitment between two people willing to live beyond them, even when things get tough.
The film is loaded with memorable performances from others, too; in particular, Bomer – especially powerful in the scene where he is introduced to the woman he already knows will take his lover away from him – reminds us how good he can be when afforded material that stretches him beyond his pretty-boy looks, and comedian Sarah Silverman has some rich moments as Bernstein's sister, Shirley. So too, it is distinguished by a comprehensively detailed production design, which traces the evolving look and feel of the era it covers in succinctly evocative detail, delivered through outstanding cinematography by Matthew Libatique. In the end, however, it is Bernstein's music itself that stands as the key element in capturing the irrepressible passion – the "singing of summer" inside him – that made him an incomparable artist and informed his life as a whole.
In the end, that's what Cooper's movie wants us to take away, more than any insights into its subject's musical genius or the difficulties of navigating a divergent sex life among consenting adults in a time where such things were beyond taboo: the importance of embracing and expressing our lives to the fullest, whether by creating art or simply experiencing the raw truth of our existence in the moment, for better or for worse, in all its contradictory, beautiful glory. The Bernstein it shows us is, like all of us, impossible to define in a single quality; rather it strives to depict a life made whole and complete through the interplay of myriad conflicting passions.

"Maestro" might be a big, glossy biopic that – on the surface, at least – sometimes falls into familiar tropes, but it's worldly and wise enough to get that right, which is enough to elevate it above at least 90 percent of other films in its genre.