Federal lawsuit seeks to stop recall or add Newsom to ballot
The court could declare the recall election procedure unconstitutional and leave it to California to devise a constitutional alternative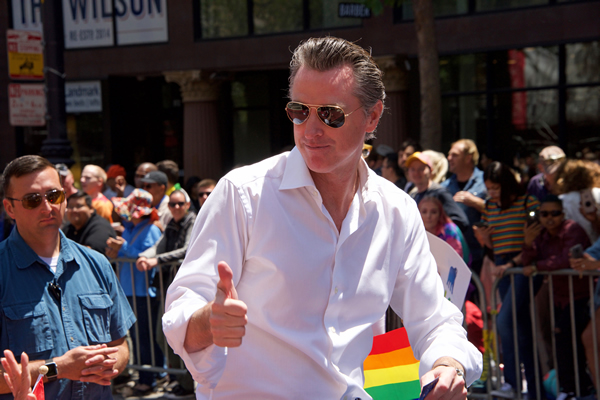 LOS ANGELES – In a federal lawsuit filed in U.S. District Court for the Central District of California last Friday, two registered voters residing in the state of California are asking the court to either stop the recall of Governor Gavin Newsom or add his name to the ballot.
In the court filing and as reported by Politico, attorney's for the plaintiffs, Rex Julian Beaber and A.W. Clark, are challenging the constitutionality of the recall law process writing;
"This process is violative of the Equal Protection and Due Process Clauses of the Constitution's Fourteenth Amendment, because it flies in the face of the federal legal principle of "one person, one vote," and gives to voters who vote to recall the Governor two votes — one to remove him and one to select a successor, but limits to only one vote the franchise of those who vote to retain him and that he not be recalled, so that a person who votes for recall has twice as many votes as a person who votes against recall. This is unconstitutional both on its face and as applied."
The plaintiffs are asking that the court issues an injunction prohibiting the recall election or add Newsom's name to the replacement candidate list on part two of the ballot.
Under California law, the recall elections specify in the first part a yes or no question to recall the governor. If a majority of voters eject Newsom, then second part with its list of replacement choices comes into play with the candidate who receives the most votes would then become Governor.
Monday was the state's deadline to mail out the approximately 22 million ballots by elections officials. According to the California Secretary of State's office Tuesday that has been accomplished.
Politico reported that Erwin Chemerinsky, the Dean of the University of California, Berkeley School of Law, in an op-ed published in the New York Times pointed out that the structure of the ballot "allows a replacement candidate to be elected with a small plurality — and potentially with far fewer votes than the number of votes cast to keep the current governor."
"The court could declare the recall election procedure unconstitutional and leave it to California to devise a constitutional alternative," Chemerinsky wrote. "Or it could simply add Mr. Newsom's name on the ballot to the list of those running to replace him. That simple change would treat his supporters equally to others and ensure that if he gets more votes than any other candidate, he will stay in office."
In an interview Monday with Politico's Jeremy White and colleague Debra Kahn, California's Attorney General Rob Bonta acknowledged the lawsuit and ongoing underlying legal debate.
"We're aware of that argument and some of the other concerns and we'll be making sure we stay abreast of this issue and monitoring it," Bonta said, adding of the lawsuit, "We'll be coordinating with the secretary of state's office to determine next steps.
Newsom has been traveling the state battling efforts to replace him in the September 14 recall election. During several campaign stops he warned of dire consequences should one of the top six Republicans or forty other candidates on the second part of ballot be selected.
Speaking to campaign workers, at tables full of phone-banking volunteers at Hecho en Mexico restaurant during a stop in the San Gabriel neighborhood of East Los Angeles this past weekend, Newsom told them;
"Though we defeated Trump, we didn't defeat Trumpism. Trumpism is still alive and well, even here in the state of California. If you don't believe me, just consider … the likely person to enter an oath of office, to enter in the governor's office in just a matter of weeks if we don't reject this recall."
Democrats across the state are making a full court press to thwart any Republican candidate from obtaining the governor's chair.
Equality California and the California Democratic Party will host an LGBTQ+ Californians Against the Republican Recall Day of Action on Thursday, featuring a virtual rally with LGBTQ+ leaders and a volunteer phone bank to help get out the vote.
Speakers will include California Insurance Commissioner Ricardo Lara, Equality California Executive Director Rick Chavez Zbur, San Francisco Democratic Party Chair Honey Mahogany and Los Angeles County Democratic Party Chair Mark Gonzalez.
A new statewide poll of 1,000 registered voters taken one week ago shows an increase from a similar poll taken at the end of last month which showed that the percentage of voters to recall was 43% versus those who would vote to keep Newsom at 48%. The poll had also recorded that undecided voters comprised 9% of the total with the poll having a margin of error of of +/- 3%.
New Poll: Adam Schiff has a five-point lead in U.S. Senate race
The survey was conducted last month and involved 1,100 likely voters- While still relatively slim, it is Schiff's largest lead to date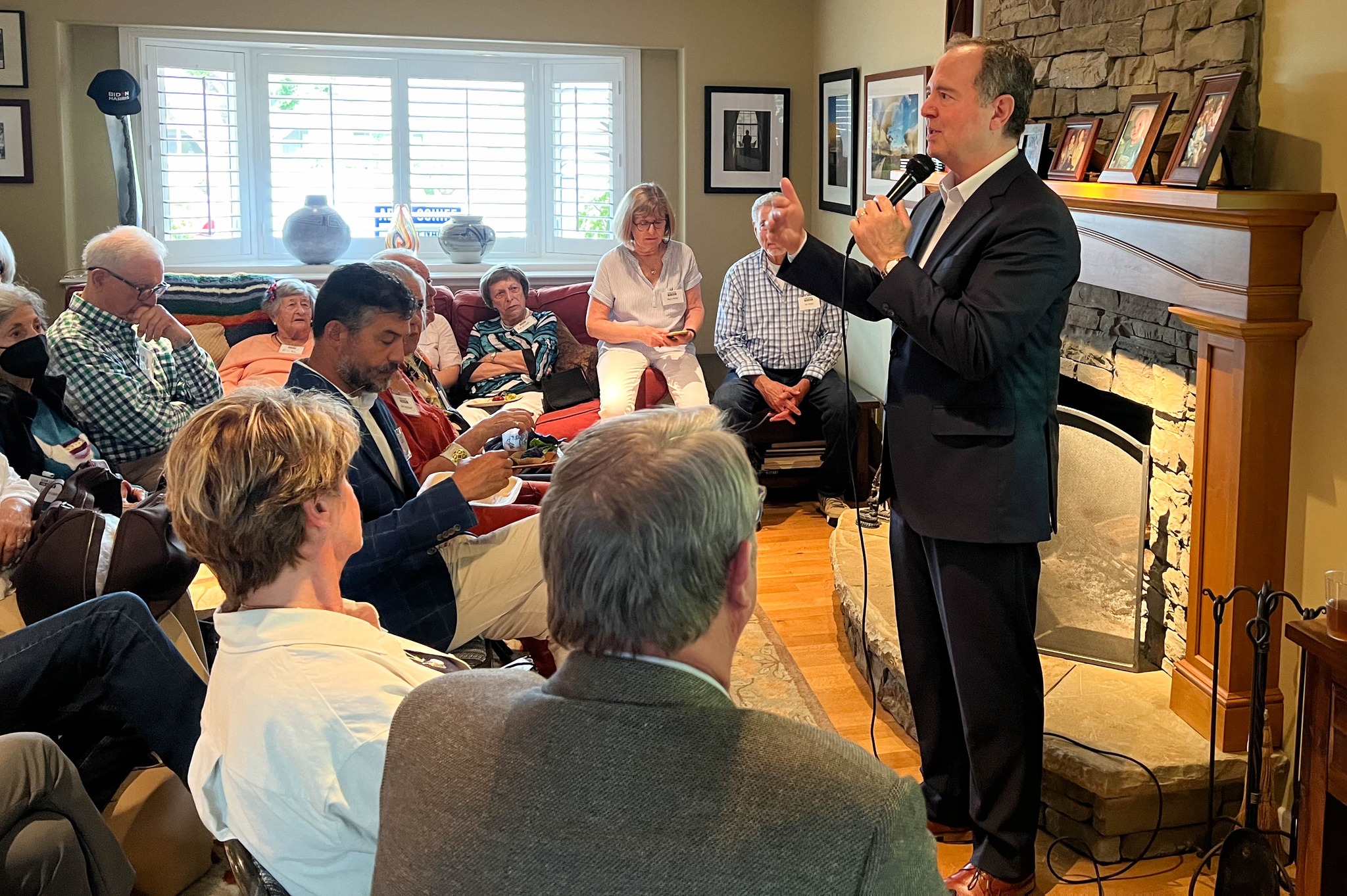 SAN FRANCISCO – A new Public Policy Institute of California poll shows that U.S. Rep. Adam Schiff (D-Burbank) has a five-point lead in the race for the U.S. Senate seat that had been held by the late Democratic Sen. Dianne Feinstein.
The seat is currently occupied by Newsom-appointee, Democrat Laphonza Butler, the first Black lesbian to serve in the Senate. Butler, announced in October that she would not run for a full Senate term in 2024.
California's 2024 senate race already has a crowded field that includes Democratic Reps. Barbara Lee of Oakland, Katie Porter of Irvine and former Dodgers Major League Baseball star Steve Garvey, a Republican, also running.
The survey was conducted last month from Nov. 9 to 16 and involved 1,100 likely voters and has a 3.2% margin of error.
PPIC found that 21% of those surveyed would support Schiff in the primary race while 16% would vote for Porter. Republican Garvey had 10% support, while Lee polled at 8%.
As with other prior California Senate surveys, PPIC found a large percentage of voters are still undecided. While still relatively slim, it is Schiff's largest lead to date.
KTLA 5 News noted that a November Inside California Politics/Emerson College poll showed several other candidates, James P. Bradley, Lexi Reese, Eric Early, Christina Pascucci, Jonathan Reiss and Sarah Liew with support in the low single digits. That same poll found Schiff with a three-point lead over Porter, while a June survey showed Schiff and Porter in a virtual tie.