EXCLUSIVE: 64 members of Congress urge US to evacuate LGBTQ Afghans
Chris Pappas spearheaded letter to Antony Blinken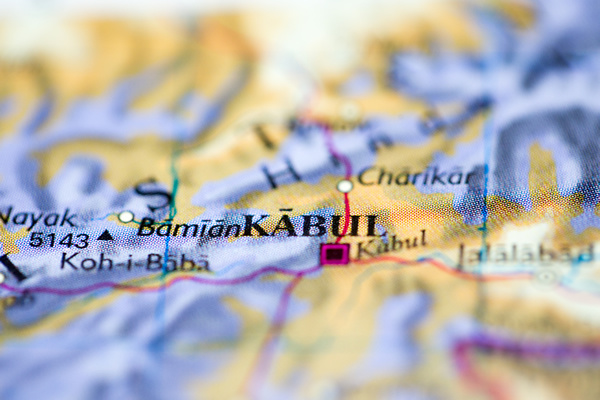 WASHINGTON — More than 60 members of Congress on Tuesday urged the U.S. to evacuate LGBTQ Afghans from their country after the Taliban regained control of it.
The letter to Secretary of State Antony Blinken that U.S. Rep. Chris Pappas (D-N.H.) spearheaded notes LGBTQ+ Afghans face an "existential threat" under Taliban rule. Pappas and the 63 other members of Congress who signed the letter asked the State Department to allow LGBTQ+ Afghans to access the U.S. Refugee Admissions Program.
The letter notes the State Department on Aug. 2 announced a "Priority 2 (P-2 designation" that grants "eligible Afghan nationals and their family members access to the USRAP for Afghans looking to flee Taliban rule but who aren't eligible for a Special Immigrant Visa (SIV)."
"The P-2 designation is made at the discretion of the Department of State and is typically used for 'groups of special concern' the department determines 'as having access to the program by virtue of their circumstances'," it reads.
"We have a moral obligation to uphold our values and utilize every tool at our disposal to protect the LGBTQ+ Afghan community," adds the letter. "In the spirit of upholding our values and leading by example, we urge you to expand the Department of State's P-2 designation granting USRAP access for Afghan nationals to explicitly include LGBTQ+ Afghans."
"We further implore you to work with the Department of Defense to ensure that charter flights receive uninterrupted access to the (Kabul) airport, as charter flights will likely provide the best opportunity for priority refugees to escape," stressed the members of Congress.
The Taliban on Aug. 15 entered Kabul, the Afghan capital, and toppled the country's government. The U.S. has subsequently evacuated more than 80,000 people from Kabul's airport.
President Biden on Tuesday reiterated the Aug. 31 deadline for U.S. military operations in Afghanistan to end. The previous White House in 2020 brokered a peace deal with the Taliban that set the stage for the withdrawal.
A Taliban judge last month said the group would execute gay people if it were to once again return to power in Afghanistan. Canada thus far is the only country that has specifically said it would offer refuge to LGBTQ Afghans.
"With the Taliban's takeover of the country, LGBTQ+ Afghans face the prospect of violent death. Sharia law, cemented in Afghanistan's constitution, prohibits all forms of same-sex activity, and makes same-sex activity punishable by death," reads the letter to Blinken. "Just as it was for ISIS in Iraq, Sharia law is the Taliban's guiding compass as it establishes its rule over Afghanistan's government and society. During its campaign in Iraq and Syria, ISIS frequently executed LGBTQ+ individuals by stoning them to death, castrating and hanging them in public squares, and throwing them off buildings."
"Under Taliban rule, LGBTQ+ Afghans will suffer a similar fate," it adds.
The letter notes President Biden in February signed a memorandum that committed the U.S. to promote LGBTQ rights abroad.
The lawmakers acknowledge "the situation in Afghanistan is fluid," but stress Blinken has "the power to protect the lives of countless LGBTQ+ Afghans from the horrors they face living under a regime that threatens their very existence."
The Human Rights Campaign, the Council for Global Equality, the National Center for Transgender Equality, the Trevor Project, Lambda Legal, PFLAG, Athlete Ally and the National Equality Action Team support the lawmakers' call for the U.S. to offer refuge to LGBTQ Afghans.
"The Human Rights Campaign recognizes that those LGBTQ+ individuals fleeing Taliban rule deserve unique attention as they are particularly vulnerable and fear imminent violence and death following the rapid takeover of Afghanistan by the Taliban, and this particular vulnerability requires expedited redress by the Department of State," said HRC Senior Vice President for Policy and Political Affairs JoDee Winterhof in a press release that Pappas' office sent exclusively to the Los Angeles Blade.
Council for Global Equality Chair Mark Bromley stressed "time is running out and the lives of LGBTQI Afghans are at extreme risk."
"As a country, we can do more to evacuate the LGBTQI community and to provide LGBTQI-affirming support for their successful resettlement here in the United States," he said in the press release.
California Rep. Eric Swalwell on death threats from Tucker Carlson fans
"He does this because he knows that his followers will be inspired & radicalized & then aim their vitriol at whoever he is attacking"
WASHINGTON – Appearing on MSNBC's Deadline: White House, on Friday, U.S. Representative Eric Swalwell, (D) who represents California 15th which covers most of eastern Alameda County and part of central Contra Costa County, detailed the death and other threats he receives from fans of Fox News host Tucker Carlson.
"We receive hundreds of threats. What was specific about this was the caller identified he had just been watching Tucker Carlson. Now, we get a lot of threats that come in as Tucker Carlson attacks me, but this person identified he had just heard from Tucker Carlson. He was now calling my office and then of course dropped a number of racist, sexist, homophobic epithets in the call, and then threatened to kill my entire family," Swalwell said. "And what is so frustrating about this, Nicole, is that I have personally, eyeball to eyeball, asked Tucker Carlson not to lie about me on his show because of this effect."
"I've even in the last couple months sent a text message to him telling him when he lies about me on his show it results in death threats to me, my wife, and our family. And when he had people protesting outside his house just a couple years ago I went on Twitter despite not agreeing with almost anything he says and I said that that's wrong to go to his house and terrify his wife in the way that that happened. But he does this because he knows that his followers will be inspired and radicalized and then aim their vitriol at whoever he is attacking that day," the congressman added.
Tucker Carlson: "Biden declared biological man is now a female admiral"
"And so you have to ask yourself, how long will it be before Joe Biden appoints his horse to the Supreme Court"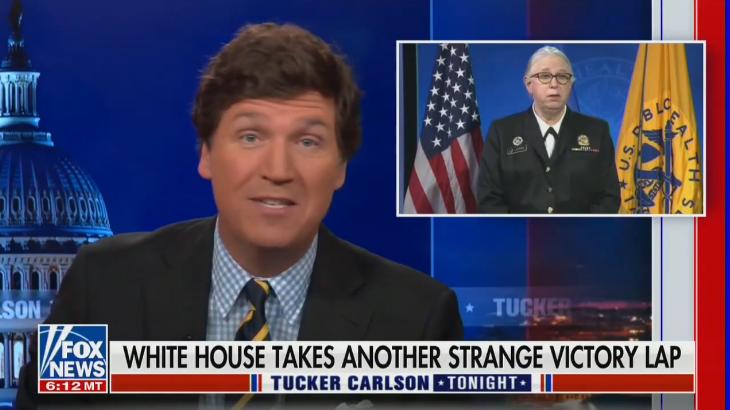 NEW YORK – In a diatribe delivered Thursday evening, Fox News and anti-LGBTQ celebrity Tucker Carlson called out the swearing in earlier this week of Admiral Dr. Rachel Levine as a commissioned officer in the uniform corps of the U.S. Public Health Service, (USPHS).
Levine, the U.S. Assistant Secretary for Health at the Department of Health and Human Services is now also in charge of the 6,000 uniformed personnel of the USPHS.
On his show last night Carlson said: "Behind the heavily guarded walls of the White House, everyone has gone crazy. Just this week the Biden administration declared that a biological man who wears a dress is now a female admiral.
"And then they sent that brave four-star female admiral out to deliver a speech that read like something out of a D-Day documentary.
"Come on. They're daring you to sit there and not say this is ridiculous. But it is, sorry. It is ridiculous. Sorry, not playing along!
"But they don't think it is. And so you have to ask yourself, how long will it be before Joe Biden appoints his horse to the Supreme Court?
"And when he inevitably does do that, you have to ask, how long will it be until CNN informs us, 'This is a watershed moment for equine rights.' Don't you dare laugh. That would be a hate crime."
Tucker Carlson Mocks Promotion of Transgender Admiral: 'How Long Will It Be Before Joe Biden Appoints His Horse to the Supreme Court?' https://t.co/Qg1Fj54thu

— Mediaite (@Mediaite) October 22, 2021
Mediate has the video here.
Trans candidate endorsed for state senate by EQ California & Victory Fund
"A victory for Lisa will shatter a long-standing political barrier in California and will be a milestone moment for the state"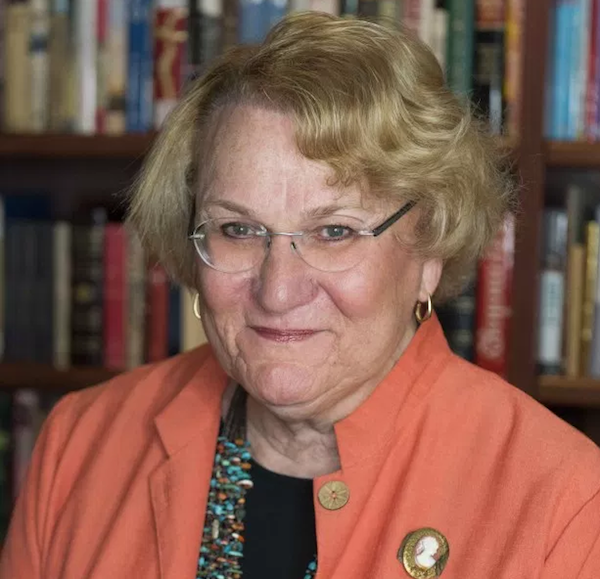 PALM SPRINGS –  Equality California and LGBTQ Victory Fund jointly announced their endorsements of Palm Springs Mayor Pro Tem Lisa Middleton in her race for California Senate District 28 Thursday.
The endorsements demonstrate an early commitment from the LGBTQ political community to elect Middleton, who would be the first out transgender state legislator in California history. In 2017, Middleton became the first out transgender person elected to a non-judicial position in California, when she won her race for Palm Springs City Council.
Only eight out transgender people have ever been elected to state legislatures in the United States. All are currently serving.
"Lisa Middleton is an accomplished leader who has made her region more inclusive, just and equitable," said Equality California Executive Director Tony Hoang. "That's why Equality California is thrilled to announce our early support for Lisa's campaign for Senate. The 28th District needs Lisa's courage, innovative thinking and unique ability to build coalitions in Sacramento, where she will be a trailblazing champion for full, lived equality while delivering critical resources to her community. We're with Lisa 100 percent and look forward to helping her make history once again as California's first transgender state legislator."
"A victory for Lisa will shatter a long-standing political barrier in California and will be a milestone moment for the state and the country," said Annise Parker, President & CEO of LGBTQ Victory Fund. "Yet Lisa is not running for state senate to be a trailblazer. She is a passionate public servant who brings solutions-oriented optimism to challenges big and small – from filling potholes to healthcare access to climate change. Her constituents' quality of life will always be the priority, but Lisa's election will also inspire a new generation of trans leaders to follow in her footsteps."
"I am deeply humbled and thrilled to receive the joint endorsements of Equality California and LGBTQ Victory Fund," said Lisa Middleton. "Since launching my bid for State Senate, the profound, extensive support I've received from the LGBTQ community has been a tremendous honor and boost to my campaign. I remain committed to being a leader who helps to unify and proudly stands for respect, inclusion and opportunity and that my campaign can also show the transgender community that nothing is out of reach, and we can win at all levels of government. I look forward to hopefully partnering with both incredible organizations in Sacramento to continue being an unrelenting advocate for our community and fighting for full, lived equality."
As Mayor Pro Tem and a member of the Palm Springs City Council, Middleton ensured PPE and vaccines were available to residents, led efforts on solar requirements for all new homes and worked to address inequities in the city – including the unique challenges LGBTQ+ seniors face.

Middleton's primary will be held on June 7, 2022.