EXCLUSIVE: 64 members of Congress urge US to evacuate LGBTQ Afghans
Chris Pappas spearheaded letter to Antony Blinken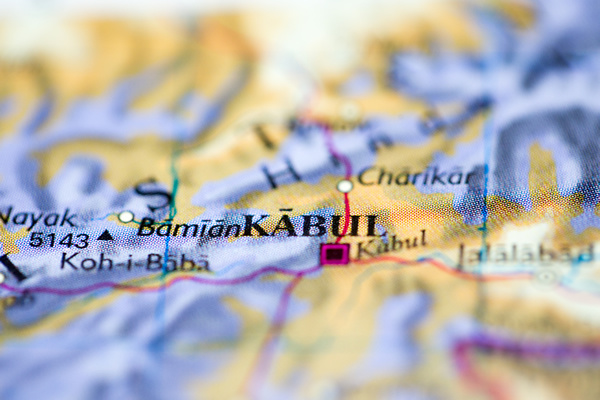 WASHINGTON — More than 60 members of Congress on Tuesday urged the U.S. to evacuate LGBTQ Afghans from their country after the Taliban regained control of it.
The letter to Secretary of State Antony Blinken that U.S. Rep. Chris Pappas (D-N.H.) spearheaded notes LGBTQ+ Afghans face an "existential threat" under Taliban rule. Pappas and the 63 other members of Congress who signed the letter asked the State Department to allow LGBTQ+ Afghans to access the U.S. Refugee Admissions Program.
The letter notes the State Department on Aug. 2 announced a "Priority 2 (P-2 designation" that grants "eligible Afghan nationals and their family members access to the USRAP for Afghans looking to flee Taliban rule but who aren't eligible for a Special Immigrant Visa (SIV)."
"The P-2 designation is made at the discretion of the Department of State and is typically used for 'groups of special concern' the department determines 'as having access to the program by virtue of their circumstances'," it reads.
"We have a moral obligation to uphold our values and utilize every tool at our disposal to protect the LGBTQ+ Afghan community," adds the letter. "In the spirit of upholding our values and leading by example, we urge you to expand the Department of State's P-2 designation granting USRAP access for Afghan nationals to explicitly include LGBTQ+ Afghans."
"We further implore you to work with the Department of Defense to ensure that charter flights receive uninterrupted access to the (Kabul) airport, as charter flights will likely provide the best opportunity for priority refugees to escape," stressed the members of Congress.
The Taliban on Aug. 15 entered Kabul, the Afghan capital, and toppled the country's government. The U.S. has subsequently evacuated more than 80,000 people from Kabul's airport.
President Biden on Tuesday reiterated the Aug. 31 deadline for U.S. military operations in Afghanistan to end. The previous White House in 2020 brokered a peace deal with the Taliban that set the stage for the withdrawal.
A Taliban judge last month said the group would execute gay people if it were to once again return to power in Afghanistan. Canada thus far is the only country that has specifically said it would offer refuge to LGBTQ Afghans.
"With the Taliban's takeover of the country, LGBTQ+ Afghans face the prospect of violent death. Sharia law, cemented in Afghanistan's constitution, prohibits all forms of same-sex activity, and makes same-sex activity punishable by death," reads the letter to Blinken. "Just as it was for ISIS in Iraq, Sharia law is the Taliban's guiding compass as it establishes its rule over Afghanistan's government and society. During its campaign in Iraq and Syria, ISIS frequently executed LGBTQ+ individuals by stoning them to death, castrating and hanging them in public squares, and throwing them off buildings."
"Under Taliban rule, LGBTQ+ Afghans will suffer a similar fate," it adds.
The letter notes President Biden in February signed a memorandum that committed the U.S. to promote LGBTQ rights abroad.
The lawmakers acknowledge "the situation in Afghanistan is fluid," but stress Blinken has "the power to protect the lives of countless LGBTQ+ Afghans from the horrors they face living under a regime that threatens their very existence."
The Human Rights Campaign, the Council for Global Equality, the National Center for Transgender Equality, the Trevor Project, Lambda Legal, PFLAG, Athlete Ally and the National Equality Action Team support the lawmakers' call for the U.S. to offer refuge to LGBTQ Afghans.
"The Human Rights Campaign recognizes that those LGBTQ+ individuals fleeing Taliban rule deserve unique attention as they are particularly vulnerable and fear imminent violence and death following the rapid takeover of Afghanistan by the Taliban, and this particular vulnerability requires expedited redress by the Department of State," said HRC Senior Vice President for Policy and Political Affairs JoDee Winterhof in a press release that Pappas' office sent exclusively to the Los Angeles Blade.
Council for Global Equality Chair Mark Bromley stressed "time is running out and the lives of LGBTQI Afghans are at extreme risk."
"As a country, we can do more to evacuate the LGBTQI community and to provide LGBTQI-affirming support for their successful resettlement here in the United States," he said in the press release.
Rep. Cicilline on future of LGBTQ rights & life after Congress
Looking beyond Congress, Cicilline said he is eager to continue advancing "equality and justice for our community"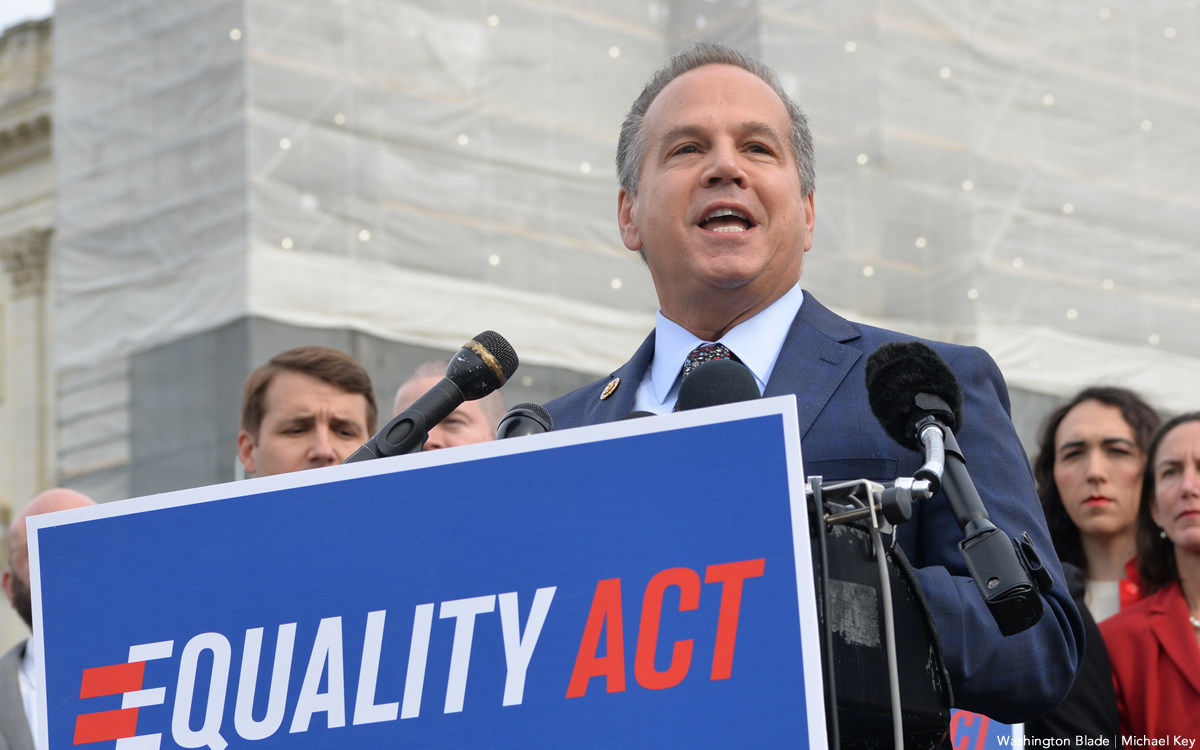 PROVIDENCE, R.I. – Speaking with the Washington Blade by phone on Tuesday from Rhode Island, U.S. Rep. David Cicilline (D-R.I.) was optimistic about the outcome of the debt ceiling negotiations that have roiled Capitol Hill, the White House, and Wall Street for weeks.
"My sense of it is there are enough Democratic and Republican votes to get it to the president's desk," said the congressman, who would fly back to Washington in the evening with the expectation that a vote would be held the following day.
Even amid the chaos and back-and-forth travel this week, Cicilline was ready to look back on the landmark legislative accomplishments of his distinguished career in politics, which have included groundbreaking advancements for LGBTQ rights.
And despite the ascendancy of anti-LGBTQ attacks from the right, including from much of the Republican caucus, he told the Blade there is ample reason to be optimistic that the chamber's pro-equality work will continue in his absence.
As announced back in February and effective on Thursday, Cicilline will retire from Congress to lead his state's largest philanthropic organization, the Rhode Island Foundation, having represented its 1st Congressional District in the U.S. House since 2011.
A former attorney, Cicilline was tapped to lead the House Judiciary Committee's Subcommittee on Antitrust, Commercial, and Administrative Law as well as the House Foreign Affairs Committee's Subcommittee on the Middle East, North Africa, and Global Counterterrorism.
Particularly in recent years, the congressman became one of the most powerful House Democrats, elected to leadership in 2017 as a co-chair of the House Democratic Policy and Communications Committee and picked in 2021 by then-House Speaker Nancy Pelosi (D-Calif.) to serve as one of the nine members tasked with managing the House's second impeachment of former President Donald Trump.
Among other legislative achievements, Cicilline is widely credited with leading the House's passage, twice, of the biggest civil rights bill since the 1964 Civil Rights Act – the Equality Act, which would prohibit anti-LGBTQ discrimination in areas from education and housing to employment and public accommodations.
While the Senate failed to pass the Equality Act, Cicilline said, "I'm handing that work off to [U.S. Rep.] Mark Takano [D-Calif.], who I know will take it over the finish line" once Democrats win control of the House again.
The congressman told the Blade that he hopes his leadership on this bill will be remembered as a key part of his legacy – and was adamant that its passage through both chambers is now a question of "when" rather than "if."
"The majority of Americans support the Equality Act, and a majority of voters in every single state support nondiscrimination protections for LGBTQ+ people," so "this is about the Republican conference in Congress catching up with the American people," Cicilline said.
Congress is beginning to look more like America in at least one respect, though. After his first election to the House, Cicilline was one of only three openly LGBTQ members serving in Congress (having already made history in 2003 as the first openly gay mayor of a state capital, Providence, R.I.).
Today, "I'm leaving with 10 colleagues in the House and two in the Senate," he said, "so that's great progress."
"The calvary has arrived" with "young new members who are going to lead the next wave of this fight" such as openly LGBTQ U.S. Reps. Robert Garcia (Calif.), Becca Balint (Vt.), Eric Sorensen (Ill.), and Ritchie Torres (N.Y.), Cicilline said.
Echoing comments from his final speech on the House floor last week, the congressman also expressed his faith and confidence in party leaders with whom he has worked closely, including Democratic House Minority Leader Hakeem Jeffries (D-N.Y.)
Tonight, I addressed the House of Representatives for the final time as a Member of Congress.

As a lifelong Rhode Islander, it is only fitting that my final message is one of HOPE — hope for our democracy and our Congress.

Watch here:https://t.co/2HTSNuuk1P

— Congressman David N. Cicilline (@RepCicilline) May 24, 2023
Hopes and expectations for the current Democratic conference's ability to deliver on behalf of LGBTQ Americans were buttressed late last year by passage of the Respect for Marriage Act, legislation co-led by Cicilline that codified fundamental rights for same-sex couples that might otherwise be erased if the U.S. Supreme Court overturns or weakens its constitutional protections for marriage equality.
How to combat the rightwing crusade against LGBTQ and especially trans Americans
However prepared Cicilline believes his colleagues are to meet the moment, the congressman is also up to speed on the unprecedented challenges presented by the current political climate with respect to LGBTQ rights.
This year, state legislatures have introduced hundreds of bills targeting trans Americans, which endeavor to restrict their access to everything from lifesaving healthcare to public bathrooms. At the same time, anti-trans rhetoric has escalated to such an extent that a rightwing pundit speaking at CPAC said "transgenderism must be eradicated from public life entirely," which some interpreted as a call for genocide against the community.
Legislatively, Cicilline said it is all part of a cynical political strategy adopted by Republicans. Having concluded that their crusade against same-sex marriage was no longer winnable, the party sought another way to fight against LGBTQ rights, eventually polling anti-trans positions and messaging that successfully motivates "the most extreme parts of their political base," he said.
"Our Republican colleagues have weaponized the trans community in such a way that they think it's politically advantageous to attack even trans kids," which is "really horrific" especially considering the potential for tragic real-world consequences, including targeted violence against the trans community, Cicilline said.
"I hope people who are seeking public office will be conscious of that and will be responsible, but unfortunately, I think there are some who are so driven by their desire for power, that they're prepared to do almost anything to get there," the congressman added.
Some conservatives hope their polarization of and fear mongering about trans issues will drive a wedge, providing sufficient incentive or a permission structure for LGB Americans to turn their backs on the trans community, Cicilline said, but "That's not gonna happen."
"We are standing in lockstep with our trans brothers and sisters, and we're just not going to allow them to be attacked in this way," he said.
Broadly speaking, Cicilline said elected Democrats must "stand up for the queer community, speak out, condemn this kind of [anti-LGBTQ/anti-trans] legislation, and let the American people see the contrast" between the Democratic Party, which "stands for inclusion and has fought for LGBTQ+ equality" and the GOP, which is pushing "these very toxic and dangerous and un-American attacks on the LGBTQ community."
The congressman noted that working against the interests of LGBTQ Americans is nothing new for congressional Republicans. "With just a couple of exceptions," he said, the House GOP caucus voted against the Equality Act's nondiscrimination protections, which stem directly from America's most basic foundational values of fairness and equality.
"So that means I have colleagues in the Congress of the United States on the Republican side who fundamentally rejected the legislation that would grant me and others in my community full equality as citizens of this country, [colleagues who would] allow discrimination to continue against our community," Cicilline said.
When it comes to navigating interpersonal working relationships with anti-LGBTQ Republicans in the chamber, though, "I frankly don't really care how they feel about us," the congressman said. "That's irrelevant to me."
Cicilline to continue advocating for LGBTQ Americans after Congress
In addition to the Equality Act, Cicilline said that if Democrats recapture control of the House, he expects to see renewed momentum for a bill that he authored, the Global Respect Act, and another for which he was an original cosponsor, the LGBTQI+ Data Inclusion Act. Both were passed by the House but not by the Senate and therefore remain "unfinished business," he said.
The Global Respect Act, Cicilline said, "will allow the U.S. to impose visa sanctions on anyone who commits gross human rights violations against the LGBTQ community," while the latter bill would mandate that federal surveys must include data collection on sexual orientation and gender identity.
Other legislative efforts that Cicilline has led, in areas from antitrust to foreign policy to gun violence, also include some "unfinished business" – bills that might see movement in the next Congress that carry the potential, in many cases, to measurably impact the lives of all Americans.
For instance, Cicilline, who has been at the vanguard of Congress's work modernizing and strengthening antitrust law, remains hopeful about the eventual passage of six bills that he introduced in 2021, all designed to increase competition in digital markets.
These would curb the monopolistic power of dominant tech platform companies whose business models center engagement as the primary mechanism to drive advertising revenue – even though, as these firms are aware, content that tends to earn more engagement tends to be that which is incendiary, offensive, hateful, false, or misleading, violent or otherwise outrageous.
Looking beyond Congress, Cicilline said he is eager to continue advancing "equality and justice for our community" at the Rhode Island Foundation, building upon the organization's existing work "supporting the organizations that are doing really important work to support the LGBTQ community."
Cicilline acknowledged that leading an "explicitly non-partisan organization" will be a departure from his work in Washington – though perhaps not to the extent one might imagine.
"You know, our community remains, in this country, a marginalized community," the congressman said. "In fact, it's the only community, still, in America, that it's legal to discriminate against."
At this point, rather than pivoting back to discussing the need for passage of the Equality Act, Cicilline instead explained that because of the lack of national nondiscrimination protections, he is even more eager to include the LGBTQ community in the foundation's work advancing diversity, equity, and inclusion.