Calif. AG Bonta seeks California Supreme Court review for LGBTQ Seniors
Discrimination isn't about one person or one community. When people are unlawfully subjected to hateful & demeaning rhetoric, it hurts all.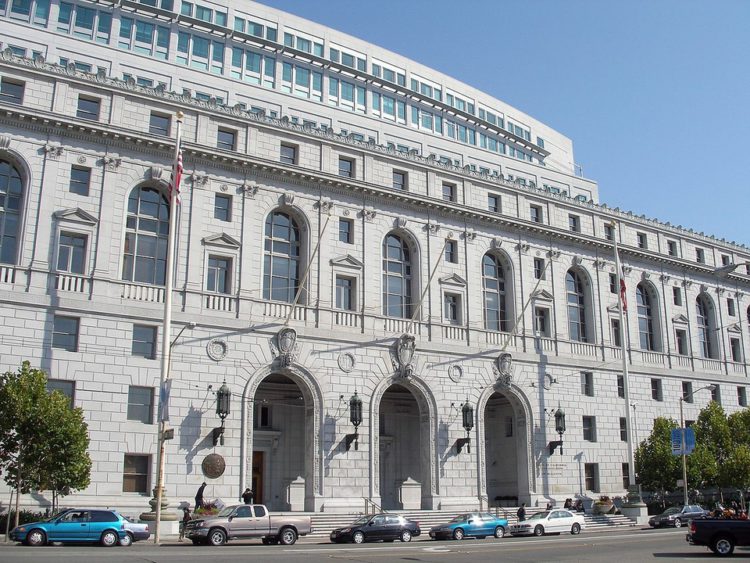 SAN FRANCISCO – California Attorney General Rob Bonta Thursday filed a petition for review before the California Supreme Court in defense of anti-discrimination protections for LGBTQ residents of long-term care facilities in the state.
The protections were codified into law as part of the LGBTQ Senior Bill of Rights, which was enacted through Senate Bill 219 (SB 219) by the California Legislature in 2017. Specifically, the law prohibits long-term care facility staff from discriminating against transgender residents by intentionally "deadnaming" them — that is, calling a transgender person by the name they were assigned at birth — or willfully using the wrong pronouns in referring to them.
In the brief filed today, Attorney General Bonta urges the California Supreme Court to review the Court of Appeal's erroneous decision, and restore SB 219's protections for LGBTQ seniors and other long-term care facility residents.
"Discrimination isn't about one person or one community. When people are unlawfully subjected to hateful, demeaning rhetoric, it hurts all of us," said Bonta. "State law protects people from racist speech in the workplace — and, likewise, there's no exception just because it's transphobic instead. Let's be clear: Repeatedly, willfully misgendering or deadnaming someone is harassment. Many of our seniors here in California led the charge for LGBTQ rights nationwide. Our seniors and other long-term care residents shouldn't be forced to re-live those fights in the 21st century. That's part of why we're urging the California Supreme Court to review this case."
Attorney General Bonta Seeks California Supreme Court Review in Defense of Anti-Discrimination Protections for LGBTQ Seniors, Long-Term Care Residents
"I want to thank the Attorney General for his leadership and support for LGBTQ seniors," said California State Senator Scott Wiener. "In response to the dangerous decision by the Court of Appeal to overturn key protections for trans seniors, Attorney General Bonta is stepping up to appeal this bad decision. It's never ok to intentionally and repeatedly misgender a transgender person. This isn't a matter of political opinion; it's straight-up harassment. We must ensure that all marginalized people — including trans seniors living in nursing homes — are treated with respect and dignity. This misguided decision is terrible, and we will fight it."
Despite years of progress, harassment against transgender Americans remains pervasive — and deadnaming and misgendering, in particular, are two of the most common types of verbal harassment.
Deliberately using the wrong pronoun to refer to a transgender person conveys that the person's identity is not worthy of respect. At its core, such language stigmatizes transgender people and wrongfully suggests they are not welcome members of society.
Although California already provides some of the strongest civil rights protections in the nation, LGBTQ seniors are disproportionately vulnerable to discrimination, marginalization, or isolation, particularly in the long-term care context.
Unfortunately, many LGBTQ seniors and other individuals in long-term care, often after many years of living openly, have been forced to confront discrimination or hide who they are in these new settings. In addition to the component of the law at issue in Taking Offense v. California, SB 219 broadly supports LGBTQ seniors through a number of avenues, including specifically prohibiting discrimination in admissions, transfer, eviction, room assignment, and visitation.
"California seniors deserve to age with dignity and respect," said Equality California Executive Director Rick Chavez Zbur. "It's unconscionable that a court would allow blatant harassment of our LGBTQ+ elders. We are so grateful to Attorney General Bonta for appealing this outrageous decision and standing up for full, lived equality for all LGBTQ+ people."
A copy of the petition is available here.
California expands broadband infrastructure & internet access across state
The initial project locations based on unserved/underserved areas that don't reliably have download speeds of at least 25 Megabits per second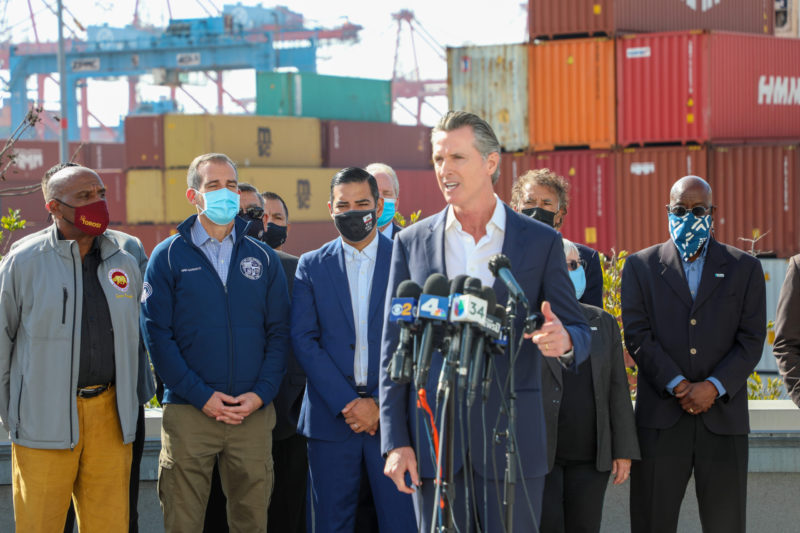 SACRAMENTO – Advancing California's commitment to bridge the digital divide, Governor Gavin Newsom announced that the state has identified 18 projects to begin work on an open-access middle-mile network that will provide missing infrastructure paths to bring broadband to all communities.
As part of the historic $6 billion broadband investment advanced in partnership with legislative leaders earlier this year, the initial project locations are based on known unserved and underserved areas across the state. The projects will connect to the core of the global internet and interconnect to last-mile infrastructure, which is the final leg that provides internet service to a customer.
"California is committed to taking on the challenges laid bare by the pandemic, including the digital divide holding back too many communities across the state," said Newsom. "These projects are the first step to delivering on our historic investment that will ensure all Californians have access to high-quality broadband internet, while also creating new jobs to support our nation-leading economic recovery."
The initial 18 projects represent a range of geographic locations and technical approaches. Projects are being initiated in the following tribal communities, counties and cities: Alpine County; Amador County; Calaveras County; Central Coast; Coachella Valley; Colusa Area; Inyo County; Kern County; Kern/San Luis Obispo Area; Lake County Area; Los Angeles and South Los Angeles; Oakland; Orange County; Plumas Area; Riverside/San Diego Area; San Bernardino County; Siskiyou Area; and West Fresno.
Evaluation of project areas included consideration of public comments, prioritization of unserved or underserved areas of the state, and inclusion of tribal communities, cities and counties. An unserved or underserved area has households that do not reliably have download speeds of at least 25 Megabits per second (Mbps) and upload of at least 3 Mbps.
"Core to our success will be the deep partnerships we've built with a diverse set of community organizations and last mile providers. Through many years of engagement with metropolitan planning organizations, CPUC-supported broadband consortia, Tribal organizations, community-based broadband advocacy groups, and organizations like the Rural County Representatives of California, the NAACP, and the California Emerging Technology Fund, we are now ready to take this historic step towards broadband equity for California," said Louis Fox, Founder and Chair of GoldenStateNet, the state's third-party administrator.
State partners implementing the middle-mile initiative include the California Department of Technology, California Public Utilities Commission (CPUC) and Caltrans. GoldenStateNet was selected as the Third-Party Administrator (TPA) to manage the development, acquisition, construction, maintenance and operation of the statewide open-access middle-mile broadband network. As the TPA, GoldenStateNet will partner with key stakeholder groups across the state to investigate the best technical, financial and operational models to meet the needs of the project sites.
A map and additional information on the initial projects can be found here.
"A reliable broadband connection makes the difference between having access to full-service health care, education and employment or sometimes going without," said State Chief Information Officer Amy Tong. "Through a historic partnership between our Governor, the Legislature, state agencies and a third-party administrator, we are taking immediate action to improve connectivity for Californians in the northern, central and southern parts of the state."
"These initial routes have been identified to accelerate projects in areas of the state that are unserved because of the lack of open middle mile infrastructure to serve them. We are accelerating the selection of a diverse set of routes — those that are ready to build and those that are not ready to build. This allows the state to partner with locals on these diverse projects and learn by doing, as we concurrently work to finalize all the needed routes in the State. There are many more communities like those in Phase I that will be included in the final map," said Martha Guzman Aceves, Commissioner at the CPUC.
Names of Trans dead projected onto Netflix HQ
2021 was the deadliest year of violence against LGBTQ+ people since records began- greatest harm to Black Trans women, migrants & sex workers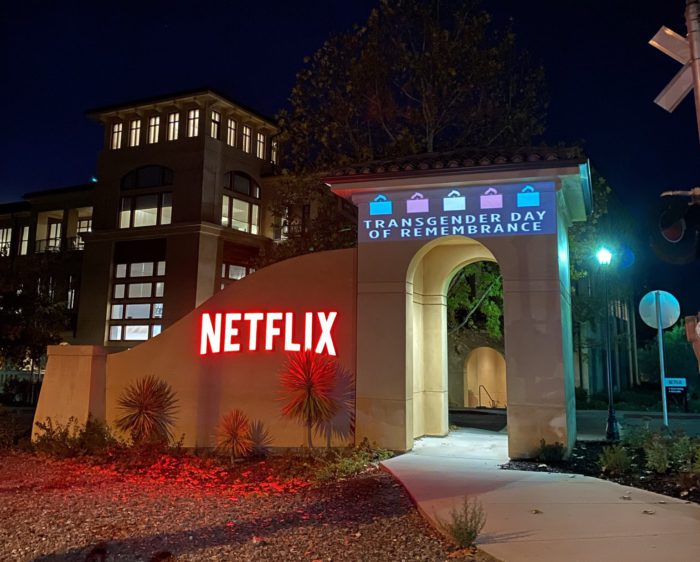 LOS GATOS – On the Trans Day of Remembrance, the names of trans people who died this year were projected onto Netflix's Silicon Valley headquarters.
The words of light were visible from Winchester Boulevard, over the archway entrance to the headquarters. Earlier this year, Netflix was criticized for spreading transphobia as well as for firing a trans, Black, pregnant employee for organizing a walkout.
Local trans activist Gwendolyn Ann Smith said of the projection, "The CEO of Netflix, Ted Sarandos, spoke earlier this year in defense of Dave Chappelle's comedy special, 'The Closer,' stating that, 'We have a strong belief that content on screen doesn't directly translate to real-world harm.' It is a fitting rebuttal, therefore, that the names of those who were murdered in the name of anti-transgender violence end up projected on the walls of Netflix's offices. Perhaps this will serve as a reminder that there are, indeed, real world consequences to consider when you platform transphobia disguised as comedic expression."
2021 was the deadliest year of violence against gender-diverse people since records began, with the greatest harm done to Black trans women, migrants, and sex workers. The recorded number of 375 deaths is likely also severely underreported, according to Transrespect Versus Transphobia Worldwide.
"I cancelled my Netflix account," said local projection activist Alan Marling, "but I'll be happy to renew it once the company meets the demands of the walkout."
The demands include investment in trans and non-binary voices, acknowledging the harm done, and hiring of a trans executive.
The full list can be found here.
Video by Alan Marling
At West LA VA Medical Center, Newsom announces new partnership
Governor Newsom also issued a proclamation that declared November 11, 2021, as Veterans Day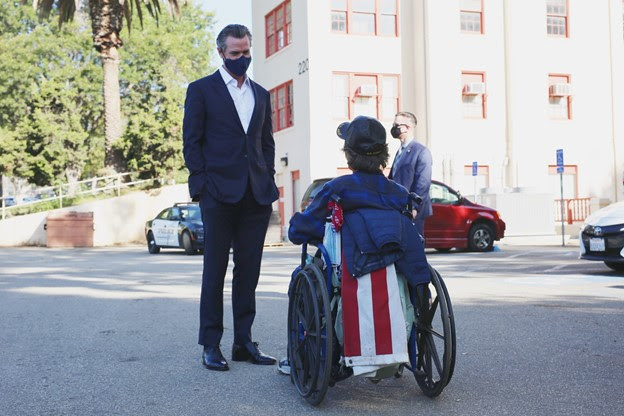 LOS ANGELES – Ahead of Veterans Day, California Governor Gavin Newsom visited veterans receiving COVID-19 vaccines and flu shots at the West Los Angeles Veterans Affairs Medical Center Wednesday, where he highlighted the state's ongoing efforts to increase vaccination rates and promote booster shots for eligible populations and investments to address veterans' homelessness.
Joined by California's U.S. Senator Alex Padilla, California Department of Veterans Affairs Secretary Dr. Vito Imbasciani, and California Health and Human Services Agency Secretary Dr. Mark Ghaly, the Governor also announced a $750,000 donation from Lennar Homes and Five Point Communities that will purchase 86 tiny homes for veterans on the West Los Angeles Veterans Affairs campus to help ensure that veterans have a safe and dignified place to live. Most of the veterans from the "Veterans Row" encampment at San Vicente and Wilshire recently moved onto the campus.
"California is home to over 1.6 million veterans, the most of any state in the nation. We're continually working to ensure that our veterans and their families receive the resources and support they need and have earned many times over," said Newsom. "Thanks to a partnership between California, the VA and Los Angeles County, more veterans in the region have a safe place to go to receive mental health services and health care, including their COVID-19 vaccines. Vaccines are how we end this pandemic, and boosters are how we keep our immunity strong."
The Governor also issued a proclamation declaring November 11, 2021, as Veterans Day.
The West LA VA Medical Center administers 90 to 100 boosters on-site daily through walk-ins or by appointment, and is still administering first and second vaccinations regularly. The VA Greater Los Angeles Healthcare System (VAGLAHS), which includes the West LA center, is one of eight VA Healthcare Centers in California and offers services to veterans residing in five counties in Southern California. VAGLAHS is organizing a number of outreach events and efforts to vaccinate all veterans and eligible individuals.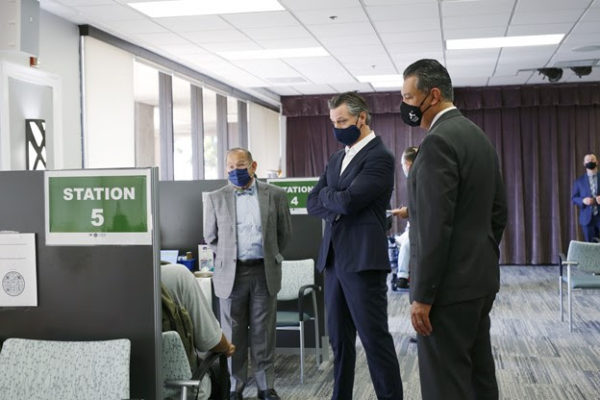 The Governor today also announced a partnership with the Hilton Foundation on a $69,000 grant to provide coordinated services to veterans to find more permanent housing. The announcements build on the Governor's unprecedented $22 billion investment to address housing and homelessness, including $12 billion for homelessness and behavioral health services to help get tens of thousands of people off the streets or avoid homelessness altogether. This package includes $25 million specifically for homeless veterans services and $20 million to support the West LA Veterans Affairs campus.
Administered by the California Department of Housing and Community Development in collaboration with the California Department of Veterans Affairs and the California Housing Finance Agency, the Veterans Housing and Homelessness Prevention Program (VHHP) finances the development of a variety of rental housing for veterans and their families, and has announced three awards today that are part of the West LA campus. VHHP will fund 189 of the 192 units, with awards for the three programs totaling $39.6 million.