Harris meets with Vietnamese LGBTQ activists
Two LGBTQ activists were among those who participated in a roundtable with Vice President Kamala Harris that took place in Hanoi, Vietnam
HANOI, Vietnam — Vice President Kamala Harris on Thursday met with two Vietnamese LGBTQ rights activists.
Harris' office said Chu Thanh Hà Ngoc, a transgender activist, and Đoàn Thanh Tùng, an LGBTQ advocate, participated in a "roundtable discussion with the vice president and Vietnamese social advocacy organizations" that took place at the U.S. Chief of Mission's home in Hanoi, the Vietnamese capital.
"It is critical that if we are to take on the challenges we face that we do it in a way that is collaborative, that we must empower leaders in every sector, including of course government but community leaders, business leaders, civic society if we are to maximize the resources we collectively have," said Harris.
Harris specifically noted the Vietnamese Health Ministry "helped craft the draft — and draft — the (country's) transgender rights law" that took effect in 2017.
"Transgender people deserve and need equal access to healthcare services," she said. "This is an issue that we still face in the United States, and it is an issue here in Vietnam, I know. And we will work together and support you and the work you are doing in that regard."
Ann Marie Yastishock, the U.S. Agency for International Development's mission director in Vietnam, moderated the roundtable.
It took place on the last day of Harris' trip to Southeast Asia that began on Sunday in Singapore, one of the dozens of countries in which consensual same-sex sexual relations remain criminalized. The trip also coincided with growing calls for the U.S. to evacuate LGBTQ Afghans from Afghanistan after the Taliban regained control of the country.
Ted Osius, who co-founded GLIFAA, an association of LGBTQ employees of Foreign Service agencies, was the U.S. ambassador to Vietnam from 2014-2017. The late-U.S. Supreme Court Justice Ruth Bader Ginsburg in 2015 presided over the Hanoi ceremony during which Osius and his husband, Clayton Bond, renewed their wedding vows.
President Biden in February signed a memorandum that committed the U.S. to promoting LGBTQ rights abroad.
Visibles Executive Director Daniel Villatoro and Ingrid Gamboa of the Association of Garifuna Women Living with HIV/AIDS were among the members of Guatemalan civil society who participated in a roundtable with Harris in June when she was in Guatemala City. USAID Administrator Samantha Power also met with LGBTQ activists in Guatemala and El Salvador when she was in the countries at around the same time.
District court in Japan rules same-sex marriage ban is not unconstitutional
Marriage was defined as being only between opposite genders and not enough debate on same-sex marriage had taken place in Japanese society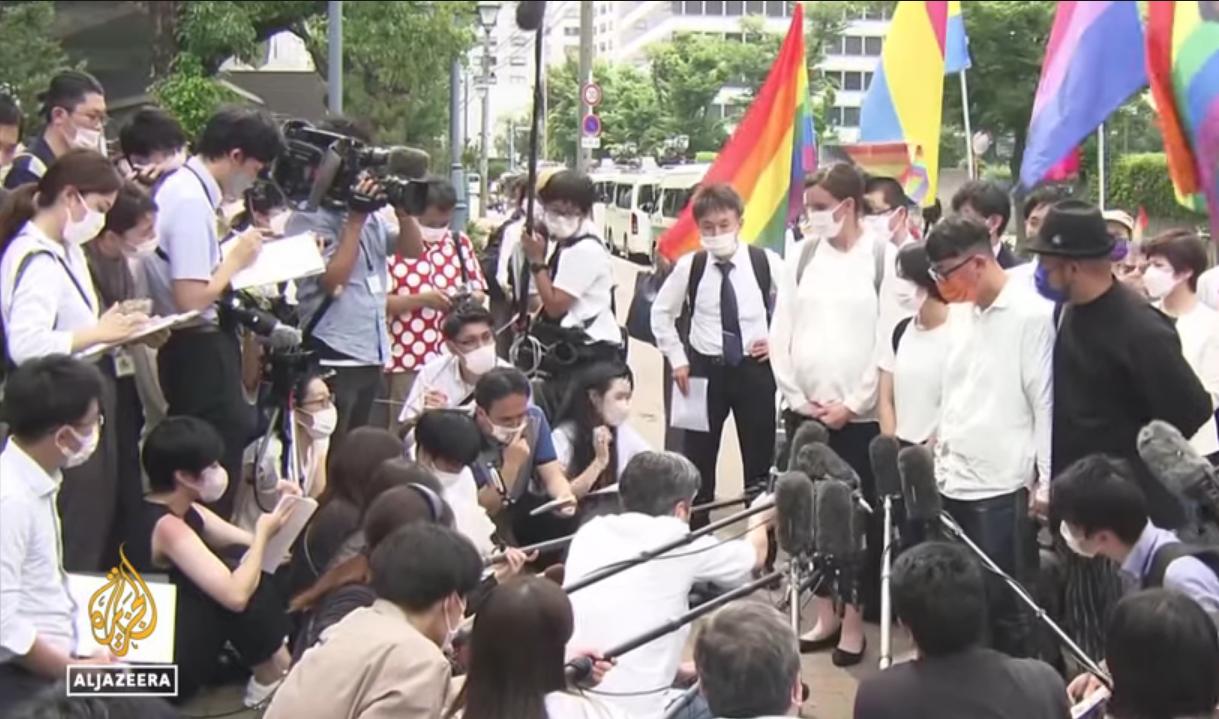 OSAKA, Osaka Prefecture, Japan – In a ruling issued Monday (Local time) a district court said that the country's ban on same-sex marriage was not unconstitutional. The case had been filed by three same-sex couples – two male, one female, and is only the second legal challenge to have been filed in Japan. 
In March of 2021, the Sapporo District Court issued its ruling the country's constitution does not ban same-sex couples from legally marrying and ensures them a right to marry. Under current Japanese law, same-sex couples are banned from legally marrying, which means partners cannot inherit each other's assets upon death and have no parental rights over the other's child.
In the Sapporo case, Nikkei Asia reported three couples — also two male and one female tried to register their marriages in 2019, but local officials turned them away.
The couples sued and the court ruled the government's actions violated two provisions of the Japanese Constitution: Article 14 that ensures the right to equal treatment and Article 24, which does not expressly deny the right of marriage to same-sex couples.
Reuters reported that the Osaka court ruling said that marriage was defined as being only between opposite genders and not enough debate on same-sex marriage had taken place in Japanese society.
"We emphasised in this case that we wanted same-sex couples to have access to the same things as regular couples," said the lawyer for the couples, Akiyoshi Miwa, adding that they would appeal.
Reuters also reported that while Prime Minister Fumio Kishida has said the issue needs to be carefully considered, his ruling Liberal Democratic Party has disclosed no plans to review the matter or propose legislation, though some senior party members favour reform.
An upcoming case in Tokyo will keep alive public debate on the issue, particularly in the capital, where an opinion poll by the local government late last year found some 70% of people were in favour of same-sex marriage.
Japanese court upholds same-sex marriage ban:
Trailblazing Out K-pop star attacked in 'hate crime'
"This is obviously a hate crime. The fact that my sexuality as gay is public should never expose myself to this kind of violence"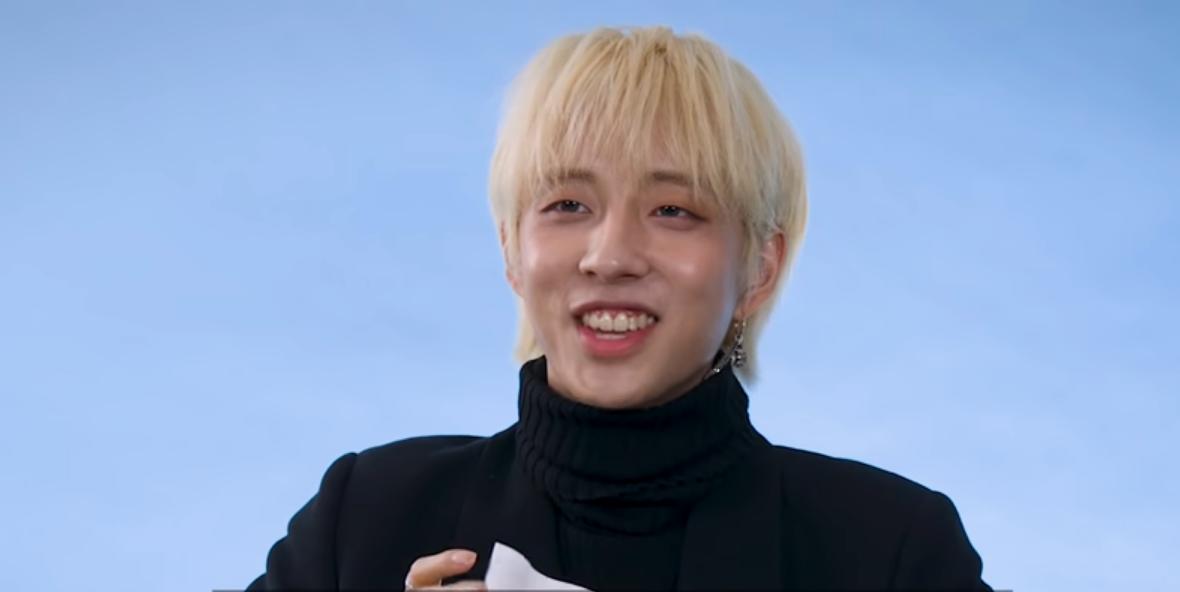 ITAEWON-DONG, Seoul, South Korea – Out K-pop star Holland, real name Go Tae-seob, was brutally attacked Wednesday in the Itaewon commercial district of the South Korean capitol city of Seoul. A spokesperson for the Seoul Metropolitan Police Agency confirmed that the singer had been attacked.
The Itaewon district is known for its cosmopolitan dining and nightlife, with Korean BBQ restaurants, and upscale bistros, as well as low-key kebab shops catering to a late-night crowd. Casual beer bars and gay pubs sit alongside hip dance clubs where DJs spin hip-hop and house music.
In a tweet about the incident, the Out gay pop star wrote; "Last night, I was walking around Itaewon with my manager and a friend. Suddenly, a stranger man approached me and hit me on the face twice, calling me 'a dirty gay'. Now I have a scar on my face and I'm going to the hospital soon."
Holland also noted; "This is obviously a hate crime. The fact that my sexuality as gay is public should never expose myself to this kind of violence. Nor any other LGBT+ and all elders, women and minorities in this world. This happening in 2022 shows the sad reality of LGBT+ human rights."
This is obviously a hate crime. The fact that my sexuality as gay is public should never expose myself to this kind of violence. Nor any other LGBT+ and all elders, women and minorities in this world. This happening in 2022 shows the sad reality of LGBT+ human rights.

— HOLLAND (@HOLLAND_vvv) May 5, 2022
At the end of March earlier this year, the singer revealed during a live stream with fans that he is currently seeing a special someone, but he didn't give many details about his new partner. 
PinkNewsUK reported that the K-pop singer was questioned by fans in the chat during the live stream about his relationship and does indeed "have a boyfriend now". Holland repeated the happy news while smiling, adding "damn" cheekily at the end.
"He's very handsome and kind, tall," Holland said, describing his boyfriend to fans.
so.. i have a boyfriend pic.twitter.com/K3HS62vvqQ

— HOLLAND (@HOLLAND_vvv) March 24, 2022
In an interview published by Daily Mirror journalist Zahna Eklund, she noted that being an LGBTQ+ celebrity in South Korea isn't always easy. The subject is still very taboo and same-sex marriage is yet to be legalised. So when Holland, burst onto the K-pop scene in 2018 as the industry's only openly gay star, he had to fight tooth and nail to get recognised.
Holland first told his friends about his sexuality when he was a teenager, but admitted he didn't tell his parents until he debuted as an idol in 2018. The 24-year-old singer has also said that he was bullied in school because of his sexuality, Eklund wrote.
In its annual Global Human Rights Report for 2022, Human Rights Watch reported;
The Republic of Korea (South Korea) is an established democracy that largely respects civil, political, economic, social, and cultural rights, although significant human rights concerns remain.
Discrimination against women is pervasive, as well as discrimination against lesbian, gay, bisexual, and transgender (LGBT) people, racial and ethnic minorities, and foreign migrants and refugees.
The LGBT rights movement in South Korea is growing but continues to face hostility and severe discrimination, especially in the armed forces. In October, a South Korean court ruled that the military unlawfully discriminated against Byun Hee-su, the country's first openly transgender soldier, when it discharged her after she underwent a gender affirming surgery in 2019. The court ordered her reinstatement, but Byun died by suicide in March.
In schools, LGBTQ+ children and young people experience severe isolation and mistreatment including bullying and harassment, a lack of confidential mental health support, exclusion from school curricula, and gender identity discrimination.
Activists and progressive legislators have actively advocated for the National Assembly to develop and pass a broad-based national anti-discrimination law protecting LGBTQ+ persons as well as women, children, people with disabilities, older people, and foreigners. But the government did not make meaningful progress on such a law, citing a vocal Christian conservative group's anti-LGBTQ+ opposition.
Evangelical Korean churches and religious organizations also continue their efforts to attempt to effectively erase LGBTQ+ Koreans by marginalizing and demonizing them.
Supreme Court of Korea overturns gay sex conviction of military personnel
"Punishing these incidents could infringe upon the right to equality, the dignity and value as human and the right to pursue happiness"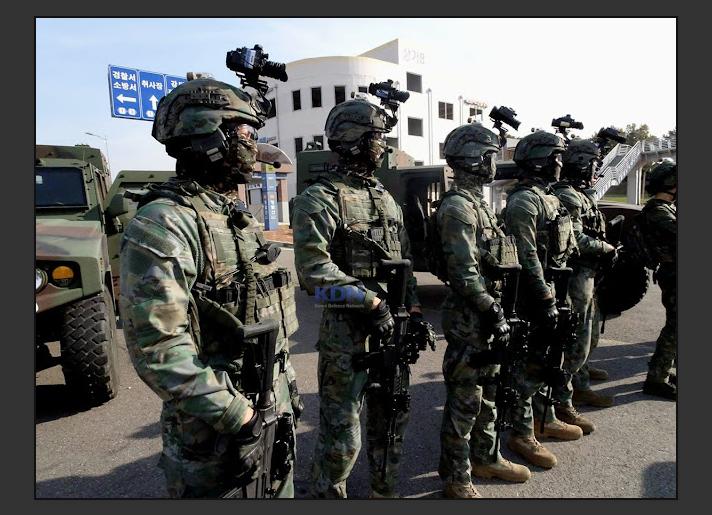 SEOCHO-GU,  Seoul, South Korea – The Supreme Court of Korea overturned a 2019 military court conviction of two service members of the Republic of Korea Army, also known as the ROK, sentenced to suspended prison terms for their same-sex relationship.
"Punishing these incidents could infringe upon the right to equality, the dignity and value as human and the right to pursue happiness as guaranteed by the Constitution," the high court said in its ruling. Under Korea's civilian law homosexual activity is not illegal, but there are provisions in the country's code of military justice that can lead to conviction and prison sentences for same-sex sexual acts.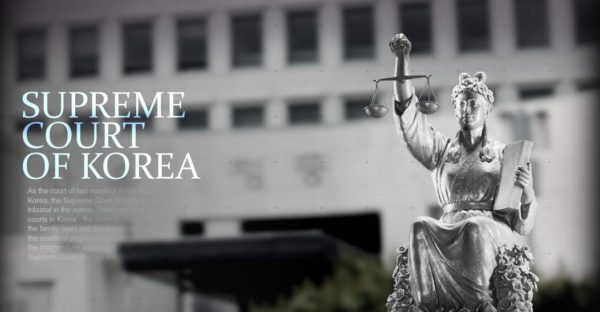 Reuters reported the ministry of defence said it would thoroughly review "the intent of the Supreme Court's ruling". In the past, South Korean authorities have defended the military code against same-sex relationships as necessary to maintain discipline.
The two defendants were indicted in 2017 for having same-sex intercourse in 2016, while off duty and outside their base, which is punishable with prison for up to two years under the Military Criminal Act.
Korea's civil and human rights group's applauded the Supreme Court's ruling.
Lim Tae-hoon the Director of the Military Human Rights Center released a statement Thursday after the ruling taking aim at the military's position.
"How long will we leave a backward law that judges an individual's private life in a court of law because he is a sexual minority?
With this ruling as an opportunity, the Supreme Court ruled that same-sex sex can no longer be evaluated as an act worthy of punishment." 
Lim Tae-hoon told Reuters the military act is under review in the Constitutional Court after the filing of numerous petitions against it, and the center urged the court to quickly complete its review of what it called an "outdated and bad" law.
Last year, the Daejeon District Court ruled against the ROK in a case over a Trans soldier who had committed suicide prior to the ruling that Staff Sergeant Byun Hui-su, as her Trans gender was already legally recognized, the ROK Army should have used standards applied to women to determine her fitness to serve.
Ruling in Staff Sergeant Byun Hui-su's favour, the court noted: 'When based on standards of women, there are no mental or physical disability grounds for dismissal." The court then ordered the ROK Army to reinstate her.
Sadly there was no celebratory acknowledgement because on March 3, 2021 she took her own life and was discovered deceased by emergency officials at her home in the city of Cheongju, south of the South Korean capital city of Seoul.
She took the Army to court with the assistance of the Center for Military Human Rights.