U.S. Supreme Court refuses to block Texas anti-abortion law in 5-4 ruling
The Texas Legislature has deputized the State's citizens as bounty hunters, offering them cash prizes for civilly prosecuting their neighbors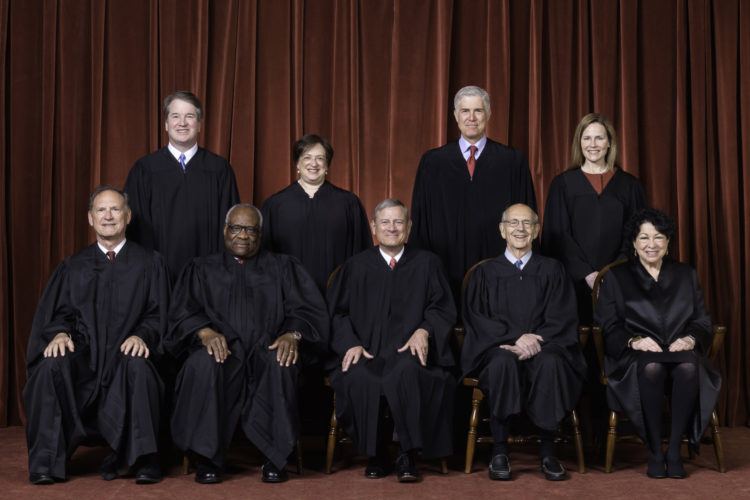 WASHINGTON – Late Wednesday night the United States Supreme Court issued a ruling in the Texas anti-abortion law case which the court had earlier in the day let take effect. By a 5–4 vote, with U.S. Chief Justice John Roberts joining the liberal justices, the High Court will let stand Texas Senate Bill 8, a law that prohibits abortions after six weeks, with no exception for rape or incest.
"Roe v. Wade is, functionally, overturned."

Constitutional lawyer and journalist Mark Joseph Stern.
The Texas law is considered the most restrictive in the nation banning abortion procedures after six weeks of pregnancy- a period when many women are unaware that they are pregnant.
In addition to preventing abortions after detection of an unborn child's heartbeat; the bill further authorizes a 'private civil right of action,' that would allow members of the general public to sue those who might have violated the restrictions, which providers call a bounty hunting scheme, the Texas Tribune noted.
Individuals who are sued under the ban could be required to pay the person who brought the lawsuit at least $10,000 for each abortion the defendant was involved in.
In her strongly worded dissent, Associate Supreme Court Justice Sonia M. Sotomayor, joined by Associate Justices Elena Kagan and Stephen Breyer, wrote a scathing takedown accusing her fellow Court members of "burying their heads in the sand."
In his dissent, Chief Justice John Roberts took pains to explain; "Although the Court denies the applicants' request for emergency relief today, the Court's order is emphatic in making clear that it cannot be understood as sustaining the constitutionality of the law at issue. But although the Court does not address the constitutionality of this law, it can of course promptly do so when that question is properly presented."
Justice Sotomayor also notes, "The Act is a breathtaking act of defiance … The Court should not be so content to ignore its constitutional obligations to protect not only the rights of women, but also the sanctity of its precedents and of the rule of law."
Justice Breyer taking aim at the law's provisions that allows for third party interference and also be paid what amounts to a bounty to stop providers or women writes; "I agree with the Chief Justice, Justice Sotomayor and Justices Kagan. Texas's law delegates to private individuals the power to prevent a woman from obtaining an abortion during the first stage of pregnancy. But a woman has a federal constitutional right to obtain an abortion during that first stage."
The National Center for Lesbian Rights, (NCLR) Legal Director Shannon Minter decried the High Court's decision telling the Blade in an email late Wednesday evening;
"Tonight's decision by a majority of the Supreme Court to greenlight a blatantly unconstitutional Texas abortion ban should be a wakeup call to every LGBTQ person in this country. We cannot count on this Court to protect our freedom. Every day that goes by without the passage of a federal anti-discrimination law for LGBTQ people brings us closer to being stripped of the hard won rights and protections we have struggled for decades to secure, and that still do not exist in many states.
The Court's decision will inspire copycat abortion bans in other states and accelerate the already overwhelming tsunami of anti-LGBTQ state laws. We are in a full blown red-state backlash against equality for women, Black and brown people, and LGBTQ communities, and our Supreme Court has abandoned any pretense of protecting vulnerable minorities. We must turn to Congress for protection and do everything in our power to enact federal protections for reproductive autonomy and a federal law prohibiting discrimination based on sexual orientation or gender identity."
In measured tones but with unmistakable underlying anger Justice Kagan in her dissent wrote "The majority's decision is emblematic of too much of this Court's shadow-docket decision making—which every day becomes more unreasoned, inconsistent, and impossible to defend."
She added; "The majority "barely bothers to explain its conclusion" and "rewards Texas's scheme to insulate its law from judicial review by deputizing private parties to carry out unconstitutional restrictions on the state's behalf."
Justice Sotomayor, offered; "In effect, the Texas Legislature has deputized the State's citizens as bounty hunters, offering them cash prizes for civilly prosecuting their neighbors' medical procedures."
In his analysis, Stern writes; "It is simply impossible to say that Roe v. Wade is still the law of the land. The Supreme Court just allowed Texas to enforce a six-week abortion ban—giving other states a roadmap to do the same. Roe is no longer good law. The right to abortion has been functionally overturned."
Clarence Thomas, Sam Alito, Neil Gorsuch, Brett Kavanaugh, and Amy Coney Barrett killed Roe v. Wade in an unsigned, two-page order issued at midnight on a Wednesday. The brazenness is simply extraordinary. I expected something bad, but I am still stunned.https://t.co/vnAlOOuJEH

— Mark Joseph Stern (@mjs_DC) September 2, 2021
The White House Thursday morning released a statement by President Joe Biden on Supreme Court Ruling on Texas Law SB8:
"The Supreme Court's ruling overnight is an unprecedented assault on a woman's constitutional rights under Roe v. Wade, which has been the law of the land for almost fifty years. By allowing a law to go into effect that empowers private citizens in Texas to sue health care providers, family members supporting a woman exercising her right to choose after six weeks, or even a friend who drives her to a hospital or clinic, it unleashes unconstitutional chaos and empowers self-anointed enforcers to have devastating impacts. Complete strangers will now be empowered to inject themselves in the most private and personal health decisions faced by women. This law is so extreme it does not even allow for exceptions in the case of rape or incest. And it not only empowers complete strangers to inject themselves into the most private of decisions made by a woman—it actually incentivizes them to do so with the prospect of $10,000 if they win their case. For the majority to do this without a hearing, without the benefit of an opinion from a court below, and without due consideration of the issues, insults the rule of law and the rights of all Americans to seek redress from our courts. Rather than use its supreme authority to ensure justice could be fairly sought, the highest Court of our land will allow millions of women in Texas in need of critical reproductive care to suffer while courts sift through procedural complexities. The dissents by Chief Justice Roberts, and Justices Breyer, Sotomayor, and Kagan all demonstrate the error of the Court's action here powerfully.

While the Chief Justice was clear to stress that the action by the Supreme Court is not a final ruling on the future of Roe, the impact of last night's decision will be immediate and requires an immediate response. One reason I became the first president in history to create a Gender Policy Council was to be prepared to react to such assaults on women's rights. Hence, I am directing that Council and the Office of the White House Counsel to launch a whole-of-government effort to respond to this decision, looking specifically to the Department of Health and Human Services and the Department of Justice to see what steps the Federal Government can take to ensure that women in Texas have access to safe and legal abortions as protected by Roe, and what legal tools we have to insulate women and providers from the impact of Texas' bizarre scheme of outsourced enforcement to private parties."
ACLU & Lambda Legal sue Iowa over 'Don't Say Gay' law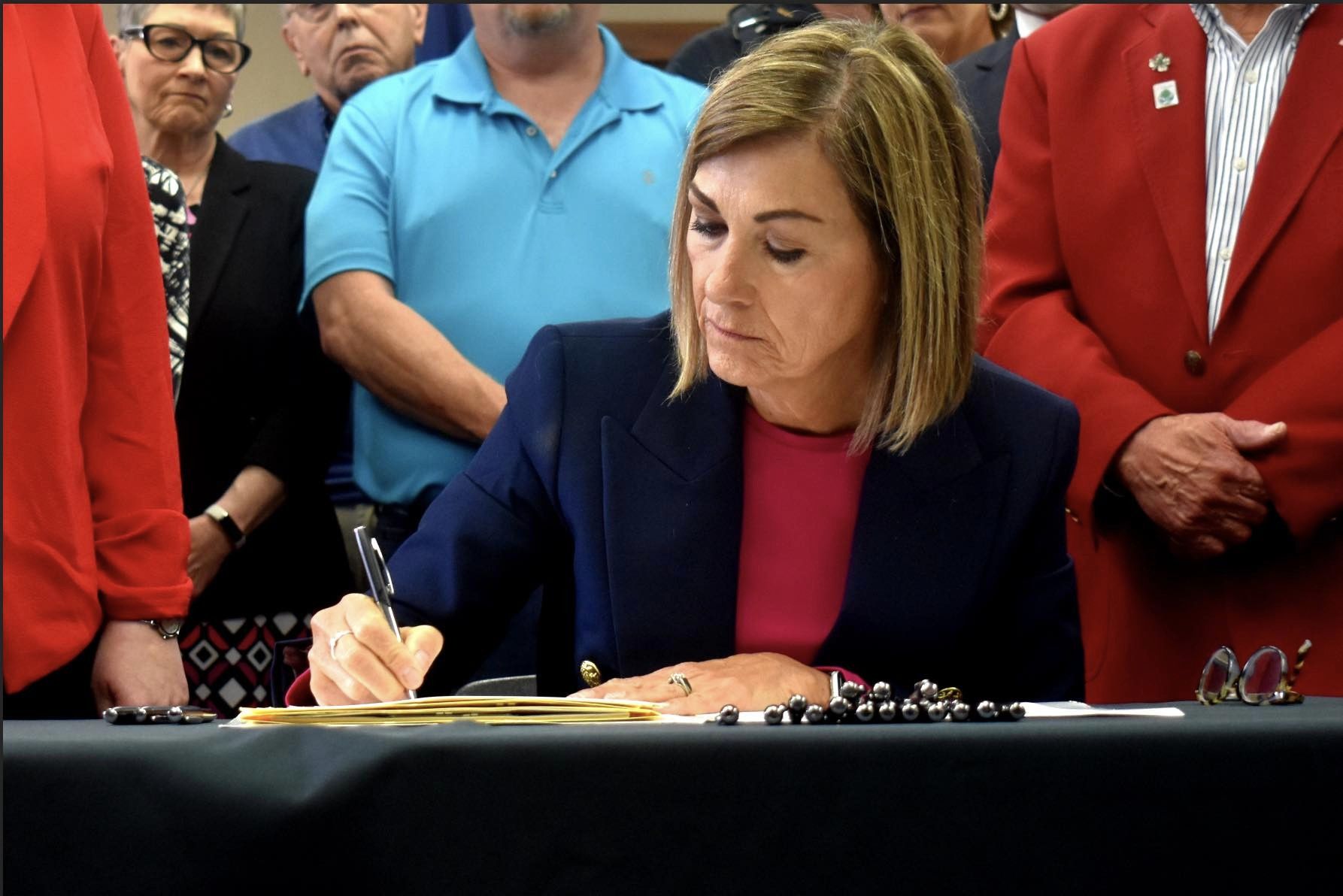 DES MOINES, Iowa – The American Civil Liberties Union (ACLU) of Iowa and Lambda Legal on Tuesday sued to block a sweeping Iowa education law that seeks to silence LGBTQ+ students, erase any recognition of LGBTQ+ people from public schools, and bans books with sexual or LGBTQ+ content, arguing in a federal lawsuit that the measure violates the constitutional rights of LGBTQ students.
The law also requires teachers, counselors, school psychologists, and other staff to report students to their parents or guardians if a student asks to be referred to by names or pronouns that align with their gender identity. This reporting is required regardless of whether it violates a student's expectation of confidentiality, professional ethical obligations, or whether the school official knows that the student would be rendered unsafe, kicked out of their home, or subject to abuse as a result, the suit alleges.
The lawsuit is being brought on behalf of Iowa Safe Schools, a non-profit organization supporting LGBTQ and allied youth, and seven Iowa students and their families affected by the law. The students range from 4th to 12th graders and span the state.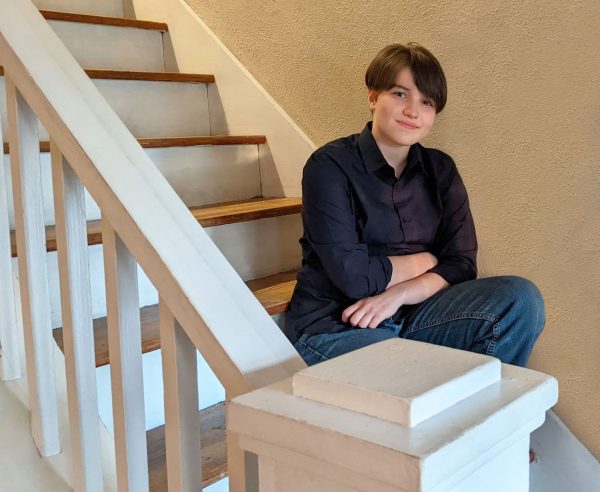 One of the clients in the case, Puck Carlson (they/them), a high school senior in Iowa City, said the law is having a devastating impact on LGBTQ+ students like them. "Reading has always been a fundamental part of how I learned to understand the world around me. Every student should have the right to do the same: to be able to learn about people, cultures, and perspectives and to be able to learn about all of the world around them—not just parts of it. Furthermore, every student should be able to see themselves in their libraries—so that they not only understand the world around them but that they also belong in it."
Another plaintiff is Percy Batista-Pedro, high school junior, Waterloo, Iowa who said:
"I am a junior and I also attend orchestra, participate in theater, and lead my school's Gay-Straight Alliance. I have experienced harassment in school because of my transgender identity, but SF496 and its provisions to shut down open, healthy discussion of LGBTQ issues, and its silencing of students like me make me fear for my happiness and safety more than ever.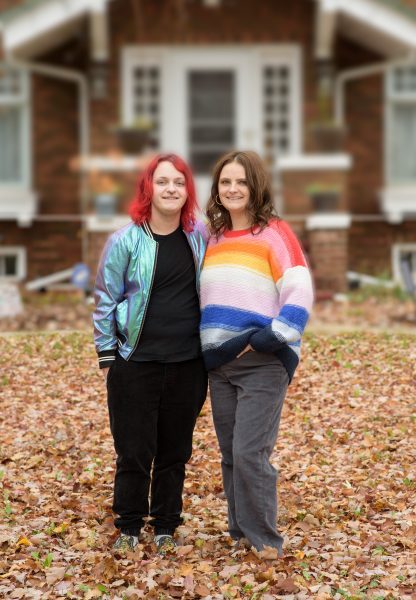 "I am scared of being harassed if I wear Pride apparel, or if I talk about my identity in class. This fear, which is shared by my transgender friends, is why I have chosen to be a plaintiff in this case. During my freshman year while I was performing in a play, a student in the crowd threatened to kill me. I believe the student knew me because of a protest I had staged earlier that year at my high school. Now, after SF 496 and the climate it has created to shame and invite violence against transgender people, I would be terrified of organizing another protest.
"Transgender youth should not have to live in fear at their schools. We should not have to take unnecessary steps to gain the respect of being called by the correct name and pronouns that no cisgender kid ever has to ask for. It is blatant discrimination and should not be permitted to continue."
Belinda Scarrott, Percy's mom noted:
"I have joined with other parents in the State of Iowa to act against this unnecessarily cruel law. My 16-year-old child is transgender and queer. Prior to the passage of SF 496, school already presented difficulties for him that are not faced by cisgender, straight children. We struggled for years, and continue to struggle, with him being misgendered, bullied, and called the wrong name. We even received death threats posted to social media and shouted at school functions, with no action taken by the school.
"I send my child to school, work, and play every day knowing there are many individuals who, given the opportunity, would harm my child simply because he exists as his authentic self. This law only serves to make life more perilous for him and more terrifying for me. This law claims to protect parental rights, but it does the opposite. Instead of sending my child to school and assuming he will be safe, as every parent of a cis-gendered, straight child does, I spend my days worrying about what potential damage this school day might do to my child's physical or mental well-being."
The law went into effect this fall. Penalties for violating portions of the law start January 1, 2024, and administrators, teachers, librarians, and other school staff will be subject to disciplinary action, which could include being fired or losing a license.
SPECIFICS OF THE LAWSUIT
SF 496 is a law with wide-ranging implications for students' academic experience, safe school climate, and mental health. The lawsuit challenges multiple portions of the law that target LGBTQ+ youth and require school districts to ban books, including the following provisions:
The law forbids "any program, curriculum, test, survey, questionnaire, promotion, or instruction relating to gender identity or sexual orientation" in grades K-6. This prohibition has frightened LGBTQ+ young people into concealing who they are for fear of violating the law or getting a teacher in trouble. This provision has caused school districts to take down safe space stickers, remove references to LGBTQ historical figures from library displays, and ban books with LGBTQ themes or characters from libraries and classrooms. This provision also has forced student groups for LGBTQ+ students and their allies to stop meeting entirely.
The law requires public schools K-12 to remove all books containing "descriptions or visual depictions of a sex act" with the explicit exception of the Bible. This portion of the law has caused school districts to remove hundreds of titles from school libraries. School districts have interpreted this provision as requiring the removal of classics from authors such as James Joyce, F. Scott Fitzgerald, Alice Walker, and many others.
The law requires school counselors and other school employees to report to parents or guardians any student's request for a gender-affirming accommodation, including any request to be addressed by particular pronouns. This forced outing provision requires disclosure of a student's gender identity to the student's parents or guardians regardless of whether a school official knows that the report will expose the student to potential family rejection, being kicked out, or physical abuse.
On Nov. 15, the Iowa Board of Education issued proposed rules implementing the law, but those rules do not clarify the law and do not address its unconstitutionality.
The plaintiffs ask the court to 1) temporarily block the law's implementation while the litigation proceeds because of ongoing irreparable harm to LGBTQ+ students. The lawsuit also asks 2) that SF 496 then be declared unconstitutional and permanently blocked. 
Related: