Lil Nas X receives "Suicide Prevention Advocate of the Year Award"
Through his bold music Lil Nas X continues to fight for mainstream queer representation and elevate important issues around mental health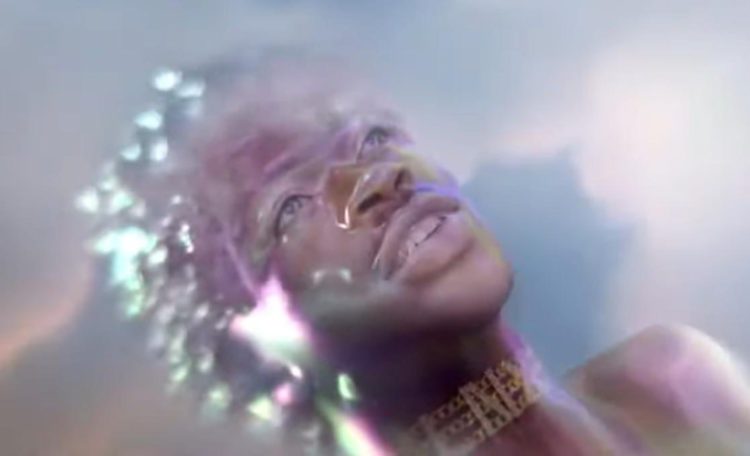 NEW YORK – The Trevor Project, the world's largest suicide prevention and crisis intervention organization for lesbian, gay, bisexual, transgender, queer & questioning (LGBTQ) young people, honored Grammy Award-winning artist Lil Nas X this week with its inaugural Suicide Prevention Advocate of the Year Award.
Lil Nas X has demonstrated an ongoing commitment to supporting The Trevor Project's mission to end suicide among LGBTQ young people with his openness about struggling with his sexuality and suicidal ideation, his continued advocacy around mental health issues, and his unapologetic celebration of his queer identity.
The Trevor Project's inaugural Suicide Prevention Advocate of the Year Award marks the start of National Suicide Prevention Awareness Month and the crucial work that needs to be done to end suicide among LGBTQ youth.
According to The Trevor Project's National Survey on LGBTQ Youth Mental Health, 42% of LGBTQ youth seriously considered attempting suicide in the past year, including more than half of transgender and nonbinary youth. Due to higher rates of discrimination, rejection, and social isolation, LGBTQ young people are at increased risk for negative mental health outcomes such as anxiety, depression, seriously considering suicide, and more.
In accepting the award, Lil Nas X said: "Thank you so much to The Trevor Project for this award and for all they do for the LGBTQ community. Discrimination around sexuality and gender identity is still very real, and our community deserves to feel supported and totally free to be themselves. I often get messages from fans telling me about their struggles with depression and suicidal thoughts, and it made me realize that this was something bigger than myself. If using my voice and expressing myself in my music can help even one kid out there who feels alone, then it was all worth it."
Amidst a record-breaking year for anti-LGBTQ legislation and violence against the LGBTQ community, The Trevor Project is highlighting the importance of queer representation in the media, and the powerful message of visibility and hope it sends to LGBTQ young people.
"The Trevor Project is thrilled to honor Lil Nas X with the Suicide Prevention Advocate of the Year Award," said Amit Paley, CEO and Executive Director at The Trevor Project.
"His vulnerability in his journey to self acceptance and expression has created space for candid conversations around mental health and sexual identity, signaling to LGBTQ youth that they are not alone. The Trevor Project's research shows that over 80% of LGBTQ youth say that LGBTQ celebrities positively influence how they feel about being LGBTQ, further affirming the cultural impact of Lil Nas X being proud of who he is and an ideal recipient of this inaugural award."
Following his chart-topping, genre-defying debut "Old Town Road" in 2019, Lil Nas X quickly became a global LGBTQ icon recognized for his fearless effort in changing the status quo around what it means to be queer and Black in the mainstream music industry. Throughout his career, he has been an outspoken and unapologetic advocate for the LGBTQ community, using his platform to shed light on mental health issues many LGBTQ young people face.
In February, Lil Nas X shared a series of intimate TikTok videos documenting his life story, including his silent battle with depression, anxiety, and suicidal ideation during his rise to fame. The following month, he penned a heartfelt letter to his 14-year-old self about coming out publicly to mark the release of "MONTERO (Call Me By Your Name)."
In the letter he states, "I know we promised to die with the secret, but this will open doors for many other queer people to simply exist." In May, he released the music video for his single "SUN GOES DOWN," which depicts Lil Nas X uplifting a younger version of himself in high school when he was contemplating suicide and struggling to come to terms with his sexuality.
Through his bold music videos, poignant song lyrics, and candor on social media, Lil Nas X continues to fight for mainstream queer representation and elevate important issues around mental health, igniting change and spotlighting the experiences of LGBTQ young people around the world. 
Related News
In news related to National Suicide Prevention Awareness Month, the California State Senate passed the LGBTQ Violent Death Data Collection Pilot Program (AB 1094) this week. The bill now heads to Governor Gavin Newsom for his signature.
The bill, introduced by Assemblymember Dr. Joaquin Arambula (D-Fresno) and co-sponsored by Senator Susan Eggman (D-Stockton), would equip coroners and medical examiners in six participating counties across California with the training necessary to identify and collect data on an individual's sexual orientation or gender identity (SOGI) in cases of violent death, including homicide, suicide and the use of deadly force by police.
The number of LGBTQ youth who actually die by suicide (or other violent deaths) remains unknown due to the lack of SOGI data collected on a broad scale in the U.S. However, suicide is the second leading cause of death among youth ages 10–24 nationwide — and according to the CDC, LGBTQ youth are more than four times more likely to attempt suicide than their straight/cisgender peers.
The Trevor Project's 2021 National Survey on LGBTQ Youth Mental Health found that 42% of LGBTQ youth seriously considered attempting suicide in the past year, including more than half of transgender and nonbinary youth. 
"The first of its kind in the nation, this bill marks an important milestone in the movement to protect and save LGBTQ lives," said Amit Paley, CEO and Executive Director for The Trevor Project. "There is a critical need to track cases of suicide, homicide, and police brutality among the LGBTQ community, allowing us to better understand these crises, respond more effectively with solutions, and help prevent future tragedies. We thank all the sponsors and advocates for championing this historic bill in California and hope that decision-makers across the country take note of this pilot program to model it in their respective communities."
"I believe AB 1094 is an important and humane step in ultimately preventing these deaths. Data may sound like a scientific subject, but, at its core, it leads us to better help and serve all our communities with compassion and empathy," said Assemblymember Arambula. "We must have better data to understand the scope of what's happening in our LGBTQ community – especially among the youth – when it comes to violent deaths, including homicide and suicide. This information will be a crucial guidepost to prevention efforts and saving lives."
AB 1094 would establish a three-year pilot program with the California Department of Public Health (CDPH) where coroners and medical examiners would be trained in cultural competency and best practices on how to properly identify a victim's sexual orientation or gender identity before being required to do so. The bill explicitly requires respect for confidentiality — all personally identifiable information, including names, addresses, and dates of birth would be removed before being reported.
"Recognizing LGBTQ identity matters — in life and in death," said Carrie Davis (she/her pronouns), Chief Community Officer for The Trevor Project. "Particular members of our LGBTQ community, such as transgender women and queer young people of color, face disproportionate rates of violence and suicide. Better data around the occurrence of these preventable deaths can help us create life-saving programs to protect our most marginalized community members."
"AB 1094 will begin the work to bring dignity and visibility to those in the LGBTQ community who have been taken from us too soon," said Senator Eggman. "I'm grateful for the broad support in the Senate today because this will allow us to craft better informed solutions to prevent this violence and save lives."
This bill comes at a time with public support for the tracking of this type of data. According to polling conducted by The Trevor Project and Morning Consult, more than four in five adults (84%) feel it is important to include sexual orientation and gender identity when evaluating suicide and other violent death statistics, including 91% of Democrats, 80% of independents and 77% of Republicans.
If you or someone you know needs help or support, The Trevor Project's trained crisis counselors are available 24/7 at 1-866-488-7386, via chat www.TheTrevorProject.org/Help, or by texting START to 678678.
Thierry Mugler, iconic gay French fashion designer, dies at 73
Often, Mugler's embrace of gay iconography overshadowed his House of Mugler world-class designs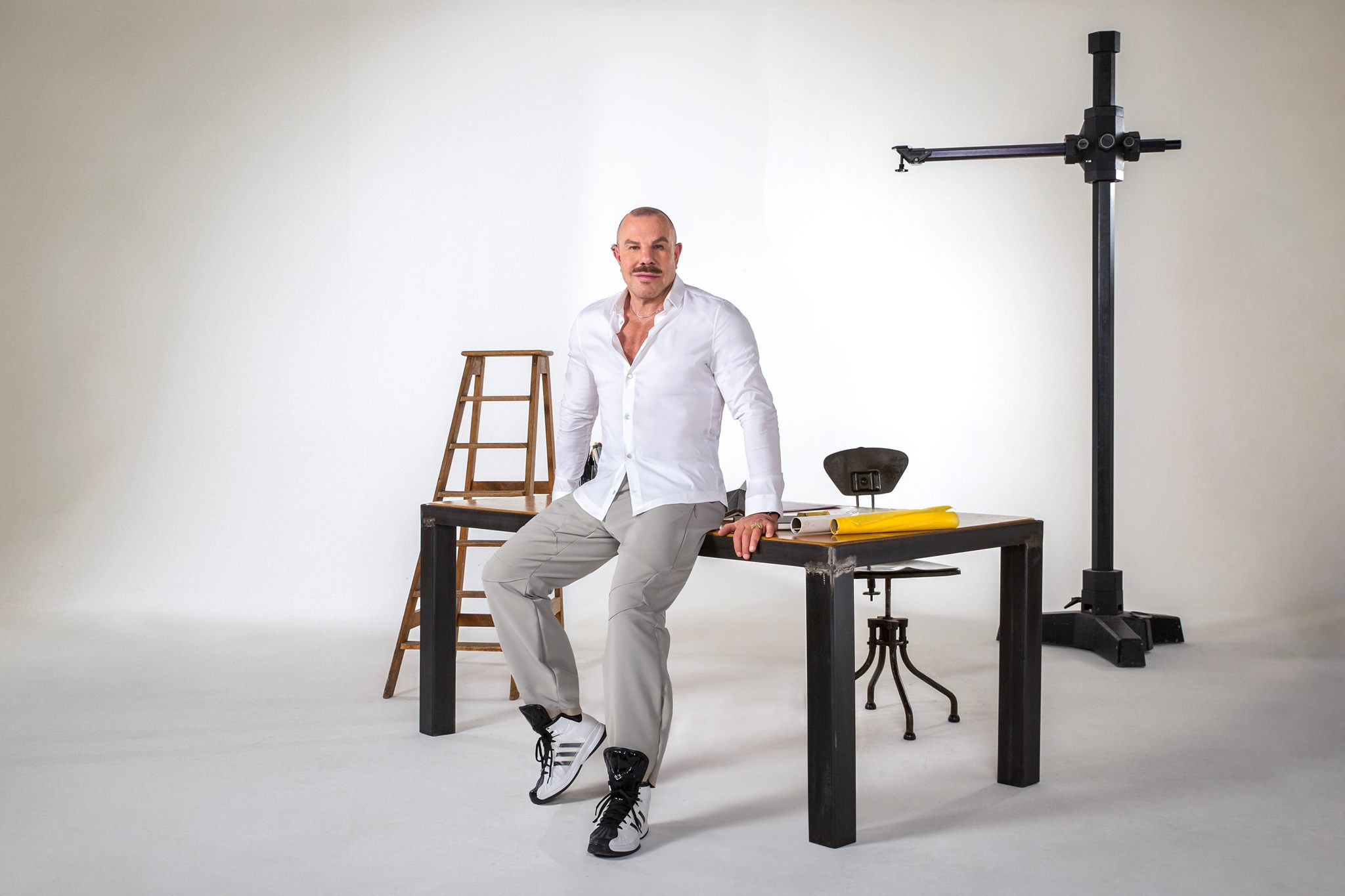 VINCENNES, France – Thierry Mugler, the openly gay, French fashion icon who dressed celebrities from Lady Gaga to Beyoncé, died Sunday at his home in Vincennes, France, outside of Paris. He was 73.
His death was announced on his Instagram. According to a press release, Mugler died of natural causes.
"May his soul Rest In Peace," the post read.
Mugler was a beloved figure in the LGBTQ community who fought extensively for queer rights. Throughout his career, which started in the 1970s, he showcased many trans models, like Connie Fleming, Teri Toye and Roberta Close.
In one of his more iconic runways, legendary drag artist Lypsinka in his 1992 show at the Century Plaza Hotel in Los Angeles, wearing three looks excluded the Mugler's trademark high-camp. 
Often, Mugler's embrace of gay iconography overshadowed his world-class designs.
"The outwardness of designers embracing being gay wasn't then a thing," Paul Cavaco, the fashion director of Harper's Bazaar during Mugler's heyday, told the New York Times. "People knew but you didn't really talk about it. It was considered not chic. And here he was sending drag queens like Lypsinka down the runway."
Cavaco added that even at Harper's Bazaar, one of the most adventurous American fashion magazines at the time, Mugler's clothes were passed over.
Still, Mugler dressed some of the world's top supermodels and most famous celebrities in his broad-shouldered and sharp-tailored designs during his career.
In George Michael's 1992 "Too Funky" video, Linda Evangelista, one of the most accomplished and influential models of all time, donned a Mugler design, as many did in the video. He also created flamboyant and theatrical looks for musical stars like Diana Ross, David Bowie and George Michael.
Part of what set Mugler apart from other designers of his time was his unique view of what fashion should be.
"I don't believe in natural fashion," he told the Times in 1994. "Let's go for it! The corset. The push-up bra. Everything! If we do it, let's do the whole number."
The House of Mugler, his brand, described the famous designer as a "visionary whose imagination as a couturier, perfumer and image-maker empowered people around the world to be bolder and dream bigger everyday," in a LinkedIn post.
Though he retired from fashion in the early 2000s, Mugler has still left his mark on the current fashion landscape. Some of today's biggest celebrities – including Katy Perry, Rihanna and Cardi B – have worn iconic Mugler garments.
In 2009, Beyoncé wore a Harley-Davidson corset designed by Mugler for a George Michael video. Lady Gaga donned a famous suit-dress and hat from Mugler's 1995 collection in her 2010 music video for "Telephone."
Mugler even briefly resurfaced in 2019 to create Kim Kardashian West's infamous "wet look" at the Met Gala.
Heartfelt messages from celebrities that Mugler has worked with poured in on social media and beyond after the news of his death broke.

On her website, Beyoncé wrote: "Rest In Peace, Thierry Mugler."
Dodger Stadium to host wedding for team VP Erik Braverman & his fiancé
Braverman is marrying software engineer and photographer Jonathan Cottrell Friday in "one of the most iconic venues in all of sports"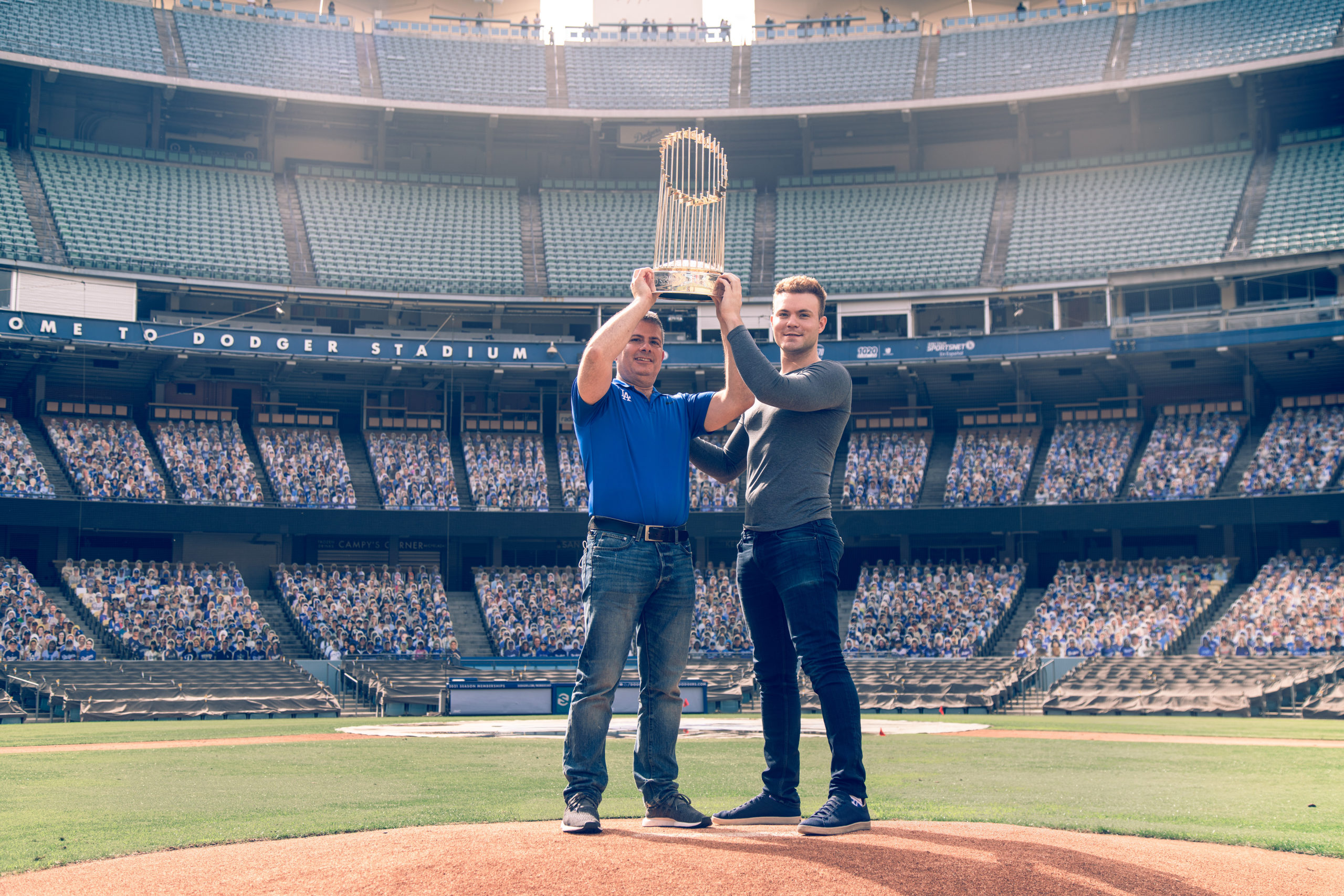 UPDATED: See video below from KTLA 5 News
LOS ANGELES – The biggest homestand of his life awaits Los Angeles Dodgers' senior vice president for marketing, communications & broadcasting, Erik Braverman. On Friday, he will marry his fiancé, Jonathan Cottrell, where he works: Dodger Stadium. 
"I am grateful to the Dodgers for allowing this to happen," Braverman, 51, told the Los Angeles Blade.
Of course, the Dodgers organization has built a reputation as host of the most well-attended Pride events in all of professional sports for several years. The team hosted the first "Gay Night" in pro sports back in 2000 and continue to celebrate its LGBTQ fans year after year.
As L.A. Times columnist Bill Plaschke first reported, Braverman will enter the baseball diamond from the home dugout on Friday and Cottrell will walk the aisle from the visitors' dugout. They will meet and exchange vows on the pitcher's mound.
It's a dream come true for the baseball executive, but it wasn't always so. Four years ago, Braverman told the Blade: "My dream wedding would be something small surrounded by a few friends and family… in Hawaii or somewhere tropical."
Somewhere tropical is ultimately, after all, where Braverman found the love of his life, three years ago.
"We met in a swimming pool in Mexico, both visiting Puerto Vallarta at the same time," Cottrell told the Blade. "We happened to head to the same beach club and struck up a conversation while sipping on pina coladas. The chemistry was almost instant."
So, what changed from 2019 (besides COVID-19 and the pandemic, of course)?
"At the time of the interview, the idea of being married at one of the most iconic venues in all of sports didn't even cross my mind," Braverman told the Blade. "After Jonathan accepted my proposal and Dodger Stadium became a possibility as a venue, the idea seemed perfect to both of us for so many reasons."
As the Blade reported last August, Braverman popped the question on one knee at the Eiffel Tower Restaurant. Not in Paris, but in Las Vegas.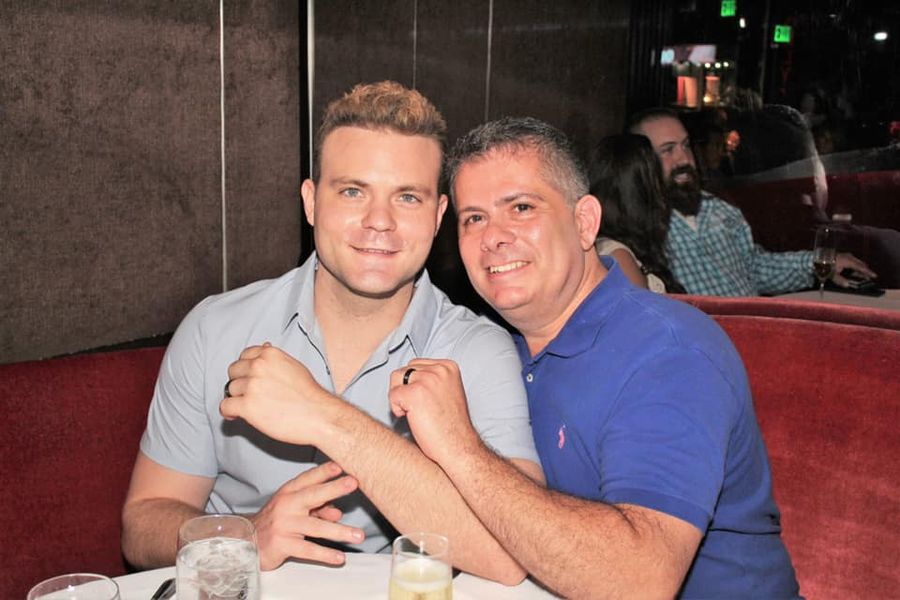 "I thought it was the right time to pop the question," said Braverman. "And given that Jonathan is from France, I thought it would be a cute and romantic idea that I thought I could pull off despite the pandemic. We are planning a honeymoon in Tahiti as soon as that becomes a possibility."
Not much is known about Cottrell, other than he's 31, works as a WeHo software engineer, and is also a photographer and model. So, the Blade asked him to tell us a little about himself.
"My father is from New York and my mother is French," Cottrell said. "My first language is French, though I did eventually grow up bilingual. My parents were missionaries and humanitarians, (and grandparents as well before them!). I spent most of my childhood in Cambodia, but lived all over the world: Haiti, Thailand, Laos, Uganda. I studied at McGill University in Montreal, earning my degree in Physics and Computer Science, number one in my class. I worked as a Software Engineer for Google for many years before diving into the tech startup world. I've explored photography and modeling in my spare time. I may be an engineer by training, but I'm an artist at heart."
But is he a fan of the Dodgers?
"I am absolutely a Dodgers fan, but to be candid, when I met Erik and he told me he worked for the Dodgers, my response was 'That's baseball, right?' Being from France, I've had very little exposure to baseball. But my knowledge and appreciation grows every season! And I was lucky enough to be there in person when we won the World Series in 2020!"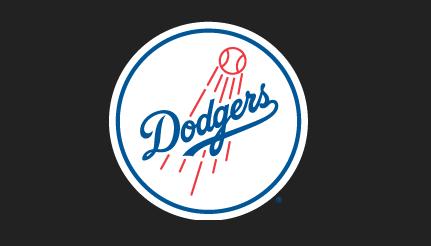 Baseball is most definitely the theme of their wedding: Invitations sent to about 80 relatives and friends resemble a ticket stub. No doubt, there will be happy tears on Friday, despite that line from "A League of Their Own" about there being "no crying in baseball." And the wedding ceremony will end with the sounds of the Dodgers' unofficial anthem, Randy Newman's classic "I Love L.A."
The love Braverman and Cottrell have received since announcing their engagement has been overwhelming, they told the Blade: "The outpouring of support has been phenomenal," they said in an email. "One thing we did not anticipate was how many people who are in situations where they can't be their authentic selves are feeling encouraged and inspired by our story. We are both active on social media and welcome anyone who would like to reach out." They asked us to share their handles on Instagram with readers: @erik_braverman and @modelcottrell"
What's next for the happy couple after getting hitched and, eventually, a honeymoon? Do they see themselves raising pitchers and catchers of their own, perhaps?
"Yes, starting a family is certainly in the cards," Cottrell said. "In fact, I suspect that will be happening sooner rather than later."
********************
André Leon Talley, iconic Black fashion journalist & editor dies at 73
Talley worked at Vogue during an unprecedented time of growth in the fashion industry in the 1980's and 1990's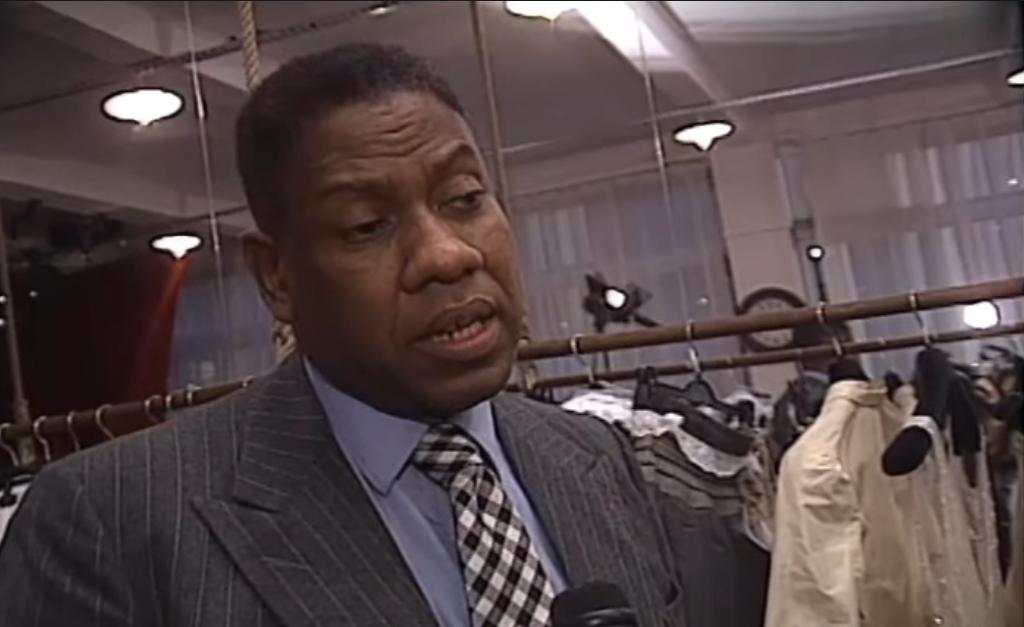 WHITE PLAINS, Ny. – André Leon Talley, a formidable iconic fashion journalist and the former creative director and one-time editor-at-large of Vogue magazine, passed away at age 73 of unspecified causes at a hospital in White Plains, an inner suburb of New York City in Westchester County, New York.
News of the famed fashion journalist's death Tuesday was first reported by celebrity news and gossip site TMZ.
Andre Leon Talley, a giant in the fashion world, has died at 73. https://t.co/eckqP7zdwk

— TMZ (@TMZ) January 19, 2022
Talley was known for his close friendships with designers like Karl Lagerfeld, Tracy Reese, Rachel Roy, singer/actress Jennifer Hudson and Vogue magazine editor in chief Anna Wintour among others.
Talley worked at Vogue during an unprecedented time of growth in the fashion industry in the 1980's and 1990's. From 1983 until late 1987, he was the magazine's the news director and was then promoted to Vogue's creative director in 1988, a post he held until 1995. He later came back to the magazine in 1998 as the editor-at-large until his departure in 2013.
Born in Washington D.C. on October 16, 1948 and raised in North Carolina, Talley graduated with a Bachelor of Arts degree in French Literature in 1970 from North Carolina Central University. He later attended Brown University, after he was awarded a scholarship, where he earned a Master of Arts degree in French Literature in 1972.
Talley's early career as a journalist saw him working at Andy Warhol's Factory and Interview magazine. He later became the Paris bureau chief for Women's Wear Daily.
His later career saw Talley hosting his own radio show principally concerned with fashion and pop culture on Sirius XM. He also released a book The Chiffon Trenches: A Memoir on May 19, 2020, which detailed his early career start and some of the issues he encountered as a Black man.
Talley was also an LGBTQ+ icon. When asked about his sexual orientation by daytime chat show host Wendy Williams during a May 29, 2018 appearance, he stated, "No, I'm not heterosexual; I'm saying I'm fluid in my sexuality, darling."
Andre Leon Talley, Fashion's Godfather | Fashion Icon Profile:
VideoFashion profile in 2020 marking of the release of Andre Leon Talley's memoir, "THE CHIFFON TRENCHES."
Andre Leon Talley | Full Address | Oxford Union: