Atlanta police investigating shooting at Black Pride that left 5 wounded
Atlanta police said that as of Monday evening no arrests had been made and the shooting is under active investigation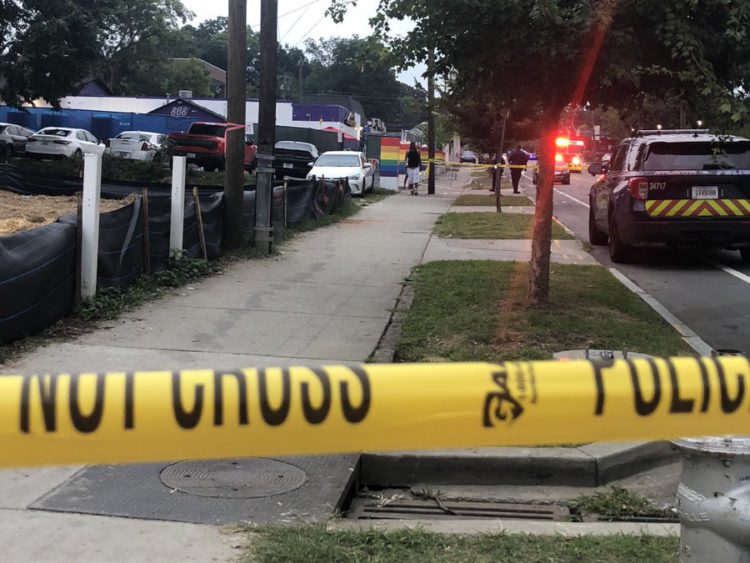 ATLANTA – A shooting that left 5 persons wounded with non-life threatening injuries over the weekend outside an Atlanta Black Pride event hosted at the Marquette Lounge is under investigation an Atlanta police spokesperson said.
The nightclub, located on Joseph E. Boone Boulevard in the northwestern area of the city was hosting an appearance by musical artist, rapper Lil Kim, in its outside events area. According to the club's Facebook page, her appearance was part of an all-night event to celebrate the Black Pride Weekend.
Atlanta Police detectives believe a fight started outside the club before a man started shooting into the crowd the Atlanta Journal-Constitution reported.
"Following the shooting, patrons ran across the street to Proctor Street, where they contacted 911," Atlanta police said Monday afternoon. "The suspected shooter fled the scene before officers arrived."
All five of those injured were taken to local hospitals for treatment, including some who went by ambulance and others by private vehicle, according to police.
In a statement released Sunday night, the club said the shooting did not happen on their property.
"Our premises were fully secured at the time and to our knowledge, no major occurrence happened that would warrant the shooting that took place across the street," the emailed statement said. "We are limited in the level of control we have in situations that do not occur on our property. We have reached out to the Atlanta Police Department and are fully cooperating with the ongoing investigation."
Atlanta police said that as of Monday evening no arrests had been made and the shooting is under active investigation.
Shots were fired after a fight yesterday during Black Pride Weekend outside the Marquette Lounge in #Atlanta. Rapper Lil Kim was performing at the club. Five people were injured. No suspects were arrested. pic.twitter.com/zcGHYCE9De

— ATL Uncensored (@ATLUncensored) September 7, 2021
Georgia school official says gay art is same as Nazi flag
There are ongoing complaints that this current administration has been discriminatory against women, LGBTQ people & English language learners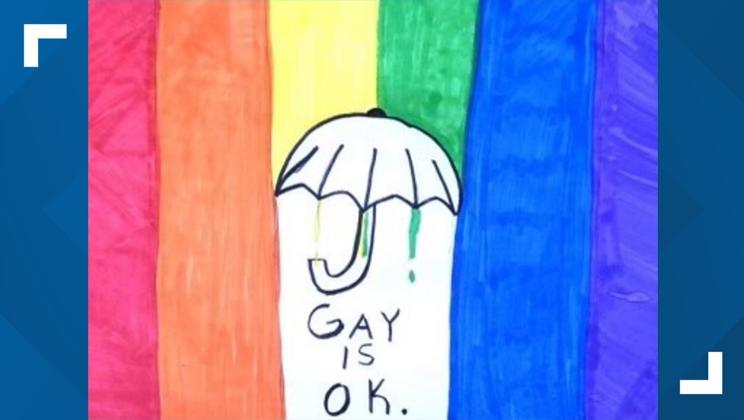 ATHENS, Ga. – A display of student artwork at Oglethorpe Avenue Elementary School in Athens this past week created a controversy, when a poster that was hung in the collection by a faculty member for a student that had rainbow colors and the words; "Gay is OK," was taken down by an school administrator who labeled it comparable to exhibition of a Nazi flag.
Atlanta's NBC affiliate WXIA-TV 11 reported that some parents whose children attend Oglethorpe said they are concerned about how this situation and others have been handled.
"There are ongoing complaints about this current administration has been discriminatory against women, being discriminatory against LGBTQ people, being discriminatory against English language learners or emerging bilinguals, emerging multilingual and Spanish speakers. So we have seen a pattern of inequity at our school and we have been asking for support at this point for years," said Jemelleh Coes, a parent and professor at the University of Georgia. 
WXIA-TV 11 heard from staff and faculty at the school expressed their disagreement with the characterization of Oglethorpe. A current teacher, who wished to remain anonymous, told the station: 
On behalf of a majority of the staff at Oglethorpe Avenue Elementary School, we are disheartened that these words and actions have happened in our school building during this time. This does not represent why we chose this profession, and it does not represent the feelings, beliefs, values, and attributes our amazing school family has within these four walls. We are disheartened that there has been no action taken by CCSD or our building administration to rectify the divide that has been caused. We will continue to seek resolution and promote a community of love, acceptance, and tolerance within our building and community. 
Parents want action.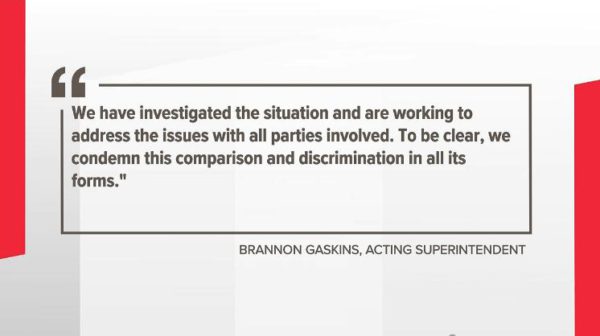 The Clarke County School District released a statement this week:
January 25, 2022
Dear Oglethorpe Avenue Elementary Community,
I write this letter to acknowledge a situation at Oglethorpe Avenue Elementary that has caused a great deal of anger and frustration in our community.
It has been alleged that a piece of student artwork was compared to Nazi symbolism. We have investigated the situation and are working to address the issues with all parties involved. To be clear, we condemn this comparison and discrimination in all its forms.
The Clarke County School District embraces diversity and inclusion for all students and staff. We stand with our LGBTQIA+ community and are dedicated to proving our commitment to diversity and inclusion.
To that end, we will continue having sensitive and appropriate conversations with our school communities.
Sincerely,
Brannon Gaskins
Acting Superintendent
Athens Pride weighed in on their social media accounts raising awareness on the issue and then asking people to donate to help LGBTQ people in need. 
Athens Pride is appalled to hear of the actions that transpired at a local elementary school. Our organization is committed to providing resources and support to LGBTQ+ students, parents, and community members- especially now. We are in contact with all parties involved, who at this time request privacy. We will keep the community updated on further information as it becomes available. We are reminded today that our school, city, and people have a lot of work to do to create true safe spaces for our children. Homophobia, Anti-semitism, and all forms of hate have should have no home here in Athens – especially in our public schools."
State of Georgia settles wrongful-death suit by family of Trans inmate
She is calling for a criminal investigation into the death. She believes her daughter was neglected by the guards because she was transgender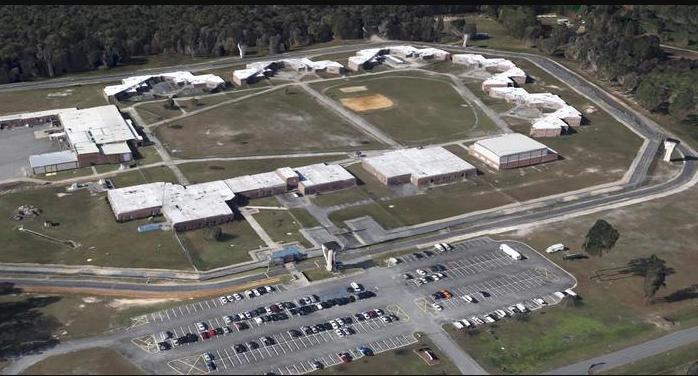 ATLANTA – The Georgia Department of Corrections (GDC) agreed to settle a lawsuit brought by the family of a 25-year-old Trans female inmate who committed suicide at Valdosta State Prison December 6, 2017, hanging herself in her cell. The prison system had agreed this week to pay a $2.2 million settlement to her parents.
The four defendants who were named in the lawsuit are the GDC, the warden at the time, Don Blakely, a correctional officer at the time, James Igou, and the Georgia Board of Regents.
The regents board is named because it manages Augusta University's program called Georgia Correctional Healthcare, which provides health care for inmates, including mental health care.
"The financial settlement is barely nudging any kind of justice," Sheba Maree, Mitchell's mother, told CNN in an exclusive interview. "I'd rather have my child … nothing will ever, ever, ever, ever take the place of my child. To me, this is blood money, and I will not stop until the people involved with her death are held responsible."
Maree told CNN that she is calling for a criminal investigation into the death. She believes her daughter was neglected by the guards because she was transgender.
Convicted in Union County, Georgia in 2015, court documents show Mitchell was sentenced to 10 years in prison after pleading guilty to robbery by intimidation.
In the lawsuit filing, Sheba Maree, her mother, stated that she had called prison staff December 2, after receiving a letter from her daughter warning that she was going to kill herself. Maree indicated in the lawsuit that she had called staff at Valdosta warning them to keep an eye on Mitchell, who suffered from schizophrenia, bipolar disorder, and gender identity issues.
The lawsuit also said that Mitchell had a history of hurting herself.
According to the suit filed in 2019, Mitchell had been approved for gender reassignment surgery but was being held at Valdosta State Prison, a men's prison. Albany, Georgia's NBC/ABC-affiliated television station WALB 10 reported that the lawsuit focuses a lot on what happened between 1:30 and 2:00 p.m. that day that Mitchell committed suicide.
Around 1:30 p.m., the suit says Mitchell asked an attendant to find corrections officer, James Igou, and a sergeant, Wallace Richardson.
Richardson is not named as a defendant in the current version of the lawsuit, but he was named as a defendant in the original version filed with the court.
The lawsuit said Igou went to Mitchell's cell and saw a noose around her neck.
The suit accuses Igou of taunting her and encouraging her to commit suicide.
Around 1:35 p.m., they say Igou walked away, and at least one other inmate told him Mitchell was committing suicide.
They say he laughed and shouted that she should wait until he got back because he "wanted to see."
Before he returned, the lawsuit says Mitchell hanged herself.
Meanwhile, Igou told the sergeant that Mitchell intended to commit suicide, and an inmate told the sergeant Mitchell was hanging in her cell.
Around 1:40 p.m., the lawsuit implies Igou and the sergeant took their time getting back to the cell. A minute later, they say Igou left, and the sergeant stood outside the open cell door a few feet from where Mitchell's body was hanging. Around 1:45, the suit says Richardson closed Mitchell's cell, locked it, and walked away.
Two minutes later, Igou, the sergeant, and another officer walked back. At some point between 1:47 and 1:54 p.m., the lawsuit says Igou and Richardson handcuffed Mitchell. Around 1:54 p.m., Mitchell's parents say she was cut down.
Records from Lowndes County show a 911 call was made around 1:57 p.m., apparently from a staff member.
This is a transcript of that call:
Caller: "What time is it? 1357. Okay, okay."
Dispatcher: "Lowndes County 911, where is your emergency?"
Caller: "Hey, can I get an ambulance dispatched to Valdosta State Prison?"
Dispatcher: "Okay. What's the address there?"
Caller: "It's 3259 Val Tech Road."
Dispatcher: "Okay. Is this the main prison?"
Caller: "Yes. Come in by the tower. I'm not sure of the nature of the emergency, but everybody's running. So, we need them like real fast."
Dispatcher: "You need an ambulance?"
Caller: "Yes, but I'm not sure why."
Dispatcher: "You don't know any patient information?"
Caller: "No, I don't. I just heard them call it over the radio, to call 911, like 1018."
Dispatcher: "We're going to have to know what's going on at some point."
Caller: "Unresponsive. Unresponsive. They're doing CPR."
Dispatcher: "Okay, well there's a difference between CPR and somebody unresponsive. So, they're not breathing?"
Caller: "Okay, they're doing CPR. I'm watching them. They're doing CPR."
Dispatcher: "Okay, you've got a 'code blue.'"
Caller: "Yeah."
Dispatcher: "Okay. We'll get them on the way."
Mitchell was pronounced dead at the hospital two days later.
The Georgia Department of Corrections is currently under investigation by the U.S. Department of Justice Civil Rights Division for years of reported homicides inside prisons, prisoner-on-prisoner violence and the sexual abuse of gay, lesbian and transgender prisoners by other inmates and staffers.
Family members, concerned residents and civil rights organizations including the ACLU of Georgia have filed complaints about the situation within the state's correctional system that has been described as inhumane condition. pointing to such issues as feces- and urine-covered cells due to sewage backups and prisoner-on-prisoner violence.

Georgia Tech settles lawsuit in case of LGBTQ+ student killed by its cops
William and Lynne Schultz alleged that one of the responding campus police officers was inadequately and improperly trained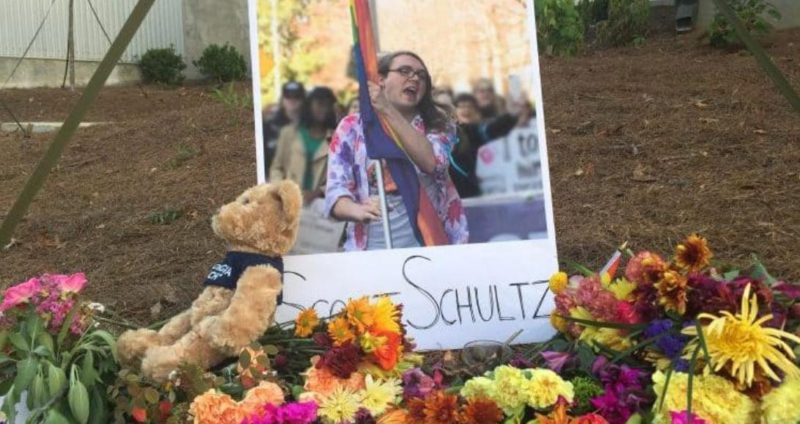 ATLANTA – The family of a non-binary LGBTQ+ student leader shot to death in 2017 by university police officers during a call over a mental health breakdown crisis situation, has agreed to a settlement in a wrongful death lawsuit that the family had filed against Georgia Tech.
The family of 21-year-old Scout Schultz, who was intersex, non-binary and bisexual, a fourth-year student and head of Georgia Tech's LGBTQ+ Pride Alliance, settled this week after the university agreed to pay the family a $1 million settlement in their case.
The lawsuit, filed in September of 2019 by the parents of the slain student, William and Lynne Schultz in the U.S. District Court for the Northern District of Georgia, alleged that one of the responding campus police officers was inadequately and improperly trained.
In the suit, the Schultze's alleged that Tech campus police officer Tyler Beck, 23, "had received no training in crisis intervention." The suit goes on to say that the other responding officers "remained calm and followed standard de-escalation techniques without initiating physical force directed" at Schultz, but Beck "did not de-escalate and instead used deadly physical force."
Schultz called 911 on Sept. 16, 2017. Campus police responded and found Schultz in a residential area of campus holding what appeared to be a knife. Schultz approached the officers in what later characterized in the official report of the incident as a 'menacing manner.' One officer told Schultz that "nobody wants to hurt you" and another told the distraught student to "relax."
But as Schultz continued to advance, one of the officers, Beck, shot Schultz once in the heart and they died about 30 minutes later at Grady Memorial Hospital.
During a subsequent investigation by the Georgia Bureau of Investigation found three suicide notes and Schultz's parents confirmed he suffered from depression and tried to kill himself two years earlier the Associated Press reported.
The Schultz's claimed that the university, the Georgia Bureau of Investigation, the City of Atlanta and Fulton County prosecutors had kept details of the case from the family, Attorney Chris Stewart, who represents Schultz's parents said in a press conference when the lawsuit was first announced.
"Schultz's death was the result of Georgia Tech's and the state of Georgia's failure over time to properly train their personnel to act in such a way as to prevent the exclusion of persons such as Schultz from the safety to which all students were entitled on the campus of Georgia Tech," the lawsuit stated. The Schultze's filed the lawsuit against the school, Beck and the Board of Regents of the University System of Georgia.
The Atlanta Journal-Constitution later reported that now former Fulton County District Attorney Paul Howard said Beck won't face criminal charges in Schultz's death. Howard said two use-of-force experts concluded the shooting was justified.
According to Project Q Atlanta, the university has assigned $1 million to mental health and wellness initiatives for LGBTQ+ students, has awarded Schultz's degree posthumously to their family, and now requires all Georgia Tech campus police officers to carry tasers as well as guns and complete 40 hours of crisis intervention training.