Charges filed in viral anti-LGBTQ assault incident at a Georgia high school
"We are aware of a social media video involving two students and a Pride flag & we take the well-being and safety of our students seriously."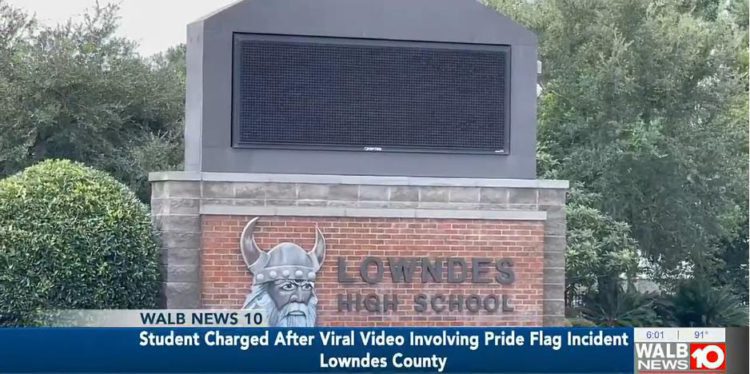 VALDOSTA, Ga. – The Sheriff of Lowndes County, Georgia announced that charges were filed against a juvenile student involved in an assault incident at Lowndes High School that had gone viral on social media last week. The Sheriff indicated that his department was notified by a school resource officer.
Lowndes County Sheriff Ashley Paulk told multiple local media outlets that the Georgia Department of Juvenile Justice was called in and that charges filed included disorderly conduct, simple battery and disruption of a public facility.
In the video, a male student is seen running up to the victim who was seated at a table with an LGBTQ Pride flag draped over his shoulders, forcibly ripping it off the victim, then depositing the flag in a trash can getting into a physical scuffle that also knocked the trash bin over.
"We are aware of a social media video involving two students and a Pride flag," said Rodney Green, Lowndes High School assistant principal. "We take the well-being and safety of our students seriously. Our staff works hard to provide a safe environment where all of our students feel valued.
"As soon as the Lowndes High School administration was aware, the matter was investigated, they ensured that the victim was not hurt and addressed the other student following the appropriate consequence outlined in the Student Code of Conduct."
The identities of the students in the video have not been released by authorities.
After the video went viral, Wyoming based Jeffrey Lynn Steininger Jr., aka Jeffree Star, an Out social media influencer and founder of Jeffree Star Cosmetics tweeted his anger over the video; "Why are straight guys always so bothered??? The student w the pride flag was minding his own business… This makes me sick. And that girl laughing?? Got it. Truly awful."

Media is always pushing the lie that homophobia is more rampant in the black community than in others, but lookie here at Lowndes High School in Valdosta, GA. Look at the attacker, and look who's directly in front of the camera laughing. pic.twitter.com/2uB1RVHwMu

— Relentless Pressure 🇺🇸 (@NecessaryFight) September 6, 2021
Atlanta police investigating shooting at Black Pride that left 5 wounded
Atlanta police said that as of Monday evening no arrests had been made and the shooting is under active investigation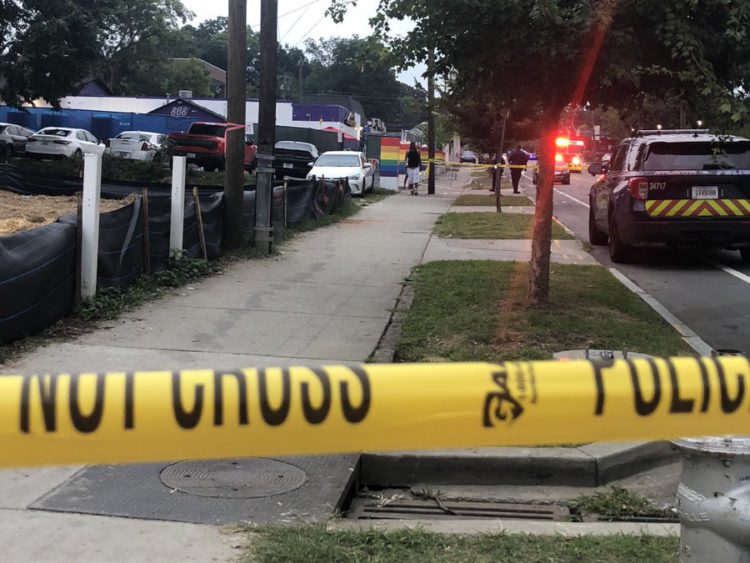 ATLANTA – A shooting that left 5 persons wounded with non-life threatening injuries over the weekend outside an Atlanta Black Pride event hosted at the Marquette Lounge is under investigation an Atlanta police spokesperson said.
The nightclub, located on Joseph E. Boone Boulevard in the northwestern area of the city was hosting an appearance by musical artist, rapper Lil Kim, in its outside events area. According to the club's Facebook page, her appearance was part of an all-night event to celebrate the Black Pride Weekend.
Atlanta Police detectives believe a fight started outside the club before a man started shooting into the crowd the Atlanta Journal-Constitution reported.
"Following the shooting, patrons ran across the street to Proctor Street, where they contacted 911," Atlanta police said Monday afternoon. "The suspected shooter fled the scene before officers arrived."
All five of those injured were taken to local hospitals for treatment, including some who went by ambulance and others by private vehicle, according to police.
In a statement released Sunday night, the club said the shooting did not happen on their property.
"Our premises were fully secured at the time and to our knowledge, no major occurrence happened that would warrant the shooting that took place across the street," the emailed statement said. "We are limited in the level of control we have in situations that do not occur on our property. We have reached out to the Atlanta Police Department and are fully cooperating with the ongoing investigation."
Atlanta police said that as of Monday evening no arrests had been made and the shooting is under active investigation.
Shots were fired after a fight yesterday during Black Pride Weekend outside the Marquette Lounge in #Atlanta. Rapper Lil Kim was performing at the club. Five people were injured. No suspects were arrested. pic.twitter.com/zcGHYCE9De

— ATL Uncensored (@ATLUncensored) September 7, 2021
FBI joins investigation into murder of LGBTQ Atlantan
Atlanta Police continue to search for the suspect in the deadly stabbing of a woman asking that anyone with information to please come forward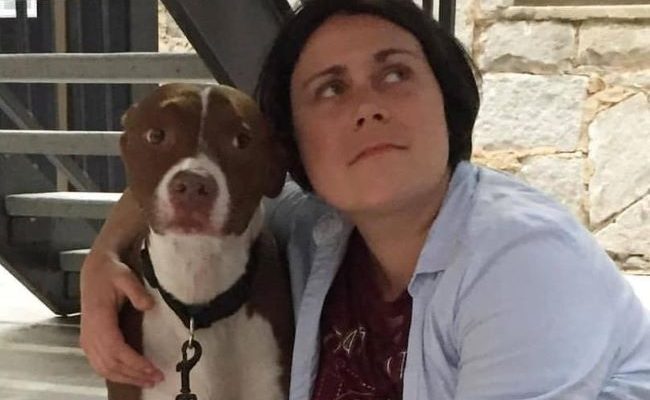 ATLANTA – The Atlanta Police Department's murder investigation into this past Wednesday's stabbing death of 40-year-old Katie Janness and her dog in Piedmont Park, located about 1 mile northeast of downtown between the Midtown and Virginia Highland neighborhoods, has been joined by the Federal Bureau of Investigation, (FBI).
WXIA 11 Alive news reported that the FBI is assisting the Atlanta Police Department, (APD) however a spokesperson for the APD told WXIA the department wouldn't provide any specifics about the FBI's involvement with the investigation, nor did the Atlanta Field Office of the FBI comment.
The Georgia Voice, the local LGBTQ newspaper, reported that Janness, a member of Atlanta's LGBTQ community and a bartender at the LGBTQ-owned Campagnolo, was found stabbed to death in the park on Wednesday (July 28) after walking her dog Bowie, who was also killed.
Janness was found by her partner of six years, Emma Clark, after Clark tracked her with her phone's GPS.
"Today, I lost the love of my life and baby boy," Clark said in a post shared to a GoFundMe page. "It was tragic. She was the most intelligent, kind, humble, and beautiful person I have ever known. I wanted to spend every second with her. [Bowie] was the sweetest, most loyal companion. My heart is so very broken, my world will never be the same."
A vigil was held for Janness on Thursday evening at Piedmont Park.
Atlanta Police continue to search for the suspect in a deadly stabbing of a woman in Piedmont Park
The Atlanta Journal-Constitution reported that Janness' murder is believed to be the first homicide inside the park in 12 years and according to family members of Janness' longtime girlfriend, a security camera at an intersection near the park's entrance captured the last known picture of Katherine Janness and her dog before the two were killed.
But other cameras in the area weren't working, including one facing the entrance. As of Friday the AJC also reported, as of Friday afternoon, Atlanta police had released few details about the murder investigation that has left city residents and parkgoers on edge.
Atlanta Police are asking that anyone with information to please come forward, and tipsters can remain anonymous by contacting Crime Stoppers Atlanta at 404-577-8477, texting information to 274637 or visiting the Crime Stoppers website.
APD detectives are also asking those who live in this area to review footage from their security cameras and contact the police if they find anything that may be pertinent to this investigation. The timeframe for review should be between 10:30 p.m. on Tuesday to 1:30 a.m. on Wednesday.
Gay Asian Atlanta man found beaten, unconscious on railroad tracks
"Joshua received brain surgery and is currently fighting for his life. We have all been by his side as he attempts to recover"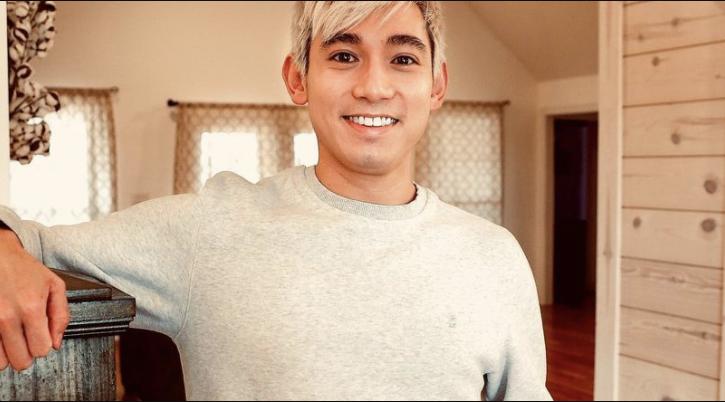 ATLANTA – A 28-year-old gay Asian male is currently in a coma fighting for his life at downtown Atlanta's Grady Hospital Tuesday, as Atlanta Police Department investigators continue to probe into the case of what police are classifying as an aggravated assault.
Detectives have identified the victim as Joshua Dowd who was found bloody and beaten on the rail tracks early Sunday morning on July 11, 2021 near near Piedmont and Lakeshore Drive in the Brookwood Hills neighborhood. Atlanta detectives are currently reviewing surveillance video and phone records a spokesperson said.
According to a GoFundMe post to raise money to defray the cost of hospitalization, "Joshua received brain surgery and is currently fighting for his life. We have all been by his side as he attempts to recover. The doctors are not sure what the outcome will be, but we are all hopeful he will come out of this."
Atlanta CBS News affiliate CBS46 reported that video from The Heretic, a popular gay nightclub in Buckhead in NE Atlanta shows Dowd enter the bar with a man on the night of Saturday, June 10. The two are seen exiting the bar with another man at 3 a.m.
Colin Kelly, Dowd's partner of 3 years told CBS46 that APD detectives said that additional footage shows Dowd in the parking lot of the bar with a group of eight men.
"They go up the hill to the parking lot to another bar, but it's closed," Kelly explained. "What I don't know is what happens there. I don't know if he walked to the train tracks from there or if somehow [he was] forced towards the train tracks."
Kelly said he doesn't recognize any of the people Dowd was seen with in the video. He said they were not mutual friends of the couple.
"I'm a little nervous from some of the videos I saw that perhaps he was led into situations were [he was given more alcohol than] might be consumed and he didn't need it," Kelly said.
Kelly said Dowd, who remains in a coma, is slowing making progress but he believes it's possible his partner will fully recover.
"With some of the moderation in how he's moving and some of things he's doing is proof he's not brain dead and hearing those words from a medically trained professional made me so happy," he added. "It's gone from really challenging to see, to hope you can almost touch."
APD Detectives encourage anyone with information to call 404-577-TIPS(8477) or e-mail the anonymous information using the online form at www.crimestoppersatlanta.org or submit anonymous tips online at https://atlantapolicefoundation.org/programs/crime-stoppers/