Black Trans and Queer POC safety threatened by 'Trumplican' Larry Elder
California has led the country, not only in LGBTQ+ protections but in some of the most progressive legislation the US has ever seen.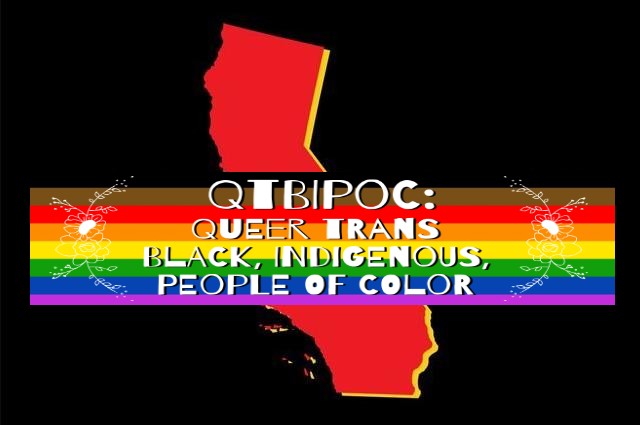 By Ebony Harper | SACRAMENTO – The newly self-proclaimed "Black boy from the hood of South Central LA" (a prospect that's both hilarious and scary once you uncover what's beneath that) is running for Governor of one of the most progressive LGBTQ+ affirming states in the United States.
Larry Elder is more akin to Stephen from Django Unchained. A starkly loyal house slave who personally views himself second only to white men and above other Black folks—birthed from Rush Limbaugh's sunken place. 
Just a few days ago, Elder was on The Candace Owens Show. He made the argument that slave owners should be paid reparations for setting slaves free;
"When people talk about reparations, do they really want to have that conversation? Like it or not, slavery was legal," Elder said. "Their legal property was taken away from them after the Civil War, so you could make an argument that the people that are owed reparations are not only just Black people but also the people whose property was taken away after the end of the Civil War?"
Elder's comments indicate far-right ideas, an ideology rooted in the historical oppression of many marginalized groups, and who better a spokesperson for homophobia, xenophobia, transphobia, and white supremacy than a Black man?
As a Black trans woman who grew up in poverty in the same South Central LA that Elder calls his roots, I faced and witnessed the systemic tragedies of living in poverty/the hood daily. My childhood was full of unhealthy religion, abuse, neglect, and people taking desperate actions to get out of poverty.
Many Black trans women end up in an endless cycle of jails, institutions, and homelessness due to ostracization in the hood and broader society. Consequently, we exist on the fringes of society. My experiences from South Central made me empathize with others and want to lend a helping hand to those in need. Clearly, we took different lessons out of our experiences in South Central.
According to research on LGBTQ+ people in America by The Center for American Progress (CAP), LGBTQ+ women of color face higher rates of discrimination because of multiple identities, including race, gender, sexual orientation, and gender identity/expression. Transgender women, particularly transgender women of color, face extraordinary obstacles to economic security. 38% of Black trans women live in poverty compared to 12% of the US population.
While the needs are still outstanding, the California legislature and Governor Newsome have focused on health outcomes for queer and trans Californians with a critical focus on LGBTQ+ communities of color. 
Elder has a history of not being able to contain his anti-trans and queer sentiments — a simple search of Elder's Twitter feed turned up several anti-LGBT tweets, including one where he voiced frustration with the portrayal of men in Hollywood.
"Any roles for men not gay/transsexual/transgender/transvestite/cross dressers/bi-sexual or unsure? #GoldenGlobes," he tweeted in 2016.
Any roles for men not gay/transsexual/transgender/transvestite/cross dressers/bi-sexual or unsure?#GoldenGlobes pic.twitter.com/9btR3AbpnT

— Larry Elder (@larryelder) January 11, 2016
After the Orlando Pulse Night Club shooting in June 2016, Elder tweeted, "If the #Orlando terrorist was gay, does that disqualify the massacre from being a hate crime?"
If the #Orlando terrorist was gay, does that disqualify the massacre from being a hate crime?

— Larry Elder (@larryelder) June 15, 2016
He has needled Caitlyn Jenner, one of his rivals on the recall ballot, in the past. After Jenner came out as transgender in April 2015, Elder continued referring to her by her birth name (misgendering her).
Elder also tweeted in 2017 about Playboy Magazine's decision to feature a transgender model.
".@Playboy to feature its first 'transgender' Playmate?!? Jeez!!! If Hef weren't dead, this would have killed him," he wrote.
.@Playboy to feature its first "transgender" Playmate?!? Jeez!!! If Hef weren't dead, this would have killed him.

— Larry Elder (@larryelder) October 20, 2017
Elder also said if he becomes Governor, he will appoint judges like Clarence Thomas. Yes, the same Clarence Thomas that voted for the criminalization of LGBTQ people siding with the Texas anti-sodomy law, against marriage equality, and against affordable healthcare. Elder is already mounting a case for voter fraud in our diverse, progressive state. This weekend on Fox, Elder told supporters to report 'shenanigans,' to his website.
With an endless amount of anti-LGBTQ+ legislation taking hold across the country, Governor Newsom has been an unwavering ally to LGBTQ+ Californians, even appointing a Black queer judge to the state supreme court. One can argue that in the past few years, the California legislature has led the country, not only in LGBTQ+ protections but in some of the most progressive legislation the US has ever seen.
I don't think most of us Californians know how much Newsom and the Democratic legislature have done.
While having a long, long ways to go on many issues, it is essential to know how much we have gained and how much we have to lose. We have always led the nation on progressive LGBTQ+ issues. Newsom is somewhat of a folk hero to LGBTQ+ communities across the country. Newsom's engaged in civil disobedience, defying his party, issuing marriage licenses to more than 4,000 same-sex couples just a month into his Mayoral term. His rebellion drew condemnation from social conservatives and prominent Democrats, including gay rights icons and Newsom's political mentors.
We can all agree that it would be wonderful to see a Black governor, even a Black trans woman, as governor that was a sex worker. It would be wonderful to see a Black governor standing up for the voiceless, appoint Black and Brown trans and queer folks to public office, and see the systemic problems instead of going with the lazy answer and blaming the individual. That would be a breath of fresh air.
As the adage goes, "all skin folks ain't kinfolks!"
Larry Elder is not compassionate-based, he is fear-based, and we've seen how his type of politics has divided this country. Let's take California back; Please get out and vote for LGBTQ+ people. Stand up for your community and carry the mantle of Harvey Milk, Miss Major, and Bamby Salcedo.
I'm a Bernie voter and more liberal than Newsom. I want health for all in this state, but I understand the importance of supporting this Governor. He's the most progressive governor we've had. As a historically oppressed community, it is our duty to fight for our freedoms. Please get out in vote, fam. We need you…
********************
Ebony Harper is the director of California TRANscends, a statewide initiative that promotes the health and wellness of transgender people throughout California with a focus on Black and Brown transgender communities.
The California legislature has recognized her for her work. Harper sits on the board of Mirror Memoirs and serves as the newest board member for the Transgender Law Center.
A second Trump term would be disastrous for LGBTQ+ people
This is not a partisan political fight. It's an American imperative. LGBTQ and our allies must not be complacent in 2022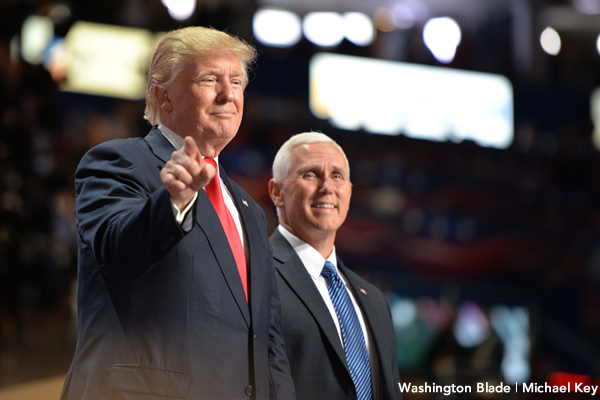 By Sarah Kate Ellis | NEW YORK – The morning after the 2016 presidential election, GLAAD's leadership team gathered in my office to assess the results of the night before and begin to process the reality that Donald J. Trump would be America's next president.
Though emotions were running high, we quickly agreed that the LGBTQ community would be in grave danger for the next four years, and that GLAAD must pivot its priorities and its resources to react and respond to the new administration.
Trump had spent the better part of his campaign having it both ways. He professed to be a friend of our community to the point of literally wrapping himself in the Pride flag at an event, while surrounding himself with some of the most virulent anti-LGBTQ activists and politicians of our era — led by the incoming Vice President Mike Pence. The message was clear — LGBTQ people and our hard won progress would be in the Trump administration crosshairs at every level and in every way possible.
Our charge was not an easy one. The cable news cycle was well into its around-the-clock, obsessive, and incessant 24-hour coverage of Trump and his followers, so we couldn't depend on them to research, dig up and bring to light the nefarious actions that were inevitable. On top of that, we would need to ensure that the LGBTQ community was on high alert and that we were ready to fight back with every weapon in our movement's arsenal.
So on that morning of Nov. 9, 2016, GLAAD's Trump Accountability Project was conceived and launched. For the next four years, we tracked more than 200 attacks in policy and rhetoric coming from the Trump administration.
Some of the most egregious include the complete removal of all LGBTQ references from the White House web site on the day of his inauguration; the shameful ban of qualified transgender Americans from military service; the support for businesses to legally discriminate sanctioned by the Justice Department and argued before the U.S. Supreme Court; removal of LGBTQ identifiers from the 2020 U.S. Census; the stripping of protections for transgender people in schools and in healthcare; and a slew of extreme judicial nominees to the federal bench whose anti-LGBTQ views will have a decades-long impact. The list is extensive, and it is sobering now, even in retrospect.
I invite you to fast forward five years and juxtapose that record against that of President Joe Biden as he crosses the one-year mark of his presidency. Just as we did with Donald Trump, it was important for GLAAD to track the actions of President Biden in order to hold him and his administration accountable for delivering on the campaign promises he made to the LGBTQ community.
The results are undeniable and unparalleled by any president in the history of this country. In his first 365 days in office, GLAAD's Biden Accountability Tracker has just documented its 100th item in a quickly growing list of appointments, policies, and statements that advance equality.
These include:
Nominating the first out lesbians to the federal bench — Alison Nathan, Beth Robinson and Charlotte Sweeney — among a record 40 first-year judicial confirmations.
Nominating the first out Cabinet member confirmed by the Senate, Transportation Secretary Pete Buttigieg; first out transgender person confirmed as Assistant Secretary for Health and first female four-star admiral of the U.S. Public Health Service Commissioned Corps, Dr. Rachel Levine.
Issuing the first U.S. passport with a gender-neutral 'X' marker, an option offered to all routine passport applicants in early 2022.
Reinstating of transgender military personnel, as well as expanding coverage for transgender vets' healthcare.
Reversing rollbacks and expanding protections against discrimination based on sexual orientation and gender identity in healthcare, adoption services, and employment.
In a single year, with so many competing priorities, President Biden and his administration have opened doors for LGBTQ Americans and demonstrated unprecedented commitment to ending discrimination and pushing toward full equality in every area of society. Indeed, it's a 180 degree turnaround from the previous administration's attacks on LGBTQ Americans.
There's a good deal of speculation that Donald Trump may once again run for president, and one thing could not be clearer — a second Trump Administration would be disastrous for LGBTQ people. We cannot afford to go backward. Democracy is on the line. Our equality is on the line. And it's not hyperbole to say — our lives are on the line.
This is not a partisan political fight. It's an American imperative. LGBTQ and our allies must not be complacent in 2022. Our work to ensure pro-equality leaders are elected to office — and remain in office — begins now. We cannot skip the midterm elections. We cannot stop paying attention and holding our elected leaders and candidates accountable.
We learned in 2016 and for four years afterward that the train of progress can be reversed, and there are anti-LGBTQ extremists working day and night to do it again. The power is in our hands to not let that happen again.
******************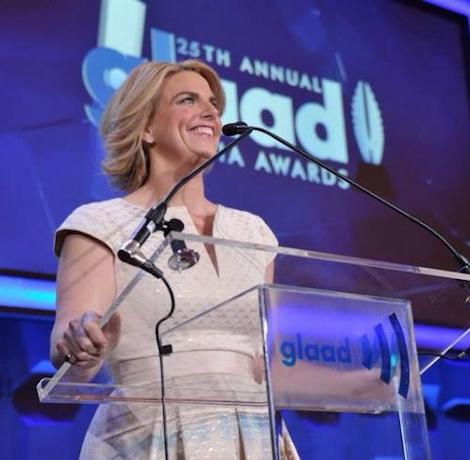 Sarah Kate Ellis is the president and CEO of GLAAD.
Lack of access & accountability; WeHo City Hall is in dire straits
In addition to the lack of access and accountability at City Hall, the city's finances are in a critically perilous situation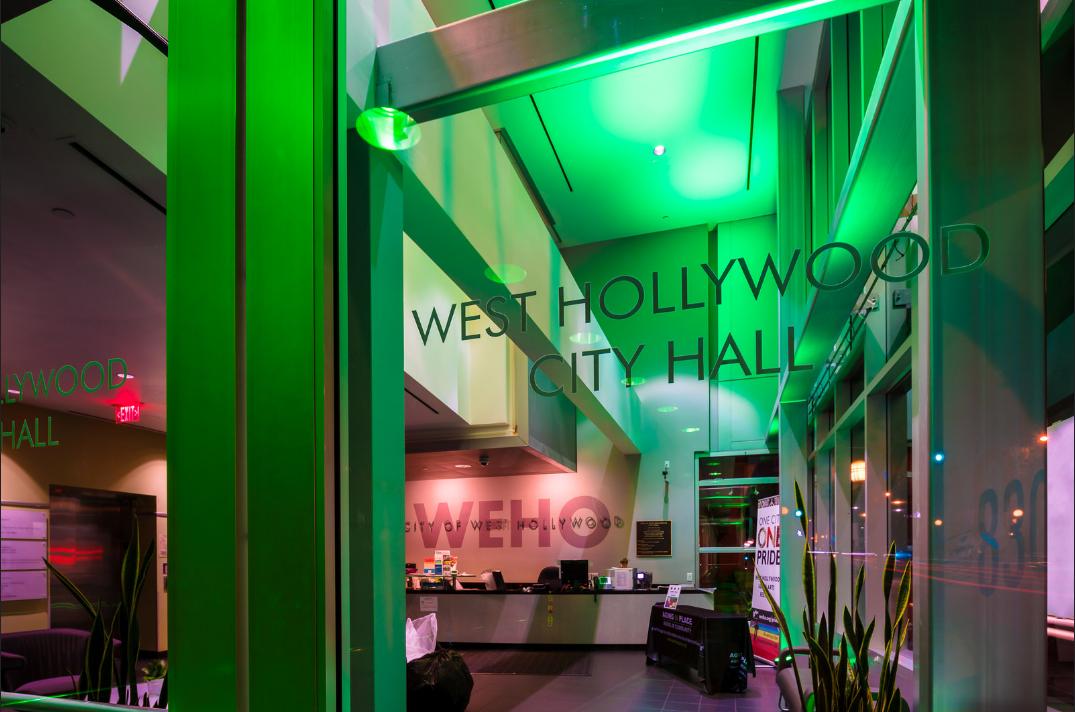 Editor's note: The following commentary does not reflect the views of the staff and publisher of the Los Angeles Blade and is independently submitted for publication. All 'Letters to the Editor' or op-eds will be considered. Please feel free to submit requests to [email protected]
By James Duke Mason | WEST HOLLYWOOD – The last time I spoke out publicly about West Hollywood politics was in the lead up to the 2020 elections.
It's been more than a year since I left my position on the West Hollywood Lesbian & Gay Advisory Board, and almost three years since my last City Council campaign. I've spent my time focusing on my writing and activism, and also pursuing some professional opportunities. But the state of the city is so dire at the moment that I feel now is an important time to speak out and be part of the conversation.
We've now been living with COVID since March 2020; you'd think by now that the city would have figured out a way to manage the pandemic and move forward with city business, yet City Hall has been closed to the public and Council meetings are being held virtually. It was hard enough before for the public to get face time with their Councilmembers or city staff, but now it's literally impossible. City Hall is supposed to be closed till the end of this month but perhaps beyond; who knows when Council meetings will be held in person again? At this point it's absurd when we could easily resume business with masks, vaccine requirements etc.
"The state of the city is so dire at the moment that I feel now is an important time to speak out and be part of the conversation."
In addition to the lack of access and accountability at City Hall, the city's finances are in a critically perilous situation. Some accused me of being hypocritical when I, as someone who once ran as a fresh face, endorsed John Heilman and John Duran in the last election.
What those people failed to understand is that I wasn't for change for the sake of change; at a time of great challenges I believed it was necessary to have experienced, steady leadership for our city, and sure enough Sepi Shyne and John Erickson have failed to live up to their responsibilities.
The city is digging into it's reserves to stay afloat, which is a massive difference from where we were just a few years ago when we were considered one of the best run cities in America.
The biggest crisis we face is the surge in crime that West Hollywood has seen as of late which has received nothing more than a weak, ineffective response from the City Council.
The other night two British tourists were robbed at gun point on Santa Monica and La Cienega Boulevard, just the latest in a long series of violent crime in or near our city. So far I haven't heard any of the Councilmembers propose any concrete solutions; instead their time is spent on fake, performative progressive virtue signaling which actually are nothing more than self aggrandizing moves to further their political careers.
If they were actually concerned about advancing the progressive agenda then they would be taking on issues that actually really make a difference in people's lives; homelessness for instance which is at an all time high.
Where is the tangible action on that front, and how can these Councilmembers call themselves progressives when they haven't done anything to help these innocent people? Homelessness is a disaster, and Sepi Shyne and John Erickson have been asleep at the wheel.
There's been no action at a moment when we desperately need it. Unfortunately the two of them aren't up for re-election until 2024, but we do have several of the other seats up in November, and I will be sharing news about who I support later this year. It's time for us to take our city back and put it on the right track.
********************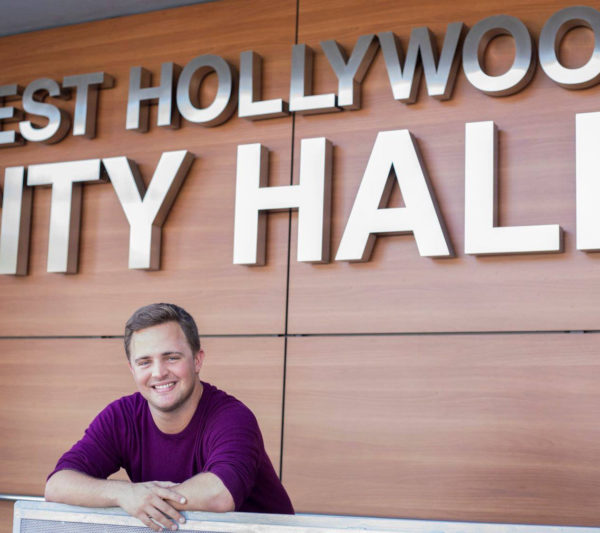 James Duke Mason is a writer, activist and former city official. From 2015 to 2020 he served on the West Hollywood Lesbian & Gay Advisory Board, including a year as Co-Chair.
Photo courtesy of James Duke Mason
Where's the LGBTQ+ outrage over Sen. Kyrsten Sinema?
LGBTQ people are still official second-class citizens without full equal rights & figured out long ago that there is no "both sides" fairness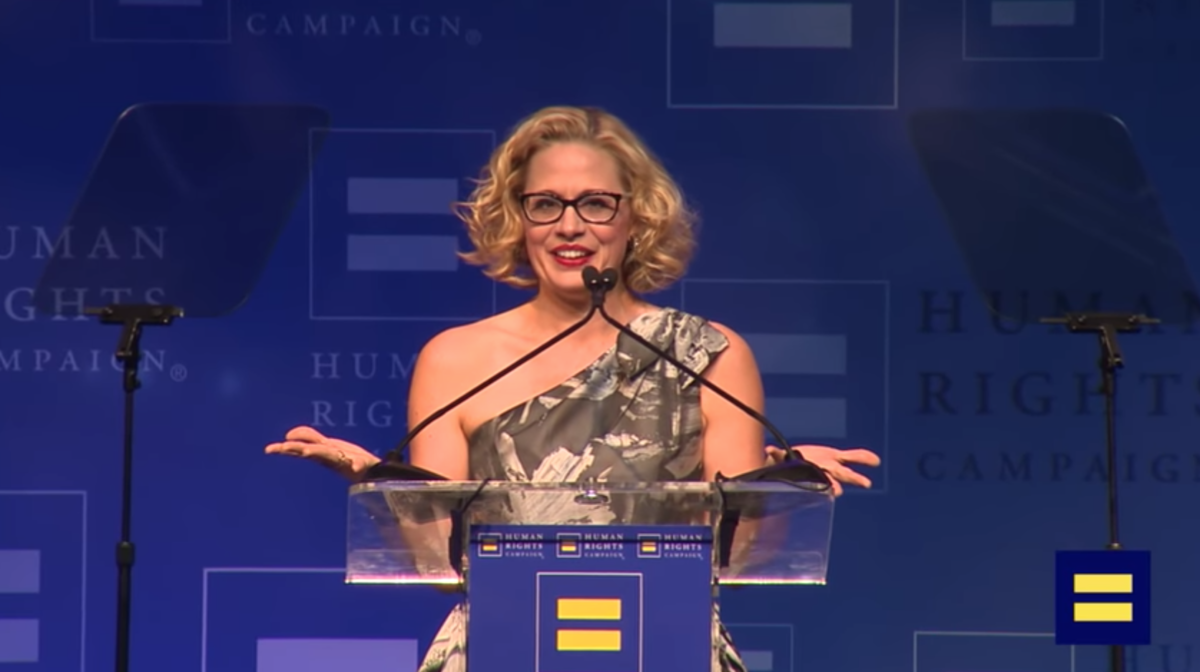 By Karen Ocamb | WEST HOLLYWOOD – I've been waiting and waiting but nothing. What the hell, Human Rights Campaign? Are we really OK with letting this hyper-flirty, bisexual nouveau conservative Democrat from Arizona continue to say she's representing us while holding hands with Sen. Joe Manchin in crushing democracy?
Last October, when Arizona Democratic U.S. Senator Krysten Sinema found super infamy by fighting President Biden's infrastructure spending bill and much of her Democratic Party's call to end the procedural Senate filibuster, The Advocate cited criticism from Black gay New York Rep. Ritchie Torres.
"There is a sense in which we no longer live in a democracy; we live under the tyranny of Kyrsten Sinema," Torres told CNN. "I welcome the ideological diversity of the party. I can live with dissent. My colleagues and I have trouble living with what we perceive to be erraticism. The perception of erraticism is brought on by a lack of communication and clarity for where she stands."
Last Thursday, Sinema gave a soap opera-choked up speech saying she would not vote to change the filibuster because "eliminating the 60-vote threshold will simply guarantee that we lose a critical tool that we need to safeguard our democracy from threats in the years to come." First of all, the threat is here and now and the fact that she doesn't get that makes her inept and craven. The ramifications are huge: without democracy, there is no access to justice.
Secondly, as House Majority Whip James Clyburn told CNN on Sunday, Democrats are seeking a carveout to the filibuster to enable a simple majority to vote on fundamental principles like voting rights.
"When it comes to the Constitution of the United States of America, no one person sitting downtown in a spa ought to be able to pick up the telephone and say you are going to put a hold on my ability to vote. And that's what's going on here," Clyburn told Jake Tapper. "So I would wish they would stop that foolishness because if we do not protect the vote with everything that we've got, we will not have a country to protect going forward."
After Thursday's speech – which she insultingly delivered as Biden was on his way to talk to lawmakers about the critical need to pass the Freedom to Vote Act and the John Lewis Voting Rights Advancement Act – MSNBC's Joy Reid noted that Sinema's rationale for defending the filibuster "is as inconsistent as it is immoral." Sinema supported bypassing the filibuster just over a month ago "in order to raise the debt ceiling on a party-line vote. She doesn't think Republicans should be allowed to damage America's credit, but she thinks allowing them to damage American democracy is a virtue."
Reid noted that Sen. Raphael Warnock called out the contradiction last month after the debt limit vote.
"Be very clear, last week we changed the rules of the Senate to address another important issue, the economy. This is a step, a change in the Senate rules we haven't been willing to take to save our broken democracy, but one that a bipartisan majority of this chamber thought was necessary in order to keep our economy strong. We changed the rules to protect the full faith and credit of the United States government. We've decided we must do it for the economy, but not for the democracy," Warnock said.
Audacity, thy name is Sinema: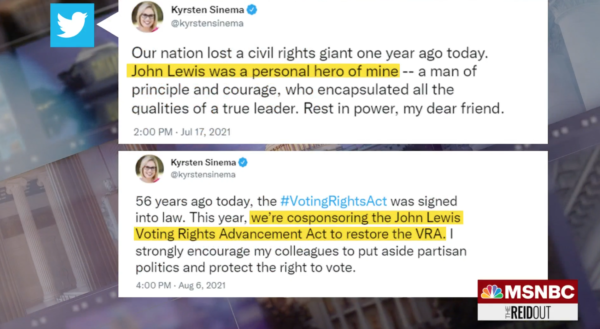 With Sinema's obstinate obstructionism flaring up days before Martin Luther King Day and before a Senate vote on the John Lewis Act – named for the late civil rights icon she claims to have loved – more and more critics are noting how the filibuster was created to further lynching and racist Jim Crow laws. "There's nothing partisan about saying the filibuster has mostly been used for racist reasons, I think everybody would agree that that's true," Harvard Law professor Michael Klarman told the Associated Press.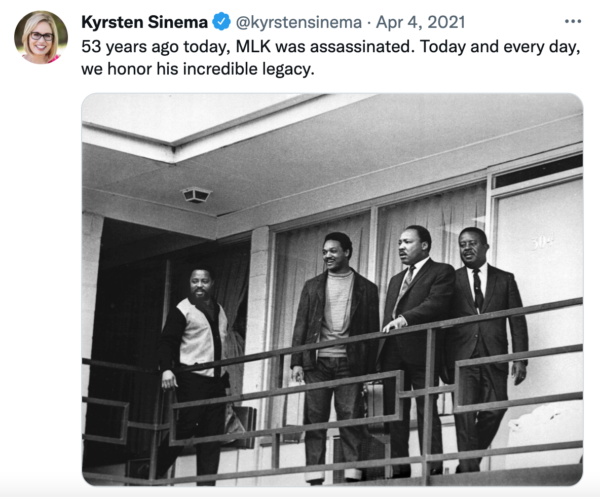 On Saturday, MSNBC's Tiffany Cross said the subtext out loud. "Sinema is a Democrat, but she is in many ways upholding white supremacy," Cross said on "The Cross Connection" after showing a clip of Sinema's Thursday speech. "I don't think I can roll my eyes hard enough and you kind of just want to say, 'Girl, bye.'"
It's not like we didn't notice that Sinema – who used her story of childhood poverty to get elected – has courted infamy. In March 2021, Christine Linnell made an important point in an Advocate commentary.
"Arizona's Sen. Kyrsten Sinema may have taught us a valuable lesson in the past week: when it comes to politics, visibility and representation will only take you so far," she wrote. "Sinema, the first openly bisexual person to be elected to Congress, went viral for the wrong reasons on Friday when she voted against a provision in the coronavirus relief package that would have increased the minimum wage to $15 an hour. And she didn't just vote against it, but went out of her way to get Minority Leader Mitch McConnell's attention before giving a sassy thumbs-down on the floor of the Senate."
Linnell cited journalist Ryan Grim's March 5, 2021 tweet, re-tweeting a C-Span video clip: "Here's @SenatorSinema walking on to the floor, patting Mitch McConnell on the back, looking back to make sure he sees her, then giving the thumbs down to a $15 minimum wage."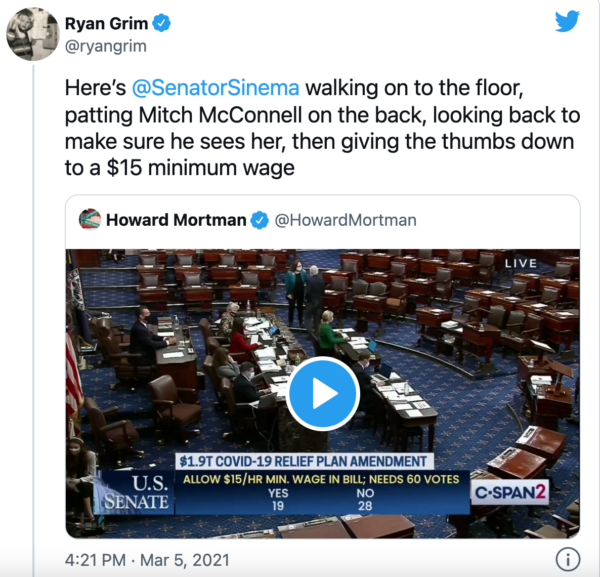 But Sinema is no John McCain and then, like now, it's hard to see what principle she was upholding.
I interviewed Sinema in 2018 for the Los Angeles Blade when she was running for the Senate and noted a tracking report from Nate Silver's FiveThirtyEight indicating that Sinema voted in line with Trump's position 54.7% of the time.
"This isn't a matter of one party being right and the other being wrong," Sinema said. "If we allow our basic values to become just another political football, we'll all lose. If President Trump is willing to work together to stand up for Arizonans, I'll work with him….I learned early on that you get more things done when you're willing to work together…The problem with Washington is that people don't listen to those who have different points of view so they never find the common ground needed to really solve problems. When you actually talk with people and work across the aisle, it's amazing how much you can accomplish."
The problem is that Trump's Republican Party is subsumed by white supremacists for whom lying and treachery is a convenient, amoral means to an authoritarian end. There is no negotiating in good faith here. There is no bipartisanship when one partisan side is angling for white straight male supremacy.
And the thing is, we LGBTQ people — who are still official second-class citizens without our full equal rights – figured out long ago that there is no "both sides" fairness when you're talking about the far right. Ask Joan Garry of GLAAD. CNN used to pit Joan against some religious right nut until finally she (standing in for all of us) said we would not acknowledge the religious right or white supremacists as the equivalent of our movement for equality and social justice.
Yet here we are as Sinema – who claims to represent LGBTQ people – acts as if Trump's white supremacy is equivalent to Biden/Pelosi/Schumer and GLAAD ' agenda to restore Constitutional voting rights.
But where are WE? Do we not remember Silence = Death?
"At consequential moments in history, they present a choice," Biden said in his speech from Atlanta on Jan. 11. "Do you want to be the side of Dr. King or George Wallace? Do you want to be on the side of John Lewis or Bull Connor? Do you want to be on the side of Abraham Lincoln or Jefferson Davis?"
What side do you want to stand on, LGBTQ people?
Ironically, Sinema foreshadowed this moment in her speech before the Human Rights Campaign on March 10, 2018. "It's up to us now to make certain that being gay, lesbian, bisexual or transgender will never again be an impediment to success. These battles will take place on many fronts. Under our new President, that's unfortunately meant returning to some of the fights we thought were behind us," she said, noting that she was running for the Senate "to stand up for the values that unite us as Americans," including "the right to define our own destinies. The belief that no one should be different in the eyes of the law, the freedom to reach for every opportunity and fulfill our greatest potential. We here, we together, we have a moral obligation to continue this work. And standing together, I know we can win."
Standing together? From Jan. 1, 2021, Krysten Sinema tweeted about LGBTQ people/issues only FIVE (5) times – three of which were during June Pride Month.
I reject any assertion that Krysten Sinema represents me as an LGBTQ person. What about you?
Arizona Representative Kyrsten Sinema Speaks at HRC Los Angeles Dinner:
********************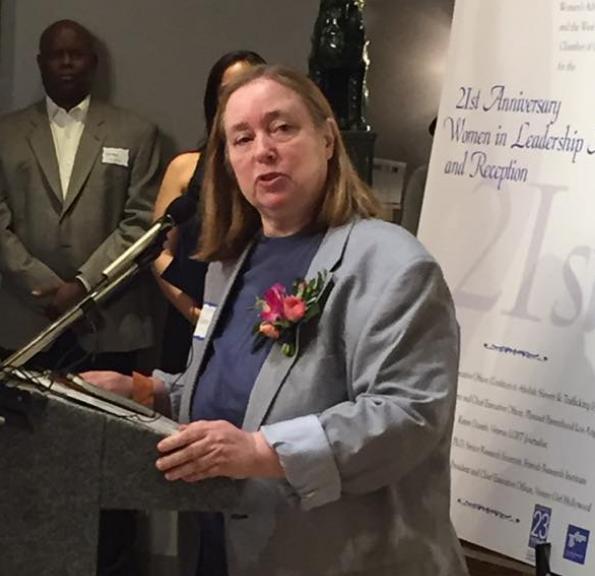 Karen Ocamb an award winning veteran journalist and former editor of the Los Angeles Blade has chronicled the lives of LGBTQ+ people in Southern California for over 30 plus years.
She lives in West Hollywood with her two beloved furry 'kids' and writes occasional commentary on issues of concern for the greater LGBTQ+ community.