Politics Insider: Larry Elder says slave owners deserve reparations too
"When people talk about reparations, do they really want to have that conversation? Like it or not, slavery was legal," Elder said.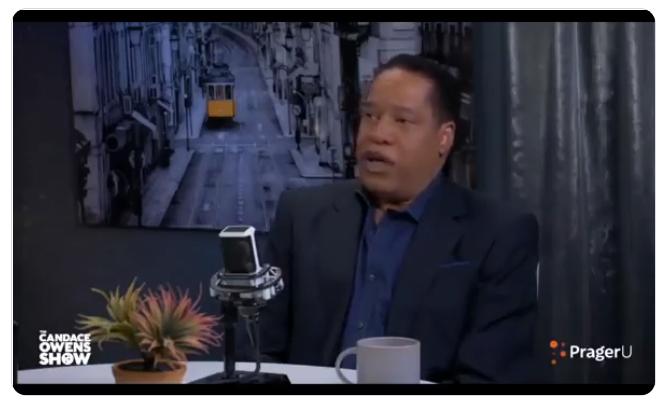 NEW YORK – Larry Elder, the California recall candidate and current front runner, in a report published by Politics Insider.com made the stunning claim that slave owners were also entitled to reparations after the end of the American Civil War in addition to Black people.
"When people talk about reparations, do they really want to have that conversation? Like it or not, slavery was legal," Elder said. "Their legal property was taken away from them after the Civil War, so you could make an argument that the people that are owed reparations are not only just Black people but also the people whose 'property' was taken away after the end of the Civil War."
Elder, a Black conservative right-wing radio commentator was appearing on a July 18 episode of Prager University's "The Candace Owens Show," in a video reported on by Politics Insider.com political correspondent Morgan Keith.
In a recent poll released by the Public Policy Institute of California earlier this week, Elder leads the pool of potential replacements to California Governor Gavin Newsom should voters oust Newsom from office.
Elder's has staked out positions that include his position on women's reproductive right maintaining if elected governor that he would take several hard-right steps to curb abortion rights in California.
This won him the endorsement of L.A.-based anti-abortion activist Lila Rose who tweeted that Elder's promised her that he would pledge to use line-item veto power to cut all abortion funding, to veto any legislation that expands rights or access to abortion, to appoint anti-abortion judges and regulators, and to drop the charges against the two individuals who created a fake company so they could secretly record Planned Parenthood employees.
1. To use line-item veto power to cut all abortion funding
2. To veto all abortion expansion and abortion misinformation legislation
3. To drop all charges against David Daleiden and Sandra Merritt
4. To appoint judges and regulators who respect the constitutional right to life

— Lila Rose (@LilaGraceRose) September 2, 2021
Elder embraced former President Trump's theory that the coronavirus was manufactured by the government of the People's Republic of China. He has been an ardent supporter of Trump; "What keeps Democrats up at night? Islamofascism? Climate change? Thermonuclear war? Hardly. Donald Trump: Once and Future President #WeveGotACountryToSave," Elder tweeted in May.
Elder once called Trump's election divine intervention but his tone is more guarded now now in the weeks leading to the Sept. 14 recall election, the Los Angeles Times reported Saturday. In a recent TV interview, Elder said he was "indifferent" to whether Trump endorses him. So far, Trump has not weighed in.
He has publicly attacked on his radio show the Black Lives Matter movement, the Reverend Al Sharpton, and took a position denying that there is systemic racism in American society especially when pertaining to law enforcement.
He has expressed his disdain for the LGBTQ community in a series of statements and tweets going back several years as reported by the Sacramento Bee newspaper.
Examples included: "Any roles for men not gay/transsexual/transgender/transvestite/cross dressers/bi-sexual or unsure? #GoldenGlobes," he tweeted in 2016. Then in the same year, after the PULSE Nightclub massacre, Elder tweeted, "If the #Orlando terrorist was gay, does that disqualify the massacre from being a hate crime?"
On the subject of systemic racism, Elder who calls himself 'the Sage of South-Central' is a Black man but continues to deny that systemic racism is a reality. In a letter to Congresswoman Maxine Waters, (D-CA) he wrote; "Black leaders refuse to acknowledge the good news: Racism no longer remains a potent threat in American life. Most blacks remain solidly middle class, with blacks forming businesses at a faster rate than whites. The black domestic product, were it a separate country, makes it one of the fifteen wealthiest nations in the world."
He ended the letter with; "In America, we see two black Americas. The majority black world reflects increased prosperity, growing homeownership, and steady asset accumulation. The other, the so-called black underclass, remains disturbing. Quite simply, we see too many children having children. It stands, far and away, as America's No. 1 problem. Whatever role racism played, the complete abolition of white racism would leave these problems unresolved."
According to Elder, the Congresswoman never responded.
He also once tweeted at the CEO of Twitter, Jack Dorsey saying; ""Dear @jack, There's no evidence, let alone 'widespread' evidence, of police 'systemic racism.' Decades of research find cops MORE HESITANT to use deadly force against blacks than whites. Yet @Blklivesmatter routinely posts the 'systemic racism' lie. When will you ban BLM?"
Elder is opposed to the minimum wage. California's minimum wage for large employers will rise to $15 an hour. That's $15 too much for Elder, a vocal critic of state and federal minimum wage laws the Sacramento Bee noted; "Why two people who are adults can't determine what the price of labor ought to be, is beyond me," Elder said in an interview with the McClatchy California editorial boards.
A week ago, a spokesperson for Los Angeles District Attorney George Gascón said that his office will not pursue charges sought by the former fiancé of Republican recall candidate Larry Elder.
Alexandra Datig, the right-wing conservative talk show's former fiancée and longtime radio producer for his show had met with investigators from the Los Angeles Police Department's Robbery-Homicide Division.
Datig alleged she broke off an 18-month engagement with Elder in 2015 after he waved a gun at her while high on marijuana. With a one-year statute of limitations for misdemeanor cases, a spokesman for the district attorney said that prosecutors declined to pursue a criminal complaint against the radio-personality for allegations of brandishing a gun and domestic abuse.
California recall candidate Larry Elder argued that slave owners were owed reparations after the Civil War https://t.co/0m6zIQoDHv

— Politics Insider (@PoliticsInsider) September 4, 2021
BREAKING: Larry Elder called for SLAVE OWNERS to get reparations in newly unearthed footage by @RzstProgramming. Share this everywhere and remember to VOTE NO on the recall! pic.twitter.com/mdyH68jc8m

— MeidasTouch.com (@MeidasTouch) September 3, 2021
Trans candidate endorsed for state senate by EQ California & Victory Fund
"A victory for Lisa will shatter a long-standing political barrier in California and will be a milestone moment for the state"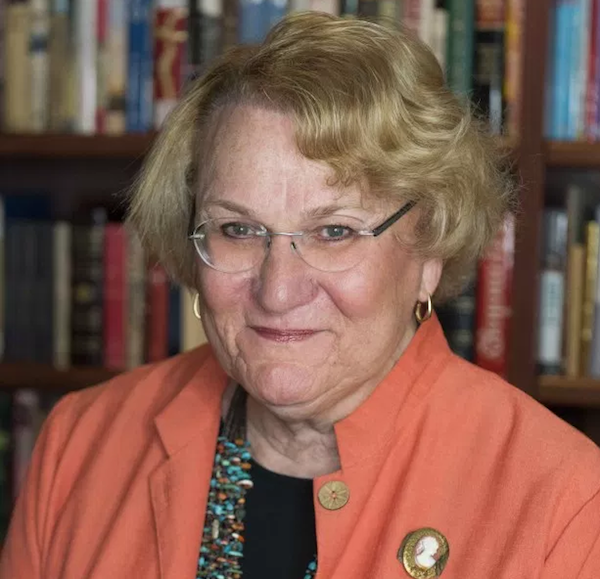 PALM SPRINGS –  Equality California and LGBTQ Victory Fund jointly announced their endorsements of Palm Springs Mayor Pro Tem Lisa Middleton in her race for California Senate District 28 Thursday.
The endorsements demonstrate an early commitment from the LGBTQ political community to elect Middleton, who would be the first out transgender state legislator in California history. In 2017, Middleton became the first out transgender person elected to a non-judicial position in California, when she won her race for Palm Springs City Council.
Only eight out transgender people have ever been elected to state legislatures in the United States. All are currently serving.
"Lisa Middleton is an accomplished leader who has made her region more inclusive, just and equitable," said Equality California Executive Director Tony Hoang. "That's why Equality California is thrilled to announce our early support for Lisa's campaign for Senate. The 28th District needs Lisa's courage, innovative thinking and unique ability to build coalitions in Sacramento, where she will be a trailblazing champion for full, lived equality while delivering critical resources to her community. We're with Lisa 100 percent and look forward to helping her make history once again as California's first transgender state legislator."
"A victory for Lisa will shatter a long-standing political barrier in California and will be a milestone moment for the state and the country," said Annise Parker, President & CEO of LGBTQ Victory Fund. "Yet Lisa is not running for state senate to be a trailblazer. She is a passionate public servant who brings solutions-oriented optimism to challenges big and small – from filling potholes to healthcare access to climate change. Her constituents' quality of life will always be the priority, but Lisa's election will also inspire a new generation of trans leaders to follow in her footsteps."
"I am deeply humbled and thrilled to receive the joint endorsements of Equality California and LGBTQ Victory Fund," said Lisa Middleton. "Since launching my bid for State Senate, the profound, extensive support I've received from the LGBTQ community has been a tremendous honor and boost to my campaign. I remain committed to being a leader who helps to unify and proudly stands for respect, inclusion and opportunity and that my campaign can also show the transgender community that nothing is out of reach, and we can win at all levels of government. I look forward to hopefully partnering with both incredible organizations in Sacramento to continue being an unrelenting advocate for our community and fighting for full, lived equality."
As Mayor Pro Tem and a member of the Palm Springs City Council, Middleton ensured PPE and vaccines were available to residents, led efforts on solar requirements for all new homes and worked to address inequities in the city – including the unique challenges LGBTQ+ seniors face.

Middleton's primary will be held on June 7, 2022.
Palm Springs mayor pro tem Lisa Middleton running for state senate
"Lisa has been a trailblazing champion for the LGBTQ community as well as a dedicated public servant and activist working to uplift her city"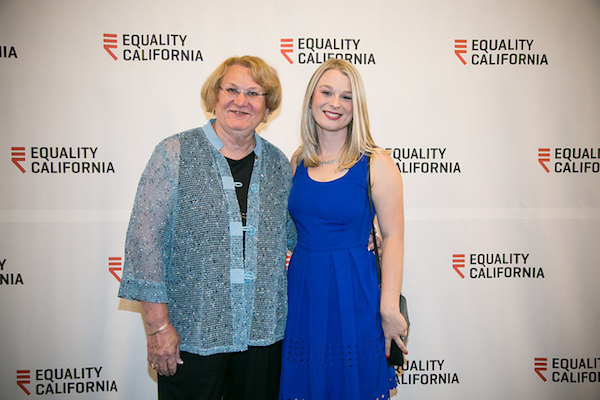 PALM SPRINGS – Palm Springs Mayor Pro Tem Lisa Middleton officially entered the race for California's 28th State Senate District with the powerful support of the California Legislative LGBTQ Caucus and former United States Senator Barbara Boxer.
Middleton, who made history in 2017 by becoming the first transgender person in California history elected to a non-judicial position, currently serves as Palm Springs' Mayor Pro Tem. She would be the first openly transgender State Legislator in California's history. SD-28, an open seat that went for Joe Biden in 2020, currently has a two-point Democratic registration advantage.
Middleton launched her campaign for Senate by releasing the following statement:
"I'm thrilled today to be announcing my campaign for State Senate District 28. I'm running to make a difference in Sacramento and be an effective voice for the 28th District by bringing pragmatic, practical solutions that will improve the lives of all Californians.
I grew up in a working-class East Los Angeles community. The grandchild of Dust Bowl Oklahomans, I grew up in a California that made it possible for me to be the first in my family to attend college. The California that won the 20th century provided world-class education, transportation networks, communication systems and economic opportunity. We can do this again.
I spent my adult life in California state government in our workers' compensation system. I have seen up close government succeed, and I have seen it fail. The difference always comes down to leadership.
Throughout my career, I have been a leader who listens, unifies and gets things done for the people I represent. It is time that Riverside County and the 28th District receive our fair share of California's budget. Our region is one of the fastest growing regions of the country. To win the 21st century, we need a local and regional infrastructure built for the 21st century. We cannot wait to address climate change. It is past time we ensure opportunity for all does in fact include everyone.
Growing up, I remember standing in line in my elementary school to get the polio vaccine at a time the disease was ravaging America. The government came together to administer a life-saving vaccine, and there was nothing political or partisan about it. Tragically today, when we are yet again threatened by a virus that kills hundreds of thousands of people, some for the sake of partisan warfare are provoking fear, division and irresponsibility. I will lead by example.
In the State Senate, I will work to return our state and country back to a place where a crisis—whether it be a pandemic, wildfire, or earthquake— is not an opportunity for partisanship but for us to work together to save lives. In our state, it is always going to be not if, but when and how bad is the next emergency.
My foundation is the neighborhoods I represent. My path to being the first transgender Californian to be elected to a political office began by standing up for Palm Springs neighborhoods and street repair funding. I will go to work every day in the State Senate to improve the quality of your life, in your neighborhood.
The simpler tasks have already been accomplished. The challenges left for our region are the tough ones — climate change, inequity, crime, economic security, healthcare access, rebuilding our infrastructure and homelessness. I am a clear-eyed optimist who believes our best years are in front of us. This is America. We are Californians. We inherited tremendous opportunity. Now it is our responsibility to build on the investments of our parents and grandparents.
My newly-born grandson is expected to live to see the 22nd century. The business of California is building the schools, the equality of opportunity, transportation and communication networks, the jobs and climate that give my grandchild and every child the foundation to build their California Dream.
Please join me. I would be honored to have your support."
The California Legislative LGBTQ Caucus also released the following statement with their endorsement of Middleton's campaign:
"The California Legislative LGBTQ Caucus is thrilled to endorse Lisa Middleton's candidacy for State Senate because we need more bold, innovative LGBTQ+ leaders who are ready to take on California's toughest issues and deliver for our communities. Throughout her career, Lisa has been a trailblazing champion for the LGBTQ community as well as a dedicated public servant and activist working to uplift her city, particularly on the Palm Springs City Council. Additionally, the California Legislature should reflect our state's dynamic population, and it's far past time that transgender Californians were represented in Sacramento. We know that Lisa will be a pioneering, relentless advocate for the 28th District and all Californians, working tirelessly to make the state more inclusive, fair, and just. We're with her 100% and look forward to helping Lisa get elected."
Additionally, former U.S. Senator Barbara Boxer released the following statement with her endorsement of Middleton's campaign:
"I'm thrilled to announce my support for Lisa Middleton's campaign for Senate District 28. A fearless fighter for the people she represents, Lisa is a compassionate, principled and savvy leader who will fight for those most in need in Sacramento while bringing people and ideas to the table to solve big problems. California needs Lisa's forward-thinking ideas, compassion, grit and determination in the State Senate. I'm proud to offer her my enthusiastic endorsement."
Middleton is a neighborhood leader and longtime public servant was first elected to the City Council in 2017. She became the first transgender person elected to a political office in the state of California.
On the Palm Springs City Council, Middleton helped deliver PPE and vaccines to residents during the COVID pandemic, led passage of a solar requirement on all new homes, increased the utilization of green energy by Palm Springs residents and businesses, helped support a booming local economy, increased funding for public safety services and street repairs, helped lead efforts for a generational public works project to bring daily rail service to the San Gorgonio Pass and Coachella Valley, addressed inequity, highlighted the unique challenges of LGBTQ seniors and led by example as a transgender woman in elected office.
Additionally, Middleton currently serves on the Riverside County Transportation Commission (RCTC) and the Sunline Transit Board of Directors, where she works with partners from neighboring cities to provide high-quality transportation services to the region.
She is also a dedicated regional and statewide leader as a member of the League of California Cities (Cal Cities) Board of Directors, including serving as Chair of the Cal Cities Revenue & Taxation Policy Committee, and the California State Department of Transportation Zero Traffic Fatalities Task Force.
Prior to her election to the City Council, Middleton served as a member of the Palm Springs Planning Commission, Chairwoman of the Organized Neighborhoods of Palm Springs (ONE-PS), and Interim Executive Director of the Desert LGBTQ Center.
In April 2019, Governor Gavin Newsom appointed Lisa to the Board of Administrators of the California Public Employees Retirement System (CalPERS), which provides pensions to 1.9 million people and health benefits to over 1.5 million people with investment assets exceeding $450 billion. She serves as Chair of the organization's Risk & Audit Committee and Vice-Chair of the Governance Committee.
This came after Middleton retired from her 36 year-career with California's State Compensation Insurance Fund, where she moved her way up the ranks. Her first job in government entailed performing workers' compensation audits in the factories and meat-packing plants not far from where she grew up. At her retirement, she was the Senior Vice President of Internal Affairs; she also previously Chaired California's Fraud Assessment Commission.
A first-generation college student who grew up in a working-class community in East Los Angeles, Middleton is a graduate of East Los Angeles College, UCLA and USC, receiving her Master's in Public Administration from USC.
Middleton has been widely recognized for her work, earning awards from the California Workers Compensation Institute, Palm Springs Pride Association, Equality California, Democratic Women of the Desert, SAGE/LGBT Senior Advocates, Desert LGBTQ Center and the California State Legislative LGBTQ Caucus.
Together since 2000, Middleton and her wife Cheryl married in 2013 shortly after they moved to Palm Springs. Middleton is also the proud parent of "two accomplished educators."
It's official- Rep. Karen Bass enters race to become the next mayor of LA
If elected she would be the first Black woman & second Black mayor after legendary Tom Bradley who served as 38th Mayor from 1973 to 1993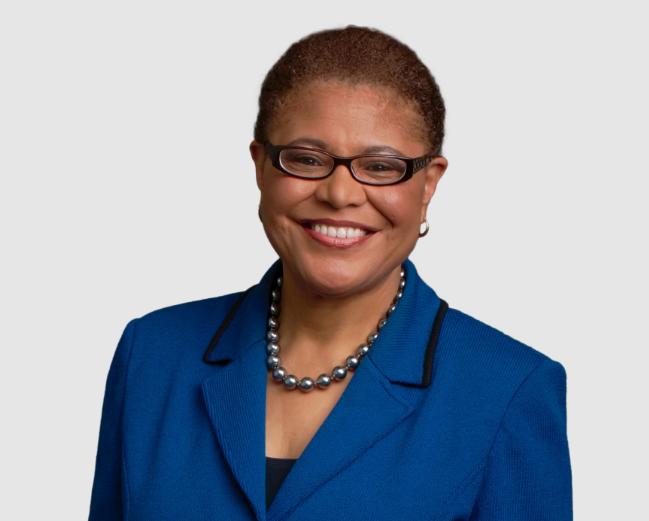 LOS ANGELES – Congresswoman Karen Bass officially announced her entrance Monday as a candidate to replace her fellow Democrat outgoing Los Angeles Mayor Eric Garcetti.
"Our city is facing a public health, safety and economic crisis in homelessness that has evolved into a humanitarian emergency," she said in a statement announcing her candidacy. "Los Angeles is my home. With my whole heart, I'm ready. Let's do this — together."
If Bass were to win election she would be the first Black woman mayor and the second Black mayor after Thomas Bradley, the legendary politician and former police officer who served as the 38th Mayor of Los Angeles from 1973 to 1993.
With my whole heart, I'm ready. Let's do this — together.

I'm running for mayor.https://t.co/CLkJfFddHT

— Karen Bass (@KarenBassLA) September 27, 2021
KABC 7 noted that she would be the first sitting House member to be elected mayor of Los Angeles since 1953, when Rep. Norris Poulson was elected. Then-Reps. James Roosevelt, Alphonzo Bell and Xavier Becerra lost campaigns for mayor in 1965, 1969 and 2001.
The 67-year-old member of Congress currently represents the 37th Congressional District, which encompasses Los Angeles neighborhoods west and southwest of downtown including Crenshaw, Baldwin Hills, Miracle Mile, Pico-Robertson, Century City, Cheviot Hills, West Los Angeles, Mar Vista and parts of Westwood, as well as Culver City and Inglewood. Bass was a member of the California Assembly from 2004-10, serving as that body's speaker from 2008 to 2010.
Bass is entering an already crowded field of candidates including Los Angeles City Attorney Mike Feuer and two members of the City Council – Kevin de León and Joe Buscaino – who have already announced their campaigns for mayor.
When speculation as to her running surfaced last week, Bass spokesman Zach Seidl told the Los Angeles Times that her running was due to the fact that "Los Angeles is facing a humanitarian crisis in homelessness and a public health crisis in the disproportionate impact this pandemic has had on Angelenos," Seidl said in a statement. "She does not want to see these two issues tear the city apart. Los Angeles has to come together. That's why the Congresswoman is considering a run for mayor," he added.
That seems to be the focal point and whoever is elected will face the city's massive homelessness crisis.
Bass acknowledged this in her candidacy announcement statement this morning, writing "I've spent my entire life bringing groups of people together in coalitions to solve complex problems and produce concrete change — especially in times of crisis."