Politics Insider: Larry Elder says slave owners deserve reparations too
"When people talk about reparations, do they really want to have that conversation? Like it or not, slavery was legal," Elder said.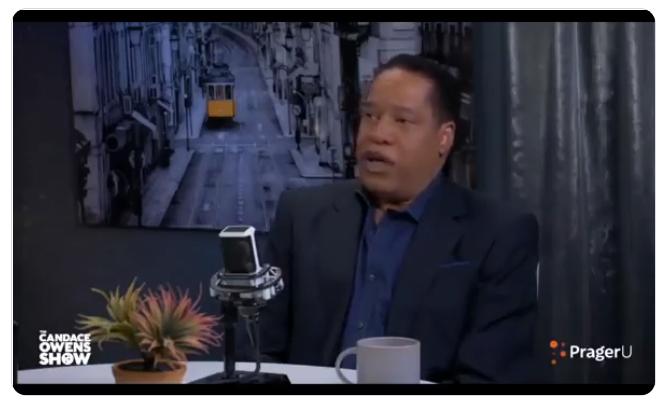 NEW YORK – Larry Elder, the California recall candidate and current front runner, in a report published by Politics Insider.com made the stunning claim that slave owners were also entitled to reparations after the end of the American Civil War in addition to Black people.
"When people talk about reparations, do they really want to have that conversation? Like it or not, slavery was legal," Elder said. "Their legal property was taken away from them after the Civil War, so you could make an argument that the people that are owed reparations are not only just Black people but also the people whose 'property' was taken away after the end of the Civil War."
Elder, a Black conservative right-wing radio commentator was appearing on a July 18 episode of Prager University's "The Candace Owens Show," in a video reported on by Politics Insider.com political correspondent Morgan Keith.
In a recent poll released by the Public Policy Institute of California earlier this week, Elder leads the pool of potential replacements to California Governor Gavin Newsom should voters oust Newsom from office.
Elder's has staked out positions that include his position on women's reproductive right maintaining if elected governor that he would take several hard-right steps to curb abortion rights in California.
This won him the endorsement of L.A.-based anti-abortion activist Lila Rose who tweeted that Elder's promised her that he would pledge to use line-item veto power to cut all abortion funding, to veto any legislation that expands rights or access to abortion, to appoint anti-abortion judges and regulators, and to drop the charges against the two individuals who created a fake company so they could secretly record Planned Parenthood employees.
1. To use line-item veto power to cut all abortion funding
2. To veto all abortion expansion and abortion misinformation legislation
3. To drop all charges against David Daleiden and Sandra Merritt
4. To appoint judges and regulators who respect the constitutional right to life

— Lila Rose (@LilaGraceRose) September 2, 2021
Elder embraced former President Trump's theory that the coronavirus was manufactured by the government of the People's Republic of China. He has been an ardent supporter of Trump; "What keeps Democrats up at night? Islamofascism? Climate change? Thermonuclear war? Hardly. Donald Trump: Once and Future President #WeveGotACountryToSave," Elder tweeted in May.
Elder once called Trump's election divine intervention but his tone is more guarded now now in the weeks leading to the Sept. 14 recall election, the Los Angeles Times reported Saturday. In a recent TV interview, Elder said he was "indifferent" to whether Trump endorses him. So far, Trump has not weighed in.
He has publicly attacked on his radio show the Black Lives Matter movement, the Reverend Al Sharpton, and took a position denying that there is systemic racism in American society especially when pertaining to law enforcement.
He has expressed his disdain for the LGBTQ community in a series of statements and tweets going back several years as reported by the Sacramento Bee newspaper.
Examples included: "Any roles for men not gay/transsexual/transgender/transvestite/cross dressers/bi-sexual or unsure? #GoldenGlobes," he tweeted in 2016. Then in the same year, after the PULSE Nightclub massacre, Elder tweeted, "If the #Orlando terrorist was gay, does that disqualify the massacre from being a hate crime?"
On the subject of systemic racism, Elder who calls himself 'the Sage of South-Central' is a Black man but continues to deny that systemic racism is a reality. In a letter to Congresswoman Maxine Waters, (D-CA) he wrote; "Black leaders refuse to acknowledge the good news: Racism no longer remains a potent threat in American life. Most blacks remain solidly middle class, with blacks forming businesses at a faster rate than whites. The black domestic product, were it a separate country, makes it one of the fifteen wealthiest nations in the world."
He ended the letter with; "In America, we see two black Americas. The majority black world reflects increased prosperity, growing homeownership, and steady asset accumulation. The other, the so-called black underclass, remains disturbing. Quite simply, we see too many children having children. It stands, far and away, as America's No. 1 problem. Whatever role racism played, the complete abolition of white racism would leave these problems unresolved."
According to Elder, the Congresswoman never responded.
He also once tweeted at the CEO of Twitter, Jack Dorsey saying; ""Dear @jack, There's no evidence, let alone 'widespread' evidence, of police 'systemic racism.' Decades of research find cops MORE HESITANT to use deadly force against blacks than whites. Yet @Blklivesmatter routinely posts the 'systemic racism' lie. When will you ban BLM?"
Elder is opposed to the minimum wage. California's minimum wage for large employers will rise to $15 an hour. That's $15 too much for Elder, a vocal critic of state and federal minimum wage laws the Sacramento Bee noted; "Why two people who are adults can't determine what the price of labor ought to be, is beyond me," Elder said in an interview with the McClatchy California editorial boards.
A week ago, a spokesperson for Los Angeles District Attorney George Gascón said that his office will not pursue charges sought by the former fiancé of Republican recall candidate Larry Elder.
Alexandra Datig, the right-wing conservative talk show's former fiancée and longtime radio producer for his show had met with investigators from the Los Angeles Police Department's Robbery-Homicide Division.
Datig alleged she broke off an 18-month engagement with Elder in 2015 after he waved a gun at her while high on marijuana. With a one-year statute of limitations for misdemeanor cases, a spokesman for the district attorney said that prosecutors declined to pursue a criminal complaint against the radio-personality for allegations of brandishing a gun and domestic abuse.
California recall candidate Larry Elder argued that slave owners were owed reparations after the Civil War https://t.co/0m6zIQoDHv

— Politics Insider (@PoliticsInsider) September 4, 2021
BREAKING: Larry Elder called for SLAVE OWNERS to get reparations in newly unearthed footage by @RzstProgramming. Share this everywhere and remember to VOTE NO on the recall! pic.twitter.com/mdyH68jc8m

— MeidasTouch.com (@MeidasTouch) September 3, 2021
Zbur is Assemblymember-elect as Abramson concedes
When Zbur is sworn in on December 5 and takes office, he will join the largest Legislative LGBTQ+ Caucus in California history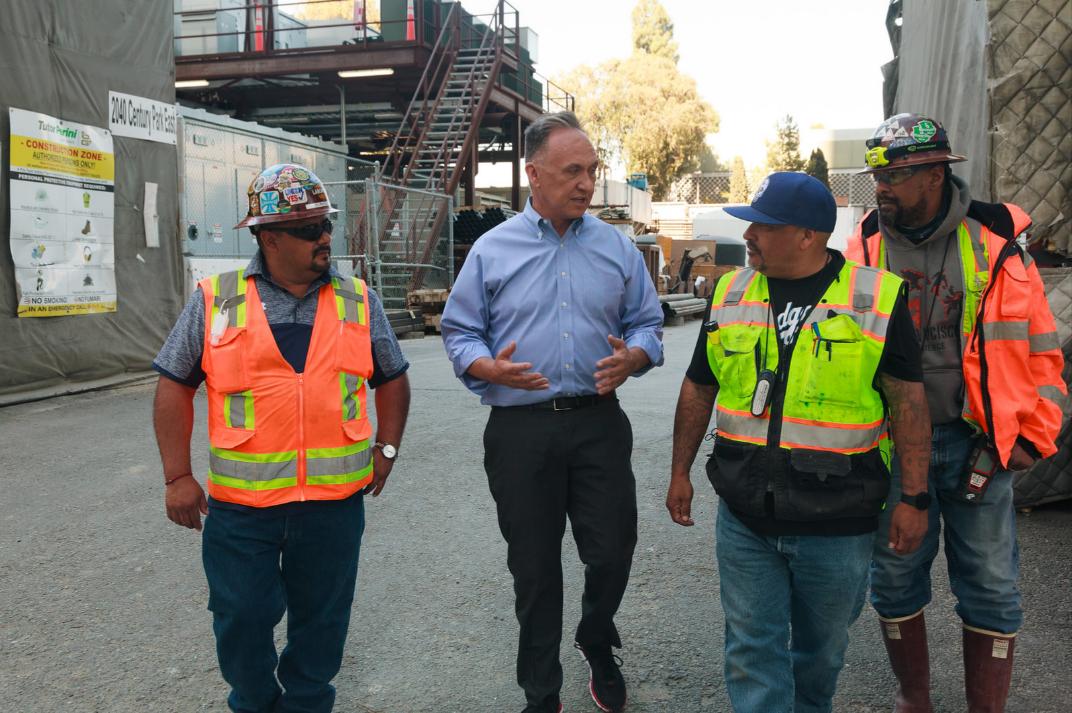 LOS ANGELES – The latest election results released by the Los Angeles County Registrar-Recorder/County Clerk's office on Tuesday indicated that former Equality California Executive Director and leading environmental attorney, Rick Chavez Zbur, had won the seat to represent California's 51st Assembly District.
Zbur's opponent Louis Abramson issued a statement of concession congratulating the Assemblymember-elect:
"One of our campaign mantras is: The hard part comes after the hard part. Well, this is the hard part. While many votes are outstanding, we're at 44.6%. Having been outspent nearly eight to one by a well known opponent, this achievement is incredible. Nonetheless, we don't see a path to 50%+1. With a full heart and a grateful soul, it's time to close this chapter.
I want to congratulate Rick Zbur on his victory in this race. I will do everything I can to help him succeed in confronting the existential challenges facing our shared community—homelessness, housing affordability, mental health reform, and climate change.
Rick ran with generosity and kindness. His previous work made California more equitable and just. It has been a privilege to campaign with him and to have the opportunity to advance that work. Rick will be an effective advocate for our district. I look forward to being his partner in repairing our world, and I invite you all to join me." 
In an email to the Blade Tuesday afternoon, Zbur wrote:
"As the votes continue to be counted, our campaign is confident that our margin of victory will continue to grow.  I'm incredibly humbled and grateful to the voters across AD-51 who powered our campaign to a victorious finish. We are proud that we won with a substantial margin in every city across the district.  This victory was only possible because of the dedication and effort of thousands of people —supporters, contributors, and volunteers who fueled our campaign, and I am incredibly grateful. I'm also deeply proud that my victory ensures that the 51st District—and the County of Los Angeles—finally has the LGBTQ+ representation in the State Assembly that it deserves. 
I would like to congratulate my opponent Louis Abramson for his dedication to our community, and for running an energetic campaign that was focused on the issues—many of which we agree about. I appreciate his gracious congratulations call yesterday and his offer to work together in the future to improve the lives of the people of California.
Our campaign was never about one person – it was about ensuring real change and lasting progress to improve the lives of the people of California and the 51st District. It was about assuring that our government tackles effectively the issues that matter most—affordable housing and homelessness, climate action, safer and sustainable communities, good jobs with good pay and safe working conditions, civil rights and social justice for all, and more. I'm proud of the movement we have built and I look forward to beginning the hard work to achieve a government that works for every Californian, especially our most vulnerable.  I am excited to begin my work in the Assembly to deliver for families across the 51st District."
Early on in his candidacy Zbur received the backing of various organizations and political groups including labour, civic, environmental as well as this newspaper. Zbur was endorsed by Equality California early in April 2021, alongside the California Legislative LGBTQ+ Caucus.
When Zbur is sworn in on December 5 and takes office, he will join the largest Legislative LGBTQ+ Caucus in California history.
Equality California released the following statement from its Executive Director Tony Hoang celebrating the victory:
"My friend Rick Chavez Zbur has spent his career fighting for justice and is exactly the type of champion LGBTQ+ Californians need in the Assembly. From a small farming community in the Rio Grande Valley to the halls of the California Capitol, Rick's life has been defined by service to his community and his country. I know that his bold, experienced leadership will continue to move our state forward, and he will deliver progressive results for the people of the 51st Assembly District.
"Equality California looks forward to being a partner to Rick in his new role, as we continue our shared fight for a world that is healthy, just and fully equal for all LGBTQ+ people." 
California's 51st Assembly District includes West Los Angeles, Hollywood and West Hollywood.
MEMBER OF THE STATE ASSEMBLY, 51st District
| Candidate(s) | Votes | Percent |
| --- | --- | --- |
| RICK CHAVEZ ZBUR (D) | 57,323 | 55.40% |
| LOUIS ABRAMSON (D) | 46,145 | 44.60% |