Newsom campaigns to defeat recall with help from powerful Democrats
Democratic U.S. Senators Warren, Klobuchar, and Sanders alongside former President Obama and Vice-President Harris are campaigning for Newsom
SAN LEANDRO, Ca. – California Governor Gavin Newsom has enlisted very powerful voices in processive circles and the Democratic Party in his efforts to beat back what the governor and his allies have labeled 'the Republican recall.'
This past weekend, Newsom spent time alongside fellow Democrats, Massachusetts U.S. Senator Elizabeth Warren- who appeared Saturday at a campaign stop in Culver City, which was followed by the governor campaigning Sunday at a rally with Minnesota U.S. Senator Amy Klobuchar.
Vermont's U.S. Senator Bernie Sanders recorded a video advert to bolster Newsom's campaign. Sanders, like Warren and Klobuchar is also a former 2020 Democratic presidential candidate.
NEW: @BernieSanders hits TV to call on California voters to vote NO on the Republican recall! pic.twitter.com/k4FzH3Br3Z

— StopTheRepublicanRecall (@StopRepRecall) August 30, 2021
Newsom, who faces the ballot box next Tuesday, has been crisscrossing the Golden State, galvanizing his base. In an interview last Friday with ABC News' Los Angeles based correspondent Zohreen Shah, the governor expressed his gratitude for the support from Warren and Klobuchar.
"I'm so honored, but more importantly, they're these strong women, and I think that's one thing those three have in common," Newsom said. He also pointed out that his loss would have a ruinous effect on the national agenda of the party and especially for the Biden Administration.
"The consequences of California turning red not blue are profound in terms of the agenda that the senator [Warren] is advancing, [President Joe] Biden is advancing," Newsom said.
During the Los Angeles rally, both Newsom and Sen. Warren warned that if Newsom were to be replaced by the Republican who is the current polling frontrunner, conservative right-wing host Larry Elder, Californians could expect to see a slightly modified version of the type of governance displayed by former President Trump, whose politics Elder has embraced.
"Elder dreams of being California's own Donald Trump," she said then the Senator cautioned; "if what happened in Texas or Florida or South Dakota makes you worry about the future of our nation…then Governor Larry Elder should absolutely terrify you."
I was glad to stand with @GavinNewsom today. Californians: Vote NO on the recall & send your ballot back by 9/14 to keep him as governor so women's rights are respected, children are protected, our planet is defended, & all Californians have a fighting chance to build a future. pic.twitter.com/uqffHYFPaY

— Elizabeth Warren (@ewarren) September 4, 2021
Newsom has seen an upward tick in approval numbers recently with the latest poll released by the Public Policy Institute of California showing that if the recall election were held today, 39 percent of California likely voters say they would vote yes to remove Newsom from office, while 58 percent say they would vote no on removing the governor.
On Wednesday Newsom was endorsed in an campaign advert released by former President Barack Obama.
"You've got a big choice to make by September 14. Governor Newsom has spent the past year and a half protecting California communities. Now Republicans are trying to recall him from office and overturn common-sense Covid safety measures for health care workers and school staff," Obama says, with an image of Elder and former President Trump flashing on the screen.
Listen to @BarackObama — California has a big choice to make on September 14th.

Your vote could be the difference.

Vote NO on the Republican Recall.

There's too much on the line to sit this one out. pic.twitter.com/U3cKDcRaVY

— Gavin Newsom (@GavinNewsom) September 8, 2021
The governor campaigned Wednesday with long-time political ally, U.S. Vice-President Kamala Harris in a joint appearance at the International Brotherhood of Electrical Workers-National Electrical Contractors Association Joint Apprenticeship Training Center in San Leandro.
A smiling Harris greeted the governor and opened her remarks by speaking about Newsom's display of political courage early on in both of their careers, when he as the mayor of the city of San Francisco, supported same-sex marriage. At the time Harris was the District Attorney for the city and county of San Francisco.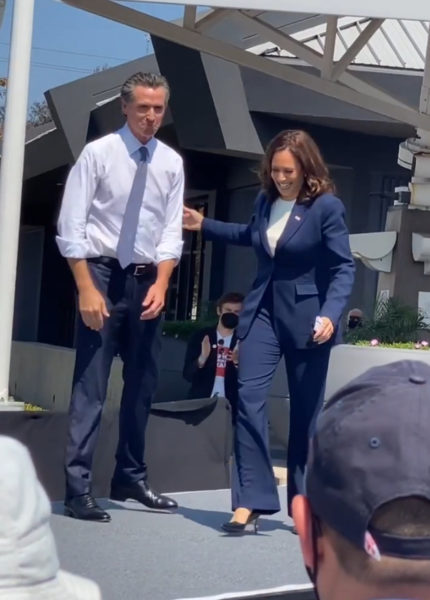 "That Valentine's weekend in 2004," the Vice-President noted- "Gavin didn't hear 'it can't be done.' He had the courage — as he's had his entire career — to believe in and see what is possible. To see what can be unblinded by what has been. That's the kind of leadership this daughter of Californians wants."
Both Newsom and Harris have been long time allies and proponents for the LGBTQ community. Harris then told the crowd gathered that she had watched a news clip of Texas Republican Governor Greg Abbott talking about the draconian and controversial new law that bans abortions after six weeks in Texas.
"To speak those words — that were empty words — that were false words that were fueled with not only arrogance but bravado. That is not who we want in our leaders," Harris said. "We want in our leaders someone like Gavin Newsom, who always speaks the truth."
The Vice-President then took aim at the Republican's campaign to recall Newsom.
"They wouldn't be trying to recall him except that they know he is a national leader," Harris said. "This is why they are putting so many resources and time into trying to take out Gavin Newsom. It is because of his vision. It is because of the agenda."

"Let us send the message to the world, that these are the things we stand for these are the things we fight for and we will not give up, because we know that so much is at stake. So many are counting on us and there was so much good that we can do."

"They're thinking that if they can get this done in California … they got to understand what's happening right now. What's happening in Texas, what's happening in Georgia, what's happening around our country with these policies that are about protecting women's rights, reproductive rights and voting rights workers rights. They think if they can run in California they can do this anywhere. Well, we will show them you're not going to get this done, not here."
The White House press pool reporter traveling with the Vice-President reported that the crowd, which was limited because of Covid, was 192 in the audience and 70 members of the media. In a side note, after three hours on the ground, at 2:36 p.m. Pacific, Vice-President Harris walked back onto Air Force Two and the pool reporters learned that the crew was set to serve a California fast-food staple, In-N-Out Burgers on the return trip to Washington.
Wiener introduces legislation to protect LGBTQ+ foster youth
SB 407 ensures LGBTQ foster youth are raised in supportive environments by creating standard documentation for their needs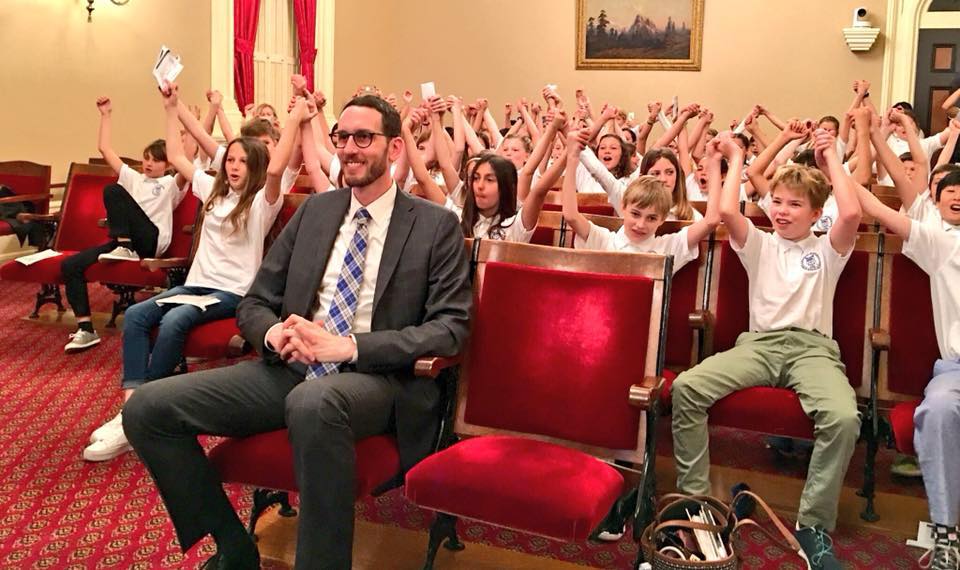 SACRAMENTO – Senator Scott Wiener (D-San Francisco) introduced SB 407, legislation to improve foster care conditions for LGBTQ youth. Nearly one third of foster youth identify as LGBTQ.
SB 407 ensures LGBTQ foster youth are raised in supportive environments by creating standard documentation for their needs, adding more follow-up from the Department of Social Services, and requiring LGBTQ youth's needs be specifically considered in at-home assessments – including clarifying that conduct that poses risk to the health and safety of LGBTQ youth is a valid reason to deny a family the right to host a foster youth. 
"Every child deserves to be one hundred percent supported at home," said Wiener. "SB 407 ensures that foster youth receive this essential support by specifically requiring LGBTQ acceptance be considered in the resource family approval (RFA) process, creating standard documentation for the assessment of LGBTQ youth needs, and ensuring more frequent follow-up. These youth are at high risk for homelessness, criminal justice involvement, and mental health issues, and we must do everything in our power to ensure they have a safe home in the state of California."
According to the California Child Welfare Indicators Project, there are 53,371 youth in foster care in California as of October 1, 2022. Youth who identify as LGBTQ+ are overrepresented in foster care, with at least three studies estimating about 30 percent of youth in foster care identify as LGBTQ.
The degree of support for their identity an LGBTQ child receives at home is a strong predictor of their mental health outcomes. According to the Trevor Project, teens who perceived parental support regarding gender identity were 93% less likely to attempt suicide than youth who did not perceive parents as supportive.
Data collected since the onset of the COVID-19 pandemic show LGBTQ youth are facing a crisis of mental health. Forty-two percent of LGBTQ+ youth—and 52 percent of trans youth—said they seriously considered suicide in 2021. This crisis may be related to the recent surge of anti-LGBTQ hatred in many states in recent years, which most LGBTQ youth are exposed to online. This year alone, more than 420 bills have been introduced in states across the country.
In 2019, California passed AB 175 (Gipson), which expanded the foster youth bill of rights to include rights to be referred to by the youth's preferred name and pronoun and maintain privacy of the child's sexual orientation and gender identity and expression. Under existing law, foster youth also have the right to have caregivers and child welfare personnel that have received instruction on cultural competency and best practices for providing care for LGBTQ+ youth in out-of-home care.
However, while the foster youth bill of rights is strong, it has not translated into the RFA process or into considerations made when approving caregivers. LGBTQ foster youth are still being placed in homes with families that discriminate against or are hostile toward them based on their sexual orientation and/or gender identity.
SB 407 will strengthen the resource family approval (RFA) process for LGBTQ foster youth by:
Requiring explicit consideration of LGBTQ youth in home and environmental assessments;
Creating standard documentation by the Department of Social Services for these assessments to include LGBTQ youth needs;
Reviewing county-approved resource families to evaluate if they are meeting the needs of LGBTQ youth and investigating related incidents as needed;
Ensuring that resource families have the necessary skills, knowledge, and abilities to support LGBTQ youth; and
Clarifying existing law that conduct that poses risk to the health and safety of LGBTQ youth is a valid reason for denial of a resource family.
SB 407 is sponsored by Equality California and the California Alliance of Child and Family Services.
"According to the Trevor Project, teens who have parental support regarding their gender identity were 93% less likely to attempt suicide than youth who did not perceive parents as supportive. Supportive and affirming homes for LGBTQ+ foster youth saves lives. The CA Alliance is excited to partner with Senator Wiener on SB 407 to ensure that all LGBTQ+ foster youth have affirming families and feel safe, supported, and cared for." –Christine Stoner-Mertz, CEO of the California Alliance of Child and Family Services
"LGBTQ+ foster youth experience violence and other stressors unique to the LGBTQ+ community, including homophobia or transphobia," said Tony Hoang, Executive Director of Equality California. "SB 407 protects LGBTQ+ foster youth from being placed in non-affirming homes by creating standard guidelines and criteria that carefully screens potential families. LGBTQ+ foster youth need a healthy environment that supports and embraces them as they explore their identity."