The 10th anniversary of the official end to 'Don't Ask, Don't Tell'
The lives of 14,000 gay, lesbian and bisexual servicemembers were ruined by the time DADT officially ended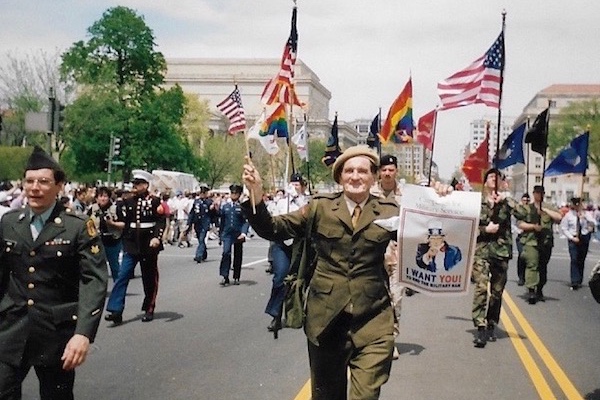 By Karen Ocamb | WEST HOLLYWOOD – Franklin Burch was ecstatic marching down the street waving a small American flag and an "Uncle Sam: I Want You" poster during the March on Washington for Lesbian, Gay, and Bi Equal Rights and Liberation. "Gays and lesbians have a right to serve," the 70-year old gay vet from Los Angeles told the Washington Post on April 25, 1993. "This is America, and we have these rights."
An estimated 700,000 LGBTQ and allies agreed, marching past the White House and pouring onto the Mall, many grasping for hope during the horrific Second Wave of AIDS. An idealistic optimism was palpable. Gays had voted en masse to elect Bill Clinton as President of the United States, ejecting the Reagan-Bush administration that ignored the deaths of a generation of gay men. Clinton had promised money for AIDS research and pledged nondiscrimination policies, including lifting the ban on gays and lesbians serving in the military.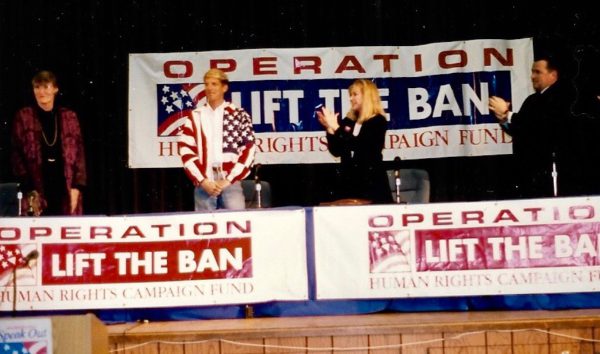 ANGLE's David Mixner, a Clinton friend from the anti-Vietnam War days, strenuously pointed out that the US military was America's largest employer, enabling gay people stuck in hateful environments to get out, get an education, see the world and serve their country. Not giving gays that opportunity was unfair, and therefore, unAmerican.
The March on Washington program opened with a stunning Robin Tyler-produced encapsulation of the moment – a sense of pride in our patriotism. To a recording of military theme songs, flag-bearing gays and lesbians who had been drummed out of the military marched onstage, accompanied by some active-duty military coming out publicly based on Clinton's promise.
Navy Petty Officer Keith Meinhold and Army Col. Margarethe "Grethe" Cammermeyer ended the procession, with Cammermeyer calling everyone to attention. The crowd – including me – stood at attention, too, tears streaming down our faces at the courage of our people to serve a country that still treated us as deviants.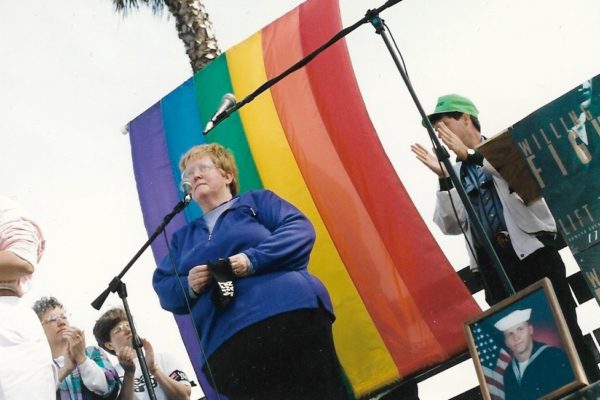 Then Dorothy Hajdys took the stage carrying a framed photo of her son, Petty Officer Third Class Allen Schindler, murdered six months earlier in a public toilet in Sasebo, Nagasaki, Japan by two shipmates. The coroner said Schindler's injuries were worse "than the damage to a person who'd been stomped by a horse." Schindler could only be identified by the tattoos on his arm. The March on Washington crowd gave Hajdys a 10-minute standing ovation. We knew the cost of freedom.
House Speaker Nancy Pelosi read a letter from Clinton, who didn't attend or send a video, as expected. "I stand with you in the struggle for equality for All Americans, including gay men and lesbians," Clinton wrote. "In this great country, founded on the principle that all people are created equal, we must learn to put aside what divides us and focus on what we share."
Liberal Democratic icon Senator Edward M. Kennedy spoke via an audio tape, comparing our March to the famous civil rights march of 1963. "We stand again at the crossroads of national conscience," Kennedy said.
But there were hints of a coming storm. Robin Tyler tore a Clinton telegram of apology on stage as unacceptable. "A Simple Matter of Justice" banner flapped in the background as beloved ally actress Judith Light said: "I am grateful to you, the gay and lesbian community, for the impact you are having on all of society. I am grateful for your teaching Colin Powell about equal opportunity. I am grateful for your teaching Sam Nunn about moving into the 20th Century. I am grateful for your teaching George Bush about the consequences of irresponsible neglect and misuse of power. And you are in the process of teaching President Clinton the importance of being a leader and the dangers of compromising with what is right and just."
But teaching doesn't equal lessons learned. Clinton betrayed us, agreeing to a Nunn-devised "compromise" on lifting the gay ban called "Don't Ask, Don't Tell, Don't Pursue." Democratic Sen. Sam Nunn and Republican John Warner evoked horrific "gay sexual predator" images as they went aboard a submarine to ask sailors how they'd feel lying in such proximity to a gay shipmate. The subtext was clearly an invitation to harass those suspected of being gay and lesbian. Witch hunts were sport.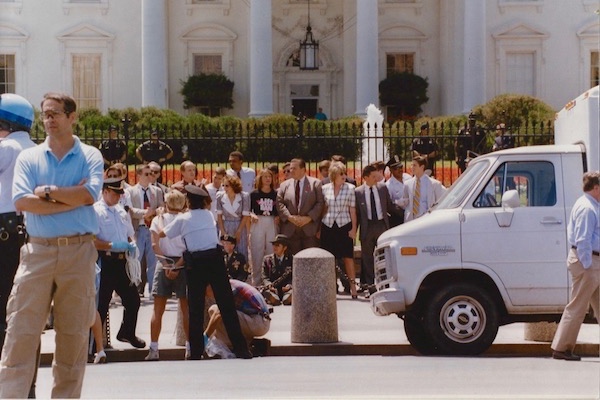 The cruelty of DADT went beyond the physical. If a buddy on the frontlines in Iraq or Afghanistan was killed by an improvised explosive device (IED), the gay servicemember could not share the fear, the pain, the trauma because letters back home were checked and psychiatrists and chaplains had to report gay-related confessions. The lives of 14,000 gay, lesbian and bisexual servicemembers were ruined by the time DADT officially ended a decade later, on Sept. 20, 2011.
Today, marking the 10th anniversary of the official repeal, the Veterans Administration concedes it is still catching up with all the damage governmental politics created. It's estimated that more than 114,000 LGBTQ servicemembers or those perceived to be LGBTQ were discharged between Franklin Burch's service in World War II and the repeal of DADT.
"Although VA recognizes that the trauma caused by the military's decades-long policy of discrimination against LGBTQ+ people cannot be undone in a few short months, the Biden administration and Secretary McDonough are taking the steps necessary to begin addressing the pain that such policies have created. LGBTQ+ Veterans are not any less worthy of the care and services that all Veterans earn through their service, and VA is committed to making sure that they have equal access to those services," writes Kayla Williams, a bisexual veteran and assistant secretary for public affairs in VA's Office of Public and Intergovernmental Affairs on the VA blog.
Clinton's betrayal broke our hearts and ruined lives. But amazingly, it did not stop us — which attorney C. Dixon Osburn, a civilian graduate of Georgetown University Law, recounts in his just released must-read book Mission Possible: The Story of the Repealing of 'Don't Ask, Don't Tell.' 
This is the stunning story of how Osburn and attorney Michelle Benecke, a Harvard Law graduate and former Army captain, founded Servicemembers Legal Defense Network to immediately help desperate servicemembers and work with nonprofit allies and law firms to challenge DADT in the courtroom and in the court of public opinion.
Mission Possible completes an important trilogy about LGBTQ people serving in the US military, next to Coming Out Under Fire, by Alan Bérubé and Randy Shilts' Conduct Unbecoming: Lesbians and Gays in the U.S. Military.
These books are not only LGBTQ history, but about our patriotism and what drives our private lives — and how government has intervened to block us at every step based on bias.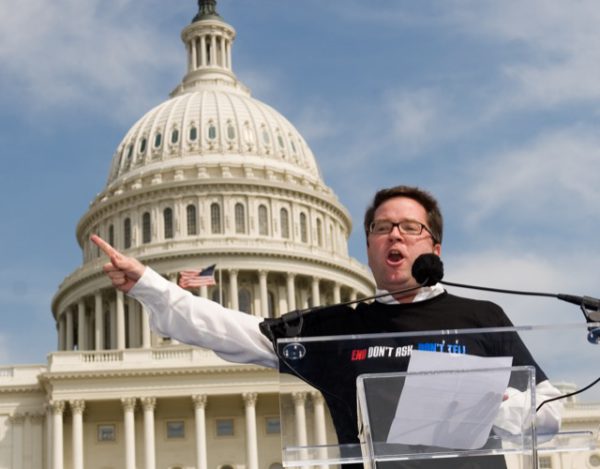 Mission Possible is also a book about endurance, ingenuity and triumph. If a united gay voting bloc and 700,000 people on the Mall and thousands more back home didn't give Clinton enough clout or backbone to keep his promise to lift the gay military ban – SLDN needed a smart, comprehensive strategy and a willingness and stamina to keep their eyes on the distant prize of repealing DADT. After educating an anti-military community and fighting a "graveyard mentality" that believed that lifting the gay ban was impossible, they had to figure out how to secure bipartisan support.
And there was bipartisan support, privately. "Party sticks with party, unless there's a breakthrough, Osborn says, noting that GOP Sen. Lisa Murkowski told him: "You have to create the moment so I can be with you."
With the discharge of the Arab linguists, DADT became less an issue of civil rights and more publicly an obstacle to national security. There are scores of nail-biting behind-the-scenes stories about how SLDN shifted the public and military consciousness from July 1993 to September 20, 2011, "when President Barack Obama, Secretary of Defense Robert Gates, and Admiral Mike Mullen, chairman of the Joint Chiefs of Staff, certified to Congress that implementing repeal of the policy would have no effect on military readiness, military effectiveness, unit cohesion, or recruiting and retention."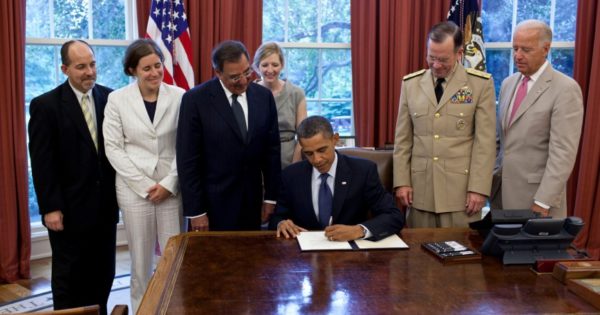 December 18, 2010 – on Osburn's birthday – the Senate finally voted to deliver more than 60 votes to overcome Republican Sen. John McCain's repeated and stubborn use of the filibuster to block repeal. There are echoes of political machinations of today.
There are crafty stories, as well, illustrating the absurdity of DADT. For instance, Army Sergeant Darren Manzella, Osburn writes, "was the epitome of the competent, well-regarded openly gay soldier who put a lie to the belief that his mere presence would weaken military readiness. He was out to his Army buddies and had even introduced them to his boyfriend." In 2006 at Fort Hood, he started getting anonymous emails and "calls warning him that he was being watched and to 'turn the flame down.'" He sought advice from his commanding officer which triggered an investigation, with which Manzella fully cooperated. The Army concluded he wasn't gay and told him to go back to work. He was subsequently deployed to Iraq, then Kuwait, unsure whether a new commander would discharge him. 
SLDN reached out to Manzella to see if he'd be willing to do a 60 Minutes interview, explaining the pros and cons if he went forward. He said yes, but how to do it knowing the Army wouldn't grant permission? SLDN communications director Steve Ralls came up with a plan. "Manzella signed up to run in the Army marathon in Kuwait. At a predetermined point, he veered off-course to a waiting car that whisked him to a hotel, where he changed into civilian clothes and met with correspondent Lesley Stahl. After the interview, he changed back into his running clothes, the crew doused him with sweaty water, and the car whisked him back so he could cross the finish line," Osburn writes. "Once the segment was broadcast, the Army could no longer pretend that Manzella wasn't gay, or that 'Don't ask, don't tell' was a law with an on-off switch. He was discharged six months later and became one of the many vocal advocates for repeal."
On December 22, 2010, President Barack Obama kept the campaign promise he made and signed the repeal of Don't Ask, Don't Tell. "For we are not a nation that says, 'don't ask, don't tell.' We are a nation that says, 'Out of many, we are one.' We are a nation that welcomes the service of every patriot. We are a nation that believes that all men and women are created equal. Those are the ideals that generations have fought for. Those are the ideals that we uphold today," Obama said. "And now, it is my honor to sign this bill into law."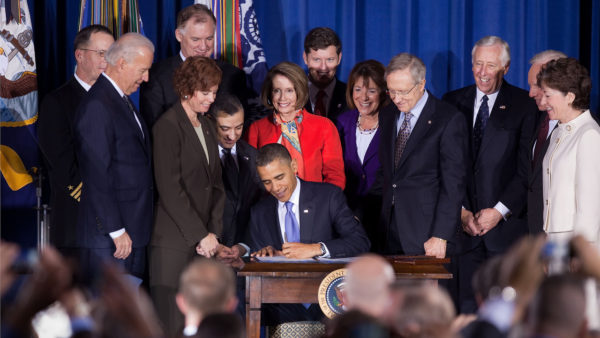 "There's been a lot of progress in the last 10 years – despite the last four," Osburn says. "It's all been teed up by SLDN." 
But we still are not fully first-class citizens, though we now have the right to serve and die for our country. The Equality Act is next.
********************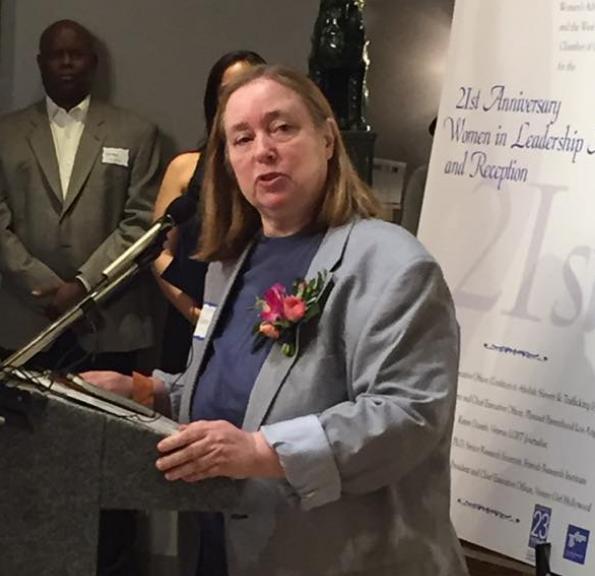 Time for an LGBTQ reality check-queer students face rising tide of bullying
Nothing is going to get better unless we work together collectively against the insidious notion that LGBTQ identity is controversial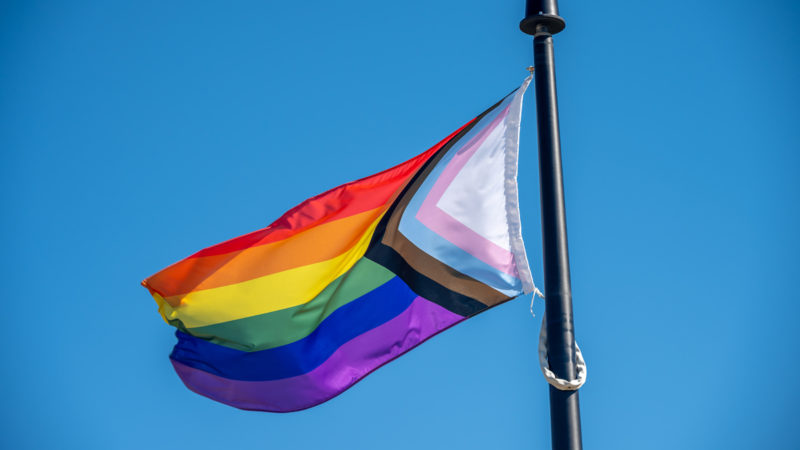 By James Finn | DETROIT – Two teens walk into a high-school classroom during period change. While the teacher yells at them, they rip a Pride flag off a wall then sprint through a crowded hall.
They outrun the teacher and disappear. Soon after, several students film themselves crowding into a school toilet cubicle as they try to flush the flag. When they fail, one of them drops his pants, squats, and defecates on the flag while the rest of them laugh and shout homophobic/transphobic slurs.
This happened in September at Paso Robles High School outside central California's San Luis Obispo, which dubs itself the "Happiest City in America." Soon the whole student body was buzzing. Most of them watched the video, which got posted to TikTok, but administrators did not respond for two weeks, saying they were unaware.
The incident surprised nobody.
LGBTQ students at Paso High say the region's famed happiness doesn't include them, writing in an editorial that they feel constantly targeted and harassed at school. They've told a reporter at the San Luis Obispo Tribune they don't feel safe, that they face bullying and hatred every day. Sophomore Eve Barajas, president of the school's Equity Club, says "micro aggressions" are common but physical violence is a real problem.
When the administration finally responded, LGBTQ students, allies, and teachers gasped in collective shock
They didn't expect leadership to validate the bullying, but that's what happened. In an interview, Paso High teacher Geoffrey Land called the defecation video, "an act of hate directed at the LGBTQ community," adding, "And a lot of students felt it, you know, felt that attack very acutely." He expected administrators to take the strongest possible stand against bullying.
Defecating on a symbol of inclusion is an act of hatred. The symbol isn't the problem, the hatred is. Banning the symbol endorses the hatred.
So did science teacher and swim coach Evan Holtz, the man who chased the bullies down the hall. He told reporters he wants LGBTQ students to know they're safe with him and can come to him for support. That's why he and a few other teachers used to display Pride flags in their classrooms, a popular custom in schools around the U.S., where over half of all LGBTQ students report being bullied, according to a new survey conducted by the queer youth advocacy organization The Trevor Project.
They report that contrary to popular narrative, anti-LGBTQ bullying in U.S. middle and high schools has been getting worse in recent years instead of better, and that the bullying often equals acts of physical violence.
In a very recent example, 13-year-old transgender student Ian Ring was badly beaten by bullies at his school in Spokane Washington while a crowd of students looked on, laughed, and filmed. Local police have charged one student with misdemeanor assault, but Ian's mother says she doesn't know how to keep him safe. She's considering homeschooling.
Back at Paso High, Coach Holtz says he was happy three students brought him replacements for the stolen Pride flag. He hung one on his classroom wall, but that's when the other shoe dropped. District Superintendent Curt Dubost banned the flag, not the bullying.
School district claims Pride flag is sectarian and controversial
Dubost sent a letter to teachers saying he opposes bullying, then ordered them to remove any LGBTQ Pride flag bigger than two feet by two feet, which students say is an effective ban, noting almost all commercially available flags are larger than that.
The ban is the ONLY action Dubost announced. He announced no comprehensive anti-bullying programs and no plans to make life better for queer kids in the schools he runs.
In a later interview, he claimed rainbow flags are partisan like "Blue Lives Matter" flags supporting police officers. He did not cite any incidents of teenage police officers being bullied in school or needing to know where they can find support from teachers. Queer students' jaws dropped at the inanity of his message.
Jaws dropped harder over Dubost's statement that LGBTQ Pride flags "mean different things to different people," which students and teachers say they received as an overt endorsement of anti-LGBTQ hatred. In what world, they ask, should a symbol of love, safety, and inclusion mean something different? To add insult to injury, students say the bullies who stole the flag and posted the TikTok received only "minor discipline."
The upshot is that anti-LGBTQ bullies sent a message of hate, got a slap on the wrist, and then saw their message validated and actively enforced by the school district.
Paso High Senior Danny Perez reacted like this: "My identity has been politicized. Someone defecated on a Pride flag. So the school takes away the Pride flag, not the homophobia?"
LGBTQ student Ava Hughes added, "We're minors, and they're forcing us to hide or protest."
Superintendent Dubost threw away a fantastic teaching opportunity, but students aren't letting it slip by
Students have announced that in cooperation with Paso High's performing arts department, they will hold a "Coming Out Against Hate" community forum tomorrow evening in the high school auditorium. Local news media have cooperated with a blitz of free publicity.
LGBTQ students will "share their experiences and visions for a more welcoming, inclusive educational environment," in person and via a self-produced short film. They say they will focus on personal stories about bullying they face in school. Superintendent Dubost did not respond immediately to an email asking if he would attend. No students are required to attend the forum, which is taking place after school hours and is not an official assembly.
Meanwhile, LGBTQ and allied students have been plastering school walls with rainbow-themed posters and drawings filled with messages of love and support.
They're sending their bullies and Dubost a clear message: We LGBTQ students matter because we are human beings who deserve a safe education in a nurturing environment. Defecating on a symbol of inclusion is an act of hatred. The symbol isn't the problem, the hatred is. Banning the symbol endorses the hatred.
Time for an LGBTQ reality check
LGBTQ students, especially transgender students, are facing a rising tide of bullying and violence in U.S. schools. Even on the coasts, queer kids are struggling. San Luis Obispo and Spokane are not as politically liberal as Los Angeles or San Francisco, but they're still "left coast" communities with reputations for tolerance and acceptance.
They're not the kinds of places where we expect 13-year-old trans kids to be beaten or school superintendents to endorse anti-LGBTQ hatred. They're not the kind of places where we expect queer students to write that they feel physically unsafe in school every day. But you know what? This is real. This is happening. Right now.
Nothing is going to get better unless we work together collectively against the insidious notion that LGBTQ identity is or should be controversial. The Paso Robles High School community is doing a great job educating students and parents as they send their superintendent a strong message that he must do better.
What about you and your community? What can YOU do to stem a rising tide of hate?
********************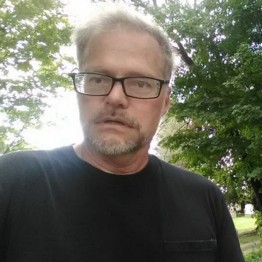 James Finn is a former Air Force intelligence analyst, long-time LGBTQ activist, an alumnus of Queer Nation and Act Up NY, a regular columnist for queer news outlets, and an "agented" but unpublished novelist. Send questions, comments, and story ideas to [email protected]
*******************
The preceding article was previously published by Prism & Pen– Amplifying LGBTQ voices through the art of storytelling and is republished by permission.
Dave Chappelle won't get cancelled for Transphobia
In his latest special on Netflix, Chappelle once again attacks trans people's identities, and mocks them as part of his act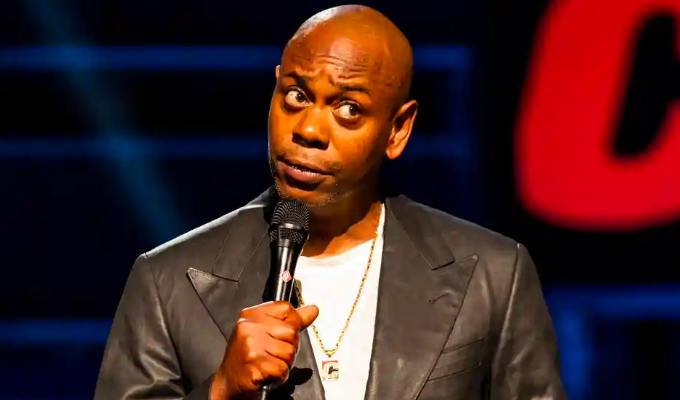 FAIRFAX COUNTY, Va. – Recently, prominent Daily Wire podcaster and frequent Fox News guest Matt Walsh proclaimed on his show that the Spanish Inquisition "was far more defensible than modern-day cancel culture is, especially the cancel campaigns waged by trans activists."
This accusation against transgender people is a high bar to clear, given that the tortures of the Inquisition are both well documented and legendary in their cruelty. They included ripping peoples arms out of their sockets with ropes (the strappado), the rack, water torture, burning people alive, the "Spanish tickler", and slowly crushing people's skulls in a vice. Perhaps worst was the "Judas Chair", in which people were seated naked on a sharp, pointy pyramid, and weighted down until they were impaled to death rectally.
As far as I can determine, "trans activists" haven't done anything as bad as this, and it's hard to imagine something worse. However, if they were doing things worse than the Spanish Inquisition to thousands of people for "heresy" every year, you would think transphobes would be a lot more circumspect expressing their views.
But they're not, because being anti-trans is profitable, a quick way to get media exposure in big mainstream outlets, suck up to the right-wing base, and otherwise prove you bona fides as "edgy", "anti-woke", and contrarian in a way that's still socially acceptable. It is, in effect, one of the last ways for people to "punch down". It's like beating up the most unpopular, misfit, neurodivergent kid in school to make yourself more popular.
For example, Matt Walsh is unabashedly transphobic, has more media exposure (and followers) than any trans person, and isn't going away. Transphobic conspiracy theories were given a full segment on 60 Minutes, and it isn't going away. The New York Times Editorials under Bari Weiss (who's openly hostile to transgender people) gave fellow travelers Katy Herzog and Jesse Singal plenty of exposure.
While both writhed around on the ground like a French soccer player looking for a card, neither of them seems to have suffered any real consequences for supposedly being cancelled. Herzog continued to write for the gay press after she was supposedly cancelled. Jesse Singal got his book published by a major outlet.
Despite taking the position that trans people should be banned from public spaces, denied health care, banned from sports, and denied access to government ID, JK Rowling is doing just fine. Far from being cancelled, continues to have hundreds of millions of dollars, book deals, an agent, a publisher, movie deals, and invitations to rub elbows with cocktails and hors d'oeuvres set in the UK.
A few transphobes have been "black-listed," but not for anything they said about transgender people. Rosanne Barr had a long history of transphobia, but didn't suffer consequences until she made racist tweets. Similarly, former MLB player Kurt Schilling had a history of anti-trans commentary, but was fired from ESPN for making racist statements. Milo Yiannopolous went from college to college singling out local trans students for hate, but only lost his position within conservative media when he defended pedophilia.
Which brings us to Dave Chappelle, who has once again doubled down on his long-standing disgust at trans people. In his latest special on Netflix, Chappelle once again attacks trans people's identities, and mocks them as part of his act. This follows his 2019 special (also carried by Netflix) which also targeted trans people.
This presents us with a testable hypothesis. If people like Walsh are right, something worse than being burned alive or getting a ride on the Judas chair will happen to Chappelle for offending trans sensibilities. A less extreme hypothesis is that if Weiss, Herzog, and Singal are right, Chappelle will be black-listed and venues will refuse to host his performances.
Or, if I'm right, nothing significant will happen. And that's a bet I'll take any day. Netflix knew there was transphobic content in his show in 2019 and put it out anyway, the same as they did with his first two shows on the network. They went and put him on contract for another show. And when that show also had transphobic content in 2021, they (again) chose to post it. Dave Chappelle will not be "cancelled" unless he targets some other group with a similar level of offensive scorn. Indeed, Chappelle proclaimed that, "If this is what being canceled is like, I love it."
But you know who did get cancelled? Trans employees of Netflix who got suspended for speaking out publicly, and pointing out that of the record-setting 44 trans people murdered so far this year, 44 were people of color. Apparently, it doesn't feel like a supportive work environment when your employer pays Dave Chappelle millions of dollars repeatedly to spew anti-trans invectives to the masses and proclaim he's on the side of bigots who want to see your fundamental human rights eliminated.
The fabricated narrative of trans "cancel culture" is another right-wing dog-whistle for a crisis that doesn't exist. Like Critical Race Theory (CRT) in elementary schools or trans athletes taking away scholarships from cisgender girls. It was created to stir up the right-wing base and weaken support for an already marginalized group to provide post hoc justification for whatever is done to trans people by the government, and preemptively create the narrative that what suppression falls on trans people was necessary. The right wing wants people to see fascism an appropriate response to (manufactured) left-wing outrages, and believe trans people "had it coming".
And Chappelle is merely their useful idiot.
********************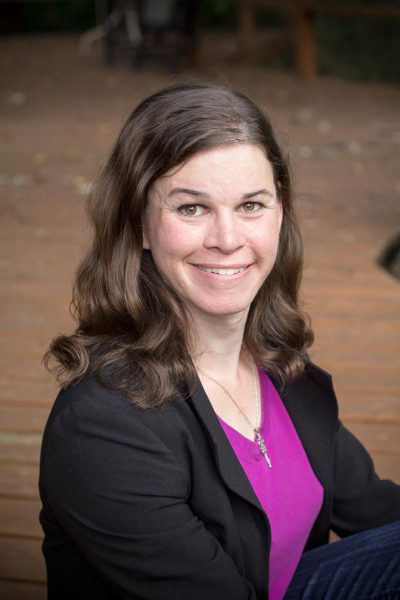 Dave Chappelle can kiss my black gay ass
If you would just shut up for a second- you would hear how racism does affect LGBTQ people of color in a way it doesn't affect you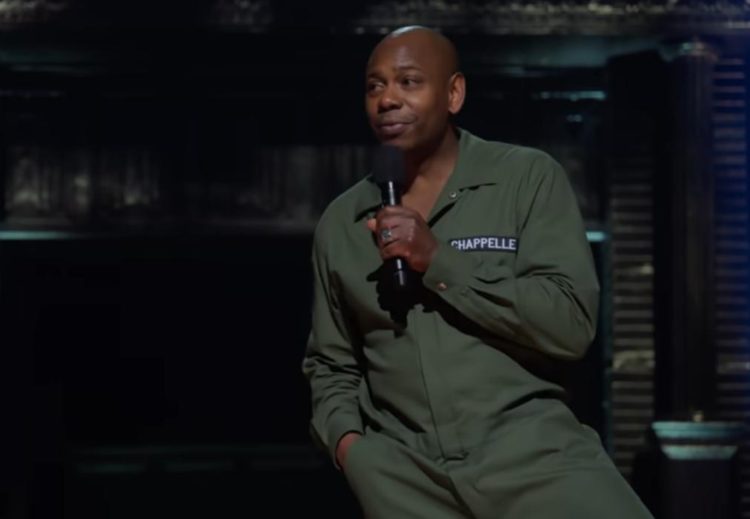 By Alvin McEwen | COLUMBIA, Sc. – There is no other way to say this. Dave Chappelle is an ignorant son of a bitch whose embrace of stereotypes about LGBTQ people do more to hurt both the LGBTQ and black community than any words or actions of the anti-LGBTQ right.
First, a little background;
'Comedian Dave Chappelle's new Netflix special, The Closer, is his last for the service as he concludes a multi-project deal spanning several years and while he tries to pass it off as an examination of racism and LGBTQ issues, it comes across more as a hypocritical justification of a career spent making vulnerable people feel like shit. To cap off his numerous comedy specials, Chappelle pledged not to make jokes about the LGBTQ community any longer, offered to negotiate terms for rapper DaBaby, and announced he is a transgender exclusionary radical feminist (TERF) before launching into a derogatory diatribe about transgender women's genitals."
That's not all. Chappelle proceeded to attack all LGBTQ people:
Throughout the special, he repeatedly circles back to pitting racism against anti-LGBTQ animus. After pointing out that DaBaby had killed another man and still continued to perform and escaped punishment, but got "cancelled" after making incredibly derogatory comments about gay people, Chappelle made the comparison direct. "Do you see where I'm going with this?" he quipped. "In our country, you can shoot and kill a n****r, but you better not hurt a gay person's feelings!"
Then he proceeded with more junk:
"Gender is a fact," he continued. "Every human being in this room, every human being on Earth, had to pass through the legs of a woman to be on Earth. That is a fact. Now, I am not saying that to say trans women aren't women, I am just saying that those pussies that they got… you know what I mean? I'm not saying it's not pussy, but it's Beyond Pussy or Impossible Pussy. It tastes like pussy, but that's not quite what it is, is it? That's not blood, that's beet juice."
. . . In the end, he proclaims that he's done making jokes about "LBGTQ, LMNOPQXYZ people," saying "it is over." "I am not telling another joke about you," he said, "until we are both sure that we are laughing together."
"All I ask from your community, with all humility, will you please stop punching down on my community?"
I could say a lot of things about this man's ignorance, but I want to focus on one thing because it infuriated me the most. This comment:
"All I ask from your community, with all humility, will you please stop punching down on my community?"
That is the epitome of all of the bullshit LGBTQ people of color have had to deal with from black heterosexual people – the entitlement mentality.
That's the belief that whenever there is talk about issues of the black community, problems of the black community, or the survival of the black community, it's all about black heterosexuals. God forbid you point to out that heterosexuality is not prerequisite of being black.
No matter how many times it is proven to some heterosexual black people that LGBTQs of color exist, that we have families and children, and should be acknowledge as full members of the black community, they will cling to their fantasies of toxic black masculinity and oversexed black femininity with as much passion as a demented Trump voter still holding on to the lie that he was cheated out of victory in the 2020 election. And there is no room in these fantasies for LGBTQ people of color.
For phony ideas of blackness to survive in the minds of some black heterosexuals, people like me have to be mentally placed in a box where we are pulled out when they want someone to make fun of or even worse, assure themselves of how "tolerant" they are because they have chosen not to knock us upside the head or scream passages of the Bible at us which they themselves do not adhere to.
The latter is even more insulting. That's when they give us false assurances that they "have no problem with our lifestyle" or our "sexual preferences." They want us to believe that, but the way they say it always makes me feel like dogshit on the sidewalk.
When it comes to LGBTQs of color and the black community, some black heterosexuals want to have the first, middle, and last word in the conversation. LGBTQs of color are supposed to be silent. We are supposed allow ourselves to be dictated to and psychologically dissected to fulfill someone's bullshit ideas of what the black people are supposed to be. The implication is that no real black person is LGBTQ so we don't matter.

If you black heterosexuals have no problem with us, then acknowledge us. Stop with this nonsense about LGBTQ and black people being different. Whether you like it or not, our identities intersect in our daily lives and especially in our history. Does anyone think that it was only heterosexual black people who went through slavery, segregation, lynchings, rapes, and all of the uglies which come with historic systemic racism in America? Where the hell do you think we were when this stuff was happening? On an island somewhere? In outer space? Do you think we don't feel the pangs of racism now? We do, but it is difficult for us to voice how it especially affects us because some of you heterosexual black folks. are dominating the conversation and won't let us get a word in edgewise.
If you would just shut up for a second and let us talk, you would hear how racism does affect LGBTQ people of color in a way it doesn't affect you.
Personally, I am both black and gay. And as such, my life matters, my issues matters, my rage matters, and my need for justice matters. Not as either a black person or a gay person, but as BOTH, together, inseparable. No one has the right to make me choose my identity.
Lastly, let me go back to Mr. Chappelle, because I haven't forgotten about him.
I would suggest, Mr. Chappelle, that before you start on another one of your stupid routines about LGBTQ people, take your bony ass to the library or better yet, google some names – Bayard Rustin, Monica Roberts, Barbara Jordan, Bessie Smith, Ma Rainey, Angela Davis, James Baldwin, Audre Lorde. You did not get to the place where you can make millions on stage talking shit solely on the backs of black heterosexuals. And you need to know that.
Lastly, when you are done with that, go the bank and count your millions. Then google the number of black trans men and women who have been murdered this year and the last. Read each of their names. Compare their lives to yours.
That way, you will truly understand when someone is punching down.
********************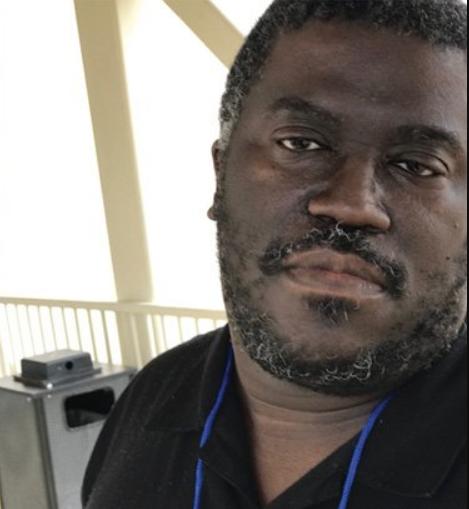 Alvin McEwen is 50-year-old African-American gay man who resides in Columbia, SC. McEwen's blog, Holy Bullies and Headless Monsters, and writings have been mentioned by Americablog.com, Goodasyou.org, People for the American Way, Raw Story, The Advocate, Media Matters for America, Crooksandliars.com, Thinkprogress.org, Andrew Sullivan's Daily Dish, Melissa Harris-Perry, The Last Word with Lawrence O'Donnell, Newsweek, The Daily Beast, The Washington Blade, and Foxnews.com.
He is the 2007 recipient of the Harriet Daniels Hancock Volunteer of the Year Award and the 2010 recipient of the Order of the Pink Palmetto from the SC Pride Movement as well as the 2009 recipient of the Audre Lorde/James Baldwin Civil Rights Activist Award from SC Black Pride. In addition, he is a three-time nominee of the Ed Madden Media Advocacy Award from SC Pride.
*********************
The preceding commentary was previously published at McEwen's blog, Holy Bullies and Headless Monsters, and is republished by permission.