Newsom signs policing reform bills strengthening policing accountability
'Governor Newsom has ensured that police who commit serious misconduct will no longer have the privilege of wearing a badge'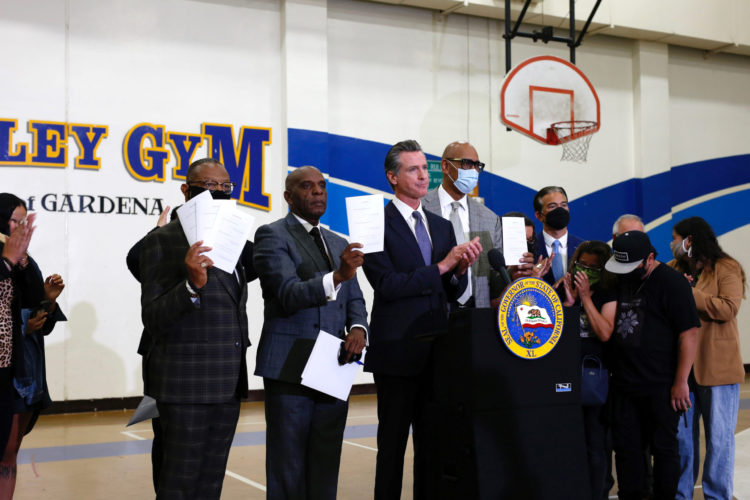 GARDENA – At Rowley Park, alongside legislators, community leaders and families of victims of police violence, Governor Gavin Newsom today signed legislation creating a system to decertify peace officers for serious misconduct.
The Governor also signed legislation increasing transparency of peace officer misconduct records, improving policing responsibility and accountability guidelines, raising eligibility standards and banning harmful restraint techniques.
"Today marks another step toward healing and justice for all," said Governor Newsom. "Too many lives have been lost due to racial profiling and excessive use of force. We cannot change what is past, but we can build accountability, root out racial injustice and fight systemic racism. We are all indebted to the families who have persevered through their grief to continue this fight and work toward a more just future."
SB 2 by Senate President pro Tempore Toni Atkins (D-San Diego) and Senator Steven Bradford (D-Gardena) creates a system within the Commission on Peace Officer Standards and Training (POST) to investigate and revoke or suspend peace officer certification for serious misconduct, including excessive force, sexual assault, demonstration of bias and dishonesty. This legislation creates the Peace Officer Standards Accountability Division and the Peace Officer Standards Accountability Advisory Board within POST to review serious misconduct cases.
SB 16 by Senator Nancy Skinner (D-Berkeley) increases transparency of peace officer misconduct records pertaining to findings of unreasonable or excessive use of force, discriminatory or prejudiced behavior, failure to intervene when witnessing excessive use of force by a peace officer, or participation in unlawful searches and arrests.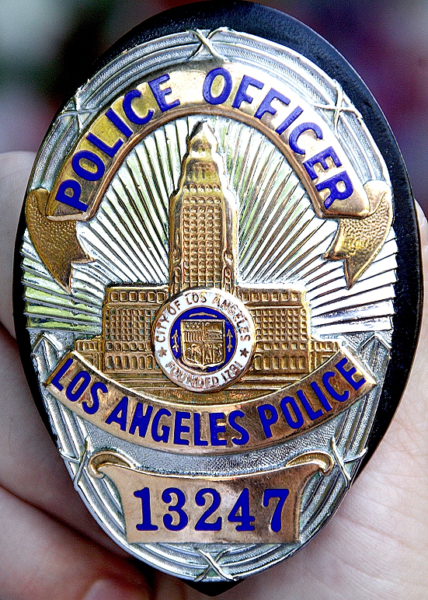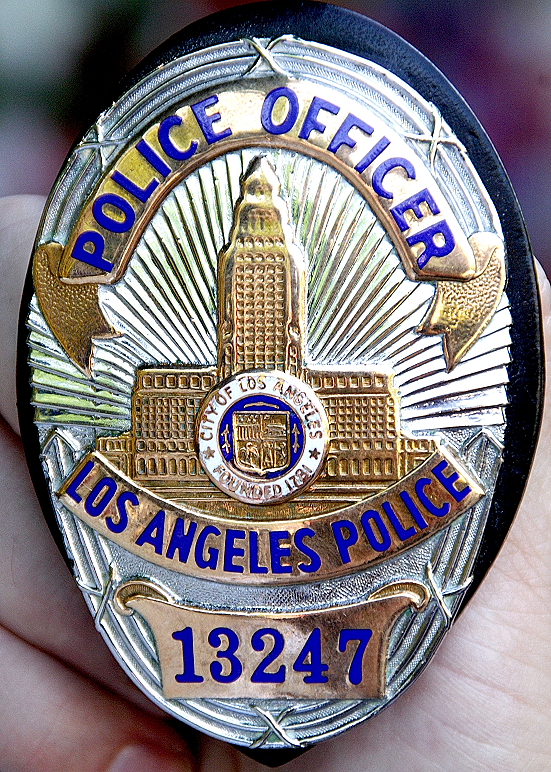 "Today is an important day. It's an inflection point in how we provide for public safety in the State of California," said California Attorney General Rob Bonta. "I'm proud to stand with my former colleagues and Governor Newsom to embark on a new chapter in our shared fight to infuse our criminal justice system with more trust, transparency, and accountability. By building trust today, we are ensuring officer and community safety for tomorrow. Trust generates safety and safety generates trust. It will take sustained work by all of us to get the job done, but this is a monumental step forward on the path toward justice."
"I am proud of the important progress the Legislature and Governor have made this year to help make sure people of color in California can be safer in their dealings with law enforcement. No one should have to fear those who are sworn to protect them," said Senate President pro Tempore Atkins. "My colleagues in both houses who worked tirelessly for these bills, and the family members, community advocates, and responsible law enforcement leaders who helped get the bills across the finish line all deserve our thanks. There is more work to do, and we are already back at it. Four hundred years of racism won't be erased overnight—but the arc is bending and the moral momentum is on our side."
"California has one of the most progressive criminal justice systems in the nation," said Senator Bradford. "But for too long, problematic officers that commit heinous acts in one department are either not held accountable and continue to be a problem for that community, or are punished, but able to find employment in another department. This rinse and repeat style of accountability has led to the continuous erosion of community trust. At long last, California finally joins the 46 other states with processes for the decertification of bad officers. I'm proud to have authored this landmark bill for California, which honors Kenneth Ross Jr. and the many others who have had their lives taken by police who abuse their power. My deep appreciation goes out to the families, community organizations, advocates and legislators who were willing to stand up and support this positive change. I applaud Governor Newsom for standing with us on this issue and look forward to working with the Administration on more ways to improve public safety and rebuild public trust in our law enforcement system."
"Trust in law enforcement erodes when police misconduct is kept secret and officers who've acted badly are allowed to avoid consequences," said Senator Skinner. "SB 2 and SB 16 will help restore public trust in California policing. By signing these bills, Governor Newsom has ensured that police who commit serious misconduct will no longer have the privilege of wearing a badge and that we, the public, have the right to know when officers use excessive force or engage in racist or biased behavior."
Newsom also signed AB 26 by Assemblymember Chris Holden (D-Pasadena) which creates guidelines for police officers to intercede and immediately report if another officer is using excessive force; AB 89 by Assemblymember Reggie Jones-Sawyer (D-Los Angeles) which raises the minimum age to become a police officer to 21 and will enhance education requirements; and AB 490 by Assemblymember Mike Gipson (D-Carson) which bans technique and transport methods that involve risk of positional asphyxia.
A full list of the bills signed by the Governor is below:
AB 26 by Assemblymember Chris Holden (D-Pasadena) – Peace officers: use of force.
AB 48 by Assemblymember Lorena Gonzalez (D-San Diego) – Law enforcement: use of force.
AB 89 by Assemblymember Reggie Jones Sawyer (D-Los Angeles) – Peace officers: minimum qualifications.
AB 481 by Assemblymember David Chiu (D-San Francisco) – Law enforcement and state agencies: military equipment: funding, acquisition, and use.
AB 490 by Assemblymember Mike Gipson (D-Carson) – Law enforcement agency policies: arrests: positional asphyxia.
AB 958 by Assemblymember Mike Gipson (D-Carson) – Peace officers: law enforcement gangs.
SB 2 by Senator Steven Bradford (D-Gardena) – Peace officers: certification: civil rights.
SB 16 by Senator Nancy Skinner (D-Berkeley) – Peace officers: release of records.
Governor Newsom last year signed a series of bills into law initiating critical criminal justice, juvenile justice and policing reforms in California, including banning the carotid restraint, requiring the Attorney General to conduct investigations into officer-involved shootings of unarmed individuals that result in death and legislation that reforms the juvenile justice system to put more emphasis on rehabilitation and education.
The Governor last year also released recommendations from his policing advisors for improving police response to protests and demonstrations and directed the statewide Commission on Peace Officer Standards and Training (POST) to modernize training and guidance for law enforcement.
For full text of the bills signed today, visit: http://leginfo.legislature.ca.gov
Newsom urges more aggressive response to ongoing drought
Governor warned if there's not significant reduction in water use this summer, the state could be forced to enact mandatory restrictions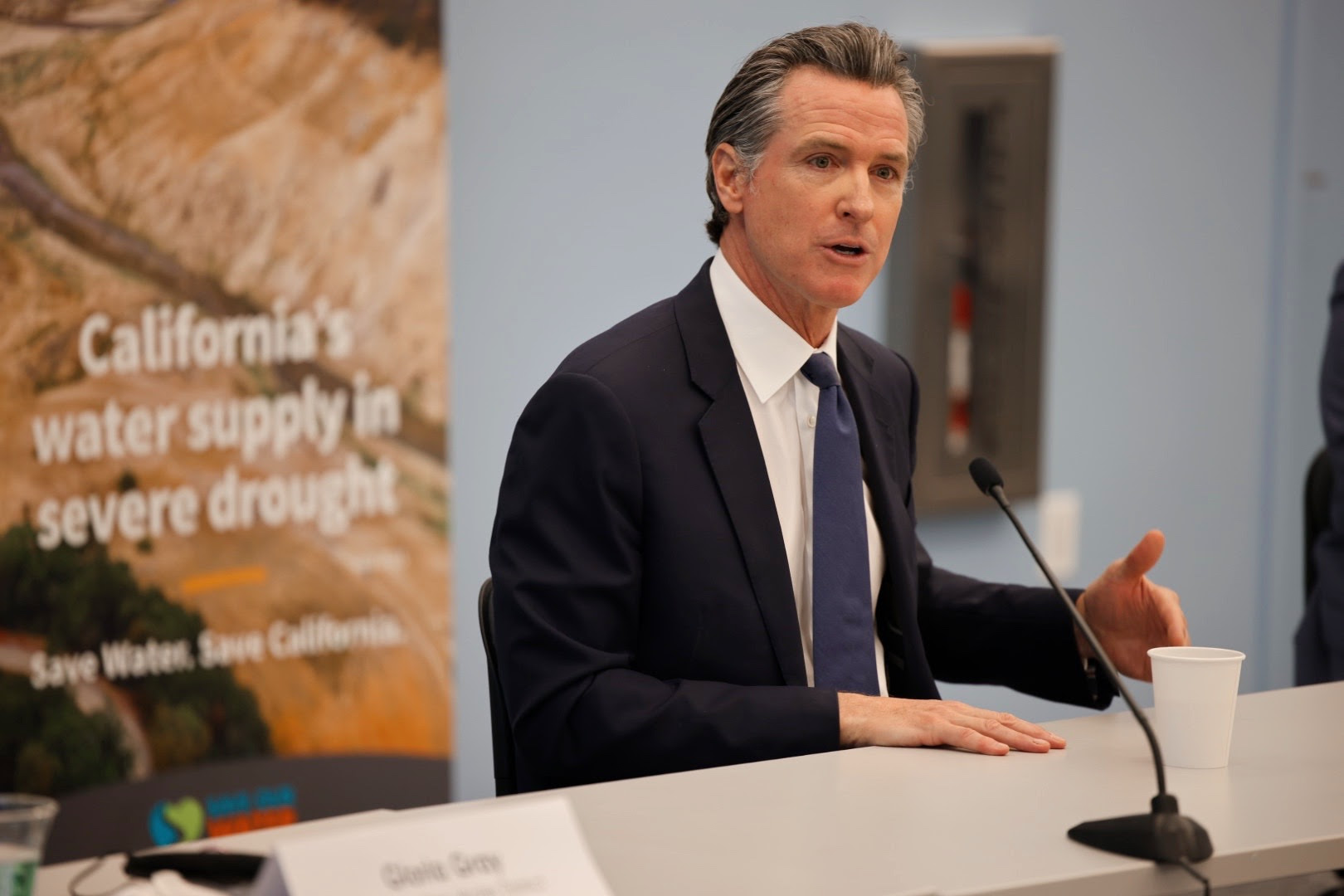 SACRAMENTO – Governor Gavin Newsom convened leaders from the state's largest urban water suppliers on Monday, which cover two thirds of Californians, and water associations imploring them to take more aggressive actions to combat drought and better engage their customers to ensure all Californians are doing their part to save water. 
After the last drought, local water agencies pushed for greater flexibility on water conservation and drought response based on regional needs and water supplies, arguing that tailored local approaches would be more effective than statewide mandates. Governor Newsom has embraced this localized approach, but voiced concerns today given recent conservation levels around the state, and called on water agencies to step up efforts to reduce water use amid extreme drought conditions.
Governor Newsom warned that if this localized approach to conservation does not result in a significant reduction in water use statewide this summer, the state could be forced to enact mandatory restrictions.
The Governor will reconvene these same agencies in the next two months to provide an update on their progress.
"Every water agency across the state needs to take more aggressive actions to communicate about the drought emergency and implement conservation measures," said Governor Gavin Newsom. "Californians made significant changes since the last drought but we have seen an uptick in water use, especially as we enter the summer months. We all have to be more thoughtful about how to make every drop count."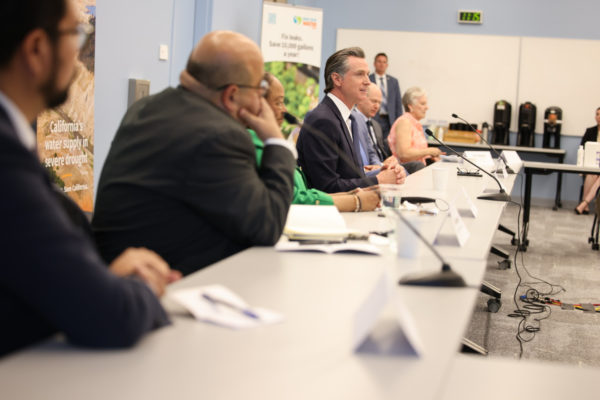 The Governor also called upon local water agencies to submit water use data more frequently and increase transparency in order to more accurately measure whether California is meeting water conservation goals. In addition, the Governor called on local water agencies to increase education and outreach efforts to Californians on the urgency of the crisis.
In July 2021, Governor Newsom called on Californians to voluntarily reduce their water use by 15%. At the end of March 2022 after the state failed to meet its 15% goal, the Governor issued an Executive Order calling on local water agencies to escalate their response to the ongoing drought. Tomorrow, at the Governor's direction, the State Water Resources Control Board will vote on a statewide ban on watering of non-functional turf in the commercial, industrial and institutional sectors as well as regulations requiring local agencies to implement water use restrictions amid the possibility that water supplies may be up to 20% lower due to extreme weather. Currently, local water agencies have implemented restrictions on about half of California's population. If the Board's regulations are approved, every urban area of California will be covered by a local plan to reduce water use.
Banning watering of decorative lawns would save between 156,000 acre-feet and 260,000 acre-feet per year, the equivalent of water used by 780,000 households in a year.
The climate crisis has resulted in the western United States experiencing one of the most extensive and intense droughts on record. January through March were the driest first three months in the state's recorded history, the state's largest reservoirs are currently at half of their historical averages, and the state's snowpack is just 14 percent of average.
The Governor's California Blueprint proposed this year would invest an additional $2 billion for drought response, which includes $100 million in addition to a previous investment of $16 million this fiscal year for a statewide education and communications effort on drought. These investments build on the previous $5.2 billion three-year investment in the state's drought response and water resilience through the California Comeback Plan (2021).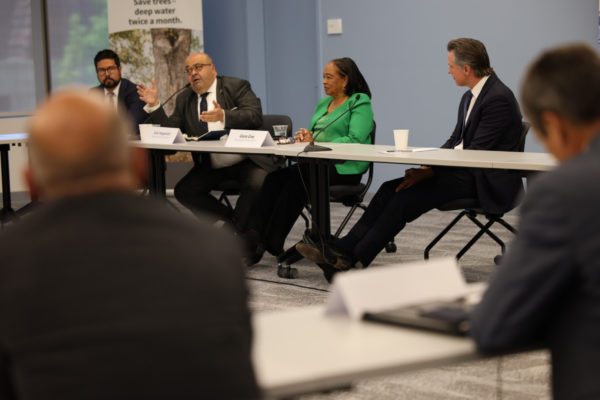 California's master water plan, the Water Resilience Portfolio, is a comprehensive vision to build water resilience containing more than 142 separate detailed actions to be taken by state agencies to ensure that California's water systems can cope with rising temperatures, shrinking snowpacks, rising sea levels and more intense and frequent periods of drought. In March 2021, the Administration released the 2012-2016 Drought Report, which contains lessons learned by state agencies during the last drought.
The state is calling on Californians to take immediate action to avoid a crisis, including:
Limiting outdoor watering – cutting back by even just one day a week can save you up to 20% more water.
Taking shorter showers. Going to a 5 minute shower to save up to 12.5 gallons per shower when using a water-efficient shower head.
Taking showers instead of baths – a bath uses up to 2.5 times the amount of water as a shower.
Using a broom instead of a hose to clean outdoor areas to save 6 gallons of water every minute.
Washing full loads of clothes to save 15-45 gallons of water per load.
More water saving tips can be found at www.saveourwater.com. For the latest on drought, please visit drought.ca.gov.
California readies 3,000 miles of network infrastructure
Newsom announced that California is one step closer to delivering affordable high-speed internet service to communities throughout the state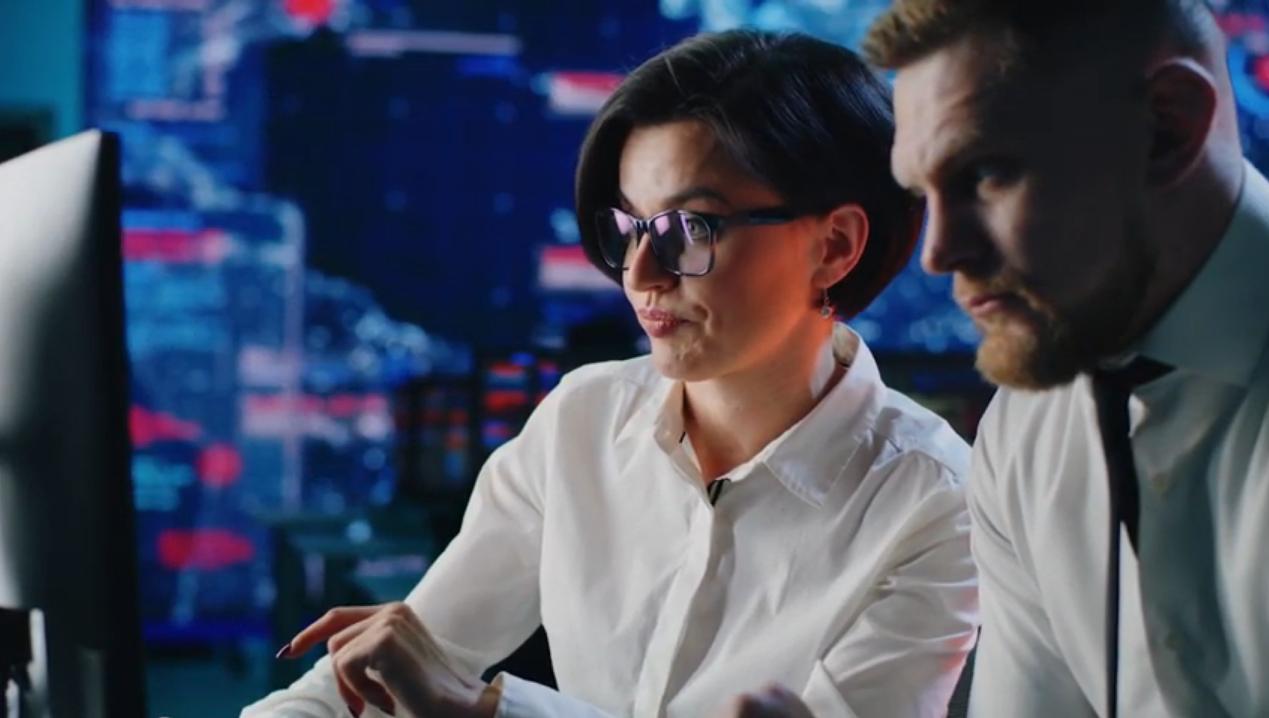 SACRAMENTO – Governor Gavin Newsom announced that California is one step closer to delivering affordable high-speed internet service to communities throughout the state on Friday, awarding new contracts that will supply the materials necessary for building 3,000 miles of broadband infrastructure.
The California Department of Technology, as part of the state's Middle-Mile Broadband Initiative, awarded contracts to two vendors totaling nearly $225 million that will allow the state to purchase enough optical fiber and materials to construct 3,000 miles of the network.
"Delivering broadband to all is essential to California's success," said Governor Newsom. "Access to high speed internet can mean the difference between launching a successful career and being without work. Once constructed, this network will be the largest in the world – and our action today will make the promise of broadband for all a reality."
California is strengthening broadband connections to improve access to education, health services and employment opportunities throughout the state. The Middle-Mile Broadband Initiative is the first step to creating an open-access, middle-mile network that will build infrastructure to bring high-speed broadband service to unserved and underserved communities, regardless of technology used, on equal economic and service terms.
675,000 underserved Californians would gain access to high-speed internet across the state with new broadband network

The action today is one part of a comprehensive and long-term approach to tackling the broadband infrastructure deficiencies still impacting rural and low-income communities, bringing the state closer to achieving affordable, high-speed broadband internet service for all communities. Construction on the middle-mile network is expected to be completed by December 2026.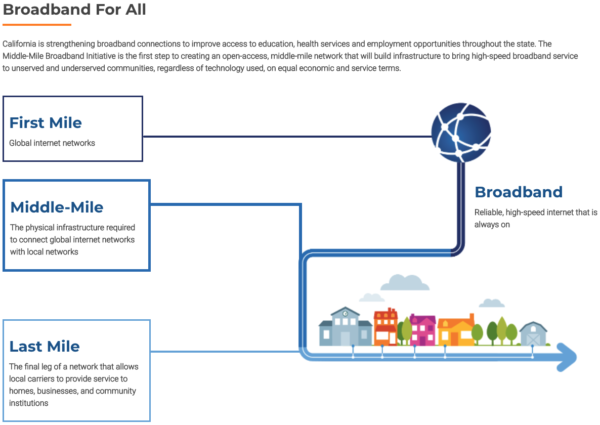 Middle-mile network refers to high-capacity fiber lines that carry large amounts of data at higher speeds over longer distances between local networks. It is the physical infrastructure required to connect global internet networks with local networks and is an essential component of the state's Broadband for All efforts.

Supply chain issues and nationwide broadband projects have created competition to secure necessary materials. The state's Invitation For Bid (IFB) was a proactive step to ensure supplies will be available at a pre-negotiated price when they are needed. The state has the ability to add an indefinite amount of materials as needed to complete construction over the next four years.

As a result of the competitive process, the state is guaranteed to have conduit, vaults, optical fiber and construction hardware readily available for the next four years as construction begins in earnest.

Government Operations Secretary Amy Tong said purchasing the material for the network is a critical first step to make sure California has the supplies it needs for construction of the middle-mile network in the coming years.

"This fiber will be the backbone of the middle-mile network, which will bring access to unserved and underserved Californians so they can participate equally in digital society," Tong said.

Russ Nichols, acting director of the California Department of Technology and chair of the Middle Mile Advisory Committee, said the projects will begin soon.

"With this milestone in place, we can continue our planning with Caltrans to begin installing the fiber as soon as possible," Nichols said.

Last year, the Governor signed historic legislation allocating $6 billion for achieving Broadband for All, including $3.25 billion for the middle-mile network and this year's revised budget proposes an additional $1.1 billion to support the project as it moves into construction.

The 2021 legislation included:
$3.25 billion to build, operate and maintain an open access, state-owned middle-mile network.
$2 billion to set up last-mile broadband connections that will connect homes and businesses with local networks. The legislation expedites project deployment and enables Tribes and local governments to access this funding.
$750 million for a loan loss reserve fund to bolster the ability of local governments and nonprofits to secure financing for broadband infrastructure.
Creation of a broadband czar position at the California Department of Technology, and a broadband advisory committee with representatives from across state government and members appointed by the Legislature.
In 2020, the state mobilized companies, business leaders and philanthropists through public-private partnerships to facilitate distance learning at school districts in need across the state. The effort helped connect students lacking high-speed internet or an appropriate computing device at home with donated mobile hotspots, laptops, Chromebooks, tablets and other devices.
Newsom gets second booster dose, urges eligible Californians to get theirs
California's vaccination strategy has saved tens of thousands of lives and prevented even more cases and hospitalizations
BAKERSFIELD – Amid rising COVID-19 cases across the country, and following the U.S. Food and Drug Administration's emergency authorization of a booster dose for healthy 5- to 11-year-olds, Governor Gavin Newsom today received his second Moderna booster at a clinic in Bakersfield, and encouraged all eligible Californians to get boosted to keep their immunity strong against COVID-19.
The second booster dose of the Pfizer-BioNTech or the Moderna vaccine is available to all Californians 50 and older, as well as those who are immunocompromised or received the Johnson & Johnson vaccine.
"Vaccines have saved tens of thousands of lives in California, and with COVID-19 still prevalent, we can't afford to let our guard down," said Newsom. "The best protection against serious illness and hospitalization is getting vaccinated and boosted. I encourage all eligible Californians to get your second booster – for you, for your family, for your friends, for your community."
Under the Newsom Administration's SMARTER Plan, the state maintains operational readiness to continue the fight against COVID-19 and respond quickly, including the ability to administer 200,000 vaccinations and 500,000 tests per day. The California Blueprint includes another $2.4 billion for COVID response, which ensures California will be on the best possible footing against future waves.
According to a study analyzing California's pandemic response, COVID-19 vaccines prevented an estimated 1.5 million coronavirus infections, nearly 73,000 hospitalizations, and almost 20,000 deaths in California.
The Governor received his booster shot at Clinica Sierra Vista, one of hundreds of health clinic locations around the state where people can receive their free vaccine and booster. The Governor was joined today by California Health and Human Services Secretary Dr. Mark Ghaly and community and local leaders who have supported vaccine equity efforts in the region. To date, Clinica Sierra Vista has administered nearly 100,000 COVID-19 vaccination doses.
"Vaccines remain the best protection against hospitalization and death from COVID-19. Our state, like much of the nation, is beginning to see an increase in COVID-19 transmission. Fortunately, thanks to California's robust vaccination efforts, we are seeing relatively low hospitalization rates," said Dr. Mark Ghaly, California Health and Human Services Secretary. "This underscores the efficacy and importance of staying up to date on your COVID-19 vaccines. Californians age 50 and over are encouraged to get their additional booster dose to keep their immunity strong and strengthen their protection against COVID-19."
According to the California Department of Public Health, the statewide test positivity rate is 5 percent as of Tuesday, about double the positivity rate a month prior, with some regions seeing positivity rates as high as 9 percent. Unvaccinated people are 4.8 times more likely to get COVID-19 than fully vaccinated individuals who are boosted. Unvaccinated people are also 6.5 times more likely to be hospitalized than boosted individuals, and 7.8 times more likely to die than boosted individuals.
California's response to COVID-19 has led the nation with the lowest COVID death rate among the country's most populous states. More than 8 in 10 Californians have received at least one dose of the vaccine and more than 15.5 million Californians have received their first booster dose, representing 59.1 percent of those eligible for a booster. Additionally, 22 percent of eligible Californians have received their second booster dose.
The state's Vaccinate ALL 58 campaign continues to focus on driving vaccine efforts in lower-income and non-English speaking communities with cultural competency and in-language outreach and education. Its community-based organization network, in partnership with philanthropy, is now standing at over 700 organizations and supports outreach and appointment assistance efforts.
Clinica Sierra Vista is a comprehensive health care organization serving the primary medical, dental, and behavioral health needs of about 200,000 people in Kern and Fresno counties. With the continued support of federal, state, and local governments, they have been able to reach out to thousands of new patients, offering comprehensive programs tailored to the needs of those they serve over a vast geographical region in the heartland of California.