Newsom signs bills to address homelessness and mental health services
Newsom is focused on rebuilding the state's portfolio of housing and treatment options for people with severe behavioral health challenges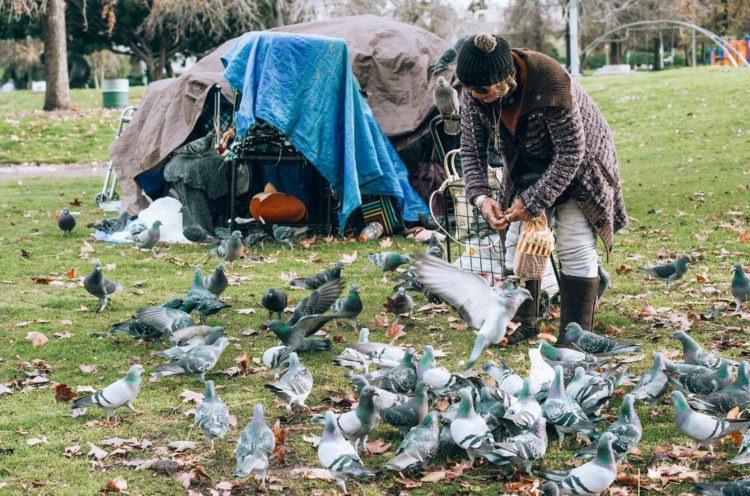 LOS ANGELES – Governor Gavin Newsom signed a suite of bills to help address the homelessness crisis and enhance California's response to people suffering from mental health issues on the streets, a critical part of the Governor's $22 billion housing affordability and homelessness package.
The Governor signed the legislative packages while visiting an acute board and care home run by Los Angeles County Wednesday. Altogether, the efforts highlighted today represent a comprehensive strategy to get more Californians off the streets faster than ever before and into the health services and housing they need — all at a fraction of the cost of previous efforts.
"We can't nibble around the edges of the homelessness crisis, we need to implement bold, transformative solutions – investing more money than ever before to get folks off the street and provide the mental health and other services they need to stay off the streets," said Newsom. "Today's legislation, along with our overall $22 billion housing affordability and homelessness package, will move the needle on creating more housing for the homeless and will allow us to tackle the homelessness crisis in ways California has never done."
The Governor today signed a package of bills to increase coordination and accountability of the state's homelessness spending, including AB 1220 by Assemblymember Luz Rivas (D-Arleta) which reforms the former Homeless Coordinating and Financing Council, renaming it the California Interagency Council on Homelessness, and bolsters the Council's powers through new data mandates and oversight authorities.
Further linking housing with health care, the legislation names California Health and Human Services Secretary Dr. Mark Ghaly and Business, Consumer Services and Housing Agency Secretary Lourdes Castro Ramírez as Co-Chairs of the Council. AB 977 by Assemblymember Jesse Gabriel (D-Encino) implements new data mandates under the state's Homeless Management Information System, allowing policymakers to better track and evaluate the effectiveness of homelessness funding around the state.
The California Interagency Council on Homelessness will also be the entity responsible for receiving, reviewing and ultimately approving homelessness plans submitted by cities, counties and Continuums of Care as part of the state's $2 billion local homelessness assistance package through the Homeless Housing, Assistance and Prevention Program (HHAP). Starting now, local governments must commit to quantifiable goals across six standardized metrics and make progress towards meeting or exceeding them in order to receive their full share of HHAP funding. Governor Newsom demanded this new accountability as part of his multibillion-dollar homelessness investment, and worked with the Legislature to craft these new oversight laws.
The following bills were signed today:
AB 27 by Assemblymember Luz Rivas (D-Arleta) – Homeless children and youths and unaccompanied youths: reporting.
AB 362 by Assemblymember Sharon Quirk-Silva (D-Fullerton) – Homeless shelters: safety regulations.
AB 816 by Assemblymember David Chiu (D-San Francisco) – Homelessness: Housing Trust Fund: housing projects.
AB 977 by Assemblymember Jesse Gabriel (D-Encino) – Homelessness program data reporting: Homeless Management Information System.
AB 1220 by Assemblymember Luz Rivas (D-Arleta) – Homelessness: California Interagency Council on Homelessness.
AB 1443 by Assemblymember Kevin McCarty (D-Sacramento) – Mental health: involuntary treatment.
SB 400 by Senator Brian W. Jones (R-Santee) – Homeless children and youths: local educational agencies: collaboration, training, and reporting.
Wednesday's bills, along with the four housing bills signed earlier this month and the housing affordability bills signed yesterday, represent the most comprehensive strategy to address the homelessness and housing affordability crisis in state history. California is investing an unprecedented $22 billion to tackle these systemic issues, with $12 billion allocated for homelessness and behavioral health services to help get tens of thousands of people off the streets or avoid homelessness altogether.
Combined, the funding will lead to the creation of over 84,000 new affordable homes for Californians, including over 44,000 new housing units and treatment beds for people exiting homelessness. The new homelessness funding also includes $5.8 billion to add more than 35,000 new housing units through Homekey – a national model for homeless housing.
Newsom is especially focused on rebuilding the state's portfolio of housing and treatment options for people with severe behavioral health challenges. The California Comeback Plan calls for the biggest expansion of this kind of housing and treatment since Governor Reagan began dismantling California's mental health system in the late 1960s. To that end, $3 billion of the homelessness investment is dedicated to housing for people with the most acute behavioral and physical health needs and will create approximately 22,000 new beds and treatment slots.
In addition to the investments addressing homelessness and housing affordability, the California Comeback Plan includes $1.1 billion to clean up the streets of California by partnering with local governments to pick up trash and beautify downtowns, freeways and neighborhoods across California. The program is expected to generate up to 11,000 jobs over three years.
Black Trans woman shot in Oakland, 50th violent death of this year
Black and Latinx transgender women make up the majority of the victims- "The people who kill them feel that they're not worthy"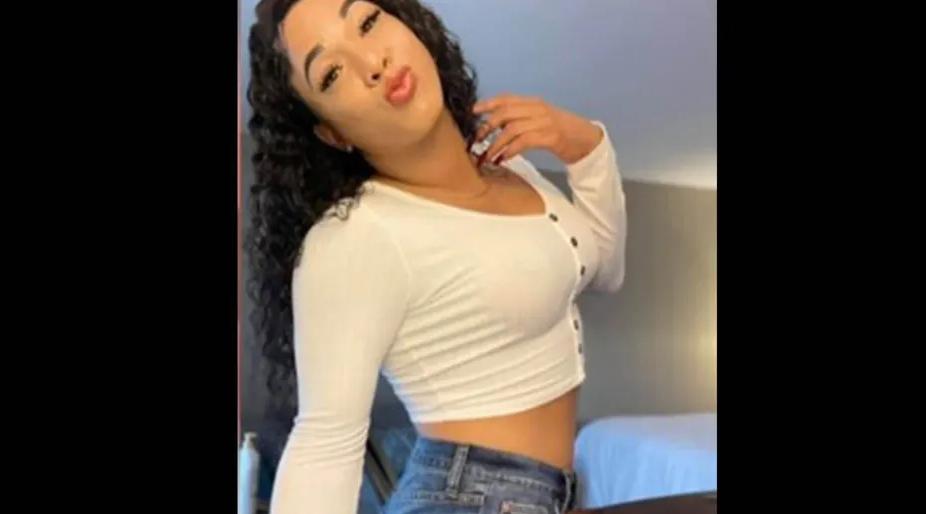 OAKLAND – Police units responding to reports of a shooting on Castro Street in West Oakland early this past Saturday morning Dec. 4, 2021, found Nikai David, a 33-year-old Black transgender woman, suffering from gunshot wound to the head. She died at the scene.
Her death is at least the 50th violent killing of a transgender or gender non-conforming person in 2021 according to the Human Rights Campaign.
The shooting marks Oakland's 129th homicide so far this year. At this time, the Oakland Police investigators said there is no evidence of a hate crime. Anyone with information about David's case is asked to call the Oakland Police Department's Homicide Section at 510-238-3821 or the department's tip line at 510-238-7950.
Speaking with local Oakland media outlet, KTVU Fox 2, Joe Hawkins, co-founder and CEO of Oakland LGBTQ Community Center, said transgender homicides are on the rise. "In general, people are ready to attack transgender people, just because they're transgender," he said.
Reflecting on the disturbing trend of violent crime this year against Trans people, Hawkins said Black and Latinx transgender women make up the majority of the victims. He said discrimination in housing and employment are factors putting their lives at risk.
"The people who kill them feel that they're not worthy. Who's gonna care," said Hawkins, "Black transgender people deserve and need the support that they have not been given."
Nikai David, a model and aspiring social media influencer who dreamed of opening her own clothing boutique was well-known at the Oakland LGBTQ Community Center and they are planning to honor her life. For more information on the memorial, follow their Facebook page. Ashlee Banks, a friend of David, remembered her as being "really sweet. She was a happy, fun person." Banks said she was "really devastated" to find out about David's death.
"Every time we step out the door, we are at risk, of never returning home again. Sometimes we don't even have to leave the house; there is no safe space for transgender people in America. We live in a different world that most couldn't comprehend. 
I'm devastated by this news; this young lady deserves to model like she wanted to. She deserves all the good life has to offer. But here we are again, grieving another young Black trans woman murdered," Ebony Harper, the Executive Director of Sacramento-based California TRANscends told the Blade Tuesday.
"To go through all the crap that we have to endure in this society and then be murdered hits me right in the heart. We are strange fruit. The 2012 murder of Brandy Martell is replaying in my mind and how they were debating if it was a hate crime. Here we are almost ten years later, and they are still discussing whether it was a damn hate crime? We won't stop until our babies can walk, talk, and have relationships divinely trans. Justice for Nikai David and praying for the hearts of her family and friends," Harper added.
"Learning about Nikai David's death is disheartening and alarming. In the year that we've marked as the deadliest year on record for our community, we continue to see a frightening rate of fatal violence against transgender and gender non-conforming people. We must all continue to demand that the violence cease. David was a young person with so much life ahead of her. For her future to have been violently taken away from her serves as a reminder that we remain with so much work ahead of us to ensure a safe and loving world for all," Tori Cooper, HRC Director of Community Engagement for the Transgender Justice Initiative said in a statement.
California expands broadband infrastructure & internet access across state
The initial project locations based on unserved/underserved areas that don't reliably have download speeds of at least 25 Megabits per second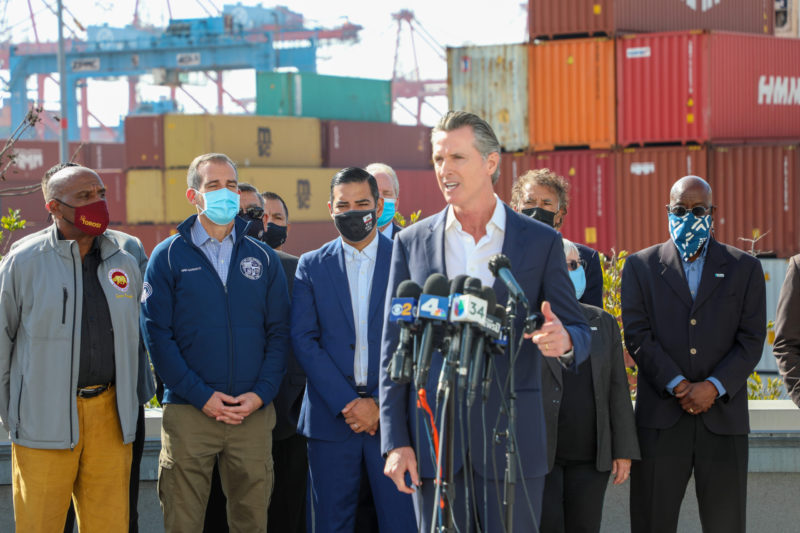 SACRAMENTO – Advancing California's commitment to bridge the digital divide, Governor Gavin Newsom announced that the state has identified 18 projects to begin work on an open-access middle-mile network that will provide missing infrastructure paths to bring broadband to all communities.
As part of the historic $6 billion broadband investment advanced in partnership with legislative leaders earlier this year, the initial project locations are based on known unserved and underserved areas across the state. The projects will connect to the core of the global internet and interconnect to last-mile infrastructure, which is the final leg that provides internet service to a customer.
"California is committed to taking on the challenges laid bare by the pandemic, including the digital divide holding back too many communities across the state," said Newsom. "These projects are the first step to delivering on our historic investment that will ensure all Californians have access to high-quality broadband internet, while also creating new jobs to support our nation-leading economic recovery."
The initial 18 projects represent a range of geographic locations and technical approaches. Projects are being initiated in the following tribal communities, counties and cities: Alpine County; Amador County; Calaveras County; Central Coast; Coachella Valley; Colusa Area; Inyo County; Kern County; Kern/San Luis Obispo Area; Lake County Area; Los Angeles and South Los Angeles; Oakland; Orange County; Plumas Area; Riverside/San Diego Area; San Bernardino County; Siskiyou Area; and West Fresno.
Evaluation of project areas included consideration of public comments, prioritization of unserved or underserved areas of the state, and inclusion of tribal communities, cities and counties. An unserved or underserved area has households that do not reliably have download speeds of at least 25 Megabits per second (Mbps) and upload of at least 3 Mbps.
"Core to our success will be the deep partnerships we've built with a diverse set of community organizations and last mile providers. Through many years of engagement with metropolitan planning organizations, CPUC-supported broadband consortia, Tribal organizations, community-based broadband advocacy groups, and organizations like the Rural County Representatives of California, the NAACP, and the California Emerging Technology Fund, we are now ready to take this historic step towards broadband equity for California," said Louis Fox, Founder and Chair of GoldenStateNet, the state's third-party administrator.
State partners implementing the middle-mile initiative include the California Department of Technology, California Public Utilities Commission (CPUC) and Caltrans. GoldenStateNet was selected as the Third-Party Administrator (TPA) to manage the development, acquisition, construction, maintenance and operation of the statewide open-access middle-mile broadband network. As the TPA, GoldenStateNet will partner with key stakeholder groups across the state to investigate the best technical, financial and operational models to meet the needs of the project sites.
A map and additional information on the initial projects can be found here.
"A reliable broadband connection makes the difference between having access to full-service health care, education and employment or sometimes going without," said State Chief Information Officer Amy Tong. "Through a historic partnership between our Governor, the Legislature, state agencies and a third-party administrator, we are taking immediate action to improve connectivity for Californians in the northern, central and southern parts of the state."
"These initial routes have been identified to accelerate projects in areas of the state that are unserved because of the lack of open middle mile infrastructure to serve them. We are accelerating the selection of a diverse set of routes — those that are ready to build and those that are not ready to build. This allows the state to partner with locals on these diverse projects and learn by doing, as we concurrently work to finalize all the needed routes in the State. There are many more communities like those in Phase I that will be included in the final map," said Martha Guzman Aceves, Commissioner at the CPUC.
Names of Trans dead projected onto Netflix HQ
2021 was the deadliest year of violence against LGBTQ+ people since records began- greatest harm to Black Trans women, migrants & sex workers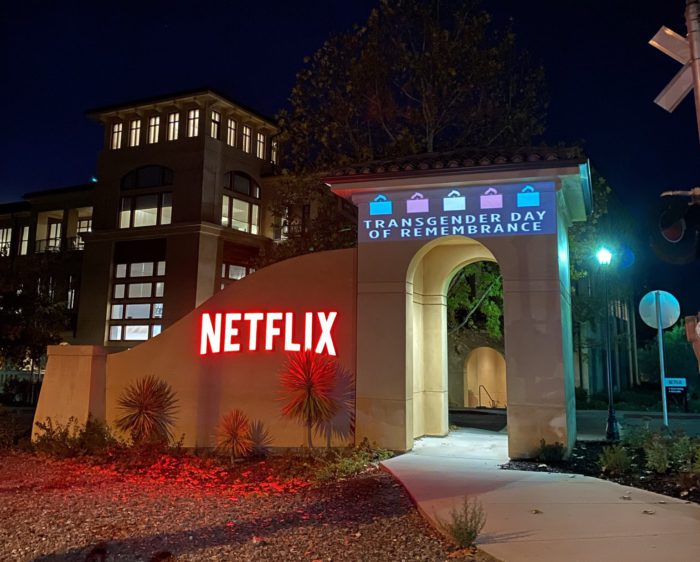 LOS GATOS – On the Trans Day of Remembrance, the names of trans people who died this year were projected onto Netflix's Silicon Valley headquarters.
The words of light were visible from Winchester Boulevard, over the archway entrance to the headquarters. Earlier this year, Netflix was criticized for spreading transphobia as well as for firing a trans, Black, pregnant employee for organizing a walkout.
Local trans activist Gwendolyn Ann Smith said of the projection, "The CEO of Netflix, Ted Sarandos, spoke earlier this year in defense of Dave Chappelle's comedy special, 'The Closer,' stating that, 'We have a strong belief that content on screen doesn't directly translate to real-world harm.' It is a fitting rebuttal, therefore, that the names of those who were murdered in the name of anti-transgender violence end up projected on the walls of Netflix's offices. Perhaps this will serve as a reminder that there are, indeed, real world consequences to consider when you platform transphobia disguised as comedic expression."
2021 was the deadliest year of violence against gender-diverse people since records began, with the greatest harm done to Black trans women, migrants, and sex workers. The recorded number of 375 deaths is likely also severely underreported, according to Transrespect Versus Transphobia Worldwide.
"I cancelled my Netflix account," said local projection activist Alan Marling, "but I'll be happy to renew it once the company meets the demands of the walkout."
The demands include investment in trans and non-binary voices, acknowledging the harm done, and hiring of a trans executive.
The full list can be found here.
Video by Alan Marling