52 countries urge UN to protect intersex rights
The US is among statement signatories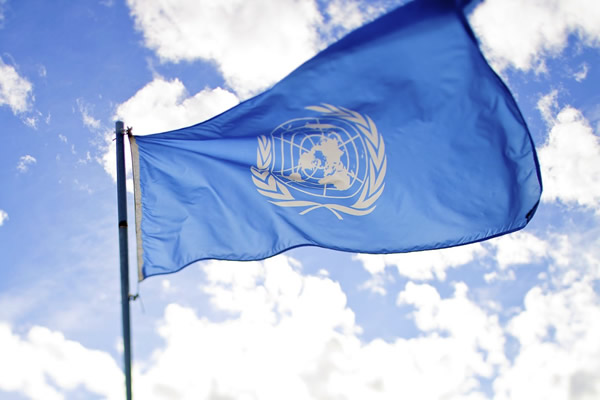 GENEVA — Fifty-two countries have signed a statement that urges the U.N. Human Rights Council to protect the rights of intersex people.
"We call on all member states to take measures to combat violence and discrimination against intersex persons, develop policies in close consultations with those affected, ensure accountability, reverse discriminatory laws and provide victims with access to remedy," said Amb. Elisabeth Tichy-Fisslberger, Austria's permanent U.N. representative in Geneva, in a statement they read to the council on Monday. "We also call on the Office of the High Commissioner for Human Rights and on the Special Procedures of this Council to continue addressing and to scale up action against violence and discrimination based on sex characteristics within their mandates and in their work."
The U.S., India, Bosnia and Herzegovina, Fiji, Brazil, the Marshall Islands, Namibia and Uruguay are among the countries that have signed the statement.
"Discrimination, stigmatization, violence, harmful practices in medical settings and several other human rights violations continue to occur around the world for people born with diverse sex characteristics. Actions have to follow those statements," reads a statement that interACT: Advocates for Intersex Youth, Intersex Asia Network, Intersex Human Rights Australia, Brújula Intersexual, SIPD Uganda, Organisation Intersex International (OII) Europe, OII Chinese, GATE and ILGA World released on Monday.
"States need to take strong and urgent action to uphold their obligation to ensure that intersex people live free from all types of violence and harmful practices, including in medical settings," they added. "Irreversible medical interventions (such as genital surgeries, hormonal interventions and medical procedures intended to modify the sex characteristics of infants and children without their full, prior, and informed consent) continue to be the rule — not the exception — in the majority of U.N. member states."
The U.S. in 2018 withdrew from the council. Secretary of State Antony Blinken in February announced the U.S. will "reengage" with it.
U.S. regains U.N. Human Rights Council seat
Previous administration withdrew from body in 2018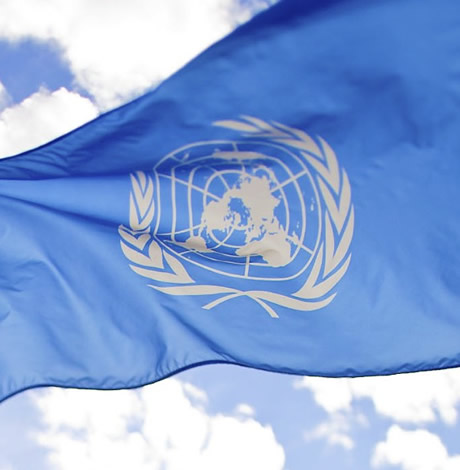 UNITED NATIONS — The U.S. on Thursday regained a seat on the U.N. Human Rights Council, three years after the previous administration withdrew from it.
The U.S. won election to the council alongside Argentina, Benin, Cameroon, Eritrea, Finland, Gambia, Honduras, India, Kazakhstan, Lithuania, Luxembourg, Malaysia, Montenegro, Paraguay, Qatar, Somalia and United Arab Emirates.
The council in recent years has emerged as a champion of LGBTQ rights around the world, even though Cuba and other countries with poor human rights records are among the 47 countries that are currently members. Venezuela and Russia are also on the council.
Yoan de la Cruz, a gay man who used Facebook Live to livestream the first of more than two dozen anti-government protests that took place across Cuba on July 11, remains in custody and faces eight years in prison. The Los Angeles Blade last month spoke with several Venezuelan LGBTQ activists who said persecution forced them to flee to neighboring Colombia.
Russia's crackdown on LGBTQ rights and the Kremlin's close relationship with Chechen President Ramzan Kadyrov continue to spark criticism around the world.
Then-U.S. Ambassador to the U.N. Nikki Haley during a 2018 press conference that announced the U.S. withdrawal from the council noted Cuba and other countries "with unambiguous and abhorrent human rights record" are members. Haley also said the council has a "chronic bias against" Israel.
U.S. Ambassador to the U.N. Linda Thomas-Greenfield on Thursday in a statement said LGBTQ rights will be one of the U.S.'s focuses once it officially rejoins the council on Jan. 1.
"Our initial efforts as full members in the Council will focus on what we can accomplish in situations of dire need, such as in Afghanistan, Burma, China, Ethiopia, Syria and Yemen," she said. "More broadly, we will promote respect for fundamental freedoms and women's rights, and oppose religious intolerance, racial and ethnic injustices, and violence and discrimination against members of minority groups, including LGBTQI+ persons and persons with disabilities.  And we will oppose the council's disproportionate attention on Israel, which includes the council's only standing agenda item targeting a single country."
President Biden in February issued a memorandum that commits the U.S. to promoting LGBTQ rights abroad.
The previous White House tapped then-U.S. Ambassador to Germany Richard Grenell to lead a campaign that encouraged countries to decriminalize consensual same-sex sexual relations, but many LGBTQ activists in the U.S. and around the world have questioned its effectiveness. The Washington Blade in August filed a federal lawsuit against the State Department that seeks Grenell's emails around his work on the decriminalization initiative.
"The President and Sec. Blinken have put democracy and human rights—essential cornerstones of peace and stability—at the center of our foreign policy," said State Department spokesperson Ned Price on Thursday after the U.S. regained a seat on the council. "We have eagerly and earnestly pursued these values in our relationships around the world."
"We will use our position to renew the council's focus on the core human rights principles enshrined in the Universal Declaration of Human Rights and the U.N. Charter, which undergird the council's founding," added Price at the beginning of his daily press briefing. "Our goal is to hold the U.N. Human Rights Council accountable to the highest aspirations of its mandate and spur the actions necessary to carry them out."
US ambassador to UN calls for decriminalization of homosexuality
Linda Thomas-Greenfield spoke at U.N. LGBTI Core Group event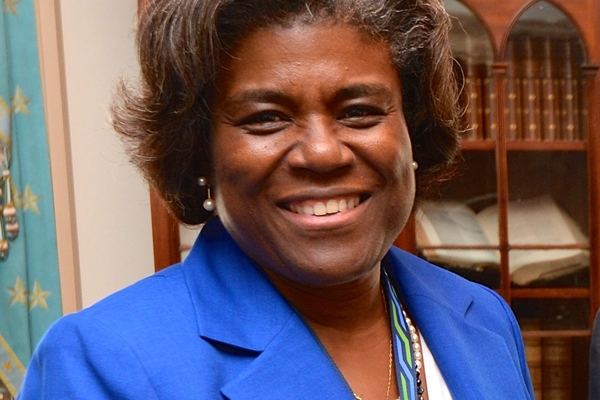 UNITED NATIONS — U.S. Ambassador to the U.N. Linda Thomas-Greenfield is among those who participated in a Wednesday event on the sidelines of the U.N. General Assembly that highlighted efforts to decriminalize consensual same-sex sexual relations.
Thomas-Greenfield in her remarks during the largely virtual U.N. LGBTI Core Group event noted consensual same-sex sexual relations remain criminalized in more than 70 countries.
"For millions of people it is illegal for them to be who they are, to love who they love. We need to repeal and eliminate these laws," she said. "For our part, the United States is using our diplomacy, our foreign assistance and every tool we have to protect human rights, empower civil society and support local LGBTQI movements."
The U.S. is one of 35 countries that are members of the Core Group.
Wednesday's event also highlighted efforts to decriminalize transgender people and repeal laws that specifically target them.
"We need more countries to join this committed group," said Thomas-Greenfield. "Together, let's do everything we can to protect human rights and promote equality for all."
Belgian Prime Minister Alexander De Croo; Nepalese Ambassador to the U.N. Amrit Bahadur Rai; New Zealand Ambassador to the U.N. Craig Hawke; Australian Permanent U.N. Representative Mitch Fifield; Brazilian Ambassador to the U.N. Rolando Costa Filho; Canadian Ambassador to the U.N. Robert Keith Rae; Assistant U.N. Secretary General for Strategic Coordination Volker Türk; Argentine Foreign Affairs Minister Santiago Cafiero; Dutch Foreign Affairs Minister Tom de Bruijn; Japanese Foreign Minister Jun Shimmi; Norwegian Foreign Affairs Minister Ine Eriksen Soreide; Salvadoran Foreign Affairs Minister Alexandra Hill Tinoco; Costa Rican Vice Multicultural Affairs Minister Christian Guillermet-Fernández; Finnish Foreign Affairs Ministry Johanna Sumuvuori; Nick Herbert of the British House of Lords; European Union Equality Commissioner Helena Dalli; Swedish Foreign Affairs Minister Ann Linde; Icelandic Foreign Affairs Minister Gudlaugur Thór Thórdarson; Maltese Equality, Research, Innovation and the Coordination of Post COVID-19 Strategy Minister Owen Bonnici; Mexican Multilateral Affairs and Human Rights Undersecretary Martha Delgado; Italian Foreign Affairs Undersecretary Benedetto Della Vedova; Chilean Foreign Affairs Undersecretary Carolina Valdivia; German MP Michael Roth; Irish State for Overseas Development Aid and Diaspora Minister Colm Brophy and Danish Development and Nordic Cooperation Minister Flemming Møller Mortensen participated in the event that Reuters U.N. Bureau Chief Michelle Nichols emceed.
Acting OutRight Action International Executive Director Maria Sjödin and activists from Bhutan, Botswana, Guyana, Mozambique, Angola, Panamá and India took part. Victor Madrigal-Borloz, the independent U.N. expert on LGBTQ issues, and Nikkie de Jager, a Dutch U.N. goodwill ambassador known as NikkieTutorials who is trans, also participated.
"Decriminalization is a very basic demand," said Sjödin. "Given how many countries have these laws on the books, it is still a priority."
Herbert, who is British Prime Minister Boris Johnson's LGBTQ envoy, noted consensual same-sex sexual relations remain criminalized in 35 of the Commonwealth's 54 countries. Herbert also announced the U.K. will give an additional $2.75 million to "support LGBT+ individuals in Commonwealth countries, including to those seeking to address outdated legislation that discriminates against women, girls and LGBT+ individuals."
"We are clear that tackling discrimination is only one part of the issue," said Herbert. "We must encourage countries as well to put in place laws that protect their LGBTI citizens going forward."
President Biden in February signed a memorandum that committed the U.S. to promote LGBTQ rights abroad. The decriminalization of consensual same-sex sexual relation is one of the White House's five global LGBTQ rights priorities.
Biden notes LGBTQ rights in UN General Assembly speech
President noted crackdowns in Chechnya, Cameroon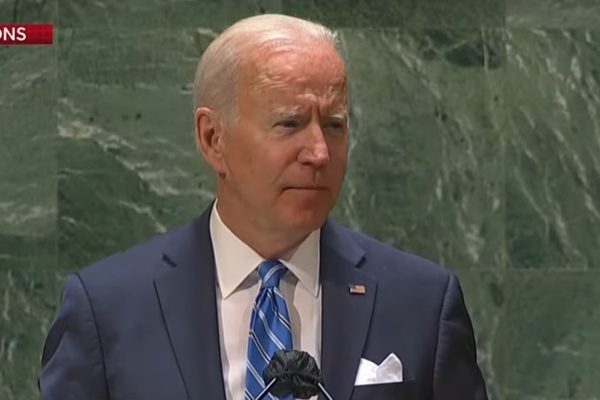 UNITED NATIONS — President Biden on Tuesday in his speech to the U.N. General Assembly spoke in support of LGBTQ rights around the world.
"We all must defend the rights of LGBTQI individuals so they can live and love openly without fear," he said.
Biden in his speech specifically cited anti-LGBTQ crackdowns in Chechnya and Cameroon. He spoke after Brazilian President Jair Bolsonaro, who is a vocal opponent of LGBTQ rights, addressed the General Assembly.
"As we pursue diplomacy across the board, the United States will champion the democratic values that go to the very heart of who we are as a nation and a people: freedom, equality, opportunity and a belief in the universal rights of all people," said Biden.
The White House earlier this year released a memorandum that committed the U.S. to promoting LGBTQ rights abroad.
The decriminalization of consensual same-sex sexual relations and protecting LGBTQ migrants and asylum seekers are two of the administration's five priorities in its efforts to promote LGBTQ rights abroad. Secretary of State Antony Blinken last week expressed concern over the fate of LGBTQ Afghans who remain in their country after the Taliban regained control of it, but it remains unclear how many of them the U.S. has been able to evacuate.