Samantha Power meets with Dominican LGBTQ activists
Meeting took place in Santo Domingo on Oct. 7
SANTO DOMINGO, Dominican Republic — U.S. Agency for International Development Administrator Samantha Power on Oct. 7 met with LGBTQ activists in the Dominican Republic.
Diversidad Dominicana Executive Director Rosanna Marzán, Amigos Siempre Amigos Director Leonardo Sánchez, Sirana Dolis of Movimiento de Mujeres Dominico Haitianas (MUDHA) and Bridget Wooding of the Caribbean Migration and Development Observatory (OBMICA) are among those who met with Power in Santo Domingo, the Dominican capital. Power in a tweet said she also met with human rights activists who are working to "restore legal documentation" for the more than 100,000 Dominicans of Haitian descent who live in the country.
"So glad to meet these activists fighting at (sic) local and national level for equality and dignity for all," tweeted Power.
I spent time this morning w/ Dominican human rights advocates working to strengthen #LGBTQ+ protections and restore legal documentation for 100,000+ Dominicans of Haitian descent. So glad to meet these activists fighting at local & national level for equality and dignity for all. pic.twitter.com/8VNTIg9sRy

— Samantha Power (@PowerUSAID) October 7, 2021
Marzán told the Los Angeles Blade the meeting with Power was "very good."
Me reuní con defensores de DD. HH., los cuales trabajan para fortalecer la protección de las personas #LGBTQ+ y recuperar la documentación de +100,000 dominicanos de ascendencia haitiana. Feliz de haber conocido estos activistas que luchan por igualdad y dignidad para todos.

— Samantha Power (@PowerUSAID) October 7, 2021
The Dominican Republic borders Haiti on Hispaniola.
The Dominican House of Representatives in June approved a bill that would remove sexual orientation from the country's Penal Code. The Dominican Senate has yet to consider the measure that has sparked outrage among the country's LGBTQ activists.
Power traveled to the Dominican Republic two months after Haitian President Jovenel Moïse's assassination.
A 7.2 magnitude earthquake on Aug. 14 left scores of people dead and displaced hundreds of thousands of others in Haiti's Tiburon Peninsula. Immigration Equality is among the groups that criticized the Biden administration last month over the deportation of Haitian migrants and asylum seekers from Texas.
James "Wally" Brewster was the U.S. ambassador to the Dominican Republic from 2013-2017. He is one of six openly gay men who represented the U.S. abroad during the Obama administration.
Cuban lawmakers approve draft of new family code
Proposal could pave way for marriage equality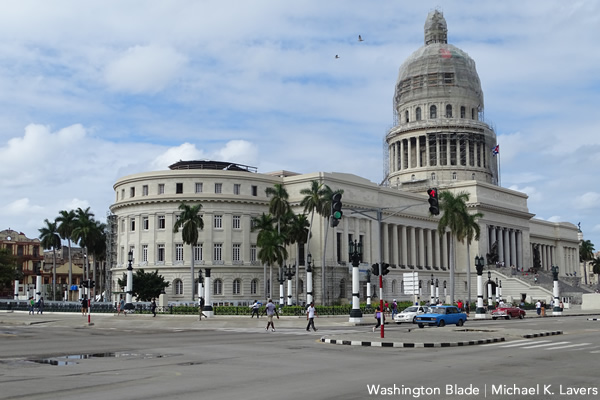 HAVANA — Cuban lawmakers on Tuesday approved a draft of a new family code that could pave the way for marriage rights for same-sex couples in the country.
Cubadebate, an official news website, reported the National Assembly approved the draft that does not contain a specific marriage equality provision. The proposal, however, states it would "protect all expressions of family diversity and each person's right to build a family in coherence with the (Cuban) constitution and its principles of equity, non-discrimination and human dignity."
Mariela Castro, the daughter of former President Raúl Castro who is the director of the National Center for Sexual Education, is among the members of the National Assembly who spoke in favor of the draft.
"It will guarantee the rights of groups of people whose realities were not sufficiently understood at the beginning of the revolutionary process," said Mariela Castro before the vote, according to Cubadebate.
Mariela Castro in her comments referred to the Cuban revolution that brought her uncle, Fidel Castro, to power in 1959.
The Cuban government after the revolution sent gay men and others to work camps known by the Spanish acronym UMAPs. Cubans with AIDS were forcibly quarantined in state-run sanitaria until 1993.
"This bill does resemble the society in which we live: A complex, diverse and plural society," said Mariela Castro.
Cubadebate reported Cubans will have a chance to comment on the bill during a "popular consultation" that will take place from Feb. 1-April 30, 2022.
Cuban voters in 2019 overwhelmingly approved the draft of their country's new constitution, but independent LGBTQ activists sharply criticized the government's decision to remove a marriage equality amendment before the referendum on it. Tremenda Nota, the Los Angeles Blade's media partner in Cuba, reported the government has not announced when a referendum on the new family code will take place.
Tuesday's vote took place less than six months after anti-government protests took place across Cuba.
Tremenda Nota Editor Maykel González Vivero is among the hundreds of people who were arrested during the protests.
Yoan de la Cruz, who is gay, used Facebook Live to livestream the first July 11 protest that took place in San Antonio de los Baños in Artemisa province.
Authorities subsequently arrested De La Cruz, and they are seeking an 8-year prison sentence for him. De La Cruz's trial reportedly began on Dec. 13.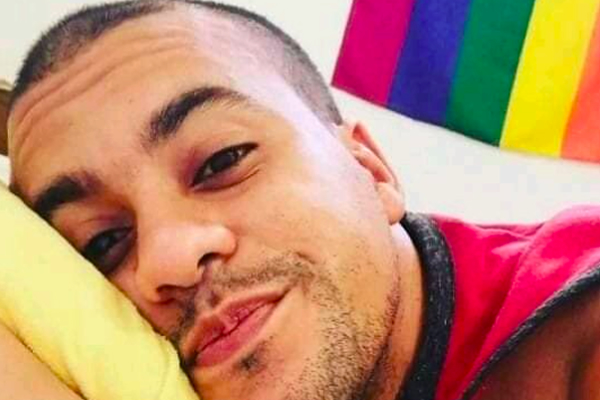 Cuban activist prevented from leaving home ahead of planned protests
Raúl Soublett López is director of Alianza Afro-Cubana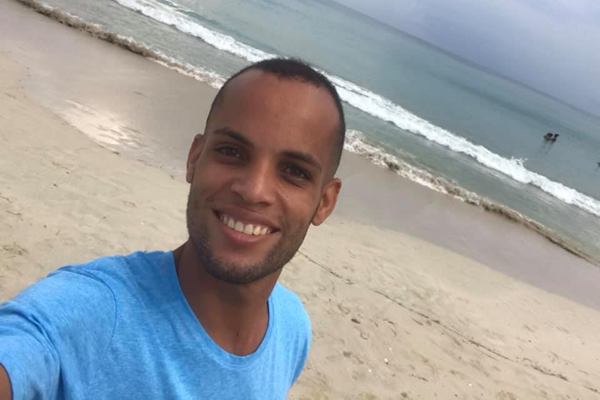 HAVANA — Cuban authorities have prevented an LGBTQ activist from leaving his home ahead of anti-government protests that are scheduled to take place across the country on Monday.
Alianza Afro-Cubana, a group that advocates for LGBTQ Cubans of African descent, in a tweet said authorities have not allowed its director, Raúl Soublett López, to leave his home in Havana's Plaza neighborhood "to go to work as a teacher."
"Today they have prohibited me from leaving my home," Soublett told the Los Angeles Blade on Monday, referring to Cuba's state security.
Hoy cumplimos 4 años de creado y damos nuestro total respaldo y apoyo a @RaulSoublett nuestro coordinador que se encuentra en estado de sitio, impidiendo que asista a su trabajo como docente. Exigimos @DiazCanelB, @PresidenciaCuba, @minint_cuba que paren con esta ola represiva. pic.twitter.com/n6g0jxsTQj

— Alianza Afro-Cubana (@AlianzAfroCuba) November 15, 2021
The Communist island on Monday reopened to tourists after a 20-month lockdown because of the pandemic. Authorities in recent days have targeted human rights activists, journalists and others who publicly criticize the government.
Maykel González Vivero, editor of Tremenda Nota, the Blade's media partner in Cuba, is among the hundreds of people who Cuban authorities arrested during anti-government protests that took place across the island on July 11. Yoan de la Cruz, a gay man who used Facebook Live to livestreamed the first July 11 protest that took place in San Antonio de los Baños, a municipality in Artemisa province, faces an 8-year prison sentence.
Tremenda Nota reported State Security agents on Oct. 9 interrogated Soublett and threatened to charge him with "mercenarism" because he made a series of videos that highlight his group's efforts to fight racism and homophobia in Cuba. The interrogation took place on the same day that President Miguel Díaz-Canel met with a dozen LGBTQ activists who work with the National Center for Sexual Education, a group that Mariela Castro, the daughter of former President Raúl Castro, directs.
The Cuban Justice Ministry in September released a draft of a proposed new family code that would extend marriage rights to same-sex couples in the country.
Tremenda Nota has reported the National Assembly is expected to vote on the new family code next month. A referendum on it would then take place.
Jamaican health minister expresses support for LGBTQ community
Christopher Tufton spoke about mental health care access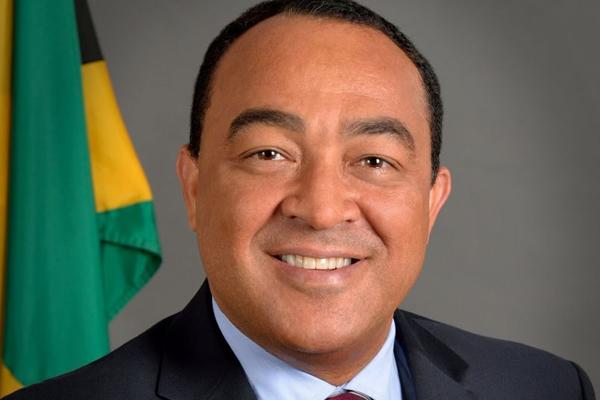 KINGSTON, Jamaica — Jamaican Health and Wellness Minister Christopher Tufton last week said people who access his country's mental health care system should not experience discrimination based on their sexual orientation and gender identity.
"Mental health services have been experiencing a number of reviews. For the LGBT community, clearly, I do not know what the specific concerns are, but I would say, as a blanket statement, that we promote the concept of non-discrimination in terms of access, and any service that we offer to the population would include all segments of the population," Tufton said on Nov. 3 during a forum the Jamaica Gleaner, a Jamaican newspaper, organized.
"I think the whole issue of the LGBT community and non-discrimination has evolved, and frankly speaking, I think it is getting better," continued Tufton. "In fact, there is more accessibility and more willingness to provide service without any prompting or punitive oversight measures."
The Jamaica Gleaner said Tufton made the comments in response to a question that Glenroy Murray, the interim executive director of Equality for All Foundation Jamaica, a Jamaican LGBTQ rights group, asked.
Equality for All Foundation Jamaica has created two handbooks that specifically outlines ways to ensure LGBTQ Jamaicans don't suffer discrimination when they access mental health services. The Los Angeles Blade has obtained a statement from Tufton in which he applauds the organization's work on the issue.
"It is well recognized that mental illness is highly stigmatized, even at the primary care level, which, for many people, is the first point of contact with the health system," said Tufton. "Due to this stigma, individuals will either avoid or delay seeking care for fear of being treated differently from others, fears over losing their jobs or out of concern for their relationships within family and friends."
"This, in turn, can result in poor health outcomes and the loss of productive years," he added. "Persons from the LGBT community will have an additional layer of stigma due to sexual orientation or gender identity and are therefore at higher risk of poor outcomes than other persons living with mental illness."
Tufton in the statement also notes "this stigma is driven, at least in part, by a lack of knowledge among mental health practitioners."
Jamaica is among the dozens of countries around the world in which consensual same-sex sexual relations remain criminalized. Violence and discrimination based on sexual orientation and gender identity also remain commonplace on the island.
An 18-year-old man last month was hospitalized in critical condition after a group of men in the resort city of Montego Bay targeted him on a gay dating app.
Kelly West, a transgender Jamaican woman, was one of the 47 people who were living at Jardín de las Mariposas, a shelter for LGBTQ asylum seekers in the Mexican border city of Tijuana, on July 12 when the Blade visited. West said she asked for asylum in the U.S. because of the anti-trans discrimination and persecution she suffered in Jamaica.