Anti-LGBTQ candidate tossed from Cincinnati area school board meeting
Josh Mandel has a lengthy history of making anti-LGBTQ & anti-refugee statements and he is opposed to coronavirus mandates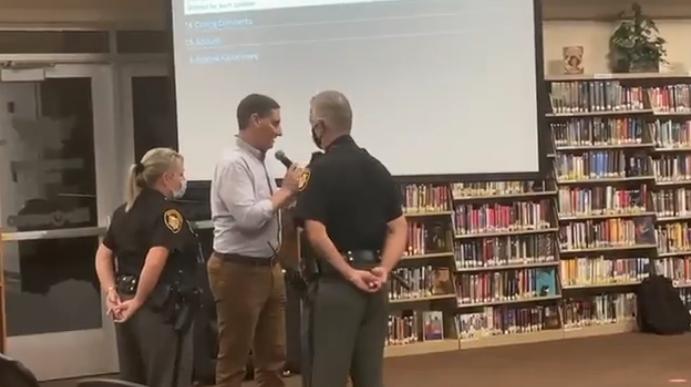 BUTLER COUNTY, Oh. – The former State of Ohio Treasurer and a Republican candidate for the U.S. Senate was removed from a Lakota Local School District Board meeting in suburban Cincinnati on Monday, after he disrupted the proceedings attacking Trans students and face mask requirements.
Josh Mandel, an ardent supporter of former President Trump and who also maintains there was election fraud that resulted in the Biden presidency, has a lengthy history of anti-LGBTQ, anti-refugee, and other disparaging remarks. More recently, Mandel has been vocal in his opposition to safety protocols designed to mitigate further spread of the coronavirus, particularly facial masks.
The Cincinnati Enquirer reported that Mandel had commenced making his remarks during a public comments portion of the School District Board meeting when Board president Kelley Casper interrupted and asked him to stop speaking.
According to the Enquirer, public hearing participants must be residents of the Lakota Local School District, according to the board's bylaws, or "be the resident's designee and be introduced as such, and have a legitimate interest in the action of the Board."
Mandel is a resident of Cleveland.
In the video of the meeting posted by the School District Tuesday, local school board candidate Darbi Boddy is heard saying she would like to have Mandel speak on her behalf. An argument ensued between Boddy, Mandel, and Board president Casper at which point Butler County Sheriff's deputes were called to escort Mandel out of the meeting.
Casper announced that the board would take a recess while Mandel kept speaking. Multiple mobile phone video footage was posted, including by Mandel himself on Twitter as he alleged that the Lakota Local School District is "using kids as pawns in a political game" by requiring students to wear masks.
Then he attacked Trans inclusive education and studies saying; "On top of that, children should not be forced to learn about whether they pick a gender or not pick a gender. Boys are boys. Girls are girls."
After his removal he took to Twitter saying; "I just got escorted out of the Lakota School Board meeting for speaking out against mask mandates," he wrote. "Thanks to the moms who invited me to speak. We are still in charge of our kids–even if Biden tries to call us 'Domestic Terrorists."
I just got escorted out of the Lakota School Board meeting for speaking out against mask mandates.

Thanks to the moms who invited me to speak.

We are still in charge of our kids — even if Biden tries to call us "Domestic Terrorists". pic.twitter.com/XXGisR89Hp

— Josh Mandel (@JoshMandelOhio) October 12, 2021
Earlier on Monday which was National Coming Out Day, Mandel took aim at the LGBTQ+ community on Twitter saying that "They are literally trying to destroy America."
Bisexual comic books for kids.

They are literally trying to destroy America. https://t.co/dI6MR64W23

— Josh Mandel (@JoshMandelOhio) October 11, 2021