LGBTQ Venezuelan migrants struggle to survive in Colombia
People with HIV again suffering from Kaposi's sarcoma
BOGOTÁ, Colombia — Edgar García and his partner, Dannys Torres, on Oct. 3, 2018, used a canoe to cross the Arauca River that marks the Venezuela-Colombia border.
García was a member of the board of directors of Alianza Lambda de Venezuela, a Venezuelan LGBTQ rights group, before he fled Venezuela. Torres worked as a hairdresser in Caracas, the Venezuelan capital.
The couple now lives in Rafael Uribe Uribe, a working-class neighborhood in Bogotá, the Colombian capital.
Torres continues to work as a hairdresser. García most recently worked for a telecommunications company.
"We are settled here in Bogotá," García told the Los Angeles Blade on Sept. 21 during an interview with him and Torres that took place at a shopping mall near their home. "You have your life here."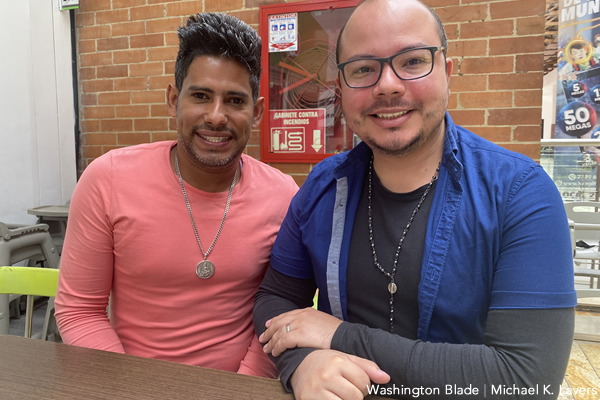 García and Torres are two of the more than 5.4 million Venezuelans who the Coordination Platform for Migrants and Refugees from Venezuela say have left their country as of November 2020 because of its ongoing economic and political crises.
Statistics from the Colombian government indicate there are currently more than 1.7 million Venezuelans in the country. More than 50 percent of them live in Bogotá and the departments of Norte de Santander, Atlántico and Antioquia.
Colombian President Iván Duque in February announced the country would legally recognize Venezuelan migrants who are registered with the government.
Sources in Colombia with whom the Blade has spoken say there are likely many more Venezuelan migrants in the country than official statistics indicate. Venezuelan migrants who are LGBTQ and/or living with HIV remain disproportionately vulnerable to discrimination and violence and often lack access to health care and formal employment.
A report the Red de Movilidad Humana LGBTI+—a network of advocacy groups in Venezuela, Colombia, Ecuador, Peru, Chile, Brazil, Argentina, Guatemala and Mexico—published with the support of the U.N. Refugee Agency notes sex trafficking and even death are among the myriad threats that LGBTQ migrants from Venezuela face once they enter Colombia. The report indicates they also face discrimination in shelters because of their sexual orientation and gender identity, sexual violence and a lack of access to the Colombian judicial system.
Trans woman left Venezuela 'in search of a better quality of life'
Vanesa, a 25-year-old transgender woman from the Venezuelan city of Maracaibo, came to Colombia eight years ago "in search of a better quality of life."
She told the Blade on Sept. 14 during an interview at Fundación de Atención Inclusiva, Social y Humana (FUVADIS)—an organization in Barranquilla, a city in Atlántico department that is near the mouth of the Magdalena River in northern Colombia, that serves Venezuelan migrants—she entered Colombia near Maicao, a city in La Guajira department via an informal border crossing known as a "trocha." Vanesa said she was nearly kidnapped.
"The people who were standing on the sides (of the "trocha") who ask you for money were supposedly security," she said. "There was no security. They left me there because I was trans. They said a lot of ugly things. They assaulted me, including one (man) who was not going to let me go. They wanted me to kidnap me or have me there to do whatever they wanted to me."
Vanesa said a woman helped her escape.
"The experience was horrible," she said.
Vanesa traveled to Cartagena, a popular tourist destination that is less than two hours southwest of Barranquilla, and began to work at her friend's hair salon. Vanesa told the Blade that her friend's mother "never liked me because … she is a Christian."
Vanesa now lives in Barranquilla and supports herself through video chats. Vanesa also competes in local beauty pageants and is able to send money to her mother in Venezuela.
"I work here," she said. "I am relatively well off."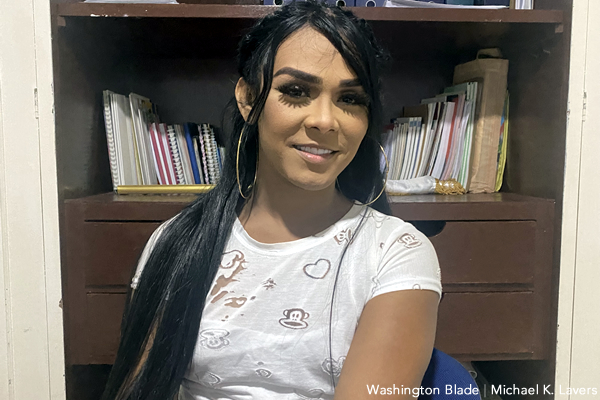 Andy, a trans man from Venezuela's Maracay state, left Venezuela four years ago with his partner and their daughter. Andy, like Vanesa, entered Colombia via a "trocha" near Maicao.
"I migrated because the situation was becoming worse and worse each day," Andy told the Blade on Sept. 14 as he attended a workshop that Caribe Afirmativo, an LGBTQ group in northern Colombia, organized at a Barranquilla hotel.
Caribe Afirmativo has opened three "Casas Afirmativos" in Barranquilla, Maicao and Medellín that provide access to health care and other services to Venezuelan migrants who are LGBTQ and/or living with HIV/AIDS. Caribe Afirmativo also operates several "Casas de Paz" throughout northern Colombia that support the implementation of an LGBTQ-inclusive peace agreement between the government and the Revolutionary Armed Forces of Colombia that came into force in 2016.
Andy said his work in Venezuela allowed him to learn how "to sell whatever product," but he told the Blade he struggled to find a job once he arrived in Colombia.
Andy told the Blade that he, his partner and their daughter now have stable housing in Barranquilla. Andy said he also has received a job offer in Medellín, the country's second-largest city that is the capital of Antioquia department.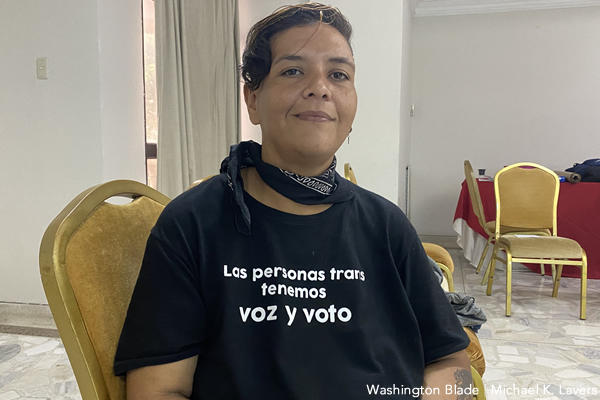 Jesús Gómez is a 33-year-old gay man from Venezuela's Trujillo state in the Venezuelan Andes that are close to the country's border with Colombia.
He previously worked with Venezuela Diversa, a Venezuelan LGBTQ advocacy group, and accepted a position with the municipality of Chacao that is part of Caracas. Gómez, whose mother was born in Colombia, also joined a student protest movement against the government.
Gómez fled to Colombia and is pursuing his asylum case with the help of UNHCR.
"I feel bad emotionally, but I am well-off compared to other people," he told the Blade on Sept. 16 during an interview at a hotel in Cúcuta, a city in Norte de Santander department that is a few miles from the country's border with Venezuela. "I am working to help other people who are in the same situation."
Gómez in December is scheduled to graduate from nursing school. He also works with Fundación Censurados, a Cúcuta-based HIV/AIDS service organization that works with Venezuelan migrants, and has supported other organizations in the area that serve them.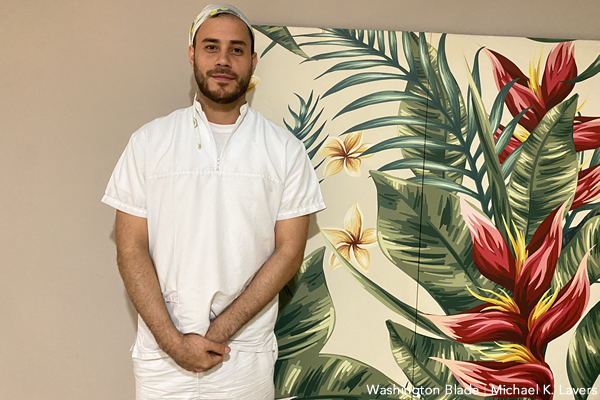 FUVADIS Executive Director Luis Meneses, like Gómez, was an LGBTQ activist in Venezuela.
Meneses, who is from Venezuela's Zulia state, in 2010 unsuccessfully ran for Venezuela's National Assembly. Meneses in February 2018 fled to Colombia because of the "political persecution" he said he suffered.
"Discrimination and prejudice against me began when I came out to defend LGBTI rights," Meneses told the Blade on Sept. 14 during an interview at his office.
Meneses in August 2018 launched FUVADIS, which receives support from groups that includes UNHCR and the International Organization for Migration. FUVADIS provides health care, antiretroviral drugs and a host of other services to Venezuelan migrants with HIV/AIDS and other populations that include sex workers. Vanessa and nearly 900 other FUVADIS clients are LGBTQ.
"We cannot work for the migrant population by only giving them humanitarian assistance," said Meneses. "It's also about guaranteeing access to their rights."
Venezuelans with HIV/AIDS die because of lack of medications
The New York-based Aid for AIDS International estimates more than 10,000 Venezuelans with HIV have left the country in recent years. Activists and health care service providers in Venezuela with whom the Blade has spoken in recent years have said people with HIV/AIDS in the country have died because of a lack of antiretroviral drugs.
The Venezuelan government has also targeted HIV/AIDS service organizations.
Members of Venezuela's General Directorate of Military Counterintelligence in January raided the offices of Azul Positivo, an HIV/AIDS service organization and arrested President Johan León Reyes and five other staff members. Venezuelan police on Feb. 15, 2019, raided the offices of Fundación Mavid, another HIV/AIDS service organization in Valencia, a city in Carabobo state, and arrested three staffers after they confiscated donated infant formula and medications for people with HIV/AIDS
Deyvi Galvis Vásquez, a doctor who is the manager of prevention and testing for AIDS Healthcare Foundation Colombia on Sept. 17 during an interview at AHF's Cúcuta clinic showed the Blade pictures of Venezuelans with HIV/AIDS in Colombia who had cases of Kaposi's sarcoma.
"The conditions are of extreme vulnerability," said Galvis.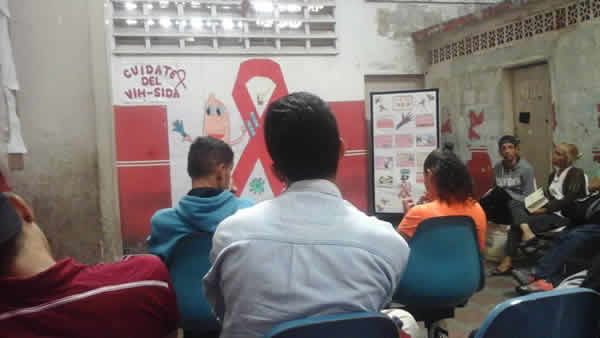 Andrés Cardona, director of Fundación Ancla, a Medellín-based group that works with migrants and other vulnerable groups, during a Sept. 13 interview with the Blade in his office echoed Galvis. Cardona added stigma specifically against Venezuelans with HIV/AIDS is one of the myriad issues he and his colleagues confront.
"The issue of the elimination of HIV also implies not only an issue of communication and prevention, but also an issue of effective attention," said Cardona. "We have our conservative culture, an idea that the Venezuelans who are coming are going to give us HIV."
"This is totally discriminatory," he added.
Cardona, like those inside Venezuela with whom the Blade has spoken, said there are no services in the country for people with HIV/AIDS.
"There are many Venezuelan migrants with HIV who enter Colombia, because they are going to die if they don't," he said.
AHF operates clinics throughout Colombia
AHF operates other facilities in Bogotá and in the cities of Bucaramanga, Yopal, Valledupar and Ríohacha. The organization, along with the Colombian Red Cross and the government of Santander department, in March began to distribute condoms, food and water and offer rapid HIV tests to Venezuelan migrants who travel through Páramo de Berlín, a high plateau in the Colombian Andes through which a highway between Cúcuta and Bucaramanga passes.
AHF, among other things, offers migrants rapid HIV and syphilis tests and counseling for people who test positive. AHF also provides lab tests, formula for children of mothers with HIV and health care with an "interdisciplinary health care team."
AHF Colombia Country Program Manager Liliana Andrade Forero and AHF Colombia Data Manager Sandra Avila Mira on Sept. 20 noted to the Blade during an interview at AHF's Bogotá clinic that upwards of 2,000 migrants currently receive care from the organization. They also pointed out that 1,952 of them are taking antiretroviral drugs the Brazilian government donates.
Galvis noted to the Blade that many of AHF's patients also have access to mental health care and social workers.
"AHF's policy is to reach out to everyone," he said.
Pandemic has made migrants even more vulnerable
Galvis, Fundación Censurados Director Juan Carlos Archila and other Colombian HIV/AIDS service providers with whom the Blade spoke say the pandemic has made Venezuelan migrants with HIV/AIDS in the country even more vulnerable.
Lockdowns prevented sex workers and others who work in the informal economy from earning money. A "pico y género" rule implemented by Bogotá Mayor Claudia López that allowed women to leave their homes on even days and men to leave their homes on odd days sparked criticism among trans activists.
Archila, who is a nurse, on Sept. 16 told the Blade during an interview at a Cúcuta hotel the pandemic has also left Censurados in a precarious situation.
"We endured practically two years with the doors closed, with expenses increasing," he said. "The need of people who come to us for the issue of HIV remains, and yet we are all trying to cope with the situation."
Andrade noted AHF's Bogotá was closed for several months at the beginning of the pandemic because of the city's strict lockdown.
The pandemic also forced FUVADIS to close its offices in March 2020, but Meneses told the Blade the organization was able to see a handful of patients at a time. He said "basic humanitarian assistance" that included hygiene kits and food were among the things that FUVADIS was able to provide its patients during the pandemic.
"Understanding how the situation for the LGBTI community, people with HIV, the migrant population and the refugee population is, we could not allow (our services) to shut down," Meneses told the Blade.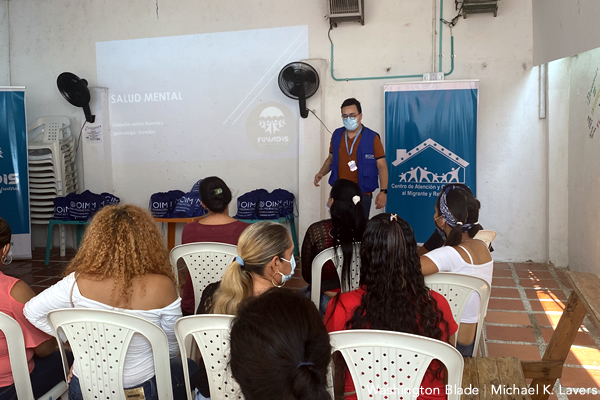 Brazil LGBTQ+ activists, HIV/AIDS service providers fear Bolsonaro reelection
Presidential election to take place in October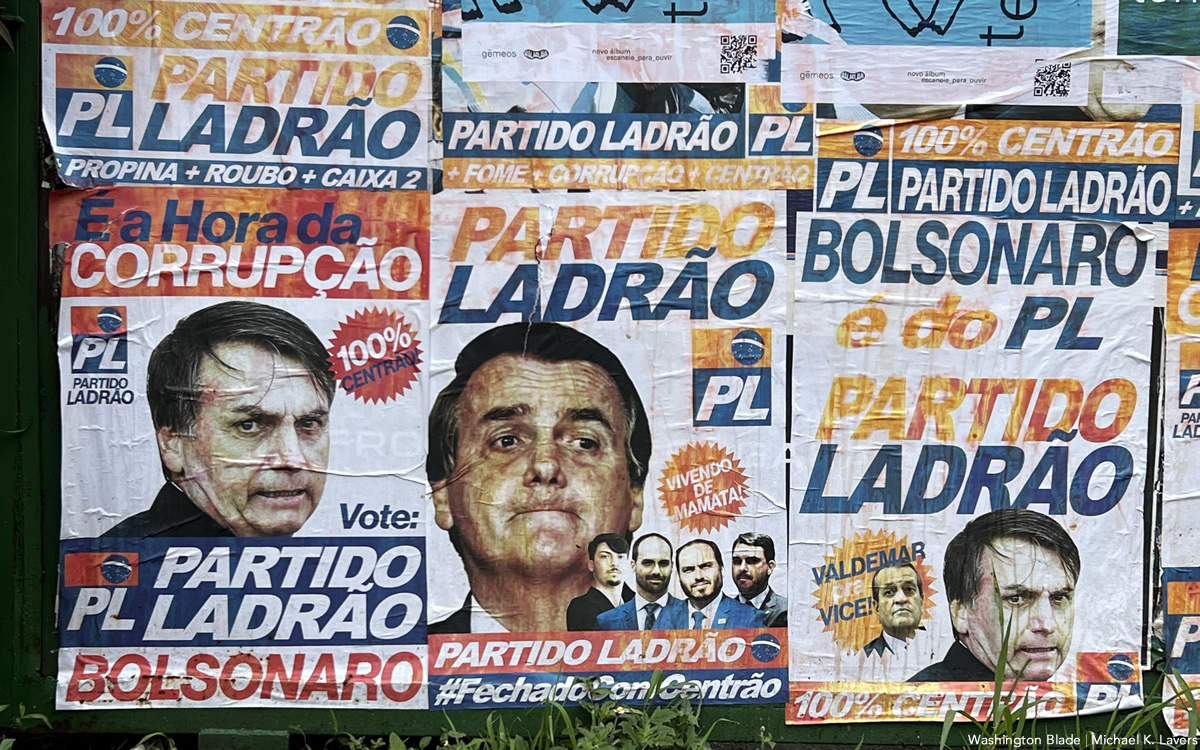 SALVADOR, Brazil — Fernanda Fonseca was the coordinator of the Brazilian Health Ministry's program to prevent mother-to-child transmission of HIV, syphilis and viral hepatitis B in 2019 when she attended the International AIDS Society's Conference on HIV Science in Mexico City.
Fonseca, who attended the conference in her personal capacity, made a presentation that focused on the issue. Her husband, who at the time coordinated the Brazilian Health Ministry's viral hepatitis program, also traveled to Mexico City.
One of Brazilian President Jair Bolsonaro's sons soon posted to Twitter a picture of a doctored presentation "about trans community rights, and LGBT community rights" that an unnamed "couple" had made at the conference. The "couple" who Bolsonaro's son targeted was Fonseca and her husband.
"He was like, this is what the government is standing for," Fonseca told the Washington Blade on March 16 during an interview at a coffee shop in Salvador, a city in northeastern Brazil that is the capital of Bahia state.
Bolsonaro took office as Brazil's president on Jan. 1, 2019, after he defeated then-São Paulo Mayor Fernando Haddad in the second round of the country's presidential election that took place the previous October.
Fonseca noted one of the first things Bolsonaro did as president was to remove HIV from the name of the Health Ministry department that specifically fights HIV/AIDS in Brazil.
It was previously the Department of Vigilance, Prevention and Control of Sexually Transmitted Infections, HIV/AIDS and Viral Hepatitis. It is now called the Department of Chronic Conditions and Sexually Transmitted Infections.
Bolsonaro fired the department's director, Adele Benzaken, after he took office. Fonseca said her position was also eliminated without her knowledge while she was on maternity leave.
Fonseca eventually resigned. She now works for AIDS Healthcare Foundation Brazil as its country medical program director.
"They destroyed my department," she said. "When I came back (from maternity leave), no one was answering my calls."
Fonseca is one of the many HIV/AIDS service providers and LGBTQ+ activists with whom the Blade spoke in Brazil — Salvador, São Paulo and Rio de Janeiro — from March 12-21. They all sharply criticized Bolsonaro and expressed concern over what may happen in Brazil if he wins re-election later this year.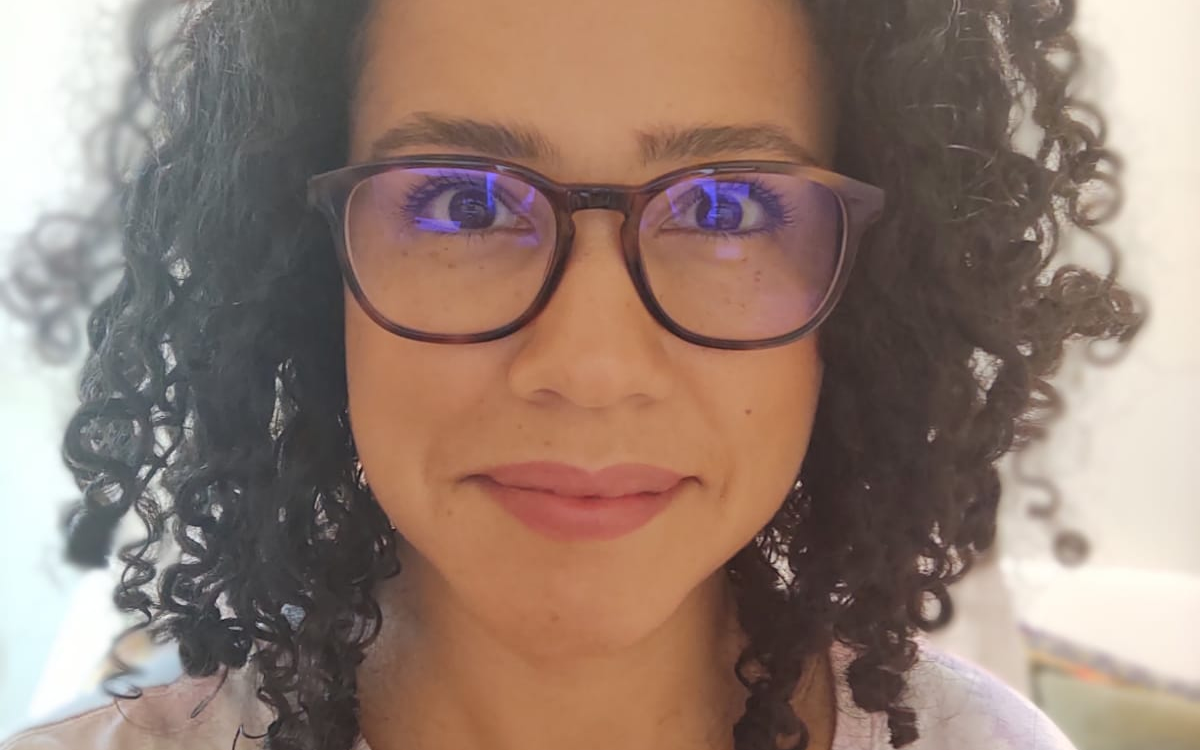 Bolsonaro is a former Brazilian Army captain who represented Rio de Janeiro in the country's Congress from 1991-2018.
Fonseca told the Blade that Bolsonaro has banned the Health Ministry from buying lubricants, while adding he "wanted to shut down everything related to HIV."
"It's very specific. It's very homophobic," she said. "I don't know who informs him."
AIDS Healthcare Foundation Brazil Program Manager Beto de Jesus during a March 14 interview at his office near São Paulo's Praça da Republica noted Bolsonaro has suggested COVID-19 vaccines can cause AIDS.
"To him, the question of AIDS is connected to faggots," said De Jesus.
São Paulo's Municipal Health Secretary distributes free condoms on the city's subway system. The Brazilian Health Ministry has donated to AIDS Healthcare Foundation antitretroviral drugs that it provides to Venezuelan migrants who receive care at their clinics in Colombia.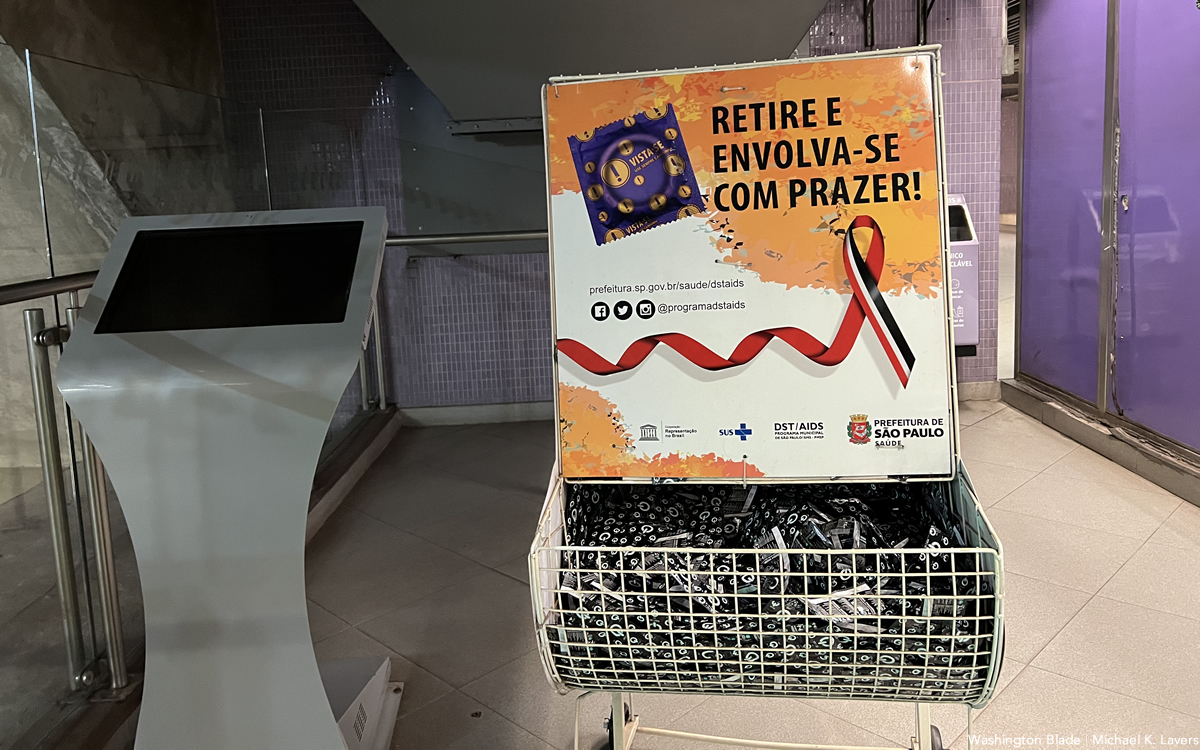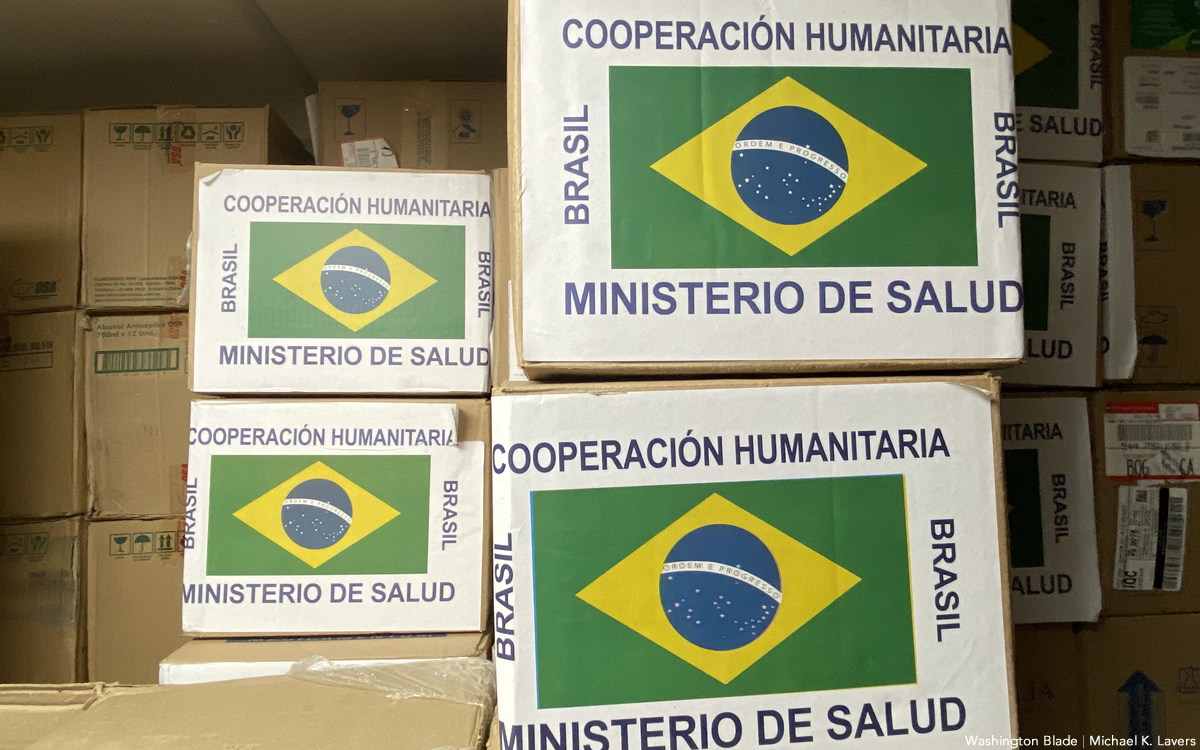 Bolsonaro, among many things, has encouraged fathers to beat their sons if they think they are gay. (His son, Rio Municipal Councilman Carlos Bolsonaro, is reportedly gay.)
Jair Bolsonaro in March 2019 during a press conference with then-President Trump in the White House Rose Garden stressed his "respect of traditional family values" — he's twice divorced and married his third wife, Michelle Bolsonaro, in 2017 — and opposition to "gender ideology."
A report that Human Rights Watch released earlier this month notes Bolsonaro "has a long history of mischaracterizing and vocally opposing gender and sexuality education, including on the grounds that it constitutes 'early sexualization'." Bolsonaro has supported legislation that would limit LGBTQ+-specific curricula in the country's schools, even after the Brazilian Supreme Court struck down local and state laws on the issue.
Jair Bolsonaro was not president when Rio Municipal Councilwoman Marielle Franco, a bisexual woman of African descent, and her driver, Anderson Gomes, were murdered in Rio's Lapa neighborhood on March 14, 2018.
Ronnie Lessa, one of the two former police officers who has been arrested in connection with the murders, lived in the same large condominium in Rio's exclusive Barra da Tijuca neighborhood in which Jair Bolsonaro lives. Franco's widow, Rio Municipal Councilwoman Mônica Benício, on March 19 said this fact is "just a coincidence."
Benício during the interview that took place at a coffee shop in downtown Rio stressed Jair Bolsonaro's rhetoric against LGBTQ+ Brazilians, women and other groups was "known" before he became president. Benício also acknowledged it resonates with a segment of Brazilian society.
"It is an absolutely despicable posture and incompatible with a posture of the president of the republic," said Benício.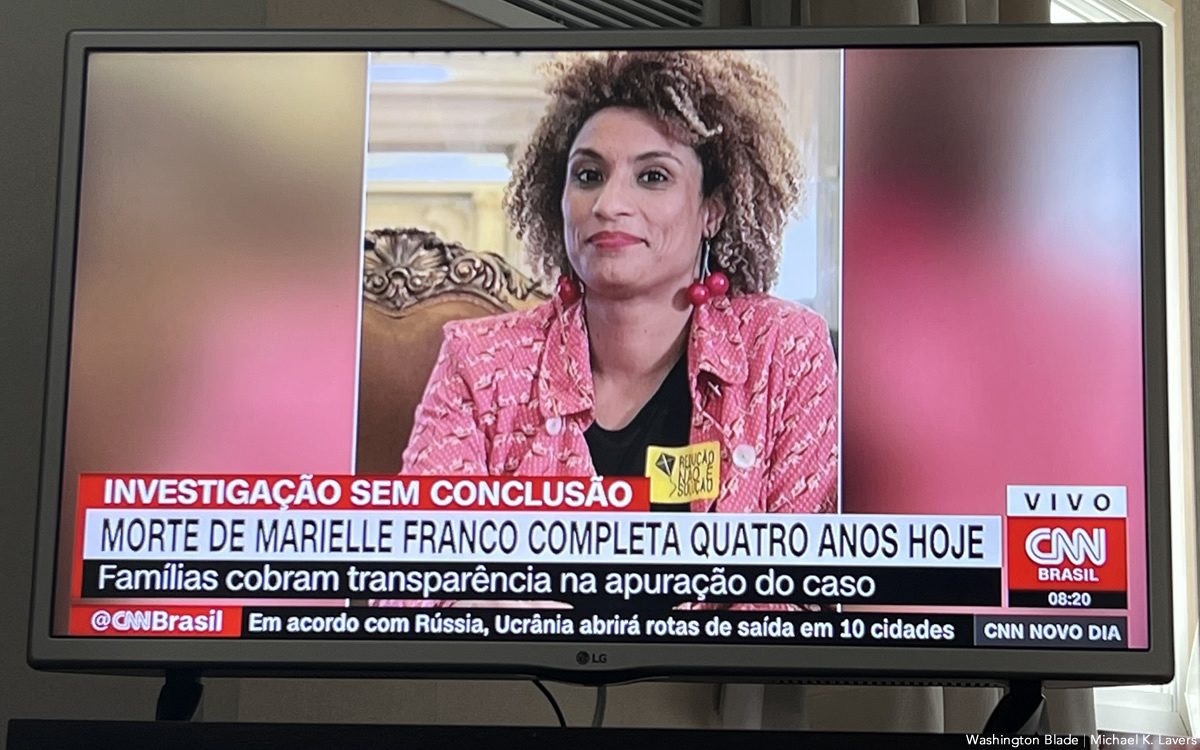 Two Brazilian LGBTQ+ rights groups — Aliança Nacional LGBTI and Grupo Gay da Bahia — in a report they released on May 10 notes 300 LGBTQ+ Brazilians "suffered violent deaths" because they were murdered or died by suicide. The organizations specifically note Salvador is the most dangerous state capital for LGBTQ+ people.
The report notes 28 percent of the murder victims were killed with knives, machetes, scissors, hoes and other weapons. One of them was stabbed 95 times.
"The cruelty of how many of these executions were committed demonstrates the extreme hatred of the criminals, who are not content with killing, disfigure the victim washing their murderous homophobia in the spilled blood," said Aliança Nacional LGBTI President Toni Reis in the report's introduction.
Grupo Gay da Bahia President Marcelo Cerqueira on March 15 told the Blade during an interview in Salvador that race, poverty, class, machismo and family structures all contribute to the area's high rate of violence against LGBTQ+ people.
"There are many relationships with asymmetrical power dynamics," he noted.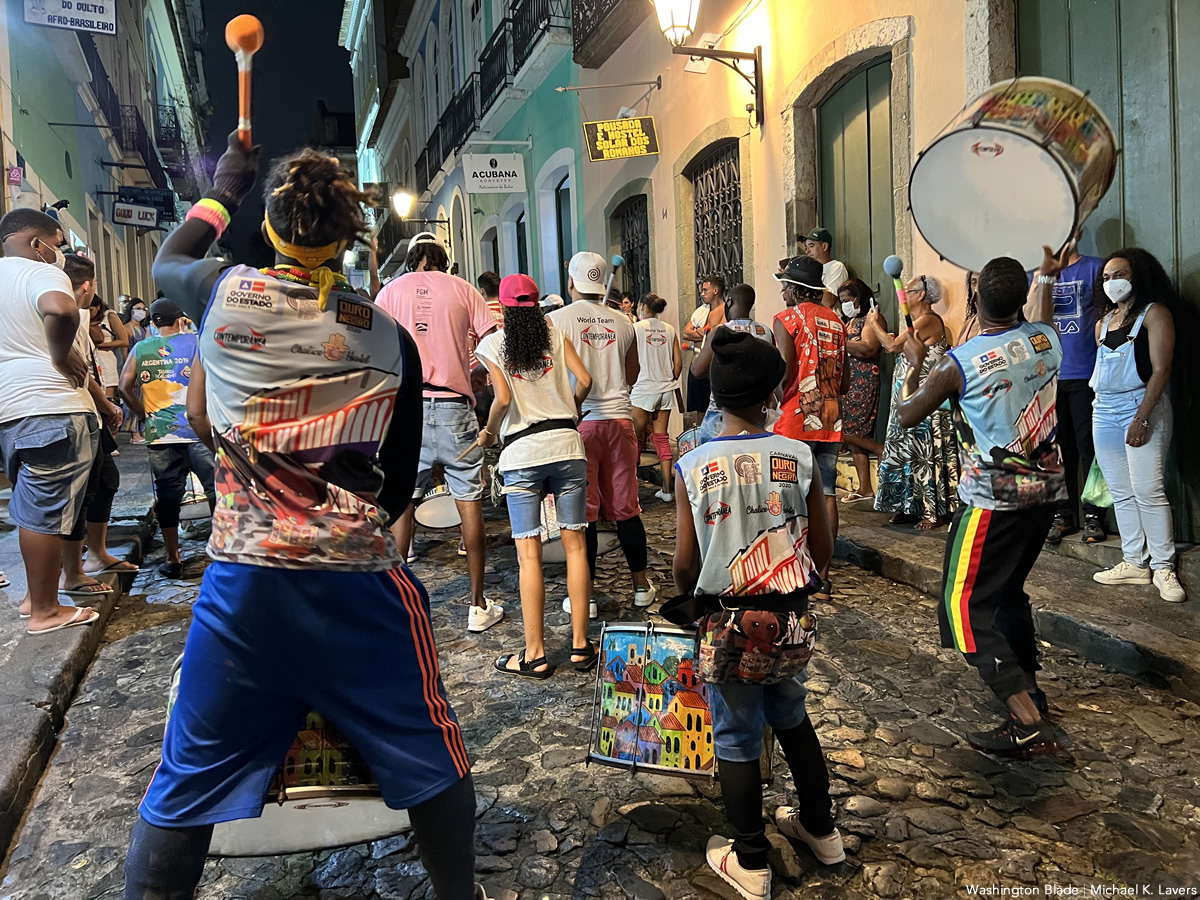 Keila Simpson is the president of Associaçao Nacional de Travestis e Transexuais (National Association of Travestis and Transsexuals), a Brazilian Transgender rights group known by the acronym ANTRA.
She noted to the Blade on March 16 during an interview at her office in Salvador's Pelourinho neighborhood that the Supreme Court in 2018 ruled Trans Brazilians can legally change their name and gender without medical intervention or a judicial order. Simpson said Trans Brazilians nevertheless continue to suffer from discrimination, a lack of formal employment and educational opportunities and police violence because of their gender identity. She also added efforts to combat violence against LGBTQ+ Brazilians have become even more difficult because Bolsonaro is "propagating violence against LGBTQ people every day."
"It increases the possibility of people who are already violent by nature to continue committing violence," said Simpson.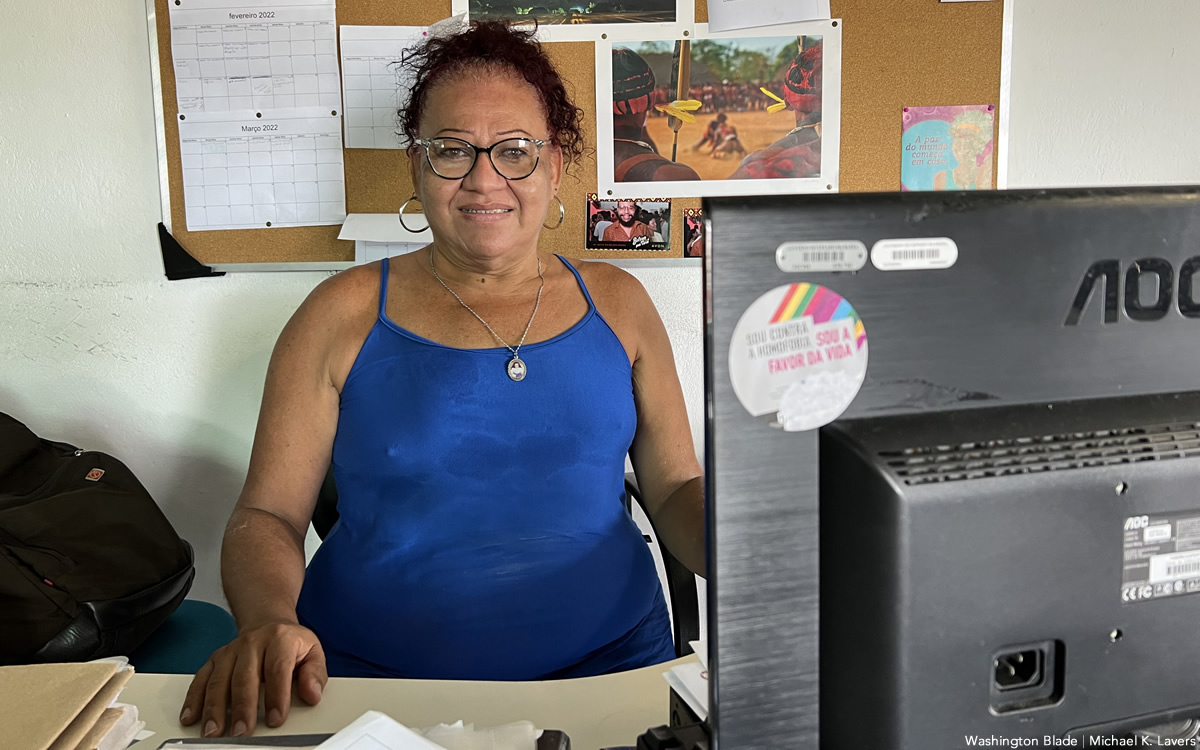 Mariah Rafaela Silva, a Trans woman of indigenous descent who works with the Washington-based International Institute on Race, Equality and Human Rights, agreed when she and her colleague, Isaac Porto, spoke with the Blade at a restaurant in Rio's Ipanema neighborhood on March 21.
"If I would choose a word to define Bolsonaro it would be danger," said Silva. "He represents a danger to the environment. He represents a danger to diversity. He represents a danger to Black people. He represents a danger to indigenous people."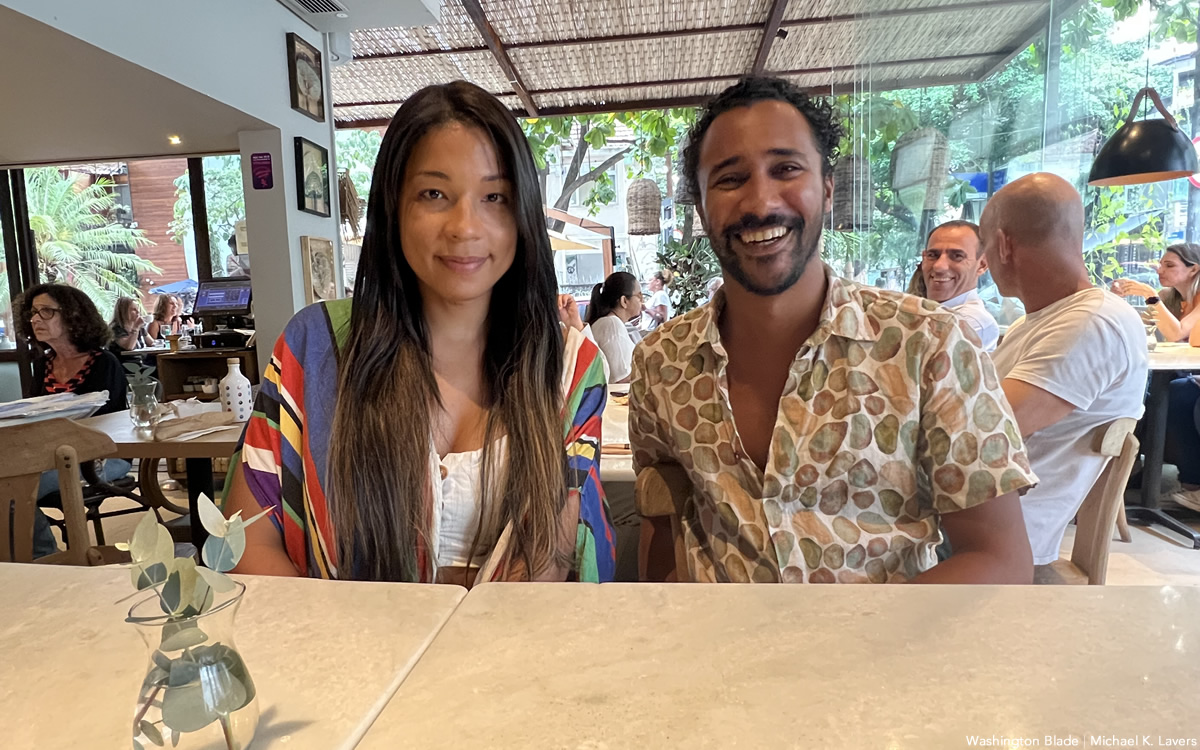 Rio de Janeiro (State) Legislative Assemblywoman Renata Souza is a Black feminist who grew up with Franco in Maré, a favela that is close to Rio's Galeão International Airport, and worked with her for 12 years.
Souza in March traveled to D.C. and met with Serra Sippel, chief global advocacy officer for Fòs Feminista, a global women's rights group, White House Gender Policy Council Senior Advisor Rachel Vogelstein and other officials and women's rights activists. Souza on Tuesday noted to the Blade that she also denounced Franco's murder, the "escalation of police violence and Black genocide in Brazil's peripheries and favelas" and called for international observers in the country for the presidential election when she spoke at the Organization of American States and to members of Congress.
"President Bolsonaro is the expression of a capitalist political project that serves private national and international interests related to the military-industrial complex, religious fundamentalism, agribusiness and the predatory exploitation of natural resources," said Souza. "This project's social base comes from the formation of an ideal of barbarism through the use of violence as language and hate as a fuel that spreads a misogynist, racist and fundamentalist culture, discriminatory customs and policies that predatory to nature and to being human."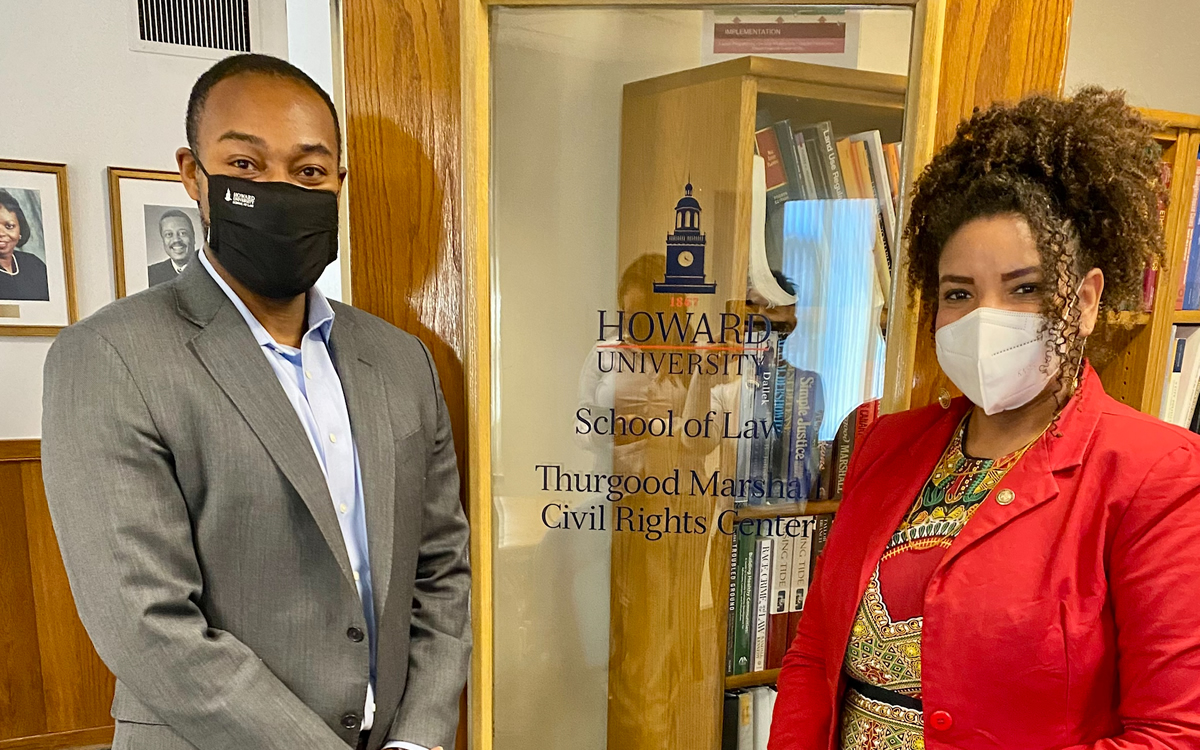 The first round of Brazil's presidential election will take place on Oct. 2.
Polls indicate Bolsonaro is trailing former President Luiz Inácio Lula da Silva. Bolsonaro has already sought to discredit the country's electoral system, even though a group of more than 20 would-be hackers who gathered in the Brazilian capital of Brasília last week failed to infiltrate it.
Da Silva, who was Brazil's president from 2003-2010, is a member of the country's Workers' Party.
Sergio Moro, a judge who Jair Bolsonaro later tapped as his government's Justice and Public Security Minister, in 2017 sentenced Da Silva to 9 1/2 years in prison after his conviction on money laundering and corruption charges that stemmed from Operation Car Wash. The Supreme Court in November 2019 ordered Da Silva's release.
Marina Reidel, a Trans woman who is the director of the country's Women, Family and Human Rights Department, on Monday told the Blade to email a request for comment on Jair Bolsonaro's anti-LGBTQ+ record to a spokesperson. The Blade has yet to receive a response.
Julian Rodrigues, who was the coordinator of the Workers' Party's National Working Group from 2006-2012, on Tuesday from São Paulo noted Da Silva in 2004 created the Health Ministry's "Brazil without Homophobia" campaign that he described as a "pioneering program for LGBT rights." Rodrigues also highlighted Da Silva created the Culture Ministry's Diversity Secretariat that, among other things, funded community centers and sought to make police officers and other law enforcement officials more LGBTQ+-friendly.
Simpson noted the Health Ministry when Da Silva and President Dilma Rousseff were in office funded projects that specifically helped sex workers and other vulnerable groups.
Rousseff was in office in 2013 when the Supreme Court extended marriage rights to same-sex couples across the country. Michel Temer was Brazil's president in 2018 when the Supreme Court issued its Trans rights decision.
The Supreme Court on May 24, 2019, issued a ruling that criminalized homophobia and transphobia. Bolsonaro, who took office less than five months earlier, condemned the decision.
The Supreme Court in May 2020 struck down the country's ban on men who have sex with men from donating blood. Brazil in 1999 became the first country in the world to ban so-called conversion therapy.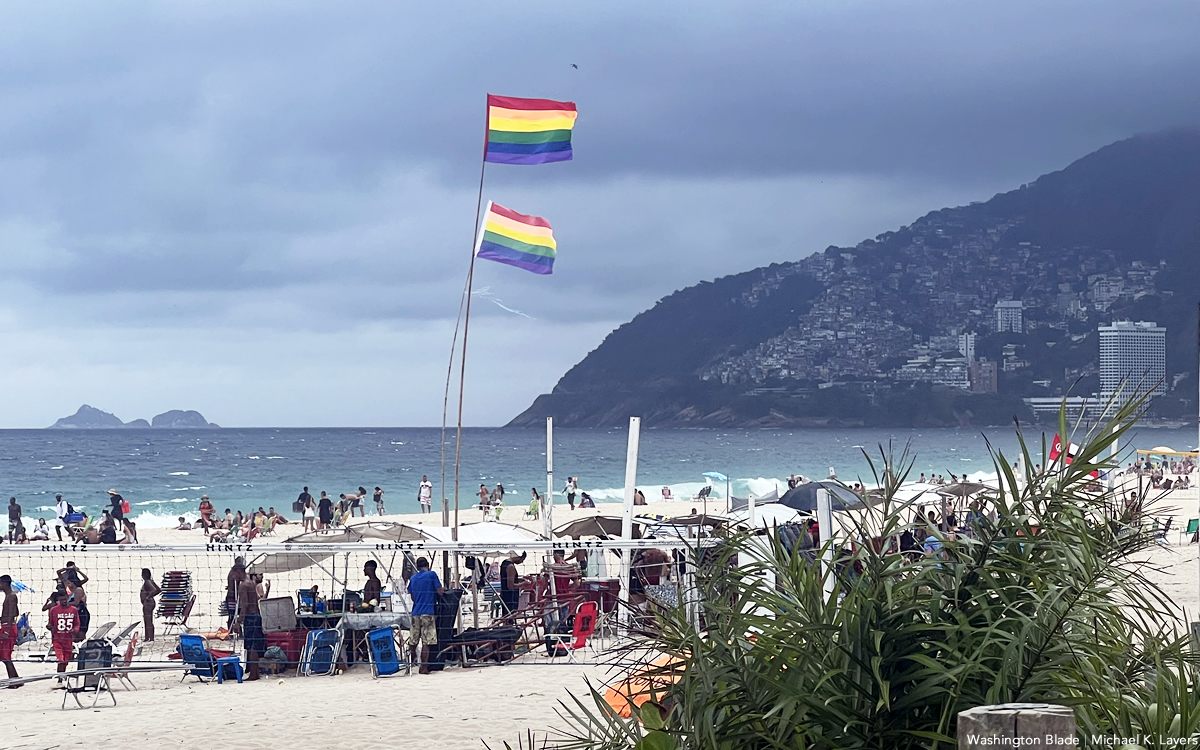 Rodrigues described Bolsonaro and his administration as "an extreme right-wing, authoritarian and fascist government that uses racial prejudice, gender prejudice and prejudice against LGBTs as engines to mobilize its conservative and reactionary social base."
"It is a very dangerous government for Brazil's democratic freedoms," Rodrigues told the Blade. "The entire Brazilian LGBT movement is fighting ardently to defeat the Bolsonaro government and elect Lula, a progressive president who is committed to the rights of LGBTQ people and all Brazilian people."
A gay man who was on Rio's Ipanema Beach with his husband on March 20 told the Blade they support Jair Bolsonaro because they feel he has fought corruption in Brazil. They did, however, add that Jair Bolsonaro "should keep his mouth shut."
Fonseca said her father voted for Bolsonaro in 2018 because he "hated" Da Silva.
"We don't live in a democratic state anymore," said Fonseca, who noted the Supreme Court eventually absolved Da Silva. "We can't trust the police force. We can't trust the legal system."
"People who think like him now they believe they can say that, they have the right to say homophobic things, racist things. They can because our president says them, so it's ok," added Fonseca. "We need to remember that it's not ok. I don't think they are the majority, So I think when we have a leader again that is strong, we are going back on track."
Cerqueira echoed Fonseca.
"(Bolsonaro) managed to energize prejudiced people who were not vocal before," Cerqueira told the Blade on March 15 during an interview in Salvador. "People were afraid to say that I was racist, that I was homophobic, that I was prejudiced. Nowadays everybody wants to be homophobic."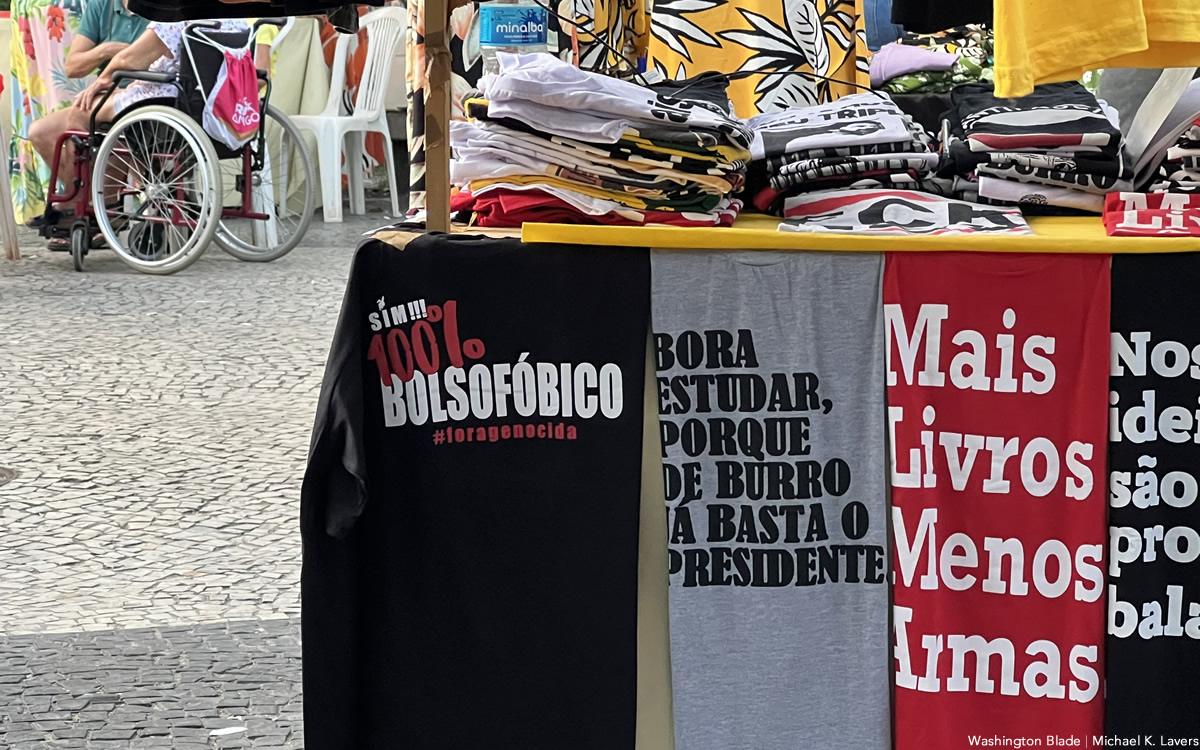 Porto noted conservatives continue to dominate the country's Congress and Brazilians who are Black and/or LGBTQ+ lack political power. He told the Blade the situation in a post-Bolsonaro Brazil is "going to be complicated"
"Brazilian society has not changed," said Porto. "There is a movement of people who are organized and recognize themselves as equal."
"There's a lot of damage that we have to repair," added Silva.
Gay man plays leading role in drafting new Chile constitution
Gaspar Domínguez is vice president of Constitutional Convention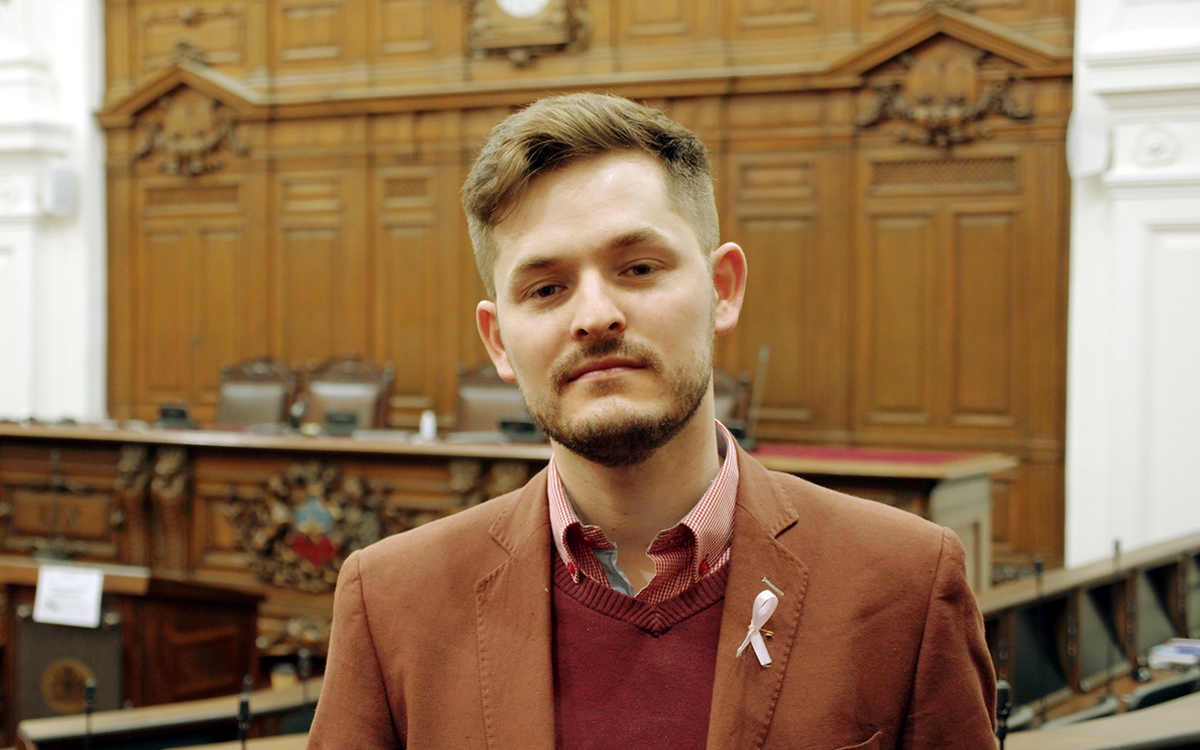 SANTIAGO, Chile — Gaspar Domínguez, the vice president of Chile's Constitutional Convention that will rewrite the country's constitution, is a 33-year-old openly gay man. Domínguez last week spoke with the Washington Blade about the historic process through which Chile is going and what it will mean for LGBTQ+ rights in the country and around the world.
Chileans last May elected 155 people to the Constitutional Convention. Domínguez was one of eight openly LGBTQ+ people chosen, and he became the constituent body's vice president in January.
"In this process of deep political transformation that Chile is going through, I think that many doors that were there, that we knew existed, were opened and one of those was to recognize that people of sexual diversity are citizens, that we need to participate and represent ourselves in politics and that was how in the convention we came to at least eight people openly belonging to sexual diversity," Domínguez told the Blade from his office in the former National Congress building in Santiago, the Chilean capital. "I have had to lead this process, give it an administrative management in terms of deadlines, to organize the processes and also political management because the things we say, the way we say things also help to build certain realities and certain opinion in terms of the consequences that will have for Chile."
Dominguez noted "Chile is one of the most conservative countries in Latin America." He acknowledged, however, the country over the last decade has seen many LGBTQ+ rights advances.
A law that allows same-sex couples to marry and adopt took effect in March.
Domínguez said a draft of the new constitution on which Chileans will vote on Sept. 4 has four "fundamental aspects for the LGBTQ+ population."
"The most relevant one is that it establishes non-discrimination," he said. "The constitution will prohibit discrimination based on sexual orientation and gender identity."
"Second, it establishes the State's recognition of the existence of diverse types of families in plural, and that, by the way, will have a consequence in terms of public policies in the future," added Domínguez.
He pointed out to Blade the State would have to guarantee the LGBTQ+ community is politically represented. The fourth provision would ensure each person has the right to decide their gender identity.
Domínguez highlighted the work of LGBTQ+ organizations that have been fighting for years for their rights.
"There are organizations and movements of the LGBTQ+ community that think one way and others that think another way and that I think is very good," he said. "(The first goal was) to make visible that the LGBTQ+ community is not a homogeneous community. That is good, especially today that we are in this constituent process, opening the possibility that these differences have agreements."
Finally, Domínguez said that "it is a tremendous opportunity for the LGBTQ+ community in Chile and certainly in the world, because today, when we talk about a constitutional reform of political representation in other laws of other countries, they will be able to put that the example of Chile constitutionally ensures the political representation of women in parity terms and the political representation of the different sexual and gender dissidences. So I think there is a tremendous opportunity."
"I believe that the right to identity, the recognition of equal marriage, the recognition of the different types of families puts us at the forefront in this matter and, by the way, it should become an example for the discussions that other countries will have on similar issues," he said.
First Trans congresswoman in Chile details legislative agenda
Emilia Schneider was student protest leader before election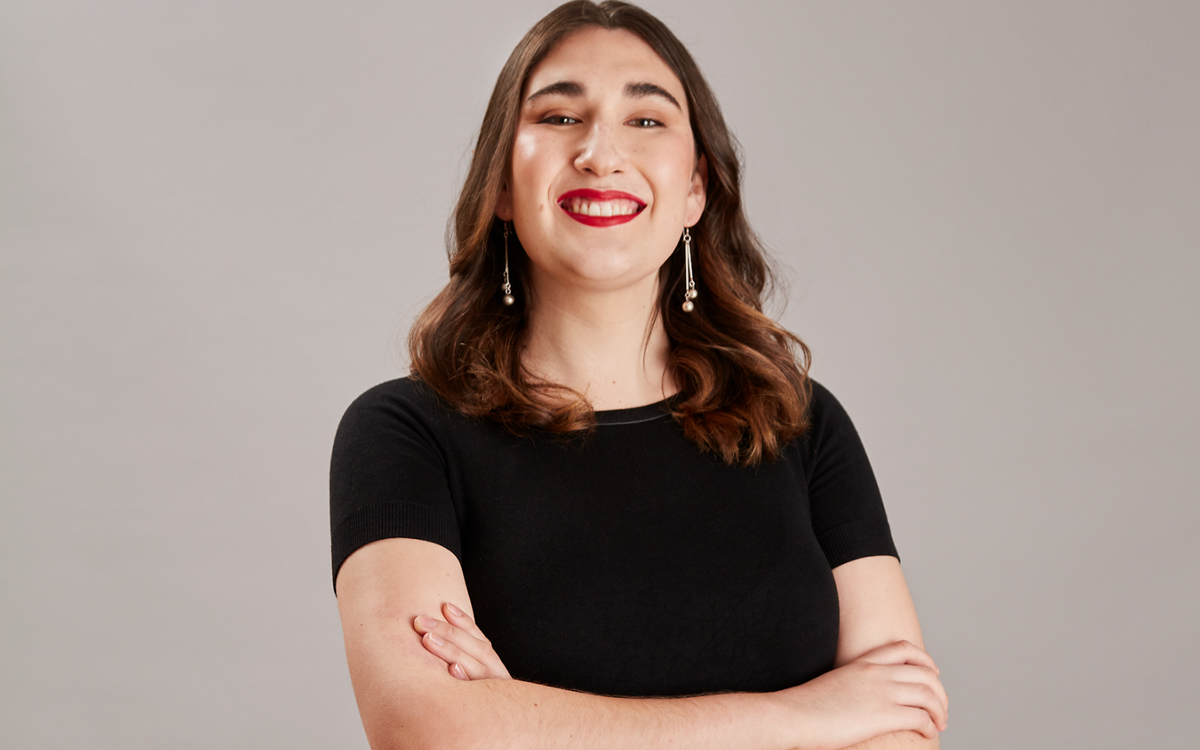 VALPARAÍSO, Chile — Emilia Schneider, a well-known activist and student leader, on March 11 became Chile's first Transgender congresswoman. Her path to politics, however, began years earlier.
Schneider gained public notoriety in 2018 through her role as spokesperson for the Chilean 8M Feminist Coordinating Committee during the feminist demonstrations that took place in the country that year. She became the first trans president of the University of Chile Student Federation in 2019.
Schneider's great-grandfather was Gen. René Schneider, who commanded the Chilean Army from 1969 until his assassination the following year.
Before her election, Schneider was a candidate for the Constitutional Convention, the body in charge of drafting Chile's new constitution. She lost that election, but she won a seat in Congress a few months later.
For her, being the first Trans woman in the Chamber of Deputies is "a great joy."
"It gives a sense and a projection to the social struggles in which I have had to participate: The student struggle, the feminist struggle, the struggle of sexual dissidence," Schneider told the Washington Blade. "So, I think for me it was like feeling a recognition for the work I have done and also in collective terms the responsibility of representing a community that had never had representation in a space like this."
"It is an honor for me, it is a pleasure to represent our community, but a great challenge," added Schneider. "I know that there are many demands, many issues, because there are many years, decades, centuries of exclusion, discrimination and violence through which the Trans community has lived. It's a very structural issue, so it is a challenge, but I am also very grateful because the (LGBTQ+) organizations that worked before me made it possible and paved the way for (me.) It's a very, very big joy in personal and collective terms."
Schneider is a member of Comunes, a leftist political party that is part of the Frente Amplio coalition whose candidate, Gabriel Boric, won the presidential election.
She told the Blade she has "felt comfortable because we have been able to put our stamp on the deputy's office."
"I am also very grateful for the team we have formed, which has worked very well with the Congress' workers and also with the trust we have developed with our Frente Amplio and Apruebo Dignidad (a political party aligned with Boric) benches and some of the pro-government benches and well," said Schneider. "The biggest challenge has been to learn to be part of a Congress that is part of a government, that is pro-government."
When asked if she had experienced transphobia inside the Congress, the congresswoman said "not on the part of the officials of the Congress, to the contrary."
"They have received my team very well; which is a team composed mainly of women, people of sexual diversity," said Schneider. "But undoubtedly there is a far-right bench in Congress that constantly tries to provoke fictitious discussions that question the rights of trans people."
"We have had to listen to several hate speeches coming from the ultra-right wing bench, but it is also very interesting to see how the struggle of (people of) diverse sexualities has also advanced in Congress," she added. "Before they were small groups of deputies fighting for our rights and today I think it is something much more transversal. In fact, we recently presented a bill to improve the Gender Identity Law, to include Trans children and non-binary identities, among other issues, to improve it and it has the signature of different benches, something very transversal and also of Erika Olivera, who is a right-wing congresswoman."
Schneider added she believes "this also shows that if there is a will, it is possible to build these dialogues despite the differences."
A law that recognized the right to identity and allows Trans people to amend their birth certificates administratively took effect in 2018. Some of the LGBTQ+ organizations that celebrated the advance, however, have said it is insufficient and must be reformed. They have called for public policies that will benefit Trans people who have been historically discriminated against by the State and society.
"I would say that there is a radical absence of public policies, and therefore a tremendous abandonment that is evident not only in those who have not managed to access education and do not find a job, but also to the large population of Trans women who are engaged in sex work," said Schneider. "The economic precariousness, the mental health problems, the lack of access to education and continuity of studies, the lack of access to health care, the number of trans people living on the streets."
"I would speak of a tremendous lack of public policies and a very radical abandonment of the trans population in Chile, in spite of the fact that in the last time we have obtained symbolic advances and in very big cultural terms," lamented the congresswoman. "I believe that today there is a common sense of the majority citizenship that it is important to recognize the rights and equality of Trans people and to make a reparation also for the bad things that have happened to our community."
Schneider said Boric's presidency could mean an improvement in Trans people's life.
La Moneda, the Chilean presidential palace, on March 31 hosted an event that commemorated the International Transgender Day of Visibility. Schneider participated in the ceremony during which the Trans Pride flag was raised.
"We are on the right track because the government has already announced a working group that has begun to operate in various ministries and also with the sexual diversity bench in Congress," she said. "I believe that this situation of neglect and lack of public policies will change. This government has had a very clear commitment with the community and sexual diversities in general."
Schneider is one of four out LGBTQ+ women in Congress.
She told the Blade they will work to reform Chile's anti-discrimination law and include non-binary and intersex people and children in the Gender Identity Law. Schneider also said they support a Trans labor quota in the public and private sector.