Chilean House approves same-sex marriage bill
Vote took place two days after presidential election's first round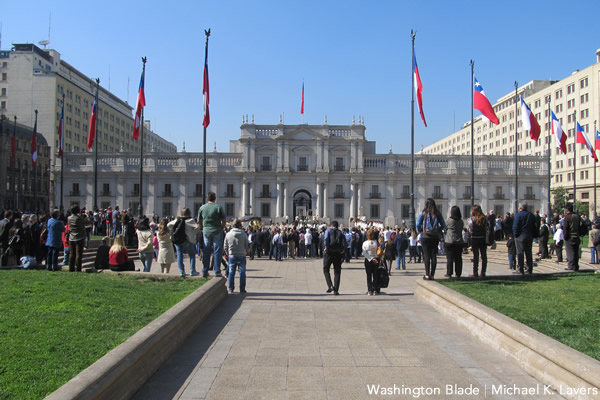 The Chilean House of Representatives on Tuesday approved a bill that would extend marriage rights to same-sex couples.
The measure passed by a 101-30 margin roughly three months after the Chilean Senate approved by a 28-14 vote margin.
Two lawmakers abstained. The bill now goes back to the Senate for a final vote.
"After three decades of struggle, there is only one Senate vote left to achieve the so far elusive legal equality that all couples and families deserve," said Javiera Zúñiga, a spokesperson for the Movement for Homosexual Integration and Liberation, a Chilean LGBTQ rights group, in a press release. "We celebrate this new step, now with the total conviction that we are at the final leg."
Tuesday's vote took place two days after the first round of Chile's presidential election.
José Antonio Kast, a far-right former congressman, will face off against Congressman Gabriel Boric, who previously led a student protest movement, in a Dec. 19 runoff. Outgoing President Sebastián Piñera in June announced he supports the marriage equality bill.
Esteban Guzmán contributed to this story.
Chile marriage bill receives final approval
South American country legalized civil unions in 2015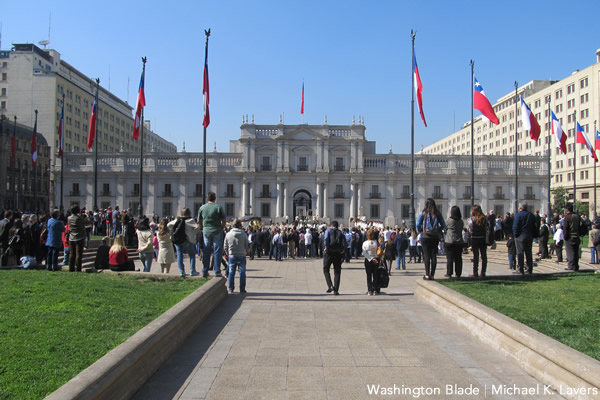 VALPARAÍSO, Chile — A bill that will extend marriage rights to same-sex couples in Chile received final approval on Tuesday.
The Chilean Senate and the Chilean House of Representatives approved the marriage equality bill that passed in the lower house of the country's Congress on Nov. 23. That vote took place two days after the first round of the country's presidential election took place.
A final vote on the bill was expected to have taken place last week, but senators unexpectedly opposed it.
A commission with members of both houses of the Chilean congress approved the bill on Monday.
The gay man who shook Brazilian society and sports
Gilberto Nogueira shares his dream of inclusion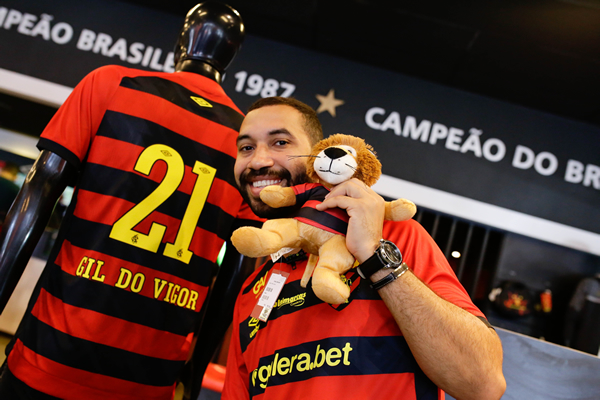 RECIFE, Brazil — An unexpected trailblazer shook Brazilian society in 2021 and caused significant advancements of LGBTQ rights in historically conservative groups.
Gilberto Nogueira, a reality show superstar, brought to prime-time television what most would think of as contradictions: A sexually liberal person with strong religious convictions; a high-level academic who speaks the language of the people; and, most strikingly, an effeminate and proudly gay man who is also a soccer fan.
Nogueira, or "Gil do Vigor," which roughly means "Striving Gil" in Portuguese, became a TV phenomenon by almost winning "Big Brother Brazil", one of the most popular shows in Brazilian television. His unapologetic character struck an enormous fan base that includes some of the most famous Brazilian soccer players and sports journalists. In a matter of weeks, Nogueira managed to build an unexpected alliance of LGBTQ people and sports fans to support him. This would produce lasting change, although it would not come without controversy.
"Dialogue is a great and necessary bridge to long-term changes, which leads us to reflection, reassessment of attitudes, conscious self-assessment, practical actions and much more," Nogueira told the Los Angeles Blade from California, where he is now pursuing his PhD in economics at the University of California-Davis.
The roots of the fight for diversity in Brazilian soccer can be traced to the 1970s, when a group called "Torcida Coligay" decided to defy homophobes and the then-ruling military dictatorship by bringing together queer fans of the soccer club Grêmio. More recently, tangible outcomes have been achieved.
Since Brazil's Supreme Court criminalized LGBTQ-phobic violence in 2019, fines and legal sanctions have been applied by sports authorities onto clubs whose supporters chanted homophobic slurs. Drawing from the heritage of Torcida Coligay, the collective "Canarinhos LGBT" has been pressuring restlessly for the enforcement of these measures.
However, as an important part of the Brazilian cultural identity, sports have also entered the cultural war that has dominated Brazil's public life. Nogueira himself has been in the middle of a battle between two visions of what soccer should be. A fan of the club Sport Recife, Gil was invited by the club for a visit to the team's stadium. The day after, an audio leak revealed homophobic slurs by one of the club's advisors, sparking outrage among Nogueira's supporters and media figures and reaching national headlines. Before the episode, it would be unimaginable to have soccer players showing support for LGBTQ Rights.
Since then, the club's executive direction, younger and more diverse, and its governing council, older and male-dominated, started a civil war around the expulsion of the advisors. Possibly avoiding further backlash, Nogueira has not been outspoken about this topic in Brazilian media. Asked to comment on this article, he broke his silence.
"Conservatism, patriarchy and homophobia are issues that, in the sports universe, are potentialized because it is an environment where these key themes were rarely brought into the agenda, which is completely inconsistent, as sports are synonymous with inclusion. But the question is: Inclusion for whom?" Nogueira said.
"I see that we are lagging behind and there is little willingness to advance in these debates, and even less will to introduce practices that can foster the debate on gender identities, gender expression, sexual orientation, among others. I also realize that we lack dialogue, and we know that talking about the plurality of life is respecting it, inserting it, sustaining it in such an oppressive environment." he concluded.
The battle for inclusion in Brazilian sports occurs in the midst of a highly hostile political debate.
About a month ago, Mauricio Souza, a famous volleyball player, was fired from his club after anti-LGBTQ comments on social media. Immediately, he became a symbol of Brazil's far right, multiplying his followers and gaining support from President Jair Bolsonaro. Souza is now expected to run for the Congress in Bolsonaro's party.
In this context, Nogueira 's contribution for diversity in sports becomes even more remarkable. His persona — evangelical, gay, academic, raised in poverty — defies the typical divide of the deeply polarized Brazilian society. Asked what he would say to other LGBTQ persons living in highly conservative environments such as the church and the soccer stadium, Nogueira states the answer is within.
"There are always answers within ourselves," he said. "While everyone has the right to speak when, how and if they want to about their orientation or gender identity, genuinely belonging to ourselves is something we will question ourselves throughout our lives".
Another remarkable characteristic of Nogueira is his firm belief in his dreams. Even having won national recognition, 15 million followers on Instagram and millions of dollars in advertisement, he chose to continue his life-long plan to pursue a PhD at UC Davis. This does not drive him away from his fight for inclusion.
"I intend to conduct relevant research that has a social impact directly related to minorities — in this case, the LGBTQIA+ community and racial issues — so that we can discuss and show that it is important to have diversity in all sectors of the country, and that this will not only bring more equality, but it will also bring development," he said.
From California, Nogueira has his own segment in a popular TV show, explaining complex economic concepts to common people. This highlights his vision for the future of Brazil.
"I intend to use my theoretical knowledge as an economist … to show that we need to consolidate ourselves as a country that is diverse, respectful, not homophobic, not racist, because otherwise, we pay the price as human beings, but also as a country, as a whole," he said. Nogueira's activism and brilliance has shown that Brazilian sports culture is on an inclusive path, but there is still a long way to go. There are very few high-profile athletes who are openly LGBTQ, and in men's soccer, Brazil's most popular sport, there are none.
However, Nogueira's impact, as Michael Sam and Megan Rapinoe in the U.S., is proof that society is changing and this includes formerly homophobic milieus, as the sports arenas.
Egerton Neto is the international coordinator at Aliança Nacional LGBTI+, a Brazilian LGBTQ rights group, and a master candidate at the London School of Economics. Caio Leite is a political scientist.
LGBTQ Venezuelan migrants struggle to survive in Colombia
People with HIV again suffering from Kaposi's sarcoma
BOGOTÁ, Colombia — Edgar García and his partner, Dannys Torres, on Oct. 3, 2018, used a canoe to cross the Arauca River that marks the Venezuela-Colombia border.
García was a member of the board of directors of Alianza Lambda de Venezuela, a Venezuelan LGBTQ rights group, before he fled Venezuela. Torres worked as a hairdresser in Caracas, the Venezuelan capital.
The couple now lives in Rafael Uribe Uribe, a working-class neighborhood in Bogotá, the Colombian capital.
Torres continues to work as a hairdresser. García most recently worked for a telecommunications company.
"We are settled here in Bogotá," García told the Los Angeles Blade on Sept. 21 during an interview with him and Torres that took place at a shopping mall near their home. "You have your life here."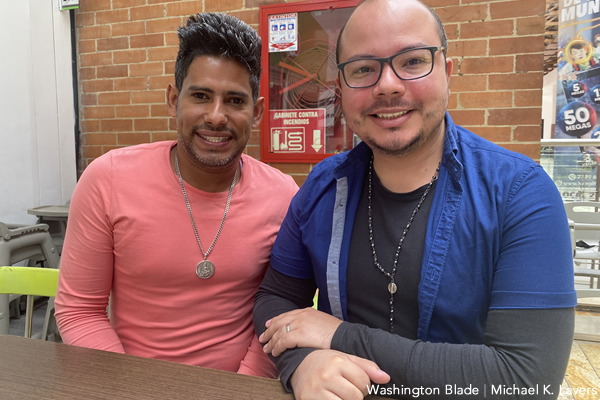 García and Torres are two of the more than 5.4 million Venezuelans who the Coordination Platform for Migrants and Refugees from Venezuela say have left their country as of November 2020 because of its ongoing economic and political crises.
Statistics from the Colombian government indicate there are currently more than 1.7 million Venezuelans in the country. More than 50 percent of them live in Bogotá and the departments of Norte de Santander, Atlántico and Antioquia.
Colombian President Iván Duque in February announced the country would legally recognize Venezuelan migrants who are registered with the government.
Sources in Colombia with whom the Blade has spoken say there are likely many more Venezuelan migrants in the country than official statistics indicate. Venezuelan migrants who are LGBTQ and/or living with HIV remain disproportionately vulnerable to discrimination and violence and often lack access to health care and formal employment.
A report the Red de Movilidad Humana LGBTI+—a network of advocacy groups in Venezuela, Colombia, Ecuador, Peru, Chile, Brazil, Argentina, Guatemala and Mexico—published with the support of the U.N. Refugee Agency notes sex trafficking and even death are among the myriad threats that LGBTQ migrants from Venezuela face once they enter Colombia. The report indicates they also face discrimination in shelters because of their sexual orientation and gender identity, sexual violence and a lack of access to the Colombian judicial system.
Trans woman left Venezuela 'in search of a better quality of life'
Vanesa, a 25-year-old transgender woman from the Venezuelan city of Maracaibo, came to Colombia eight years ago "in search of a better quality of life."
She told the Blade on Sept. 14 during an interview at Fundación de Atención Inclusiva, Social y Humana (FUVADIS)—an organization in Barranquilla, a city in Atlántico department that is near the mouth of the Magdalena River in northern Colombia, that serves Venezuelan migrants—she entered Colombia near Maicao, a city in La Guajira department via an informal border crossing known as a "trocha." Vanesa said she was nearly kidnapped.
"The people who were standing on the sides (of the "trocha") who ask you for money were supposedly security," she said. "There was no security. They left me there because I was trans. They said a lot of ugly things. They assaulted me, including one (man) who was not going to let me go. They wanted me to kidnap me or have me there to do whatever they wanted to me."
Vanesa said a woman helped her escape.
"The experience was horrible," she said.
Vanesa traveled to Cartagena, a popular tourist destination that is less than two hours southwest of Barranquilla, and began to work at her friend's hair salon. Vanesa told the Blade that her friend's mother "never liked me because … she is a Christian."
Vanesa now lives in Barranquilla and supports herself through video chats. Vanesa also competes in local beauty pageants and is able to send money to her mother in Venezuela.
"I work here," she said. "I am relatively well off."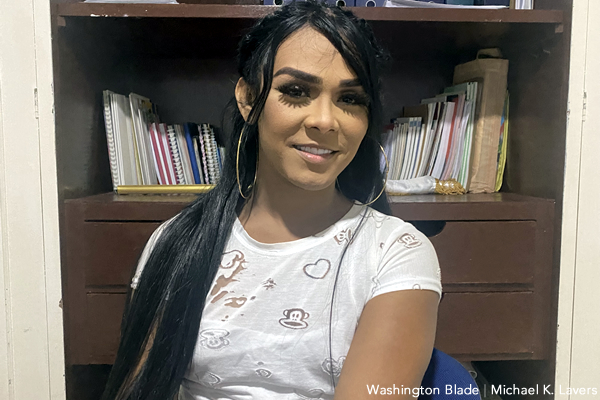 Andy, a trans man from Venezuela's Maracay state, left Venezuela four years ago with his partner and their daughter. Andy, like Vanesa, entered Colombia via a "trocha" near Maicao.
"I migrated because the situation was becoming worse and worse each day," Andy told the Blade on Sept. 14 as he attended a workshop that Caribe Afirmativo, an LGBTQ group in northern Colombia, organized at a Barranquilla hotel.
Caribe Afirmativo has opened three "Casas Afirmativos" in Barranquilla, Maicao and Medellín that provide access to health care and other services to Venezuelan migrants who are LGBTQ and/or living with HIV/AIDS. Caribe Afirmativo also operates several "Casas de Paz" throughout northern Colombia that support the implementation of an LGBTQ-inclusive peace agreement between the government and the Revolutionary Armed Forces of Colombia that came into force in 2016.
Andy said his work in Venezuela allowed him to learn how "to sell whatever product," but he told the Blade he struggled to find a job once he arrived in Colombia.
Andy told the Blade that he, his partner and their daughter now have stable housing in Barranquilla. Andy said he also has received a job offer in Medellín, the country's second-largest city that is the capital of Antioquia department.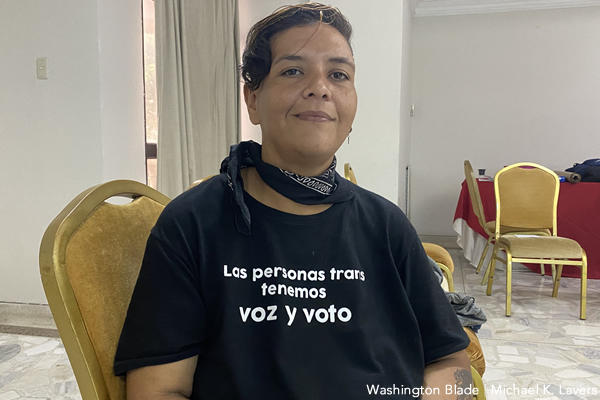 Jesús Gómez is a 33-year-old gay man from Venezuela's Trujillo state in the Venezuelan Andes that are close to the country's border with Colombia.
He previously worked with Venezuela Diversa, a Venezuelan LGBTQ advocacy group, and accepted a position with the municipality of Chacao that is part of Caracas. Gómez, whose mother was born in Colombia, also joined a student protest movement against the government.
Gómez fled to Colombia and is pursuing his asylum case with the help of UNHCR.
"I feel bad emotionally, but I am well-off compared to other people," he told the Blade on Sept. 16 during an interview at a hotel in Cúcuta, a city in Norte de Santander department that is a few miles from the country's border with Venezuela. "I am working to help other people who are in the same situation."
Gómez in December is scheduled to graduate from nursing school. He also works with Fundación Censurados, a Cúcuta-based HIV/AIDS service organization that works with Venezuelan migrants, and has supported other organizations in the area that serve them.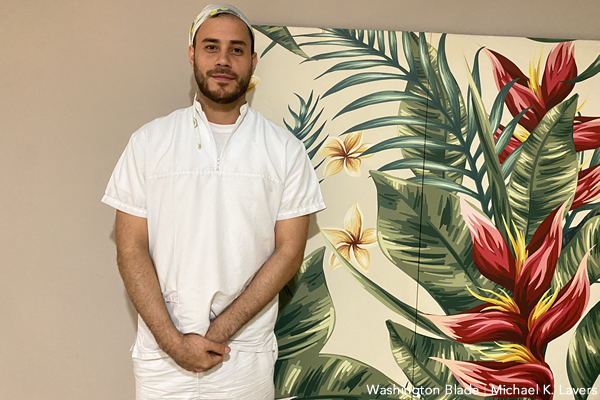 FUVADIS Executive Director Luis Meneses, like Gómez, was an LGBTQ activist in Venezuela.
Meneses, who is from Venezuela's Zulia state, in 2010 unsuccessfully ran for Venezuela's National Assembly. Meneses in February 2018 fled to Colombia because of the "political persecution" he said he suffered.
"Discrimination and prejudice against me began when I came out to defend LGBTI rights," Meneses told the Blade on Sept. 14 during an interview at his office.
Meneses in August 2018 launched FUVADIS, which receives support from groups that includes UNHCR and the International Organization for Migration. FUVADIS provides health care, antiretroviral drugs and a host of other services to Venezuelan migrants with HIV/AIDS and other populations that include sex workers. Vanessa and nearly 900 other FUVADIS clients are LGBTQ.
"We cannot work for the migrant population by only giving them humanitarian assistance," said Meneses. "It's also about guaranteeing access to their rights."
Venezuelans with HIV/AIDS die because of lack of medications
The New York-based Aid for AIDS International estimates more than 10,000 Venezuelans with HIV have left the country in recent years. Activists and health care service providers in Venezuela with whom the Blade has spoken in recent years have said people with HIV/AIDS in the country have died because of a lack of antiretroviral drugs.
The Venezuelan government has also targeted HIV/AIDS service organizations.
Members of Venezuela's General Directorate of Military Counterintelligence in January raided the offices of Azul Positivo, an HIV/AIDS service organization and arrested President Johan León Reyes and five other staff members. Venezuelan police on Feb. 15, 2019, raided the offices of Fundación Mavid, another HIV/AIDS service organization in Valencia, a city in Carabobo state, and arrested three staffers after they confiscated donated infant formula and medications for people with HIV/AIDS
Deyvi Galvis Vásquez, a doctor who is the manager of prevention and testing for AIDS Healthcare Foundation Colombia on Sept. 17 during an interview at AHF's Cúcuta clinic showed the Blade pictures of Venezuelans with HIV/AIDS in Colombia who had cases of Kaposi's sarcoma.
"The conditions are of extreme vulnerability," said Galvis.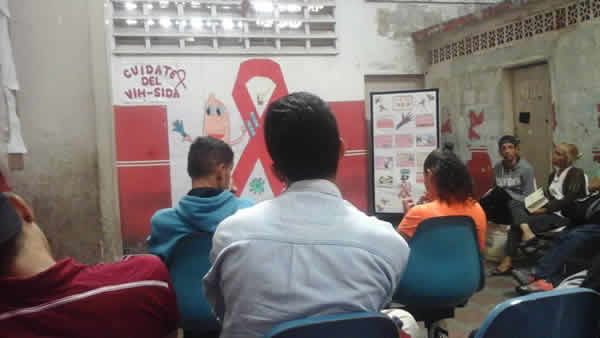 Andrés Cardona, director of Fundación Ancla, a Medellín-based group that works with migrants and other vulnerable groups, during a Sept. 13 interview with the Blade in his office echoed Galvis. Cardona added stigma specifically against Venezuelans with HIV/AIDS is one of the myriad issues he and his colleagues confront.
"The issue of the elimination of HIV also implies not only an issue of communication and prevention, but also an issue of effective attention," said Cardona. "We have our conservative culture, an idea that the Venezuelans who are coming are going to give us HIV."
"This is totally discriminatory," he added.
Cardona, like those inside Venezuela with whom the Blade has spoken, said there are no services in the country for people with HIV/AIDS.
"There are many Venezuelan migrants with HIV who enter Colombia, because they are going to die if they don't," he said.
AHF operates clinics throughout Colombia
AHF operates other facilities in Bogotá and in the cities of Bucaramanga, Yopal, Valledupar and Ríohacha. The organization, along with the Colombian Red Cross and the government of Santander department, in March began to distribute condoms, food and water and offer rapid HIV tests to Venezuelan migrants who travel through Páramo de Berlín, a high plateau in the Colombian Andes through which a highway between Cúcuta and Bucaramanga passes.
AHF, among other things, offers migrants rapid HIV and syphilis tests and counseling for people who test positive. AHF also provides lab tests, formula for children of mothers with HIV and health care with an "interdisciplinary health care team."
AHF Colombia Country Program Manager Liliana Andrade Forero and AHF Colombia Data Manager Sandra Avila Mira on Sept. 20 noted to the Blade during an interview at AHF's Bogotá clinic that upwards of 2,000 migrants currently receive care from the organization. They also pointed out that 1,952 of them are taking antiretroviral drugs the Brazilian government donates.
Galvis noted to the Blade that many of AHF's patients also have access to mental health care and social workers.
"AHF's policy is to reach out to everyone," he said.
Pandemic has made migrants even more vulnerable
Galvis, Fundación Censurados Director Juan Carlos Archila and other Colombian HIV/AIDS service providers with whom the Blade spoke say the pandemic has made Venezuelan migrants with HIV/AIDS in the country even more vulnerable.
Lockdowns prevented sex workers and others who work in the informal economy from earning money. A "pico y género" rule implemented by Bogotá Mayor Claudia López that allowed women to leave their homes on even days and men to leave their homes on odd days sparked criticism among trans activists.
Archila, who is a nurse, on Sept. 16 told the Blade during an interview at a Cúcuta hotel the pandemic has also left Censurados in a precarious situation.
"We endured practically two years with the doors closed, with expenses increasing," he said. "The need of people who come to us for the issue of HIV remains, and yet we are all trying to cope with the situation."
Andrade noted AHF's Bogotá was closed for several months at the beginning of the pandemic because of the city's strict lockdown.
The pandemic also forced FUVADIS to close its offices in March 2020, but Meneses told the Blade the organization was able to see a handful of patients at a time. He said "basic humanitarian assistance" that included hygiene kits and food were among the things that FUVADIS was able to provide its patients during the pandemic.
"Understanding how the situation for the LGBTI community, people with HIV, the migrant population and the refugee population is, we could not allow (our services) to shut down," Meneses told the Blade.