The gay man who shook Brazilian society and sports
Gilberto Nogueira shares his dream of inclusion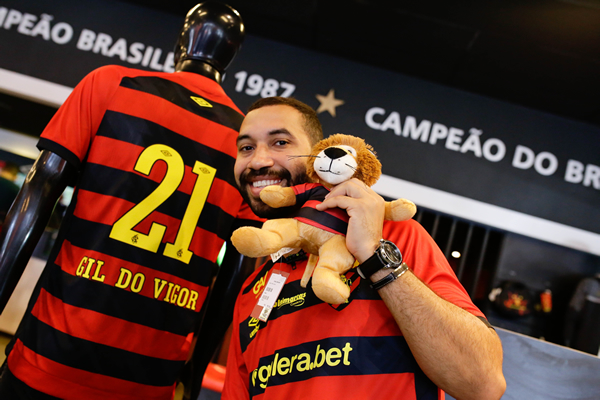 RECIFE, Brazil — An unexpected trailblazer shook Brazilian society in 2021 and caused significant advancements of LGBTQ rights in historically conservative groups.
Gilberto Nogueira, a reality show superstar, brought to prime-time television what most would think of as contradictions: A sexually liberal person with strong religious convictions; a high-level academic who speaks the language of the people; and, most strikingly, an effeminate and proudly gay man who is also a soccer fan.
Nogueira, or "Gil do Vigor," which roughly means "Striving Gil" in Portuguese, became a TV phenomenon by almost winning "Big Brother Brazil", one of the most popular shows in Brazilian television. His unapologetic character struck an enormous fan base that includes some of the most famous Brazilian soccer players and sports journalists. In a matter of weeks, Nogueira managed to build an unexpected alliance of LGBTQ people and sports fans to support him. This would produce lasting change, although it would not come without controversy.
"Dialogue is a great and necessary bridge to long-term changes, which leads us to reflection, reassessment of attitudes, conscious self-assessment, practical actions and much more," Nogueira told the Los Angeles Blade from California, where he is now pursuing his PhD in economics at the University of California-Davis.
The roots of the fight for diversity in Brazilian soccer can be traced to the 1970s, when a group called "Torcida Coligay" decided to defy homophobes and the then-ruling military dictatorship by bringing together queer fans of the soccer club Grêmio. More recently, tangible outcomes have been achieved.
Since Brazil's Supreme Court criminalized LGBTQ-phobic violence in 2019, fines and legal sanctions have been applied by sports authorities onto clubs whose supporters chanted homophobic slurs. Drawing from the heritage of Torcida Coligay, the collective "Canarinhos LGBT" has been pressuring restlessly for the enforcement of these measures.
However, as an important part of the Brazilian cultural identity, sports have also entered the cultural war that has dominated Brazil's public life. Nogueira himself has been in the middle of a battle between two visions of what soccer should be. A fan of the club Sport Recife, Gil was invited by the club for a visit to the team's stadium. The day after, an audio leak revealed homophobic slurs by one of the club's advisors, sparking outrage among Nogueira's supporters and media figures and reaching national headlines. Before the episode, it would be unimaginable to have soccer players showing support for LGBTQ Rights.
Since then, the club's executive direction, younger and more diverse, and its governing council, older and male-dominated, started a civil war around the expulsion of the advisors. Possibly avoiding further backlash, Nogueira has not been outspoken about this topic in Brazilian media. Asked to comment on this article, he broke his silence.
"Conservatism, patriarchy and homophobia are issues that, in the sports universe, are potentialized because it is an environment where these key themes were rarely brought into the agenda, which is completely inconsistent, as sports are synonymous with inclusion. But the question is: Inclusion for whom?" Nogueira said.
"I see that we are lagging behind and there is little willingness to advance in these debates, and even less will to introduce practices that can foster the debate on gender identities, gender expression, sexual orientation, among others. I also realize that we lack dialogue, and we know that talking about the plurality of life is respecting it, inserting it, sustaining it in such an oppressive environment." he concluded.
The battle for inclusion in Brazilian sports occurs in the midst of a highly hostile political debate.
About a month ago, Mauricio Souza, a famous volleyball player, was fired from his club after anti-LGBTQ comments on social media. Immediately, he became a symbol of Brazil's far right, multiplying his followers and gaining support from President Jair Bolsonaro. Souza is now expected to run for the Congress in Bolsonaro's party.
In this context, Nogueira 's contribution for diversity in sports becomes even more remarkable. His persona — evangelical, gay, academic, raised in poverty — defies the typical divide of the deeply polarized Brazilian society. Asked what he would say to other LGBTQ persons living in highly conservative environments such as the church and the soccer stadium, Nogueira states the answer is within.
"There are always answers within ourselves," he said. "While everyone has the right to speak when, how and if they want to about their orientation or gender identity, genuinely belonging to ourselves is something we will question ourselves throughout our lives".
Another remarkable characteristic of Nogueira is his firm belief in his dreams. Even having won national recognition, 15 million followers on Instagram and millions of dollars in advertisement, he chose to continue his life-long plan to pursue a PhD at UC Davis. This does not drive him away from his fight for inclusion.
"I intend to conduct relevant research that has a social impact directly related to minorities — in this case, the LGBTQIA+ community and racial issues — so that we can discuss and show that it is important to have diversity in all sectors of the country, and that this will not only bring more equality, but it will also bring development," he said.
From California, Nogueira has his own segment in a popular TV show, explaining complex economic concepts to common people. This highlights his vision for the future of Brazil.
"I intend to use my theoretical knowledge as an economist … to show that we need to consolidate ourselves as a country that is diverse, respectful, not homophobic, not racist, because otherwise, we pay the price as human beings, but also as a country, as a whole," he said. Nogueira's activism and brilliance has shown that Brazilian sports culture is on an inclusive path, but there is still a long way to go. There are very few high-profile athletes who are openly LGBTQ, and in men's soccer, Brazil's most popular sport, there are none.
However, Nogueira's impact, as Michael Sam and Megan Rapinoe in the U.S., is proof that society is changing and this includes formerly homophobic milieus, as the sports arenas.
Egerton Neto is the international coordinator at Aliança Nacional LGBTI+, a Brazilian LGBTQ rights group, and a master candidate at the London School of Economics. Caio Leite is a political scientist.
Chilean government seeks to implement LGBTQ+, intersex rights agenda
Conservative newspaper incorrectly reported ministry plans legislation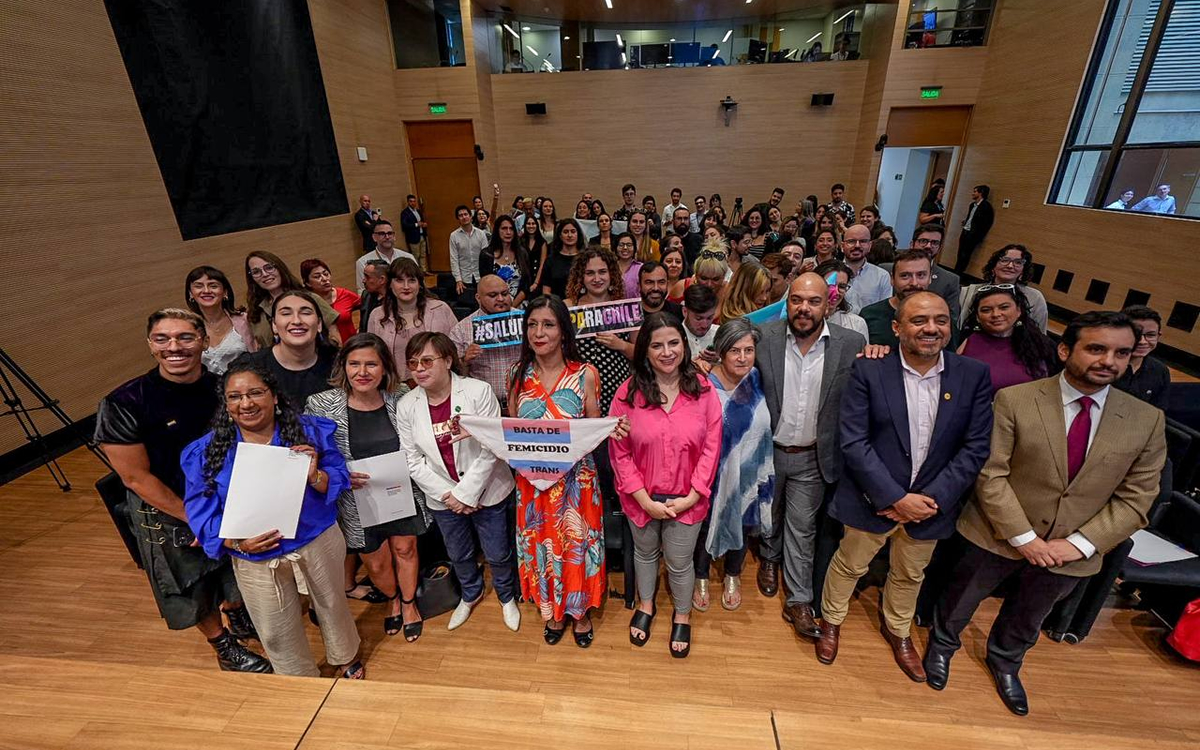 SANTIAGO, Chile — A conversative Chilean newspaper's article on Sunday that said the Women and Gender Equity Ministry was preparing to introduce a bill that would create an LGBTQ+ and intersex rights undersecretariat prompted mixed reactions across the country.
The ministry in 2022 launched its first "LGBTIQA+ Roundtable" that includes representatives of different public institutions, organizations and Chilean LGBTQ+ and intersex activists who are working to improve the quality of life for the country's queer community that over the last year has seen an increase in attacks and hate crimes.
LGBTQ+ and intersex rights in Chile have gained ground over the last decade.
Civil unions, marriage equality, Transgender rights and an anti-discrimination law are some of the successes that took time to take effect. There is, however, no state institution or public policy that works to ensure historically discriminated LGBTQ+ and intersex Chileans are included. This is why activists feel the "LGBTIQA+ Roundtable" that President Gabriel Boric's government is promoting is an unprecedented opportunity.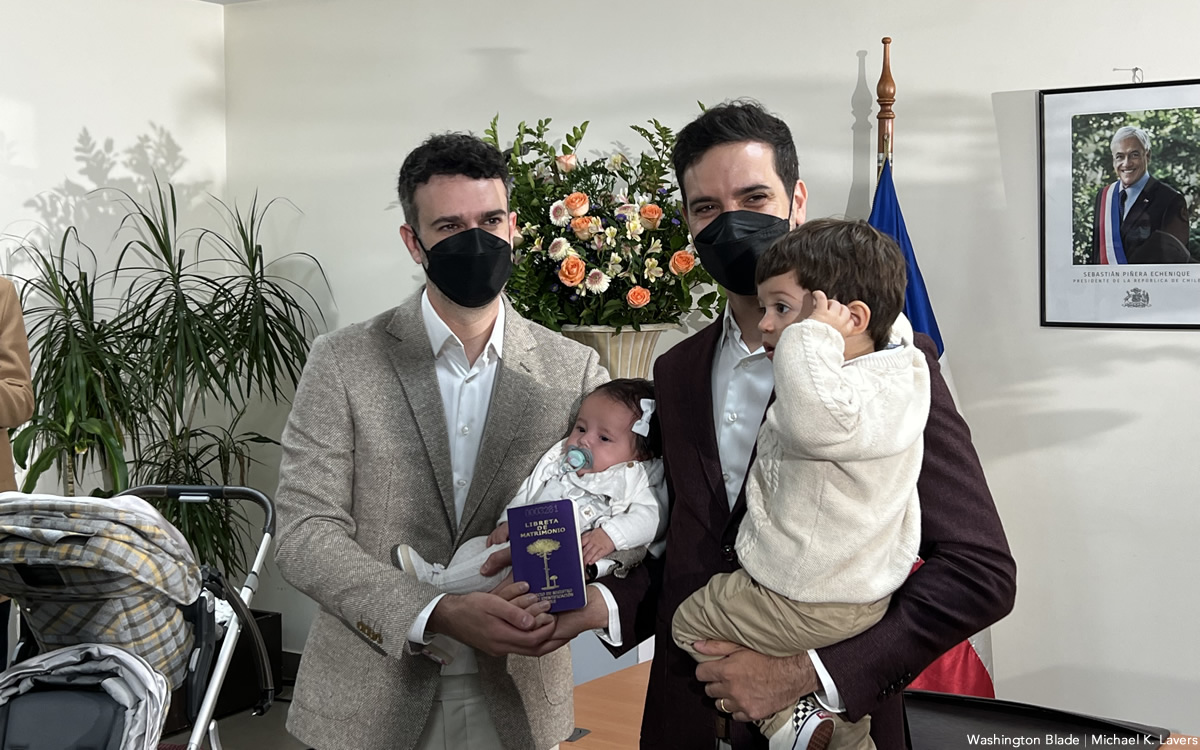 Forty-two organizations from across Chile participated in the roundtable during its first year, which culminated on Jan. 6 with the signing of an agreement between the Women and Gender Equity Ministry's Women and Gender Equality Undersecretariat and the Interior and Public Safety Ministry's Crime Prevention Undersecretariat to assist people across the country who are victims of anti-LGBTQ+ attacks. The roundtable at the same time also announced it will send a bill to Congress later in 2023 that would expand the ministry's mandate to ensure "the LGBTIQA+ community is included."
There has yet to be an announcement on the creation of an LGBTQ+ and intersex undersecretariat.
Most Chilean media outlets covered this report after El Mercurio published it on Sunday. José Antonio Kast, an extreme right-wing politician who is a former presidential candidate, on his Twitter account criticized what turned out to be inaccurate.
"Chile is poorer, more violent and insecure than a year ago and the inept government is dedicated to enlarge the State to deepen its ideological agenda, instead of solving social urgencies," wrote the Republican Party leader.
The ministry told the Washington Blade that "the roundtable with organizations from the LGBTIQA+ community has just been finalized."
"One of the demands is to have an institutionality," said the ministry. "During 2023 it will be defined which is the progressive path, while the anti-discrimination law is improved at the same time."
Women and Gender Equity Undersecretary Luz Vidal Huiriqueo on her social media networks said "we met with LGBTQ+ organizations for seven months" and the ministry made "security, employment and health priorities."
"On the 1st we advanced in an agreement with (the Crime Prevention Undersecretariat) to properly address and for the long challenges we committed to propose an institutional mechanism," said Vidal.
Vidal said in an exclusive interview with the Blade before El Mercurio published its inaccurate report that "finding and giving answers to the demands of the LGBTIQA+ population in Chile is a commitment for President Gabriel Boric's government that will not be put aside for anything."
"We at the (Women and Gender Equality Ministry) have embraced the day-to-day needs that this community, in many cases, has to survive," said Vidal from her office. "That is why, from our ministry, we have created this intergovernmental roundtable to have a fluid and permanent communication with LGBTIQA+ organizations.
Vidal added Boric "instructed us to move from discourse to action."
"We have to get to work. We have to implement the agreements," said Vidal. "We can't just make pretty announcements and that is our commitment. The commitment we have today is to work for women, for gender equity, for and with the entire population, in favor of all citizens and of those who lack the presence of the State."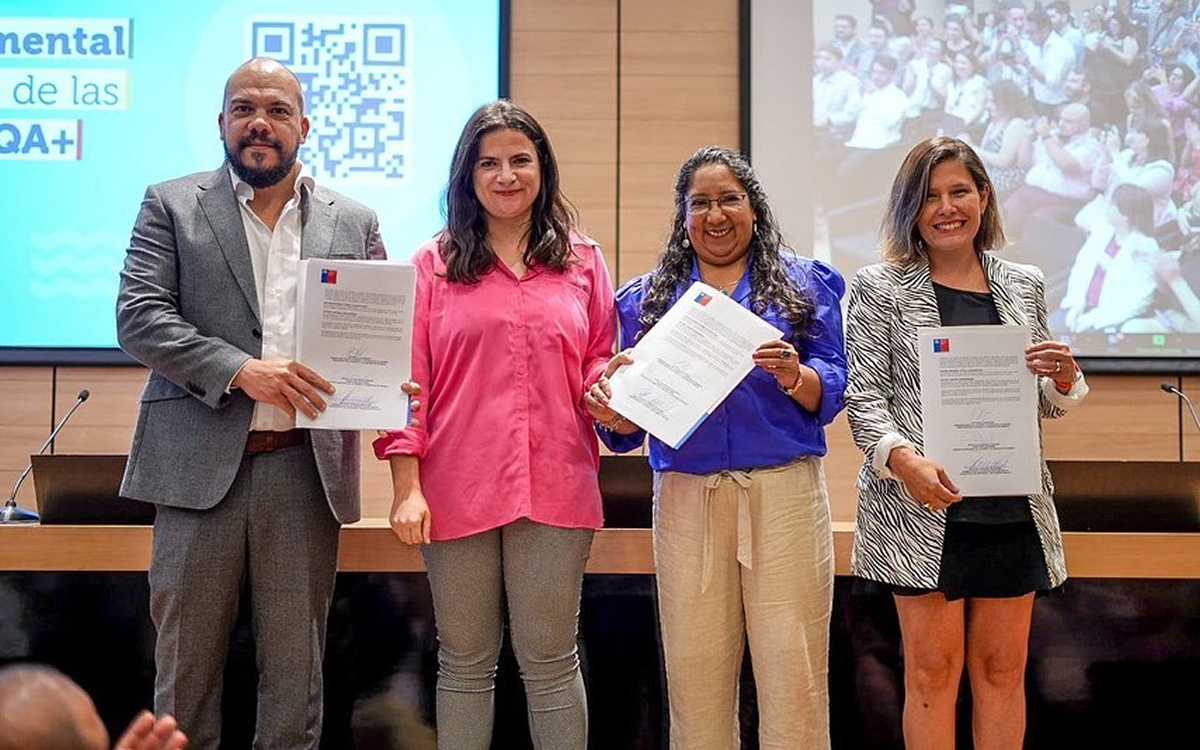 The undersecretary told the Blade the need to incorporate the queer community into the ministry's work is important because "the State, as of today, has no powers to specifically address the LGBTQ+ population."
"We need to create a progressive path that, whether an institutional or other figure, allows us to implement public policies," she said.
That supposed institutionality was the one that sparked controversy last Sunday and it will not be an easy path, regardless of the mechanism that Boric's government ultimately chooses to implement.
"I think it is not going to be an easy process," said Vidal. "It is not going to be a project that we can say, we are going to take them out at the end of the year, that is clear to us. Even today it is difficult to move forward with projects or the work that the ministry is doing because we currently have a Congress with political forces that are against inclusion and respect for diversity. This is present in our Congress, and it is also present in several Latin American countries."
Emilia Schneider, Chile's first Trans congresswoman, on the other hand told the Blade that "it seems to me that the announcement of an institutional framework for the LGBTI community within the Women's Ministry, and also in what has been working with the Justice Ministry to advance in an institutional framework against discrimination, regarding the reform of the Anti-Discrimination Law are two fundamental steps to advance in dignity and rights for sexual diversities and dissidences."
Schneider said it is important "to make a permanent change in the State, which recognizes the importance of having a space that responds to the needs of the queer population and takes charge of combating inequality, discrimination and violence to which our community is exposed."
"It seems to me that this is one of the most important commitments, which if realized would be a fundamental legacy of this government in matters of sexual diversity and dissidence," she said.
Ignacia Oyarzun, coordinator of public policies for Asociación OTD Chile, the country's most important Trans rights organization, said the implementation of an institutional framework to advance LGBTQ and intersex rights "is an advance that goes in the direction of establishing what will be a trans labor quota to achieve a greater integration of the community in society."
Oyarzun noted employers do not hire people who are Trans, or fire them without reason. This lack of employment opportunities, according to Asociación OTD Chile, makes trans people more vulnerable to violence.
Jorge Muñoz of Movimiento Organizado de Gays, Lesbianas, Trans y Heterosexuales (MOGALETH) in Puerto Montt, a city that is roughly 640 miles south of the capital of Santiago, also participated in the roundtable. Muñoz told the Blade that "any approach from the central power to civil society, and especially to the regions, is positive."
"In this context, we consider it an advance in terms of the demands of the collective in the struggle for the recognition of the historical violation of our rights," said Muñoz. "The State's recognition of mistreatment and hate speech towards dissidents has historically been centralized. The regions where we also suffer harassment, mistreatment, difficulties in access to health, education and work have been relegated throughout history. In this sense, what we value most is the recognition of our demands in the territorial context."