Chile marriage bill receives final approval
South American country legalized civil unions in 2015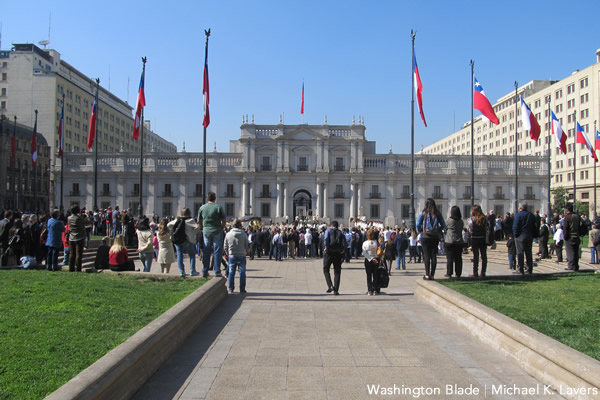 VALPARAÍSO, Chile — A bill that will extend marriage rights to same-sex couples in Chile received final approval on Tuesday.
The Chilean Senate and the Chilean House of Representatives approved the marriage equality bill that passed in the lower house of the country's Congress on Nov. 23. That vote took place two days after the first round of the country's presidential election took place.
A final vote on the bill was expected to have taken place last week, but senators unexpectedly opposed it.
A commission with members of both houses of the Chilean congress approved the bill on Monday.
LGBTQ rights supporter elected next Chilean president
Gabriel Boric won election's second round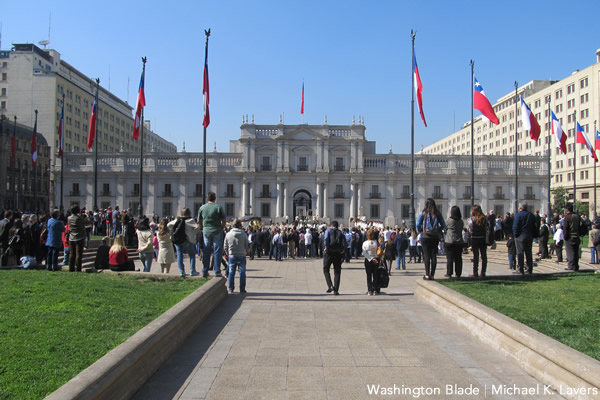 SANTIAGO, Chile — Chilean Congressman Gabriel Boric on Sunday won the second round of the country's presidential election.
Boric, who previously led a student protest movement, defeated José Antonio Kast, a far-right former congressman, by a 55.9-44.1 percent margin. Boric will succeed President Sebastián Piñera when he takes office on March 11.
Boric's election comes less than two weeks after Piñera signed a marriage equality bill into law.
The law takes effect on March 10.
"Chile has spoken," tweeted Movilh, a Chilean LGBTQ rights group, after Boric defeated Kast. "Democracy, equality, justice and discrimination advances."
Chile ya habló. Felicitaciones presidente @gabrielboric. 👏👏👏🏳️⚧️🌈🇨🇱 Avanza la democracia, la igualdad, la justicia y la no discriminación #EleccionesChile2021 #BoricPresidente. pic.twitter.com/cR3wu5kg8g

— Movilh Chile (@Movilh) December 19, 2021
Emilia Schneider, who became the first openly transgender person elected to the Chilean congress last month, also applauded Boric's election.
"Hope always defeats fear," tweeted Schneider. "We are going to need the same organization and commitment that we showed in this second round (of the election) to defend a transformative government."
La esperanza siempre le gana al miedo. Vamos que necesitaremos la misma organización y compromiso que mostramos esta segunda vuelta para defender un gobierno transformador ❤️🌳✊🏻 #BoricPresidente

— Emilia Schneider (@emischneiderv) December 19, 2021
Chile's president signs marriage equality law
Sebastián Piñera in June announced support for measure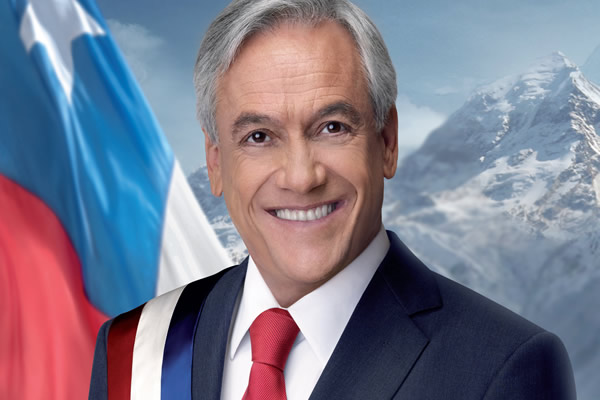 SANTIAGO, Chile — Chilean President Sebastián Piñera on Thursday signed a law that extends marriage rights to same-sex couples in the South American country.
"Freedom, true freedom is always built when we recognize ourselves as equal in dignity and in rights and above all under the law," he said during a signing ceremony that took place at the Presidential Palace in Santiago, the Chilean capital.
[EN VIVO] Pdte. @sebastianpinera, acompañado por ministras y ministros, subsecretarios, parlamentarios y representantes de la sociedad civil, promulga ley de #MatrimonioIgualitario. #AmorEsAmor 🏳️🌈 https://t.co/xamZ4tKdNQ

— Gobierno de Chile (@GobiernodeChile) December 9, 2021
The signing ceremony took place two days after the marriage equality law passed in the country's Congress.
Movilh, a Chilean LGBTQ rights group, in 2012 filed a lawsuit with the Inter-American Commission on Human Rights on behalf of three same-sex couples who were seeking marriage rights.
The Inter-American Court of Human Rights in 2012 ruled in favor of Karen Atala, a Chilean judge who lost custody of her three daughters to her ex-husband because she is a lesbian. The landmark decision established a legal precedent that has been used to advance marriage rights for same-sex couples throughout Latin America.
A law that allows same-sex couples to enter into civil unions took effect in Chile in 2015.
The government of former President Michelle Bachelet — who is now the U.N. high commissioner for human rights — in 2016 said it would introduce bills to extend marriage and adoption rights to same-sex couples as part of an agreement between it, Movilh and the Inter-American Commission on Human Rights.
Movilh in 2020 withdrew from the agreement after it accused Piñera of not doing enough to advance marriage equality in Chile. Piñera in June announced his support of the issue.
"I celebrate marriage equality in Chile, which ensures recognition and protection for all families, without discrimination on the basis of sexual orientation or gender identity," tweeted Bachelet on Wednesday. "It's an important step for the country and I hope others will follow this example."
I celebrate #MarriageEquality in Chile which ensures recognition & protection for all families, without discrimination on the basis of sexual orientation or gender identity. It's an important step for the country and I hope others will follow this example.@free_equal 🏳️🌈 pic.twitter.com/ApliAtUyKu

— Michelle Bachelet (@mbachelet) December 8, 2021
Piñera signed the marriage equality law less than two weeks before the second round of Chile's presidential election in which Congressman Gabriel Boric, who previously led a student protest movement, will face off against José Antonio Kast, a far-right former congressman. The marriage equality law will take effect before Piñera leaves office in March.
The gay man who shook Brazilian society and sports
Gilberto Nogueira shares his dream of inclusion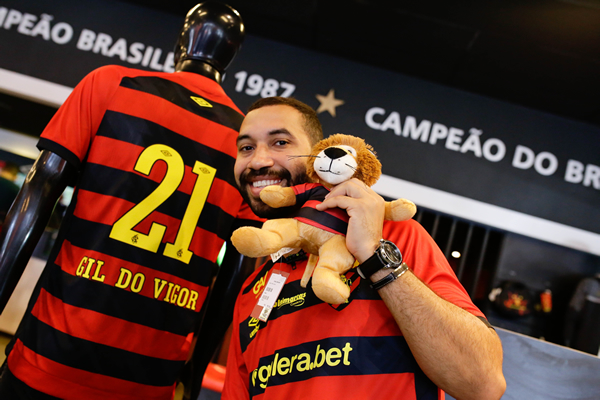 RECIFE, Brazil — An unexpected trailblazer shook Brazilian society in 2021 and caused significant advancements of LGBTQ rights in historically conservative groups.
Gilberto Nogueira, a reality show superstar, brought to prime-time television what most would think of as contradictions: A sexually liberal person with strong religious convictions; a high-level academic who speaks the language of the people; and, most strikingly, an effeminate and proudly gay man who is also a soccer fan.
Nogueira, or "Gil do Vigor," which roughly means "Striving Gil" in Portuguese, became a TV phenomenon by almost winning "Big Brother Brazil", one of the most popular shows in Brazilian television. His unapologetic character struck an enormous fan base that includes some of the most famous Brazilian soccer players and sports journalists. In a matter of weeks, Nogueira managed to build an unexpected alliance of LGBTQ people and sports fans to support him. This would produce lasting change, although it would not come without controversy.
"Dialogue is a great and necessary bridge to long-term changes, which leads us to reflection, reassessment of attitudes, conscious self-assessment, practical actions and much more," Nogueira told the Los Angeles Blade from California, where he is now pursuing his PhD in economics at the University of California-Davis.
The roots of the fight for diversity in Brazilian soccer can be traced to the 1970s, when a group called "Torcida Coligay" decided to defy homophobes and the then-ruling military dictatorship by bringing together queer fans of the soccer club Grêmio. More recently, tangible outcomes have been achieved.
Since Brazil's Supreme Court criminalized LGBTQ-phobic violence in 2019, fines and legal sanctions have been applied by sports authorities onto clubs whose supporters chanted homophobic slurs. Drawing from the heritage of Torcida Coligay, the collective "Canarinhos LGBT" has been pressuring restlessly for the enforcement of these measures.
However, as an important part of the Brazilian cultural identity, sports have also entered the cultural war that has dominated Brazil's public life. Nogueira himself has been in the middle of a battle between two visions of what soccer should be. A fan of the club Sport Recife, Gil was invited by the club for a visit to the team's stadium. The day after, an audio leak revealed homophobic slurs by one of the club's advisors, sparking outrage among Nogueira's supporters and media figures and reaching national headlines. Before the episode, it would be unimaginable to have soccer players showing support for LGBTQ Rights.
Since then, the club's executive direction, younger and more diverse, and its governing council, older and male-dominated, started a civil war around the expulsion of the advisors. Possibly avoiding further backlash, Nogueira has not been outspoken about this topic in Brazilian media. Asked to comment on this article, he broke his silence.
"Conservatism, patriarchy and homophobia are issues that, in the sports universe, are potentialized because it is an environment where these key themes were rarely brought into the agenda, which is completely inconsistent, as sports are synonymous with inclusion. But the question is: Inclusion for whom?" Nogueira said.
"I see that we are lagging behind and there is little willingness to advance in these debates, and even less will to introduce practices that can foster the debate on gender identities, gender expression, sexual orientation, among others. I also realize that we lack dialogue, and we know that talking about the plurality of life is respecting it, inserting it, sustaining it in such an oppressive environment." he concluded.
The battle for inclusion in Brazilian sports occurs in the midst of a highly hostile political debate.
About a month ago, Mauricio Souza, a famous volleyball player, was fired from his club after anti-LGBTQ comments on social media. Immediately, he became a symbol of Brazil's far right, multiplying his followers and gaining support from President Jair Bolsonaro. Souza is now expected to run for the Congress in Bolsonaro's party.
In this context, Nogueira 's contribution for diversity in sports becomes even more remarkable. His persona — evangelical, gay, academic, raised in poverty — defies the typical divide of the deeply polarized Brazilian society. Asked what he would say to other LGBTQ persons living in highly conservative environments such as the church and the soccer stadium, Nogueira states the answer is within.
"There are always answers within ourselves," he said. "While everyone has the right to speak when, how and if they want to about their orientation or gender identity, genuinely belonging to ourselves is something we will question ourselves throughout our lives".
Another remarkable characteristic of Nogueira is his firm belief in his dreams. Even having won national recognition, 15 million followers on Instagram and millions of dollars in advertisement, he chose to continue his life-long plan to pursue a PhD at UC Davis. This does not drive him away from his fight for inclusion.
"I intend to conduct relevant research that has a social impact directly related to minorities — in this case, the LGBTQIA+ community and racial issues — so that we can discuss and show that it is important to have diversity in all sectors of the country, and that this will not only bring more equality, but it will also bring development," he said.
From California, Nogueira has his own segment in a popular TV show, explaining complex economic concepts to common people. This highlights his vision for the future of Brazil.
"I intend to use my theoretical knowledge as an economist … to show that we need to consolidate ourselves as a country that is diverse, respectful, not homophobic, not racist, because otherwise, we pay the price as human beings, but also as a country, as a whole," he said. Nogueira's activism and brilliance has shown that Brazilian sports culture is on an inclusive path, but there is still a long way to go. There are very few high-profile athletes who are openly LGBTQ, and in men's soccer, Brazil's most popular sport, there are none.
However, Nogueira's impact, as Michael Sam and Megan Rapinoe in the U.S., is proof that society is changing and this includes formerly homophobic milieus, as the sports arenas.
Egerton Neto is the international coordinator at Aliança Nacional LGBTI+, a Brazilian LGBTQ rights group, and a master candidate at the London School of Economics. Caio Leite is a political scientist.