U.S. Justice Dept. seeks Supreme Court review on Texas abortion ban
"Women have been unlawfully prevented from exercising control over their lives in ways that are protected by the Constitution"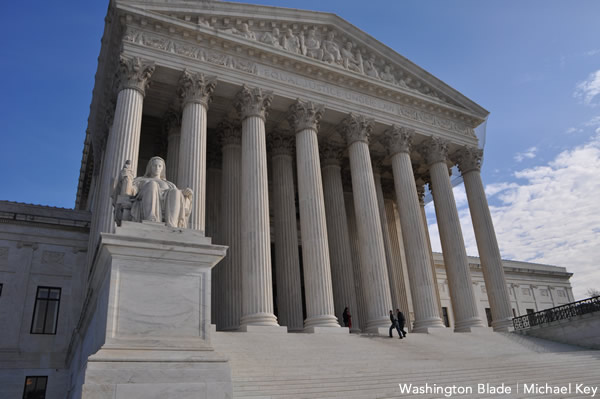 WASHINGTON – U.S. Justice Department lawyers filed an emergency appeal Monday with the U.S. Supreme Court after the U.S. Fifth Circuit Court of Appeals enjoined a lower court ruling that blocked enforcement of the Texas anti-abortion law.
The Justice Department is seeking the high court's review in order to block the law while legal litigation continues over the controversial law that bans abortion after six weeks, a point at which many women are unaware they are pregnant.
The Biden administration wants to block the law's enforcement while a lower Federal court in Austin, Texas, addresses the underlying constitutional questions raised in the challenge to the law.
Last week in a late night filing the Justice Department petitioned the U.S. 5th Circuit Court of Appeals to reverse its ruling that allows the controversial Texas abortion ban law known as SB8 temporarily reinstated.
In its brief Justice Department attorneys argued that if the law is upheld, states could violate any right provided they left enforcement up to private citizens and not the state itself. "If Texas's scheme is permissible, no constitutional right is safe from state-sanctioned sabotage of this kind," the Justice Department stated then added, "A stay would prolong [the law's] substantial harm to the United States' sovereign interests and would disserve the public interest."
In a late Friday evening ruling two weeks ago, a three Judge panel of the U. S. Fifth Circuit Court of Appeals temporarily overturned an injunction issued by U.S. District Court Judge Robert Pitman that had blocked Senate Bill 8, the Texas abortion ban, from being enforced.
A three-judge panel of the 5th Circuit released a one-paragraph order last Thursday allowing the law to remain in effect after the appeal by the Justice Department.
In its appeal the lawyers for the Justice Department argued that the law "is plainly unconstitutional under this court's precedents […] And Texas's insistence that no party can bring a suit challenging S.B. 8 amounts to an assertion that the federal courts are powerless to halt the state's ongoing nullification of federal law. That proposition is as breathtaking as it is dangerous."
Because the case was filed on the high court's emergency docket, the justices are likely to move swiftly legal experts say – possibly within a matter of days – to take it up. 
Writing in his 113 page order, U.S. District Court Judge Robert Pitman, who blocked enforcement of S.B. 8 labeled the law an "offensive deprivation of such an important right" referring to women's reproductive rights then added;
"A person's right under the Constitution to choose to obtain an abortion prior to fetal viability is well established," Pitman wrote. "Fully aware that depriving its citizens of this right by direct state action would be flagrantly unconstitutional, (Texas) contrived an unprecedented and transparent statutory scheme to do just that."
Pitman also took aim at the provisions in the law that allows any private individual to sue abortion providers or those who aid and abet procedures that violate the law. Successful litigants can collect $10,000 under the law's provisions.
"The State created a private cause of action by which individuals with no personal interest in, or connection to, a person seeking an abortion would be incentivized to use the state's judicial system, judges, and court officials to interfere with the right to an abortion," he wrote.
Pitman then called out the Republican lawmakers who drafted the measure: "There can be no doubt that S.B. 8 was a deliberate attempt by lawmakers, notably its author, State Senator Bryan Hughes, to "find another way" around resistance to enforcement of laws criminalizing abortion."
Newsom on federal court allowing domestic violence abusers guns
"These three zealots are hellbent on a deranged vision of guns for all, leaving government powerless to protect its people"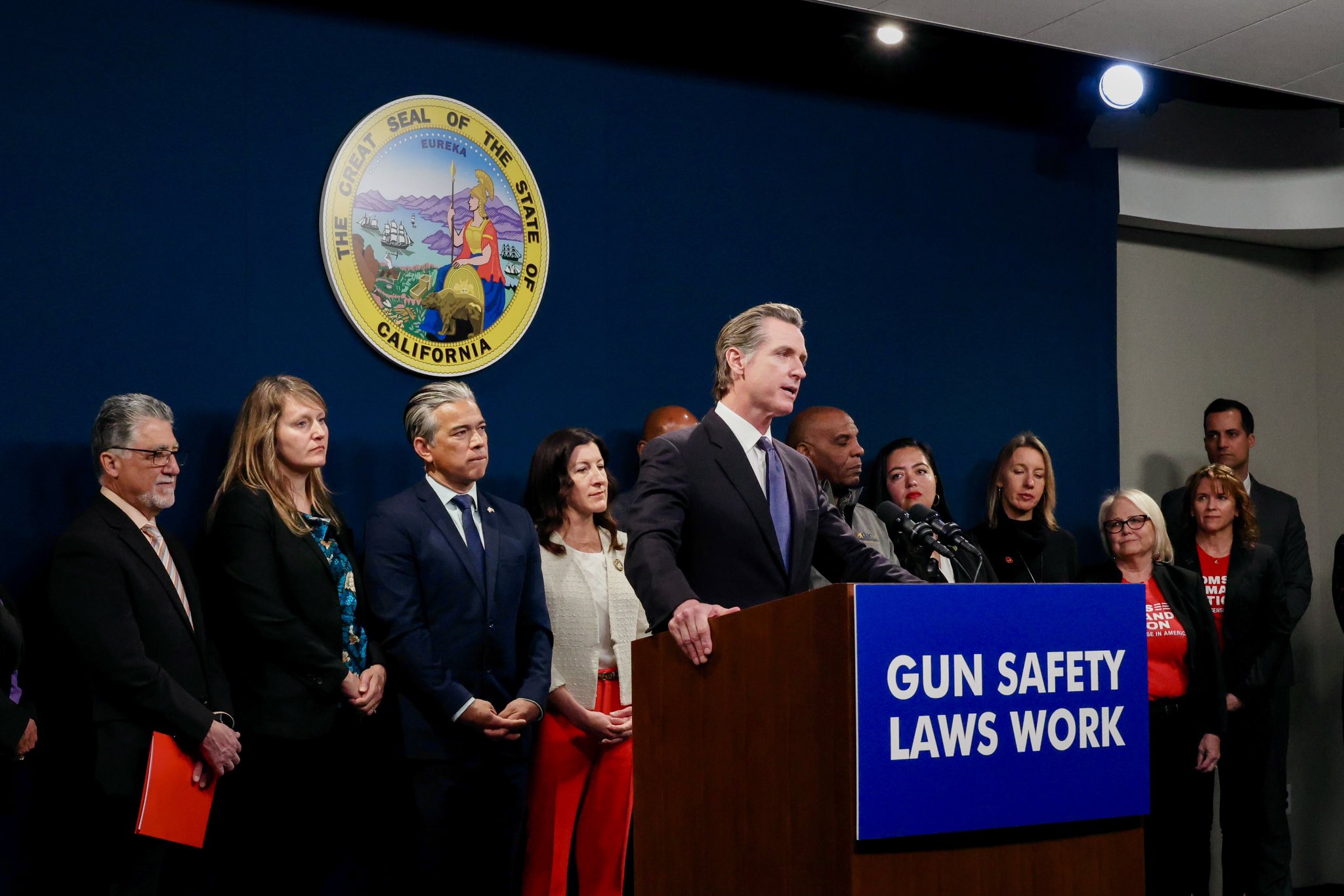 NEW ORLEANS – On Thursday, a three judge panel from the Fifth U.S. Circuit Court of Appeals, ruled that the federal law prohibiting individuals from "possessing a firearm while under a domestic violence restraining order" is unconstitutional.
Judge Cory Wilson, a Trump appointee, writing in the majority opinion in United States v. Rahimi, stated the federal law targeting those believed to pose a domestic violence threat could not stand under the Bruen test, a significant U.S. Supreme Court June 23, 2022 decision which requires that gun laws have a historical analogy to the firearm regulations in place at the time of the Constitution's framing and the Second Amendment.
CNN reported that the 5th Circuit panel was not persuaded by the historical parallels put forward by the US Justice Department, which was defending the conviction of a person who possessed a firearm while under a domestic violence restraining order that had been imposed after he was accused of assaulting his ex-girlfriend. The Justice Department argued that the domestic violence law was analogous to 17th-and 18th century regulations that disarmed "dangerous" persons.
Ian Millhiser a lawyer and constitutional expert reporting for Vox noted:
The immediate impact of this decision is that Zackey Rahimi, who "was subject to an agreed civil protective order entered February 5, 2020, by a Texas state court after Rahimi's alleged assault of his ex-girlfriend," may not be convicted of violating the federal ban on gun possession by domestic abusers.
More broadly, because the decision was handed down by the U.S. Court of Appeals for the Fifth Circuit, which presides over federal lawsuits in Louisiana, Mississippi, and Texas, this federal law can no longer be enforced in those three states.
In Sacramento, California Governor Gavin Newsom issued a statement after the judicial panel struck down the federal law:
"Now, a federal appeals court has ruled domestic abusers have the right to carry firearms. Where is the line? Who's next?
"Judge Cory Wilson, Judge James Ho, and Judge Edith Jones.
"These three zealots are hellbent on a deranged vision of guns for all, leaving government powerless to protect its people. This is what the ultra-conservative majority of the U.S. Supreme Court wants. It's happening, and it's happening right now.
"Wake up, America – this assault on our safety will only accelerate. This is serious – and it's coming to California. We are probably only weeks away from another activist judge, Judge Roger Benitez, striking down California's bans on assault weapons and large capacity magazines. California will continue to fight against these extremist judges to protect our residents' right to be free from gun violence."