Netflix walkout attracts 100 plus supporters & also a few Chappelle fans
The demonstration comes as backlash over Dave Chappelle's standup special "The Closer" on Netflix, criticized as being transphobic, continues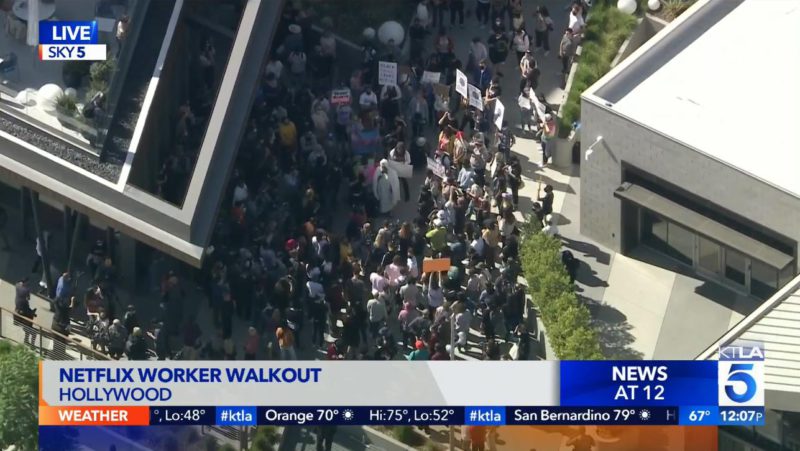 HOLLYWOOD – A walkout of Trans employees and supporters was joined by over 100 additional demonstrators in support of the transgender community outside the Netflix offices at 1341 Vine Street in Hollywood Wednesday and were also met with a handful of Chappelle fans.
Wednesday morning's demonstration comes as backlash over comedian Dave Chappelle's standup special "The Closer" on Netflix, which has been criticized as being transphobic, continues.
Organized by Los Angeles community activist Ashlee Marie Preston, the event was held "to underscore the importance of responsible content offerings that prioritize the safety and dignity of all marginalized communities," Preston wrote in a statement released a couple of days ago.
Netflix had issued a statement prior to the walkout saying: "We value our trans colleagues and allies, and understand the deep hurt that's been caused. We respect the decision of any employee who chooses to walk out, and recognize we have much more work to do both within Netflix and in our content."
Singer-songwriter, entertainer and community activist Neverending Nina was interviewed by KTLA 5 LA at the demonstration. "As Black trans people, as trans people, as non-binary people, we are ultimately all we have," she told KTLA' Erin Myers, while standing among hundreds gathered for the demonstration. "So if we don't speak up for ourselves, then who will?"
"We just want to make sure that these entities are being held accountable, and actually provide change to better the community that has been dealt trauma by issuing certain propaganda in this space," she added.
Video of the event showed several participants that carried signs, some that read "transphobia is not a joke" and "Black Trans live Matter." Several speakers addressed the crowd.
Among the speakers, which included actor and drag performer David Huggard Jr., whose stage name is Eureka O'Hara, was Leon Wu, founder of SharpeHaus. Wu, a designer, entertainment producer and BIPOC trans activist told the Blade after the protest ended;
"It's time for big entertainment, media and publicity to make a commitment to change. It's time for us all to take more social responsibility on the content we create, direct, produce and distribute to the world. I mean, just look at what we've done to ourselves in the past two years during pandemic. We've seen how much misinformation, sensationalized news and irresponsibility in public or social media can do us so…much… harm. It's time to take more social responsibility on what is ethical comedy and entertainment, what is newsworthy, and what information is positive, helpful or innovative to share in the world."
A few counter-protesters arrived carrying signs saying "We like Dave" and "We like jokes."
Counter-protester Gigi Larue said many comedians "take jabs" at everyone.
"You may not like what he has to say, but don't listen," said Gigi Larue. "You don't get to silence his voice and silence the voices of people who support him."
"Comedy is for everyone, but we also know that there is truth in jokes," Nina told Myers. "And so we if anyone has not been around a trans person ever in their life but they also have always heard jokes about trans people, then that bias will show up when they finally get introduced to trans person."
The growing outcry by LGBTQ+ advocacy groups and allies since the release earlier this month of the Netflix Dave Chappelle's comedy special The Closer, regarding transphobic and other anti-LGBTQ innuendo and statements by the comedian escalated after the company suspended one of its Trans employees.
After the special aired, Terra Field, an Out Trans Netflix senior software engineer based in San Francisco, posted a series of tweets that expressed anger over Chappelle's blatant transphobia.
Field in her Twitter thread countered the position laid out by Sarandos, pointing out that Chappelle's promoting the kind of ideology and speech can result in real-world consequences especially death for Trans people.
The situation was further enflamed when the company terminated a Black organizer of the pending October 20 walkout by its Trans employees. The employee, "who is Black and currently pregnant, asked not to be named for fear of online harassment."
Netflix Inc. Co-Chief Executive Ted Sarandos sparked internal dissent he defended the special and said it wouldn't translate to real-world harm.
Sarandos later said he "screwed up" in his efforts to communicate with the workers, the Wall Street Journal reported.
"Stand Up in Solidarity," will present co-CEO Ted Sarandos with a list of "firm asks" after the demonstration and the protest will feature a PSA from stars including Angelica Ross, Jonathan Van Ness, Jameela Jamil, Eureka O'Hara and Colton Haynes.
Additional reporting and video by Susan Hornik
Vlogger StanChris; My religious mom reacts to Norway's "gay Santa" ad
My religious mom reacts to Norway's gay Santa advertisement! Let's see what she has to say about it.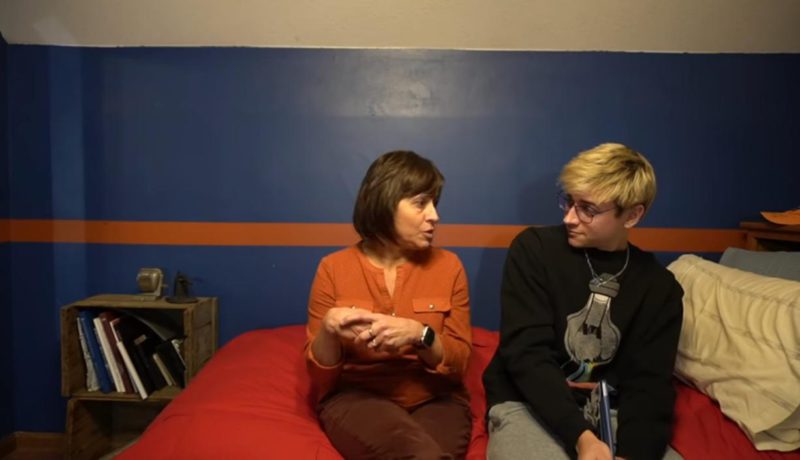 LOS ANGELES – The twenty-something StanChris, the Out YouTuber who has been building his audience on his YouTube channel by vlogging about the ordinary everyday experiences of his life as a young gay guy is back- this time interviewing his mother.
My religious mom reacts to Norway's gay Santa advertisement! Let's see what she has to say about it.
My religious mom reacts to Norway's "gay Santa" ad
********************
S O C I A L – L I N K S
→Instagram : stanchris https://instagram.com/stanchris
→ Twitter : stanchrisss https://twitter.com/stanchrisss
Subscribe here!!: https://youtube.com/c/stanchris
Watch more: https://youtu.be/rjI4c7nSXkw
Critics call gay Santa ad 'creepy' accusing it of 'sexualizing' Christmas
The ad was posted to Youtube on November 22 to pay tribute to the 50th anniversary of Norway's decision to decriminalize homosexuality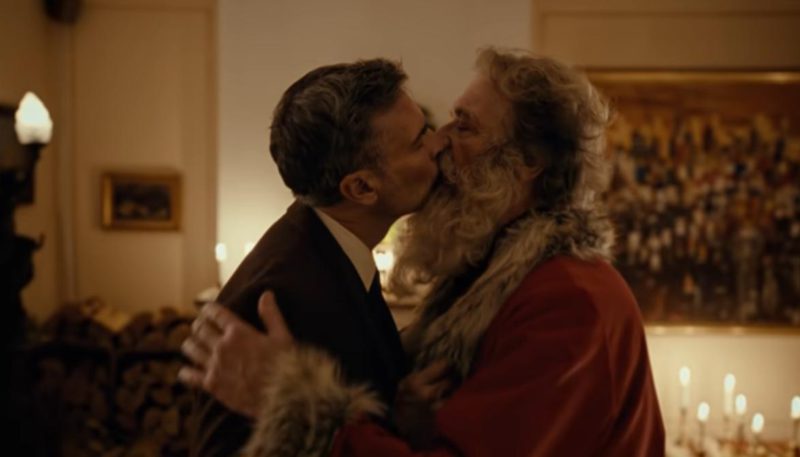 OSLO – A Norwegian Christmas ad for Norway's postal service, Posten Norge, that depicts a gay Santa struggling to balance his Christmas day duties and a male love interest has sparked an online debate with critics saying it "sexualizes" the holiday figure. 
The ad, titled "When Harry met Santa," shows a burgeoning romance between Santa and Harry that starts when the two meet one Christmas Eve. As leaves the house through the chimney that night, fireworks fill the night sky.
Over the years, the two continue to see each other on Christmas Eve and fall in love. Frustrated with only getting to see his lover once a year, Harry pens a letter to Santa that says, "Dear Santa: All I want for Christmas is you."
At the end of the nearly 4-minute ad, Santa and his lover engage in a seconds-long kiss. During their embrace, the camera pans out and a message that reads, "In 2022, Norway marks 50 years of being able to love who we want," appears.
The ad, posted to Youtube on November 22 to pay tribute to the 50th anniversary of Norway's decision to decriminalize homosexuality, has garnered over 1 million views.
"In addition to showing the flexibility of our services, we want to put it in a socially relevant setting," Posten Norge said in a statement, according to Reuters.
"Everyone should feel welcome, seen, heard, and included. This year's Christmas ad embraces this," it said.
Many have responded positively to the ad.
Canadian Member of Parliament Randall Garrison called it "strong and moving," saying the ad caused him to break his "no Xmas before December rule."
Former U.S. ambassador to Denmark Rufus Gifford tweeted: "Oh man I love Scandinavia. Imagine if the US Post Office put out an ad like this."
Others have voiced issues with the ad, calling it "creepy" and arguing that it "sexualizes" Santa.
English journalist Dawn Neesom, a columnist for the Daily Star, said as much on TalkRadio with James Max.
"This is an advert for the Norwegian postal service celebrating 50 years of being able to love who you want. However, they have sexualized Santa," Neesom said.
Max interrupted her, saying, "No they haven't sexualized Santa, this is a nonsense and you are jumping on a tabloid bandwagon. If Santa came in and kissed Mrs. Claus, you wouldn't say a word."
Neesom pushed back and maintained her point, adding that it was different because Santa married Mrs. Claus. She also argued that Harry was cheating on his spouse, but there is no indication in the ad that he has one.
Commentator Melanie Blake made a similar argument, tweeting: "If #Santa is gay these days then good for him but should we be seeing him getting off with anyone in Christmas adverts?! Seems a bit of an odd concept to me – if he was snogging a woman, it's still sexualising a figure that's mainly around for children which looks creepy to me."
In response to such comments, the Independent published an article that said, "Really? I mean … really?! Now, I know that woke-bashing has become de rigueur, and that, after the backlashes against the #MeToo and BLM campaigns, we're supposed to protect our precious and delicate cultural icons from the clutches of the baying woke mob – but are we really saying that the heartwarming romance between Harry and Santa is a woke step too far? Has Posten sexualised Santa? Oh, go and stuff your face with a selection box and give it a rest!"
It continued: "The truth is that Christmas and Santa have been sexualised for years already, and few people have batted an eye."
Vlogger StanChris asks "what it was like growing up with a gay brother?"
My straight little brother answers everyones questions about what it was like growing up and living with me before & after I came out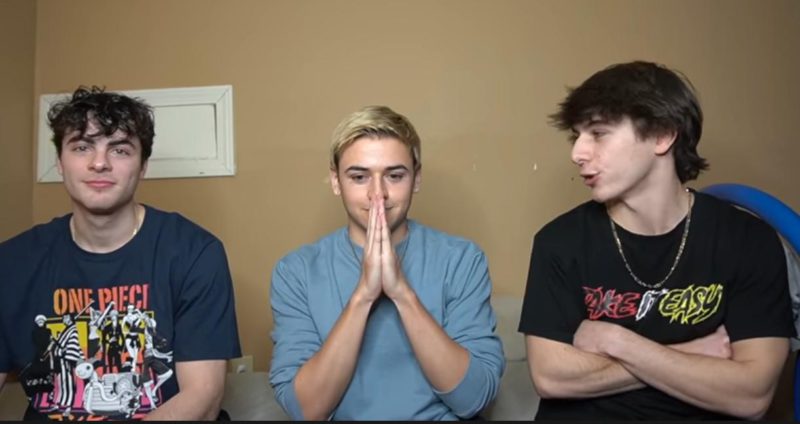 LOS ANGELES – The twenty-something StanChris, the Out YouTuber who has been building his audience on his YouTube channel by vlogging about the ordinary everyday experiences of his life as a young gay guy, is back with his straight brother and his brother's friend.
"My straight little brother answers everyones questions about what it was like growing up and living with me before & after I came out along with some other fun misc. things…"
My straight little brother answers your questions about me
********************
S O C I A L – L I N K S
→Instagram : stanchris https://instagram.com/stanchris
→ Twitter : stanchrisss https://twitter.com/stanchrisss