North Carolina's capital city passes non-discrimination LGBTQ ordinance
Statewide polling shows that 67% of people in North Carolina support protecting LGBTQ people from discrimination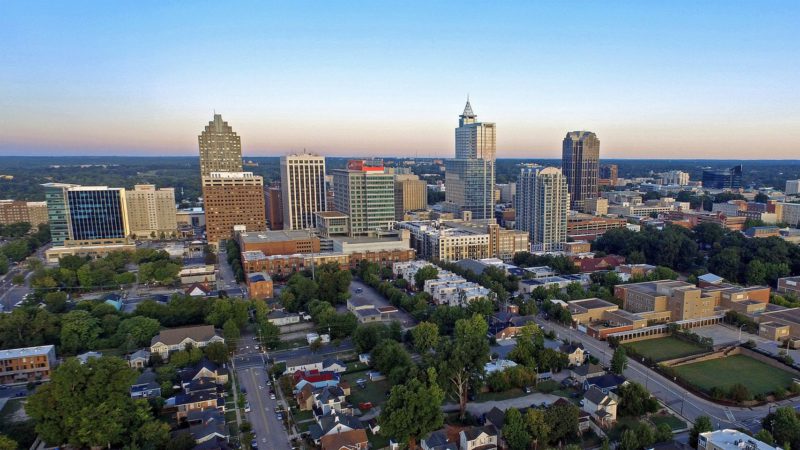 RALEIGH – The Raleigh City Council unanimously voted to join a new LGBTQ-inclusive Wake County, North Carolina, non-discrimination ordinance Tuesday, the day after the ordinance was unanimously voted and adopted by the Wake County Board of Commissioners.
This makes Raleigh the fifteenth jurisdiction in North Carolina to advance a comprehensive nondiscrimination ordinance in 2021.
The ordinance will apply only to the unincorporated areas of the county outside of city or town limits when it goes into effect on Feb. 1, 2022, unless a Wake County municipality's governing body such as the Raleigh City Council independently adopts it.
All five of North Carolina's top 5 cities have now passed LGBTQ-inclusive nondiscrimination ordinances – including Charlotte, Raleigh, Greensboro, Durham, and Winston-Salem.
"We're so pleased to see Raleigh take this historic step to expand nondiscrimination. Nearly 30 percent of the state's population is now covered by LGBTQ inclusive ordinances, and this represents a great change for the city of Raleigh and the state of North Carolina. Raleigh has taken a big step forward to protect LGBTQ people, especially for folks with multiple layers of marginalization, and this only grows momentum for the non-discrimination on the local, state, and federal level," Kendra R. Johnson, Executive Director of Equality NC, said in a statement.
"No one should be discriminated against because of who they are," said Matt Calabria, Chair of the Wake County Board of Commissioners. "Through this ordinance, we're showing our residents and the world that equality, fairness, and inclusion are core values in our community."
"I'm proud to see the Raleigh City Council come together to take action and ensure our city is a place where all people feel protected, respected, and safe. As an LGBTQ person myself, it's so meaningful to know that my city is striving for inclusivity and dignity for everyone, and as an out elected official I'm grateful to work with colleagues committed to doing the right thing," Jonathan Melton, of the Raleigh City Council, said.
The ordinance allows a person who believes a business or organization has discriminated against them to file a complaint with the County Manager's Office for investigation. If the complaint falls within the county's jurisdiction and is factually validated, the county will offer a conciliation process to help resolve the dispute.
Protected classes covered under the ordinance include: race, natural hair or hairstyles, ethnicity, creed, color, sex, pregnancy, marital or familial status, sexual orientation, gender identity or expression, national origin or ancestry, National Guard or veteran status, religious belief or non-belief, age or disability.
"This is an important step to strengthen our business community," said Adrienne Cole, president and CEO of the Raleigh Chamber. "We embrace all efforts and initiatives around diversity, equity, and inclusivity, as does our business community. The Chamber is proud to support this work, and we will continue our support through our Triangle Diversity, Equity, and Inclusivity Alliance."
"Wake County is also proud to note that Equality NC has endorsed this ordinance. It furthers the board's goal to embrace diversity, equity and inclusion," a spokesperson said Wednesday.
The nondiscrimination ordinance that protects residents and visitors from discrimination based on sexual orientation, gender identity, natural hairstyle, and other characteristics in employment and public accommodations.
Polling shows that 67% of people in North Carolina support protecting LGBTQ people from discrimination. Studies have shown that 1 in 3 LGBTQ people – including 3 in 5 transgender people – have experienced discrimination in the past year.
North Carolina county orders museum to yank photo of gay men kissing
Baldwin's photograph shows Justin Colasacco & his husband Bren Hipp kissing after Colasacco proposed at the 2019 Charlotte Pride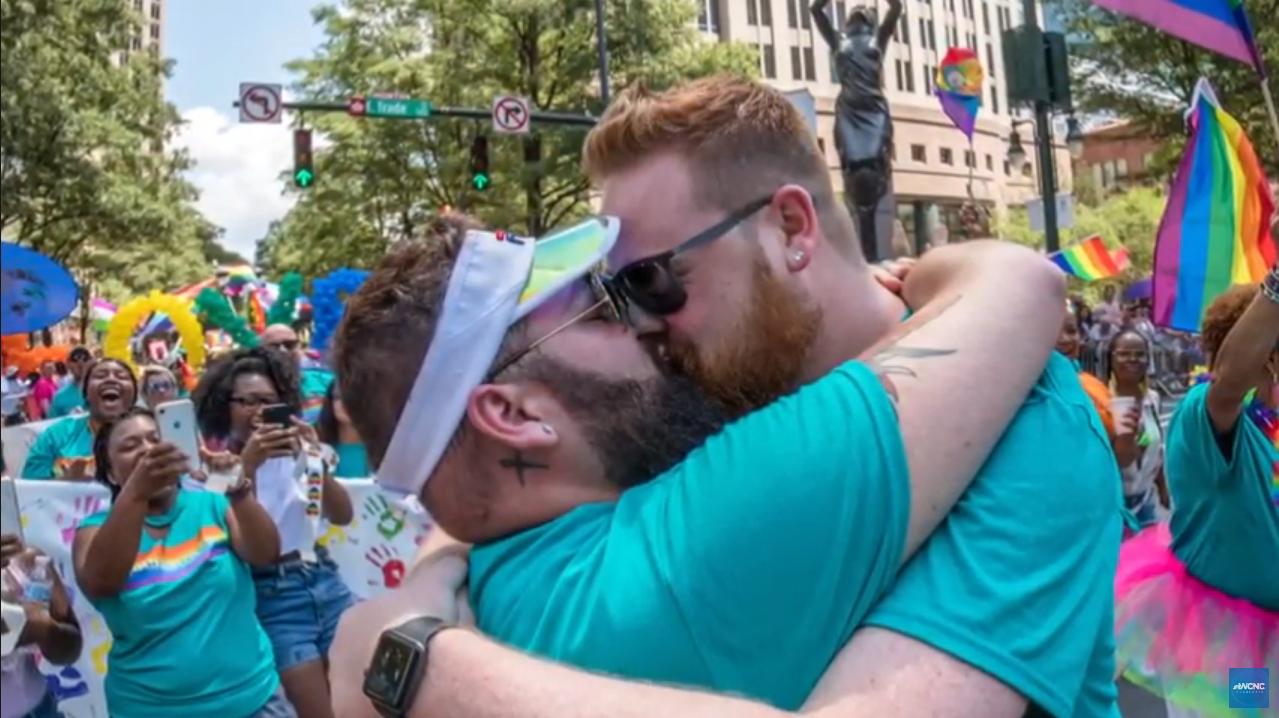 GASTONIA, Nc. – Gaston County, North Carolina's County Manager Kim Eagle ordered the staff at the county operated and funded Gaston County Museum in Dallas, to remove a photograph showing two men kissing taken by Charlotte-based photographer Grant Baldwin at the 2019 Charlotte Pride removed.
The Charlotte Observer reported that museum staff ask Baldwin for a replacement "that would be more considerate of differing viewpoints in the community."
The image shows the moment just after two men in Charlotte got engaged at the 2019 Pride Festival and Parade. https://t.co/mxPPpPbeuc

— The Charlotte Observer (@theobserver) June 16, 2022
The Observer noted that Baldwin's photograph shows Justin Colasacco and his husband Bren Hipp kissing after Colasacco dropped to one knee and proposed in front of the crowd at the 2019 Charlotte Pride Festival & Parade. They married Oct. 4, 2020.
NC museum removes historic LGBTQ photo without photographer's approval:
North Carolina Republican lawmakers introduce 'Don't Say Gay' bill
The bill would endanger transgender and gender-nonconforming youth by requiring schools to forcibly out transgender youth to their parents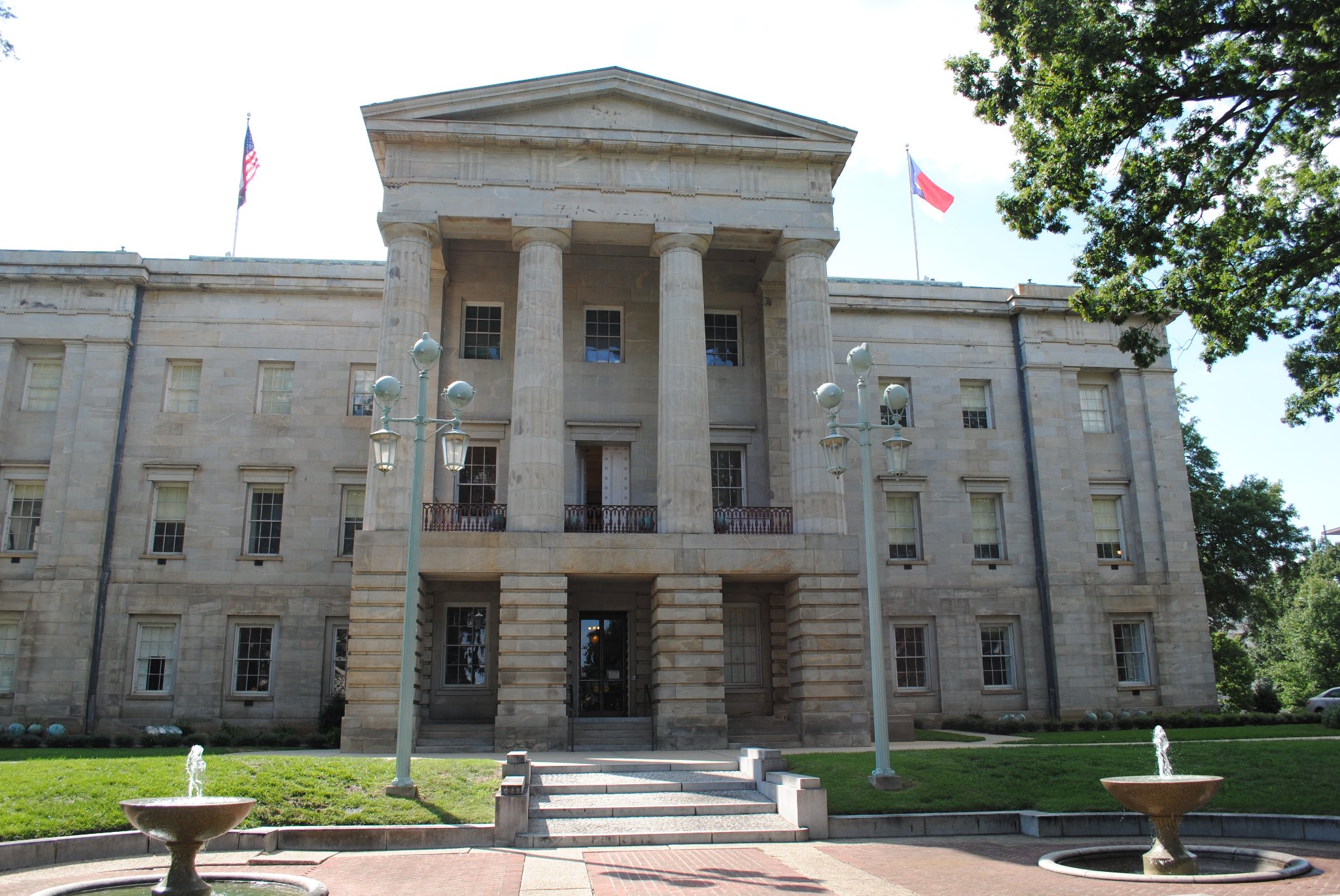 RALEIGH – The chair of the North Carolina State Senate Education Committee introduced legislation Tuesday that prohibits teaching on sexual orientation and gender identity in the state's public schools grades kindergarten through third, and would additionally require parental notice when students in any grade question their sexual identity in school.
The legislation, House Bill 755, introduced by State Sen. Deanna Ballard (R-Watauga), chair of the Education Committee along with Senate Leader Phil Berger (R-Eden) and Sen. Michael Lee (R-New Hanover) is expected to begin its path through legislative committees in the Republican-controlled General Assembly starting Wednesday.
According to NBC News affiliate WRAL, the requirements are part of a broader bill, are similar to legislation on the move in other states and the law that recently took effect in Florida. Republican lawmakers are labeling the measure as a Parents' Bill of Rights. Under the proposal, North Carolina schools would have to notify parents if students seek to use a different pronoun to describe themselves, and parents would have to sign off before students could get counseling or other non-emergency health care, WRAL reported.
The new bill's parental notice section generated concerns among opponents Tuesday that LGBTQ students, afraid of how their parents would react if they find out about their sexual identity, could no longer turn to trusted teachers for guidance.
What if a parent is abusive, state Rep. Allison Dahle, one of the legislature's few openly LGBTQ members, said after the bill was announced.
"Is the teacher going to be responsible for the child's beating," said Dahle, D-Wake. "North Carolina needs to be a safe place for everybody, and this is going to remove that safety net for children."
Charlotte Pride Board of Directors President Clark Simon said in a statement that the bill would "endanger transgender and gender-nonconforming youth by requiring schools to forcibly out transgender youth to their parents," and he noted the higher suicide rate for LGTBQ young people.
"This legislation will make this reality worse, not better," Simon said.
Right-wing Rep. Madison Cawthorn caught nude in leaked 'sexual' video
The roughly 30-second clip shows what appears to be a nude Cawthorn in a bed thrusting with his groin near the head of an unidentified male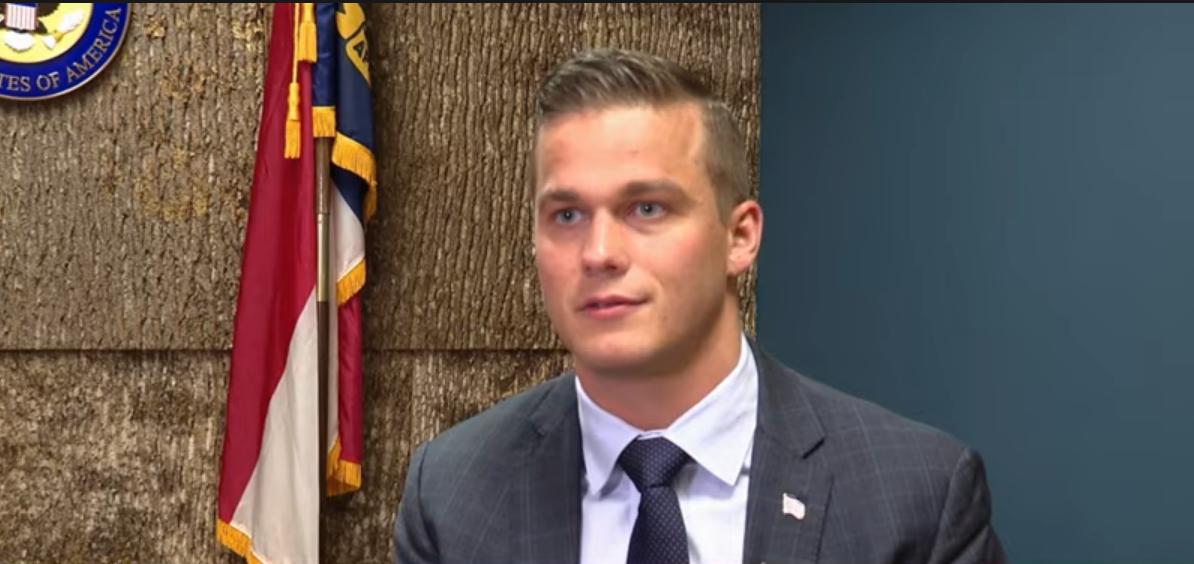 WASHINGTON – Republican U.S. Representative Madison Cawthorn, the 26-year-old freshman from North Carolina, has experienced yet another provocative social media leak. The latest, a video, shows a nude young man strongly resembling Cawthorn on a sofa 'dry humping' in a contextually simulated sexual manner another young male. A wheelchair similar to the type used by the congressman is in the foreground.
The roughly 30-second clip shows what appears to be a nude Cawthorn in a bed thrusting with his groin near the head of an unidentified male person. A male voice can be heard saying, "Oh ma yah yah oh" repeatedly. A male voice can also be heard laughing and saying, "stick it in his face."
The Congressman, who is up for reelection later this month, has drawn scrutiny recently for driving with a revoked license; two attempts to bring a loaded gun through airport security; allegations of sexual harassment; calling Ukrainian President Volodymyr Zelensky a "thug;" reportedly denying a staffer leave when two family members passed away within the same week, and another video that leaked with a male friend placing his hand on Cawthorn's genitals.
The Congressman, who has been confined to a wheelchair since an accident in 2014, has been one of the most vocal proponents to anything resembling equality. He's posed for photos with other politicians who wants to revoke LGBTQ+ rights, such as Matt Gaetz, Marjorie Taylor Green, and Lauren Boebert. All have drawn scorn for their backwards-leaning agendas.
There's an obvious parallel between Cawthorn and former conservative politician Aaron Schock, who was Republican U.S. Representative for Illinois's 18th congressional district from 2009 until 2015. Schock was under investigation for extravagant spending and eventually came out as a gay man following the release of very explicit photos.
Cawthorn is facing a slew of controversies and questions about misconduct. His recent troubles include allegations of an improper relationship with a staffer and after photos surfaced showing Cawthorn wearing women's lingerie ― images he said were from a "goofy" game on a cruise ― and a video that showed one of his male staff members grabbing his crotch. The latter video has sparked an ethics complaint.
Congressman Cawthorn's biggest scandals is now in federal court in a suit over his eligibility to run again for reelection.
Cawthorn has seemingly verified the authenticity of the video. In a tweet on Wednesday, he said: A new hit against me just dropped. Years ago, in this video, I was being crass with a friend, trying to be funny. We were acting foolish and joking. That's it. I'm NOT backing down. I told you there would be a drip drip campaign. Blackmail won't win. We will.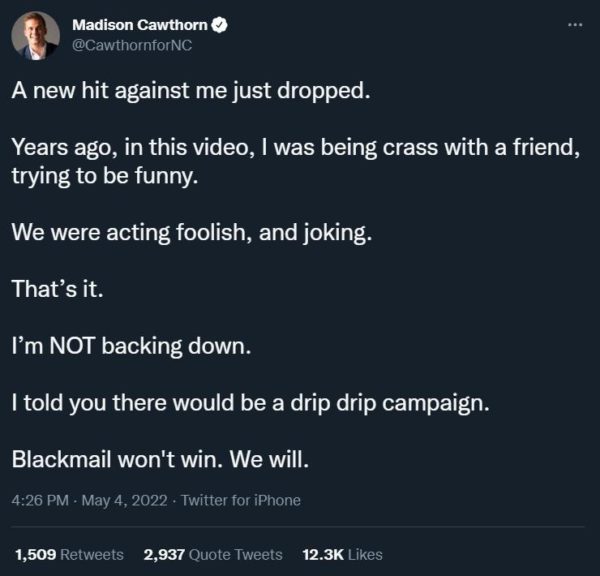 The Huffington Post reported that he has also made headlines over allegations of insider trading, trying to bring a loaded handgun onto a plane for the second time and having to surrender his driver's license after driving with a suspended license.
In late March, he also raised some eyebrows when he claimed that the D.C. elite had previously invited him to orgies and done cocaine in front of him.
Editor's note: These are links to the video. It is graphic and depicts simulated sexual acts. Viewer discretion is advised: YouTube Link: Here Twitter Link: Here