Trans HS student displays 'help protect me' sign after being secretly filmed
The student at Burns High School was "floored" when he saw a video of himself using the restroom posted to social media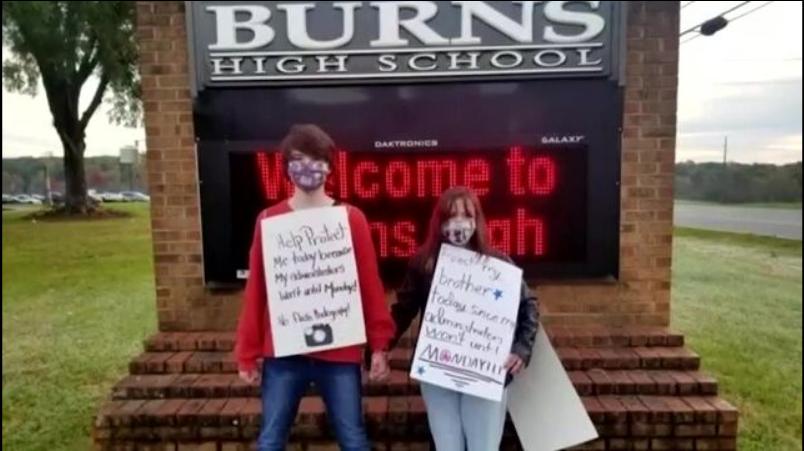 LAWNDALE, NC. — A trans high school student in Western North Carolina wore a sign urging other students to protect him after he said he was secretly filmed in a boys' restroom.
Clay Sentell, a student at Burns High School in Cleveland County, North Carolina, was "floored" when he saw a video of himself using the restroom posted to social media, reports WSOC-TV.
"I felt like my privacy was invaded. I was terrified," Sentell, 16, told the news station.
Sentell can be seen washing his hands and wearing high heels in the videos posted to Snapchat. The Burns High Junior started wearing heels this year.
"It's just who I am. It's how I express myself," he said.
Sentell's family reported the incident to the school but were not happy with the response.
Annie Sentell, Clay's mother, emailed the school's principal multiple times with no response, according to WSOC. After sending an email last Thursday saying she would show up at the office Friday morning, she finally received a response telling her she would have to wait until Monday to speak to someone.
"I think the school has just mishandled the whole situation," she said.
WRAL reports that a family friend addressed the school board about the incident.
"Some mothers, like Clay's mother, she can't let her son go to school and know he's going to be safe while he's there," said Annette Fain.
On Friday, Sentell and his sister wore signs to school urging students to protect him.
"Help protect me," Sentell's sign read.
Annie Sentell said she was "mad" when she received a call from the principal telling her that the signs were a distraction.
She decided not to attend the meeting with the principal Monday and is considering legal action, according to WSOC.
"It's made me feel nervous," Clay Sentell said. "It's made me feel scared. It's made me feel upset but regardless of all that, I'm still going to love them."
"Help protect me"
A transgender student wears a sign to Burns High, Lawndale, after learning students secretly shared video of the student in the bathroom. Clay Sentell & mother Annie said school officials were slow to respond to complaints about the violation. "I was floored". pic.twitter.com/uo91Wfn65L

— Ken (@kenlemonWSOC9) November 8, 2021
NC GOP lawmakers override Governor's vetoes of anti-trans bills
On Monday, August 21, advocates will come together for a Community Town Hall to discuss the impact of HB808, HB574, and SB49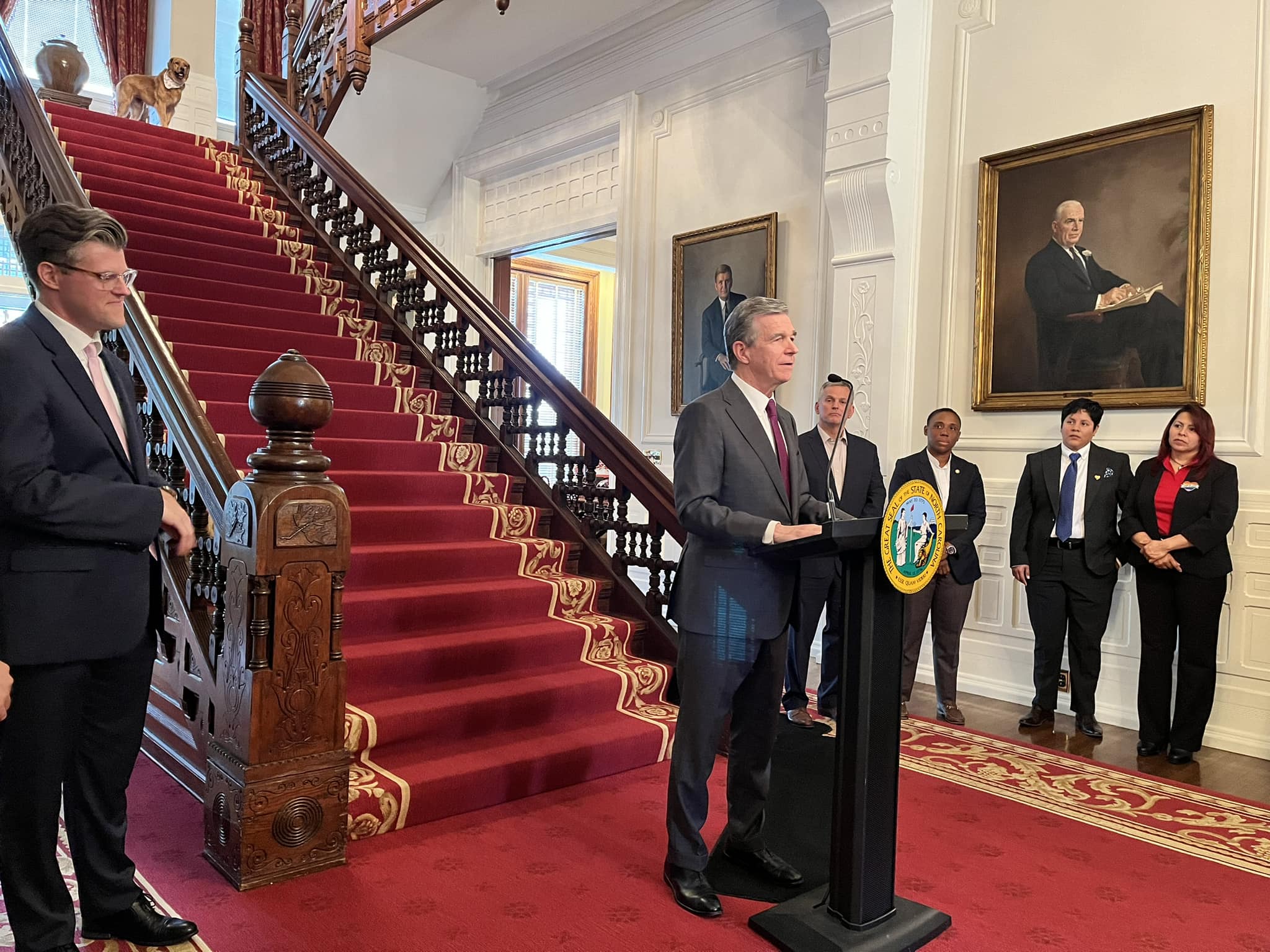 By Isabelle Kravis | RALEIGH, N.C. – The North Carolina General Assembly overrode Democratic Gov. Roy Cooper's vetoes of three anti-transgender bills in a late session Wednesday.
Cooper vetoed House Bill 574, House Bill 808 and Senate Bill 49 on July 5, stating in a press release the measures were "a triple threat of political culture wars using government to invade the rights and responsibilities of parents and doctors, hurting vulnerable children and damaging our state's reputation and economy … ."
HB 574 bans trans girls and women from playing on girls and women's middle school, high school and college sports teams. The House of Representatives overrode the veto by a 74-45 margin. The Senate followed suit.
"Since 2019, there have been only two transgender girls playing sports in the state of North Carolina … these girls are certainly not trying to destroy women's sports. These girls are just trying to belong," state Sen. Julie Mayfield (D-49) said.
HB 808 bans all health providers, public or private, in the state from providing gender-affirming care to minors. House lawmakers voted 73-46 to override the governor's veto. The Senate followed suit by a 27-18 vote margin.
"This may be the most heartbreaking bill in a heartbreaking session," state Sen. Lisa Grafstein (D-13) said. "This bill tells parents how to raise their kids … There have been so many families who have pleaded with us, testified before us, about this bill … The implication is somehow 30 people in this room know better than the families and children who know the pain we're putting them through …"
SB 49 requires public school staff to tell parents and guardians if a student asks to use a new name or set of pronouns. The Senate overrode the veto by a 27-18 vote margin, followed by a 72-47 House vote. Some teachers are already planning to protest and act against the bill, according to the Associated Press.
"The legislature finally comes back to pass legislation that discriminates … Yet they still won't pass a budget when teachers, school bus drivers and Medicaid Expansion for thousands of working people getting kicked off their health plans every week are desperately needed," Cooper said in a press release prior to votes. "These are the wrong priorities, especially when they should be working nights and weekends if necessary to get a budget passed by the end of the month."
"We need to call this what it is: An all-out attack on queer and transgender youth in North Carolina. The NCGA is going out of its way to blatantly enact the far-Right's anti-LGBTQ wish list, causing harm and discrimination to young people in every area of life, from school to the doctor's office to the athletic fields. You would have thought that the NCGA would have learned its lesson from HB2 and the havoc it caused for our state and our communities."
Allison Scott, Director of Impact & Innovation at the Campaign for Southern Equality, said:
"We know this is a very difficult time for transgender youth and their families, and for the LGBTQ+ community and our supporters across North Carolina. I also know that no law can stop the transgender community from charting our paths to thriving and living authentically – our community will make sure of that. Right now, help is available: Please reach out to our Southern Trans Youth Emergency Project to better understand your options and how you can continue to access gender-affirming care in neighboring states. We are sending solidarity and love during this relentless time."
On Monday, August 21, advocates will come together for a Community Town Hall to discuss the impact of HB808, HB574, and SB49. There, we will share resources that trans youth and their families can access, discuss how to prepare for the implementation of these cruel anti-LGBTQ+ laws, and answer questions.
💔🏳️‍⚧️🏳️‍🌈 Heart-breaking news out of the #NCGA, which voted to override Gov. Cooper's righteous vetoes of 3 anti-LGBTQ+ bills. We know this is a devastating development for queer and trans youth in NC, and we send love & solidarity to everyone impacted. https://t.co/8Zzhx8JsiC 1/8 pic.twitter.com/p4ZbImcmjS

— Southern Equality (@SouthernEqual) August 16, 2023
***********************************************************************************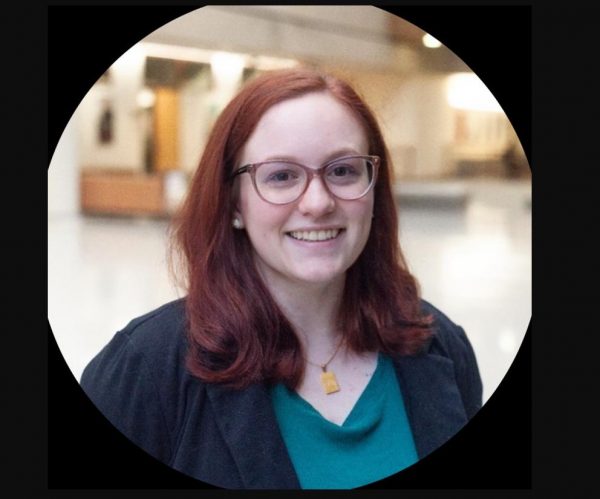 Isabelle Kravis is a senior at American University in Washington, D.C. double majoring in Journalism and Women's, Gender, and Sexuality Studies. She is the managing copy editor at The Eagle, AU's student newspaper, where she oversees the editing and fact-checking process for all of the paper's publications.
This summer she is a D.C. reporting fellow at the Washington Blade where she covers D.C.'s LGBTQ+ community and an intern for McClatchy's publishing center where she edits print stories for over 25 local papers across the country. She is passionate about telling the stories of women and the LGBTQ+ community, and likes to center her reporting work on solutions journalism and community activism. When not in class or working on a story, she can be found crocheting or at a local book store.