No stranger to firsts: Lisa Middleton talks campaign, being trans & family
She would become the first openly trans state senator in California's history if elected and second ever in the nation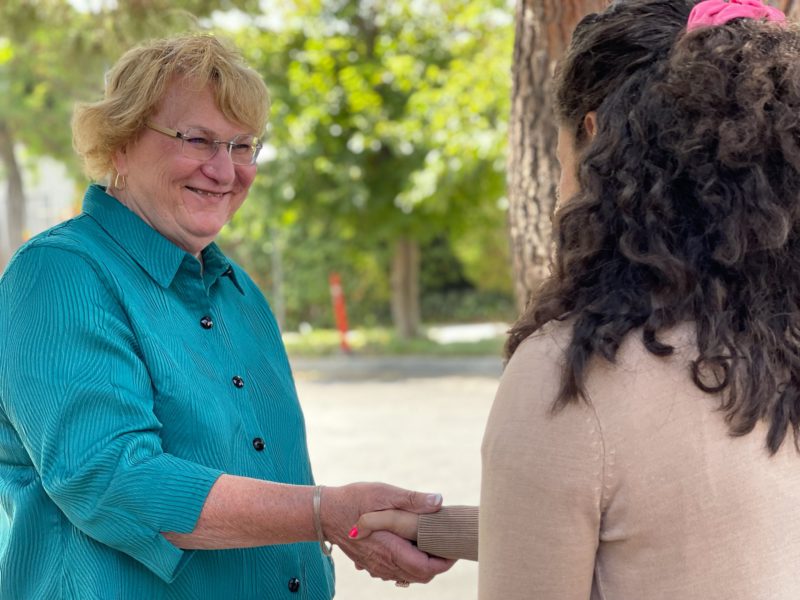 PALM SPRINGS — In 2017, Palm Springs Mayor Pro Tem Lisa Middleton made history when she was elected to city council, becoming the first openly trans person elected to a political office in California. The public service veteran now wants to make history again as she campaigns for the California State Senate.
If elected, she would become the first openly trans state senator in California's history and only the second-ever trans state senator in the U.S. — Sarah McBride, of Delaware, was the first. 
"It was an honor to and it meant so much about the kinds of opportunities that we found in Palm Springs," Middleton told the Los Angeles Blade of her 2017 election.
Middleton joined the nation's first all-LGBTQ+ city council, which also included three gay men — Robert Moon, then-Mayor, J.R. Roberts, then-Mayor Pro Tem, and Geoff Kors — and a bisexual woman, Christy Holstege, who now serves as Mayor of Palm Springs.
Middleton noted that there has been at least a majority-LGBTQ+ city council for the last 20 years while touting the success it has brought. "In those 20 years, average property values have tripled, our hotel taxes have gone up fourfold and our sales tax revenue has increased fivefold," she said. "We've brought up numerous new entrepreneurs and visitors to our community. We've not just been good for values in Palm Springs — we've been good for business."
Even though Middleton is campaigning for a State Senate seat, she hasn't lost focus on what truly matters to her: the people of Palm Springs.
"One fascinating thing about being on a city council in a place like Palm Springs is you really are connected immediately to your residents," she said. "I get stopped when I go to the grocery store, the hardware store, the restaurants, and people want to talk about the issues. When someone makes a phone call to me they expect me to answer the phone and listen to what their issue is. And Good Lord, I get hundreds of emails each and every day that people expect to get a personal answer from their city council members."
"It's a challenge sometimes to keep up with everyone," she said. "But it also just feels really good to have that direct connection to the electorate."
Middleton is campaigning for California's 28th State Senate District, a district that will be no cakewalk for her. SD-28, which includes Coachella and Temecula, went to President Joe Biden in the 2020 election — but only by 2 points.
Still, Middleton has some firepower behind her with the early support of former Democratic U.S. Sen. Barbara Boxer and the California Legislative LGBTQ Caucus.
Boxer was "thrilled" to announce her support of Middleton. "A fearless fighter for the people she represents, Lisa is a compassionate, principled and savvy leader who will fight for those most in need in Sacramento while bringing people and ideas to the table to solve big problems," she said in a statement. "California needs Lisa's forward-thinking ideas, compassion, grit and determination in the State Senate. I'm proud to offer her my enthusiastic endorsement."
The California Legislative LGBTQ Caucus offered similar words of encouragement in their statement: "Throughout her career, Lisa has been a trailblazing champion for the LGBTQ community as well as a dedicated public servant and activist working to uplift her city, particularly on the Palm Springs City Council. Additionally, the California Legislature should reflect our state's dynamic population, and it's far past time that transgender Californians were represented in Sacramento. We know that Lisa will be a pioneering, relentless advocate for the 28th District and all Californians, working tirelessly to make the state more inclusive, fair, and just. We're with her 100% and look forward to helping Lisa get elected."
The support she received was one of the main reasons she decided to run. "It was extremely helpful knowing that they had my back," she said. "It lets you know that the organizational resources that it takes to run a successful campaign was something we could put together."
A California native, Middleton has long been interested in state politics. For 36 years, working at the State Compensation Insurance Fund, dealing with workers' compensation audits in the factories and meat-packing plants not far from where she grew up in Bell Gardens in Southeastern Los Angeles County.
During her time with the insurance fund, she came out as a trans woman in 1995 with the support of her employer. "I think I was pretty good at the work I did and had earned that kind of support," she said. "But it was certainly gratifying to receive it."
She understands she was "one of the fortunate individuals," as she knows so many trans people didn't, and still don't, have the support of their employers.
"Not long before I came out, in 1995, the San Francisco Human Rights Commission had done an extensive study of transgender individuals in San Francisco, which is where I was living and working at the time," she said. "And in that study, they found an unemployment rate for transgender individuals that approached 75%. That's not just under employment, that's no employment whatsoever."
"Things have improved somewhat, but studies still reveal over and over again that transgender individuals are far more likely to be unemployed than anyone else within the LGBTQ community," she said. "That creates economic insecurity, and it is very difficult to move forward, either individually or collectively as a community when there is widespread economic insecurity."
Middleton remains somewhat hopeful about the future. However, the stark contrast between trans rights in red and blue states is holding her back from being fully optimistic.
"We're seeing really strong progress in terms of legal nondiscrimination in most progressive democratic states across the country," she said. "We're seeing the opposite and most Republican-dominated states."
According to the Human Rights Campaign, "2021 has officially surpassed 2015 as the worst year for anti-LGBTQ legislation in recent history," with more than 250 anti-queer bills introduced in state legislatures.
Those bills have especially attacked the trans community, from the sports field to the doctor's office. So far in 2021, at least eight anti-trans sports bans have been enacted in Arkansas, Alabama, Tennessee, Texas, Mississippi, Montana and West Virginia — all of which voted for former President Donald Trump in the 2020 election. Arkansas also enacted an anti-trans medical care ban.
Other than trans rights, Middleton is also focused on climate change, noting its profound effect on every facet of life. Specifically, she wants to see more charging infrastructure for electric cars and renewable energy. "What we see every single day is the abundance of over 350 days of sunshine with the regular wind that blows through the San Gorgonio Pass into the Coachella Valley," she said. "We've got an absolutely spectacular place for renewable energy projects."
She also hopes to fix a "big issue" for the people of the district she is running for: regular daily rail service to Los Angeles. "I'm going to be spending a tremendous amount of energy working with Metrolink, Riverside County Transportation Commission, California Transportation Commission, Amtrak and officials to build the third rail from Colton out to the Coachella Valley so that we can truly connect commuter rail," she said.
Growing up in a poor, blue collar working community, Middleton understands the value of hard work. She was the first in her family to attend college and she worked her way up during her 36 years at the insurance fund. When she finally retired — or at least tried to — and moved to Palm Springs in 2011, she then ended up getting involved in local government.
During her 2017 run for city council, she noted if she was able to win, she felt she could make a difference.
"I really enjoy Palm Springs and the values of this community," she said.
When asked what made serving on the city council worth ending her retirement, Middleton responded: "Every single day that I'm in Palm Springs, I encounter somebody who moved here because of the values and the affirmation that they knew they would find in the city of Palm Springs. So many of the folks that live in this community are seniors like myself and my wife, we've experienced discrimination and we have experienced being given second class status. That doesn't happen in this community."
Middleton and her wife Cheryl have been together for 21 years. They were married in 2013, soon after they moved to Palm Springs.
They met through a personal ad in the San Francisco Chronicle. "I put the ad in because I had a couple of friends who were threatening to do one for me," she said. "It ran for about a month, and it didn't work. Then a few weeks later, Cheryl picked it up, made a phone call to me, and we were living together within a matter of a few months."
Middleton is also the proud parent of an adult son and daughter, both educators. "To see the talent, love and brilliance that my kids have is just something unbelievably special," she said.
She became a grandmother this past July after the birth of her daughter's son. "He's absolutely beautiful and brilliant and wonderful," she said.
Her family, who she describes as the "treasures" of her life, have been there for her every step of the way — something she needs with the stress of working in local government and a new campaign. They also are her motivation to push into state government.
"I am running for the state senate so that my grandson and all of those kids that are starting in schools today have the kind of opportunity that I had in the latter half of the 20th century," she said. "One of the things that is incredibly humbling when I look at my grandson is that if he lives out to his normal life expectancy, he will see the 22nd century. That's the obligation that we have in government today. Build the institutions that are going to make it possible for folks 50, 60, 70 years from now to be living in a country that still has the kind of opportunity that I grew up with."
"Government creates the foundation that makes it possible for people to do their very best to be their very best," she said. "When we're at our best in government, we're creating the institutions and the support systems that allow people to show their brilliance."
Zbur is Assemblymember-elect as Abramson concedes
When Zbur is sworn in on December 5 and takes office, he will join the largest Legislative LGBTQ+ Caucus in California history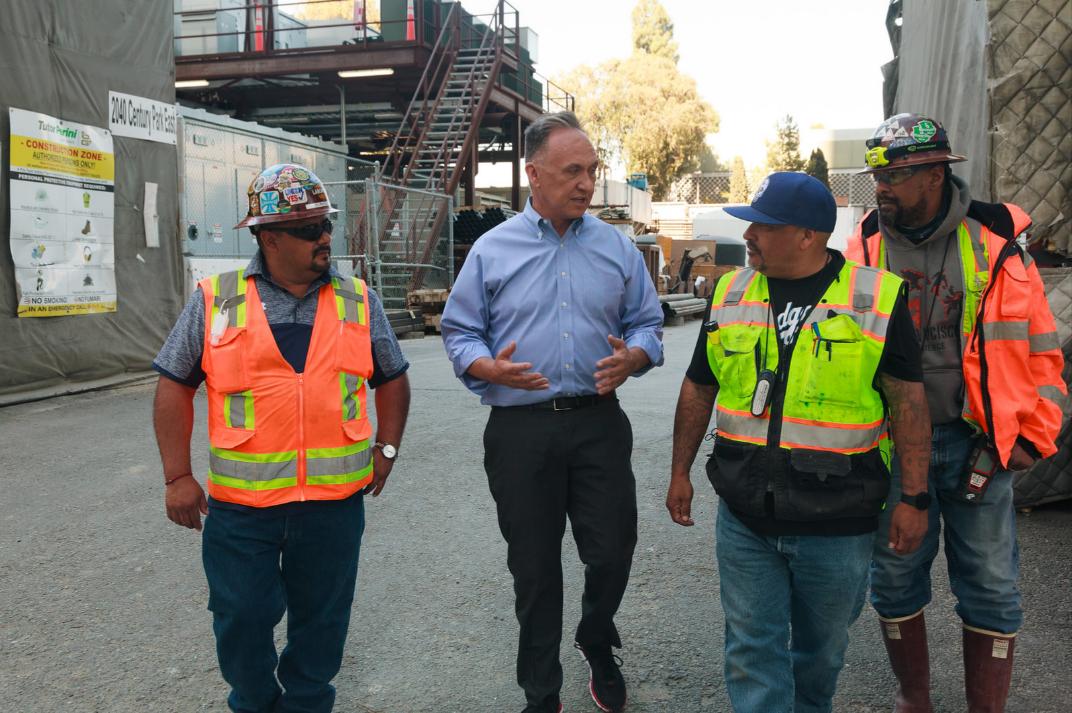 LOS ANGELES – The latest election results released by the Los Angeles County Registrar-Recorder/County Clerk's office on Tuesday indicated that former Equality California Executive Director and leading environmental attorney, Rick Chavez Zbur, had won the seat to represent California's 51st Assembly District.
Zbur's opponent Louis Abramson issued a statement of concession congratulating the Assemblymember-elect:
"One of our campaign mantras is: The hard part comes after the hard part. Well, this is the hard part. While many votes are outstanding, we're at 44.6%. Having been outspent nearly eight to one by a well known opponent, this achievement is incredible. Nonetheless, we don't see a path to 50%+1. With a full heart and a grateful soul, it's time to close this chapter.
I want to congratulate Rick Zbur on his victory in this race. I will do everything I can to help him succeed in confronting the existential challenges facing our shared community—homelessness, housing affordability, mental health reform, and climate change.
Rick ran with generosity and kindness. His previous work made California more equitable and just. It has been a privilege to campaign with him and to have the opportunity to advance that work. Rick will be an effective advocate for our district. I look forward to being his partner in repairing our world, and I invite you all to join me." 
In an email to the Blade Tuesday afternoon, Zbur wrote:
"As the votes continue to be counted, our campaign is confident that our margin of victory will continue to grow.  I'm incredibly humbled and grateful to the voters across AD-51 who powered our campaign to a victorious finish. We are proud that we won with a substantial margin in every city across the district.  This victory was only possible because of the dedication and effort of thousands of people —supporters, contributors, and volunteers who fueled our campaign, and I am incredibly grateful. I'm also deeply proud that my victory ensures that the 51st District—and the County of Los Angeles—finally has the LGBTQ+ representation in the State Assembly that it deserves. 
I would like to congratulate my opponent Louis Abramson for his dedication to our community, and for running an energetic campaign that was focused on the issues—many of which we agree about. I appreciate his gracious congratulations call yesterday and his offer to work together in the future to improve the lives of the people of California.
Our campaign was never about one person – it was about ensuring real change and lasting progress to improve the lives of the people of California and the 51st District. It was about assuring that our government tackles effectively the issues that matter most—affordable housing and homelessness, climate action, safer and sustainable communities, good jobs with good pay and safe working conditions, civil rights and social justice for all, and more. I'm proud of the movement we have built and I look forward to beginning the hard work to achieve a government that works for every Californian, especially our most vulnerable.  I am excited to begin my work in the Assembly to deliver for families across the 51st District."
Early on in his candidacy Zbur received the backing of various organizations and political groups including labour, civic, environmental as well as this newspaper. Zbur was endorsed by Equality California early in April 2021, alongside the California Legislative LGBTQ+ Caucus.
When Zbur is sworn in on December 5 and takes office, he will join the largest Legislative LGBTQ+ Caucus in California history.
Equality California released the following statement from its Executive Director Tony Hoang celebrating the victory:
"My friend Rick Chavez Zbur has spent his career fighting for justice and is exactly the type of champion LGBTQ+ Californians need in the Assembly. From a small farming community in the Rio Grande Valley to the halls of the California Capitol, Rick's life has been defined by service to his community and his country. I know that his bold, experienced leadership will continue to move our state forward, and he will deliver progressive results for the people of the 51st Assembly District.
"Equality California looks forward to being a partner to Rick in his new role, as we continue our shared fight for a world that is healthy, just and fully equal for all LGBTQ+ people." 
California's 51st Assembly District includes West Los Angeles, Hollywood and West Hollywood.
MEMBER OF THE STATE ASSEMBLY, 51st District
| Candidate(s) | Votes | Percent |
| --- | --- | --- |
| RICK CHAVEZ ZBUR (D) | 57,323 | 55.40% |
| LOUIS ABRAMSON (D) | 46,145 | 44.60% |