No stranger to firsts: Lisa Middleton talks campaign, being trans & family
She would become the first openly trans state senator in California's history if elected and second ever in the nation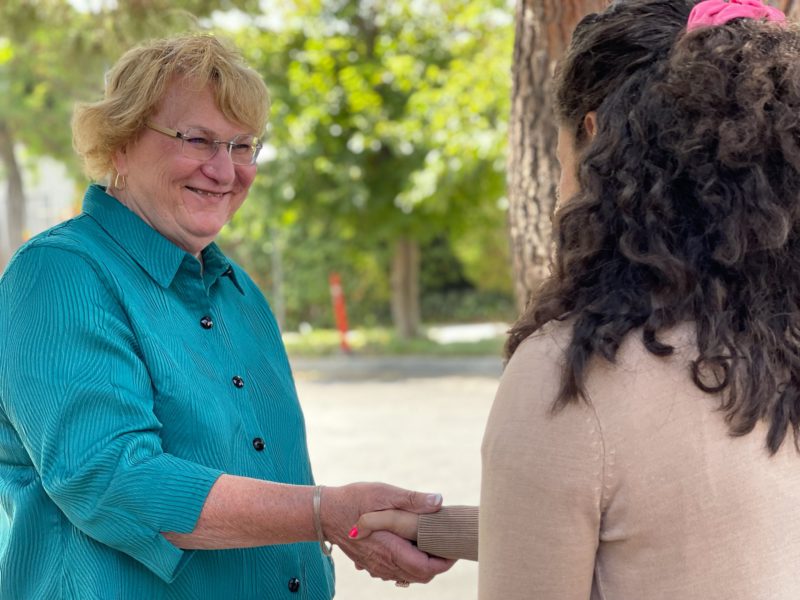 PALM SPRINGS — In 2017, Palm Springs Mayor Pro Tem Lisa Middleton made history when she was elected to city council, becoming the first openly trans person elected to a political office in California. The public service veteran now wants to make history again as she campaigns for the California State Senate.
If elected, she would become the first openly trans state senator in California's history and only the second-ever trans state senator in the U.S. — Sarah McBride, of Delaware, was the first. 
"It was an honor to and it meant so much about the kinds of opportunities that we found in Palm Springs," Middleton told the Los Angeles Blade of her 2017 election.
Middleton joined the nation's first all-LGBTQ+ city council, which also included three gay men — Robert Moon, then-Mayor, J.R. Roberts, then-Mayor Pro Tem, and Geoff Kors — and a bisexual woman, Christy Holstege, who now serves as Mayor of Palm Springs.
Middleton noted that there has been at least a majority-LGBTQ+ city council for the last 20 years while touting the success it has brought. "In those 20 years, average property values have tripled, our hotel taxes have gone up fourfold and our sales tax revenue has increased fivefold," she said. "We've brought up numerous new entrepreneurs and visitors to our community. We've not just been good for values in Palm Springs — we've been good for business."
Even though Middleton is campaigning for a State Senate seat, she hasn't lost focus on what truly matters to her: the people of Palm Springs.
"One fascinating thing about being on a city council in a place like Palm Springs is you really are connected immediately to your residents," she said. "I get stopped when I go to the grocery store, the hardware store, the restaurants, and people want to talk about the issues. When someone makes a phone call to me they expect me to answer the phone and listen to what their issue is. And Good Lord, I get hundreds of emails each and every day that people expect to get a personal answer from their city council members."
"It's a challenge sometimes to keep up with everyone," she said. "But it also just feels really good to have that direct connection to the electorate."
Middleton is campaigning for California's 28th State Senate District, a district that will be no cakewalk for her. SD-28, which includes Coachella and Temecula, went to President Joe Biden in the 2020 election — but only by 2 points.
Still, Middleton has some firepower behind her with the early support of former Democratic U.S. Sen. Barbara Boxer and the California Legislative LGBTQ Caucus.
Boxer was "thrilled" to announce her support of Middleton. "A fearless fighter for the people she represents, Lisa is a compassionate, principled and savvy leader who will fight for those most in need in Sacramento while bringing people and ideas to the table to solve big problems," she said in a statement. "California needs Lisa's forward-thinking ideas, compassion, grit and determination in the State Senate. I'm proud to offer her my enthusiastic endorsement."
The California Legislative LGBTQ Caucus offered similar words of encouragement in their statement: "Throughout her career, Lisa has been a trailblazing champion for the LGBTQ community as well as a dedicated public servant and activist working to uplift her city, particularly on the Palm Springs City Council. Additionally, the California Legislature should reflect our state's dynamic population, and it's far past time that transgender Californians were represented in Sacramento. We know that Lisa will be a pioneering, relentless advocate for the 28th District and all Californians, working tirelessly to make the state more inclusive, fair, and just. We're with her 100% and look forward to helping Lisa get elected."
The support she received was one of the main reasons she decided to run. "It was extremely helpful knowing that they had my back," she said. "It lets you know that the organizational resources that it takes to run a successful campaign was something we could put together."
A California native, Middleton has long been interested in state politics. For 36 years, working at the State Compensation Insurance Fund, dealing with workers' compensation audits in the factories and meat-packing plants not far from where she grew up in Bell Gardens in Southeastern Los Angeles County.
During her time with the insurance fund, she came out as a trans woman in 1995 with the support of her employer. "I think I was pretty good at the work I did and had earned that kind of support," she said. "But it was certainly gratifying to receive it."
She understands she was "one of the fortunate individuals," as she knows so many trans people didn't, and still don't, have the support of their employers.
"Not long before I came out, in 1995, the San Francisco Human Rights Commission had done an extensive study of transgender individuals in San Francisco, which is where I was living and working at the time," she said. "And in that study, they found an unemployment rate for transgender individuals that approached 75%. That's not just under employment, that's no employment whatsoever."
"Things have improved somewhat, but studies still reveal over and over again that transgender individuals are far more likely to be unemployed than anyone else within the LGBTQ community," she said. "That creates economic insecurity, and it is very difficult to move forward, either individually or collectively as a community when there is widespread economic insecurity."
Middleton remains somewhat hopeful about the future. However, the stark contrast between trans rights in red and blue states is holding her back from being fully optimistic.
"We're seeing really strong progress in terms of legal nondiscrimination in most progressive democratic states across the country," she said. "We're seeing the opposite and most Republican-dominated states."
According to the Human Rights Campaign, "2021 has officially surpassed 2015 as the worst year for anti-LGBTQ legislation in recent history," with more than 250 anti-queer bills introduced in state legislatures.
Those bills have especially attacked the trans community, from the sports field to the doctor's office. So far in 2021, at least eight anti-trans sports bans have been enacted in Arkansas, Alabama, Tennessee, Texas, Mississippi, Montana and West Virginia — all of which voted for former President Donald Trump in the 2020 election. Arkansas also enacted an anti-trans medical care ban.
Other than trans rights, Middleton is also focused on climate change, noting its profound effect on every facet of life. Specifically, she wants to see more charging infrastructure for electric cars and renewable energy. "What we see every single day is the abundance of over 350 days of sunshine with the regular wind that blows through the San Gorgonio Pass into the Coachella Valley," she said. "We've got an absolutely spectacular place for renewable energy projects."
She also hopes to fix a "big issue" for the people of the district she is running for: regular daily rail service to Los Angeles. "I'm going to be spending a tremendous amount of energy working with Metrolink, Riverside County Transportation Commission, California Transportation Commission, Amtrak and officials to build the third rail from Colton out to the Coachella Valley so that we can truly connect commuter rail," she said.
Growing up in a poor, blue collar working community, Middleton understands the value of hard work. She was the first in her family to attend college and she worked her way up during her 36 years at the insurance fund. When she finally retired — or at least tried to — and moved to Palm Springs in 2011, she then ended up getting involved in local government.
During her 2017 run for city council, she noted if she was able to win, she felt she could make a difference.
"I really enjoy Palm Springs and the values of this community," she said.
When asked what made serving on the city council worth ending her retirement, Middleton responded: "Every single day that I'm in Palm Springs, I encounter somebody who moved here because of the values and the affirmation that they knew they would find in the city of Palm Springs. So many of the folks that live in this community are seniors like myself and my wife, we've experienced discrimination and we have experienced being given second class status. That doesn't happen in this community."
Middleton and her wife Cheryl have been together for 21 years. They were married in 2013, soon after they moved to Palm Springs.
They met through a personal ad in the San Francisco Chronicle. "I put the ad in because I had a couple of friends who were threatening to do one for me," she said. "It ran for about a month, and it didn't work. Then a few weeks later, Cheryl picked it up, made a phone call to me, and we were living together within a matter of a few months."
Middleton is also the proud parent of an adult son and daughter, both educators. "To see the talent, love and brilliance that my kids have is just something unbelievably special," she said.
She became a grandmother this past July after the birth of her daughter's son. "He's absolutely beautiful and brilliant and wonderful," she said.
Her family, who she describes as the "treasures" of her life, have been there for her every step of the way — something she needs with the stress of working in local government and a new campaign. They also are her motivation to push into state government.
"I am running for the state senate so that my grandson and all of those kids that are starting in schools today have the kind of opportunity that I had in the latter half of the 20th century," she said. "One of the things that is incredibly humbling when I look at my grandson is that if he lives out to his normal life expectancy, he will see the 22nd century. That's the obligation that we have in government today. Build the institutions that are going to make it possible for folks 50, 60, 70 years from now to be living in a country that still has the kind of opportunity that I grew up with."
"Government creates the foundation that makes it possible for people to do their very best to be their very best," she said. "When we're at our best in government, we're creating the institutions and the support systems that allow people to show their brilliance."
Governor Newsom & Legislative Leaders to expedite gun reform legislation
"California will not stand by as kids across the country are gunned down- Guns are now the leading cause of death for kids in America"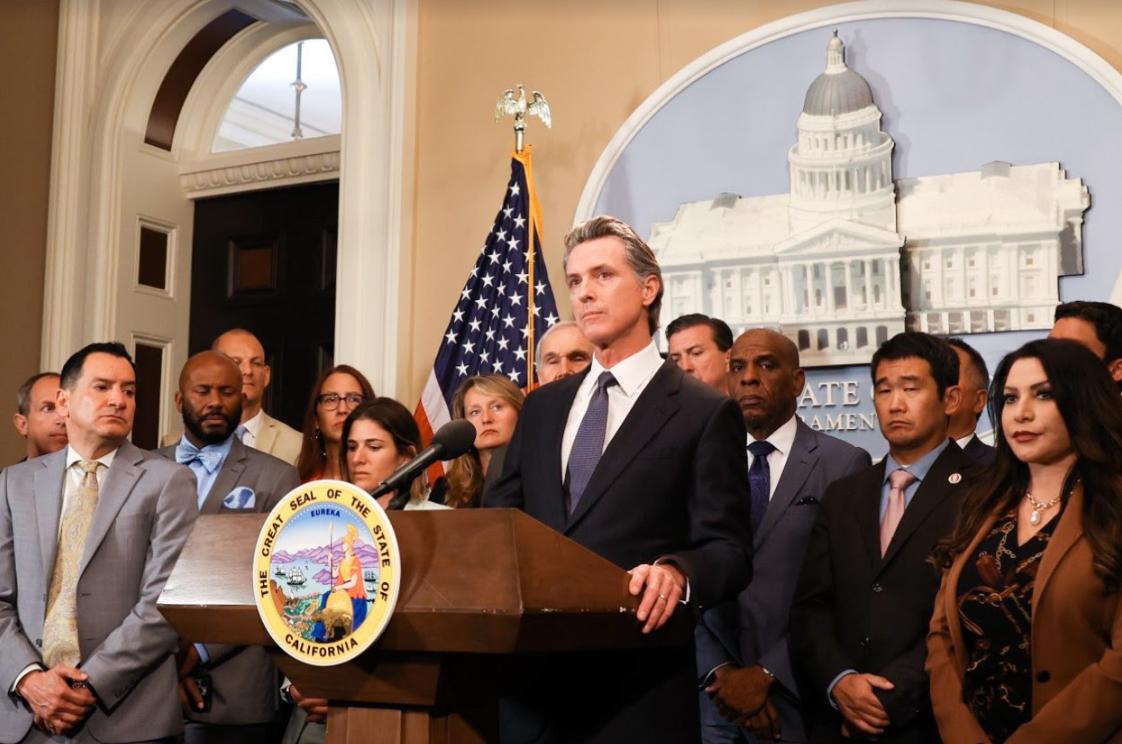 SACRAMENTO – Following a mass shooting at an elementary school in Texas that left at least 19 children and two adults dead Tuesday, Governor Gavin Newsom, Senate President pro Tempore Toni G. Atkins (D-San Diego) and Assembly Speaker Anthony Rendon (D-Lakewood) announced California will expedite commonsense gun safety laws that will protect people from gun violence.
"California will not stand by as kids across the country are gunned down," Governor Newsom said. "Guns are now the leading cause of death for kids in America. While the U.S. Senate stands idly by and activist federal judges strike down commonsense gun laws across our nation, California will act with the urgency this crisis demands. The Second Amendment is not a suicide pact. We will not let one more day go by without taking action to save lives."
"We have gotten to a point where we can't live our lives without the very real fear that every time we say goodbye to our children, spouses, and friends, it could be the last," said Senate President pro Tempore Toni G. Atkins (D-San Diego).
"These dreadful, devastating tragedies have to stop. Every politician, judge, or Supreme Court Justice who has opted to put more guns on our streets needs to resign today and hang their heads in deep shame. We have to do everything in our power to get guns out of our classrooms and grocery stores and away from people who should never have them. That includes our work this week to move expeditiously on more than a dozen bills that make our communities safer, and I'll be continuing to work alongside Speaker Rendon and Governor Newsom to ensure that these bills move swiftly through the legislative process so that they can start to make positive change in our communities."

"In the face of repeated tragedies in our state and elsewhere, California remains committed to doing everything we can to stem the violence," said Assembly Speaker Anthony Rendon. "As a society, we must do better."

"There have been more mass shootings in the U.S. in 2022 than days in the year," said California Attorney General Rob Bonta.
"In California, we refuse to accept the current norm. We will continue to call on our federal leaders and neighboring states to do more, because our nation's current standard for preventing gun violence is unacceptable. Our children should not suffer this burden. Active shooter drills, metal detectors, and schools that look like prisons are not the answer — we need commonsense gun safety laws. We are sick and tired of seeing young and promising lives cut short due to gun violence. We at the California Department of Justice and leaders throughout California know that addressing gun violence is critical to public safety. As your Attorney General, I vow to do much more than send thoughts and prayers — I will use the full force of the law and my office to end gun violence."
An initial package of bills the Governor has committed to signing include:
AB 2571 (Bauer-Kahan) – Restricts advertising of firearms to minors
AB 1621 (Gipson) – Restricts ghost guns and the parts and kits used to build them
SB 1327 (Hertzberg) – Creates private right of action to limit spread of illegal assault weapons and ghost guns
AB 1594 (Ting) – Allows governments and victims of gun violence to sue manufacturers and sellers of firearms
Governor Newsom and legislative leaders said they will continue working together to expedite additional bills pending before the legislature aimed at curbing gun violence and increasing safety in California communities.
"I heard the news about Uvalde, just as I was getting ready to pick up my kids from school. I can see how this can happen at any school, anywhere in the country," said Assembly Member Miguel Santiago who represents a portion of downtown Los Angeles.
"This comes on top of shootings in Buffalo, Laguna Hills, and at Grand Central Market one block from my District Office. We need stricter gun laws and we need them right now! That's why I'm proud to join Governor Newsom and legislative leaders in the call for gun safety laws. I am also co-authoring AB 1594 (Asm. Ting) which helps gun violence survivors pursue legal action against gun manufacturers and AB 1621 (Asm. Gipson) which will help us get ghost guns off our streets for good," Santiago added.
Trans Inclusive Health Care Act passes California State Senate
This first-in-the-nation legislation will help create a more inclusive and culturally competent healthcare system for TGI people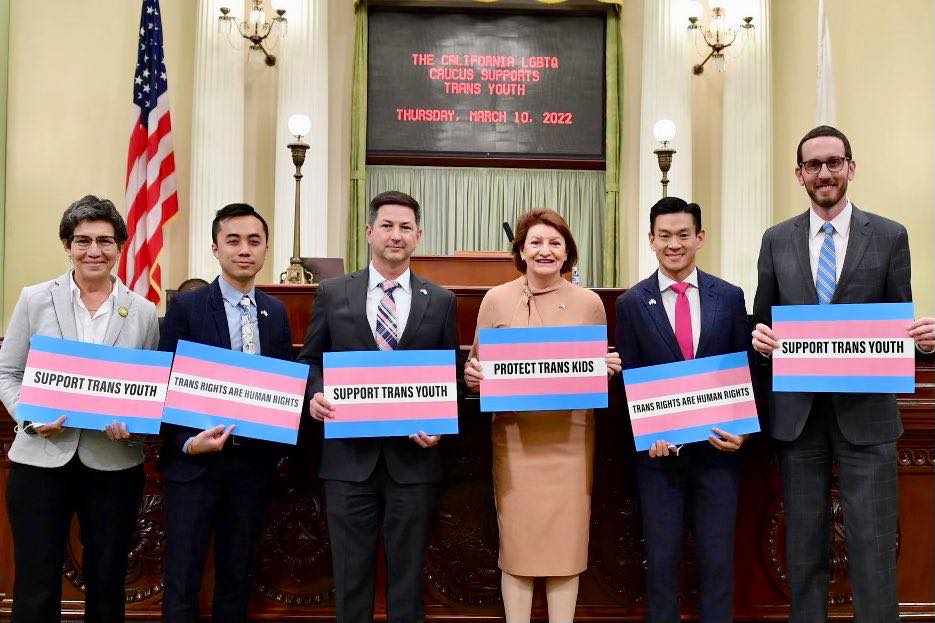 SACRAMENTO – Senator Scott Wiener's (D-San Francisco) Senate Bill 923, the TGI Inclusive Care Act passed the Senate by a vote of 28-6. It now heads to the Assembly for policy committee hearings.
This first-in-the-nation legislation will help create a more inclusive and culturally competent healthcare system for TGI (transgender, gender non-conforming, and intersex) people in California by requiring:
● That physician Continuing Medical Education (CME) include evidence-based cultural competent studies to help physicians provide inclusive care for TGI people
● That the Health and Human Services Agency issue enforceable quality standards for treating TGI patients
● That health insurance companies provide TGI cultural competency training for their employees
● That health insurance companies, in their network directories, include a list of providers who offer gender-affirming services, so that TGI people know where to go for specialized care
● That the relevant oversight agencies track and monitor complaints relating to TGI-inclusive care and publicly post findings in their annual reports or website
SB 923 comes at a time when LGBTQ people — and particularly transgender children — are under attack across the country by right-wing state leaders. Many of those attacks seek to criminalize gender-affirming care.
In February, Texas Governor Greg Abbott issued an executive order making it illegal for parents to allow their trans kids to receive gender-affirming care. These parents could have their children taken away and be sent to prison simply for allowing their children to be who they are and receive this necessary care.
Abbott called gender-affirming care "child abuse."
Alabama just enacted a law imposing ten-year state prison sentences on parents and physicians who allow or provide gender-affirming care to their children.
In Florida, Governor Ron DeSantis signed the "Don't Say Gay" law, banning discussions about gender identity and sexual orientation from public school classrooms.
"As more and more red states ban gender-affirming care and try to erase LGBTQ people, California must step up to ensure strong access to health care," said Wiener. "That includes ensuring that trans people are treated with respect and dignity by health care providers. While many health care professionals provide excellent care to trans people, more work remains. Improved training, clear standards, and improved network directories will result in better care for TGI people."
While LGBTQ kids are under attack in Texas, Alabama, Florida, and other states, SB 923 shows a different path forward — one in which quality gender-affirming care is provided for anyone who needs it, with providers going above and beyond to treat TGI patients with the respect and care they deserve.
Healthcare discrimination and a lack of access to culturally competent care is a major problem that many TGI people regularly face. The National Center for Transgender Equality reports that one-third of all transgender individuals who saw a healthcare professional in 2014 had at least one negative experience related to being transgender, with even higher rates for people of color and people with disabilities. These negative experiences include being refused treatment, verbally harassed, physically or sexually assaulted, or having to teach the provider about transgender people in order to receive appropriate care.[1]
This is especially problematic given that TGI people, compared with the general population, suffer from more chronic health conditions. TGI people experience higher rates of health problems related to HIV/AIDS, substance use, mental illness, and sexual and physical violence, as well as a higher prevalence and earlier onset of disabilities that can also lead to longterm health issues. Sadly, 23% of transgender individuals reported that fear of discrimination caused them to postpone or not receive necessary medical care.[2]
Moreover, while all health plans are required to cover gender-affirming care, it can be difficult for TGI patients to actually find providers who routinely offer this care. This is a major impediment to TGI people accessing the care they need.
Every person deserves to receive quality, compassionate health care from understanding, informed, and respectful providers – providers who don't make assumptions about their gender or sexuality, and who honor their bodily autonomy. TGI people already face so many obstacles outside of the healthcare system, including higher rates of violence, workplace discrimination, ostracization from families and religious communities, and housing discrimination. Going to the doctor should not mean facing additional discrimination or unecessary hardship.
TGI people should have access to positive healthcare experiences. This includes seeing providers who are able to give them the care they need in a non-judgmental and supportive environment, and being able to search for providers who provide gender-affirming services (gender-affirming services include but are not limited to: chest reconstruction, mastectomy, facial feminization surgery, hysterectomy, voice masculinization or feminization, hormone therapy related to gender dysphoria or intersex conditions, gender-affirming gynecological care, or voice therapy related to gender dysphoria or intersex conditions). Gender-affirming care is critically important health care, and anyone who needs it should be able to find and access it.
The TGI-Inclusive Care Act will help create a healthcare system that meets the needs of TGI people, and provide a more positive patient experience.
SB 923 is sponsored by the California LGBTQ Health and Human Services Network, Equality California, National Health Law Program Trans Community Project, TransFamily Support Services, and Western Center on Law & Poverty. It is co-authored by Assemblymembers Sabrina Cervantes (D-Corona), Evan Low (D-San Jose), Alex Lee (D-Fremont), and Cristina Garcia (D-Bell Gardens).
Senator Wiener's No Tax Exemption for Insurrection Act, passes Senate
Senate Bill SB 834 strips state tax-exempt status from organizations that engage in or incite insurrection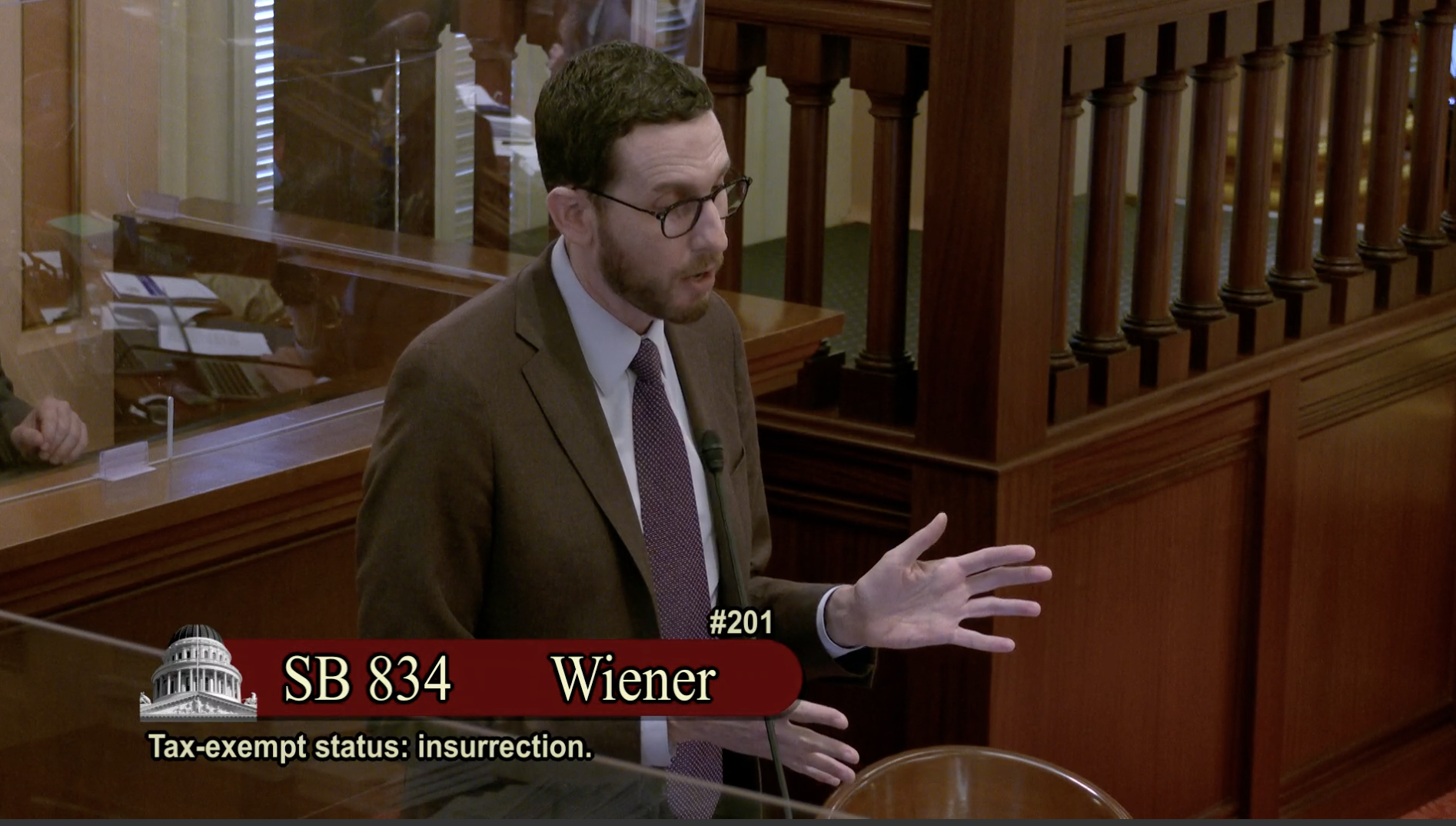 SACRAMENTO – Senator Scott Wiener (D-San Francisco)'s Senate Bill 834, the No Tax Exemption for Insurrection Act, passed the Senate by a vote of 28-0 Monday. It will now head to the Assembly for policy committee hearings.
SB 834 is a first-in-the-nation bill that will revoke the California tax-exempt status of nonprofit organizations that participate in or incite efforts to overthrow the United States government or any state government. Nonprofit organizations have used the "Big Lie" – the fraudulent notion that the 2020 election was stolen – to fundraise for and funnel money to extremist and anti-democratic initiatives like the January 6 insurrection.
Tax-exempt status is a privilege, not a right, and organizations that engage in or incite insurrection or conspiracy to commit insurrection – both of which are illegal – should not be given this special status to help them fundraise. Moreover, non-California nonprofits should not be able to register to raise money in California if they are engaging in or inciting insurrection.
"On January 6, 2021, the peaceful transfer of power in our democracy was threatened," said Wiener. "And for the first time since the Civil War, people died as a result. We cannot and will not let organizations that aid and abet insurrection – that break the law by trying to overthrow the U.S. government – operate with tax-exempt status. The people of California should not be subsidizing insurrection."
The January 6, 2021 insurrection took place, when pro-Trump extremists – in response to the false narrative that the Democrats "stole" the 2020 election and incited by then-President Donald Trump – breached the United States Capitol. Five people were killed as a result of this insurrection, and hundreds were injured.
Vice President Pence and Speaker Pelosi were specific targets of this violent attack on the nation's democracy. Many nonprofits that supported the insurrection and continue to perpetuate lies about the 2020 election in hopes of overturning the results still operate with tax-exempt status, both at the federal and state level.
SB 834 clarifies the Franchise Tax Board's authority to revoke the California tax-exempt status of a nonprofit organization if the California Attorney General determines that the nonprofit has actively engaged in, or incited: treason, misprision of treason, insurrection, seditious conspiracy, advocating overthrow of the government or the government of any State, or advocating mutiny by members of the military or naval forces of the United States (1.)
Under SB 834, if the Attorney General finds that a nonprofit organization has incited, or actively engaged in actions that are directed to or likely to imminently violate one or more of these crimes, they will notify the FTB, which then will have the ability to revoke the nonprofit's tax-exempt status.
For out-of-state nonprofits that engage in or incite insurrection, they will be prohibited from registering to raise money in California.
The United States Supreme Court has ruled that the purpose of charitable organizations claiming tax-exempt status "may not be illegal or contrary to public policy." Trying to overturn elections and violently attacking our legislators fits the bill. SB 834 will ensure that these organizations no longer claim this financial advantage.
Tax-exempt nonprofits are not required to pay corporate income taxes and may be exempt from other taxes as well. Additionally, donations to many nonprofits are deductible from income taxes, and private foundations and donor-advised funds can only donate to tax-exempt nonprofits. Private foundations and donor-advised funds represent a major funding source for many nonprofits.
Authoritarian and anti-democratic organizations have increasingly used the "Big Lie" to fundraise, and this narrative has driven millions of dollars in tax-exempt donations. And many new organizations have cropped up in the past year, hoping to ride the coattails of the insurrection and cash in.
These include California nonprofits and nonprofits registered in other states that fundraise in California. These organizations, which are fundamentally undermining our democracy and cheering for the destruction of free and fair elections in America, should not be allowed to operate with advantages like tax-exempt status.
For example, the leader of the "Oath Keepers," a national militia movement, was charged with seditious conspiracy. While the Oath Keepers does not have California tax-exempt status, it has an "educational foundation" with federal exempt status and tax-exempt branches in several states. In the words of one expert, "It can only be presumed that [funds contributed to the Oath Keepers], which [donors were] able to deduct from their federal taxes, went to transporting and lodging members of the group slated to participate in the ensuing riots." (2.) These organizations should not be allowed, under any circumstances, to use tax write-offs to help fund illegal activities.
There is precedent for making this distinction in California's tax code. Under federal and California law, for instance, if a nonprofit organization supports terrorism, its tax-exempt status is suspended. The nonprofit organizations that support insurrection should receive the same treatment.
Citations:
1. USC §§ 2381-2385, 2387
2. "Dollars against Democracy: Domestic Terrorist Financing in the Aftermath of Insurrection," Virtual Hearing before the Subcommittee on National Security, International Development and Monetary Policy of the Committee on Financial Services, U.S. House of Representatives, Feb 25, 2021.
Senators Josh Becker (D-Peninsula), Dave Min (D-Irvine), Josh Newman (D-Fullerton), Anthony Portantino (D-La Cañada Flintridge), Tom Umberg (D-Orange County), and Bob Hertzberg (D-Van Nuys) are co-authors of this bill. Assemblymembers Buffy Wicks (D-Oakland), Phil Ting (D-San Francisco), Cristina Garcia (D-Bell Gardens) and Marc Berman (D-Menlo Park) are also co-authors of SB 836. Assemblymember Kevin Mullin (D-San Mateo) is principal co-author.