Senate confirms first Out lesbian to serve on an U.S. Court of Appeals
"LGBTQ representation in the courts is critical because judges that more accurately reflect the diversity of our nation"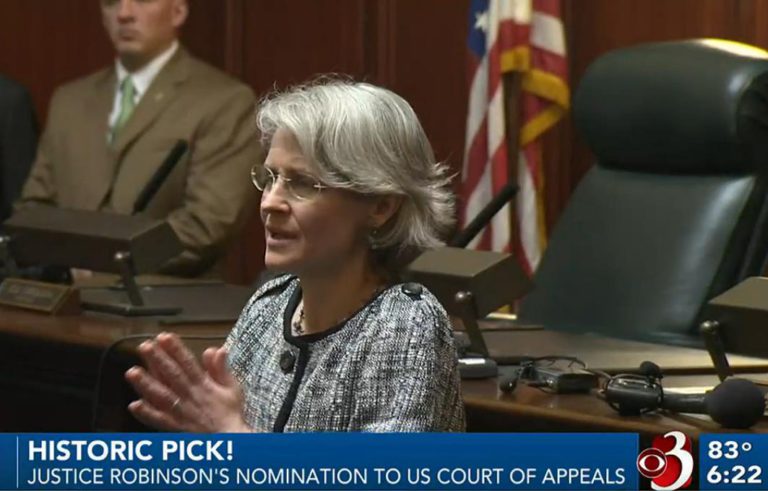 WASHINGTON – The Senate voted 51-45 Monday to confirm Beth Robinson to sit on the U.S. Court of Appeals for the Second Circuit. Robinson, who was previously an associate judge on the Vermont Supreme Court, is the first openly lesbian woman to serve on an U.S. Court of Appeals.
Robinson, who had received her J.D. from the University of Chicago Law School in 1989 and her B.A. from Dartmouth College in 1986, served as an Associate Justice on the Vermont Supreme Court since 2011.
Prior to her appointment, Justice Robinson served as counsel to Vermont Governor Peter Shumlin from 2010 to 2011. From 1993 to 2010, Justice Robinson was a civil litigator in private practice at Langrock Sperry & Wool where she focused on civil litigation including employment law, workers' compensation, contract disputes, and family law. She also represented LGBTQ+ individuals in civil and civil rights cases, including leading the freedom to marry movement in Vermont.
From 1990 to 1991, Justice Robinson was an associate at Skadden, Arps, Slate, Meagher & Flom in Washington, D.C., focusing on white-collar criminal defense. Justice Robinson served as a law clerk for Judge David B. Sentelle on the U.S. Court of Appeals for the District of Columbia from 1989 to 1990.
"Judge Robinson's extraordinary professional expertise makes her well qualified for this important position and her confirmation as the first openly lesbian judge to a federal appeals court seat is cause for celebration for our community," Sharon McGowan, Chief Strategy Officer and Legal Director for Lambda Legal said in an emailed statement.
"LGBT representation in the courts is critical because judges that more accurately reflect the diversity of our nation give legitimacy to these important institutions, which have such a profound impact on the lives of so many. Judge Robinson's lived and professional experiences will be assets in her work to fulfill our nation's promise of justice," McGowan said.
"We expect that Judge Robinson's historic nomination and confirmation will not be the only 'first' during the Biden Administration for the LGBTQ community, who are woefully underrepresented in the federal judiciary. There are 870 federal judgeships, but only 12—now 13—are held by openly gay or lesbian judges. Four federal circuits do not have a single openly LGBT judge. And we are still awaiting our first openly bisexual or transgender judicial nominee. The delivery of justice will be stronger when these diverse perspectives are brought into the fold," McGowan added.
Vermont U.S. Senator Bernie Sanders tweeted his congratulations on the confirmation:
I want to congratulate Vermont Supreme Court Justice Beth Robinson for her momentous confirmation today to the Second Circuit Court of Appeals. Thank you for your continued service. I know you will make Vermont proud and will be an excellent addition to the federal bench. https://t.co/iJKDxHmEkL

— Bernie Sanders (@SenSanders) November 1, 2021
Senators Padilla, Feinstein announce $5 Million for unhoused veterans
"As a nation, we have a responsibility to support our service members during and after their active duty ends"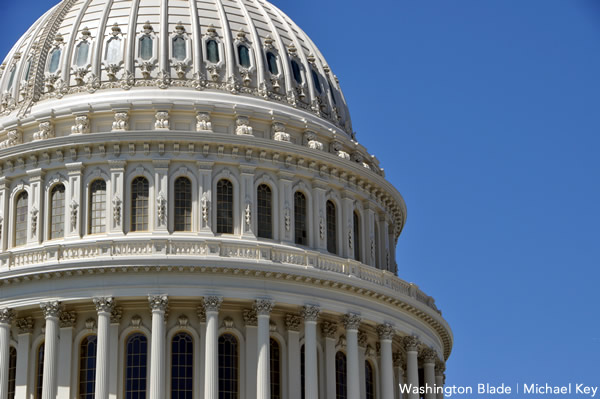 WASHINGTON — U.S. Senators Alex Padilla and Dianne Feinstein (both D-Calif.) announced Friday that over $4.7 million in federal funding has been awarded to eight California organizations providing access to housing and supportive services for veterans experiencing homelessness.
This funding is being distributed through the U.S. Department of Housing and Urban Development's Veterans Affairs Supportive Housing (HUD-VASH) program.
"As a nation, we have a responsibility to support our service members during and after their active duty," Senator Padilla said. "Veterans who have made tremendous sacrifices to defend our nation should not be left to struggle alone. This funding will help organizations throughout California connect veterans with affordable housing and the services they need."
"The HUD-VASH program has proven immensely successful in helping homeless veterans access affordable housing and supportive VA services," Senator Feinstein said. "Since the program's inception in 2008, it has helped reduce the number of homeless veterans by half. I'm grateful for today's funding, which will allow for the continuation of this program's success across California."
The HUD-VASH program combines HUD's Housing Choice Voucher rental assistance for veterans experiencing homelessness with case management and clinical services provided by the Department of Veterans Affairs (VA). VA provides these services for participating Veterans at VA medical centers, community-based outreach clinics, through VA contractors, or through other VA designated entities.
A list of California organizations receiving HUD-VASH grants is available here.
Garcetti tells U.S. Senate committee he didn't see sexual harassment
"I never witnessed, [..] the behavior that's been alleged […] I would have immediately taken action to stop that"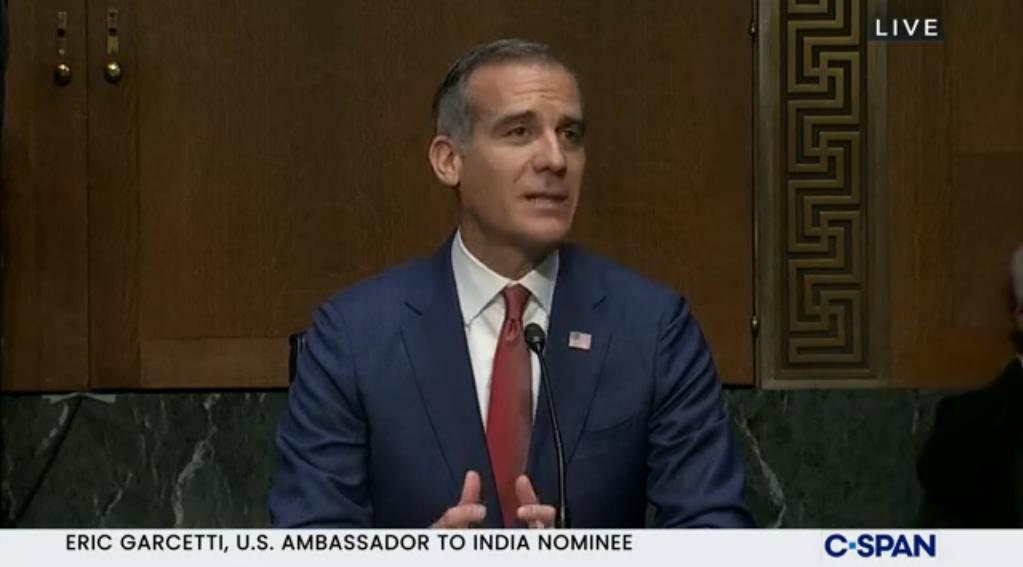 WASHINGTON – Appearing before the U.S. Senate Foreign Relations Committee Tuesday, Los Angeles Mayor Eric Garcetti told Senators he never witnessed his former top advisor sexually harass a member of his staff.
Garcetti, appearing for his confirmation hearing as President Joe Biden's nominee for U.S. Ambassador to India said "I never witnessed, nor was it brought to my attention, the behavior that's been alleged. … If it had been, I would have immediately taken action to stop that."
Some of the allegations against Garcetti's former Deputy Chief of Staff Rick Jacobs were publicly disclosed earlier this month in New York Magazine. Naomi Seligman, Garcetti's director of communications, told journalist Alissa Walker that after returning from an event, Jacobs who was her boss charged into the office, "He crushes me against his body, pulling me in with all his strength," she said. "I'm like a rag doll. He's pulling me into him and kisses me on the lips for some long, uncomfortable period of time. He kisses me on the lips. I'm trying to push back, but he has my arms pinned down against the sides of my body so I have no leverage to push back."
According to Seligman, she then went to find Ana Guerrero, Garcetti's then–chief of staff, who treated her account of the incident; 'Like it was an annoyance," Seligman says. "She wouldn't talk about it. She didn't even want to say, 'I'm sorry it happened to you.' The only thing she said was that there's nothing we can do about him."
The New York Magazine details that Seligman's experience was not unique and that according to the magazine; "Despite alleged harassment so rampant it was called an open secret, some of which Garcetti allegedly witnessed, Jacobs kept his job at City Hall and later became Garcetti's most influential strategist, laying the groundwork for a White House run, orchestrating off-the-schedule meetings, and traveling around the world with the mayor."
The most damaging accusation leveled publicly by four people within the Garcetti camp was that the mayor was fully aware of Jacobs's behavior.
A lawsuit filed in July 2020 against Jacobs by LAPD Officer Matthew Garza, a member of Garcetti's security detail, alleges that Jacobs sexually harassed him.
Garza sued the city saying that Jacobs made crude sexual comments, massaged his shoulders and hugged him between 2014 and 2019. Garza alleged that the harassment happened in front of the mayor, but that Garcetti did nothing to stop it, KTLA reported.
Garza testified that he worried he would face retaliation if he reported the sexual harassment. "I would have been ostracized," Garza said in a deposition taken in March of 2021 and reviewed by The Los Angeles Times. "I would have been removed from the [security] detail. If I made that big of a deal of it, if I had sought out a complaint with the sexual harassment division within the city, I no doubt would have been retaliated against. The mayor and his staff is extremely vindictive."
During Tuesday's conformation hearing, New Hampshire Democratic Senator Jeanne Shaheen told the mayor she was concerned about the accusations against Jacobs, which include allegations detailed in the New York Magazine article that Garcetti "did not respond to those allegations in a way that would have stopped the behavior." The Senator then stressed that women's rights and sexual harassment remain priority issues in India, the world's largest democracy.
"I think it's very important that we model the behavior that we want to see in our allies," Shaheen told the mayor.
Garcetti told her that "persistent action" was needed to support and protect victims. He emphasized that as mayor, he established policies to centralize complaints and permit victims to submit reports of alleged abuse anonymously.
"Harassment and discrimination have no place in the workplace, no place in our society. I have zero tolerance for that. And I also know that words are not enough," he said.
Shaheen reacted saying, "I look forward to your strong stance when you are confirmed."
The Los Angeles Times reported that the exchange stood out in what was largely a drama-free hearing for the two-term mayor.
Garcetti was one of three nominees who appeared before the Foreign Relations Committee during a lightly attended hearing. The others were University of Pennsylvania President Amy Gutmann, Biden's pick to serve as ambassador to Germany, and career diplomat Donald Armin Blome, the president's selection for ambassador to Pakistan.
The mayor has been a strong supporter of the president and was named co-chair for the Biden's inauguration last January.
The mayor is ending two terms, which were plagued by the coronavirus pandemic and a homeless crisis that has seen homeless encampments spread into virtually every corner of Los Angeles.
Career fighter for women's equality & LGBTQ rights, Jackie Speier to retire
"It was time for me to come home- I lived, and I served. It's been a remarkable journey that has surpassed my wildest dreams"
WASHINGTON – Long-time U.S. Representative Jackie Speier, (D-CA) announced Tuesday that she will not be seeking another term. Speier has represented California's 14th District of San Mateo County and the Peninsula since 2013 as well as the 12th District of San Francisco back in 2008 to 2013.
Congresswoman Speier has been a tireless advocate in Congress for women's equality and LGBTQ rights. Currently the congresswoman serves on the House Armed Services Committee (HASC), where she is the Chair of the Military Personnel Subcommittee, and on the House Permanent Select Committee on Intelligence, where also she serves as Chair of the Strategic Technologies and Advanced Research (STAR) Subcommittee and serves on the Counterterrorism, Counterintelligence, and Counterproliferation (C3) Subcommittee.
In a two minute video released on her Twitter account Tuesday, she said that 'it was time for me to come home […] "I lived, and I served. It's been a remarkable journey that has surpassed my wildest dreams."
November 16, 2021
The congresswoman's career in public service stretches back to 1978 as a legislative assistant to then Congressman Leo Ryan, (D-CA11). She was traveling with Ryan to inspect the Peoples Temple Jonestown settlement in the jungles of Guyana when the official party was ambushed at the local airstrip forty-three years ago this week. Speier was shot five times and Congressman Ryan was assassinated by members of the Peoples Temple at the direction of its leader Jim Jones.
Following her recovery Speier ran for public office and has served as a California state assembly member, California state senator, and finally a U.S. representative.
In an interview with San Francisco ABC affiliate KGO TV 7, Tuesday morning, Speier discussed her decision saying it wasn't easy to make. She loves serving her constituents, but it was time to spend more time with her family.
The 71-year old Democratic politico told KGO that she still has more to contribute, but she's not sure yet on what she plans to do when her career on Capitol Hill comes to an end in January of 2023.
"I'm still going to be involved in our communities, I still want to be giving back. I would love to see a foundation created for San Mateo County because there really isn't one, and its a very wealthy county, but its also subject to a lot of pain and suffering by many of our constituents, so I don't know, but I'm open to all the possibilities," Speier said.