Senators push for new guidance on mental health needs for Trans youth
"Our goal is to help mental health providers offer the best care they can to the nation's TGE youth without a delay in treatment"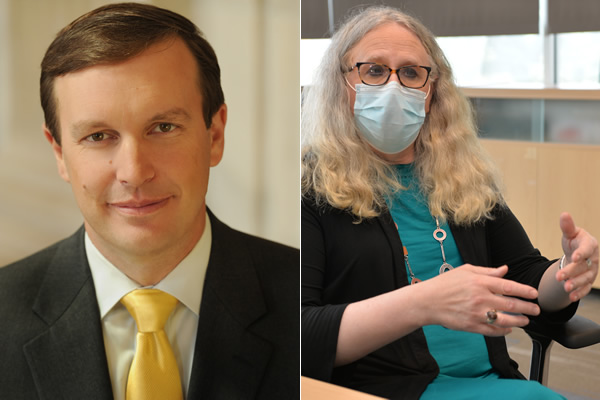 WASHINGTON – Sen. Chris Murphy (D-CT) is leading a group of senators who are urging Assistant Health Secretary Rachel Levine, the first openly transgender person to win Senate confirmation as a presidential appointee, to issue new guidance on mental health care needs for Trans youth.
In a letter dated Sept. 30 and obtained Tuesday, the senators make the case current standards are insufficient for trans and gender expansive, or TGE, adolescents, including exploring, non-binary, agender, genderfluid and queer youth.
"Our goal is to help mental health providers offer the best care they can to the nation's TGE youth without a delay in treatment," the letter says. "The focus of this request is for the pressing needs of hospital or residential care even as we recognize the need for guidance across all settings of mental health care."
Specifically, the senators call on the Behavioral Health Coordinating Council, or BHCC, and experts in the field of adolescent trans care to offer guidance on best practices for inpatient mental health care among these youth.
The senators address the letter to Levine, who in addition to being trans has a background in care for adolescent youth, and Miriam Delphin-Rittmon, assistant secretary for mental health and substance use.
Cited in the letter are findings from the Trevor Project, an organization that supports LGBTQ youth, which determined more than half of trans and non-binary youth seriously contemplated killing themselves in 2020.
"While behavioral health and pediatric organizations have published resources regarding TGE health care, we have heard from hospital providers they are seeking guidance on best practices for serving gender diverse youth in community residential and inpatient mental health settings," the letter says.
The seven senators who signed the letter along with Murphy are Jeff Merkley (D-Ore.), Ben Ray Lujan (D-N.M.), Sherrod Brown (D-Ohio), Tammy Baldwin (D-Wis.), Tina Smith (D-Minn.) and Richard Blumenthal (D-Conn.).
An HHS spokesperson for Levine's office, in response to the letter, told the Blade: "We have received the letter and will be reviewing it."
Career fighter for women's equality & LGBTQ rights, Jackie Speier to retire
"It was time for me to come home- I lived, and I served. It's been a remarkable journey that has surpassed my wildest dreams"
WASHINGTON – Long-time U.S. Representative Jackie Speier, (D-CA) announced Tuesday that she will not be seeking another term. Speier has represented California's 14th District of San Mateo County and the Peninsula since 2013 as well as the 12th District of San Francisco back in 2008 to 2013.
Congresswoman Speier has been a tireless advocate in Congress for women's equality and LGBTQ rights. Currently the congresswoman serves on the House Armed Services Committee (HASC), where she is the Chair of the Military Personnel Subcommittee, and on the House Permanent Select Committee on Intelligence, where also she serves as Chair of the Strategic Technologies and Advanced Research (STAR) Subcommittee and serves on the Counterterrorism, Counterintelligence, and Counterproliferation (C3) Subcommittee.
In a two minute video released on her Twitter account Tuesday, she said that 'it was time for me to come home […] "I lived, and I served. It's been a remarkable journey that has surpassed my wildest dreams."
November 16, 2021
The congresswoman's career in public service stretches back to 1978 as a legislative assistant to then Congressman Leo Ryan, (D-CA11). She was traveling with Ryan to inspect the Peoples Temple Jonestown settlement in the jungles of Guyana when the official party was ambushed at the local airstrip forty-three years ago this week. Speier was shot five times and Congressman Ryan was assassinated by members of the Peoples Temple at the direction of its leader Jim Jones.
Following her recovery Speier ran for public office and has served as a California state assembly member, California state senator, and finally a U.S. representative.
In an interview with San Francisco ABC affiliate KGO TV 7, Tuesday morning, Speier discussed her decision saying it wasn't easy to make. She loves serving her constituents, but it was time to spend more time with her family.
The 71-year old Democratic politico told KGO that she still has more to contribute, but she's not sure yet on what she plans to do when her career on Capitol Hill comes to an end in January of 2023.
"I'm still going to be involved in our communities, I still want to be giving back. I would love to see a foundation created for San Mateo County because there really isn't one, and its a very wealthy county, but its also subject to a lot of pain and suffering by many of our constituents, so I don't know, but I'm open to all the possibilities," Speier said.
LGBTQ ally, Vermont's U.S. Senator Patrick Leahy won't seek re-election
"What propelled me was a belief I understood the needs and values of Vermont and thought it was time for a new generation to address them"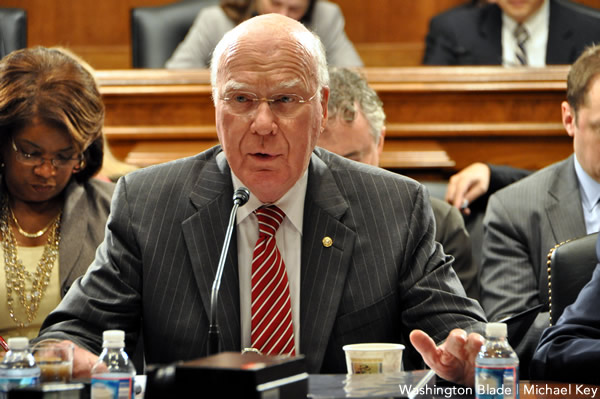 MONTPELIER, Vt. — U.S. Sen. Patrick Leahy (D-VT), the longest-serving senator still in office, announced his retirement Monday.
Leahy, who has served eight terms in the Senate, said he and his wife Marcelle concluded that it was time for the 81-year-old to "pass the torch to the next Vermonter who will carry on this work for our great state."
"I will forever carry with me the enduring bond with my fellow Vermonters, whose common sense and goodness are what I strive to match as their representative," he said. "Thank you for being the inspiration and the motivation for all the good that has come from my work in the Senate. Rest assured our state and our nation will remain resilient and the next generation will ensure our democracy remains whole and thriving."
Leahy​​, the current Senate president pro tempore, has long been an LGBTQ+ ally.
In 2013, Leahy pushed to add same-sex couples to an immigration reform bill. The amendment would have enabled gay and lesbian Americans to sponsor their foreign partners for residency in the United States.
"For immigration reform to be truly comprehensive, it must include protections for all families," he said at the time. "We must end the discrimination that gay and lesbian families face in our immigration law."
He ended up withholding the pro-LGBTQ+ amendment "with a heavy heart" after he couldn't garner support for the measure but gave an extended speech on why he believes discrimination against gay couples is wrong.
"In the immigration context, if you're an American and fall in love will someone of the same sex from a different country and you get married legally, your spouse will not be treated like any other immigrant spouse would be by your federal government," Leahy said. "My amendments would change that. I don't want to be the senator who asks Americans to choose between the love of their life and the love of their country."
In his speech announcing he would not run for re-election, Leahy touted his work on legislation, such as the Innocence Protection Act, the Justice for All Act and Freedom of Information Reform Act.
He also mentioned his work on the Violence Against Women Act. "In subsequent reauthorizations, we added protections for the LGBTQ community, Native American women and the sexual trafficking of children," he said.
Leahy made the announcement at the Vermont State House, where he announced his first run for Senate in 1974.
"This room is special to both Marcelle and me, and not just because as a kid I used to ride my tricycle down these halls," he said. "Having grown up right across the street, Marcelle and I gathered here with our parents, our children Kevin, Alicia and Mark, and my sister Mary and announced my candidacy for the United States Senate. At the time, I was a 33-year-old, four-term Chittenden County state's attorney, launching a campaign knowing that Vermont had never sent a Democrat to the United States Senate."
"What propelled me was a belief that I understood the needs and values of Vermont and thought it was time for a new generation to address them," he said.
Leahy ended his address by saying, "Representing you in Washington has been the greatest honor. I am humbled, and always will be, by your support, and I am confident in what the future holds."
Senate confirms first Out lesbian to serve on an U.S. Court of Appeals
"LGBTQ representation in the courts is critical because judges that more accurately reflect the diversity of our nation"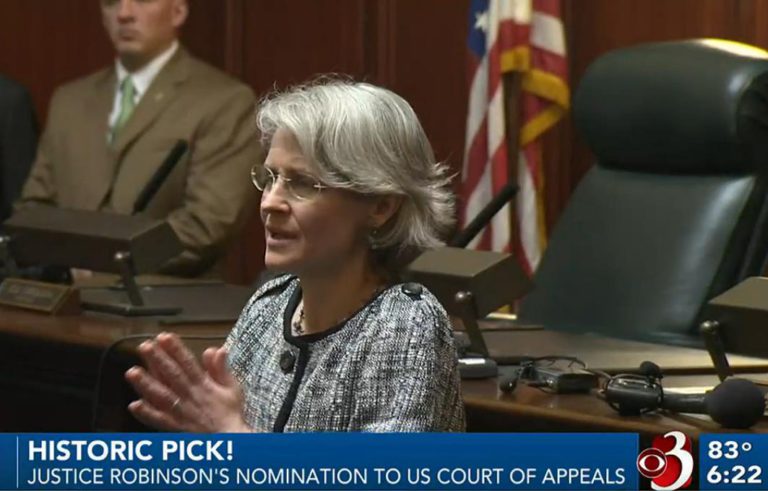 WASHINGTON – The Senate voted 51-45 Monday to confirm Beth Robinson to sit on the U.S. Court of Appeals for the Second Circuit. Robinson, who was previously an associate judge on the Vermont Supreme Court, is the first openly lesbian woman to serve on an U.S. Court of Appeals.
Robinson, who had received her J.D. from the University of Chicago Law School in 1989 and her B.A. from Dartmouth College in 1986, served as an Associate Justice on the Vermont Supreme Court since 2011.
Prior to her appointment, Justice Robinson served as counsel to Vermont Governor Peter Shumlin from 2010 to 2011. From 1993 to 2010, Justice Robinson was a civil litigator in private practice at Langrock Sperry & Wool where she focused on civil litigation including employment law, workers' compensation, contract disputes, and family law. She also represented LGBTQ+ individuals in civil and civil rights cases, including leading the freedom to marry movement in Vermont.
From 1990 to 1991, Justice Robinson was an associate at Skadden, Arps, Slate, Meagher & Flom in Washington, D.C., focusing on white-collar criminal defense. Justice Robinson served as a law clerk for Judge David B. Sentelle on the U.S. Court of Appeals for the District of Columbia from 1989 to 1990.
"Judge Robinson's extraordinary professional expertise makes her well qualified for this important position and her confirmation as the first openly lesbian judge to a federal appeals court seat is cause for celebration for our community," Sharon McGowan, Chief Strategy Officer and Legal Director for Lambda Legal said in an emailed statement.
"LGBT representation in the courts is critical because judges that more accurately reflect the diversity of our nation give legitimacy to these important institutions, which have such a profound impact on the lives of so many. Judge Robinson's lived and professional experiences will be assets in her work to fulfill our nation's promise of justice," McGowan said.
"We expect that Judge Robinson's historic nomination and confirmation will not be the only 'first' during the Biden Administration for the LGBTQ community, who are woefully underrepresented in the federal judiciary. There are 870 federal judgeships, but only 12—now 13—are held by openly gay or lesbian judges. Four federal circuits do not have a single openly LGBT judge. And we are still awaiting our first openly bisexual or transgender judicial nominee. The delivery of justice will be stronger when these diverse perspectives are brought into the fold," McGowan added.
Vermont U.S. Senator Bernie Sanders tweeted his congratulations on the confirmation:
I want to congratulate Vermont Supreme Court Justice Beth Robinson for her momentous confirmation today to the Second Circuit Court of Appeals. Thank you for your continued service. I know you will make Vermont proud and will be an excellent addition to the federal bench. https://t.co/iJKDxHmEkL

— Bernie Sanders (@SenSanders) November 1, 2021