IOC issues new "Framework On Fairness" for inclusion of Trans Athletes
The International Olympic Committee announced new guidance allowing "every person" to participate & abandons testosterone levels as criteria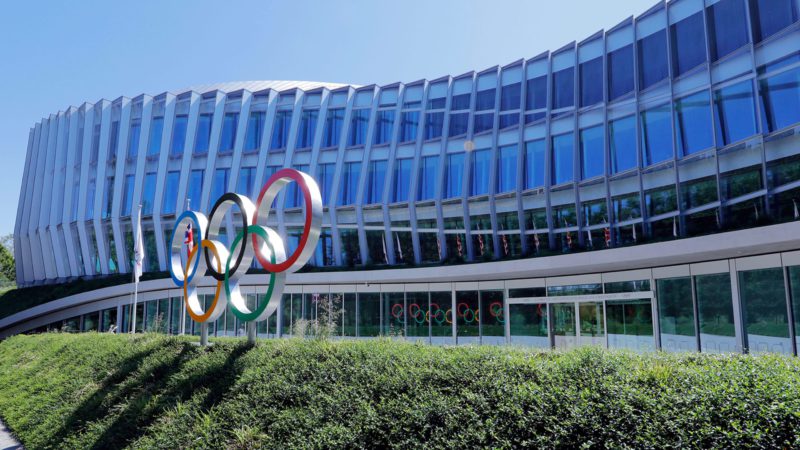 LAUSANNE, Switzerland – Following the first Olympic Games in which transgender athletes not only competed but made history by winning a gold medal, the International Olympic Committee stunned the world of sport Tuesday by not revising the criteria focused on testosterone, as expected, but moving away from it altogether. 
The IOC announced its new Framework on Fairness, Inclusion and Non-Discrimination on the Basis of Gender Identity and Sex Variations in a Zoom meeting hosted in Lausanne, Switzerland.
The leaders said they consulted with 250 athletes and "concerned stakeholders" including medical and legal experts over two years, and determined "every person has the right to practice sport without discrimination and in a way that respects their health, safety and dignity." While stressing that competitive sports "relies on a level playing field," the IOC tacitly acknowledged the complaints of trans-exclusionary cisgender women athletes by stating support for "the central role that eligibility criteria play in ensuring fairness, particularly in high-level organized sport in the women's category."
GLAAD heralded the announcement as making it clear that "no athlete has an inherent advantage over another due to their gender identity, sex variations, or appearance."
"This is a victory for all athletes and fans, who know the power and potential of sports to bring people together and make us all stronger," said Alex Schmider of GLAAD. "Sports are for everyone, and fairness in sports means inclusion, belonging and safety for all who want to participate, including transgender, intersex, and nonbinary athletes."
What the IOC didn't do was issue new criteria for testosterone levels and did not define who is or isn't a woman, and for the first time in modern Olympic history, is walking away from its "one size fits all" guidance. It'll be left up to each sport and governing body to determine who is eligible to compete. The IOC guidance is that the criteria should respect internationally recognized human rights, rely on robust scientific evidence as well as athlete consultation, and that "precautions be taken to avoid causing harm to the health and well-being of athletes."
Although intended to guide elite athletes, the committee suggested all levels of sport, even recreational and grassroots sport, respect inclusion and non-discrimination policies.
Here are the 10 principles outlined by the IOC to to welcome all athletes at every level of participation, centered on the values of inclusion, prevention of harm and non-discrimination.
1. Inclusion
2. Prevention of Harm
3. Non-discrimination
4. Fairness
5. No presumption of Advantage
6. Evidence-based Approach
7. Primacy of Health and Bodily Autonomy
8. Stakeholder-Centered Approach
9. Right to Privacy
10. Periodic Reviews
Athlete Ally was one of the agencies consulted by the IOC in determining this framework. "We hope to continue working closely with the IOC to ensure that the policies and practices governing sport actually include and represent the diversity of people playing sport," said Anne Lieberman, Director of Policy and Programs at Athlete Ally.
"Far too often, sport policy does not reflect the lived experience of marginalized athletes, and that's especially true when it comes to transgender athletes and athletes with sex variations," said Quinn of Canada's Olympic Soccer team and the world's first trans nonbinary gold medalist. "This new IOC framework is groundbreaking in the way that it reflects what we know to be true — that athletes like me and my peers participate in sports without any inherent advantage, and that our humanity deserves to be respected."
"I think that the IOC has made a powerful statement in favor of transgender inclusion, but I think that items 5 and 6 in their framework are problematic," said Joanna Harper, the visiting fellow for transgender athletic performance at Loughborough University in the U.K. and a former IOC consultant.
"On average, transgender women are taller, bigger and stronger than cisgender women and these are advantages in many sports," Harper told the Los Angeles Blade. "It is also unreasonable to ask sporting federations to have robust, peer-reviewed research prior to placing any restrictions on transgender athletes in elite sports. Such research is years or maybe decades away from completion. I do think that recreational sports should allow unrestricted inclusion of trans athletes." 
As San Francisco-based trans journalist Ina Fried noted in Axios, the IOC said that sex testing, genital inspections and other medical procedures to determine gender put all athletes at risk of harm and abuse, not just trans, intersex and nonbinary athletes. But the bottom line, Fried wrote, is that this new framework isn't legally binding on any sports governing bodies, which now have carte blanche to write their own rules for eligibility.
Out soccer player calls out 'homophobic abuse' from crowd
The Adelaide United player said he had "no words" to describe his disappointment at being the target of anti-gay insults from the crowd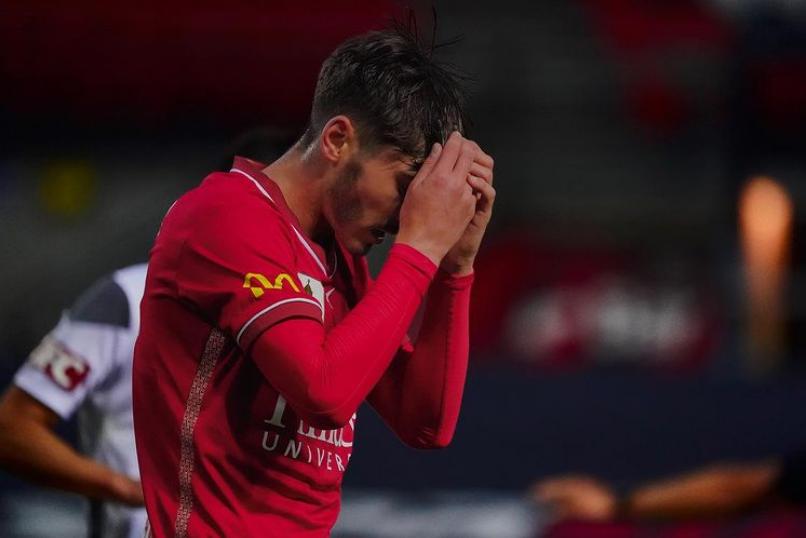 ADELAIDE, Australia – Professional soccer player Josh Cavallo, who became the only openly gay top-flight male professional footballer last year, told his Instagram followers over the weekend that he experienced "homophobic abuse" during his last game.
The Adelaide United player said he had "no words" to describe his disappointment at being the target of anti-gay insults from the crowd at AAMI Park during his team's Saturday game against the Melbourne Victory.
"As a society it shows we still face these problems in 2022," he wrote. "This shouldn't be acceptable and we need to do more to hold these people accountable. Hate never will win. I will never apologise for living my truth and most recently who I am outside of football."
Cavallo added that he was also targeted after the game online.
"To @instagram I don't want any child or adult to have to receive the hateful and hurtful messages that I've received," he said. "I knew truely being who I am that I was going to come across this. It's a sad reality that your platforms are not doing enough to stop these messages."
The Australian Professional Leagues (APL) said it was "shocked and saddened" to hear Cavallo's reports of "homophobic bullying," according to the Guardian.
"Our players, staff and fans have the right to feel safe on and off the pitch," APL CEO Danny Townsend said. "There is no place for bullying, harassment or abuse in Australian football and we have zero tolerance for this harmful behaviour."
The APL is working with both teams to investigate the incident, adding that sanctions will be issued to anyone involved.
In a statement, Adelaide United Chief Executive Officer Nathan Kosmina said that the team was "appalled" at the "verbal abuse" that Cavallo received.
"Adelaide United is proud to be an inclusive and diverse football club, and to see one of our players subjected to homophobic abuse is disappointing and upsetting," he said. "Josh continues to show immense courage and we join him in calling out abuse, which has no place in society, and it will not be tolerated by our Club."
The Melbourne Victory added that it "sees football as a platform to unite fans no matter what background. Spectators found to have breached these standards will be banned from future matches."
At the end of his Instagram message, Cavallo thanked those sending him positive messages, love and support.
"Love will always win," he said.
2 Trans athletes competed head to head at college women's swim meet
Lia Thomas won some, lost some but didn't set any new records; California native Iszac Henig made waves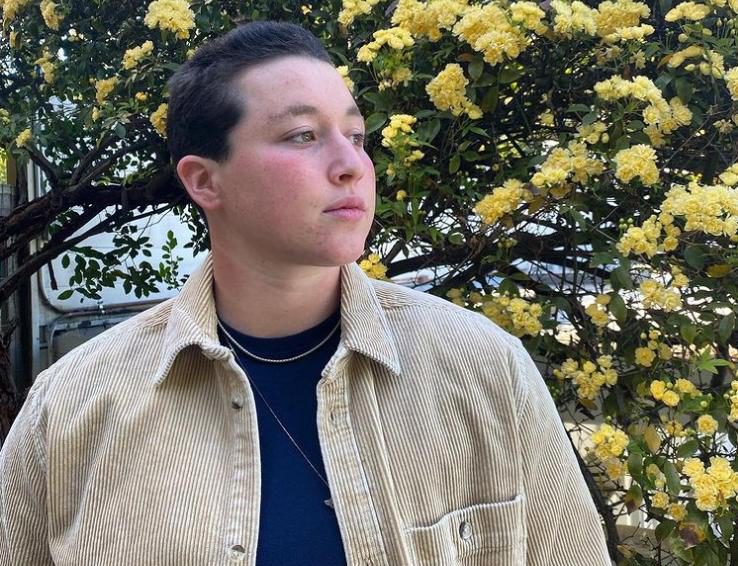 NEW HAVEN, Ct. – The last home meet at the University of Pennsylvania for out trans woman Lia Thomas was a double dual against Dartmouth and Yale, and despite a pair of victories, it ended with double the disappointment for the record-setting swimmer.
That's because Yale University's Bulldogs won Saturday's meet and returned to Connecticut with their undefeated record intact, and one of its swimmers on the women's team trounced Thomas in the 100-yard freestyle.
That swimmer was Iszac Henig, 21, a senior from Menlo Park, Calif., who came out as a trans man in April 2021.

Although he underwent gender-affirming top surgery while competition was suspended during the pandemic, Henig decided to not start hormone therapy so he could continue to compete with his teammates in accordance with NCAA rules, as he wrote in The New York Times:
"As a student athlete, coming out as a trans guy put me in a weird position," Henig wrote in The Times. "I could start hormones to align more with myself, or wait, transition socially, and keep competing on a women's swim team. I decided on the latter. I value my contributions to the team and recognize that my boyhood doesn't hinge on whether there's more or less testosterone running through my veins. At least, that's what I'll try to remember when I put on the women's swimsuit for competition and am reminded of a self I no longer feel attached to."
Wearing that traditional women's swimsuit, Henig won the 50-yard freestyle in 22.76 by 0.96 seconds, then he followed that with a 49.57 to win the 100 free, by 1.60 seconds. As Swimswam.com reported, those are huge margins for each of those events.
In contrast, Thomas, 22, finished 6th in the 100 free with 52.84, her slowest 100 of the season by more than a second. She was, however, able to win the 500 free with a 4:57.20, her slowest time of the season by 3 seconds. As Swimswam.com noted, it's 23 seconds slower than her season best of 4:34.06.
Thomas also recorded a 1:48.73 to win the 200 free, her 2nd-slowest 200 of the season so far. She swam 26.08 and 28.12 on the first 2 50s. Then on the back half, she split 27.14 and 27.39, for a 54.53 on the 2nd 100, which swimswam.com summarized as an "almost an even-split swim."
This was Thomas's first meet since last month, when she made headlines around the world by setting new Ivy League conference records. Thomas has been undergoing testosterone suppression, a medical treatment required by the NCAA for her to compete, for 2 ½ years, 18 months longer than is currently required.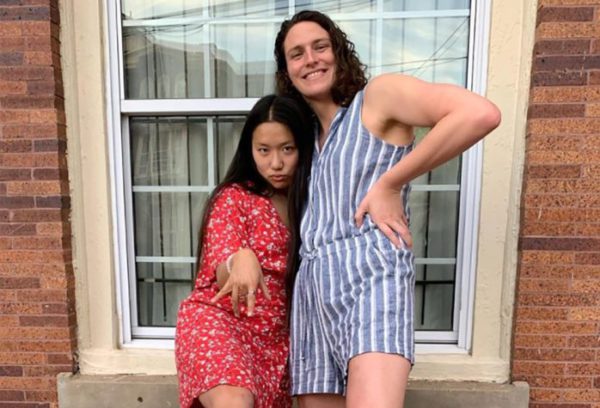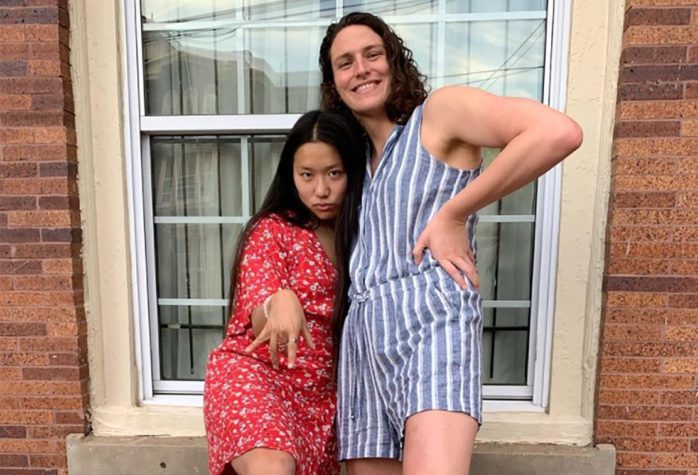 UPenn closed the meet to the public, except for a limited number of guests of athletes and coaches, in accordance with its COVID-19 guidelines for spectator sports. But as the Philadelphia Inquirer reported, a phalanx of national media from Newsweek, ESPN, the Washington Post, the Daily Mail and Fox News, among others, were credentialed to cover it.
According to the Inquirer, student-athletes who were reportedly threatening to boycott the meet to protest Thomas's inclusion failed to make good on those threats.
On the contrary, the other senior swimmers and divers from all three universities included both Thomas and Henig before the meet in a celebration of their collegiate accomplishments. They each received bouquets and posed together for a Senior Day photo.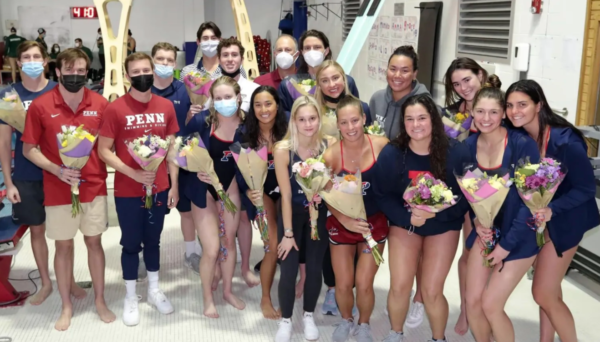 In the days leading up to Saturday's meet, Thomas's legitimacy to compete in accordance with NCAA rules was endorsed by the Ivy League, the University of Pennsylvania, and by Penn Law School students, who tweeted their support along with a group of affiliate organizations.
Thomas also recently received support from 2016 U.S. Olympian Jacob Pebley, and two-time Australian Olympic silver medalist Madeline Groves. Pebley posted on Instagram that those attacking Thomas should instead focus on the governing bodies deciding policies, and criticized those who have been normalizing discrimination and ignoring the effects of the attacks on her mental health.
In a series of Instagram stories, reported by Swimswam.com, Groves described those critical of Thomas' participation with other women as spreading "transphobic dribble."
"It's so sad to me to see apparently educated people use their platform to post transphobic dribble – what the fuck gives you the right to decide who can play sport? Athletes are traditionally self-centered but using bigotry to justify excluding an entire group of people from sport is just disgusting.
"If you're too threatened to compete alongside trans women, you're a selfish coward that probs wasn't that good at sport in the first place."
NASCAR partners with Carolinas LGBTQ+ Chamber of Commerce
"NASCAR is excited to partner with the Carolinas LGBTQ+ Chamber of Commerce"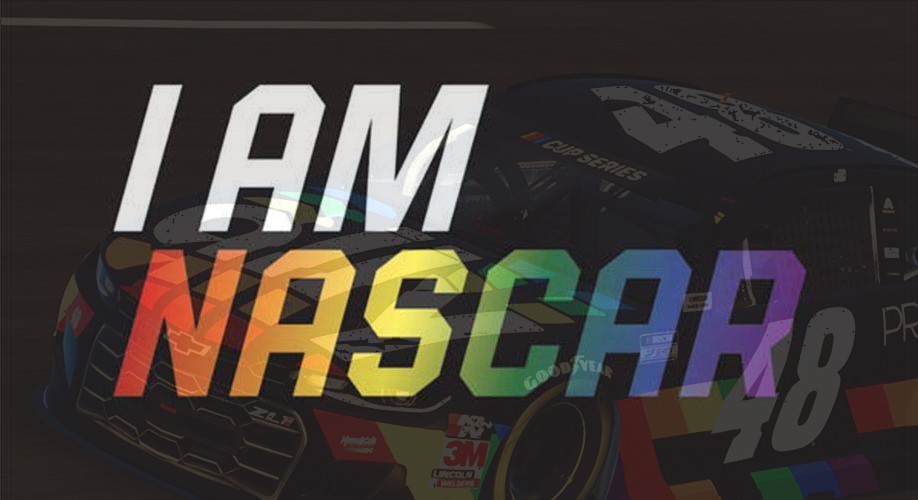 CHARLOTTE, N.C. – Carolinas LGBT+ Chamber of Commerce, one of the largest LGBT Chambers within the Southeastern region pushing for equitable change within the workplace and marketplace, announced this past week that NASCAR will become the organization's Diversity, Equity & Inclusion partner for the 2022 term.
This is the first time NASCAR has partnered with an LGBTQ+ Chamber of Commerce.
The Chamber's annual DE&I partnership funds and supports all of its training and programming in diversity, equity and inclusion, and it allows the organization to have a more expansive reach throughout the region.
"NASCAR has a rich history in our region and continues to be one of the most popular sports in the nation," said Tiffany Keaton, the vice chair of the Carolinas LGBTQ+ Chamber of Commerce. "The intentionality of their partnership will allow the Carolinas LGBTQ+ Chamber to leverage relationships and increase our work in the area of diversity, equity and inclusion. The distinct brand that NASCAR brings to the chamber validates their commitment to equality and non-discrimination both on and off the track.  It is an honor to name the league our 'DE&I Partner' for 2022, and I look forward to developing this amazing relationship."
The Carolinas LGBT+ Chamber of Commerce's work to support change and growth helps strengthen organizations large and small – and the Carolinas region as a whole. Promoting DE&I training and education programming is a critical component of that change and progress for NASCAR and the communities in which it operates.
"NASCAR is excited to partner with the Carolinas LGBTQ+ Chamber of Commerce," said Brandon Thompson, NASCAR's vice president of diversity and inclusion. "With NASCAR offices and much of our industry based in the Carolinas, we look forward to working with CLGBTCC in support of its mission to foster equity, inclusion and economic prosperity for the LGBTQ community."
In June of 2020, the modified race car sport announced its support for the LGBTQ+ community in a tweet for Pride month.
We are a diverse team whose identities, backgrounds & talents allow us to go faster & farther in our offices, at the track & in the stands.

We've joined @YouCanPlayTeam to ensure safety & inclusion of LGBTQ athletes, coaches & fans. #PrideMonth

Details: https://t.co/rOJi422X4P pic.twitter.com/pHAQxUgZQT

— NASCAR (@NASCAR) June 9, 2020
The Carolinas LGBTQ+ Chamber of Commerce is an organization of gay, lesbian, bisexual, transgender and LGBTQ+ and allied businesses, corporations and professionals throughout western North Carolina and most of South Carolina. Its mission is to foster equity, inclusion and economic prosperity for the LGBTQ community through strategic policy, professional enrichment, ally partnerships and economic development.