British Formula One champion defends LGBTQ+ rights at Qatar Grand Prix
"It's down to whether you decide to educate yourself, hold the sport more accountable and make sure the sport is actually doing something"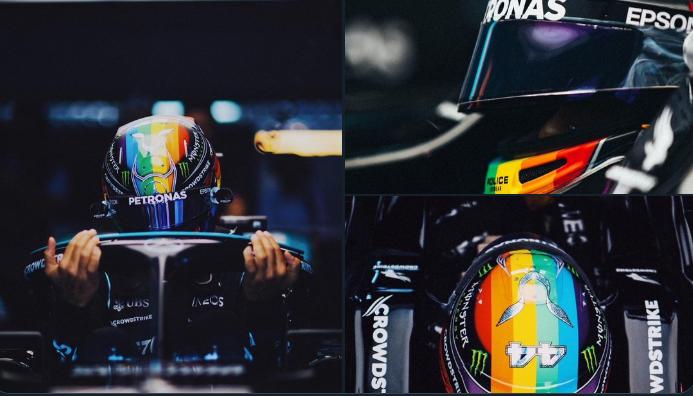 DOHA, Qatar – Mercedes-AMG Petronas Formula One Team's seven time Grand Prix champion driver Lewis Hamilton won in the inaugural run of the Qatar Grand Prix Formula One race Sunday.
That was not the only significant event that the 36-year-old race car driver participated in during his Qatar stay as prior to the race, Hamilton had shown support for the LGBTQ+ community during a practice session on Friday, wearing a a helmet featuring the Pride Progress Flag, a redesigned and more inclusive version of the traditional rainbow flag, and emblazoned with the words "We Stand Together."
The flag features additional black and brown stripes to highlight the oppression of people of color, as well as pink and blue stripes for the trans flag and a purple circle on a yellow background, which is the intersex flag.
On his personal Twitter account the Formula One racer tweeted pictures of his helmet, which he wore at the end of Trans Awareness Week and this weekend which marks the International Transgender Day of Remembrance on Saturday.
We stand together. pic.twitter.com/F3hKZwVLyN

— Lewis Hamilton (@LewisHamilton) November 19, 2021
Hamilton had received a knighthood from the British monarch Queen Elizabeth II in December a year ago for his human rights and advocacy work with his private charity, The Hamilton Commission, which the Stevenage, Hertfordshire, UK native set-up to simultaneously address the underrepresentation of Black people in UK motorsport, as well as the STEM sector.
The queen's honors are awarded twice a year, in late December and in June, when the monarch's birthday is observed. The awards acknowledge hundreds of people for services to community or British national life. Recipients are selected by committees of civil servants from nominations made by the government and the public.
In an interview with the Guardian, Hamilton said that he believes "sportspeople are duty bound to speak out on human rights matters in the countries they visit. With Qatar hosting its first Formula One Grand Prix this weekend and facing new allegations of worker exploitation and abuse in its preparations for next year's football World Cup, Hamilton insisted he would hold the sport to account for the places it chooses to race."
Prior to the debut of the Qatar Formula One race and with the 2022 FIFA World Cup matches slated for 2022 in Qatar, focus once more fell on human rights issues. The Guardian reported that workers within the state have claimed that reforms to the country's restrictive kafala labour sponsorship system have been ineffective while human rights groups continue to highlight oppressive male guardianship policies as well as discriminatory laws against women and LGBTQ+ individuals.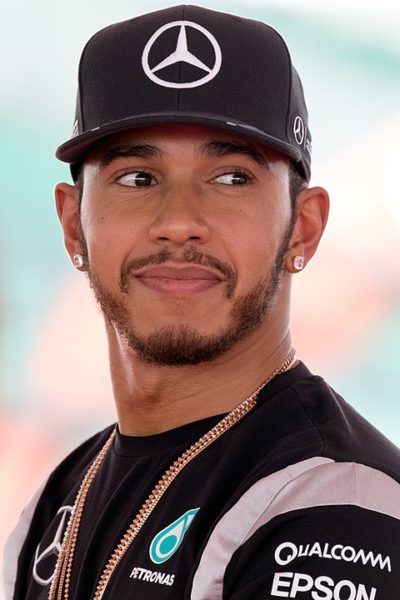 "We're aware there are issues in these places that we're going to," Hamilton told the Guardian. "But of course [Qatar] seems to be deemed as one of the worst in this part of the world. As sports go to these places, they are duty bound to raise awareness for these issues. These places need scrutiny. Equal rights is a serious issue."
He added: "If we are coming to these places, we need to be raising the profile of the situation. One person can only make a certain amount of small difference but collectively we can have a bigger impact. Do I wish that more sportsmen and women spoke out on these issues? Yes.
"It's down to whether you decide to educate yourself and hold the sport more accountable and make sure the sport is actually doing something when they go to those places."
CNN reported that British intersex activist and columnist Valentino Vecchietti finalized the version seen on Hamilton's helmet, which includes the intersex flag. "It means everything," Vecchietti told CNN. "I can't express what an amazing, massive, massive thing Lewis Hamilton has done. And I feel emotional talking about it, because we are so hidden and stigmatized as a population."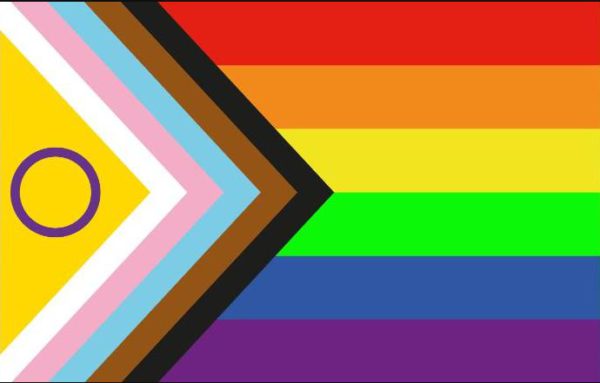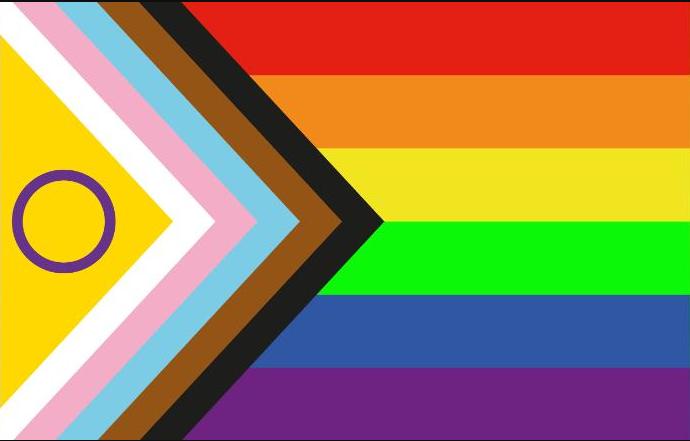 Carrying a Pride flag- protester interrupts World Cup game
Qatar's laws against gay sex and treatment of LGBTQ people were flashpoints in the first World Cup to be held in the Middle East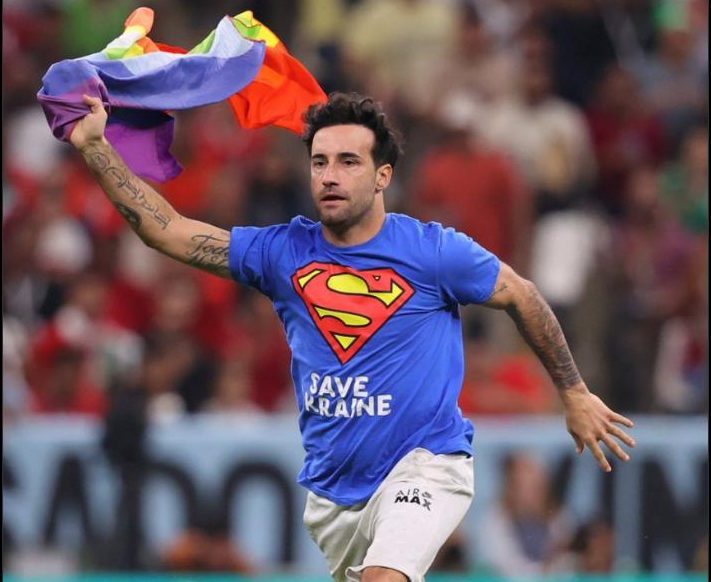 LUSAIL, Qatar – During a World Cup match between Portugal and Uruguay Monday, a lone protester ran across the field waving a LGBTQ+ Pride flag moments after the second half kickoff.
Video and still images show the man wearing a blue T-shirt emblazed with the Superman symbol and the phrase "SAVE UKRAINE" on the front and "RESPECT FOR IRANIAN WOMAN" on the back.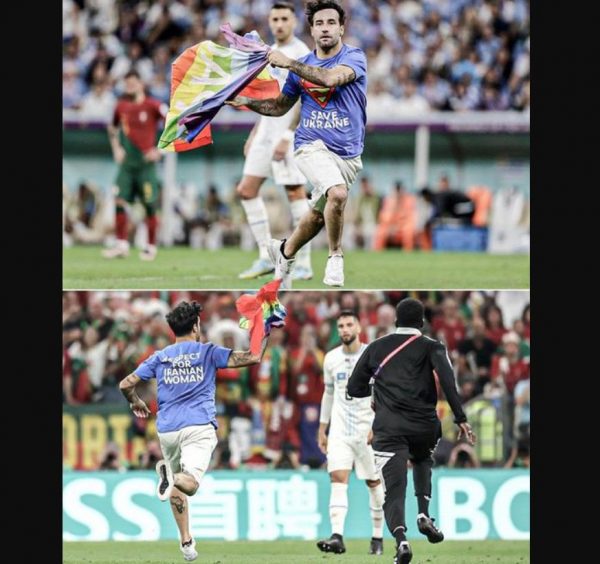 Qatari security personnel chased him down and then frog marched him off the playing field. Israeli Public Radio correspondent Amichai Stein tweeted video clips of the incident:
World Cup: A protester ran into the game holding a rainbow flag – with a 'Save Ukraine' and 'Respect For Iranian Women' shirt – @OrryLavie pic.twitter.com/s6dIcZLkQz

— Amichai Stein (@AmichaiStein1) November 28, 2022
FIFA had no immediate comment on the incident the Associated Press noted reporting that in the first week of the tournament in Qatar, seven European teams lost the battle to wear multi-colored "One Love" armbands during World Cup matches. Fans also complained they weren't allowed to bring items with rainbow colors, a symbol of LGBTQ rights, into the stadiums of the conservative Islamic emirate.
Qatar's laws against gay sex and treatment of LGBTQ people were flashpoints in the run-up to the first World Cup to be held in the Middle East. Qatar has said everyone was welcome, including LGBTQ fans, but that visitors should respect the nation's culture.