West Hollywood encourages community; get involved in redistricting
Every 10 years California must redraw the boundaries of its Congressional, State Senate, Assembly, and State Board of Equalization districts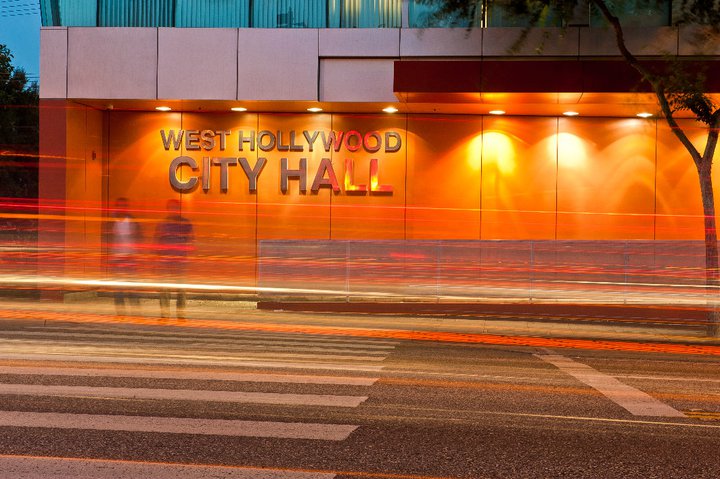 WEST HOLLYWOOD – The City of West Hollywood is getting the word out about the State of California's redistricting process and how community members can get involved.
Every 10 years, following the U.S. Census Bureau update, California must redraw the boundaries of its Congressional, State Senate, State Assembly, and State Board of Equalization districts, so that districts correctly reflect the state's population.
The California Citizens Redistricting Commission is tasked with redrawing district boundaries, and it must draw lines in conformity with strict nonpartisan rules designed to create districts of relatively equal population that will provide fair representation for all Californians.
When the Commission creates new districts, it must follow certain guidelines. One of the guidelines is to learn about communities across California and to keep communities together in the new districts when possible.
The Commission is currently accepting public comments on draft maps, which can be accessed by visiting www.wedrawthelinesca.org/draft_maps.
To provide public comment, the Commission has created a Community Input Form, posted at www.wedrawthelinesca.org/contact.
Community members may provide public comment in writing (via the Commission webpage links, above) and may view the following Sacramento-based Commission meetings, as follows:
Thursday, November 18, 2021, 3 p.m. to 8 p.m.:
State Assembly District Maps
Friday, November 19, 2021, 3 p.m. to 8 p.m.:
State Senate District Maps
Saturday, November 20, 2021, 10 a.m. to 3 p.m.
Board of Equalization Maps and Any Other
Monday, November 22, 2021, 9:30 a.m. to 2:30 p.m.
All Comments
Tuesday, November 23, 2021, 9:30 a.m. to 2:30 p.m.
All Comments
Additional details about past and upcoming live meetings are posted at www.wedrawthelinesca.org/meetings.
State of California voters first authorized the creation of the California Citizens Redistricting Commission in 2008 and in 2010.
The Congressional Voters FIRST Act added the responsibility of drawing Congressional districts to the Commission. To learn more, visit www.wedrawthelinesca.org.
West Hollywood launches 31st Annual Holiday Toy & Food Drive
This year, the Toy and Food Drive will focus exclusively on the distribution of gift cards and toys. The cost to help one family is $80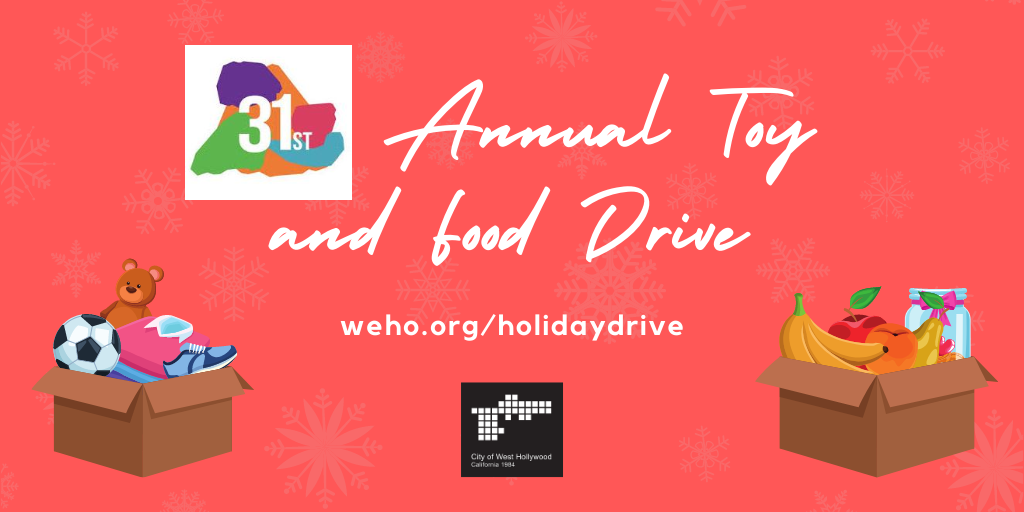 WEST HOLLYWOOD – The City of West Hollywood and the West Hollywood Sheriff's Station are partnering to help give back to those in need this holiday season.
The 31st Annual West Hollywood Toy and Food Drive will be accepting monetary donations until Friday, December 17, 2021 with the goal of providing nearly 1,000 families with toys and holiday gift cards.
Donations may be made online at www.weho.org/holidaydrive. New users must create an account and click on the Donations tab to make a contribution; existing users may simply login to start the donation process.
"For more than three decades, the generous contributions from our community have helped provide nearly 10,000 local families with a holiday meal, as well as toys for every child in the family," said City of West Hollywood Mayor Lauren Meister. "Navigating through the darkness of a global pandemic has been difficult for so many, but the incredible people of the City of West Hollywood will help brighten the holidays for families in need through their donations. I wish you all a happy and safe holiday season."
This year, the Toy and Food Drive will focus exclusively on the distribution of gift cards and toys. The cost to help one family is $80. Gift cards to retailers such as Pavilions, Ralphs, Trader Joe's, or Target allow families to purchase items they need.
Sometimes the toys distributed along with these gift cards are the only toys these children receive.
For more information, please contact the City of West Hollywood's Recreation Services Division at [email protected]. For people who are Deaf or hard of hearing, please call TTY (323) 848-6496.
Parks After Dark returns with a captivating Winter Wonderland
"Now more than ever, L.A. County families need park spaces to heal from the trauma brought on by COVID-19"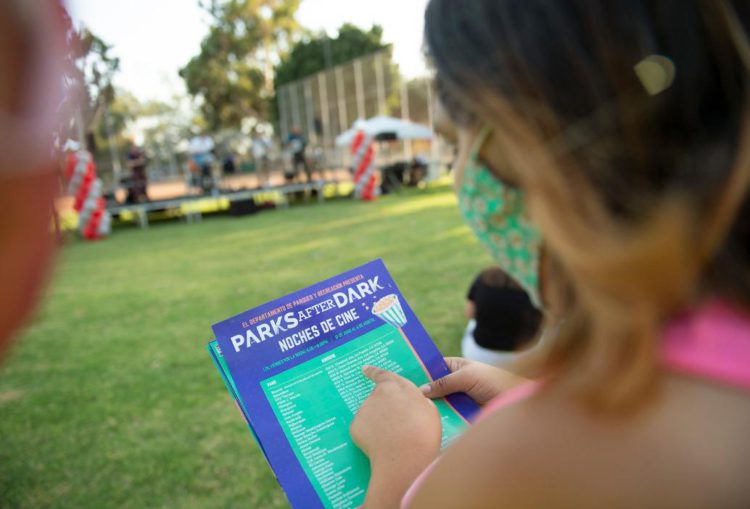 LOS ANGELES – It's Park Time L.A. County! Parks After Dark returns with a captivating Winter Wonderland experience that will bring holiday cheer and 40 tons of snow to 33 L.A. County Parks in the month of December.
Prepare for a frosty good time, complete with sled rides, entertainment and free activities for the entire family! Plan to arrive early to take part in a toy giveaway for ages 0-17, while supplies last.
Parks After Dark, an award-winning program designed to bring communities together by filling park spaces with family centered activities, will transform local parks into wintry paradises, complete with sled hills, snow play areas, holiday crafts, filled stockings for every child (while supplies last), hot cocoa stations, food giveaways and, most importantly, a visit from Santa Claus! All for free!
The L.A. County Parks Winter Wonderland is possible thanks to the generosity of the L.A.
County Board of Supervisors – First District Supervisor and Board Chair Hilda L. Solis, Second District Supervisor Holly J. Mitchell, Third District Supervisor Sheila Kuehl, Fourth District Supervisor Janice Hahn and Fifth District Supervisor Kathryn Barger – L.A. County Parks and Recreation Executive Board, Los Angeles Department of Social Services, L.A. County Probation Department, and the Los Angeles Regional Food Banks. L.A. County Parks would also like to thank Mattel, Inc. for its generous contribution of over 10,000 toys and games, ensuring a most festive Winter Wonderland holiday stocking giveaway.
"Now more than ever, L.A. County families need park spaces to heal from the trauma brought on by COVID-19," L.A. County Parks Executive Director Norma Edith García-González said. "This free event eliminates barriers to recreational opportunities and introduces families to enriching experiences that promote mental and physical health through fun and games."
Parks After Dark, launched in 2010, has proven to be a successful prevention and intervention program that provides multiple benefits to vulnerable communities, decreasing violence and crime, and increasing social cohesion and community well-being. In 2018, Parks After Dark was recognized by the National Recreation and Park Association, which presented L.A. County Parks and Recreation with is Best in Innovation award.

For more information on Parks After Dark Winter Wonderland, visit https://parks.lacounty.gov/PAD.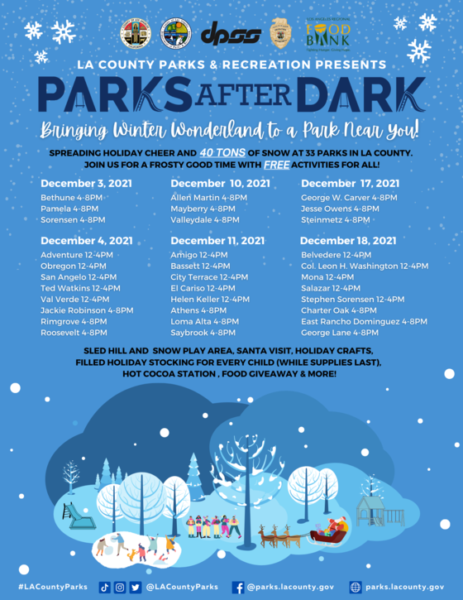 Protect against foodborne illness this Thanksgiving
Public Health offers safe food preparation recommendations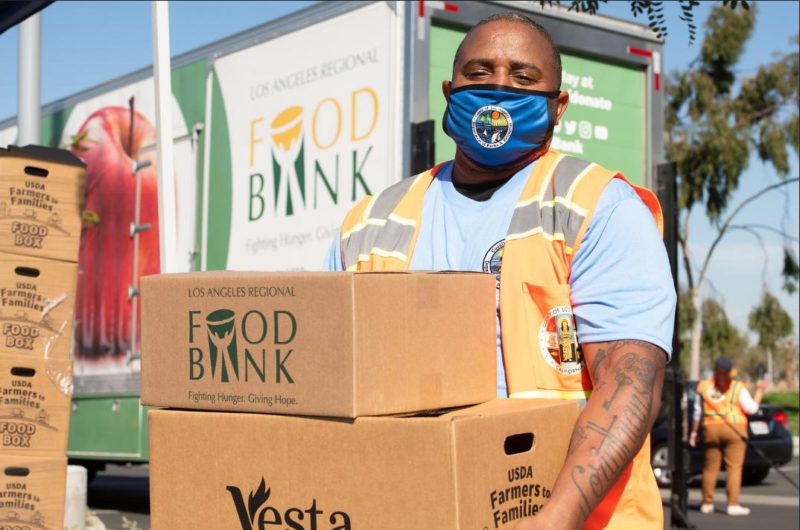 LOS ANGELES – The Los Angeles County Department of Public Health (Public Health) would like everyone to enjoy the Thanksgiving holiday by staying safe and healthy. Public Health recommends following the tips below to avoid foodborne illness (also called foodborne disease or food poisoning) and keep the holiday celebration cheerful.
Raw or undercooked meats including turkey, chicken, beef, and lamb can contain bacteria such as Campylobacter, Salmonella or E. coli, that cause diarrhea and other health problems. It's important to note that freezing does not kill these bacteria but cooking meats to the proper temperature does kill them.
When purchasing a fresh turkey, plan to cook it within 1- 2 days after purchase. The United States Department of Agriculture does not recommend purchasing retail-stuffed fresh turkey, roasters, Cornish hens, or other whole stuffed poultry because of the highly perishable nature of a previously stuffed item.
To thaw a turkey:
In the Refrigerator:

Place your frozen turkey in its original wrapper in the refrigerator (40° F or below).
Allow approximately 24 hours of thaw time per 5 pounds of turkey.
After thawing, keep turkey refrigerated for only 1-2 days before cooking.

In Cold Water:

Place securely wrapped turkey in cold water and change the water every 30 minutes.
Allow about 30 minutes defrosting time per pound of turkey.
Cook immediately after thawing.

Do not thaw frozen pre-stuffed turkeys before cooking.
Do not refreeze a turkey that has been thawed.
To cook a turkey:
When roasting a whole turkey:

Use a food thermometer to make sure it cooks to 165°F or higher.
Insert the thermometer in the thickest part of the thigh, but not against the bone.
For safety and uniform doneness, cook stuffing separately in a casserole dish.

For pre-cooked turkey dinners:

Eat within 2 hours or refrigerate components separately, then reheat to a temperature of at least 165°F.

Frozen pre-stuffed turkeys:

Cook from the frozen state by following package directions.

When deep frying a turkey:

Remember the dangers of deep frying a turkey. Turkey fryers can easily start a fire.
Use your turkey fryer only outdoors on a sturdy, level surface well away from things that can burn.
Make sure to have a "3-foot kid- and pet-free zone" around your turkey fryer to protect against burn injuries.
Other food handling tips include:
Wash your hands with warm water and soap for 20 seconds before and after handling food, especially raw food, and after using the restroom.
Wash fresh fruits and vegetables thoroughly before eating or cutting into them.
Separate raw meats and poultry from other foods such as fruits and vegetables. Avoid cross contamination by using separate cutting boards, knives, and platters for these foods.
Wash cutting boards, utensils, and platters after preparing each food item.
Bring sauces, soups, and gravies to a rolling boil when re-heating.
Keep hot foods hot. Use chafing dishes or pans with Sternos or other heating devices, or keep foods in the oven at a temperature to ensure they remain at 135°F or above.
Keep cold foods cold (40°F or below). Refrigerate leftovers within 2 hours. Throw out foods that should have been kept cold but have been left out for more than two hours.
Leftovers should be used within 3 to 4 days.
"Taste testing" food or drinks to see if they have spoiled is not recommended.
During the holidays, Public Health investigates cases of foodborne illness that are the result of undercooked food and/or poor food handling practices. Typical symptoms of foodborne illness include stomach pain, vomiting, and diarrhea, all of which can start hours or days after consuming contaminated food or drink.
For healthy people, most symptoms usually go away after a few hours or days without treatment. However, foodborne illness can be severe and even life-threatening in older adults, infants and young children, pregnant women, and those with conditions that weaken their immune systems.
For more information on safe cooking, visit the USDA website at: www.usda.gov or call their toll- free Meat and Poultry Hotline at 1-888-674-6854. Food safety specialists are available, in English or Spanish, from 10:00 a.m. to 6:00 p.m. Eastern time during the week year-round. An extensive menu of recorded food safety messages may be heard 24 hours a day.
For Frequently Asked Questions, visit: Avoid Foodborne Illness This Thanksgiving.